Paracord is an incredibly versatile material, and you can use it to make a wide variety of practical and decorative things. Paracord projects are easy and fun to do, even for beginners! With just some basic supplies, you can create anything from keychains to bracelets and lanyards to knife handles. These 30 cool paracord projects and crafts ideas for beginners will show you how versatile paracord really is! These paracord projects have covered you. Start your own project today with one of these creative uses of paracord!
Are you looking for cool paracord projects and craft ideas? Paracord, also known as parachute cord, is an extremely useful material. From making keychains and pouches to creating kid's crafts and more, there are many fun things that you can do with this type of rope! Find below the 30 cool paracord projects and crafts ideas you can make at home. We have also included a step-by-step guide, so you can easily create your own wonderful DIY paracord crafts.
You'll be sure to find paracord ideas that fit your style – from simple paracord projects for beginners to complex knots for experienced crafters – these paracord projects are guaranteed to bring out your inner creativity! Whether it's a gift or just something cute to spruce up your space, check out these cool paracord projects and craft ideas today and let the crafting begin!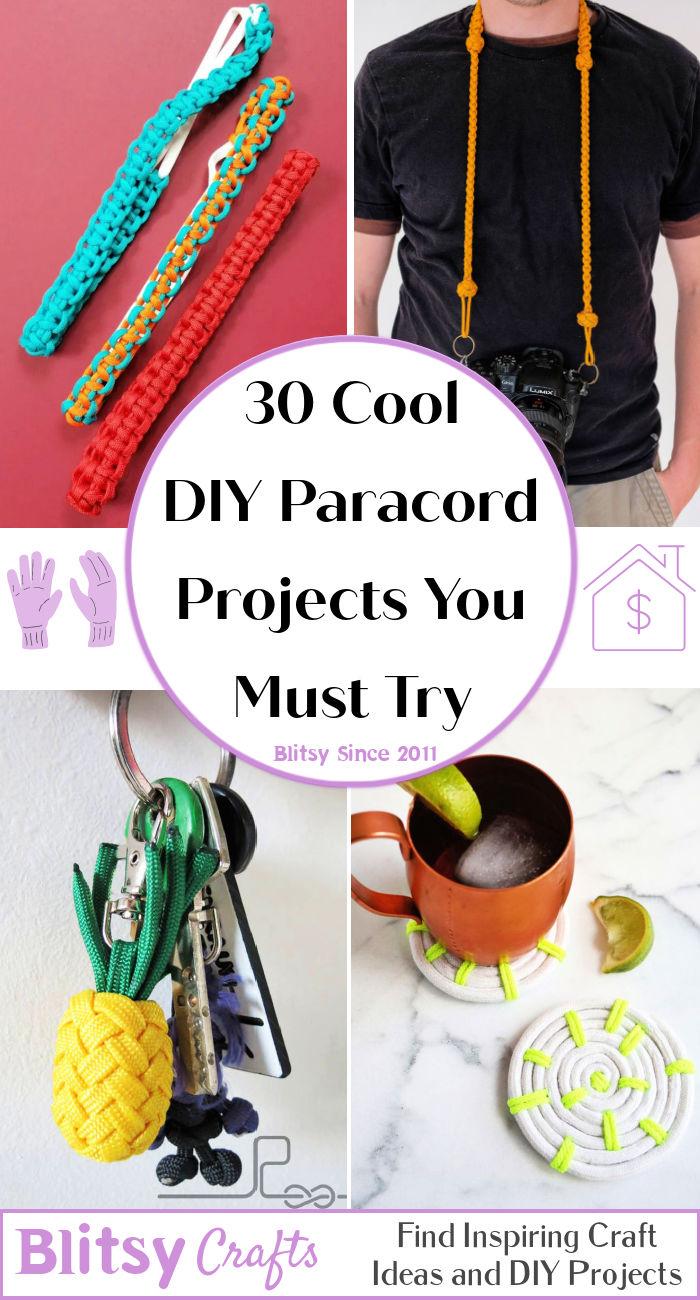 Cool Paracord Projects and Crafts
From funky bracelets and keychains to organizing cables and straps, the uses of paracord projects and crafts are endless. If you're looking for cool paracord ideas, you can make many cool things with paracord. From useful accessories like knife lanyards and watch bands to DIY art such as coasters, hats, and even chairs – all these paracord crafts will spice up your home.
What are the benefits of using paracord for crafts?
Paracord is a lightweight and durable option for crafts, projects and ideas. It is strong enough to handle the stress of outdoor activities yet flexible enough for intricate projects. Paracord can make bracelets, lanyards, keychains and many other items. It also comes in various colors, so you can customize your crafts to match any style or color scheme. With paracord, crafts become more creative and unique!
How can I use paracord to create unique and creative crafts?
Paracord is an excellent material to use for crafts and projects. You can use paracord to make anything from jewelry, keychains and belts to plant hangers and dog leashes. You can create more complex items like hammocks or chairs with creativity. With paracord, the possibilities are endless! Look online for inspiration and ideas to get started with your own paracord crafts today.
What types of tools do I need for making paracord crafts?
Depending on the craft project, you will need a few basic tools for making paracord crafts. These include scissors or shears, needle-nose pliers, tape measure, lighter or match to seal the cord ends, and optionally a fid or lacing needle for weaving intricate designs. If you are interested in more advanced projects, such as creating buckles and clasps, then other tools, such as rivets and cutters, are also needed. With these items, you can create various crafts and projects with paracord!
Are there any special techniques or tips for working with paracord?
Paracord is a very versatile material that you can use for crafts and projects of all kinds. It's important to understand the basics before you start, such as knot tying, melting ends together and braiding. For more advanced projects, try experimenting with weaves and lacing techniques. With a little creativity, there are endless possibilities for crafts and projects that can be made with paracord!
What are some of the most popular paracord crafts?
Paracord crafts are an incredibly popular way to add a unique touch to projects. Some of the most popular crafts with paracord include creating friendship bracelets and keychains, making lanyards, tying survival bracelets, and crafting dog collars or leashes. With a little creativity and imagination, there's no limit to the creative crafts that can be made using paracord. There are countless ideas for projects online – from simple DIY crafts to more intricate creations. The possibilities are endless!
How can I get started with creating my own cool paracord projects?
Paracord crafts are a great way to get creative and make something unique. Start by researching ideas on the internet or in craft stores, then start collecting supplies such as paracord, scissors, clasps, buckles and other tools. Once your supplies are gathered together, you can experiment with different projects and create one-of-a-kind crafts. Have fun creating your own amazing crafts!
Are there any tips or tricks for making paracord projects look professional?
Yes! You can make Paracord crafts that look professional with simple tricks:
Use quality paracord that's designed specifically for crafts and projects.
Make sure all knots are tied properly by following instructions closely and taking the time to double-check that they're secure.
Practice your technique until you're confident in the results.
With these tips, you'll have beautiful paracord crafts in no time!
Things to Make With Paracord
These paracord projects are going to be life-changing for you! Paracord is a lightweight nylon rope that can be used in many different ways. Paracord is nature's most resilient element, making it the go-to material for survival tools used in emergencies.
Not sure where to start? Don't worry – we've shared 30 cool and easy DIY paracord crafts and projects that provide step-by-step instructions for beginners. And the best part is that these paracord projects are functional! So why not give some of them a try?
1. Adjustable Snake Knot Camera Strap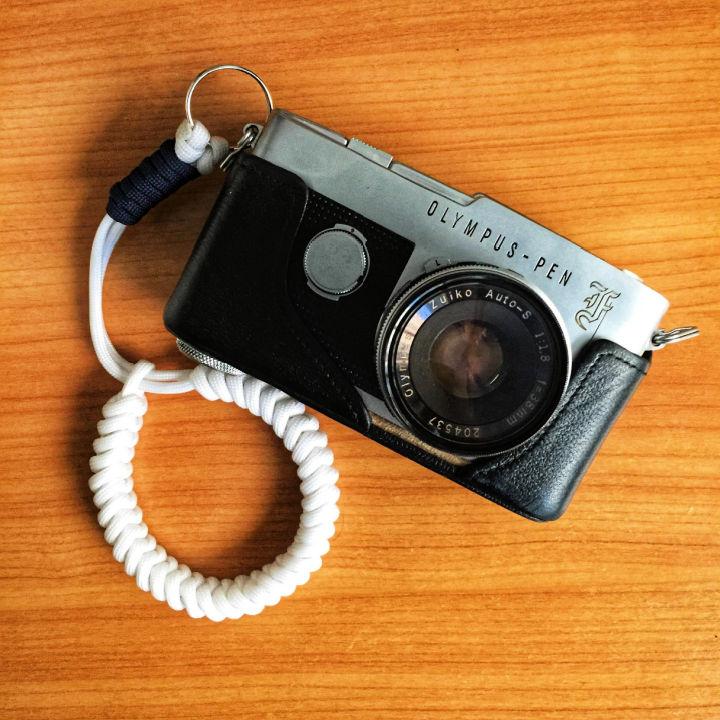 Do you want to try out a fun way to spice up your camera strap? Here's how you can make an adjustable snake knot camera strap! You only need a little bit of free time and a few supplies – a paracord, cigarette lighter, scissors, keyring, ruler, and tape. You can take better pictures with your camera like this as it will help you create amazing angles and also carry it around. lomography
2. Paracord Pouch for Survival Tins
If you're an outdoor person or a survivalist, then you need a pocket survival tin in a small size to carry around with you. However, it can always be easy to lose small or lightweight stuff so you can make a pouch like this for your time so you don't have to worry about it opening or getting lost. Paracord, tin, marker, scissors, lighter, and a few other supplies will be required. instructables
3. How to Make a Paracord Dog Collar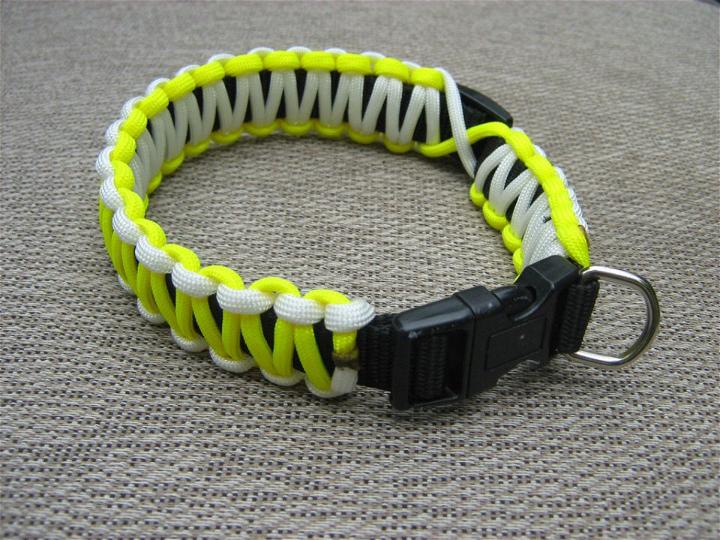 Paracord projects can be very versatile and you can experiment with this type of material in many different ways – a great way is to make a dog collar out of it! Isn't that a great idea? You can find this material in home improvement stores, hardware stores, and even department stores – so it will be easy to find it! Scissors, lighter, and duct tape are the only supplies required to make this. fouroakscrafts
4. Easy to Make Paracord Snakes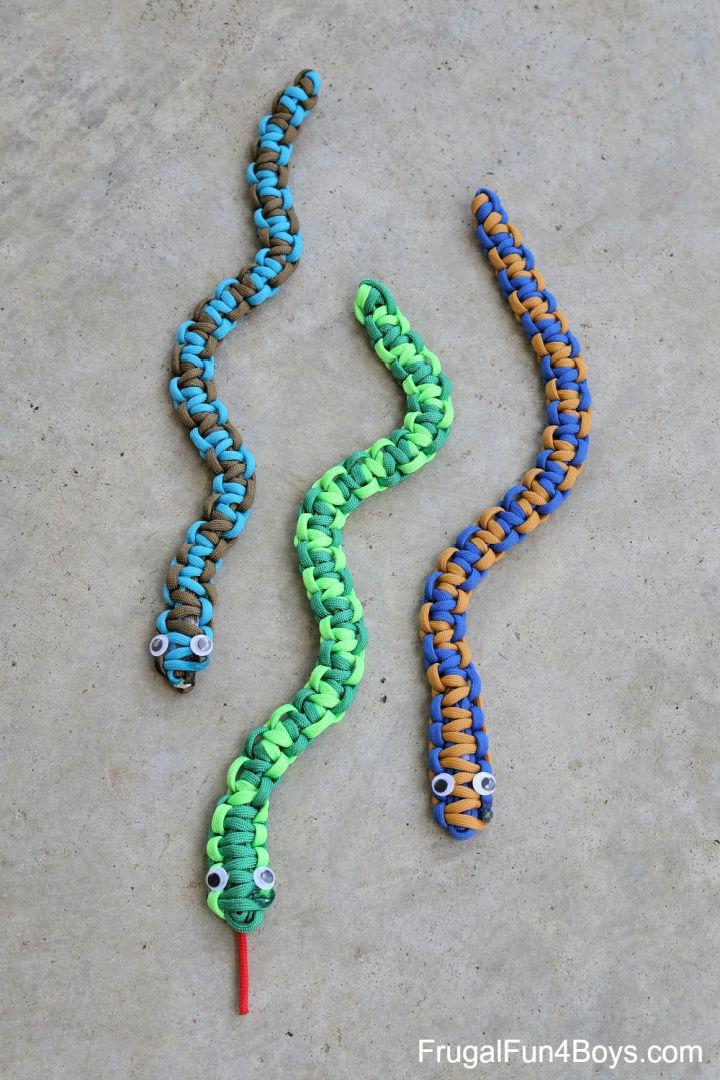 Summer season is just around the corner and it means that it's the perfect time to experiment with many difficult projects with your children. A great option can be to make paracord snakes! Isn't that a great idea? You can do this on a rainy day with your children when they can't go out but still want to have fun! Any child above the age of 8 can do it with adult supervision. frugalfun4boys
5. Simple Paracord Headbands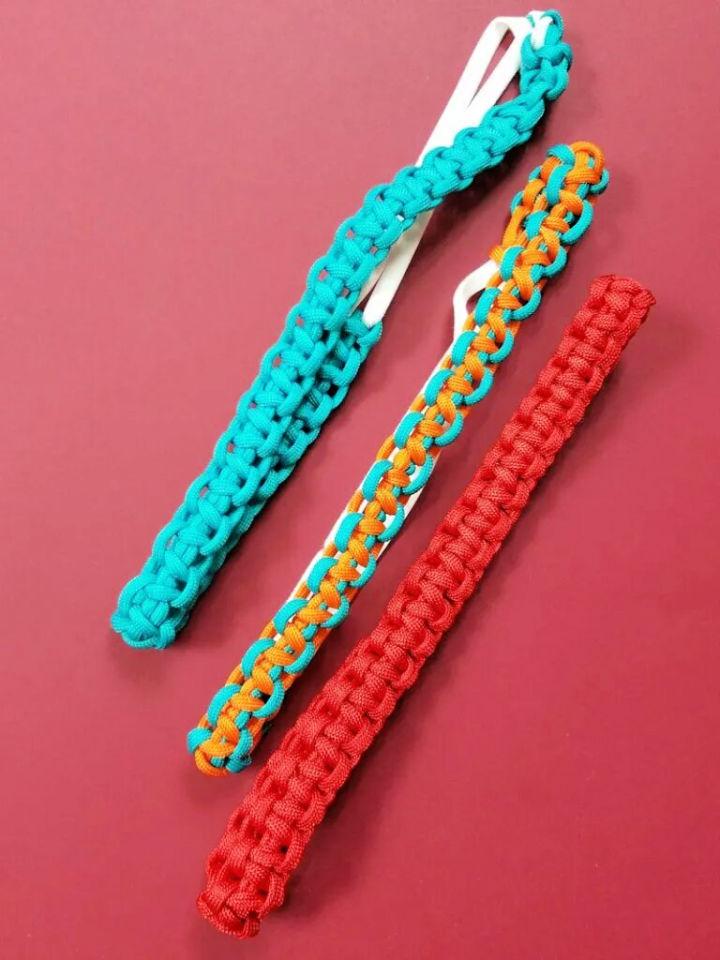 There are many creative ways to make hairbands and children love to make them using loom bands and other stretchable materials but have you ever thought of introducing them to paracord to make headbands? The final product is going to look so beautiful – as it's really easy to follow these steps and handle this material! Isn't this exciting? momsandcraft
6. Paracord Camera Neck Strap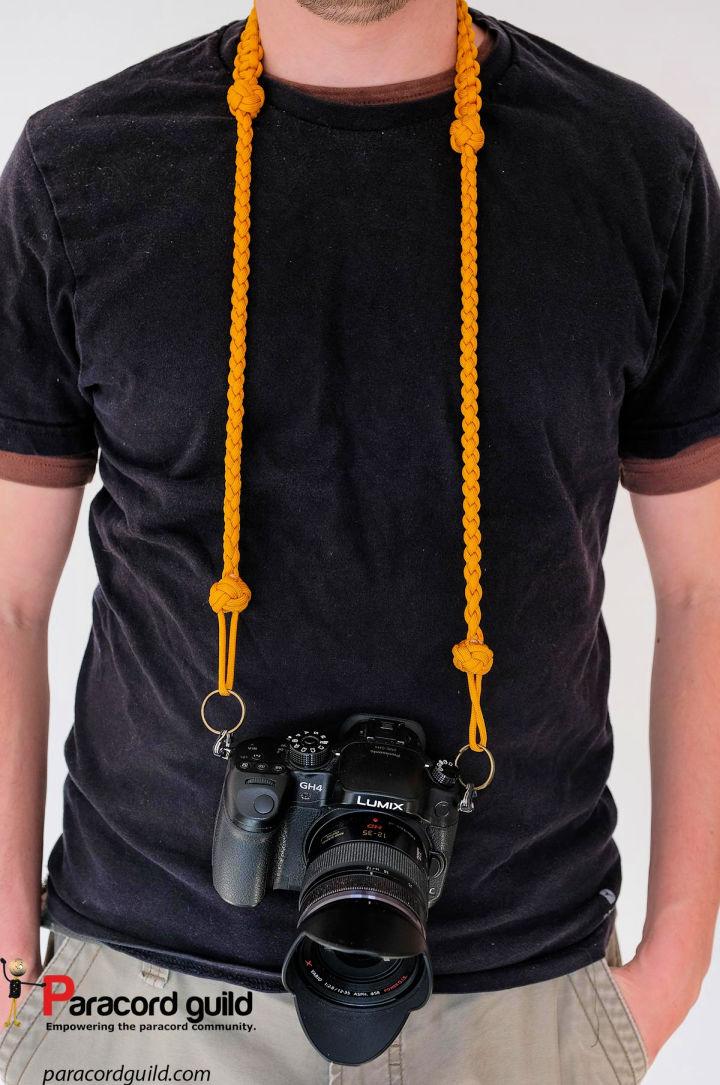 Don't you just love how chic this camera neck strap looks? Many photographers can find it hard to carry a camera around their arms due to arthritis issues or carpal tunnel. If you have this issue, then you can easily make a strap that can be worn around the neck to carry your camera. This will also give you more stability when capturing a picture. paracordguild
7. DIY Paracord Water Bottle Holder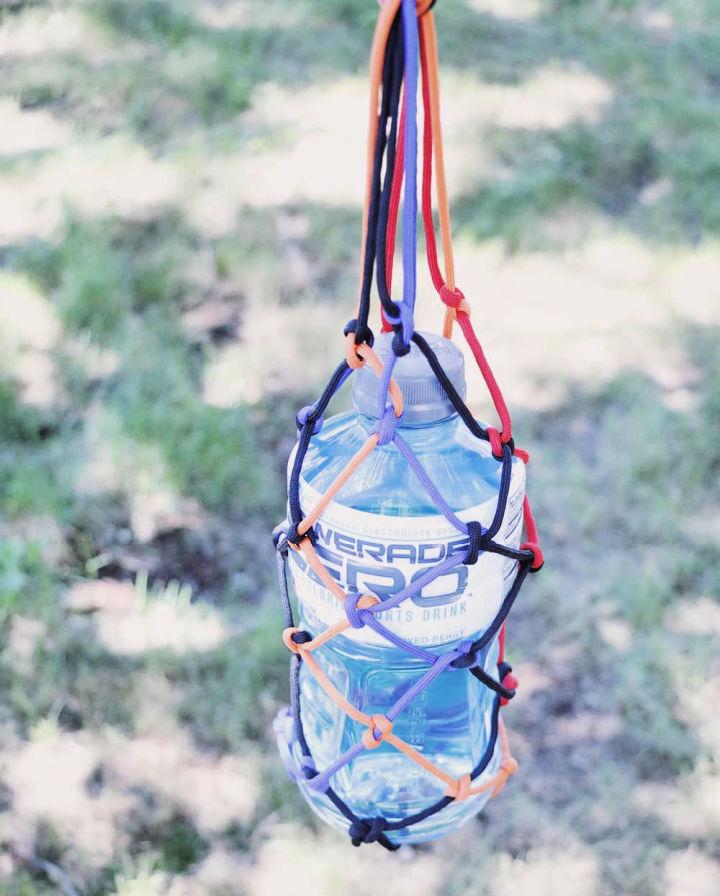 Water bottle holders are trendy these days and almost everyone is buying them for very high prices. Instead of purchasing them from the store, you can buy the supplies at a cheaper rate and make them at home! Don't you just love how this turned out? This guide also has some hiking tips for you to stay hydrated. birdseyemeeple
8. Paracord Pineapple Key Chain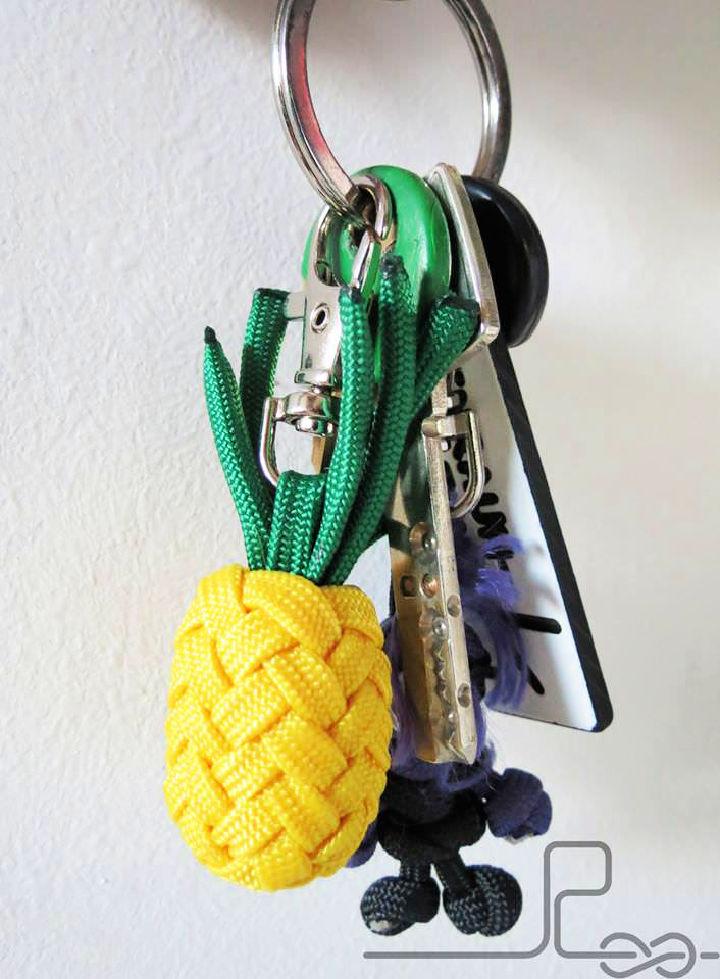 Isn't this Paracord pineapple key chain just beautiful? You might have seen many different types of Paracord projects in this guide but this is a special one! Why is that? It's because this is a genius idea of using this unique material to turn it into a beautiful keychain that can be carried around with you. It can be important to have a keychain that reflects your personality and style. swiss paracord
9. Make A Hiking Stick Paracord Wrap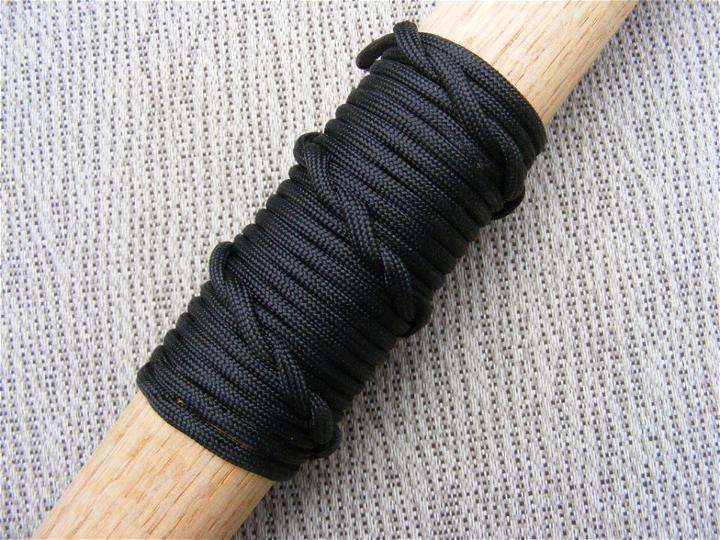 Here's a great hiking stick wrap that is made out of this unique material! Don't you love just how versatile paracord is? This is great to have more grip over your hiking stick which is going to make the hiking process a lot easier for you. This will help prevent the strain on your legs or back. Lighter, sharp scissors, hiking stick, flashlight, and a few other supplies will be needed. fouroakscrafts
10. DIY Paracord Survival Bracelet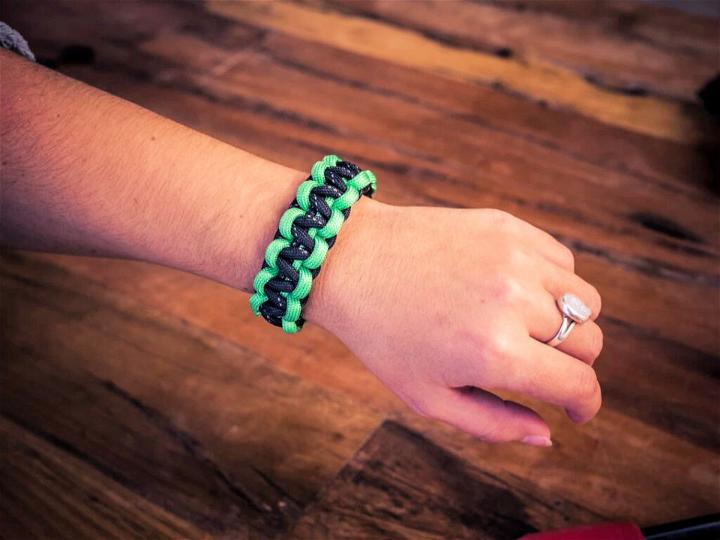 Do you want to make a survival bracelet for yourself that would be helpful in day-to-day life or if you get stuck in the wilderness? Well, then here's the ideal guide for you to follow as it will take you through the process of making it step-by-step! Moreover, this is also a great gift as you can easily customize it by changing up the size or color. rei
11. Make Germ Grenade Out Of Paracord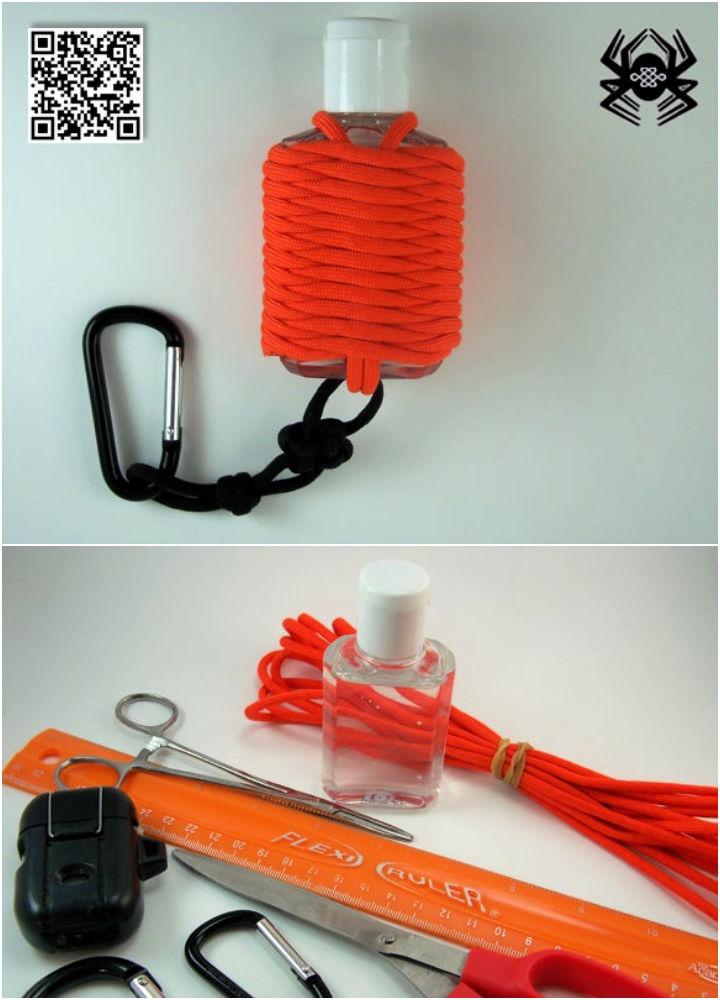 It is important to carry around a sanitizer with you with all the viruses going around in today's world. If you want to stay safe and protected, then this paracord germ grenade is a fun and creative way to make your boring sanitizer look adorable. This will also motivate you or your children to carry it around with them and use it when needed. instructables
12. DIY Paracord Baby Toy Clip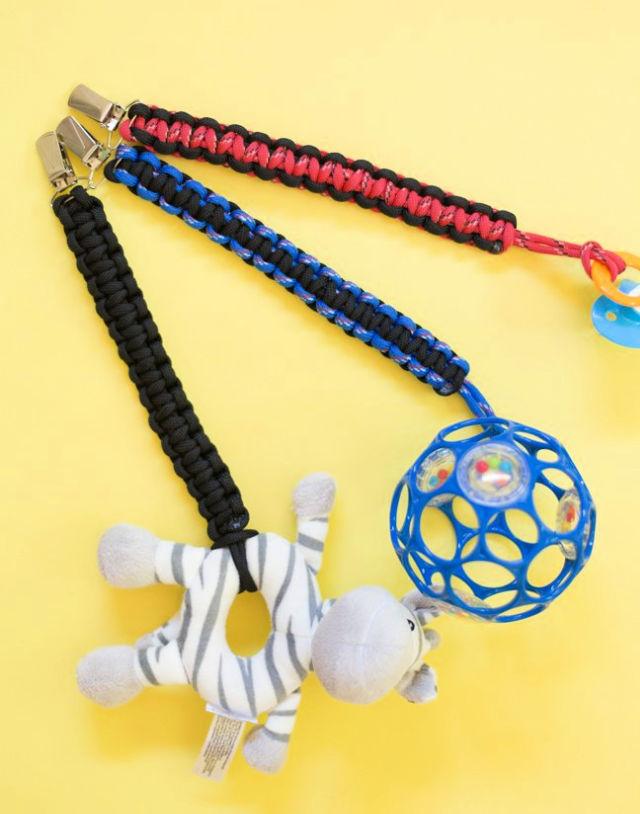 Babies love toys that are colorful and have a lot of texture to them. However, most babies tend to bite their toys and this is why it's important to make the toys out of a material that is going to be non-toxic and safe to bite. Paracord is the perfect material to make this type of you and you can follow the guide to re-create it In just a few minutes. momtastic
13. Paracord Multipurpose Drawstring Bag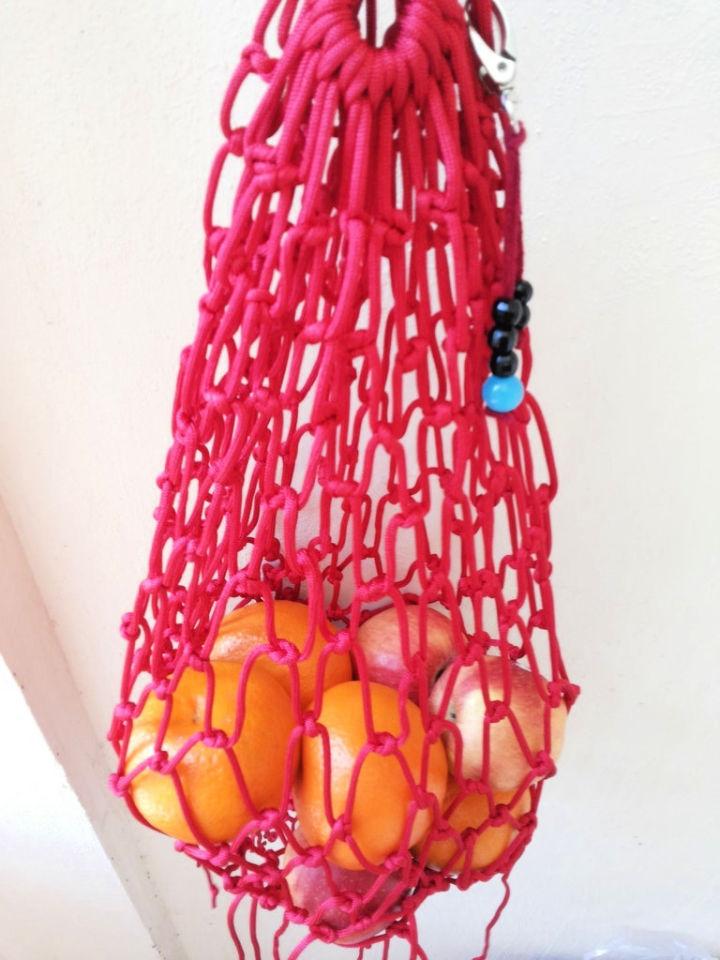 Drawstrings back have been quite trendy since 2016. They were used as sports bags before but now almost everyone carries them around in day-to-day life to carry their supplies. Here's a really pretty bag that has a feminine vibe to it as it looks very delicate. Moreover, this bag can be used to carry around big stuff like fruits and vegetables. instructables
14. Braided Paracord Necklace – Free Pattern
Jewelry making in the comfort of your own house using basic supplies is really common! However, if you want your jewelry to stand out from the crowd, then you can use something different than the basic material such as resin or loom bands – a great alternative can be paracord! Follow this guide to make your beautiful braided necklace. art actually
15. Paracord Wrap for Knife Handle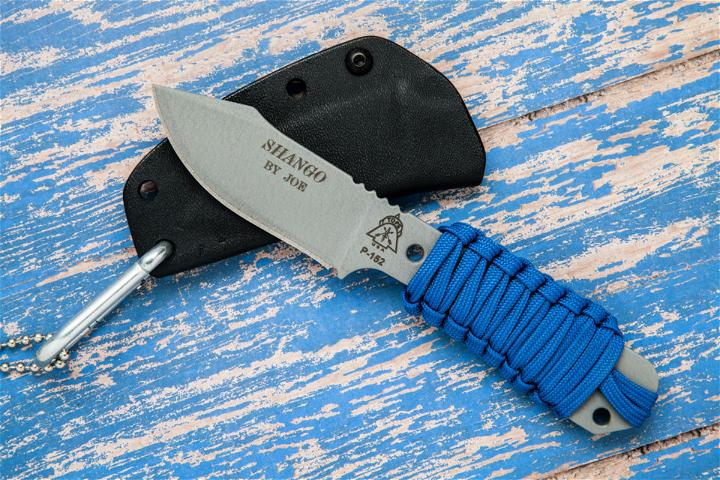 A knife can be hard to handle, especially if it is made out of stainless steel. If you have a knife like this and it keeps slipping while you use it, you need to make a paracord wrap for your knife! This is going to make sure that you stay safe while using your knife and it will also make the knife look stunning. Isn't this exciting? knifeblog
16. DIY Paracord Wallet
A paracord wallet can be very secure if you want to make sure that you lose no money. Do you carry around a lot of money notes or coins? If that's the case, then you need to invest in a good quality wallet. However, if you don't want to spend any money on the wallet, just follow this guide to make this beautiful wallet. instructables
17. Paracord Woven Stool DIY
Here's a beautiful woven stool that can be made using a few supplies and some extra time. This will take a little while to make but the final project is worth it! You will need a stool, paracord, scissors, and a hammer to make this project a success. You can use the final product as décor – it's going to look very unique and antique. smileandwave
18. Softball Keychain from Paracord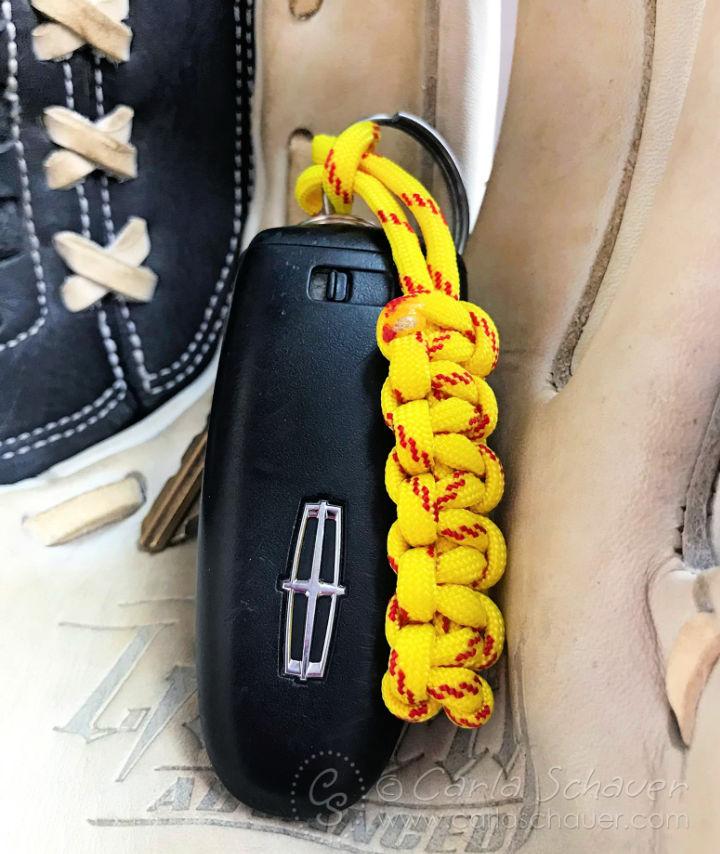 Keychains can play a huge role in showing your personality to strangers. If you care about how the people around you perceive you, then you can express yourself through your accessories! Here's a great softball keychain that can be made using a few steps that are mentioned in this simple guide. So, are you excited to get started? carlaschauer
19. Coasters To Make With Paracord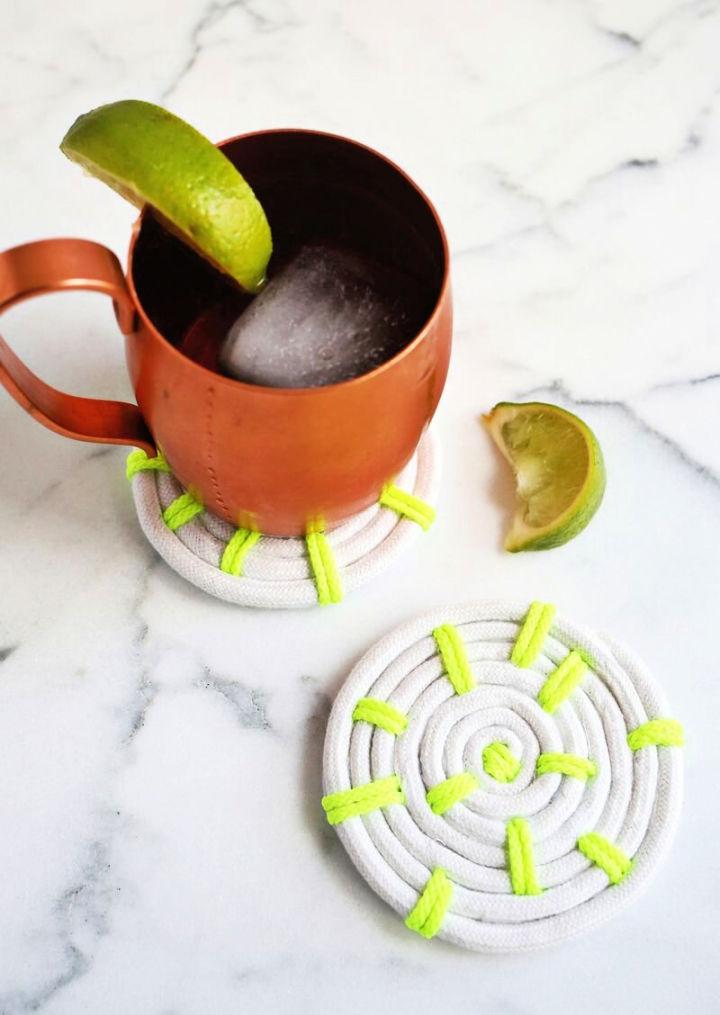 Coasters can be very expensive in the market as they're made professionally using beautiful designs. However, if you want to save your money, then you will just need a few creative ideas and these supplies – white felt, drawstring cord, parachute cord, large yarn needle, glue gun, fabric scissors, and white electrical tape! Just gather the supplies and get started! abeautifulmess
20. Parachute Cord Hatband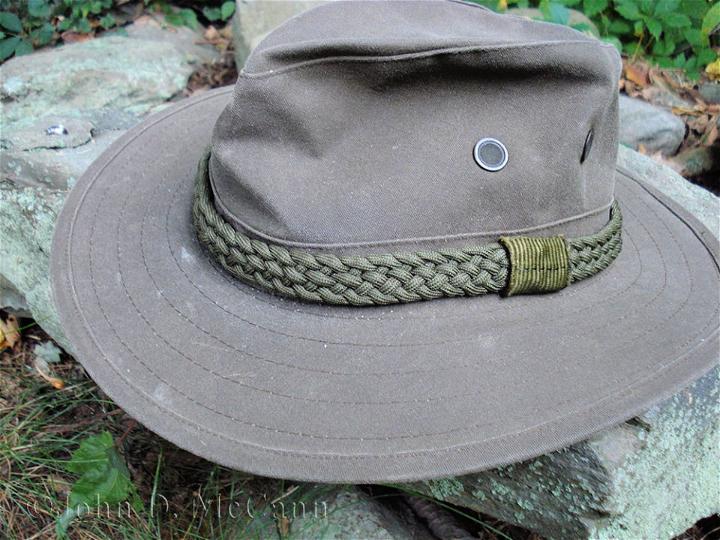 Here's a beautifully braided paracord hatband that can be customized according to your preferences – by changing the size or color depending on your cap so it can look good. All you need is a paracord for this amazing project – follow every step one at a time, so you don't get overwhelmed! The final result is going to be flawless. survivalresources
21. Paracord Belt Instructions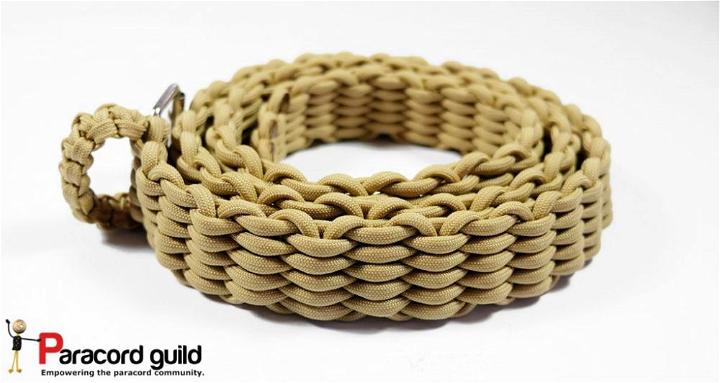 Who knew that such a beautiful belt could be made out of this unique material? Don't you just love the final product of this project? This belt has some major benefits – it can be unraveled in seconds, has a unique look, has adjustable belt buckles, etc. Moreover, it's very inexpensive to make this so no money will get wasted. paracordguild
22. Paracord Rifle Sling Hunting Project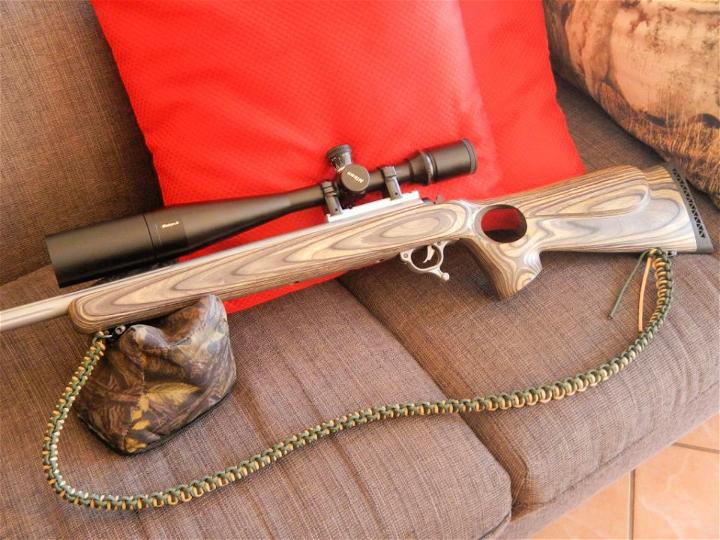 Here's a swiveled paracord sling that can be used for many different purposes. One of the main purposes is to use it around your gun as it will help you gain more stability over your gun if you have to use it. Moreover, this will also prevent arthritis and other bone issues in elderly people – if they start using a sling. Don't you just love the idea of this project? instructables
23. Easy DIY 550 Cord Dog Leash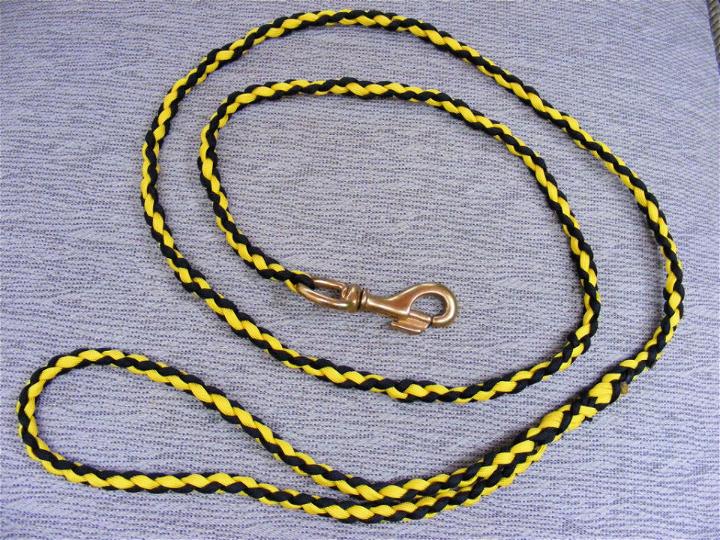 Dog leashes are always really adorable and here's a project that you can follow to make one in the comfort of your own house! This project is broken down into steps, making it easy to understand the whole process. Metal snap latch, paper clip, and a few other supplies will be required to make this project a success. fouroakscrafts
24. Paracord Blanket Compression Strap With Handle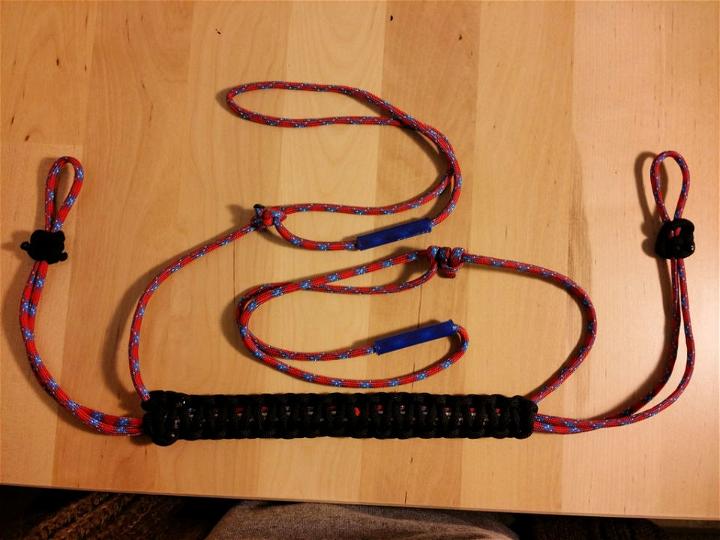 If you're someone who travels a lot and want to take your pillow or blanket with you everywhere, here's the perfect guide to follow as it will you how you can make this amazing fist stinger tool, then take it with you almost everywhere! Lighter, candle, a cup of water, scissors, knife, etc., and a few other supplies be required! So, are you reading to try this out? instructables
25. Mini Monkeys Fist Stinger Keychain to Sell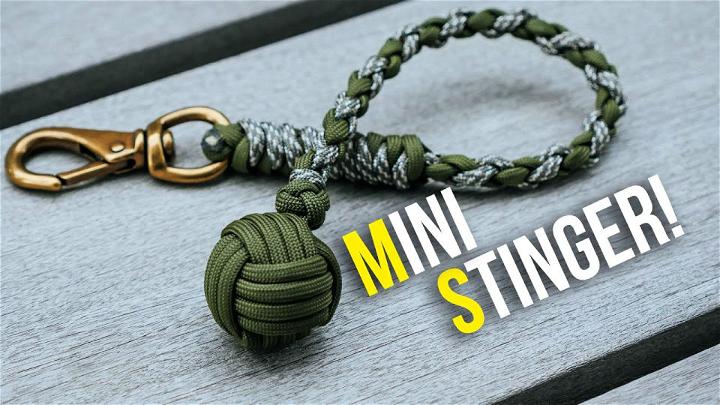 Keychains can be important to show your personality towards the world as any strangers around you would look at your accessories before looking at you! This is because your accessories can show a lot about the type of person you are. In comparison to the other paracord projects, this is worth trying out!
26. Heart Stitched Paracord Bracelet Gift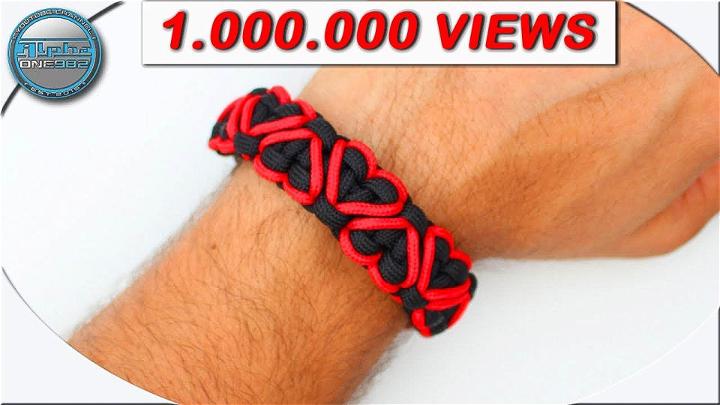 Valentine's Day can be very boring unless you make a unique gift for your loved one or receive a different one! Here's a stunning bracelet with stitched hearts! The final result is stunning and the hearts are made in opposite directions – one by one. You will only need a few supplies to make this project a success.
27. Paracord Weave Bracelet Pattern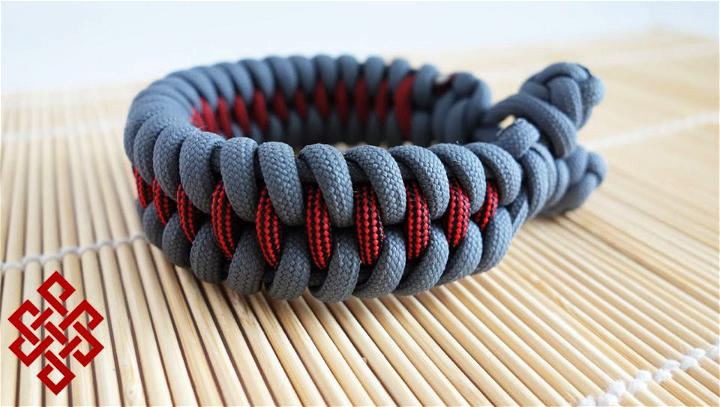 This bracelet is very famous because of how creative the idea behind making this was! If you look at this bracelet closely, you will be able to see that it looks like a dragon's teeth! This design is quite famous and makes it look unique. Furthermore, this unique piece has no buckles which are going to make it easy to slip on and slip off this beauty.
29. How To Make Deploy Paracord Key Fob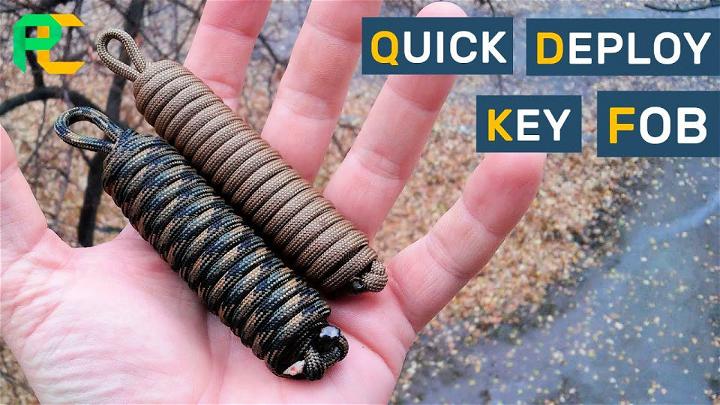 Here's how you can make a quick deployment using a paracord key fob. This is a great option that can be used in emergencies. Moreover, you will only need a few supplies for this project! A lot of paracords will be required as that is the main material being used in this quick deployment. So, are you ready to experiment with this project?
30. Making A Paracord Phone Case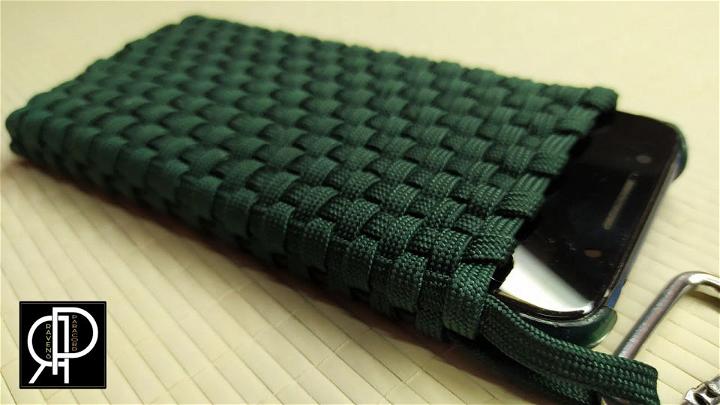 Cellphone pouches are perfect to keep your phone safe and secure from falling and getting damaged. Moreover, cellphone pouches also look quite stylish to carry around. The one in this project is a great example of what you can make out of paracord! Paracord projects are unique and this is just one of them. You should give this a try to be astonished!
Frequently Asked Questions:
Discover 30 creative paracord projects and craft ideas. Learn the basics of paracord crafting for fashion as well as survival needs. Learn the answers to commonly asked questions about paracord from our expert team.
What can I make from paracord?
Paracord is an incredibly versatile material used for many projects and crafts. From bracelets, keychains, and lanyards to hammocks and outdoor gear – the paracord crafts and ideas are endless! With just a few supplies and creativity, you can make amazing paracord crafts in no time. Explore paracord projects today for endless fun and creativity!
Can you make money with paracord?
Yes, you can make money with paracord through creative projects and crafts. There are plenty of opportunities to monetize paracord-related creations such as jewelry, toys, keychains, lanyards and more. With a little bit of creativity and effort, you could start earning an income from your paracord skills!
Why do soldiers wear paracord bracelets?
Soldiers wear paracord bracelets because of their practical and symbolic value. Paracord bracelets are lightweight and sturdy, able to be unwound for various emergencies. The colors also symbolize various military branches, reflecting the wearer's service and commitment to duty. It is an important part of a soldier's uniform that provides both utility and pride.
What else can you make with paracord?
Paracord can make many DIY projects, such as keychains, rope ladders, chairs, hammocks, and survival bracelets. You can also use it to make decorations like DIY tree swings or wreaths. Unleash your creativity and explore the endless possibilities of paracord crafting today!
Can 550 Paracord hold a person?
Yes, 550 Paracord can hold a person. It is made of nylon and has a breaking strength of 550 pounds, which makes it one of the strongest cords available on the market. Its durability and tensile strength make it perfect for holding large loads safely and securely. Thus, it is an ideal choice when holding a person's weight.
Does the military use paracord?
Yes, the military uses paracord. It is a lightweight nylon rope with high strength and durability that you can use for various purposes, such as tying down cargo, making repairs, lashing objects together, and serving as an anchor line or rappelling rope. Paracord is reliable in harsh environments and provides increased safety for military personnel. It is an essential tool for many tasks.
What is the best paracord for crafts?
Paracord is an incredibly versatile and useful material for DIY projects. It is strong, lightweight, and affordable, making it the perfect material for paracord crafts. Whether you're looking to make a bracelet or lanyard, you can do many creative paracord projects. For the best results, look for a paracord that is made from high-grade nylon and features great tensile strength. It's also important to consider the color and texture of the material when choosing paracord for DIY projects. With the right paracord, you can create some unique and beautiful crafts!
Can paracord start a fire?
Yes, paracord can be used to start a fire. The paracord is wrapped around a Ferro rod and then scraped to create sparks that ignite the tinder material. Paracord also makes it easy to keep the fire going by making kindling sticks with the same material. With this method, you can have a fire in no time!
Is burning paracord toxic?
No, burning paracord is not toxic. Paracord's material does not release any harmful toxins when burned. However, taking all necessary safety precautions when working with fire and heated materials is important. Additionally, always ensure you are in a well-ventilated area when performing such tasks.
​
Does paracord shrink in hot water?
Yes, paracord can shrink if exposed to hot water. In extreme cases, it could be as much as 10% in length and 5-7% in width. To minimize this shrinkage, it is best to use cold or lukewarm water when washing the paracord and let the cord air dry afterward. This will help to maintain its strength and durability.

What is stronger, 550 or 1100 paracord?
It depends on the purpose for which you are using it. 550 paracord is better suited for general utility, crafting, and other lightweight applications. 1100 paracord has a higher breaking strength and can handle heavier-duty tasks like cargo securement, rappelling, and survival. Ultimately, both types of paracord offer great strength and versatility. It just depends on the job you need it to do.
What paracord does the US military use?
The US military uses MIL-C-5040H Type III commercial-grade paracord for various needs. This cord is lightweight and durable, making it ideal for tactical operations and emergencies. It can construct shelters, tie down supplies, and create improvised tools. Additionally, the material is highly resistant to UV rays, mildew, and rot. Its versatility and reliability make it a top choice for military personnel in many scenarios.
Is paracord OK to get wet?
Yes, paracord is designed to be water-resistant. However, it's best not to submerge it for long periods as the fibers can weaken if exposed to moisture for extended periods. With proper care and maintenance, paracord should remain waterproof and protect you in any environment.
How strong is 1100 paracord?
1100 paracord is an incredibly strong cord with a breaking strength of up to 550 pounds. It's also lightweight and flexible, making it great for crafting projects or survival gear. Its low stretch and high resistance to UV and mildew make it a reliable choice for outdoor projects. Its abrasion resistance makes it perfect for heavy-
Why do you burn the ends of paracord?
Burning the paracord's ends helps prevent fraying and keeps it from unraveling. It melts and fuses the nylon fibers for a secure, long-lasting seal that won't come undone. Burning is also used to create smooth edges, so you don't have sharp or jagged pieces when cutting your cord. This process helps ensure the longevity of your paracord project.
Why should you carry a paracord?
Paracord is lightweight and extremely durable, making it a great choice for everyday carry. It can be used in many different ways in an emergency, such as securing shelter or binding tools. It can also be used to make bracelets, lanyards, and keychains. Paracord is a must-have item for any outdoor enthusiast.
What is the stronger rope or paracord?
Generally, paracord has a higher tensile strength and is more durable than regular rope. It also comes in different sizes and strengths, so you can use it for specific needs better than rope. For most uses, paracord will be the stronger option.
​
Can 550 paracord hold 550 lbs?
Yes, 550 paracords can hold up to 550 lbs. It is made of incredibly strong nylon and is designed for use in both military and civilian settings. Its strength comes from its seven inner strands, making it a very reliable material for heavy-duty applications. It's lightweight and flexible, too.
Can I use paracord to rappel?
Yes, paracord can be used for rappelling. It has a high tensile strength, making it an ideal choice for abseiling safely. Use two strands of the cord to create a stronger yet lightweight rope. Use appropriate rappel hardware and check the knots regularly during your descent. Practice using paracord before attempting a rappel in a real-life situation. Safety first!
Is paracord good for survival?
Yes, paracord is great for survival! It's durable, lightweight and waterproof, making it perfect for outdoor adventure. Many people using it in shelters, as a tourniquet or lashing material, and even to make fun paracord projects and crafts. With its versatility and durability, paracord is essential for any survival situation.
How do you cut paracord without fraying?
The best way to cut paracord without fraying is by using a hot knife or a sharp pair of scissors. Start by making sure the ends of the cord are melted slightly with a lighter before cutting, which will stop them from unraveling. Then, make sure your blade is nice and sharp so that it will create a clean cut. Finally, cut slowly and evenly to avoid fraying.
Does paracord shrink in water?
Yes, paracord can shrink in water. It is made from nylon and polyester, both susceptible to shrinking when exposed to any liquid. The shrinkage will depend on the type and length of paracord used and how long it remains submerged in water. To minimize shrinkage, avoid submerging the paracord for long periods. Additionally, air drying the paracord after exposure to water helps reduce any shrinkage.
Why do people wear paracord bracelets?
Paracord bracelets are an increasingly popular fashion accessory that can be used for expression and utility. People appreciate these bracelets' lightweight, decorative quality, especially those in military or veteran communities who view them as a sign of camaraderie and strength. Moreover, paracord is also a source of inspiration and motivation for many people.
Can paracord be washed and dried?
Yes, paracord can be washed and dried. However, it should be done with care. Hand washes the cord with mild soap and cold water. Then let it air dry or use a fan to speed up the drying process. Do not put paracord in a clothes dryer as this could cause it to shrink or become brittle. Also, avoid using harsh cleaners or bleaches, as these can damage the paracord.
Can dogs chew paracord?
Yes, dogs can chew paracord. Paracord is generally safe for pets as long as no small metal parts or other hazardous items are attached to the cord. However, it's important to monitor your pet if chewing on paracord, as ingested pieces can cause intestinal blockages that may require medical attention. Be sure to replace torn or frayed cords promptly.
Will paracord melt in the dryer?
No, the paracord won't melt in the dryer. It is made of nylon or polyester and has a melting point between 266 to 500 degrees Fahrenheit. The temperature in a regular dryer does not exceed 212°F, so it should be safe from melting. However, it is best to keep an eye on the paracord during the drying cycle to ensure it does not get too hot.
Can you get paracord wet?
Yes, paracord can get wet. However, it is important to ensure you dry the paracord properly and keep it away from direct sunlight, as this could damage the material and affect its durability. Additionally, if you want to maintain its strength over time, avoid getting it soaked or submerged in water for extended periods.
Why do people carry paracord?
Paracord has a variety of uses, from camping and survival to fashion and crafting. People carry paracords because it's lightweight, strong, and durable. You can use it for many projects, including rope ladders, hammocks, jewelry, belts, dog collars, keychains and more. Paracord crafts can be a great way to show off your creativity and make something unique.
How many pounds can 1100 paracord hold?
1100 paracord can hold up to 550 lbs, making it an incredibly strong and durable material. Anyone can use it for crafting camping gear, climbing tools, lanyards and more. With its versatility and strength, a paracord is a great option for tackling any outdoor project.
Does hobby lobby sell paracord?
Yes, Hobby Lobby does stock paracord. It is available in various colors and sizes, making it perfect for various arts and crafts projects. The shop also carries a selection of beads and buckles for making custom paracord bracelets and keychains. Browse their inventory online or visit your local store to find what you need.
Related DIY Paracord Projects:
Create unique DIY projects with creative paracord patterns. Get inspired to make bracelets, keychains, lanyards and more with detailed step-by-step instructions from our experts.
Conclusion: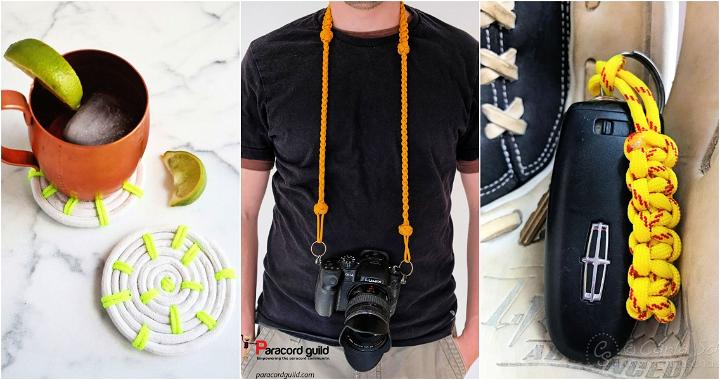 In conclusion, there are many unique and creative ways to use paracord. Whether it be a simple keychain or coasters, the paracord ideas are endless when it comes to crafting with paracord. Paracord projects range from beginner level crafts like lanyards to more complex items such as handles and even hammocks.
With so many cool paracord projects and craft ideas available above, anyone can find something they enjoy making! From belts and bracelets to wallets and woggles, there is something for everyone's taste in these 30 incredible paracord projects and craft ideas. So grab your paracords today and start crafting away!