Making paracord bracelets can be a great way to add a stylish accessory to any outfit. Learn how to make different paracord bracelets with these 20 free DIY paracord bracelet patterns that provide step-by-step instructions and detailed diagrams for beginners. Whether you're a beginner or an expert, paracord bracelet patterns range from simple to advanced designs with intricate knotting and weaving techniques.
There is sure to be something that pleases everyone. From fancy paracord bracelet designs to cool paracord knots, we've shared over twenty DIY paracord bracelet patterns to choose from. So why not take advantage of these free paracord bracelet patterns and tutorials, and create truly imaginative pieces?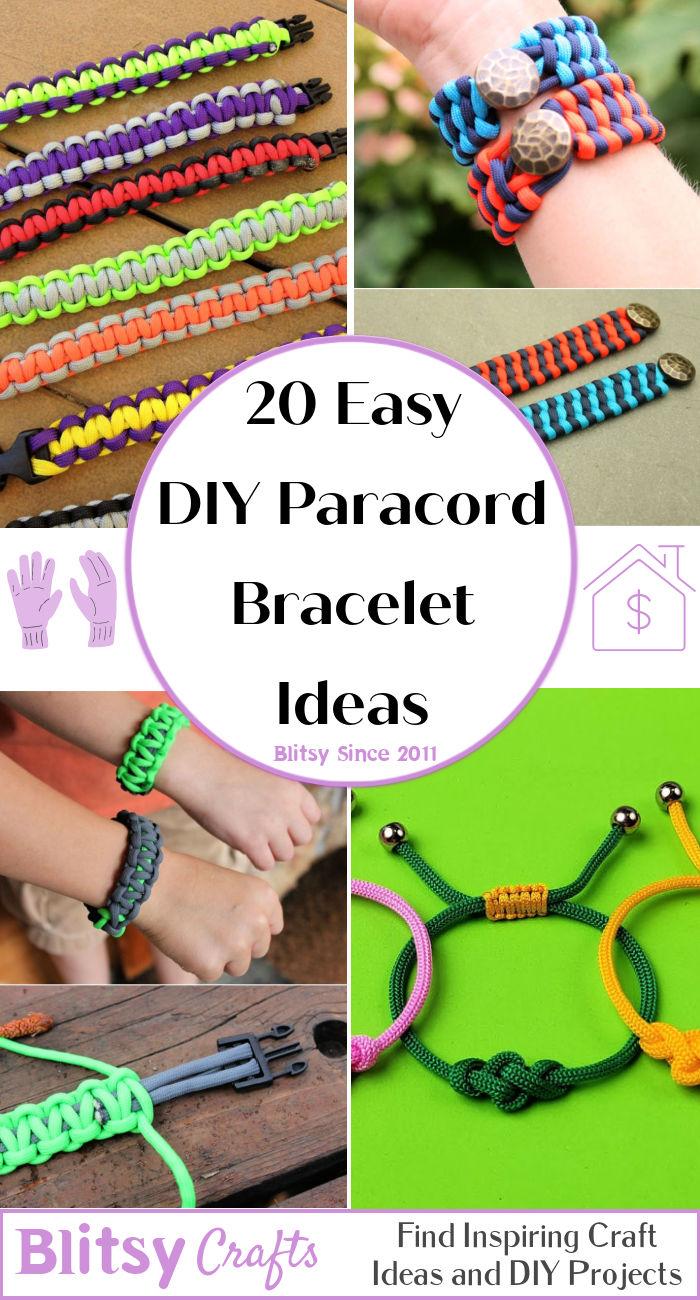 Free Paracord Bracelet Patterns
Love adventure? Get your hands on our paracord bracelet patterns for essential survival gear for hiking, camping & climbing. Learn how to make a paracord bracelet for any occasion today with our 20 free DIY paracord bracelet patterns that are perfect for any skill level. Whether you're a beginner or an expert in braiding, weaving knots and designs – these paracord bracelet patterns will have something for everyone.
Learn how to make your own unique bracelets with detailed instructions on step-by-step guides on how to create fancy paracord designs like a pro. From basic knotting techniques to more advanced tutorials – we guarantee that even complete beginners can easily follow along. Start creating amazing and easy paracord projects today by following our simple yet detailed instructions! With 20 incredible free DIY paracord bracelet patterns at your disposal, it's time to get creative with this timeless accessory trend!
What are the most popular paracord bracelet patterns?
One of the most popular paracord bracelet patterns is the Cobra stitch. It is an adjustable, secure weave that can be used to make a variety of sizes and designs. Another popular pattern is the Fishtail design, which has a distinctive interlacement style with two-color strands. The Snake Knot is a versatile look that can stack multiple cords in a single weave. Finally, the Boa Knot is an intriguing design that creates an attractive coil around your wrist. All these patterns are great for creating stylish and functional paracord bracelets.
How do you choose the right paracord bracelet patterns?
When choosing the right pattern for a paracord bracelet, there are several factors to consider. The first step is to think about the purpose of the bracelet – is it for fashion or utility? Are you looking for something unique and eye-catching, or would a more subtle design suit your needs better? Once you have decided on the style, consider the size of your wrist and pick a pattern that will fit you comfortably. Finally, remember the colors you would like to use and how they coordinate. With these steps in mind, you can easily find the perfect pattern for your paracord bracelet.
How do I create unique paracord bracelet patterns?
You can make paracord bracelets in a variety of unique patterns. To start, choose the color and length of the paracord you want. Then, select your patterns, such as a fishtail, cobra stitch or 4 strand round braid. Research tutorials online for step-by-step instructions on how to make each pattern. Experiment with different materials such as beads, charms and buckles to create a one-of-a-kind design. With practice, you can make your own custom paracord bracelet patterns!
What tools and supplies are needed to make a paracord bracelet pattern?
To make a paracord bracelet pattern, you will need basic tools such as scissors, a lighter, and measuring tape. You will also need several feet of paracord in your choice of color (or colors) and an optional buckle or closure. Depending on the style of the bracelet you are making, you may need additional tools such as pliers or a specialized knot tying tool. Have fun and get creative with your paracord bracelet project!
Is it possible to customize existing paracord bracelet patterns?
Yes, it is possible to customize existing paracord bracelet patterns. With creativity and the right tools, you can easily create your own unique design by adding beads or charms, changing colors, or even experimenting with different knots and weaves. The patterns are endless when it comes to customizing your paracord bracelets. Have fun and get creative!
Find step-by-step instructions for making a paracord bracelet:
Check out the 20 cool paracord bracelet patterns below for step-by-step instructions to make your own paracord bracelet pattern. Plenty of tutorials and videos can guide you through the process. Additionally, you can consult crafting books or magazines for detailed instructions too. You can create a unique and beautiful pattern for your paracord bracelet with patience and creativity. Good luck!
1. How To Make A Paracord Bracelet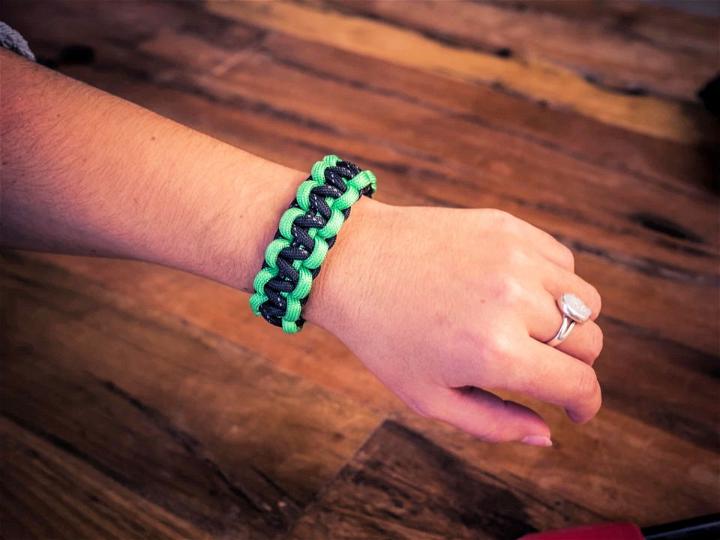 The paracord is the most durable rope to use during the adventurous holidays. This durable rope is used in diverse ways, like making a shoelace or fishing line, and now you can make cool bracelets with it also. Show off by wearing this paracord survival bracelet that is much focally stimulating and is easy to whip up. You need ⅛″ diameter paracord in colors of choice, ¾" plastic side release buckle, ruler or tape measure, scissors and lighter to make this super cool bracelet. rei
2. Paracord Bracelet With Buckle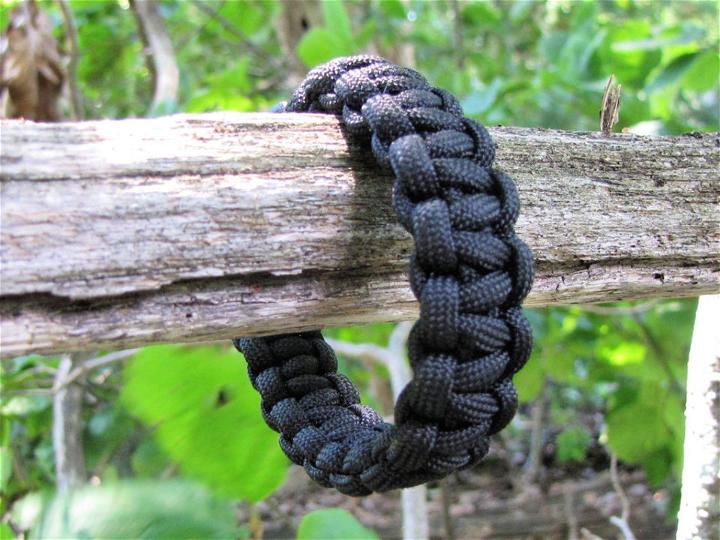 You can use all these art forms, from braiding to knotting to macrame-ing, while getting crafty with paracord to make some cool bracelets. Learn to make a paracord bracelet with a buckle, sure to be a big love of all fashion and style lovers. You need a paracord, lighter, tape measure, side release buckle and scissors to make this outstanding paracord bracelet easily. Start the project by measuring your wrist and slide the buckles onto the cord. Complete the braids and finish all the braids. One of the best DIY paracord bracelets ever made. instructables
3. Parachute Cord Bracelet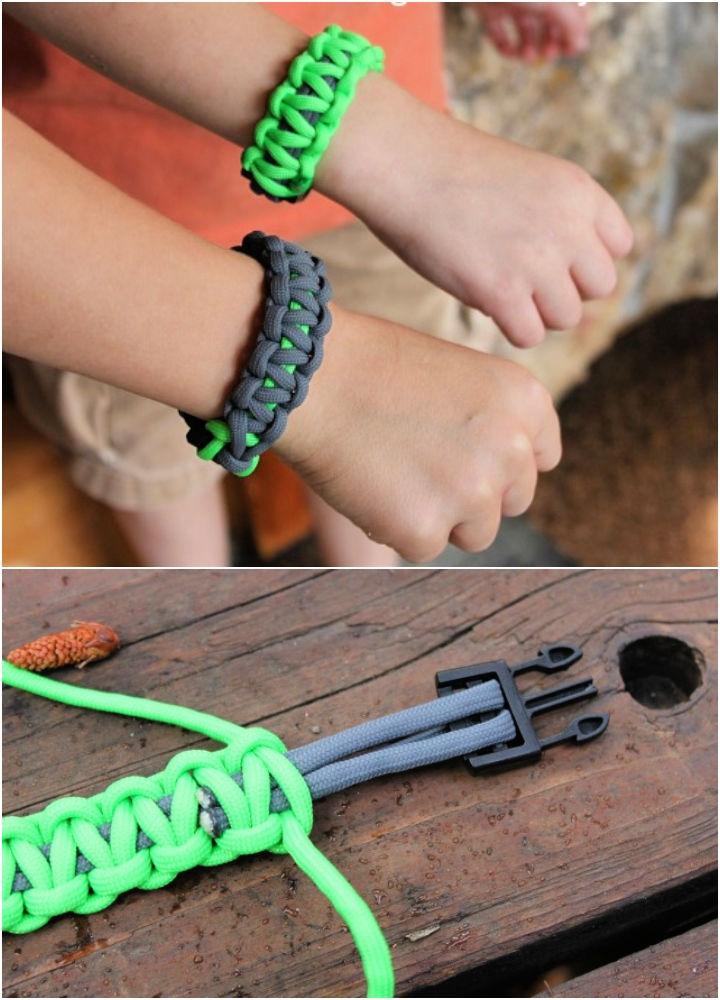 Everyone knows about the stability of the parachute cord. So, the paracord products will also be super durable. This time, make these colorful paracord bracelets and come with nice plastic buckles. You can use single or two colors for making these cool bracelets, and it will not take that too long to complete this bracelet. You need a parachute cord 550 or 325, plastic buckles, a lighter, and scissors to complete this entire project. One of the best and quick-to-do DIY paracord bracelet projects ever. frugalfun4boys
4. DIY Paracord Bracelet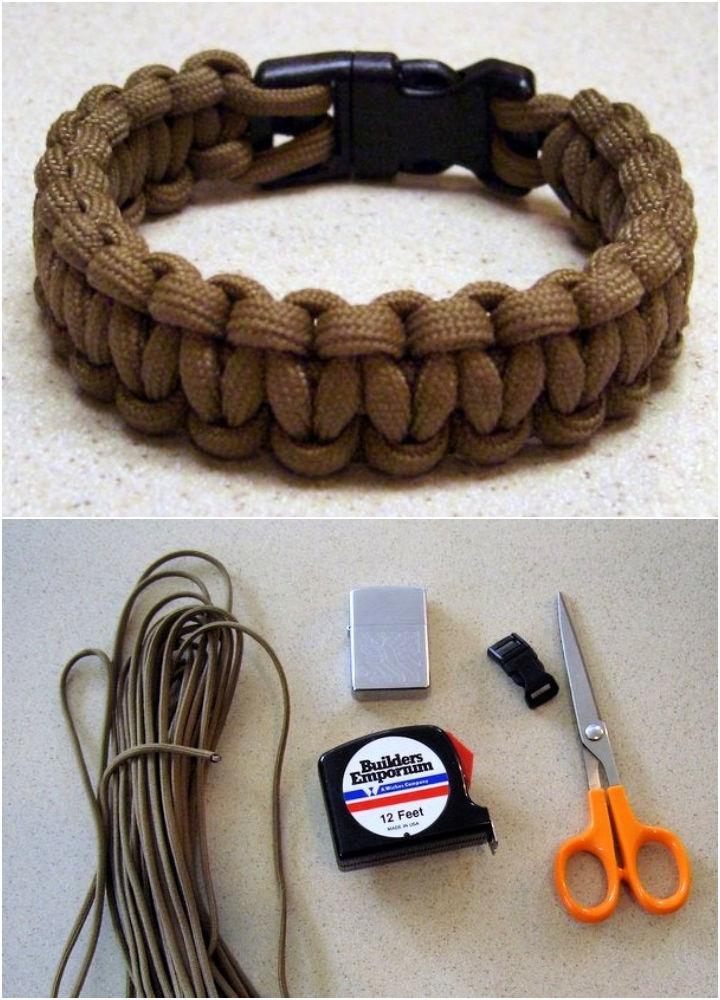 There are so many different knots and braids to choose from while making the paracord bracelets at home. However, you can also use so many different buckles while intending to give some cool variations to these bracelets. So, get instructions to make a paracord bracelet with a side release buckle. This will impress all the style and fashion lovers for sure. You need a ⅛″ diameter cord, tape measure, ruler, scissors, a lighter and a side release buckle to complete this outstanding paracord bracelet. Measure the wrist size to get the perfect bracelet length. Star the project by making knots and finish by melting the ends. instructables
5. Make An Adjustable Paracord Bracelet

You just no need to make a variety of bracelet sizes to fit different wrist sizes. Head over to this adjustable paracord bracelet that can be made to fit any wrist length. Here you can opt for different bracelet closures like a metal shackle, cord lock and a velcro bracelet clasp, depending on your own choice. One of the best and quick-to-make DIY paracord bracelets that everyone can make with great ease. Pick your favorite cord colors to complete this outstanding bracelet design, sure to be a big love of all. paracordguild
6. Step By Step Paracord Bracelet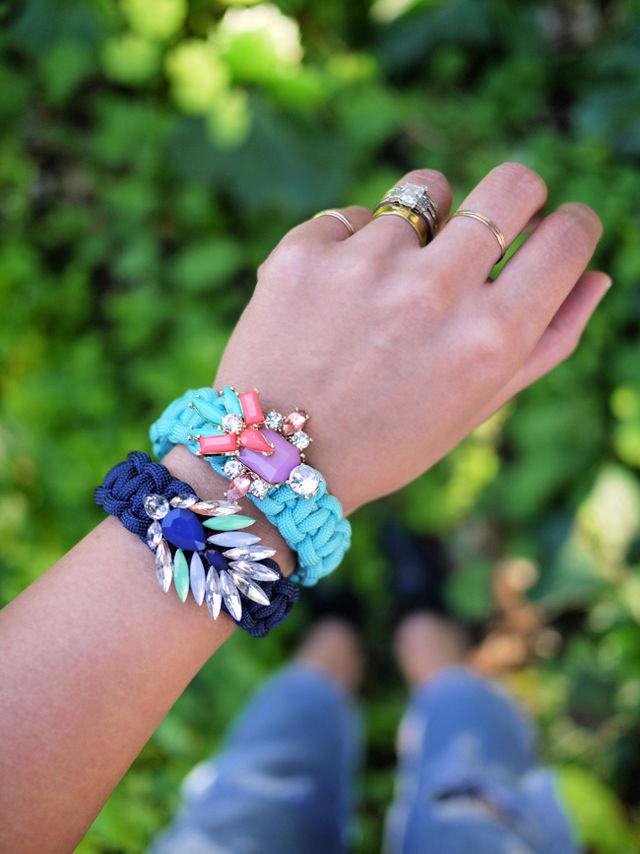 Both boys and girls can wear the paracord bracelets for bigger fashion statements. However, you can add custom accents to them to make the girl or boy special. You will fall in love with these paracord bracelets that are beautifully jeweled and enchant with superior girlish appeal. You need 10ft of 550 paracord, an earring or small brooch, a lighter, E6000 glue, scissors, and some knotting skills to complete this entire bracelet. The project is much doable for beginners, and everyone will fall in love with the completed bracelet. honestlywtf
7. Men's Paracord Bracelet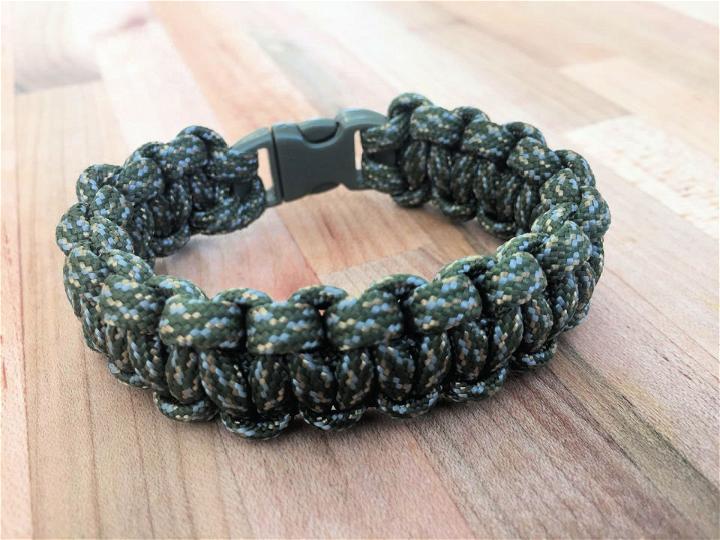 Do you love the outdoor life and take great pleasure in hiking, climbing and camping? Then this paracord survival bracelet is for you. You can use it to tie up a variety of gears, and the bracelet will come in handy to handle a lot of emergencies also. So, you will learn here to make a paracord survival bracelet like a pro. The process is quick, and you will get complete written and video instructions here to easily duplicate this survival bracelet like a pro. You need 10 feet of paracord, a side release buckle, measuring tape or ruler, scissors or knife and a lighter o complete this outstanding bracelet. cloudlineapparel
8. How To Paracord Bracelets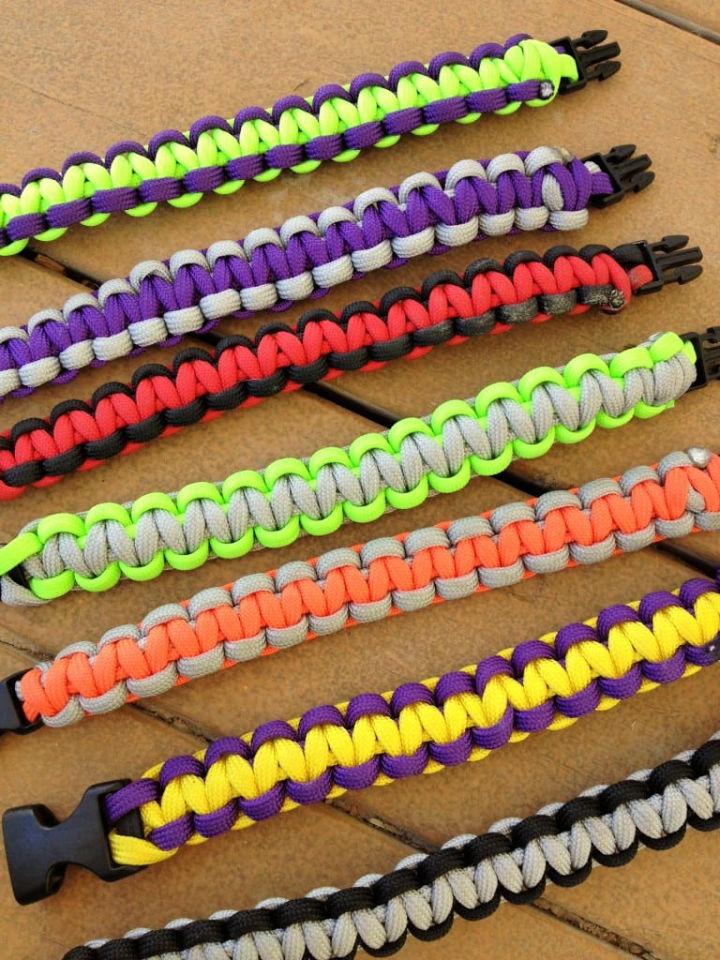 Puzzling at how to make a quick paracord bracelet? This will be a stylish way also to keep several feet lengths of paracord with you. So, these bracelets make the life of a camper, hiker and climber easier. One can use this durable rope in various emergencies. The rope will come in handy to make shelters and fish for food. Moreover, the bracelet will be a brilliant fashion also. You need paracord in custom colors of choice, scissors, a lighter and also custom buckles to complete this superb-looking bracelet in no time. agirlandaglue
9. How To Make Rope Bracelets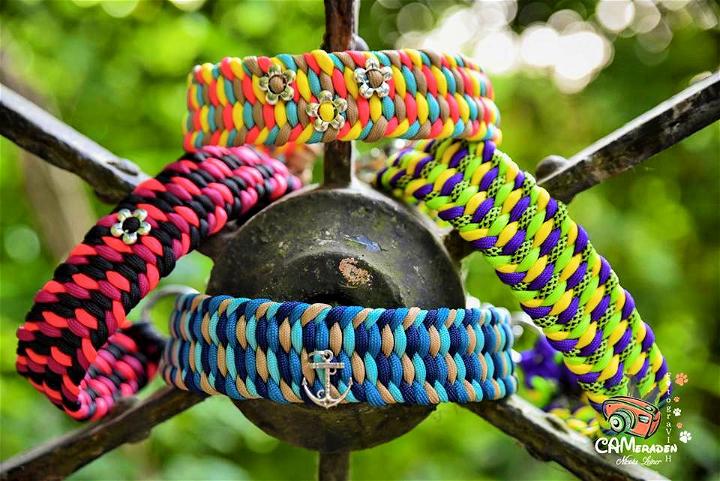 There are dozens of different bracelet designs to make with the paracord. Opt for these farbenspiel trilobite bracelets that are one of the coolest paracord creations. They will make quick handmade gifts for style-loving boys and girls and easily whip up. Choose the colorful paracords to complete these bracelets, and you can also finish them with plastic or metal closures for added visual charm and beauty. This project involves completing different braids to whip up these paracord bracelets, sure to be a big love of all the stylish persons. swiss paracord
10. DIY Lacey Macrame Bracelet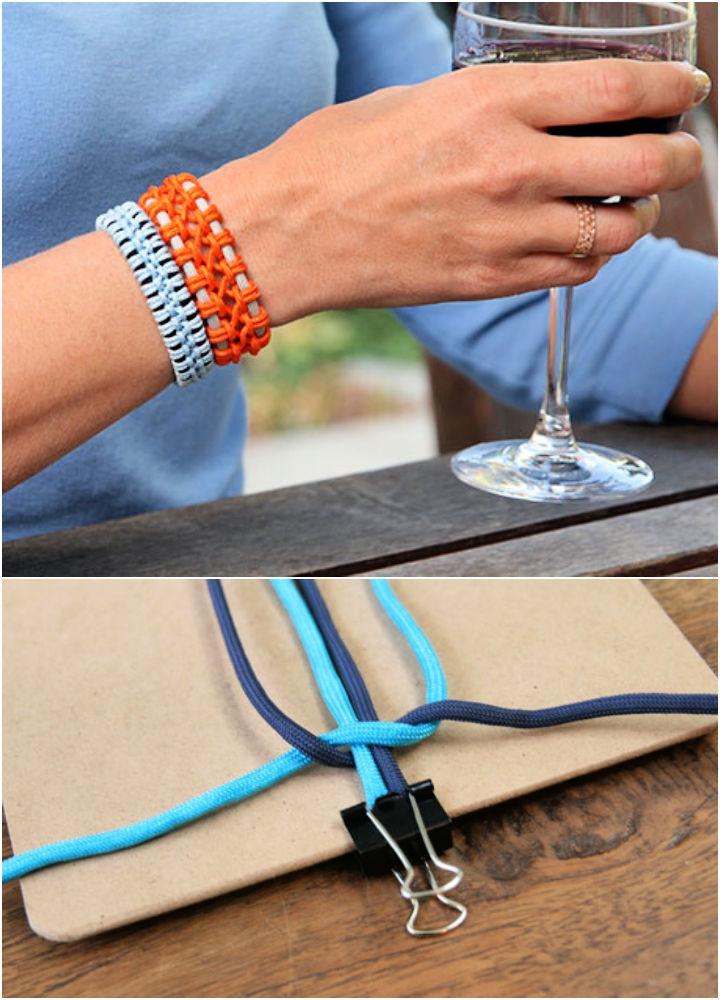 Bring tons of visual charm and beauty to your wrists by wearing this lacey macrame bracelet that is much focally stimulating also. Here the project involves tying some smart knots to achieve the targeted design, and you will fall in love with this lacey macrame bracelet for sure. You need a 20″ length of 550 paracord in the color of choice, 3 ⅓ yards of 1.5mm or 2mm Korean knotting cord, a button, scissors, clipboard and a lighter to easily duplicate these paracord bracelets. The entire project is much doable for all beginners, and step-by-step instructions will provide the total help. remarkably
11. How To Woven Cuff Bracelet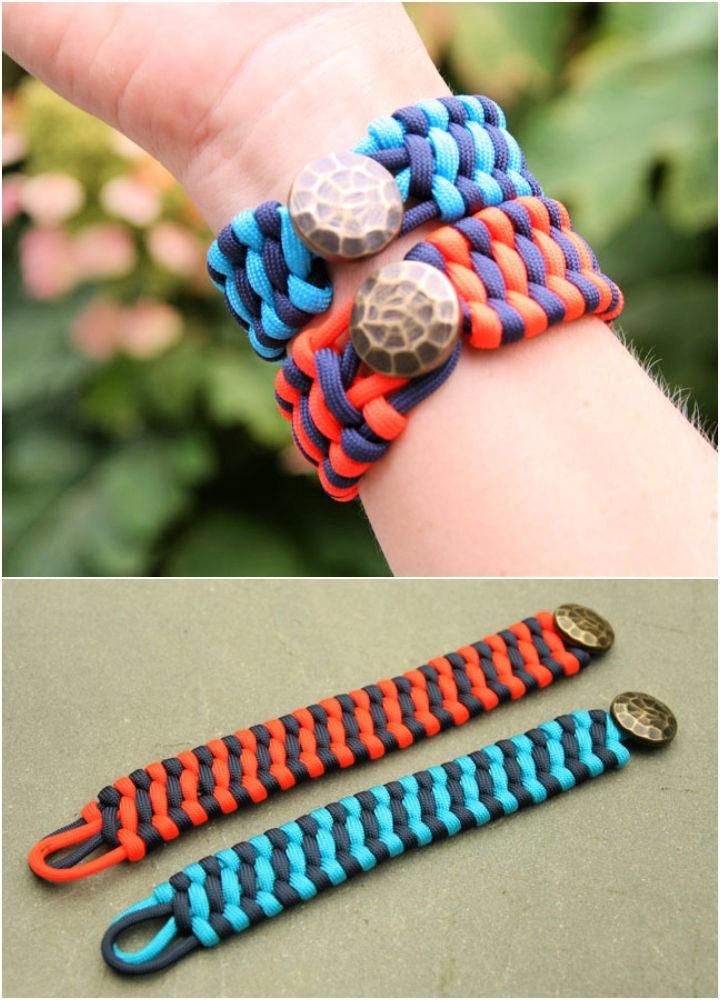 Fancy up your cuffs with these woven paracord bracelets that are super colorful and enchanting. They will be a great addition to one's bracelet collection. You need 5 ½' lengths of 550 paracord, a lighter, needle or thread, a button and pliers to complete this outstanding trilobite bracelet. Use a clipboard to hold the paracord length that you have to braid together to complete this woven bracelet. Add custom closures to give outstanding variations to this bracelet, and you can also use the custom jewels to fancy up these bracelets more. One of the best and quick-to-make DIY paracord bracelets ever. remarkablydo
12. Hex Nut Paracord Survival Bracelet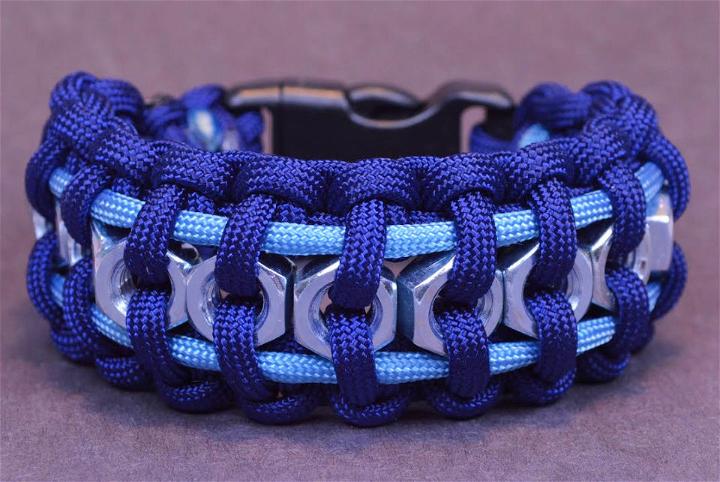 There are many versions of the paracord bracelets that differ in knots and overall design patterns. Follow here guides and instructions to make a "Hex Nut" paracord survival bracelet, sure to be a big love of all the girls and boys. Here the hex nuts are used as the lovely beads, and they will make the perfect metal accents in the finally completed bracelets for sure. So, you need your favorite paracord in your favorite color, plastic buckles or closures, hex nuts, scissors, lighter and some creativity to complete this paracord bracelet.
13. Making Fishtail Paracord Bracelet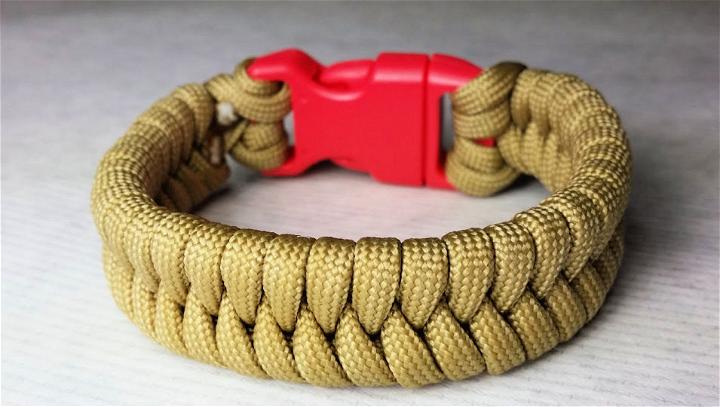 Are you highly obsessed with mermaids and fishtails? Then time to make this fishtail paracord bracelet that is much focally stimulating and will be a big love of all. The bracelet will help give a nautical décor touch to your personality. It will be a great pleasure to wear this bracelet, and it will be there in no time for sure. First, just measure the size of your wrist and then braid the paracord to complete this super quick and lovely bracelet. It will be both at the same time, gift-worthy and praise-worthy.
14. Corkscrew Paracord Survival Bracelet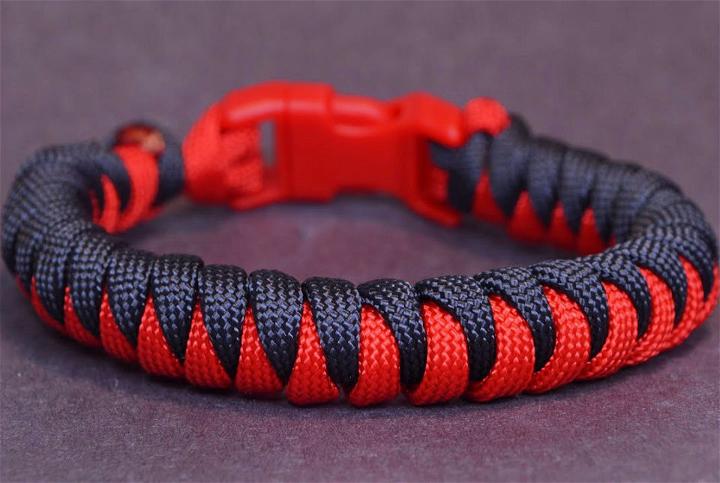 Assist yourself more in living outdoor with this paracord survival bracelet. It will help deal with various emergencies and will surely lend a big helping hand in your adventurous life. It will be big fun to put together this "Corkscrew" bracelet, will never get out of style. Here black and orange-red paracord is used to make this outstanding bracelet that looks pretty much like a snake's skin. Finish the bracelet with the plastic closure and then heat up with the lighter for a solid look, and that's it. Experiment this project with custom selected rope colors.
15. Cobra Paracord Bracelet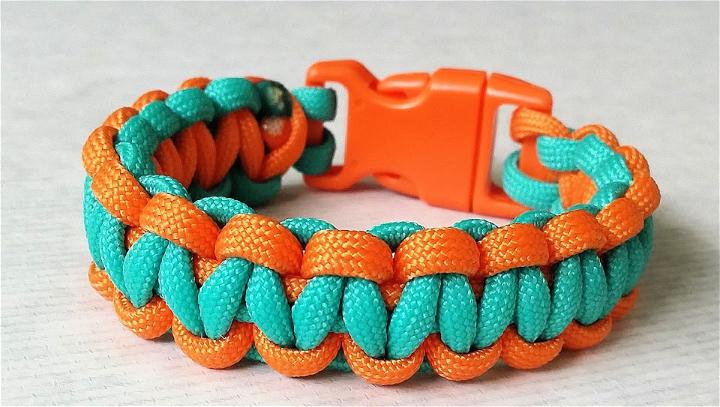 Satisfy your Cobra love by wearing this cobra bracelet, totally something fashion-worthy to make at home. The project involves working in the Cobra weave (Solomon Bar) to complete this survival bracelet. From sliding the buckles on the rope to braiding the rope, you will get instructions for all the steps here. Take a quick start by doing quick wrist measurements, and then start cutting the paracord lengths. The project involves a smart use of a lighter to easily complete this entire project, and you will love how this bracelet will serve the user. Slide the buckle onto the rope, tie a square knot, and start the cobra weave.
16. Custom Paracord Bracelet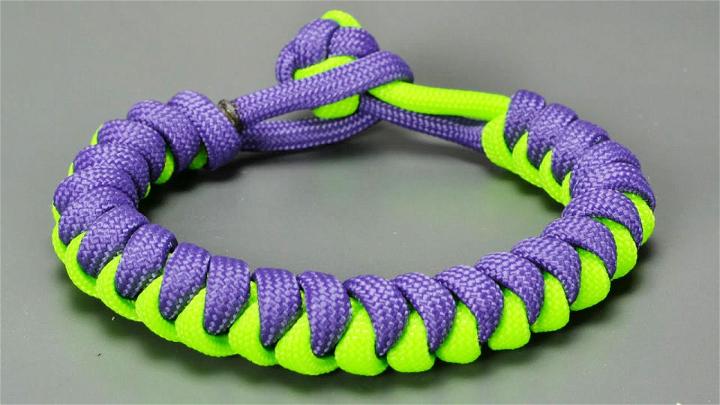 Enjoy the camping and hiking adventures more with this snake paracord bracelet. You can use it as a great survival bracelet, and it will allow you to tie up your gears also. From putting together the 2 ends of different colored ropes to going for a cobra weave, you will get instructions for all steps here. The project involves simple looping and knotting to make this snake-inspired bracelet. It is a cool gift to give to cool girls and boys, and it will only take a few minutes to complete this outstanding paracord bracelet.
17. Outstanding Paracord Survival Bracelet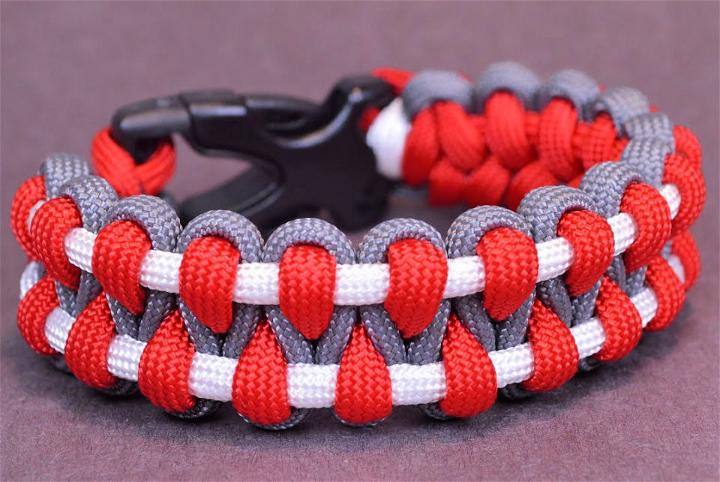 Check out the here instructions for another great paracord survival bracelet, sure to be the coolest fashion item. This bracelet comes with beautiful sleek plastic buckles and is easy and quick to make. From sliding the buckles onto the cord lengths to adding additional accent colors, you will get instructions for all the steps here. Here the weaving of this bracelet involves using the "S" loops, which will create too much fun. The finished bracelet will grab the attention of all the onlookers, and everyone will praise the bracelet's design pattern for sure.
18. Three Color Paracord Bracelet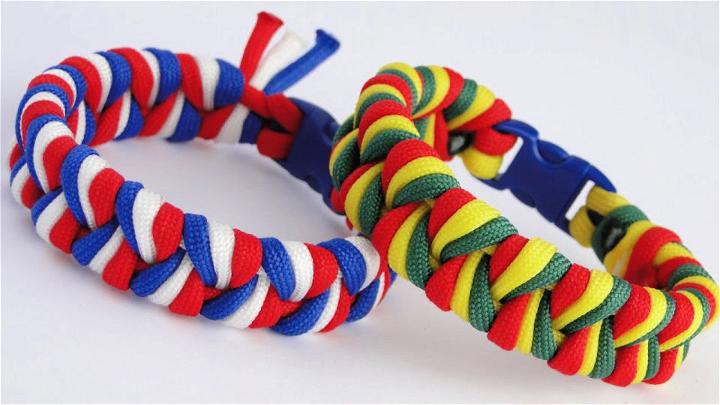 Learn how to braid together 3 different colors of the paracord to make a super cool bracelet. Check out the given samples that are much focally stimulating and will make the best handmade gift to a favorite person. These snake bracelets come with plastic buckles and close nicely around the wrist, making a big fashion statement. So, first select your favorite paracord colors for the bracelet and then go ahead and weave or braid them together to complete this arresting design of paracord bracelet. To complete this bracelet project, you need 550 paracord, scissors, buckle, light and art of knotting or braiding.
19. Super Easy Paracord Lanyard Bracelet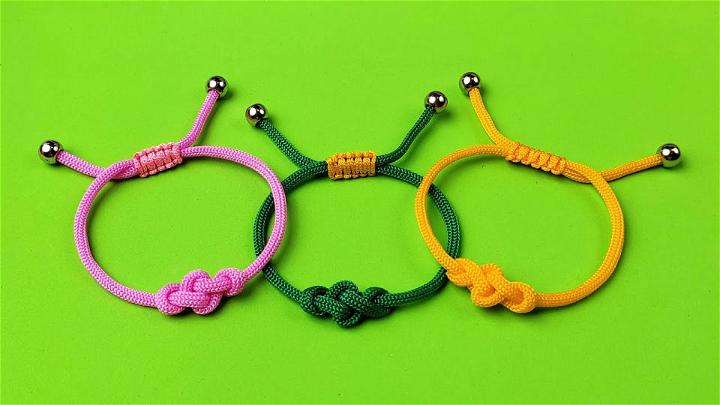 Intending to make a super easy paracord bracelet at home? Then duplicate this paracord lanyard bracelet that is super easy and quick to whip up, and you can use your favorite rope colors to try out this easy peasy cord bracelet. Along with the paracord, the project also involves using the 3mm nylon cord. About 30cm length of the nylon cord will be enough to add that special accent section to a bracelet that holds the adjustable bracelet ends. The project starts by tying an accent knot that makes the whole bracelet look beautiful. One of the best and quick-to-make DIY paracord bracelets that involve no braiding or weaving.
20. How To Make Cord Bracelets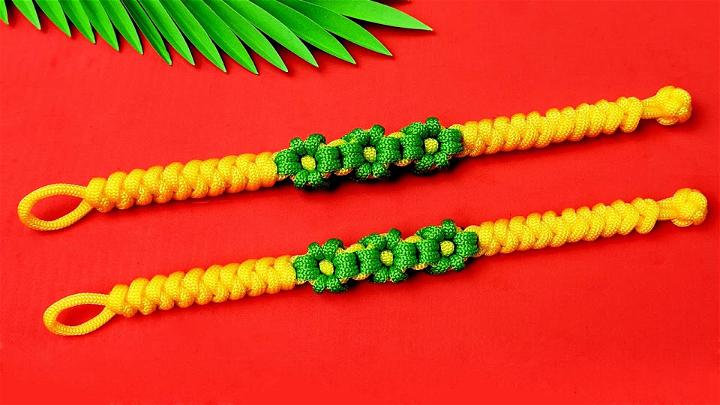 Do you love making bracelets on a board that makes the weaving or braiding easier? Then time to opt for this super easy paracord lanyard bracelet that is visually attractive and sure to be a big love of all. The bracelet comes with 3 accent flowers on the top and will go amazing around the wrist of any stylish person. You need paracord in yellow, green and white color to easily duplicate this paracord bracelet. Moreover, grab the 3mm Nylon cord to complete this paracord lanyard bracelet. One of the easiest DIY paracord bracelets ever.
Frequently Asked Questions:
Discover the answers to frequently asked questions about paracord bracelet patterns. Get all the tips to make unique paracord bracelet designs at home!
What does wearing a paracord bracelet mean?
Wearing a paracord bracelet is a way of showing support and camaraderie amongst peers. It is symbolic of strength, endurance and resilience and can also be used as an emergency life-saving tool if necessary. Wearing one serves as both a fashion statement and a reminder of how valuable the wearer is to their community.
How much cord is needed for a paracord bracelet?
The amount of paracord needed to make a bracelet depends on the wrist size. Generally, you will need 7-10 feet of paracord for each bracelet. The larger the wrist, the more you will need, and if you use a thicker cord. You can always use a piece of string to measure and determine how much cord you need.
Can you make money selling paracord bracelets?
Yes, you can make money selling paracord bracelets. Paracord is a popular item; you can find many buyers online or in person. You should research the market to decide your pricing structure and target customer base. Develop a marketing strategy to promote your business, and soon you could start earning profits from selling these trendy accessories.
What size is paracord best for bracelets?
The best size paracord for bracelets will depend on your choice of the bracelet and your preference. Generally, 3/32-inch or ⅛-inch cords are most popular for making bracelets and keychains, but you can use any diameter that fits your design needs. Experiment with different sizes to find the one you like best.
Should I melt the ends of the paracord?
It depends on the project you are working on. Paracord can be melted to form different shapes, but it is only sometimes necessary. If the knot you are tying requires melting, use a lighter with caution and make sure it does not damage the paracord. Be sure to follow instructions for proper use of heat when sealing ends. Heat temperature and duration can vary depending on the project. Use caution when melting paracord to ensure a successful result.
Do you need a jig for the paracord bracelet?
Yes, a jig is necessary to create paracord bracelets. A jig helps ensure the bracelet is even and symmetrical, making it comfortable to wear. It can be made from simple household items such as Popsicle sticks, or you can buy an adjustable jig that makes weaving easier and also comes with other tools like clamps and hooks. With the right jig, creating a paracord bracelet will be a breeze.
Can a paracord bracelet save your life?
Yes! Paracord bracelets provide a quick and handy source of cordage in an emergency. They have been used for various tasks, from securing shelter to providing tourniquets and splints. Having one on hand may be instrumental in saving your life or the life of another.
What is the best survival bracelet?
A paracord survival bracelet is one of the best items in your emergency kit. It's lightweight, durable and highly versatile, containing several meters of paracord that can be used for various tasks in an emergency. Paracord also provides great strength and flexibility, making it an ideal material for crafting a high-quality paracord survival bracelet. Additionally, paracord is widely available and affordable, making it an ideal choice for preppers. With the right paracord in hand, you can be sure to have a reliable tool at your disposal when disaster strikes.
Can you reuse a paracord bracelet?
Yes, you can reuse paracord bracelets. They are durable and will last a long time if properly maintained and cared for. Clean it with soap and water and store it in a dry, cool place to ensure its longevity. Replace the cord if necessary for safety reasons as well. A paracord bracelet should last you a considerable amount of time.
What is the strongest knot for paracord?
The strongest knot for paracord is the Double Fisherman's Knot. Also known as the Grapevine Knot, it is a powerful and reliable binding knot that can securely link two pieces of paracord together. When tied correctly, it is almost impossible to unravel and offers superior strength and stability compared to other knots. It is also easy to learn and tie, making it an ideal knot for paracord projects.
How do you finish a paracord bracelet without burning it?
The best way to finish a paracord bracelet without burning it is to use the cobra stitch technique. This involves knotting each loop of the cord together until you have reached the end. Keep tension on the cord as you pull each loop tight for a secure finish. With practice and patience, this method will give you a beautiful, durable paracord bracelet.
Are paracord bracelets still popular?
Paracord bracelets are still popular, especially among outdoors enthusiasts. They offer style, convenience, and a practical way to keep extra cordage on hand for emergencies. In addition to their functional benefits, paracord bracelets may also be used to make creative fashion statements with various colors and designs available. Ultimately, these bracelets are practical and stylish, ensuring their ongoing popularity.
Related DIY Paracord Projects:
Create stylish, unique paracord projects with these easy DIY patterns! Learn how to make keychains, bracelets and more with our comprehensive step-by-step instructions.
Conclusion: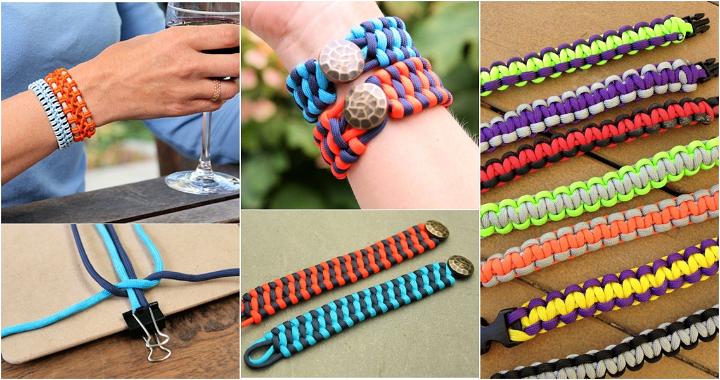 Learn to make paracord bracelets with detailed tutorials, diagrams and step-by-step instructions. Choose from a wide range of braiding, knotting and weaving patterns for amazing design variations.
Paracord bracelets are an awesome way to express yourself through crafting. With 20 step by step paracord bracelet patterns, it's easy to find a design that suits your style and skill level. From classic styles to fancy weaves, each bracelet pattern provides everything you need for an amazing DIY project. So get creative with paracord bracelet patterns that have something for everyone!