Organize your home storage and workshop more effortlessly and efficiently with DIY pallets shelves. If you don't have shelves in your home or store, how could you manage all the stuff? Of course, it's not possible. Meanwhile, this disorganization of things and tools will also affect your overall productivity. For this, it's essential to have a specific place or shelf to arrange all your items, home stuff, like books, tools, and decorative items for ease of work.
If you want to organize your home under a low budget then free pallets are a great option. Find these 25 cheap DIY pallet shelves ideas that are easy to build and will help you to declutter your home. Moreover, this management and appropriate placement of things in your home, workshops, and stores will also inspire others. Otherwise, other people will see only chaos.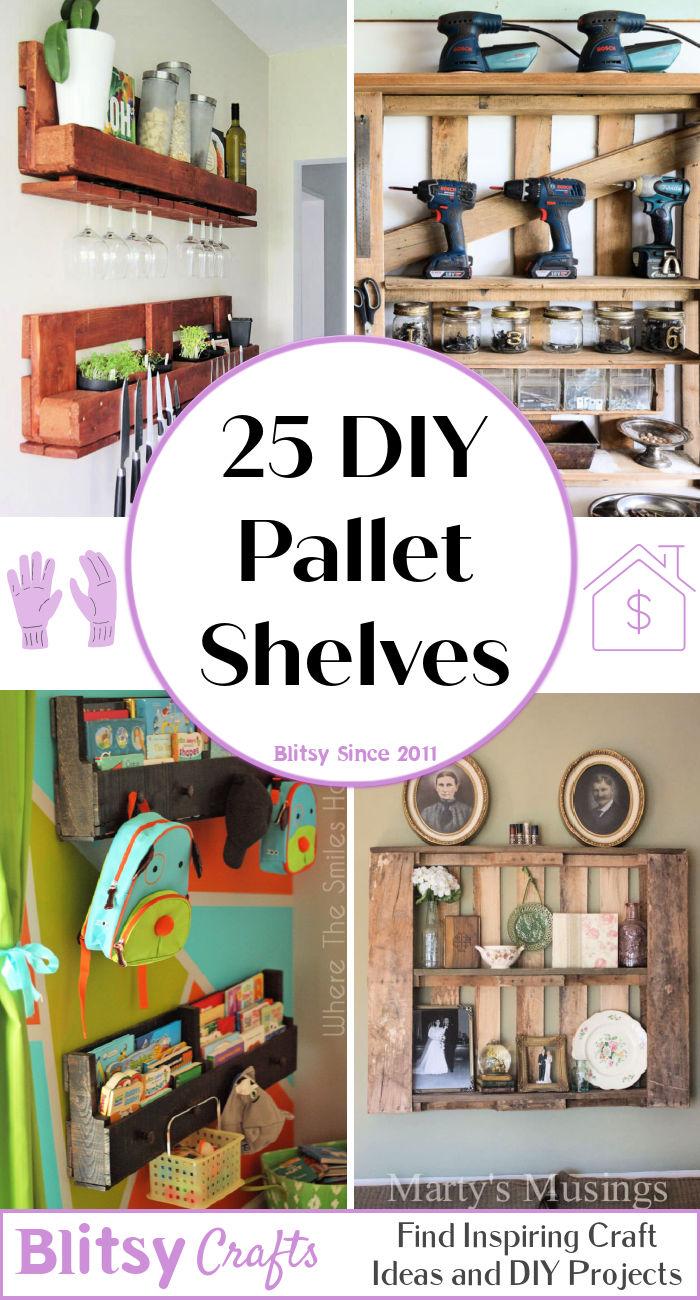 There are a lot of pallet shelf ideas and plans to increase productivity only by managing the things like a pro! You need to go for the right and suitable plan that seems to your space and storage requirements. Remember one thing, organization of things is the key to success for your workshop activities. If you want a lasting solution to solve the storage issues, consider these mentioned below pallet shelves according to your needs.
1. Threaded Rod Pallet Shelf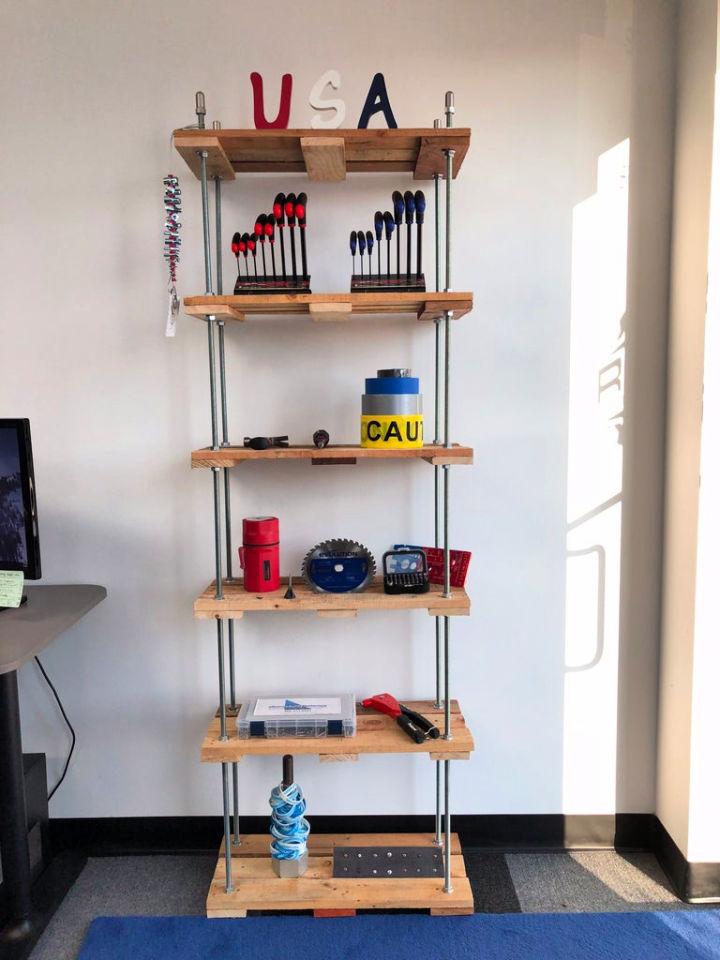 No wonder creatives and DIY lovers always love working on effective plans and ideas. If you are also one of them and looking for new storage space for your workshop, consider this threaded pallet shelf. You would have fun and enjoy working on this pallet shelf, especially when running out of storage space in your store. To make this rack, you will need pallet planks, wood screws, wood glue, miter saw, table saw, Zinc threaded rods, tape measure, drill machine, wrench and wood stain if you want. Excitingly! You can increase the number of racks on this threaded pallet shelf according to current supplies and your needs. instructables
2. Pallet Tool Shelf

Arrange your workshop tools and supplies more mesmerizingly with a DIY pallet shelf. Make this shelf yourself with easily available wooden supplies instead of buying from a craft store. If you are a wood-crafter, you would surely enjoy creating this pallet rack with wooden pallets, wood screws, power drill, miter saw and wood glue. Even for the racks, you can use the same pallet planks. Enjoy crafting and placing your tools like a professional workshop owner! funkyjunkinteriors
3. Make Shelf Out Of Pallet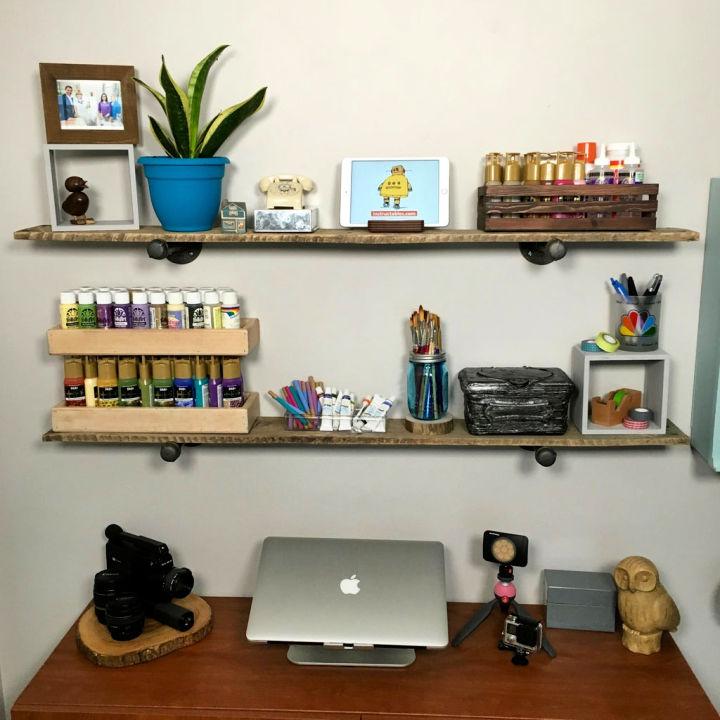 Do you want to add more organizing space to your room or office? If yes, consider this pallet and pipe shelf. Luckily! The manufacturing of this shelf is much easier and affordable than a store-bought shelf. Moreover, it can DIY super efficiently with pallets, cutter to cut pallets, plastic pipes, flanges, screws and drywall anchors. The main thing is that you can mount this pallet shelf on the wall to organize the accessories or other things without messing up your floor. instructables
4. Easy DIY Pallet Wood Shelves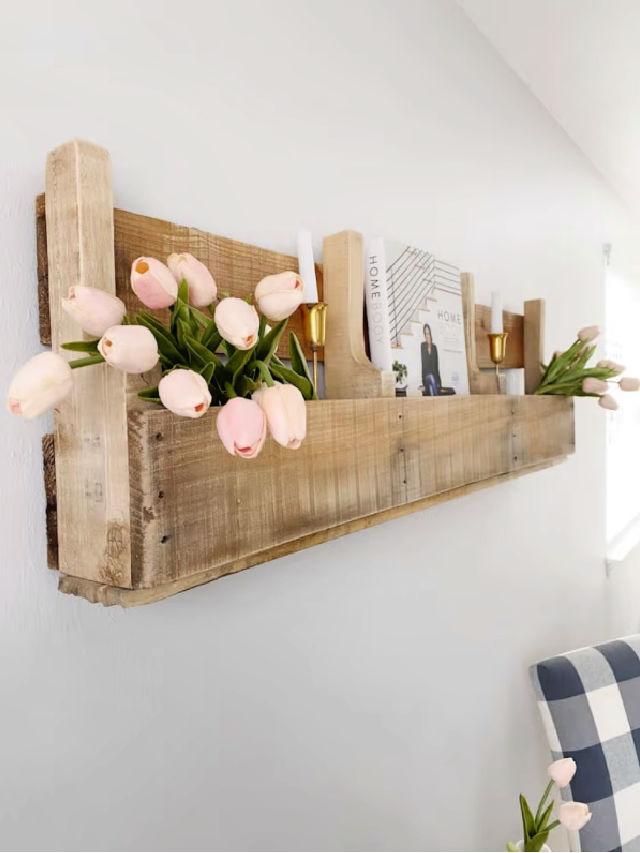 Uplift your home or room decor more stylishly by adding a pallet shelf. You can use this shelf for placing the centrepieces, indoor plants and vases super easily. Moreover, you can also use this shelf as a book storage rack. To craft this shelf, you require wooden pallets, wood screws, cordless drill, miter saw, sandpaper and wood stain of your choice. Cut the pallets after specifying the area where you are going to mount or place this pallet shelf. thisfulllife
5. Pallet Shelves for Kitchen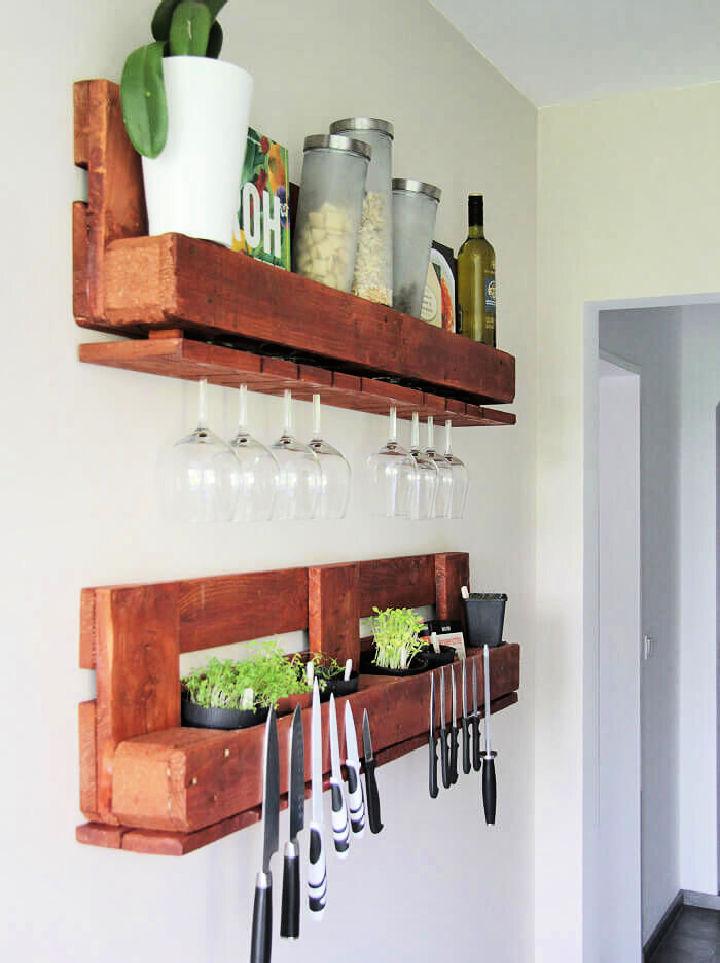 No doubt, you are always in need of new space for storage in your kitchen. If it's true, what's about creating a pallet shelf for your kitchen? You can craft this shelf for arranging the kitchenware and a makeover in the kitchen decor. Anyway, you will need wooden pallets, a hammer, wood screws, drill, miter or circular saw, wood stain, sandpaper and nails for nailing this versatile pallet shelf in your kitchen. theexperimentalhome
6. Rustic Pallet Wood Shelves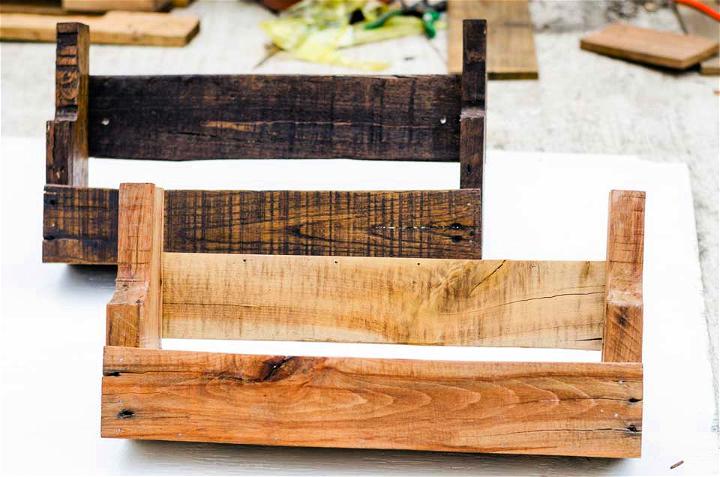 No wonder rustic and vintage style craft add more glam and drama to your home decor. Similarly, rustic pallets shelves are more than enough for a quick and affordable decoration redo. Start making these shelves with wooden pallets, wood stain in different shades, wooden planks, nails and a hammer. The best thing is that you can add more than one pallet shelf in your room more stylishly to organize your stuff and decoration. instructables
7. Rustic DIY Pallet Shelf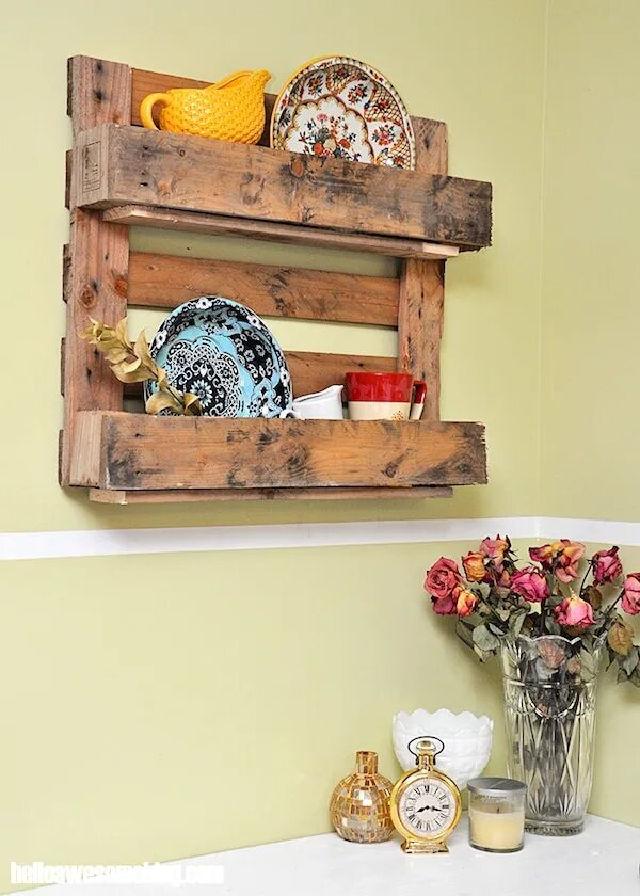 Do you have useless pallets in your thrift store and don't have any idea to use them? If yes, nothing would be a better option than using those pallets to make a farmhouse style rustic shelf. With fewer basic skills and wood-crafting tools, you can DIY pallet shelf effortlessly. If you want to get your hand on this pallet shelf, you will need wooden pallets, a manual or table saw, a hammer, nails and anchors for crafting it yourself. Interestingly! This rustic farmhouse style shelf is an ideal option for your room, kitchen, and workshop. diycandy
8. Wooden Pallet Shelves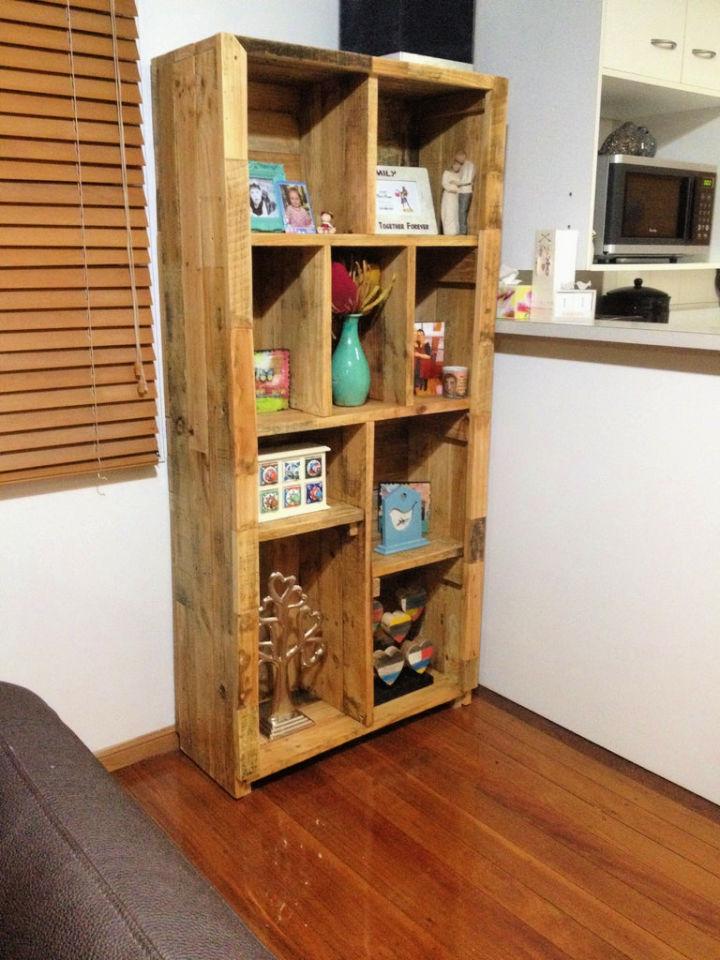 If you want to place all centerpieces, your photo frames and other decor accessories at the same place in the TV lounge, craft a pallet shelving unit. With this unit, you can organize all your stuff and play a vital role in uplifting your home decoration. DIY this shelving unit with the miter saw, hammer, screwdriver, clamps, wooden pallets, wood glue, timber screws and wood filler. One of the most important things is starting this DIY unit shelves with a designed plan. instructables
9. Wall Mounted Pallet Shelves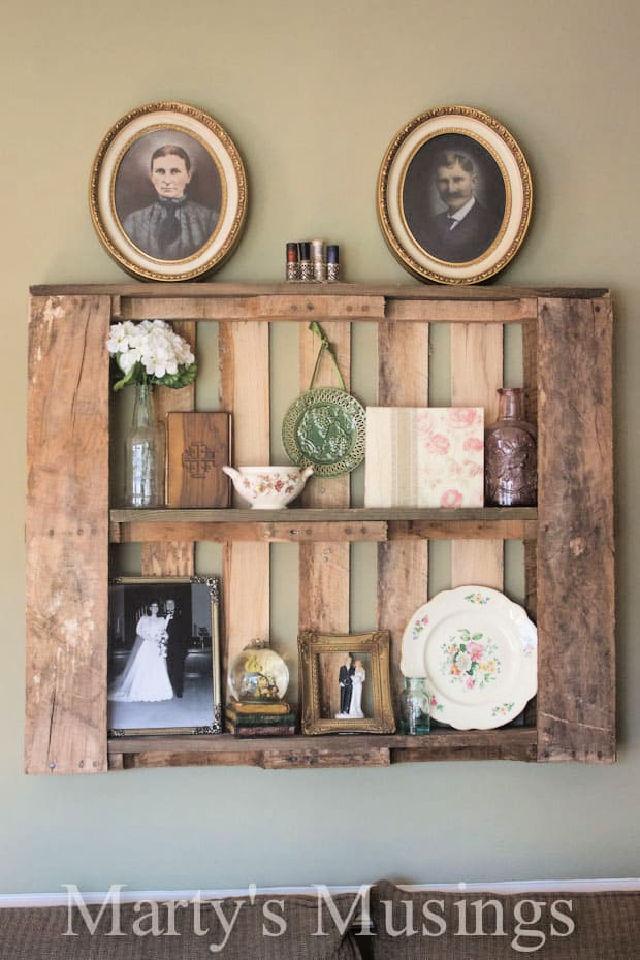 Organize your room stuff and decor pieces more proficiently with a wall-mounted pallet shelf. DIY this shelf yourself instead of buying and placing the expensive racks in your room. It's the right time to recycle the discarded and useless pallet planks from your thrift store. To make this super easy pallet shelf, you will need wooden pallets, wood-cutting tools, wood stain, sandpaper, hammer, nails and wood screws. Additionally, use the same pallet planks for crafting the multiple racks or units on this customized wall-mounted pallet shelf. martysmusings
10. Pallet Wood Shelves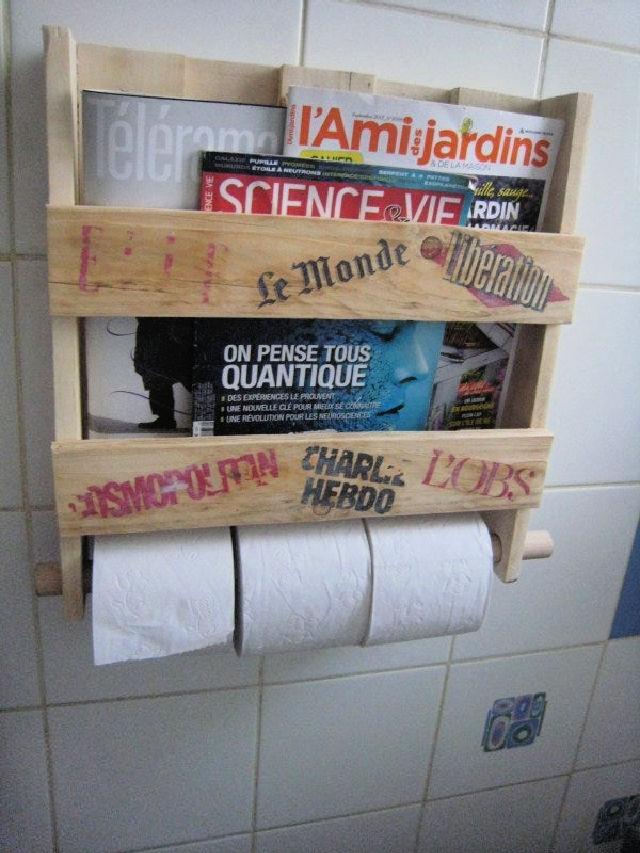 Don't you think a pallet shelf having space for placing tissues, magazines and other accessories at the same place would be a useful DIY for your bathroom? Indeed, it would be best if you preferred this shelf even for your smaller bathroom space. So, you can organize all stuff more easily. You will be excited to know that you only require wooden pallets, wood adhesive, and a cutting tool to finish this pallet shelf smoothly. instructables
11. How To Make Pallet Shelves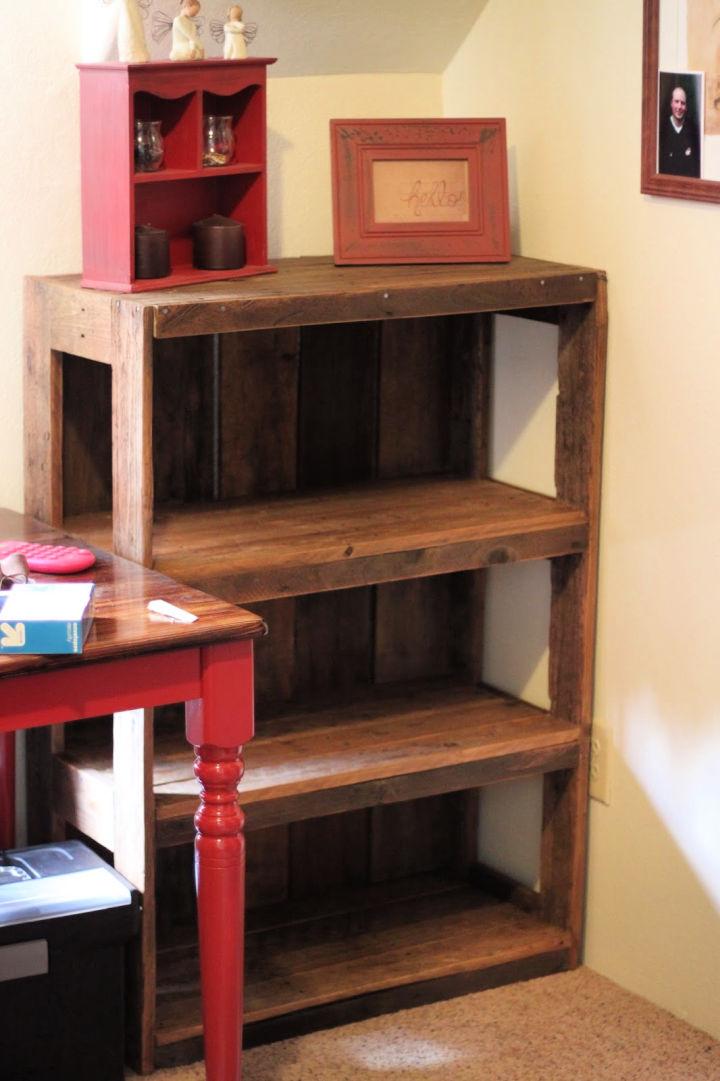 Do you want to add a bookshelf to your room but don't have enough budget? Don't worry; you don't need to buy a new rack from a craft store to place in your room. Now, you can DIY a pallet shelf for putting books and other stuff easily in your room with the easiest plan. All you need to do is disassemble the pallets and re-join them in a shelf pattern. madewithlove
12. Pallet Wine Shelves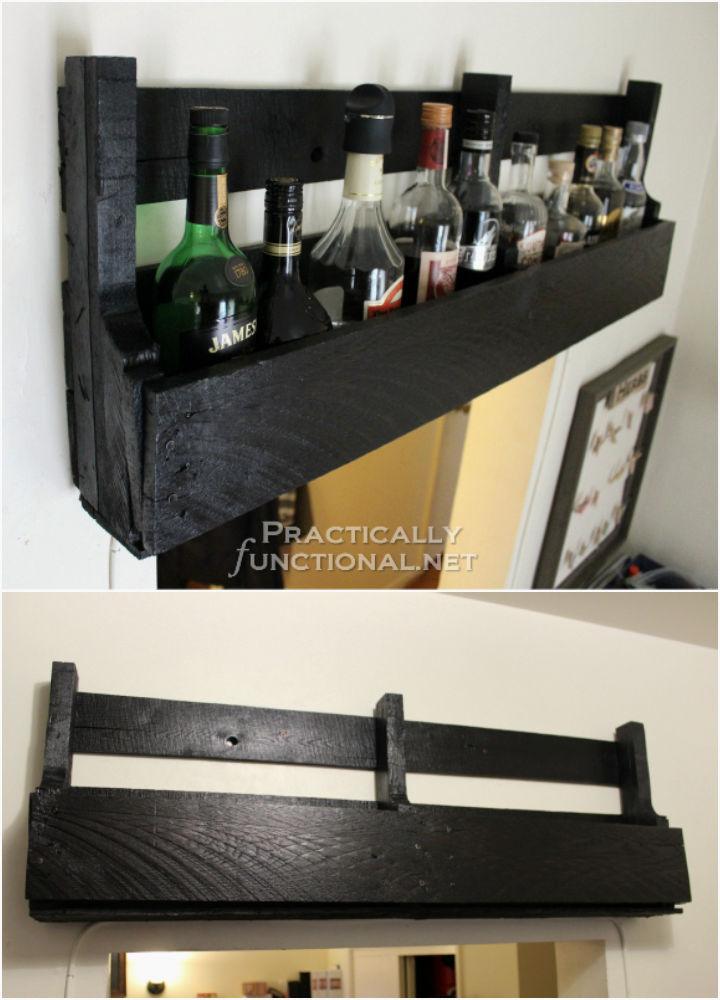 Transform a pallet wine shelf for your kitchen to add hub style decor. To make this wine shelf requires basic crafting skills and tools. So, the beginners can also work on this project super efficiently. You need a wooden pallet, hammer, Minwax, wood screws, stud finder and black paint. Start making this shelf with a whole pallet according to your requirements. Lastly, give the final touch-ups to this pallet wine shelf with black paint. practicallyfunction
13. How to Make a Pallet Corner Shelf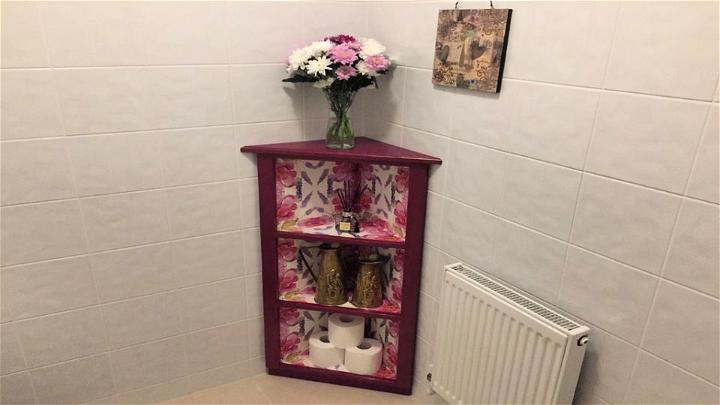 DIY a corner shelf for placing in your bathroom with pallets, wood glue, screws, brad nailer, plastic sheet, chalk paint, gold flake, wood-cutting tools, paintbrushes and nail gun. Not only for the bathroom decor, but this corner shelf would be a great choice for your room. To create this corner shelf, all you need to do is searching your stash to find out the material. On the other hand, go for reclaimed pallets if you have pallets in your thrift collection. instructables
14. Crates and Reclaimed Pallet Bookshelf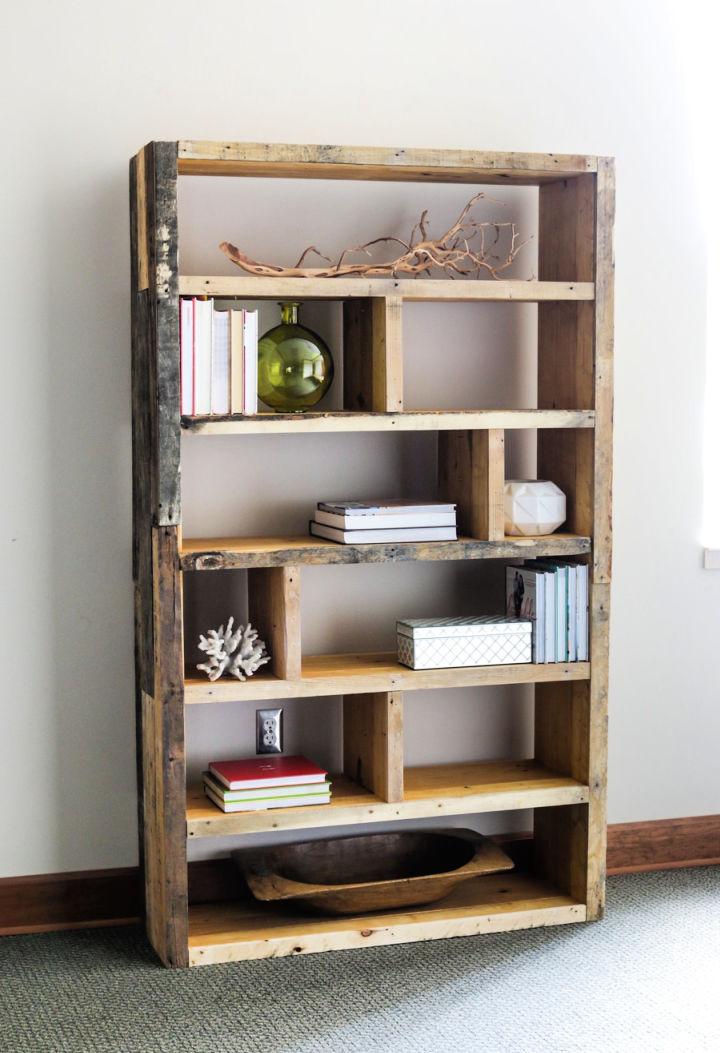 Earth's Day is the perfect time to turn your stash into treasure! If you also have a collection of useless wooden pallets, reuse them for creating a versatile and super affordable pallet shelf for your room. This pallet shelf is also an ideal option for the kid's area for organizing their toys and stationery items. The tools and material required for this DIY are reclaimed pallets, hammer, brad nail, and miter saw pocket hole jig, and wood glue. jenwoodhouse
15. Simple Adjustable Pallet Shelving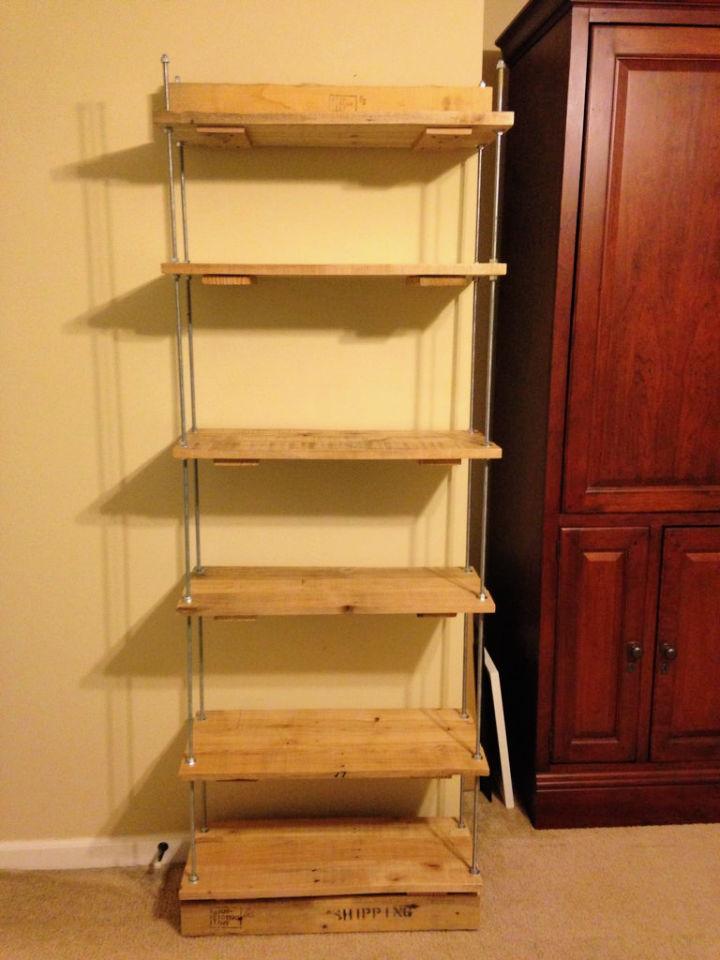 Do you want something simple but unique at the same time to organize books in your room or study area? If yes, work on this adjustable DIY pallet shelf. For this adjustable pallet shelf, you will need pallets, threaded rods, washers, wood screws, hammer, saw, miter saw, screwdriver, bolts with nuts, polyurethane and sandpaper. Moreover, use plain paper or cardboard to draw the plan first before start cutting the pallets. instructables
16. Install Pallet Bookshelves With Knobs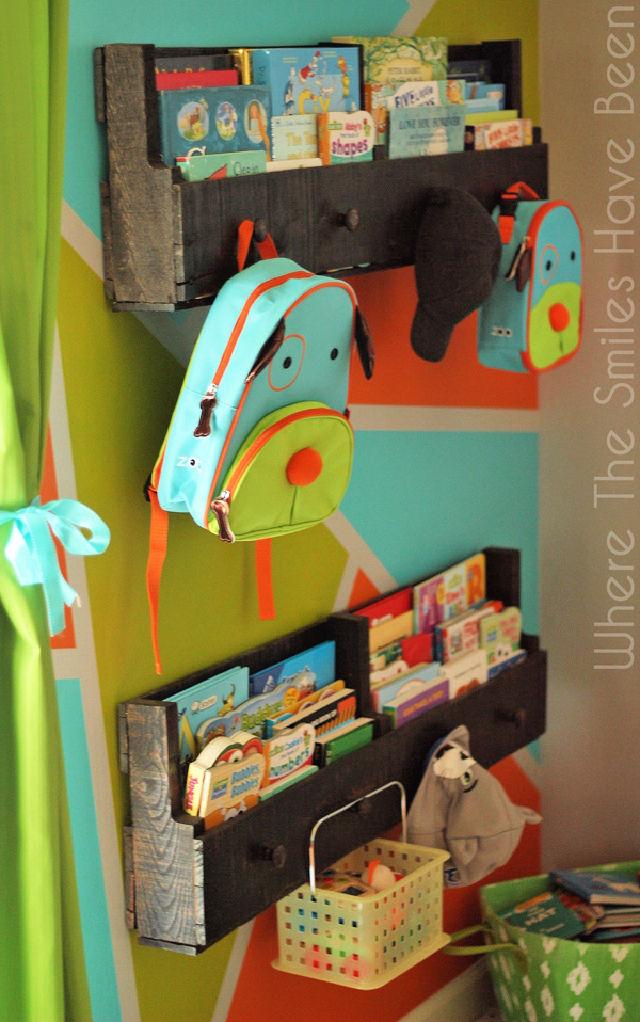 If you are looking for ideas and plan to update your kid's room, nothing would be better than adding more storage space in their room. You can consider the recycled or stash materials to get more storage space in your kid's room, like this pallet shelf with knobs. DIY this super adorable and affordable storage shelf with pallets, wooden knobs, wood-cutting tools, sandpaper, wood stain, hammer and nails. Interestingly! You can make this shelf more productive for storing items by adding more knobs. wherethesmiles
17. Kitchen Shelf From a Wooden Pallet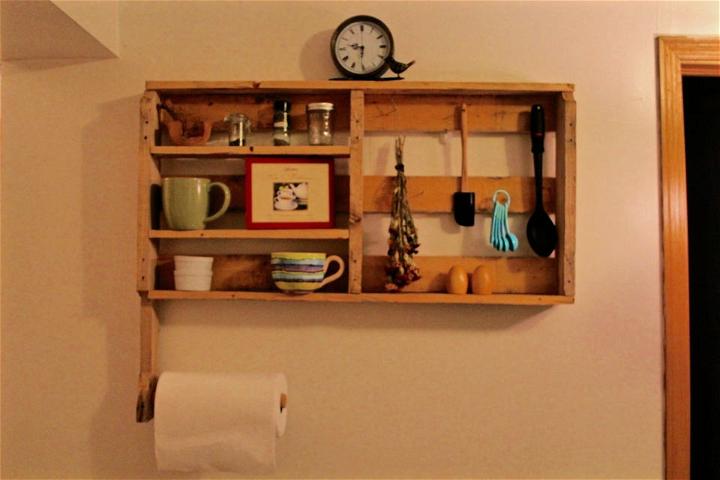 Get more storage and organizing space into your kitchen by adding a DIY pallet shelf. Make this shelf yourself instead of considering store-bought shelves. Trust me! Crafting this wooden pallet shelf is too much easier with pallet leftover and scrap from your thrift store. Apart from pallets, you require nails, a crowbar, wood glue, a hack saw, a tape measure and a dowel rod. Complete this project effortlessly and in less time by involving a partner with you to work on it. instructables
18. Building A Pallet Bookshelf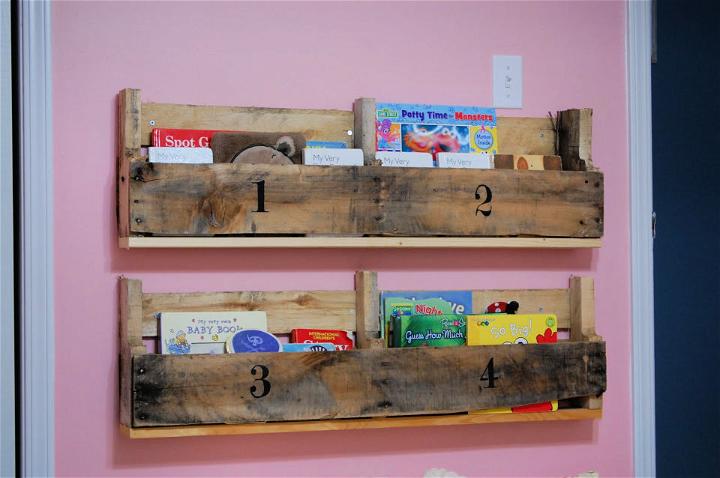 Encourage your kids to be more organized and well-disciplined by offering them more space for placing their stuff. They would love to organize and put their books and other stationery items appropriately on the pallet bookshelf. Additionally, make it a bit more interesting for your kids by labelling their names on these book racks. All you need to make this bookshelf is a pallet, wood glue, wood screws, screwdriver and a saw. creativeoutlet
19. Pallet Bathroom Shelf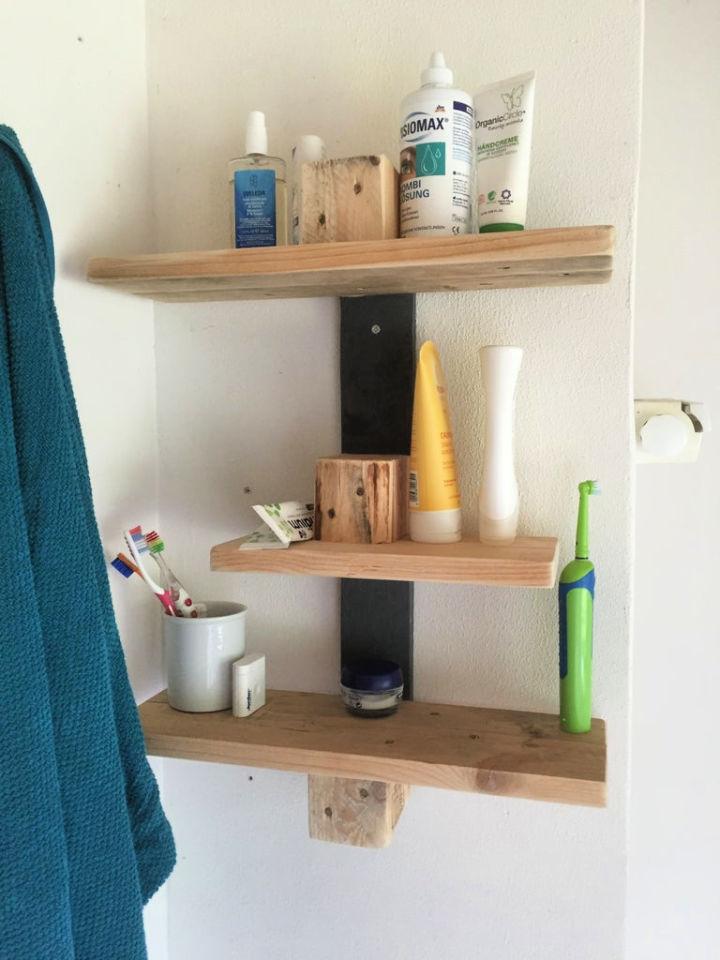 Place bathroom stuff and items out of the reach of kids by creating a DIY shelf out of wooden pallets. The main reason for considering the wooden pallets is to keep this project economical and easy to make. You can design this shelf the same as a small conventional box design. All supplies you required to get a hand on this super productive shelf are pallets, wood screws, miter saw, wood glue, wooden planks, nails, hammer and wood stain(optional). The only thing you need to do is cutting the pallets according to the specified space to mount this shelf on your bathroom wall. instructables
20. DIY Pallet Shelves Instructions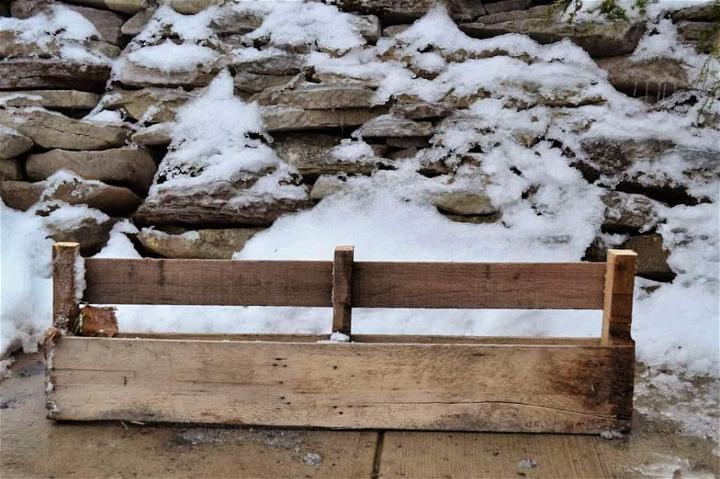 Making and DIY pallet shelves are much easier, even for beginners with an appropriate plan. Moreover, this shelf plan also depends on your needs and requirements. To customize a pallet shelf, the only thing you need to do is collecting the shipping or other useless pallets from your thrift store. No wonder pallets shelves would come out great than traditional style racks because of their affordability and easy manufacturing. DIY this pallet shelf more easily by using duct tape instead of any screws or other supply. everafterinthewoods
21. Pallet Shelves For Garage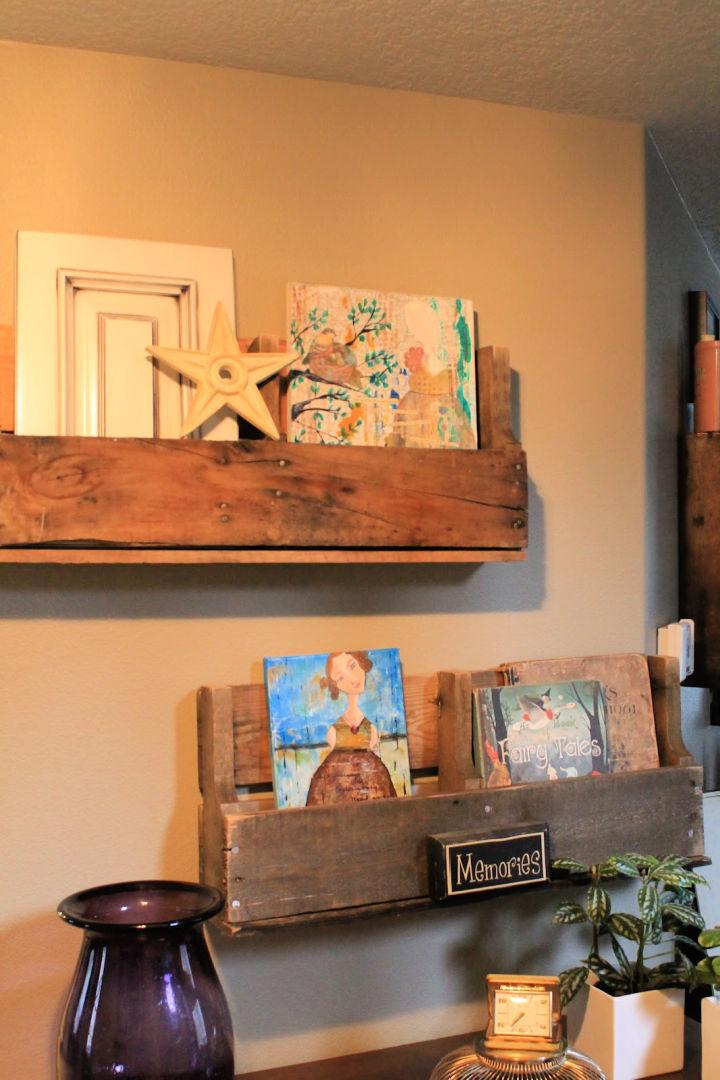 Use your free time more productively and create something more innovative for your home. If you have enough time, consider using it for making a pallet shelf for the garage. You can craft this shelf to organize all accessories more proficiently. On the other hand, it would be easier for you to find the things from the garage when you needed them. For making this pallet shelf, the only thing you need to do is grab the free or reclaimed wooden pallets from a warehouse. seekingecochic
22. Reclaimed Pallet Bedroom Shelving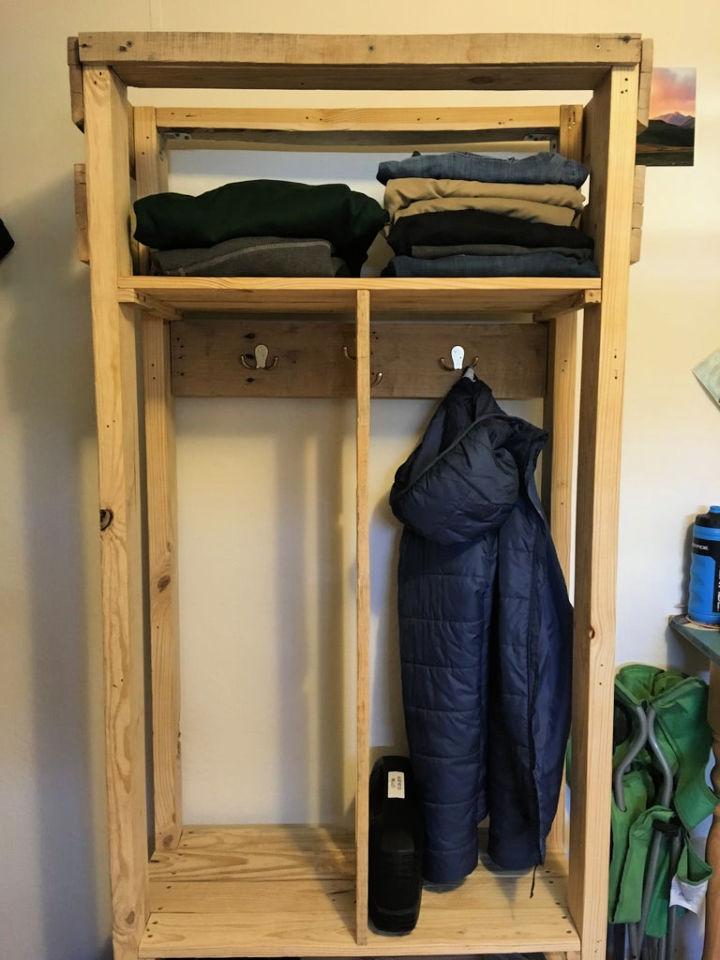 Take care of clothes piles and other wardrobe stuff by keeping them orderly and appropriately in your bedroom. You can make or craft a pallet bedroom shelving using reclaimed pallets for unifying the stuff. The only thing you need to do is selecting the pallets according to your needs and wardrobe requirements. Moreover, you will need wood-cutting tools, a hammer, wood screws, screwdriver, wood glue and tape measure to finish this shelving project smoothly. instructables
23. Build A Pallet Bathroom Shelf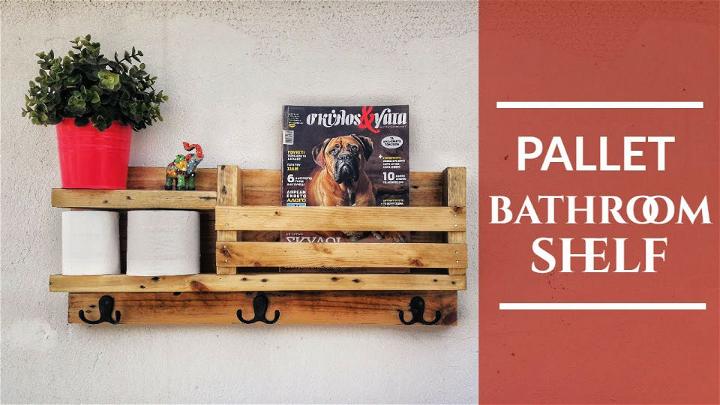 Build a pallet bathroom shelf using wooden pallets, hooks, wood screws, screwdriver, nails, hammer, wood stain, sandpaper and miter saw. You can reclaim the pallets from a craft store if you don't have them in your thrift collection. Excitingly! You can use this shelf for decor purposes and the insertion of tissues, skincare products and bathing items. Paint this shelf or keep it in the same rustic color; it's totally up to you. youtube
24. DIY Pallet Bookshelves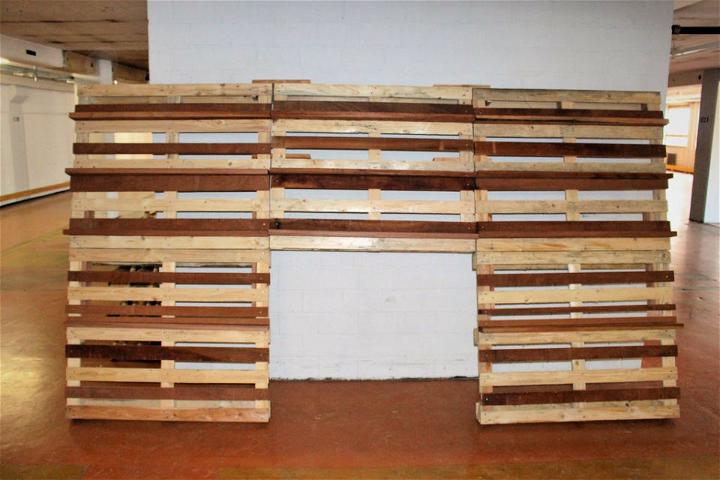 Make out and style a versatile library with wooden pallets. Excitingly! Customizing this palleted library for placing books is too much easier and quick, even for beginner crafters. This DIY project is all about assembling the pallets to make a larger pallet library. Furthermore, use screws, suspensions, hammer, wood glue, nails, hammer and sandpaper to finish this project effortlessly. Do you want to know the best part of this pallet library? You can also place each shelf individually of this customized wooden library. instructables
25. Build Your Own Pallet Bookshelf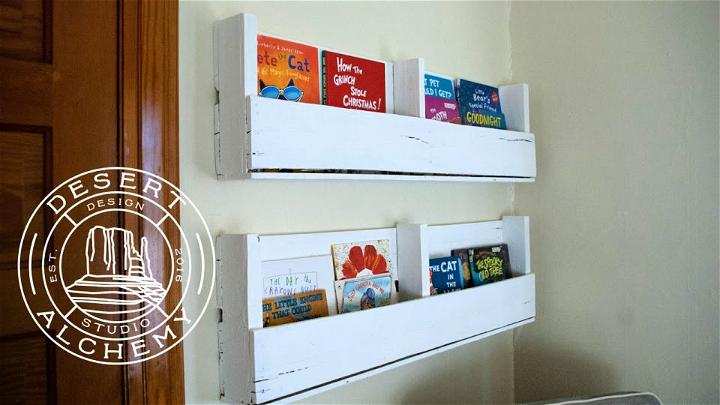 Build your pallet shelf affordably and super easily only with reclaimed or recycled wooden pallets. You can DIY this bookshelf in any size, shape or width according to your spacing and storage requirements. However, if you consider these shelves for your room, keep them smaller for a better and stylish appearance. Moreover, use wood stain or paint spray to add more glam and style to these pallet bookshelves. youtube
Conclusion:
Whether you need more storage space in your room or you want to uplift the home decor, these pallet shelves ideas or plans are good in all cases. Hopefully, these pallet shelf ideas will help you figure out your storage and decoration need even within a minimum budget. Still, think again and specify your requirements before investing or creating these pallet shelves.