Setting up a home office is often starts by choosing a particular homemade desk design that fits best your storage needs and targeted interior space. If you strive for durability and industrial-chic furniture trends, then see these 25 inexpensive and durable DIY pipe desk plans to help you build a custom model of a diy industrial desk with custom built-in storage shelves while using metal pipes and wood. The plumbing metal pipes can easily be put together with the elbows, custom fittings, and floor flanges to build lasting longer and durable bases and frames for the desks. So, you can add the wooden surfaces to those frames, getting a beautiful industrial-style desk at a fraction of the cost.
Learn to build a custom one from scratch like a pro by looking through these 25 industrial look DIY pipe desk plans shared by the world's most genius people who tackle building their furniture in custom dimensions and also with custom added furniture. Building your computer or office desk will help save lots of costs on setting up a home office, bringing a glam industrial furniture touch to your spaces.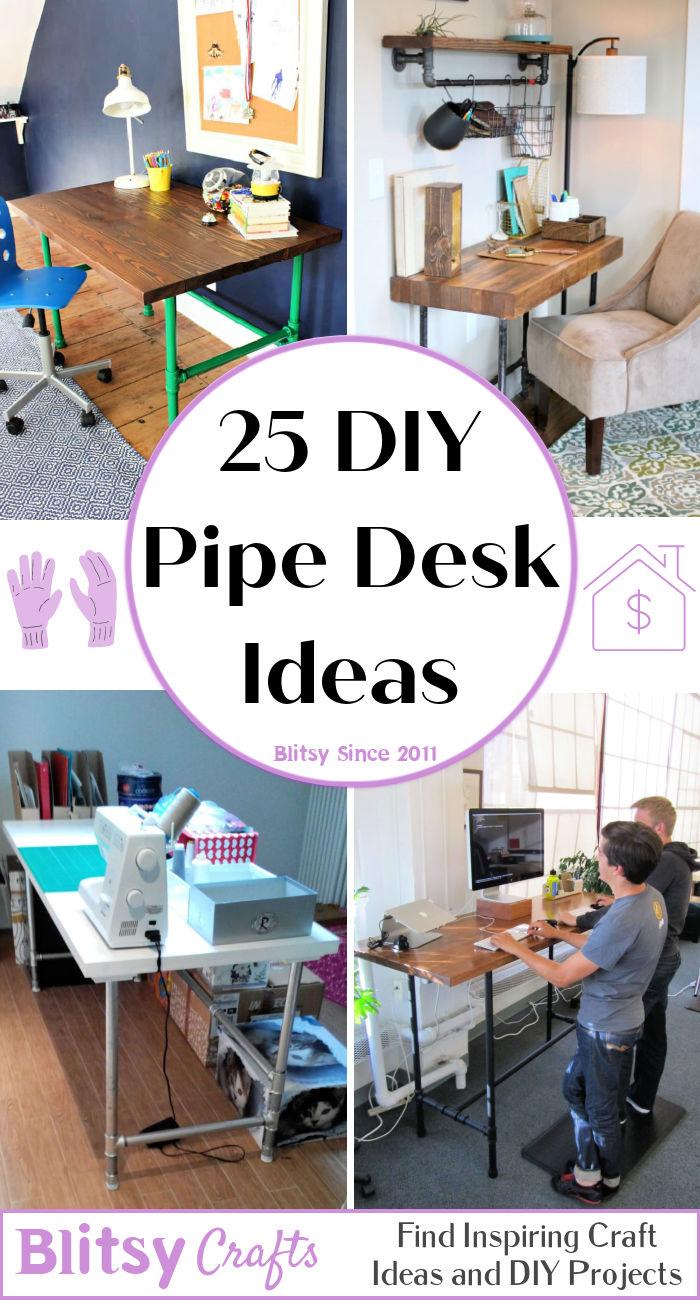 These industrial pipe desk plans will fit the minimalist modern furniture style trends and can be made with various design and storage options. It is much easier to add and remove some components when working with the metal pipes and fittings, making the construction work very flexible.
From building an industrial-style child desk to a standing desk to a minimalist double sit-stand desk, you will learn to build all diy pipe table designs. The majority of these DIY pipe desk plans are much doable for all, and they are guaranteed to last longer than the ordinary desk mass-produced.
1. DIY Pipe Desk for Two Persons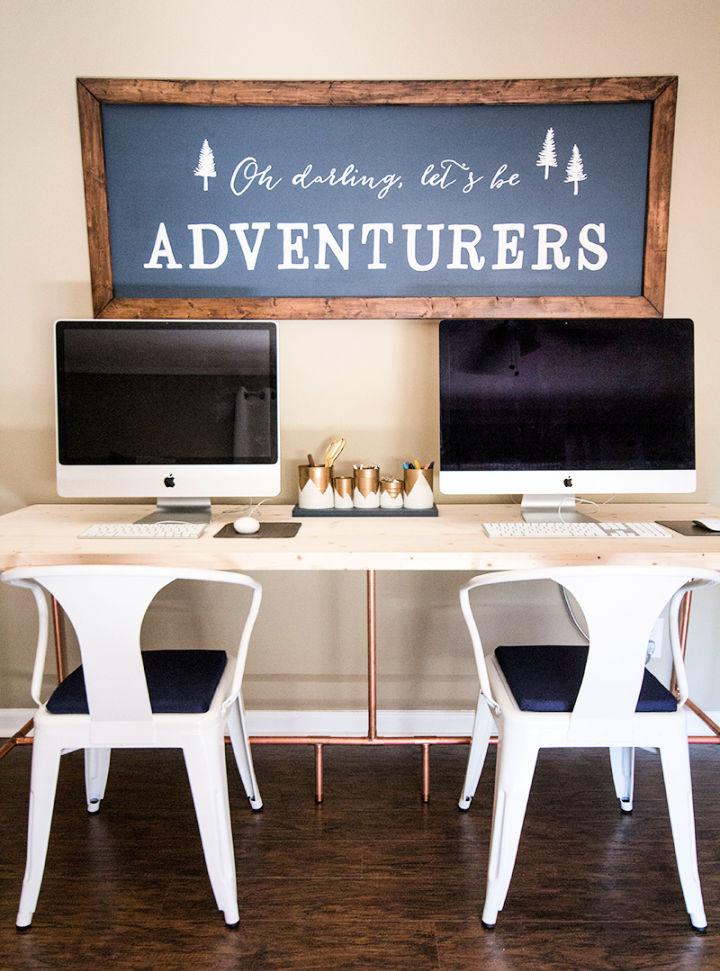 Make your home office more functional and fun with this DIY two person pipe desk. Yes, this gorgeous and minimalist DIY pipe desk is quite easy and fun to work on. You need wood to create the perfect wooden tabletop and the copper pipe, along with a tube, tee, and adapter to make this perfectly industrial pipe desk. Details here! mountainmodern
2. DIY Copper Pipe Child's Desk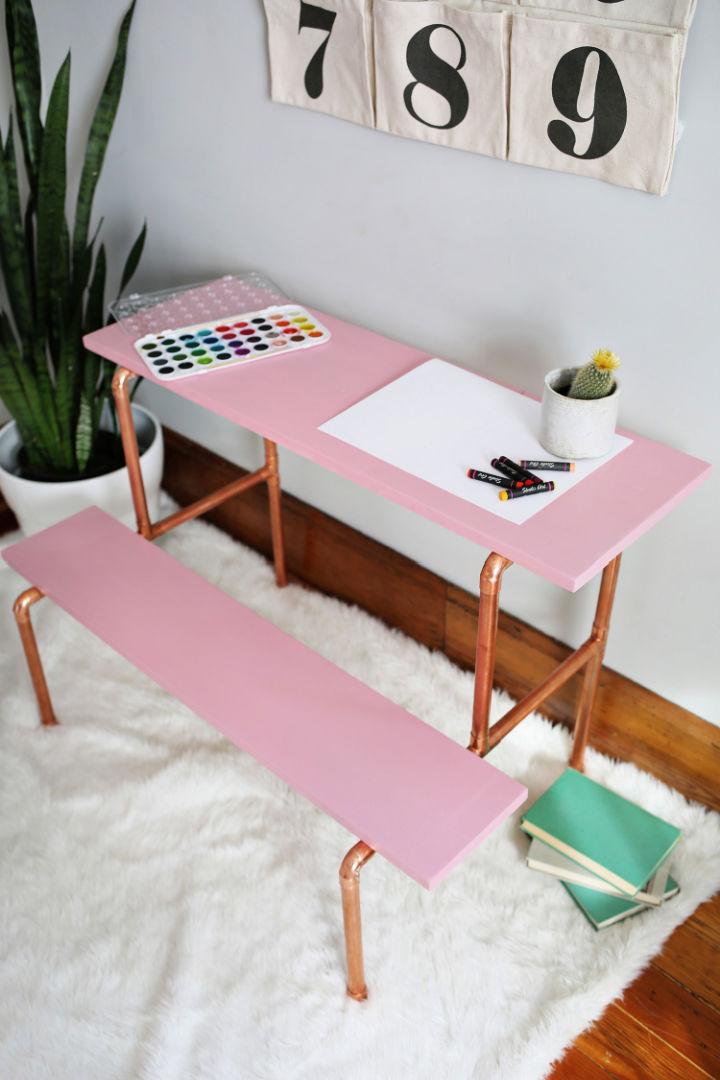 This gorgeous copper pipe child's desk is the perfect way to create a working corner for your kids in the home. Be it doing the homework or doing some fun art and craftwork, this copper pipe child's desk is the perfect place to be at. The pink wooden desk and seating over copper pipe support turn out to be perfectly amazing. Details here! abeautifulmess
3. Homemade Galvanized Pipe Desk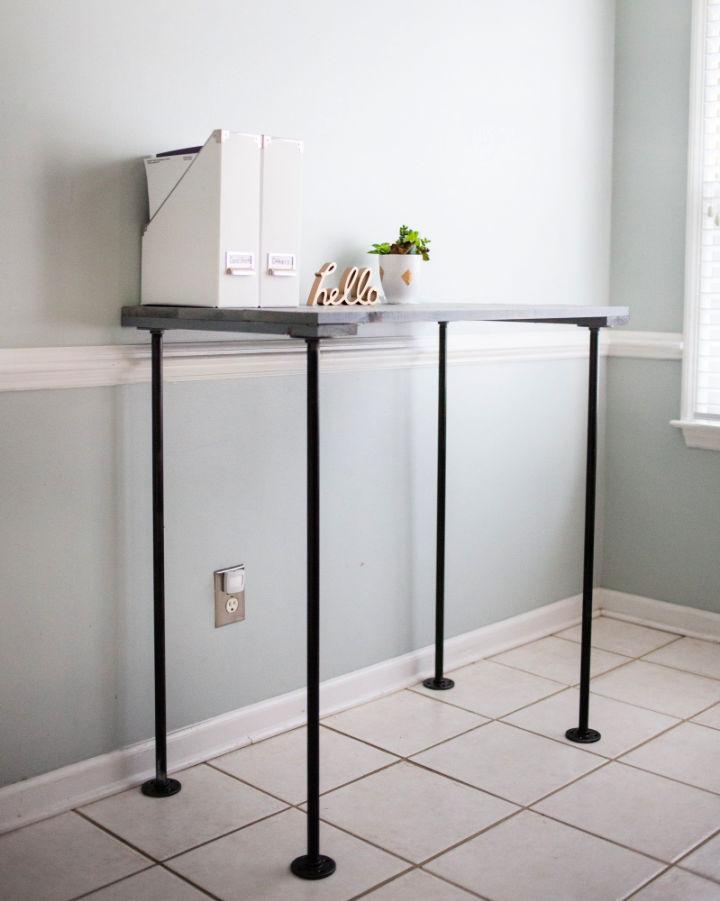 This totally industrial-looking desk is homemade, and you can build one too. Using the wooden boards and the black galvanized pipe, you can easily work up this amazingly gorgeous and skinny-designed desk. Not only is this iron pipe desk going to be easy on your wallet but also space-saving too. Check out the details of the idea here! craftboxgirls
4. Custom Industrial Wooden Desk with Shelf and Pipe Legs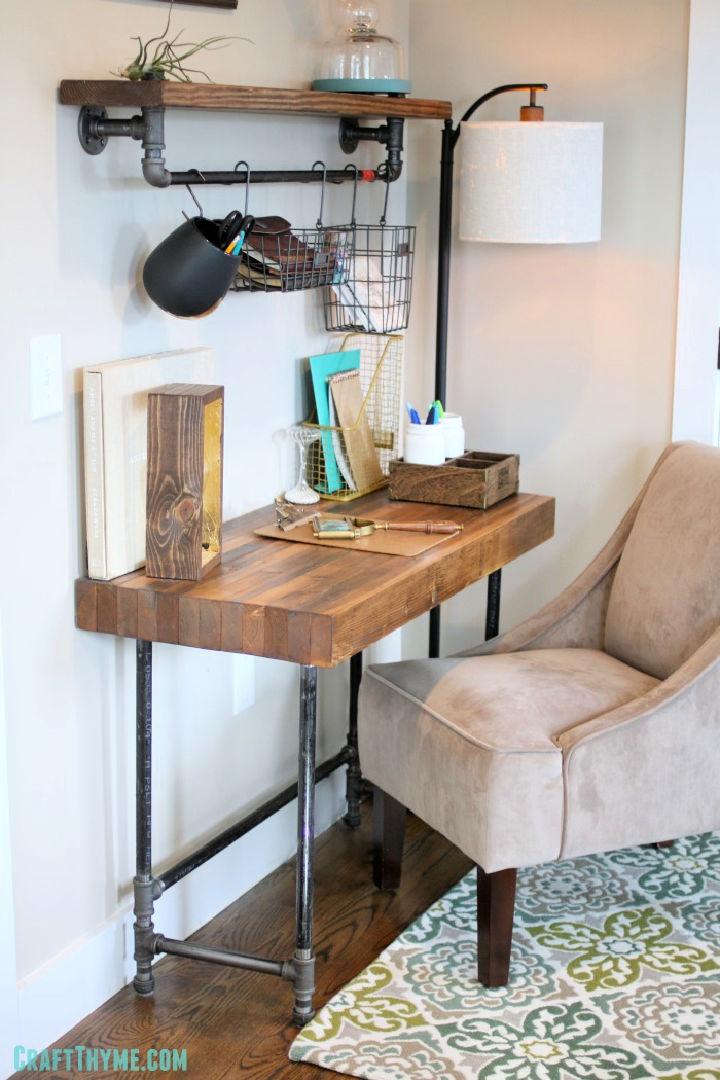 Create a perfectly functional and gorgeous working station for yourself in the home with this custom industrial wooden desk to be a part of your spaces. The desk building needs thick untreated lumber wood and black iron pipe, iron tee, steel nipple, iron cap, and some regular tools and supplies. Follow the details of the idea here! craftthyme
DIY desk organizer: Need to get your desktop mess under control!? Check out these space-saving DIY desk organizer ideas for inspiration to get started!
5. Minimalist Standing Pipe Desk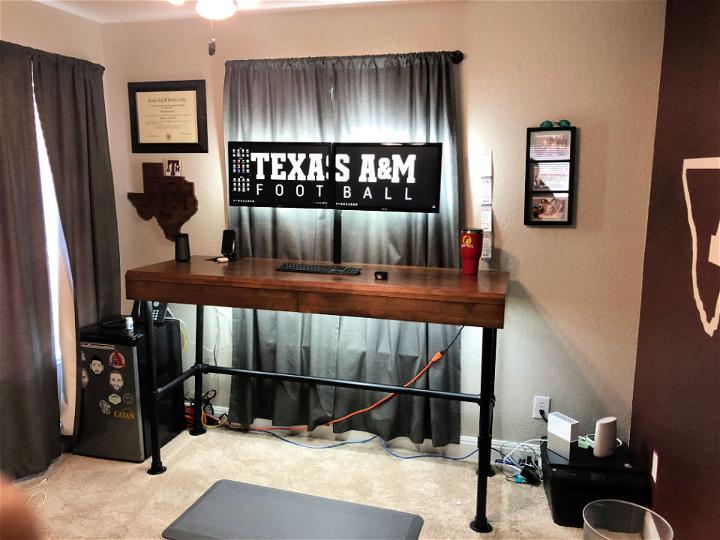 You can make this super stylish and totally industrial gorgeous minimalist standing pipe desk for your compact spaces. The perfectly minimalist standing pipe desk has a wooden desktop and a black pipe leggy support system. The rustic wooden desktop and the black pipe support really go hand in hand. Check out the details here! imgur
6. Rustic Factory Salvage Desk with Pipe Legs

Here is the idea of creating this rustic factory salvage desk to create some office space in the homey area. So get your hands on the salvaged wood and cut slats out of it to form the tabletop. The support of the desk is made with black pipes along with the complete hardware kit. Check out the detailed plan here! homestratosphere
7. How to Build a Black Pipe Desk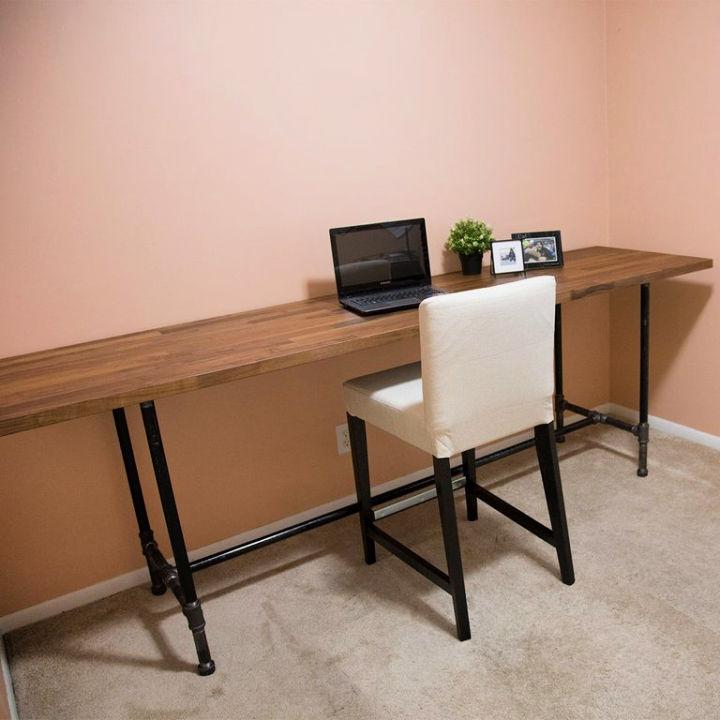 Enjoy a completely functional office area in your spaces with this black pipe desk plan to be a part of your spaces. You are in need of the wooden slats and the black pipes with elbows and tubes to make this perfectly industrial-styled desk for your spaces. You can check out the complete plan for this pipe desk right here! familyhandyman
8. DIY Industrial Pipe Leg Desk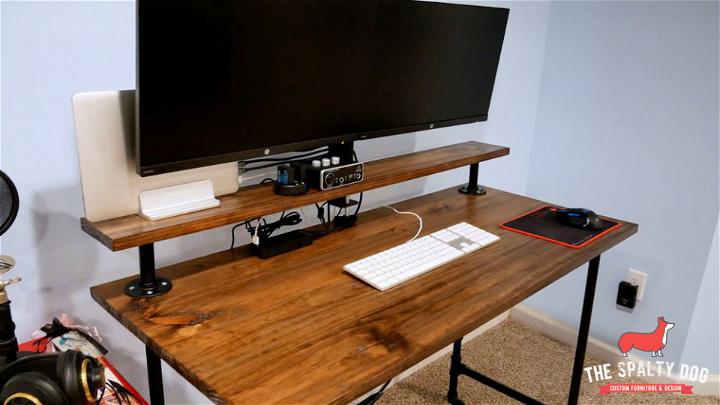 Here is this DIY industrial pipe desk to create a perfect office area for your spaces. Using wooden boards and the pipes along with the pipe fitting, you can easily work up this DIY industrial pipe desk. The desktop has an extra shelving top attached to make the desk more functional and storage-worthy for you. Check out the details here! thespaltydog
9. Black Pipe Standing Desk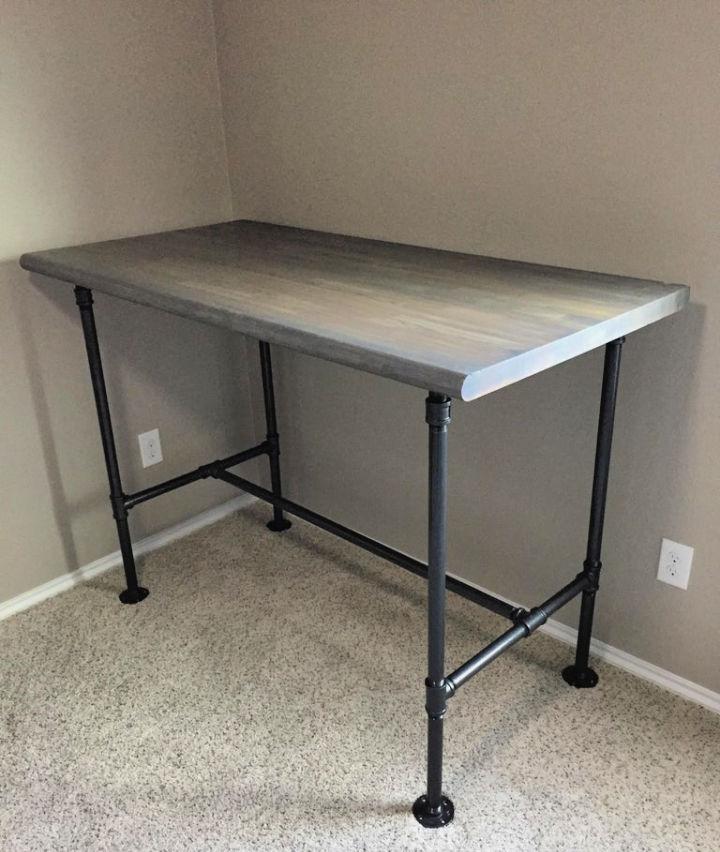 Iron or metal pipes are one of the robust things to bring in for your personalized industrial needs. This black pipe standing desk is to build and enjoy a completely sturdy desk for your home office needs. The leggy support of the table is made with varied-sized pipes and fitting to hold a wooden tabletop. Details here! instructables
10. Steel Pipe Desk Plan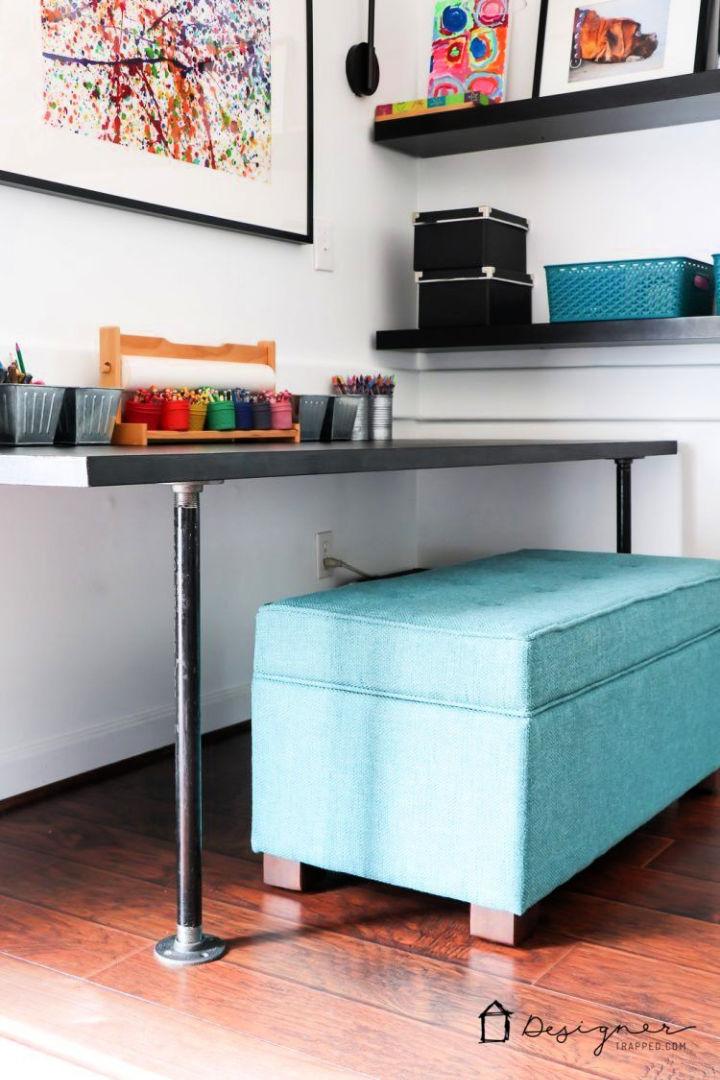 Save more space inside your home office with this steel pipe desk plan instead of four, and this simple DIY corner desk has only two front legs attached. The steel pipe desk is half supported with the wall built-in method, thus being more minimalist in design. So grab some wooden boards, steel pipe, pipe fitting, and your tools to work up this amazing desk plan. designertrap
11. Pipe and Wood Desk Weekend Project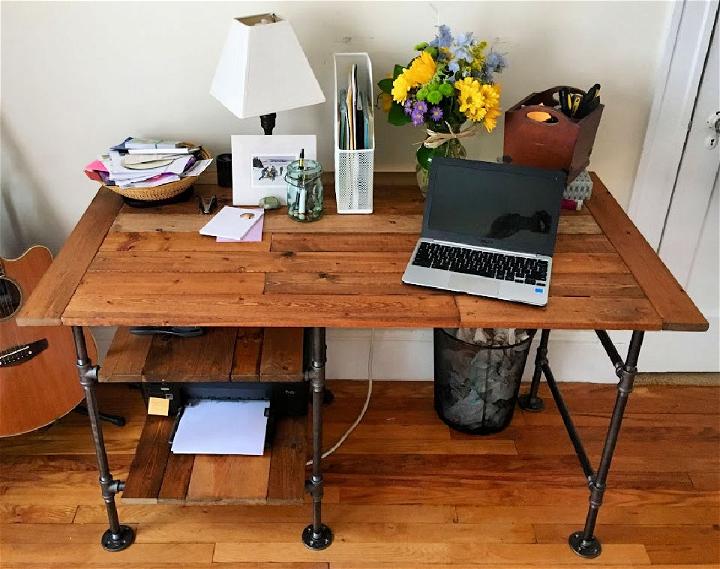 This industrial-style wood and pipe desk is the perfect project to do at the weekend. The pretty wooden desk has a wide wooden desktop, two lower built-in storage cubbies, and totally robust style pipe legs. The combination of the wooden desktop and the plumber's black pipe really turns out to be exotic and fun. Details here! houseandhammer
12. Making A Metal Pipe Desk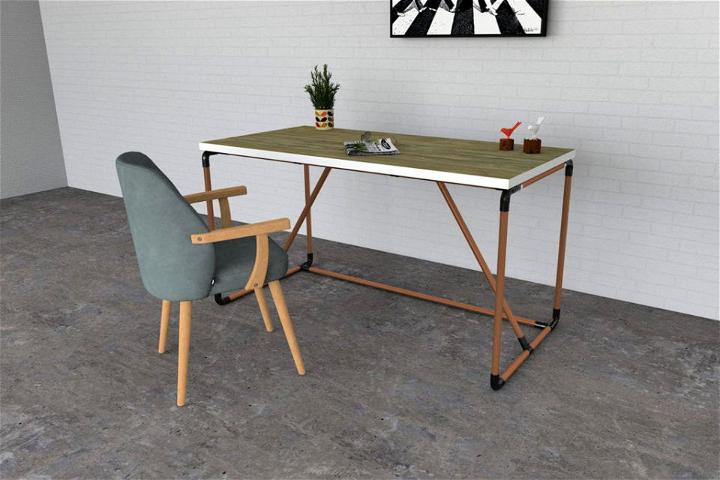 With homemade furniture, you have many options for customization, just like making this metal pipe desk. The wooden desktop is supported on the metal pipe legs built in a geometric pattern for a modern and chic look. The complete plan of this metal pipe desk, along with the pictures and the written details, is here! tinktube
13. Painted Pipe Base Wood Desk

Here is this gorgeous painted pipe base wood desk to bring some fresh air of beauty and style to your spaces. The wooden top of the desk is built by putting together 5 to 6 pieces of wooden boards. The leggy support is installed with the help of black pipes, tubes, and the tee. The pop of green color to the pipe makes it more enchanting. jaimecostiglio
14. The $74 PVC Pipe Desk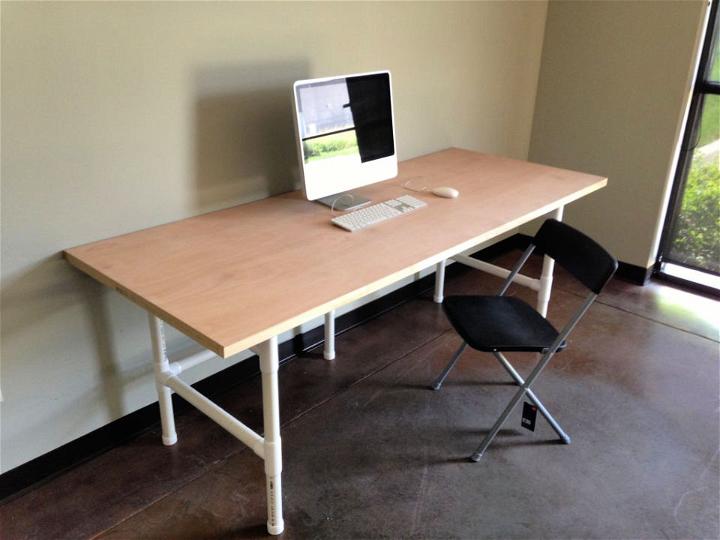 Make this $74 PVC pipe desk to create a perfect computer table for your spaces. The white PVC pipe and the wooden desk top really make the desk look a complete chic piece. This lovely PVC pipe desk is so going to fit in your modern home decor. You can check out the detailed plan to install and join together the pipe pieces right on the link here! instructables
15. Small Computer Desk with Pipe Legs

Here is another small computer desk with pipe legs to perfectly fit in your spaces. The wooden top and sturdy U-shaped pipe legs really make the computer desk a perfect desk possession. Also, the desk has a slim drawer attached to make it let you store and organize a bunch of your office stuff inside. Check out the details here! sawdustsisters
16. Sitting Standing Desk From Steel Pipe IKEA Countertop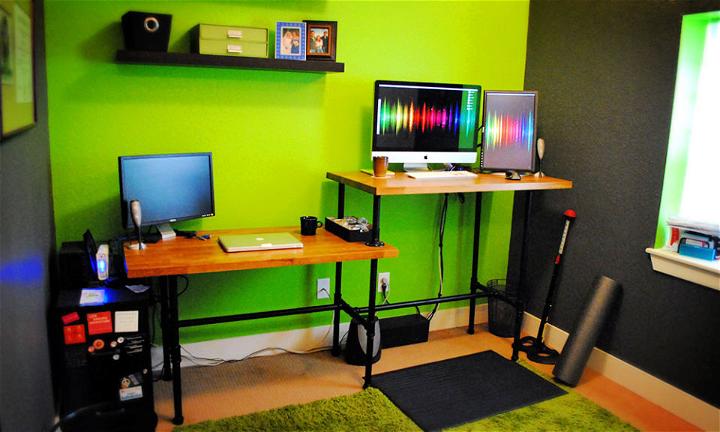 If there are computer users in your house, making this perfect DIY standing desk from the steel pipe is the best desk you could ever ask for. Its feature is that it is sleek in design, sturdy with wooden slats and pipe legs, and has a shabby chic style and appeal. Also, you can use an IKEA countertop along with these pipe legs. Check out the details here! sparksight
17. Build The Easiest Pipe Desk Ever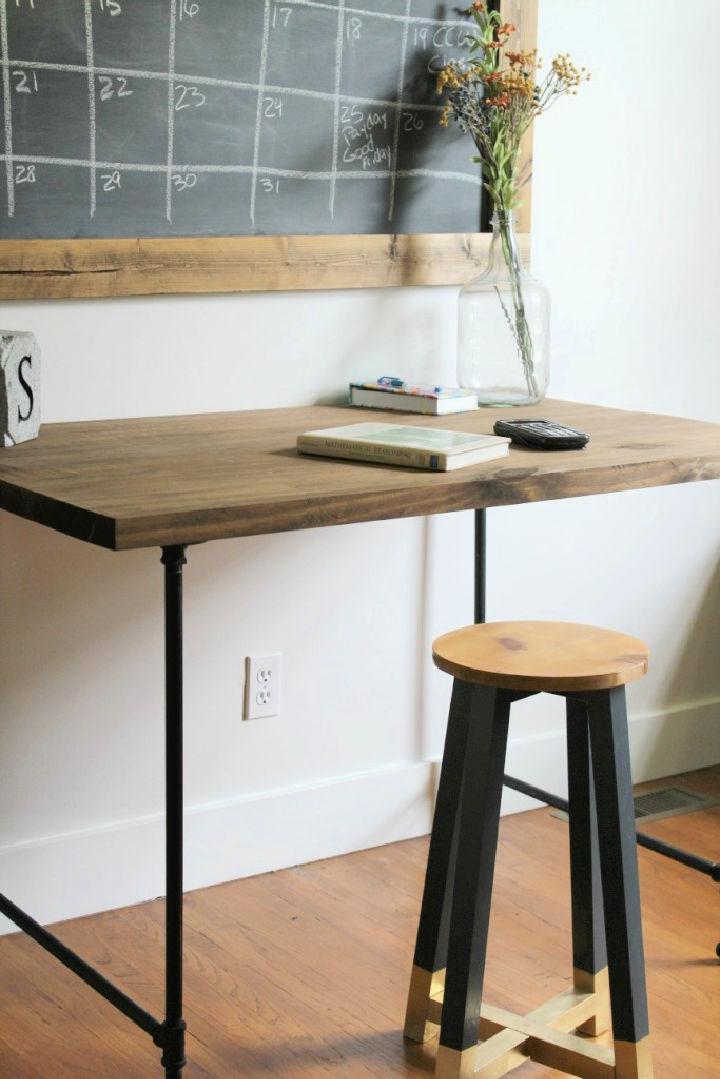 Make yourself this easiest pipe desk and enjoy a perfect space to work on. The pipe desk has a robust pipe-built support system and a wooden desktop. The design of the desk is quite minimalist in design and thus can easily fit the tiniest spaces too. Also, you can turn it into the perfect foyer table, end table, or any other table that you need. Check out the details here! woodshopdiaries
18. DIY Pipe Desk With Shelves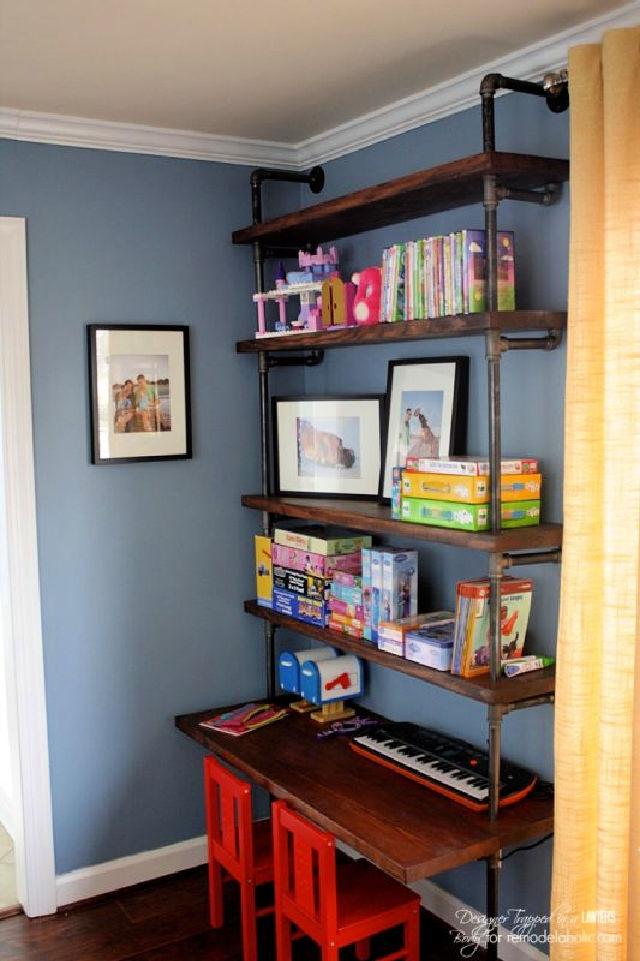 This diy pipe desk with shelves is a complete homework station for your kids as they can not only work but also store a lot of their stuff on the shelf. So you need wooden boards to form your tabletop and the shelves and of course the pipe to support the desktop and the shelves together. Check out the detailed plan here! remodelaholic
19. DIY Butcher Block Desk with Metal Pipe Legs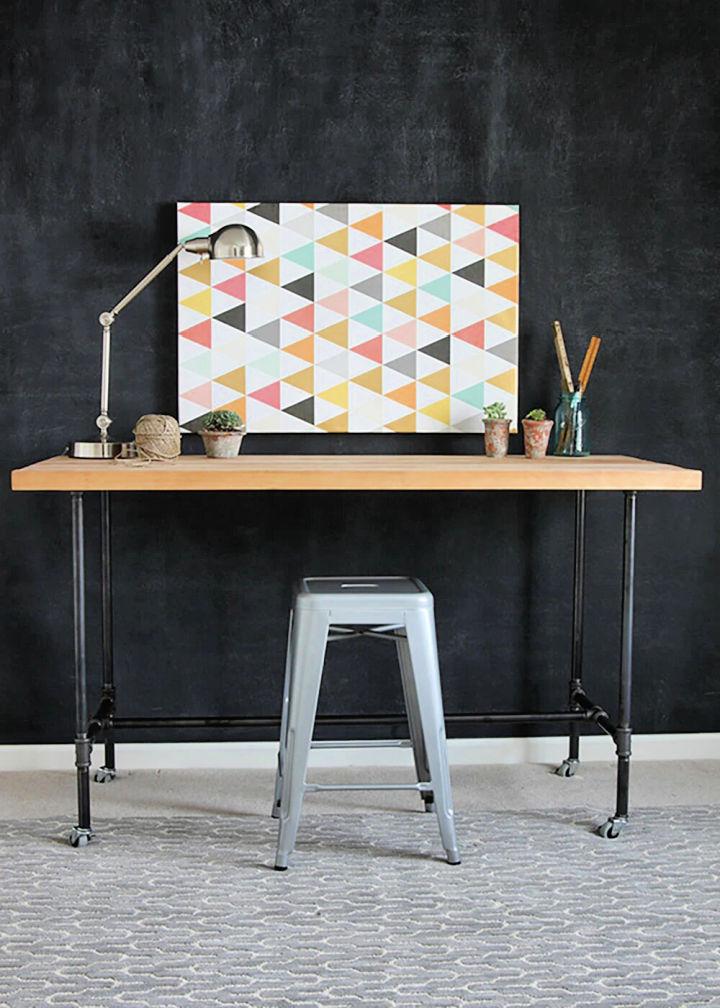 If you have an extra butcher block lying around and thinking of using it for some purpose, then here is the idea of creating this diy butcher block desk with it. The butcher block has been used here as the tabletop, and the pipe is used as the perfect support for the legs. This desk is going to be completely chic in style and totally robust and industrial too. Details here! homedepot
20. Simple DIY Pipe Desk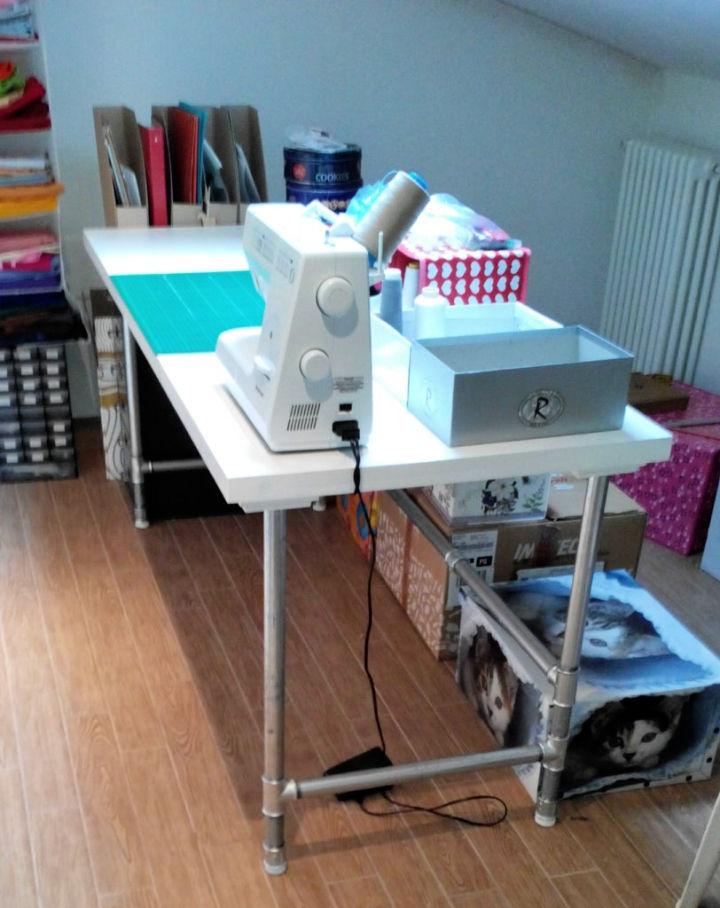 Not only desk for the laptops or the computers, but you can also make a simple pipe desk for your craft work too. Here is this simple DIY pipe desk to get your hands on and make your crafty work done so nice and easy. The DIY craft table has a white wooden tabletop, and the whole leggy support is built on the pipes. You can follow the details here! instructables
21. DIY Industrial Standing Pipe Desk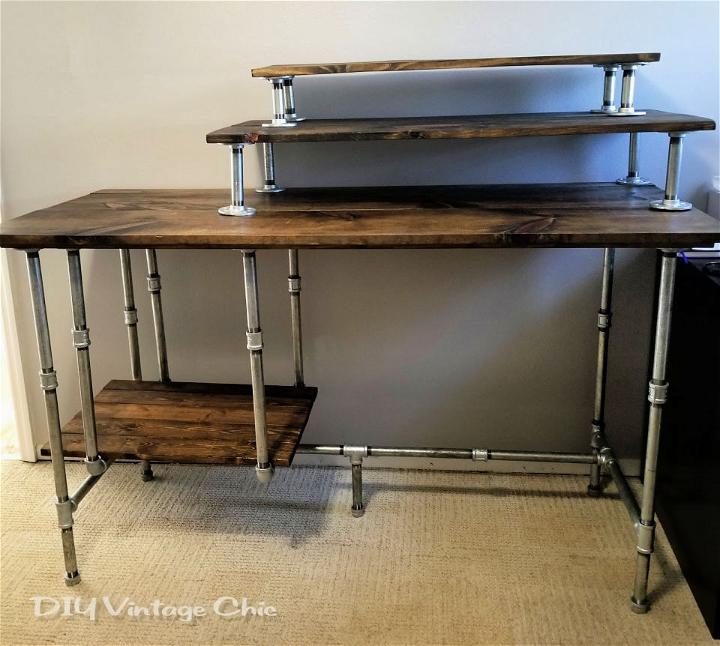 Here is this industrial standing pipe desk that you can easily make at home and enjoy a great addition to any working station. The diy industrial desk has a wide tabletop with two added top shelves to make room for some storage. Also, the desk has a lower built shelf to let you organize more stuff there. Check out the details here! diy vintage chic
22. Steel Pipe Standing Desk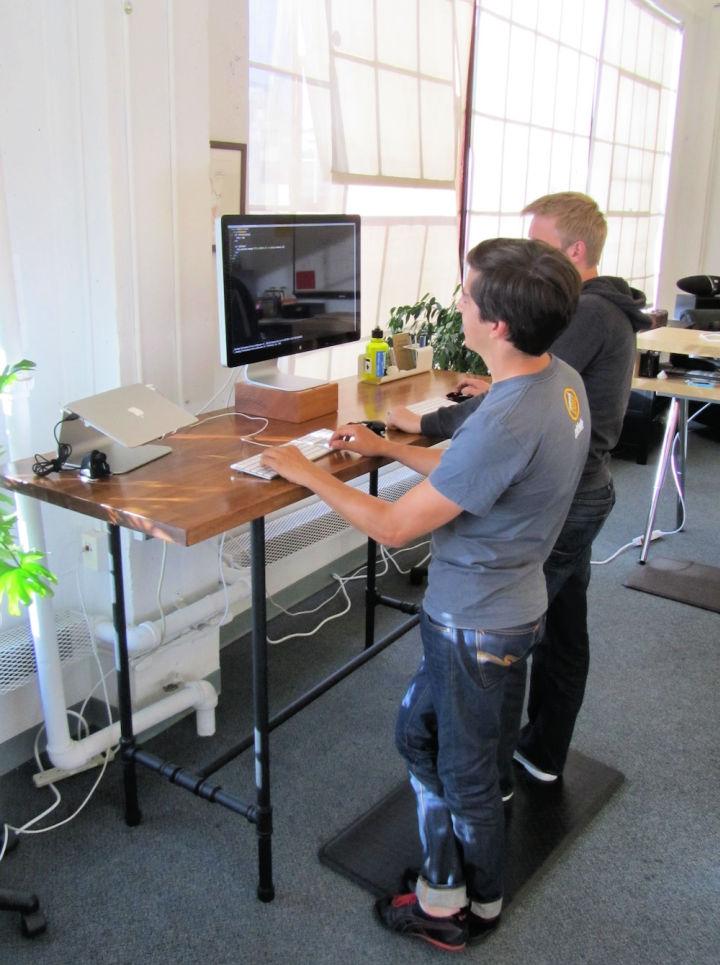 Now you can make this steel pipe standing desk to work on it by standing and thus making it more fun and feasible for yourself. The standing desk has quite a handsome length and width that two people can work together on it. The desktop is made from an IKEA oak kitchen countertop, and the rest is made out of pipes. Check out the details here! spacekat
23. Modern Wood + Iron Pipe Table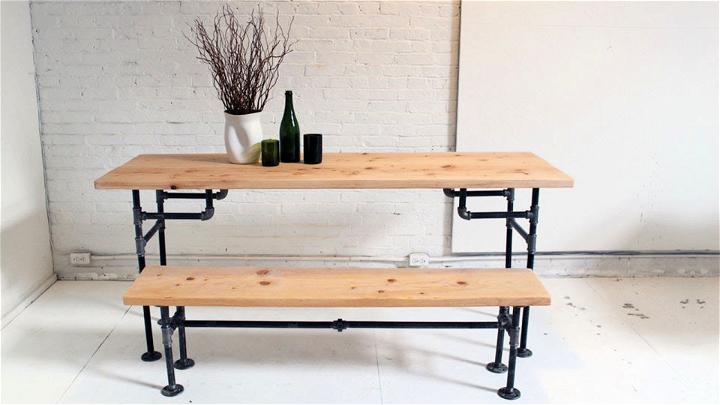 Here is this gorgeous modern wood and iron pipe table to make the most out of your crafty skills. This pretty table with a bench is the best thing to make and enjoy your breakfast on. The wooden tabletop and the bench seat, along with the robust pipe structural support, really make this table and bench duo a complete homey desire. Details of the idea here! youtube
24. Pipe Desk Without Power Tools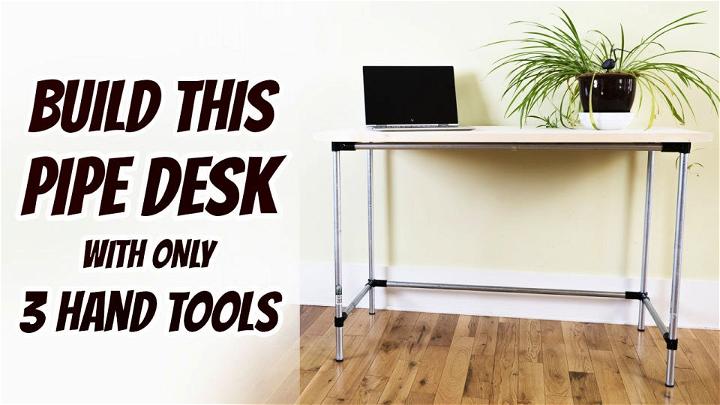 This gorgeous and totally modern-looking desk is one of the best things that you can bring into your homey office. The sleek design and the modern appeal of the design is really making this desk look super enchanting and stylish. The other best thing about this pipe desk is that you need only three handy tools to make it. Details here!
25. DIY Pipe Coffee Table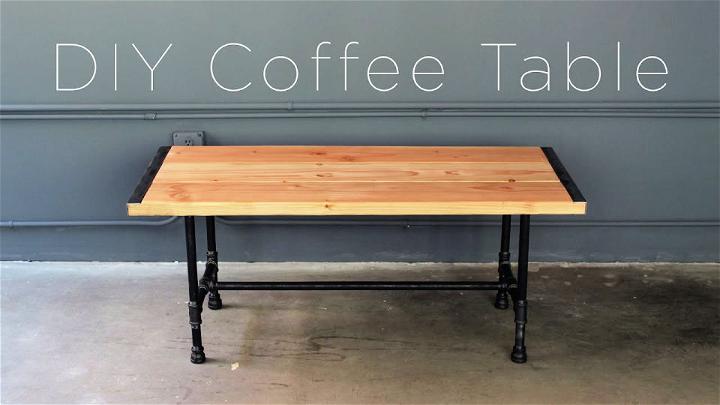 Not only desks, but you can make the perfect coffee tables from your crafty skill, some wooden boards, and the sturdiest iron pipes. Here is this industrial-styled DIY pipe coffee table that you can make at the weekend and enjoy a shabby chic possession for your living room spaces. Check out the details of the idea right here!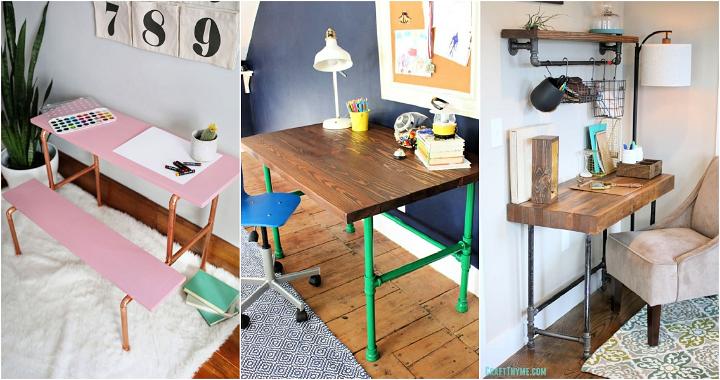 Conclusion:
No doubt, a computer desk is the most expensive item on your list when setting up a home office. But you just no need to worry about, if you are having some leftover wood or metal pluming pipe scraps, the problem is solved. Go with these 25 simple DIY pipe desk plans and learn to make your own beautiful and unique metal pipe desks that will suit best your working and storage needs.
You will have free industrial pipe desk plans, tool lists, cut lists, and step-by-step instructions to build each of the given models. This will reveal all the hidden secrets and hacks to you for building a custom beautiful DIY wooden desk. So, you will be a professional in building an industrial-chic desk after taking a tour of all these industrial pipe desk ideas, shared to impress and inspire.