The desk is one of the essential parts of your home office and workspace. So, the better organization of your desk may lead to more creativity and innovation. If you want to organize and style your work desk yourself, get help from these 25 Homemade DIY desk organizer ideas that are easy to do. No matter the type of tasks you performed on the desk, organized space can surely help you think more clearly and prospectively.
If your desk is always full of unnecessary stuff and unorganized files or other things, you can indeed feel tension around yourself. An organized desk is the only way to get rid of this mess and stress. A mess-free, fully managed, and good-looking workspace desk would surely increase your productivity unnoticeably.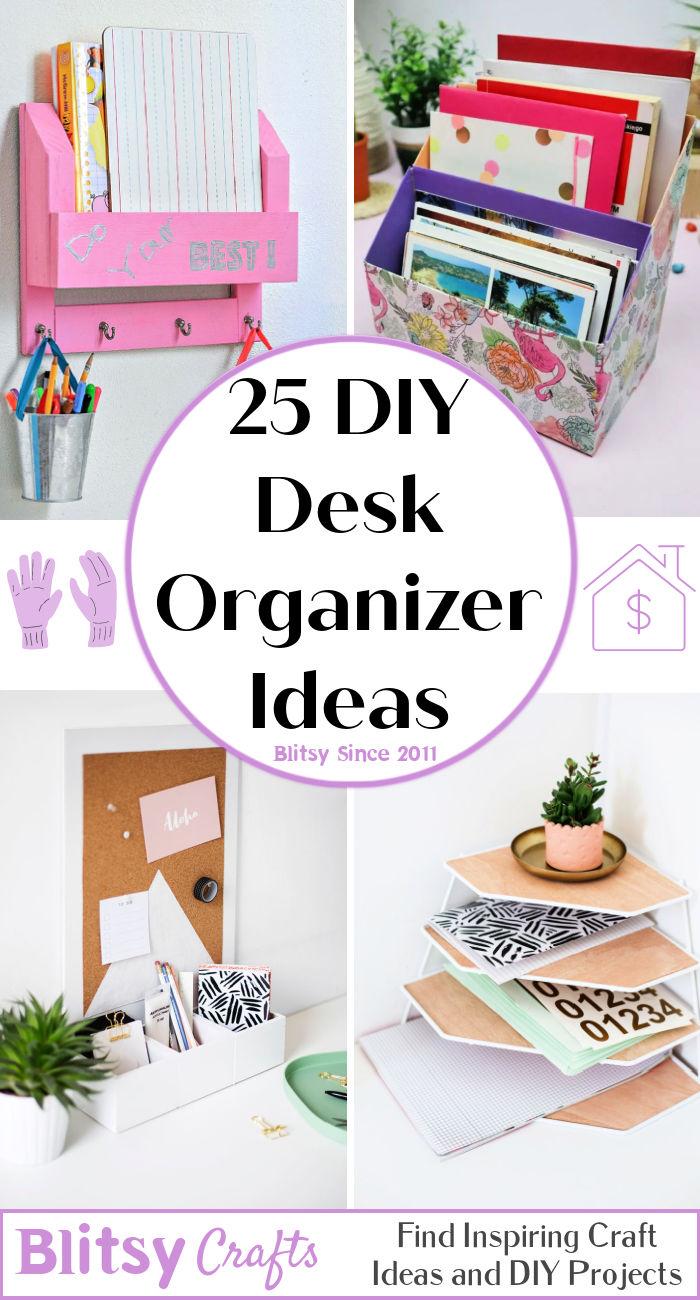 But it doesn't mean that you have to spend many pennies on store-bought desk organizers. DIY them yourself by getting help from mentioned below diy desk organizer ideas perfectly.
Moreover, choose the right diy desk plan that suits your workspace's needs and requirements. It's time to improve the vital workspace of your office and home with these favorite DIYs. Let's jump right into these diy desk organizer ideas without any delay and make your desk well-organized! In these diy desk organizer and storage ideas you find, a DIY paper organizer, file organizer, pencil organizer, shelf, wall mounted shelves, under the table storage ideas and much more.
1. DIY Balsa Wood Corner Desk Organizer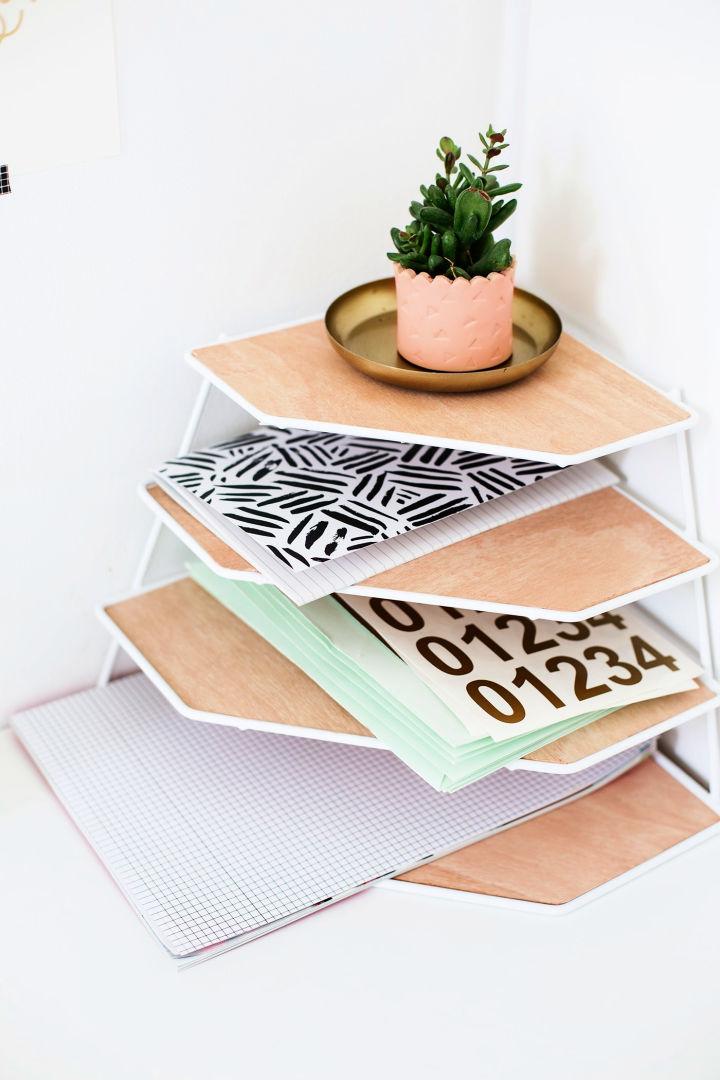 Balsa wood corner desk organizer is the best and most suitable option for those who want to organize all essential files or documents in the same place. Free up your workspace desk with a clutter of messy papers with the help of this corner organizer. Luckily, you can DIY this organizer yourself super easily with a wired rack, balsa wood sheets, glue gun, a knife, paper, a rule and a pencil. You can also use duct tape instead of a glue gun for the firm placing of balsa wood on the rack thelovelydrawer
2. DIY Wooden Photo Frame Desk Organizer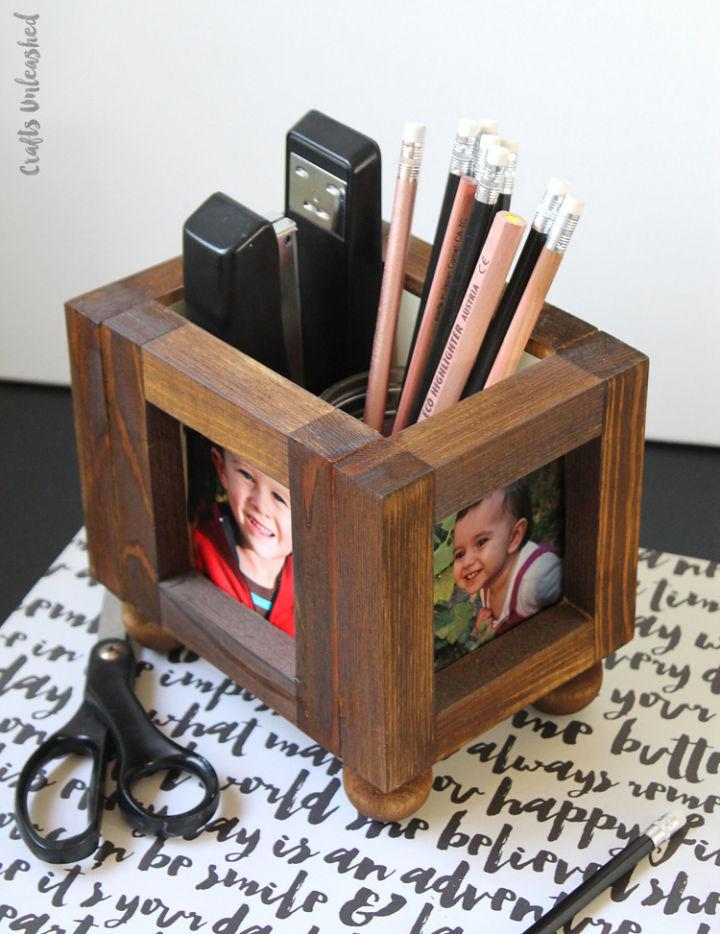 Do you want to decorate and organize your workspace desk within a project? If yes, this wooden photo frame desk organizer is the ideal option for you to consider. The best thing is that you can also DIY this organizer for your father by placing your favorite photos with him in it. So, make this organizer using an unfinished wood picture frame, chipboard, spray stain, glue gun, cardstock, finishing spray and wooden ball feet consumercrafts
3. DIY Desk Organizers with Cricut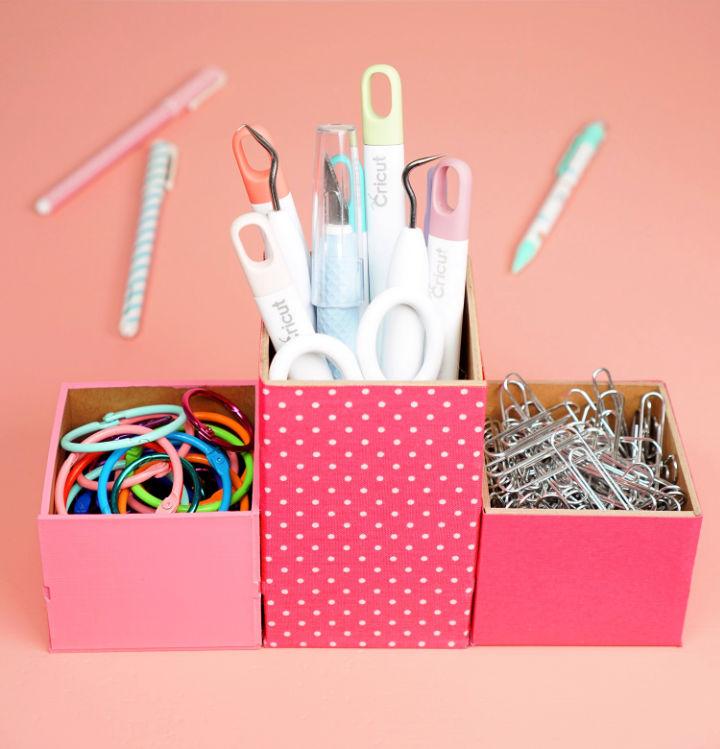 If you have a circuit machine or kit, it's the right time to utilize it for making a versatile and good-looking step by step diy cardboard desk organizer. Ideally, you can decorate and create an organizer in endless ways with a circuit machine or paper. This project would be the best and ideal option for making the working bins for placing your small desk stuff such as safety pins, markers and tiny notes. So, you can use a circuit maker machine, cardboard for containers, circuit cardstock, glue gun, masking tape and a min iron happinessishome
4. Honeycomb Decorative Acrylic Desk Organizer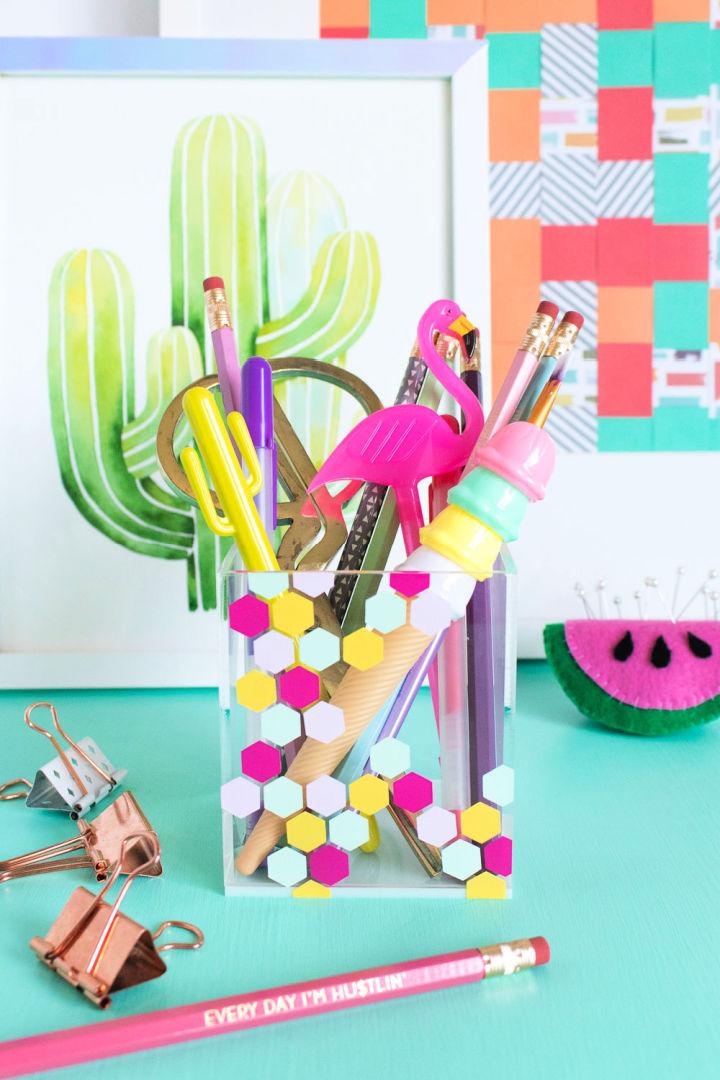 DIY a versatile and super adorable acrylic container for organizing your desks and kid's room decoration. Making this organizer is super easy with the help of an acrylic container and vinyl supplies. Additionally, use the circuit machine, circuit paper and a heating tool for making the honeycombs. If you are not familiar with the circuit kit, use acrylic craft paints with a free honeycomb template to design an acrylic container clubcrafted
5. DIY Kids Desk Organizer from Old Shelf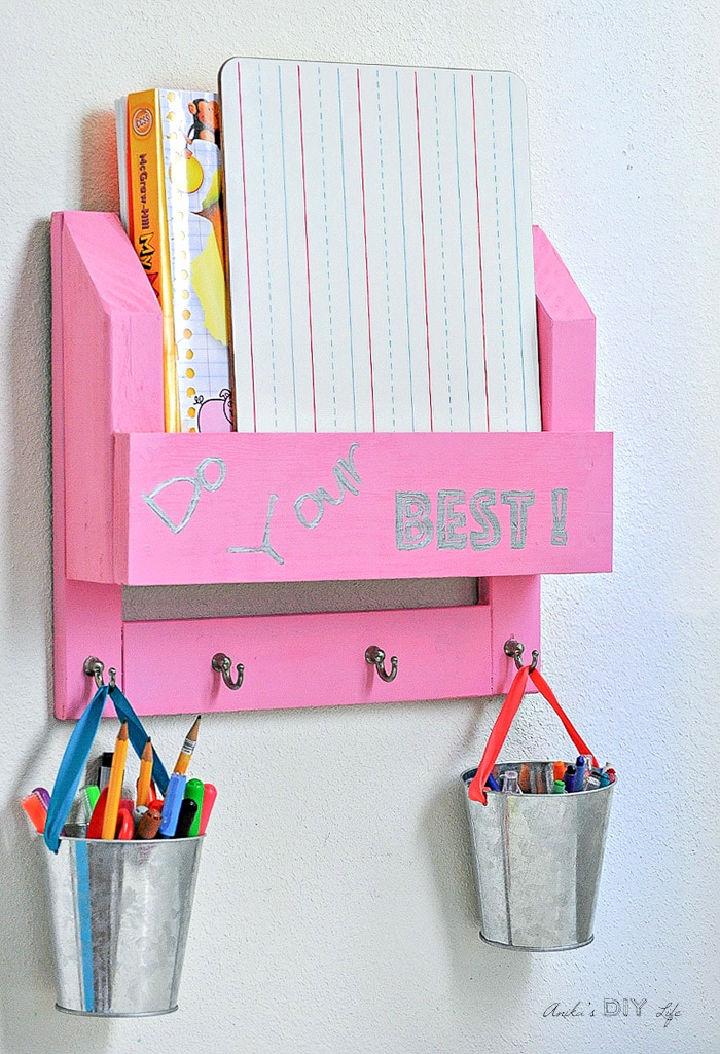 Motivate and courage your kids to organize their stuff with this DIY kid's desk organizer. Make this desk with a recycled or discarded shelf. Moreover, use colourful paints, steel hooks for some extra hanging space, colour markers and two super cute tiny buckets. Kids would love to place their pens and pencils in these small hanged buckets on the organizer. Furthermore, make this organizer a little bit more attractive for your kid by writing down his name on it using a colour marker anikasdiylife
6. How to Make Desk Organizer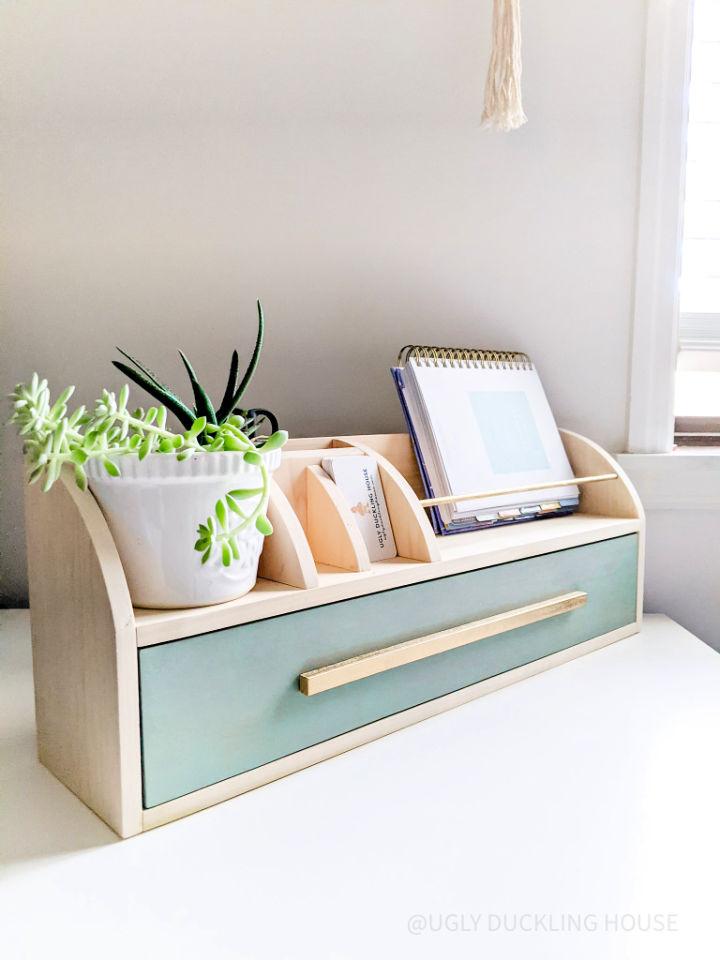 Build a more prominent and more productive desk organizer that also has a drawer. You can use this drawer for placing your essential documents and other workspace stuff protectively. Additionally, use the upper space for uniting files, books and your favourite magazines more creatively. To make this organizer, use poplar boards, plywood scrap, wooden dowel as a drawer pull, mitre saw orbital sander, measuring tape, wood screws, wood paint, drill bit, clamps, and brad nails with a nailer uglyducklinghouse
7. DIY Little Desk Organizer

Are you looking for a quick and last moment decor for your workspace desk? If yes, you can consider these tiny organizers with easy to make processes. Not only for decoration, but these little organizers also help to clean the desk from messy stuff and clutters. For this project, you can easily repurpose the coffee bottles. All you need to do is cutting the bottles in the desired shape and cover them with decorative embellishments kleinworthco
8. DIY Desk Organizer That Doubles as a Planter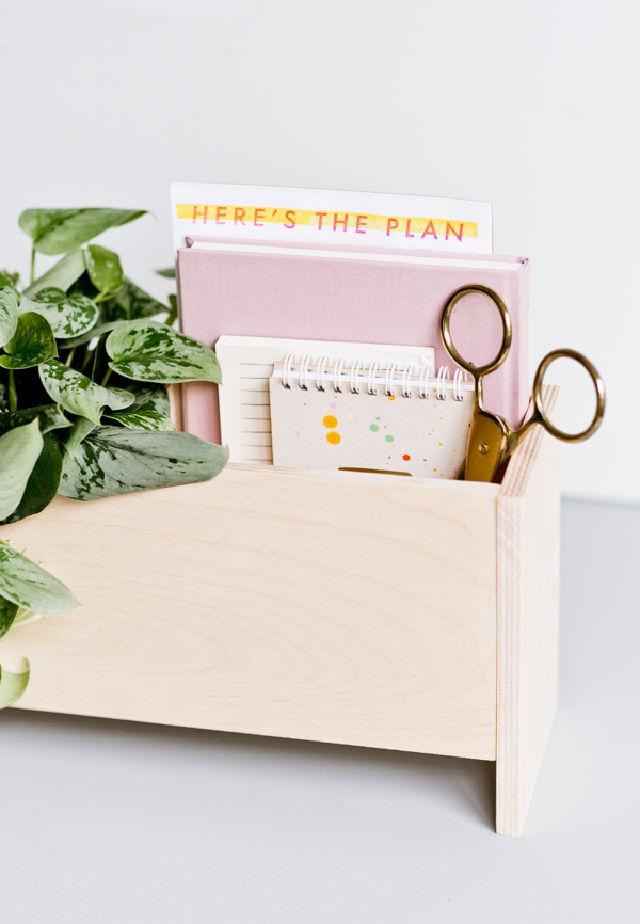 Build a two-in-one wooden desk organizer that you can also use as an indoor planter. The materials and supplies needed for this multi-functional project are wooden boards, circular or table saw, measuring tape, wood glue, sandpaper and wood paint if you desire. The whole thing you need to do is glueing the boards with one another to make a square-shaped wooden desk organizer. Moreover, use the same wood board for portioning the planter area from the organizing site papernstitch
9. Wooden Desk Organizer Tutorial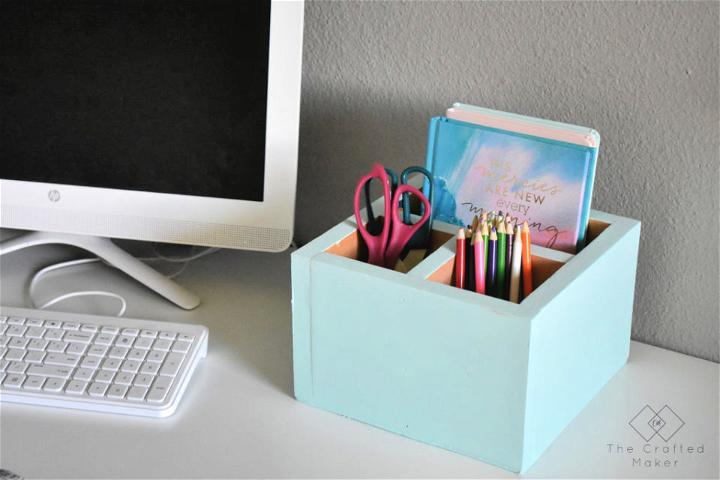 Give your workspace desk a wholly new and more organized look with a wooden desk organizer. DIY this organizer with a simple wood supply. Moreover, you can add a partition to this organizer for placing more stuff but separately at the same place. The other stores required for this project are wood stain, sandpaper, nails, mitre saw for cutting scrap wood, wood putty and a sander. One more thing, you can also build this organizer in a larger size if you have more stuff on your desk and looking for improved organization thecraftedmaker
10. Office Desk Organizer with a Cork Board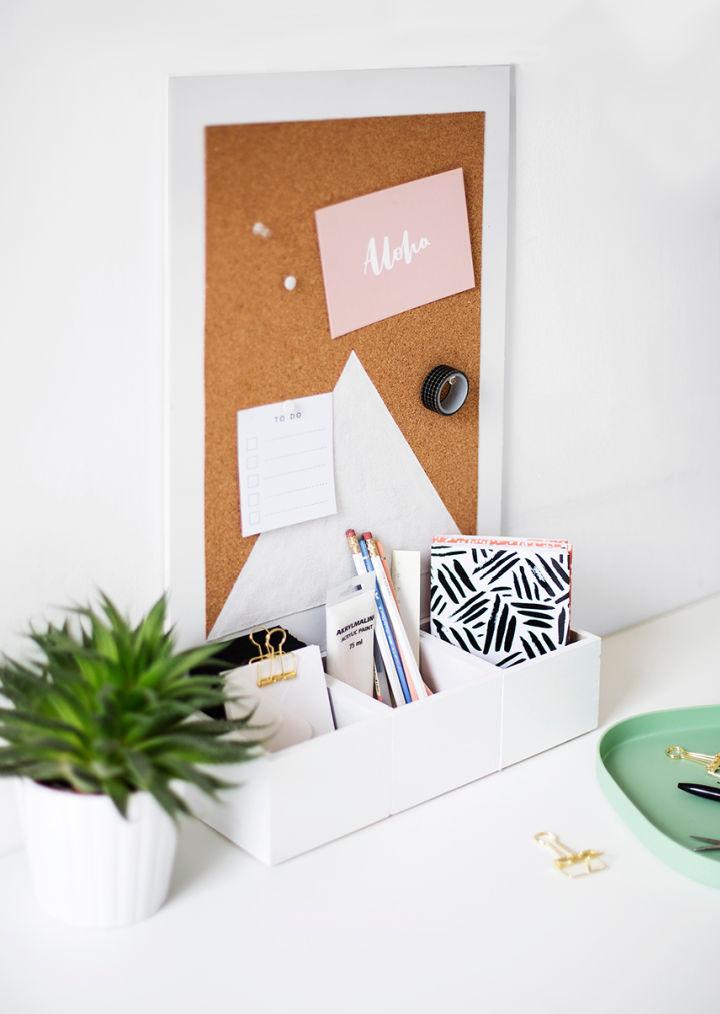 Display your pretty notes and motivational stickers on your workspace desk with this office desk organizer with a corkboard. You don't need to use any tool like a hammer to place the notes on this board. Simply, use the noticeboard pins for hanging all the paper stuff on the board. DIY this organizer using three wooden boxes in the exact sizes, MDF wood sheet, self-adhesive cark sheet, wood glue, wood spray paint in desired colour and papers sugarandcloth
11. DIY Desk File Organizer Out of Cereal Boxes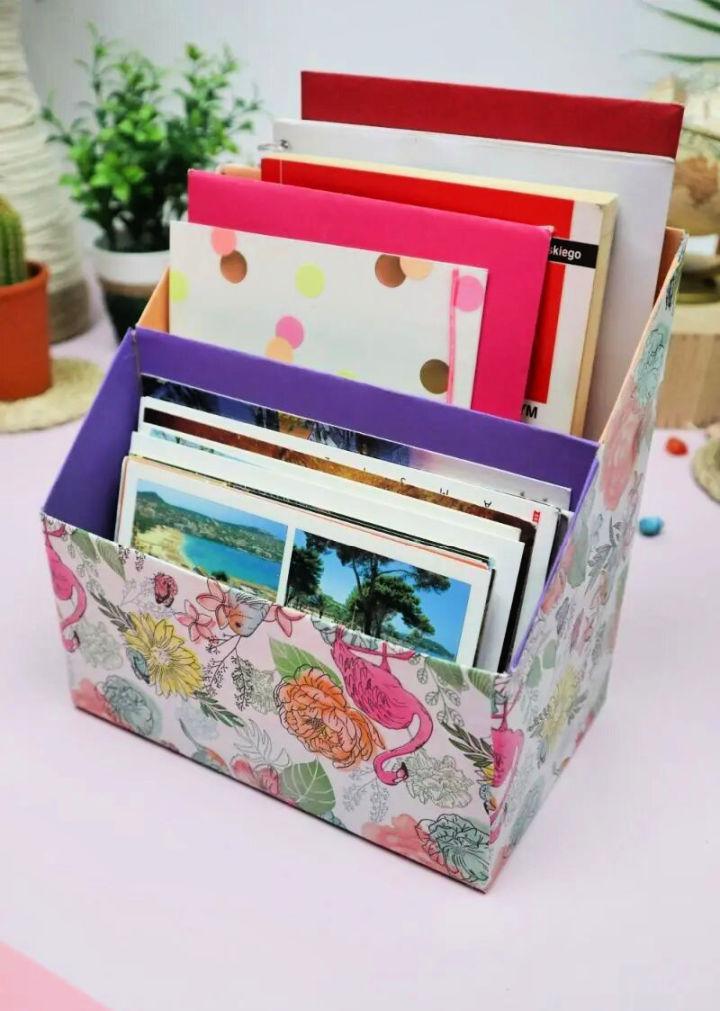 Recycle and upcycle the cereal boxes from your kitchen for a creative DIY file organizer instead of throwing them away in the trash. In this way, you can keep your environment clean and green. Luckily! You require affordable and straightforward supplies to complete this project. Additionally, use decorative papers, wrapping paper, paper glue, scissor, ruler and pen. One more thing, use a piece of a cereal box to create a partition in this organizer craftsyhacks
12. 5 Minute Colorful Desk Organizer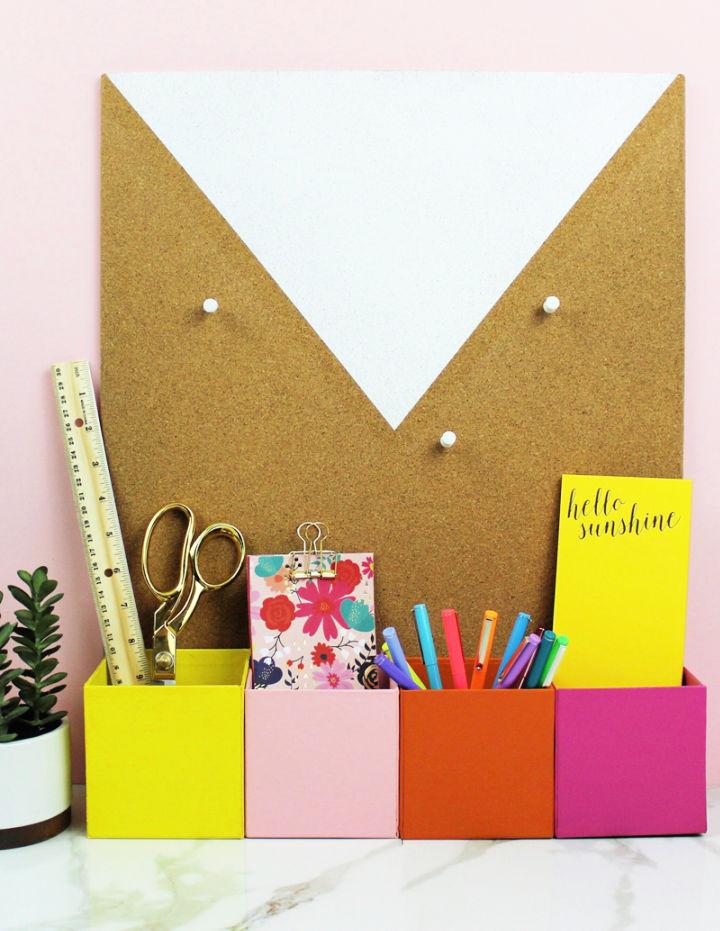 Do you want to decorate and organize your desk but don't have enough time and ideas? If yes, you can consider these tiny organizers for your workspace desk. Make these organizers in less than five minutes using colourful Mache boxes, a corkboard for wall-displaying notes, notice board pins, paper glue, scissor, ruler, hot glue gun and a pencil. Moreover, you can design these tiny boxes in whatever way you want with your own creativity asubtlerevelry
13. Geometric Origami Desk Organiser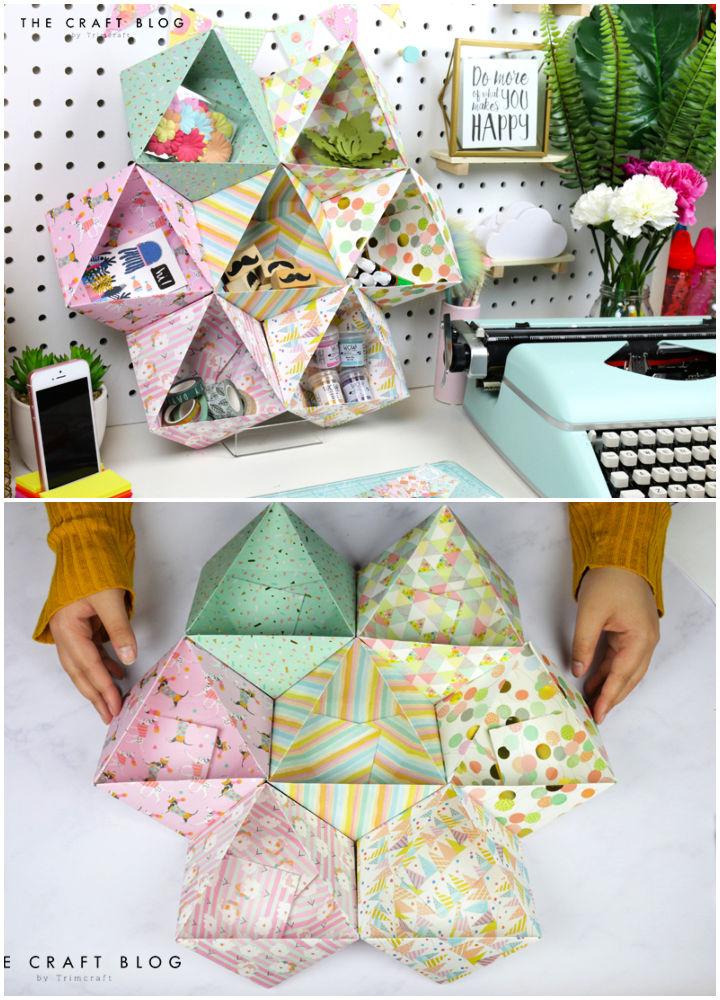 No doubt, origami papers look more mesmerizing and attractive whenever used in craft projects. So, why don't you use them for making a desk organizer quickly and affordably? Of course, yes, you can use this material for crafting a flower-shaped organizer. You can place this origami desk organizer in a vertical position along with the wall. To create it, use a paper pad, cardboard sheets in any colour, a Bone tool and Perma fix tape thecraftblog
14. DIY Desk Stuff Organizer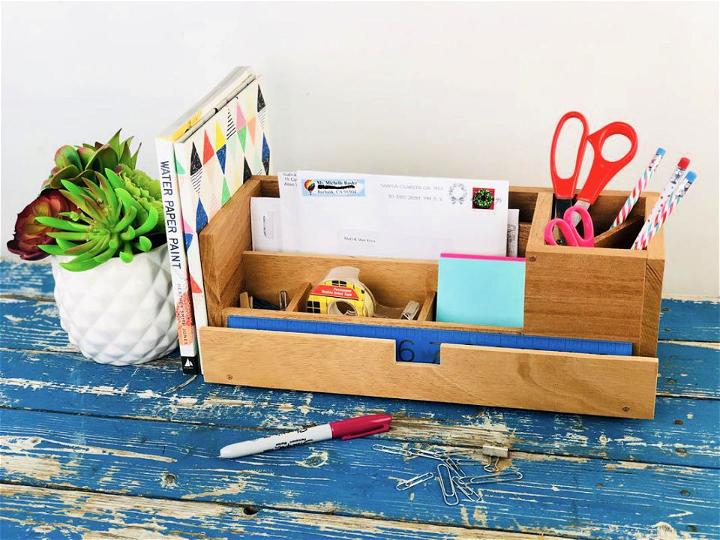 When we talk about keeping our office work desk clean and free of clutter, nothing can compete with a productive desk organizer. No doubt, there are several ready-made organizers. But those organizers are not suitable for everyone's needs. So, you can make your own desk organizer using Mahogany thick and veneer wood, sandpaper, wood glue, Kreg pocket screws, brad nails with a nailer and drill bit. If you are a wood crafter, working on this DIY desk organizer is not hype for you learn kregtool
15. Build a Wooden Desk Organizer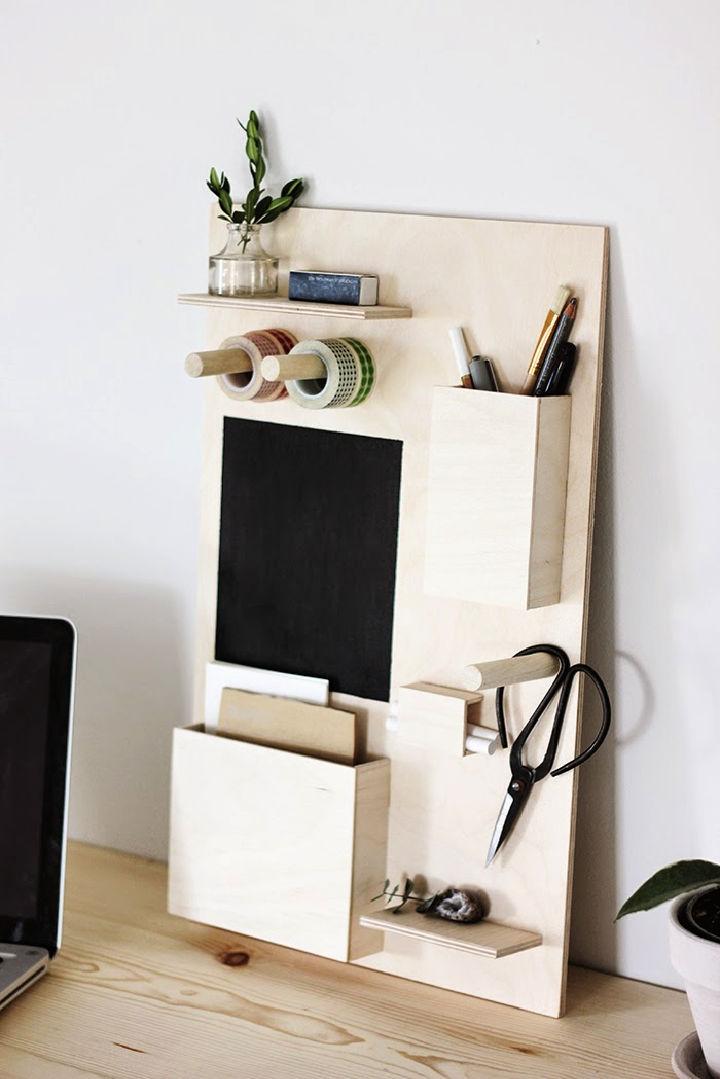 Build a wooden desk organizer with larger organizing space, racks and hangers-on on the same board. It may look complex to work on this project because of its structure, but you would love to work on it with a designed plan. You can get your hand on this DIY using Birch thick plywood, wood glue, scroll saw, wooden dowel, tape measure, crafting tape, chalkboard tape and heavy-duty wood adhesive. Create a template on the paper before cutting the plywood for each segment poppytalk
16. Large Desk Organizer with Painted Brass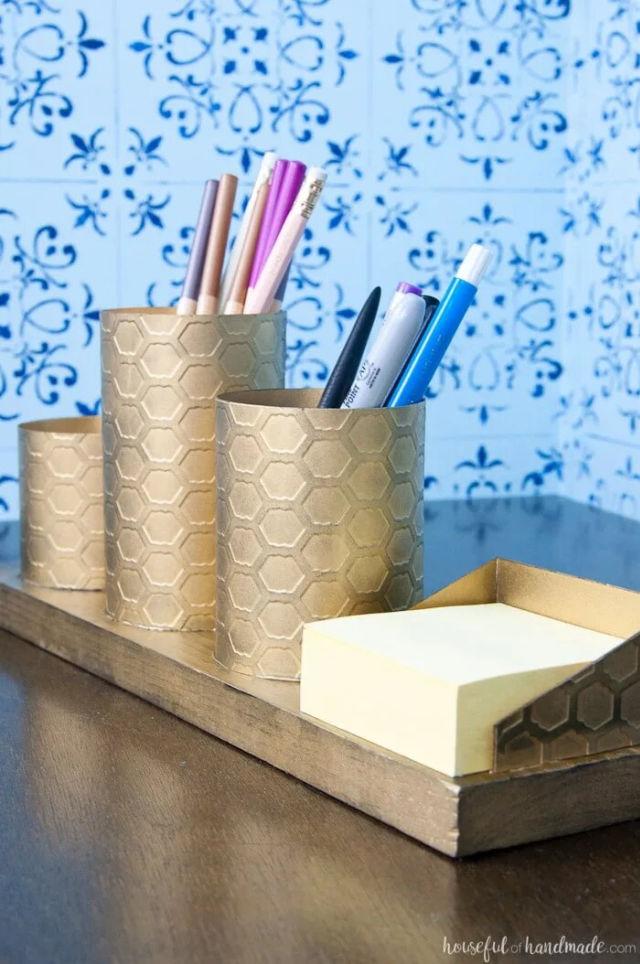 If you are familiar with brass or embossing art, you would love creating and crafting these DIY painted brass organizers. Making these organizers is super easy and affordable. The materials and supplies required to develop these organizers are brass sheets, metallic copper spray, strong adhesive and a brass cutter. Excitingly! You can cut the metal sheet in desired shape and size to get different organizers on your workspace desk housefulofhand
17. Custom Wall Office Organizer

Build a super affordable and quick custom wall organizer for your office desk using pallets. The main reason for considering the pallets is their affordability and also ease of use. However, you can also go with any other desired wood supply from your thrift collection if you want. Moreover, use wood screws, pocket hole screws with a power drill for the boards of this organizer. Once you have done creating it, make it more productive and attractive with customized labels shanty 2 chic
18. DIY Desk Organizer Trays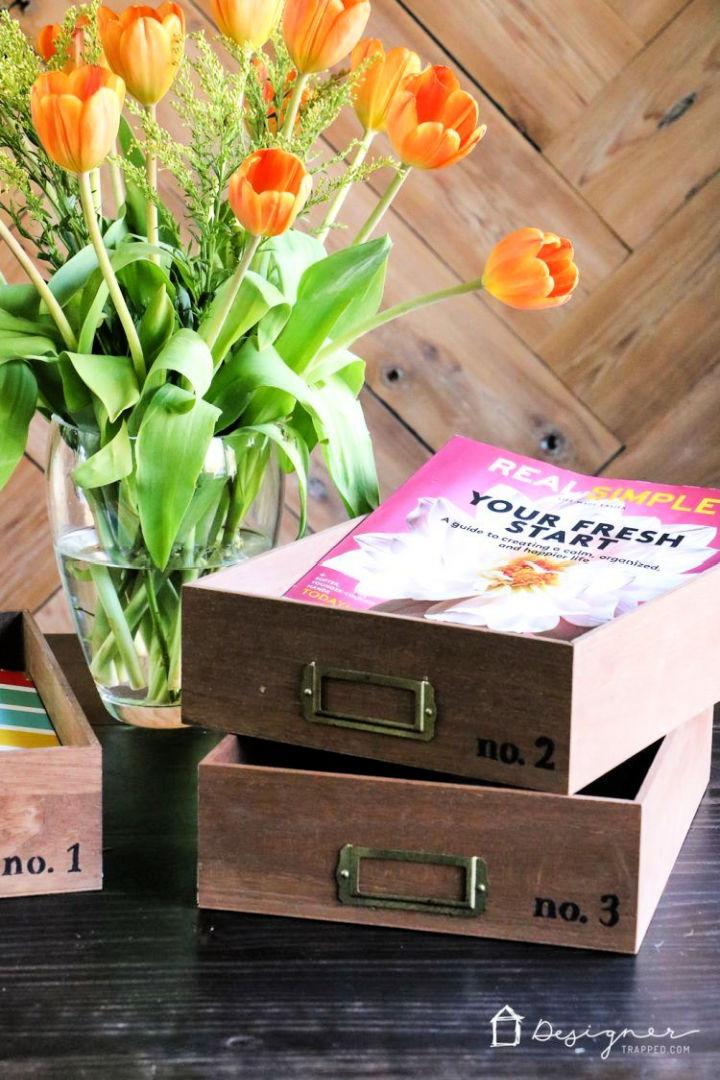 Desk organizing trays are suitable and most beneficial to clutter the files, documents and magazines separately on your office desk. Moreover, making these trays is also super easy with the help of unfinished wooden boxes with holders, wood stain or paint, paper towels and carbon paper. The whole thing you need to do is clean the trays and paint them with desired wood paint. Additionally, use carbon paper for numbering each tray designertrapped
19. Hanging Canvas Wall Desk Organizer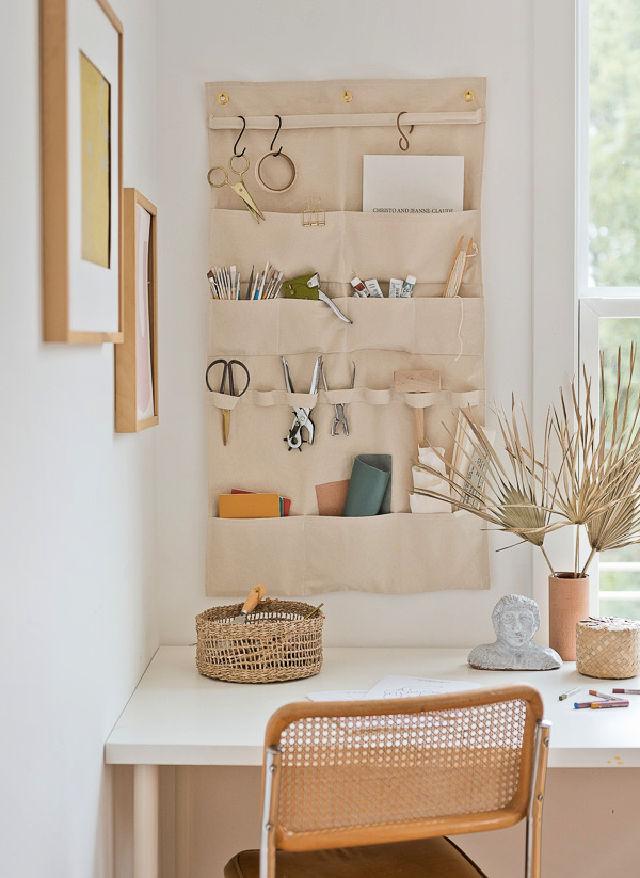 See this canvas hanging wall is an ideal and perfect way to organize and also decorate your space ideally. This is one of the best diy desk organizer ideas ever.You can place all your necessary stuff in the same place more stylishly in this organizer. To make this wall hanging pockets desk organizer, you will require scrap fabric or canvas drop cloth, dowel rod, sewing machine, scissor, measuring tape, pencil, thread and S-hooks. You can cut the drop cloth in standard size or craft this wall-hanging desk organizer according to your needs. papernstitch
20. Rainbow Paper Organizer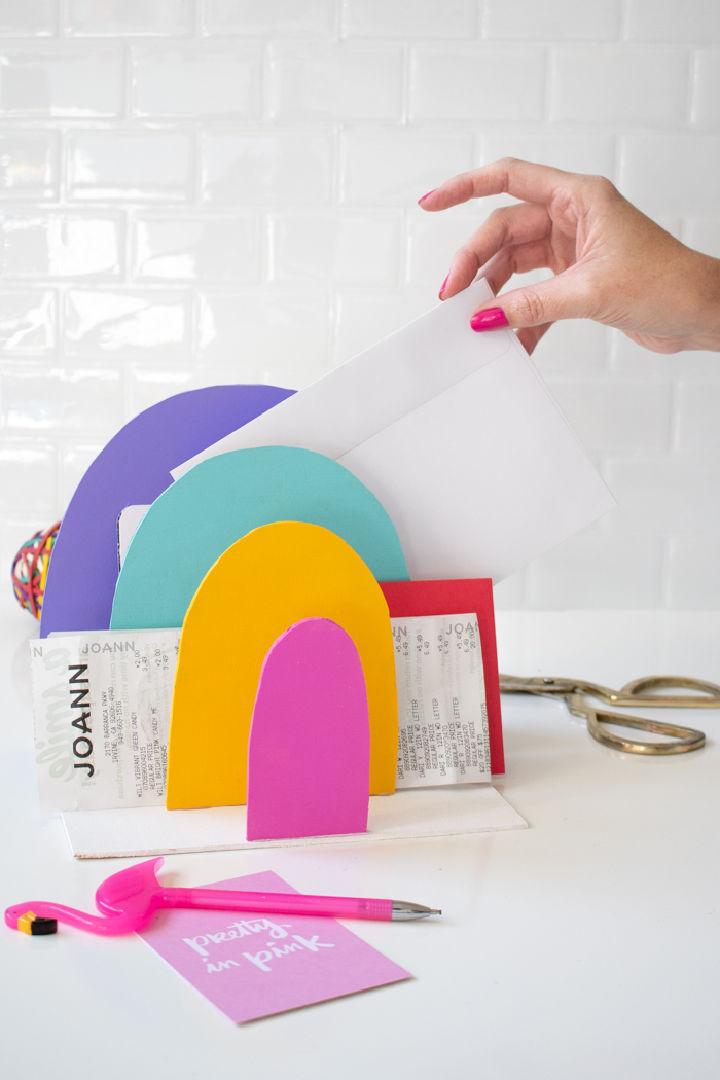 Organize all your office desk stuff more stylishly and colourfully with this rainbow desk organizer. No doubt, this organizer is the best and most suitable option for a girl's desk. She would surely love having and making this organizer for herself and also for her friend. To craft this organizer, you require a balsa wood sheet, colourful craft paints, scissor, a glue gun, paintbrushes and a cutting mat. Furthermore, cut these sheets in multiple sizes to get a more unique and worth-displaying look on the workbench. clubcrafte
21. Rustic Wooden Desk Organizer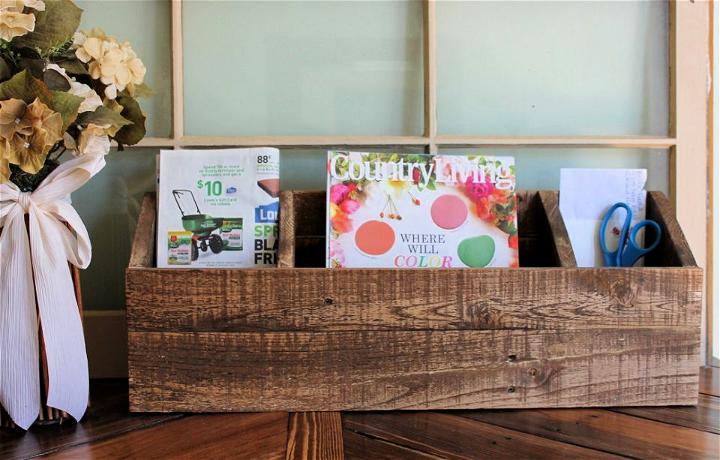 Do you want a more appropriate place to organize your documents and Mails? If yes, this rustic wooden organizer project is for you. To work on this project, you don't even need to raid a craft store. Repurpose or recycle the wood pallets from your thrift collection for this DIY. Moreover, use wood glue, wood screws, power drill, hammer and nails to assemble all the pallets firmly. Once you have nailed this organizer with support or on the wall, you are all set to use it hometalk
22. Monitor Riser Desk Organizer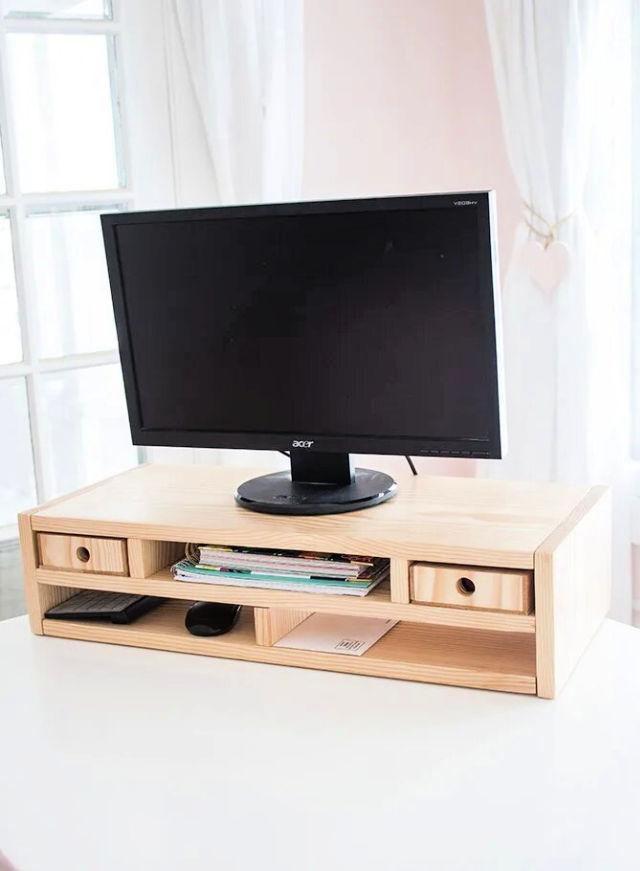 Build a two-in-one desk riser that can use for desktop placing and also for organizing office stuff at the same time. Building this organizer is super easy, especially for the wood crafters. Excitingly! You only require a single wooden board to complete this DIY. Apart from using a board, you also need wood glue, wood screws, a table saw, a power drill, measuring tape and of course, a designed template. Ideally, this wooden riser organizer will not cost you more than $15. abutterflyhouse
23. DIY Desk Organizer

A DIY desk organizer is the best thing to consider for placing all the cluttered items in the same place on your workbench. The wooden organizer looks chic, stylish and modern looking because of its overall phenomenal structure. Build this organizer with thick woodcuts, wood glue, sandpaper, mitre saw, power drill, wood screws, pocket hole screws, wood filler, tape measure and clamps. Lastly, paint this organizer with a black wood stain to give it a chicer look. angelamariemade
24. Rope Organizer for Your Desk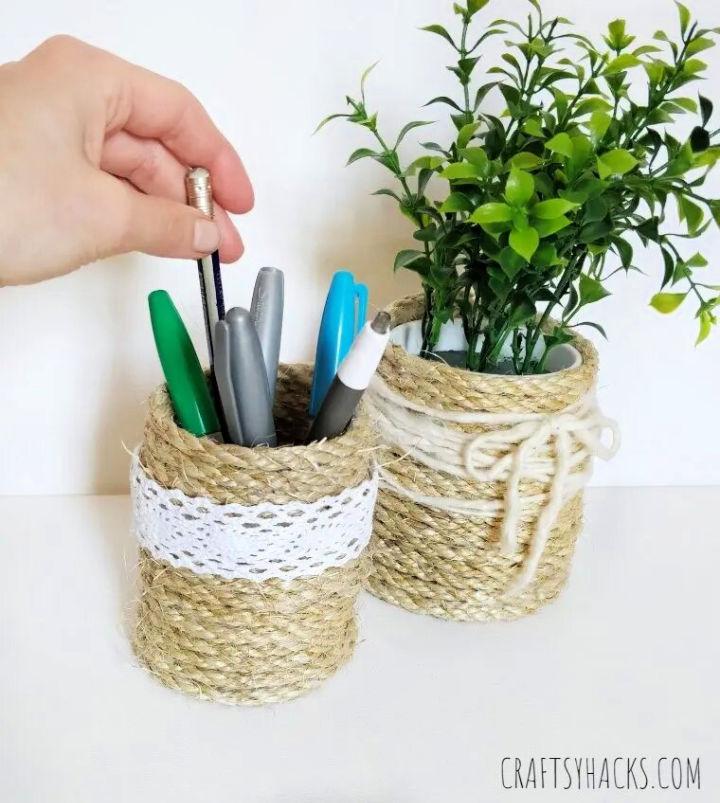 Add farmhouse style decor to your workbench with these rope organizers. To make these organizers, you can choose any base material of your choice. For example, you can go with recycled plastic bottles and also boxes for this DIY project. Additionally, use burlap rope, hot glue gun, decorative ribbon and scissors to complete the crafting of these rope organizers. Excitingly! These organizers require a little space on your desk.
25. Desk Organizing Drawer Dividers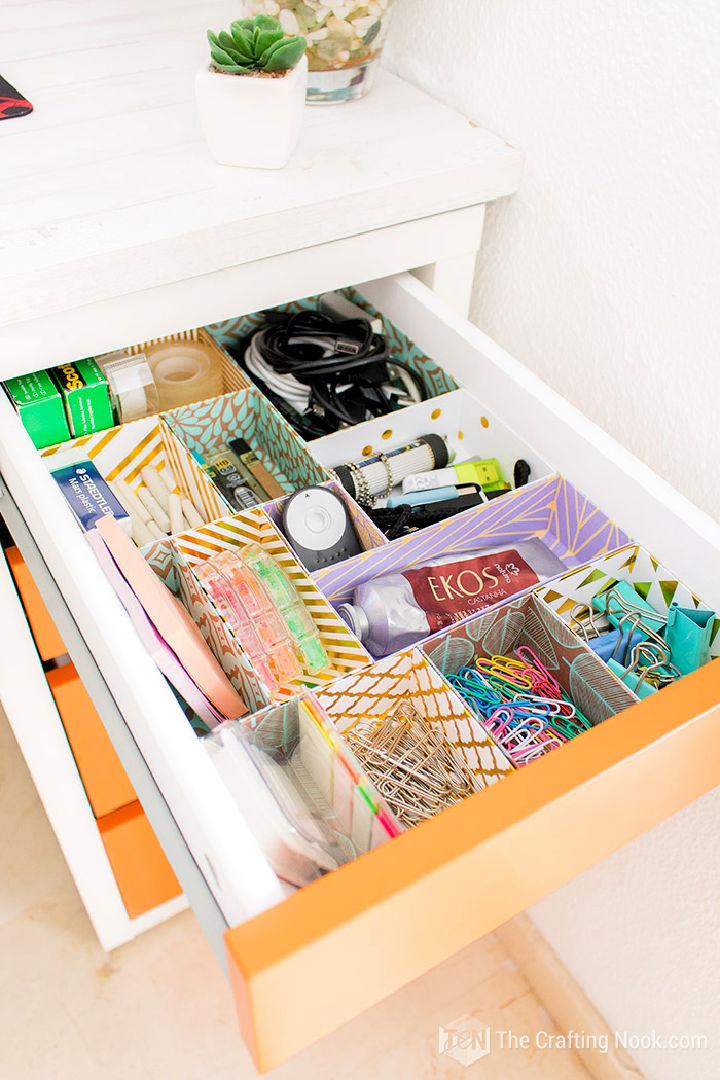 Only with the help of a few solid cardstock, you can create more organizing space in your drawers. Most of the websites and companies are selling these organizers at higher rates. But you don't need to go for them. Create these tiny and more productive pieces of craft yourself with cardstocks, glue, scissor, a ruler and a pencil. All you need to do is assemble the cardstocks according to the specified size of the drawer. So, you can later place this customized divider super easily inside the drawer. thecraftingnook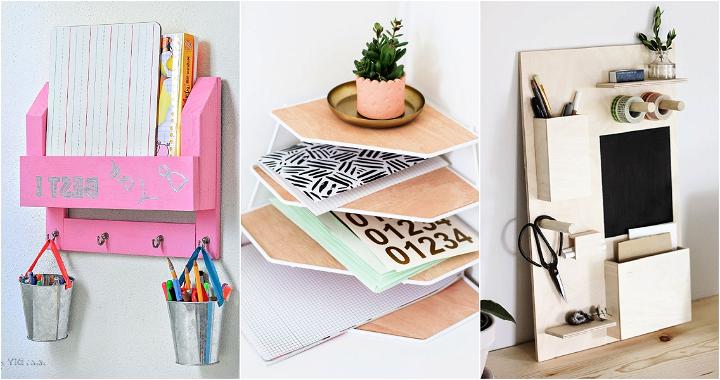 Conclusion:
Now, what are you waiting for? Get inspiration from DIY desk organizer ideas to work on your own creative and easy-to-make organizer! Uplift your workspace decor and get rid of all mess on the workbench with these creative and appropriate DIY desk organizer ideas. You don't need to buy expensive organizers because these crafted and innovative organizers are always in trend.