Have you ever had a chance to do remote work and realized how comfortable and reliable your computer desk should work online? Are you striving with finding the most suitable way to build your own homemade DIY computer desk? Building a computer desk can be a beginner or intermediate project, depending on what plan you choose to tackle. There is an infinite number of ways to build a custom DIY desk, but before finalizing any plan, make sure to keep these main four points in mind. These are what should be the length of the table, what is the minimum and maximum budget you can spend, how much effort you can put on, and what are the ergonomics. We have compiled 25 top DIY computer desk ideas including free pdf plans and instructions to build your own custom computer desk at a cheap cost.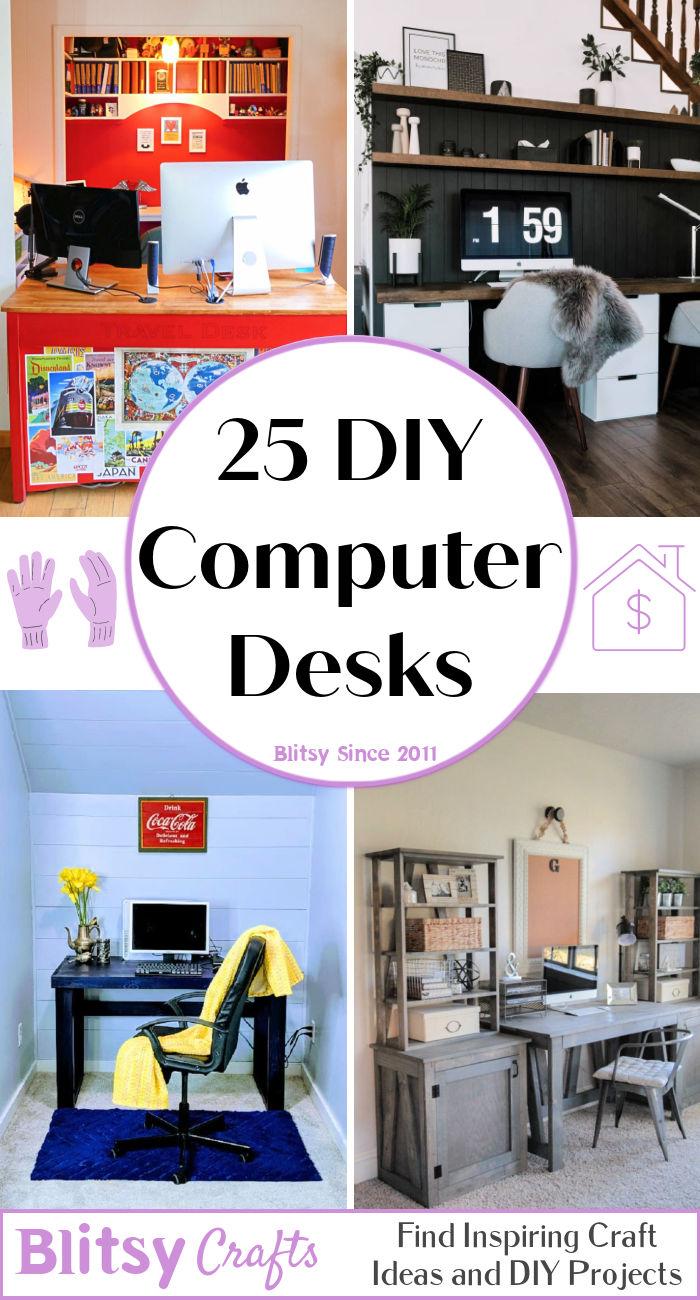 Your desired desk should be comfortable and reliable no matter if you are going to build in a standard size or a custom one. In this guide, we will be covering all the possible ways to make a cheap DIY computer desk at home. Either you are looking to have an IKEA computer desk or a built-in desk, gaming computer desk or a wooden based one, custom or a simple desk, mobile stand up computer desk to an affordable one, built-in office desk or a truss desk, latest or a modern homemade computer desk. You will find everything in this guide. What you have to do is, pick the best plan that suits your needs and budget the best. Make sure to take the exact dimension measurement of the location you want to place your desk at. Let's begin it today!
1. DIY IKEA Computer Desk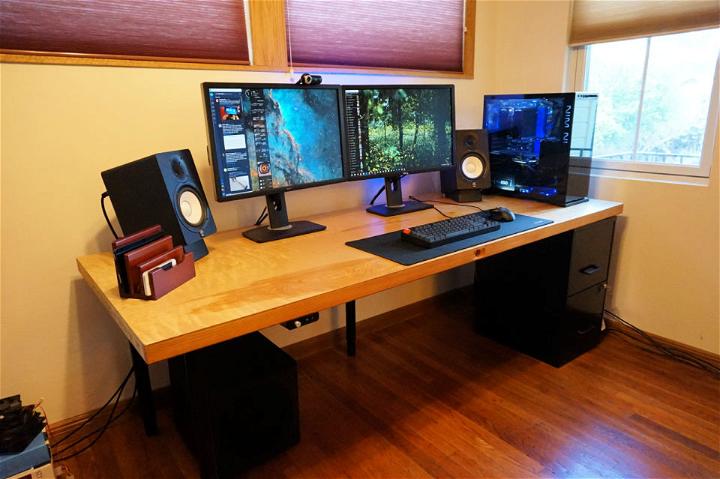 Looking for a computer table for late-night work? Learn how to build a computer desk from scratch with this simple pallet compute desk made from an IKEA desk that looks awesome in the corner of your room, and it's super easy to build too. All you need is one unused wooden pallet, two pairs of Vika curry legs from IKEA, and one plywood layer. popsci
2. Built In Computer Desk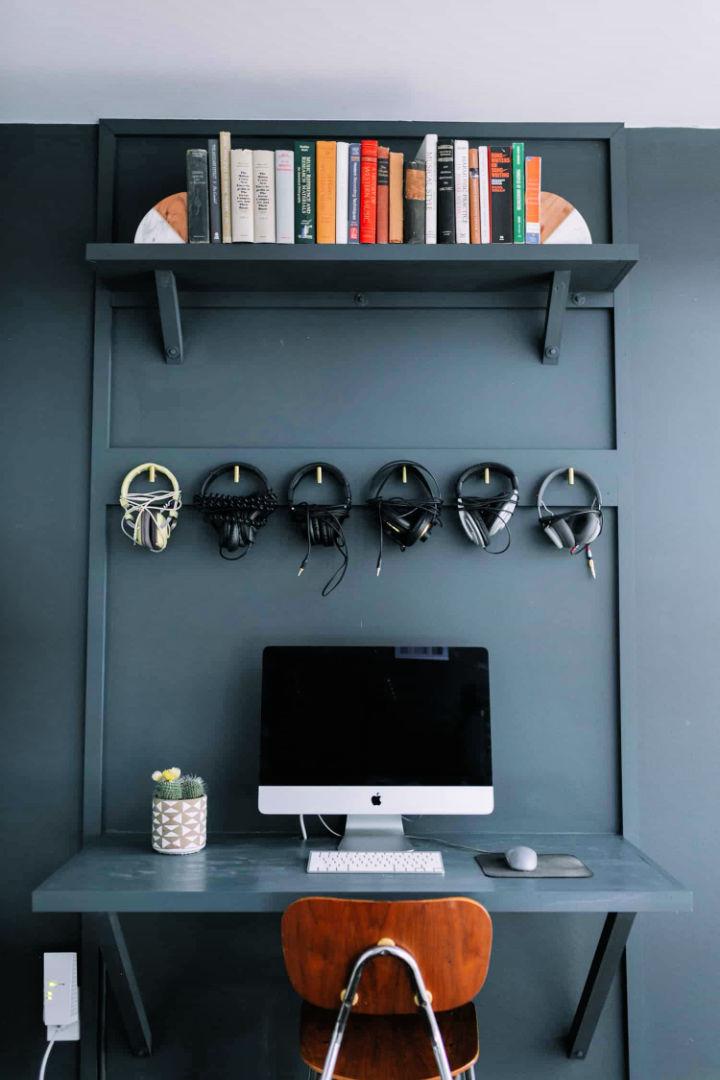 Have you been tired of using your desktop Mac on the round table, which is not intended to become a desk? Do not have enough visual space to add another piece of furniture? Here is the perfect plan for you! Build a homemade built-in computer desk with just a few supplies like wood, plywood, nail gun, etc. abeautifulmess
3. Gaming Computer Desk With Drawers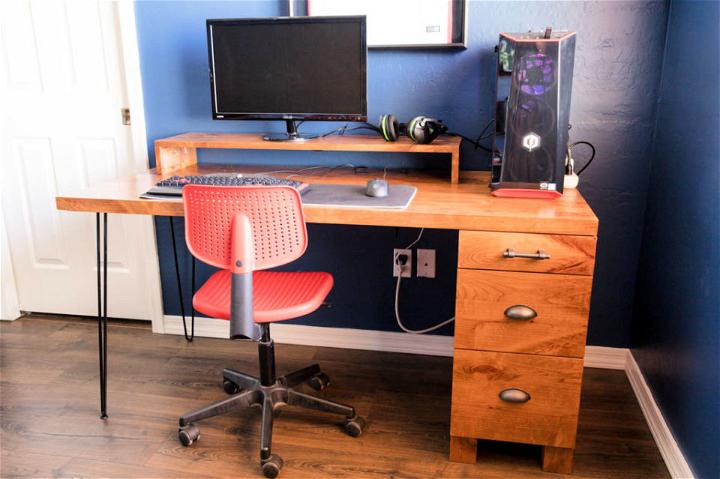 A huge fan of video and 3D games? Looking for a perfect yet comfortable gaming computer desk give to give tough competition to others? Build this two-leveled rack desk to put your computer and gaming console and have the best gaming experience. Gather hammer, pocket screws, plywood, shelf board, wood, sandpaper, etc. addicted2diy
4. Wooden Computer X Desk

Build a simple wooden computer desk that will look not only awesome in the corner of your room but also very easy to build. You just need to have basic woodworking experience to build this wooden desk. Take the accurate dimension measurements of your room and start making it today with these supplies: plywood, pocket screws, nails, wood adhesive, shelves board, miter saw, rule, etc. ana white
5. PC Gaming Desk Plan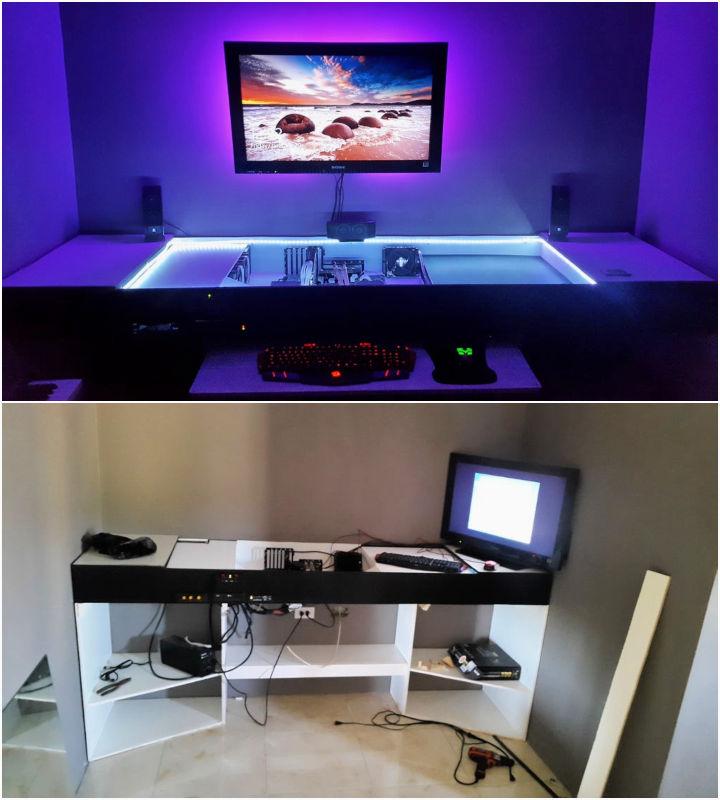 Are you looking to shop for the best gaming PC desk because an ordinary desk is not enough to store all the hardware in it? Build a custom computer desk at home to have enough shelves and space to store anything you want. Assemble miter saw, nail set, pocket screws, glue, plywood sheet, drill paint, carbon fiber wrap. instructables
DIY desk organizer: Organize your craft room or office with these easy DIY desk organizer ideas! Get the free Cricut Design Space project to easily make your own bins and boxes!
6. Custom Computer Desk With Storage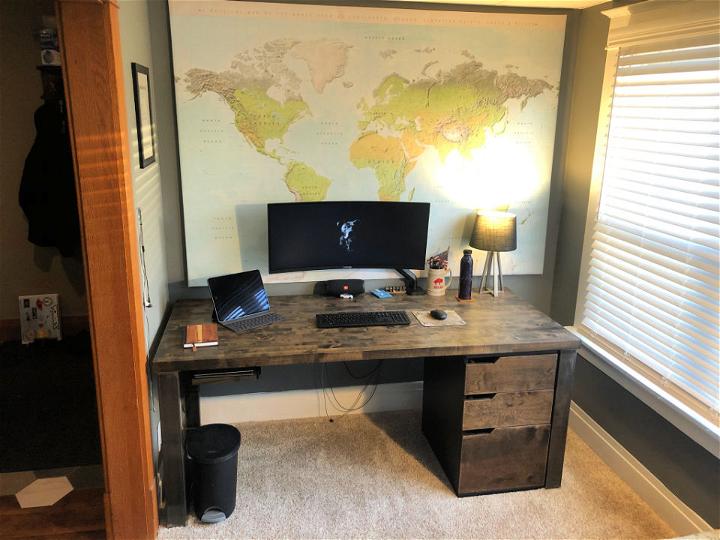 Are you looking to hack or remodel your current computer desk, if you have already because it is not comfortable to put all the computer storage in it? No worries, and build a custom computer desk from scratch with just a few supplies. Scratch an idea and assemble plywood sheet, wood, adhesive, miter saw, steel pipe, cutter, etc. imgur
7. Simple Computer Desk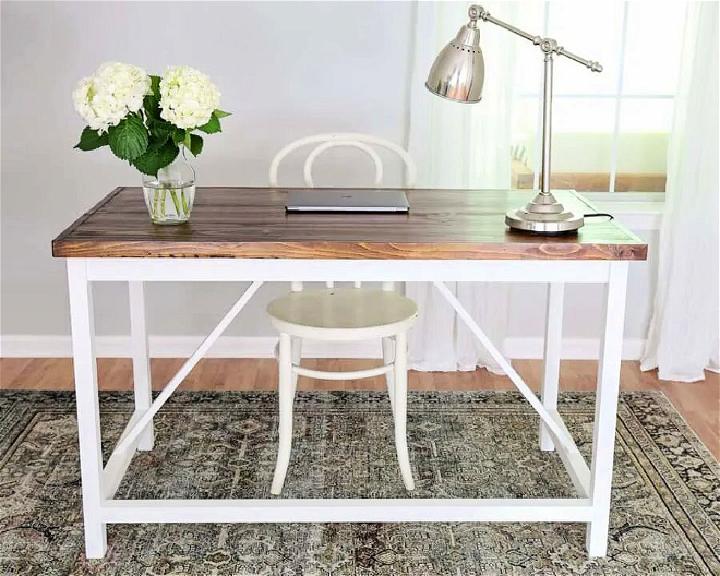 Craving to have a super comfortable computer desk to work at home and office both? Let's get it a start and build an easy and straightforward computer desk to make it a good fit for both your office and home. All you need is a plywood sheet, steel pipe, miter saw, fence sheet, wood boards, wood glue, nail set, pocket screws, and paint. angelamariemade
8. Budget Friendly Computer Desk

Over the summers that you decided to purchase a new computer desk but could not make it happened because of the high market rates? Do not have enough budget to buy a new desk and wonder if you can build one at home? Yes! Geared up these supplies: miter saw, plywood, spray paint, cutter, glue, wood boards, etc. instructables
9. Build A Home Office Computer Desk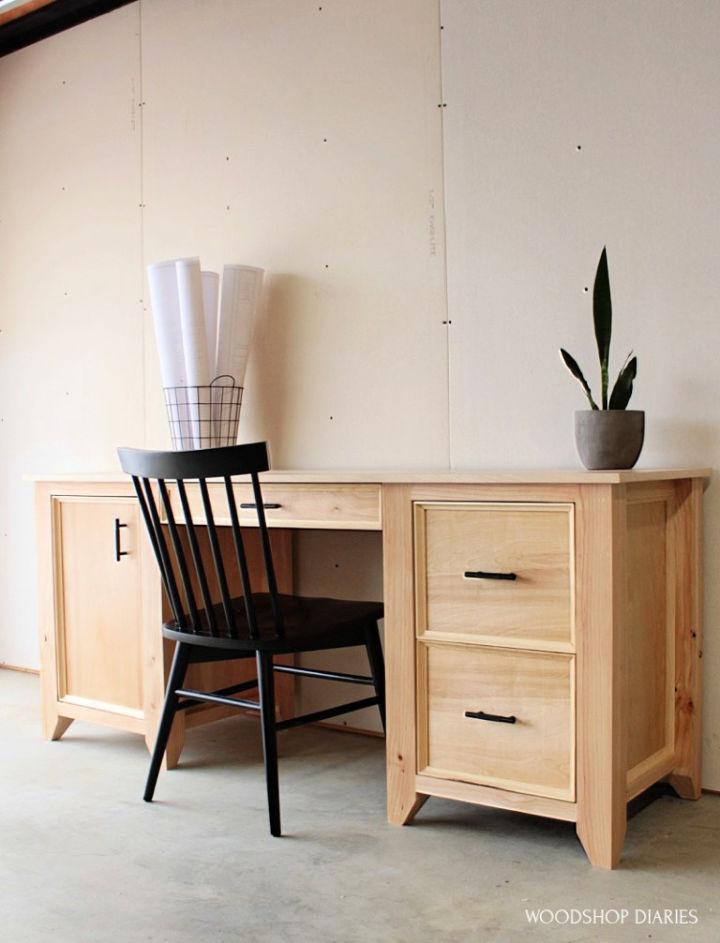 Just started working from home and need a proper comfortable computer desk to work for hours? We will show you how to build a DIY computer desk not only for comfort but also within an affordable budget that suits your pocket and home both. Assemble hot wood glue, nails, screws, plywood sheet, nails, drill, fence sheet, etc. woodshopdiaries
10. DIY Mobile Standing Computer Desk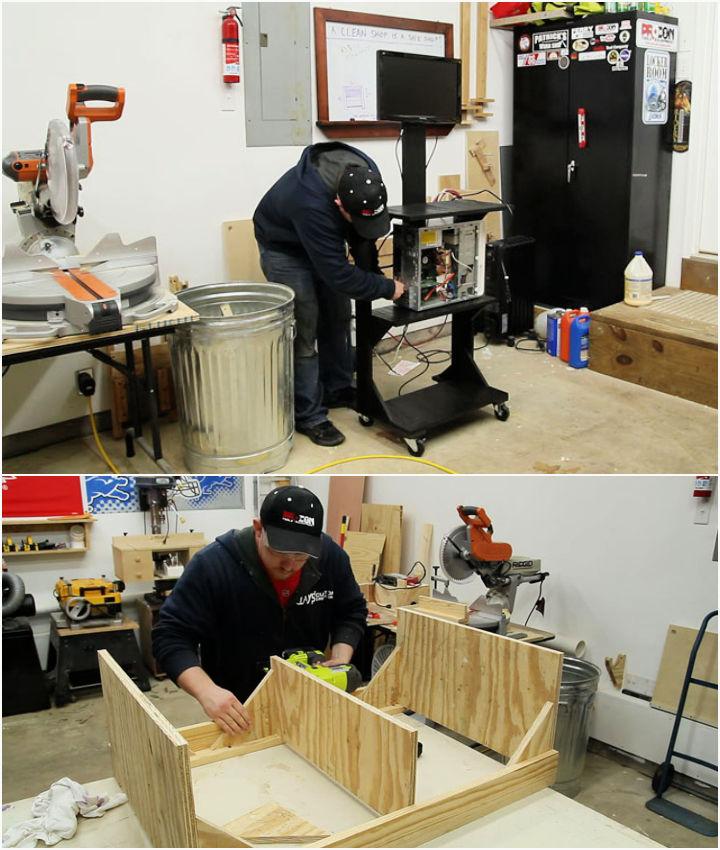 The best homemade standing desk from our list of diy computer desk ideas. Have you been looking to get a computer in the shop for various reasons for the past couple of years? Want a mobile stand-up computer seems to be the perfect idea to be there? Why not! You can now build it home with few supplies like metal and carbide spinning, pipe, wood boards, plywood, glue, miter saw, nails, hammer, etc. jayscustom
11. How To Build Computer Desk Under $50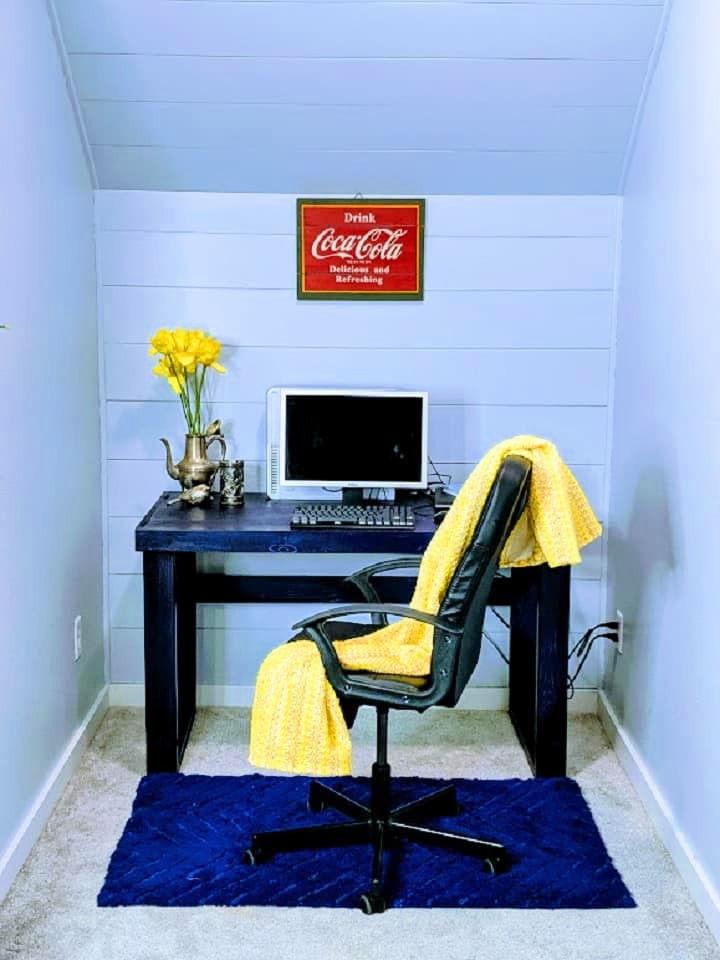 Have you been struggling to find the best custom DIY computer desk at a reasonable price but couldn't find so? Now, you can build a custom computer desk at home that is not only easy, but also, you need just $50 to collect all the necessary materials like plywood, wood glue, nails, pocket screws, miter saw to get started! bushraslifestyle
12. Homemade Truss Desk Free Plan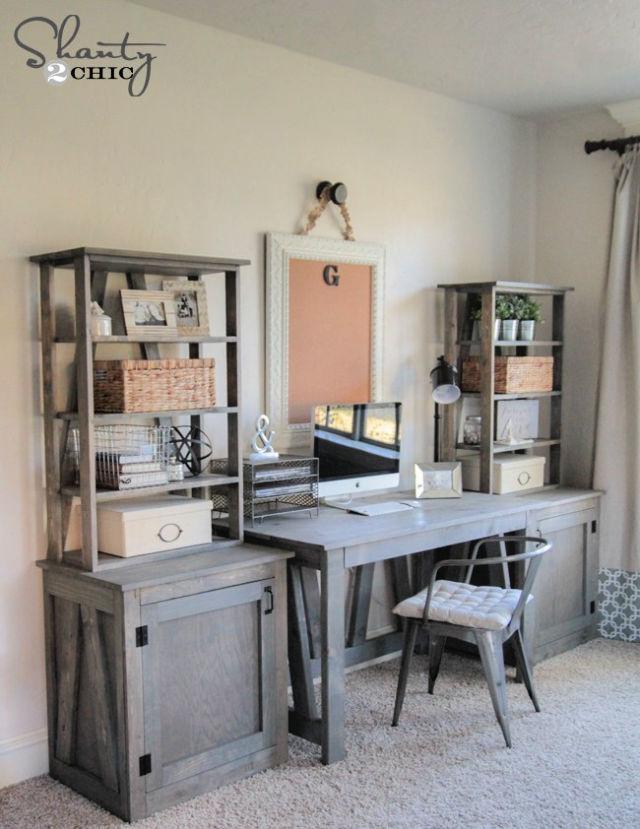 Have you just started redoing your entire bedroom furniture? Are you looking to have a perfect computer desk that matches your other furniture to place it in your room? Start building the one at home with readily available materials like cedar boards, plywood sheets, nails gun, wood glue, spray paints, hole pocket screws, a drill. shanty 2 chic
13. Cool and Modern Computer Desk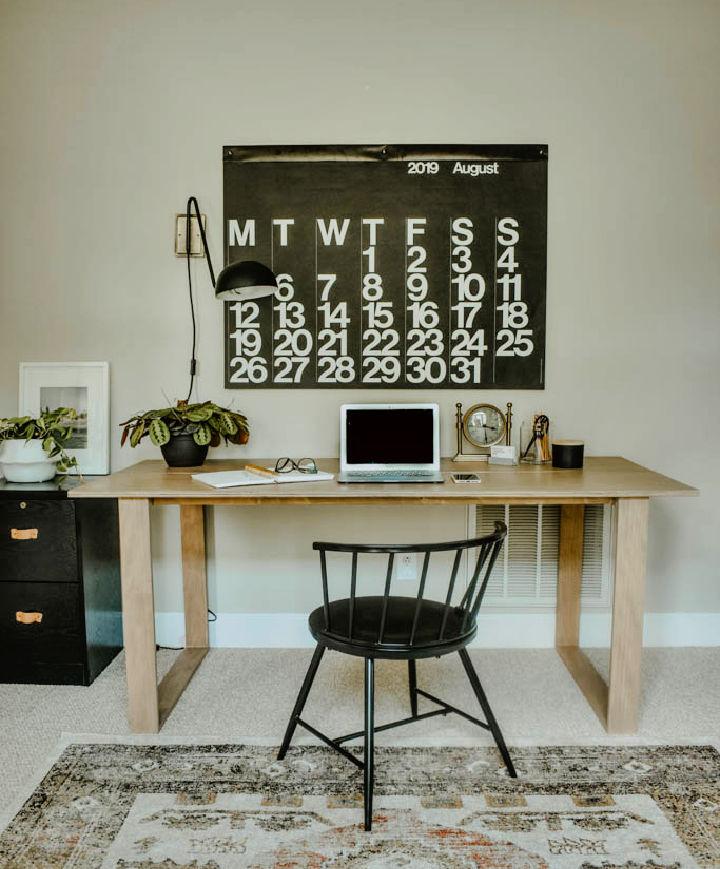 Building your own desk has become a regular thing these days but finding the right plan that fits your needs properly is the actual job. We are thrilled to share a fantastic modern DIY computer desk plan that you can have anywhere you want! All you need is spray paints, wood glue, plywood sheet, miter say or ruler, screws, etc. houseonlong
14. Large Computer Desk for 40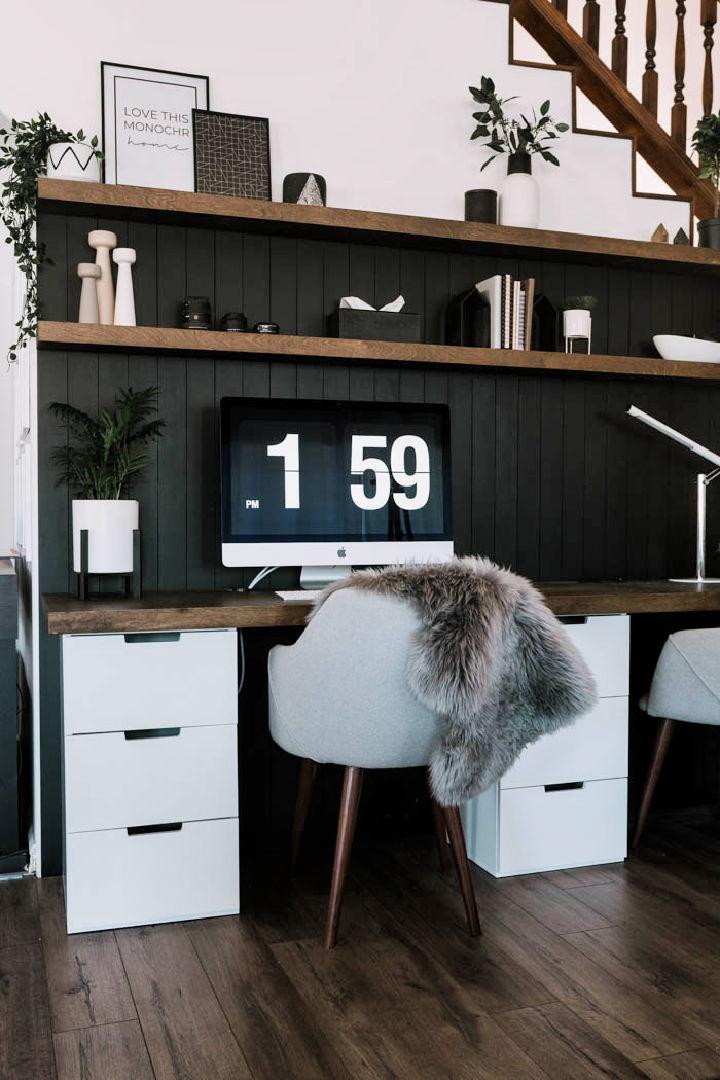 Build a new easy and affordable big computer desk along with the matching floating shelves. All you need to do is, spend some time from your busy routine, design a prototype, and start implementing it within the budget of just $40! Assemble woodcutter, glue, hammer, plywood sheet, steel pipe, nails, pocket screws. lovecreatecelebrate
15. Building A Chippendale Desk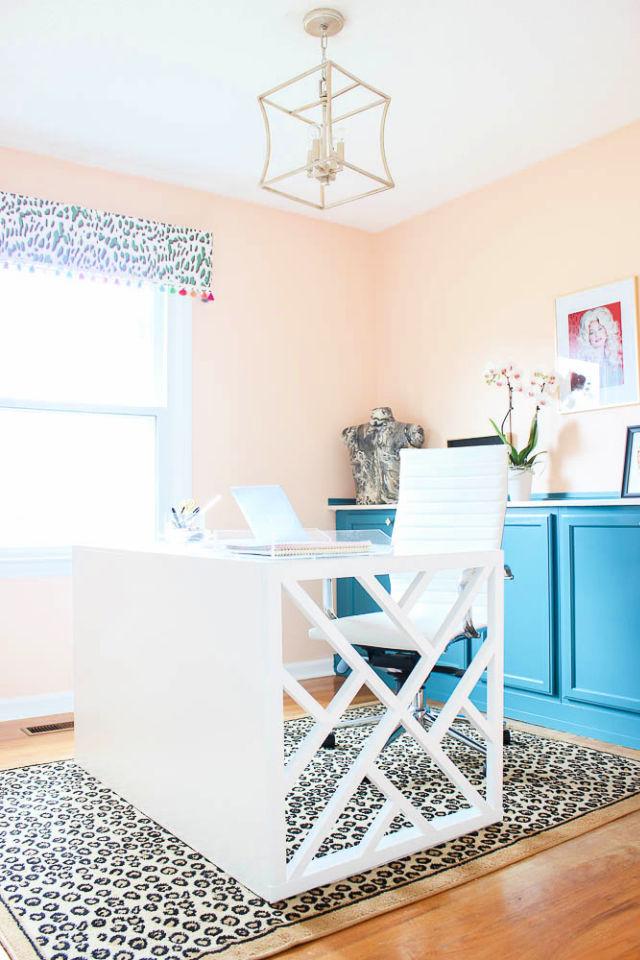 Have you been searching for different options and ideas for building a new Chippendale desk for weeks? Couldn't find it anywhere? Don't fret because you are at the right place. Now, building an excellent Chippendale computer desk is super easy with two ready-made Chippendale panels wood glue, sanded plywood sheet for base, screws, etc. rainonatinroof
16. 2 Person Long Computer Desk

Want to makeover your home office and know that you need a perfect desk that matches your room furniture? Looking for an ideal space to write and other crafting activities too? Build a perfect custom computer desk with the supplies like plywood sheets, steel pipe, screws, nails, drill, fence sheet, wood glue, etc. abeautifulmess
17. DIY Plywood Computer Desk For Home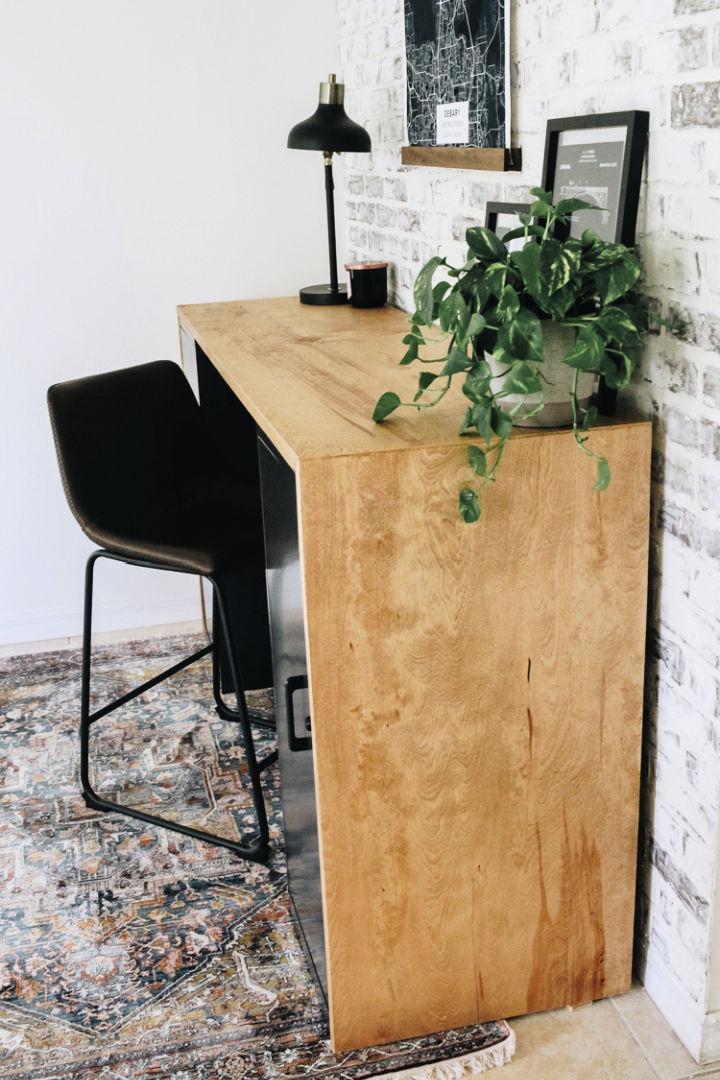 Are you planning a new office space, therefore, looking for a desk that makes a huge impact yet should be simple in design too? Wondering if you can build a plywood desk under the total cost of $75? It's doable, just look through our whole list of diy computer desk ideas and you will find more! Assemble these supplies: plywood sheet, hole pocket screws, metal pipe, nails set, electric drill, miter saw, etc. withinthegrove
18. Tiny Metal Wood Corner Desk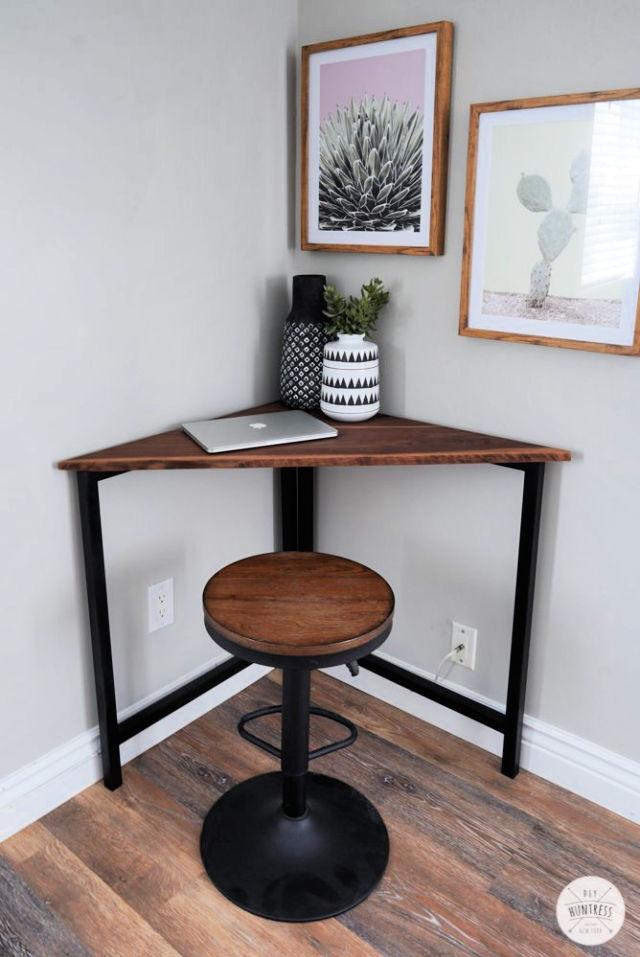 Do you already have a corner TV stand or table? You can turn that out into a perfect computer desk too. It will not require a lot of work. Just think about the cable management of all the computer hardware and start building it today. Make this diy corner desk plan with supplies needed: plywood, steel pipes, wood glue, pocket screws, hammer, drill, and nail set. diyhuntress
19. Pallet Computer Desk with Total Boat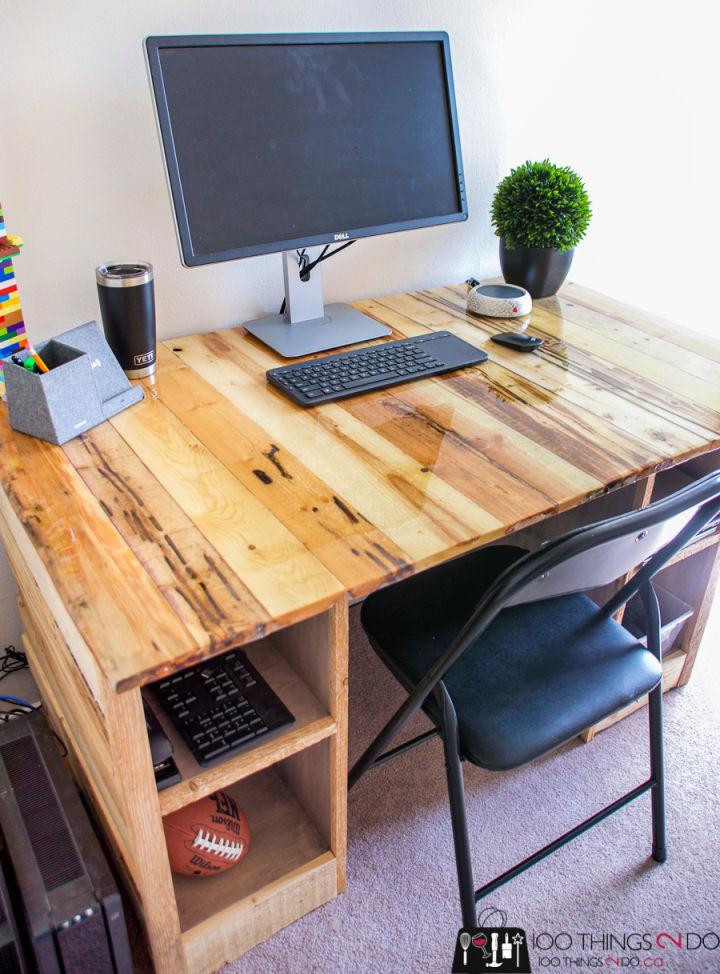 Are you looking for a perfect computer desk made from pallet wood with the total boat? Do you know that pallet board des is made up of wormy and rough woods, but an epoxy finish makes it a reliable working base? how to build a computer desk from scratch using free pallets? Start and assemble pallet wood boards, steel pipe, hole pocket screws, nails set, electric drill, miter saw, etc. 100things2do
20. Small Computer Desk with Pipe Legs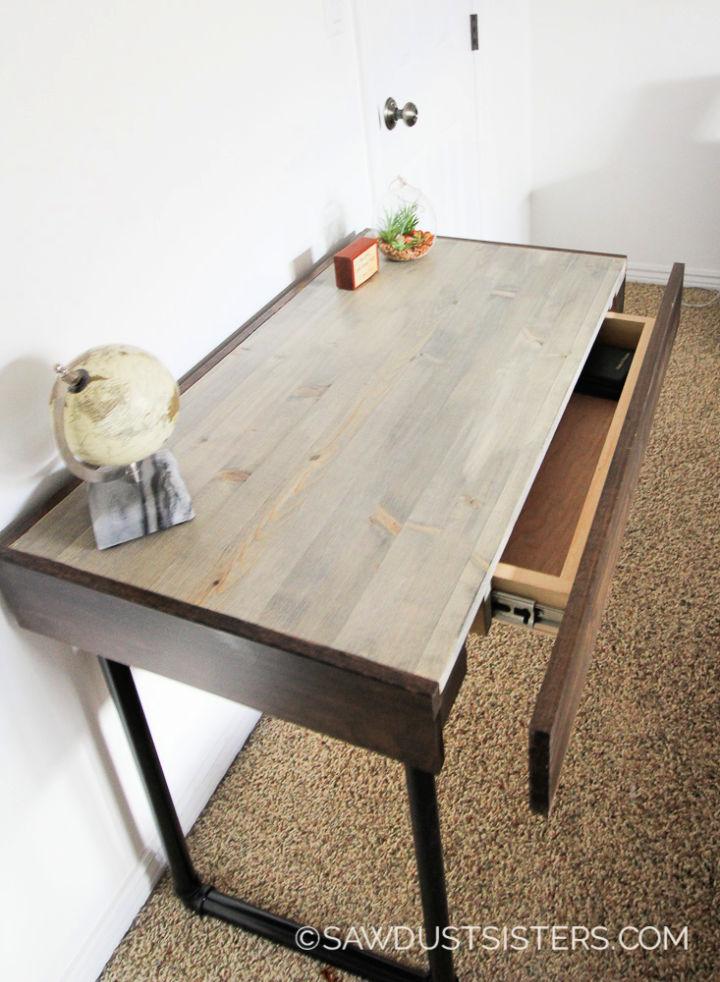 Are you the one with such an advanced-woodworking-skills? Then making this small DIY computer desk is not a difficult thing to do. It's super easy! To build this DIY pipe desk, all you need to do is purchase your wood, plan a design, and start working on it. Necessary supplies are plywood, wood boards, wood glue, nails, pocket screws, miter saw, drill, etc. sawdustsisters
21. DIY Computer Desk With Concrete Desktop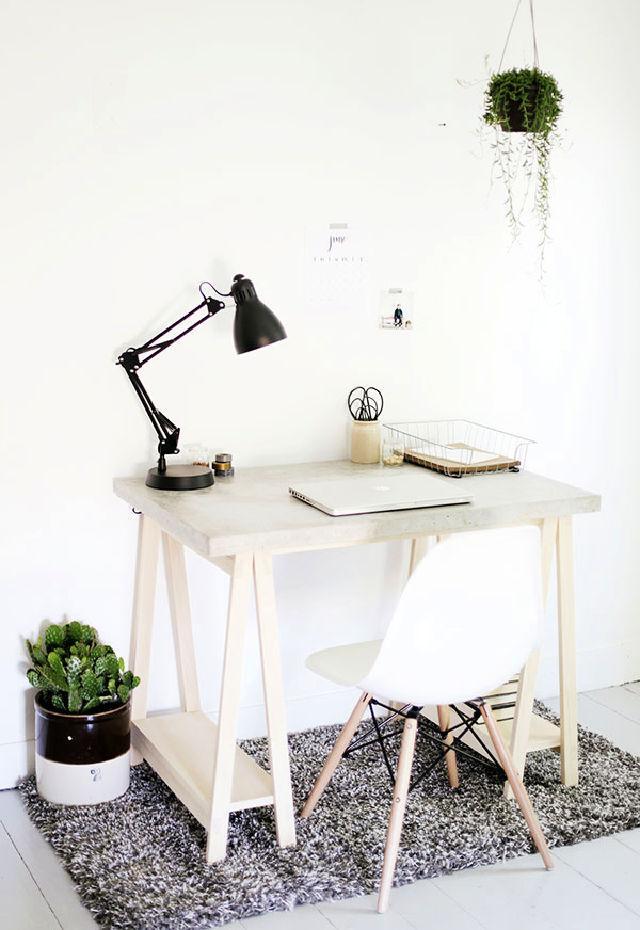 Looking for cheap and long-lasting diy computer desk ideas? Do you love the industrial look that a concrete desktop brings to your home office? This DIY concrete top computer desk is made up of wood that keeps things natural and also brings warmth. Start making it today with the following required supplies: melamine board, circular saw, silicon caulk, drill, measuring tape, concrete mix, orbital sander, and plastic sheeting. blog homedepot
22. Mounted Wall Desk For Two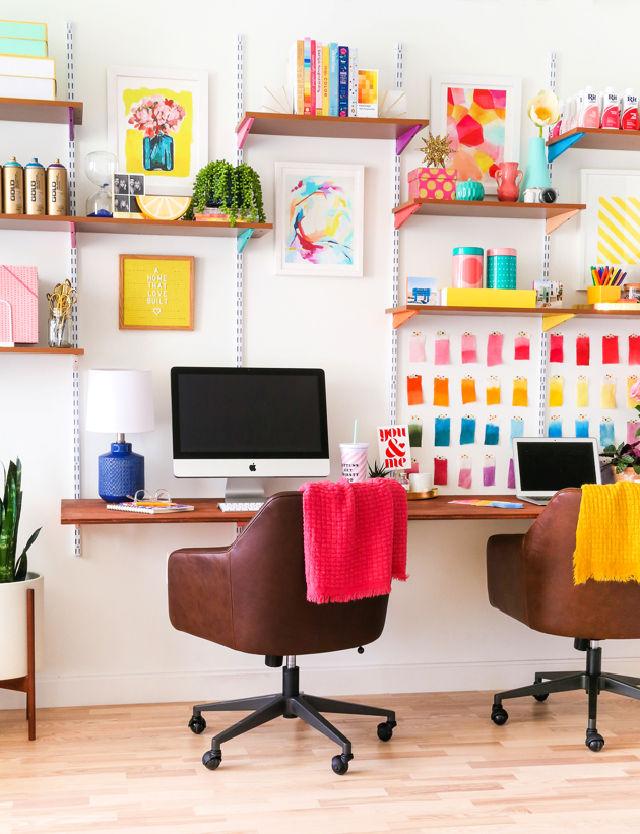 Do you own a small room and crave a computer desk but don't have enough space? Building a wall-mounted desk or a floating desk is the best solution then! What's else better than this you can ever have, so let's start the project with these supplies: plywood, wood boards, wood glue, nails, pocket screws, drill, circular saw. thecraftedlife
23. Computer Desk From A Broken Table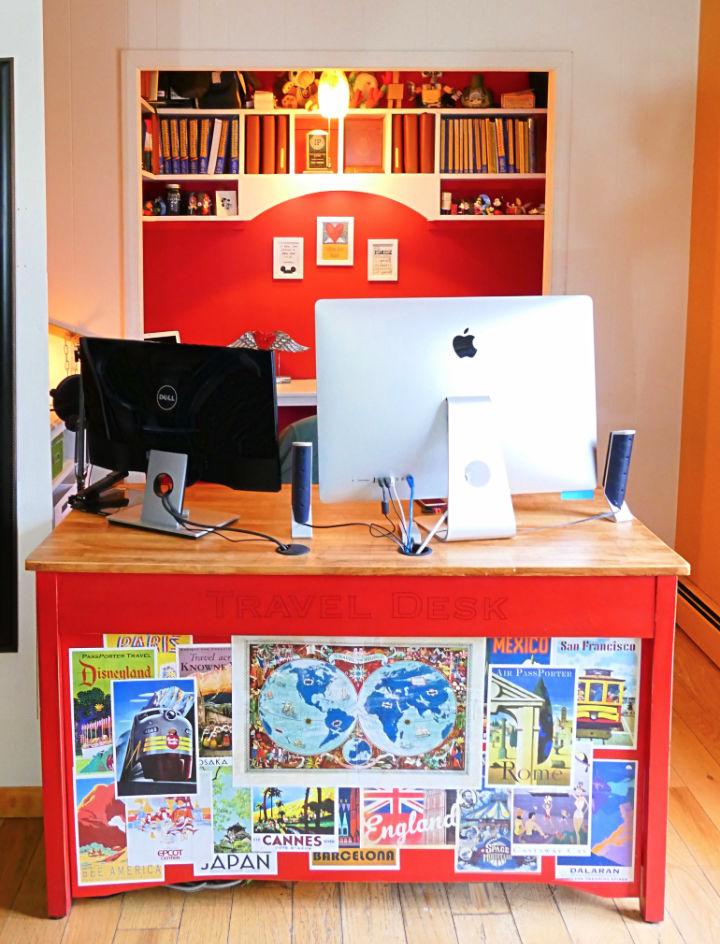 Have you ever seen the broken furniture lying around you and wondered if you can recycle and create something unique out of it? Well, you can do it because nothing is impossible if you have enough skill. Build a DIY computer desk from a broker table using a miter saw, hammer, drill, plywood sheet for the base, hole pocket screws. jennifermaker
24. Sturdy Computer Desk Under 100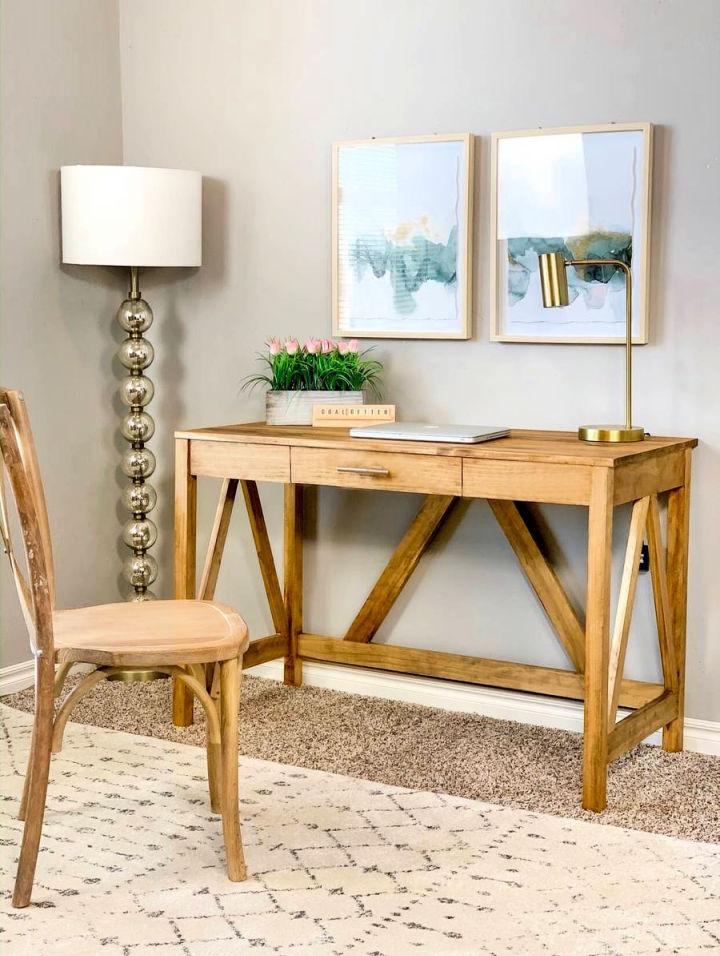 Have you been using your kitchen table as your computer desk because you can't afford the market rates? Looking for a perfect alternative because you really need a computer desk within the spend of $100 max? You can build a sturdy homemade desk with supplies as a miter saw, hoe screws, drill, fence boards, spray paint, wood boards, plywood. handmade haven
25. Floating Wall to Wall Computer Desk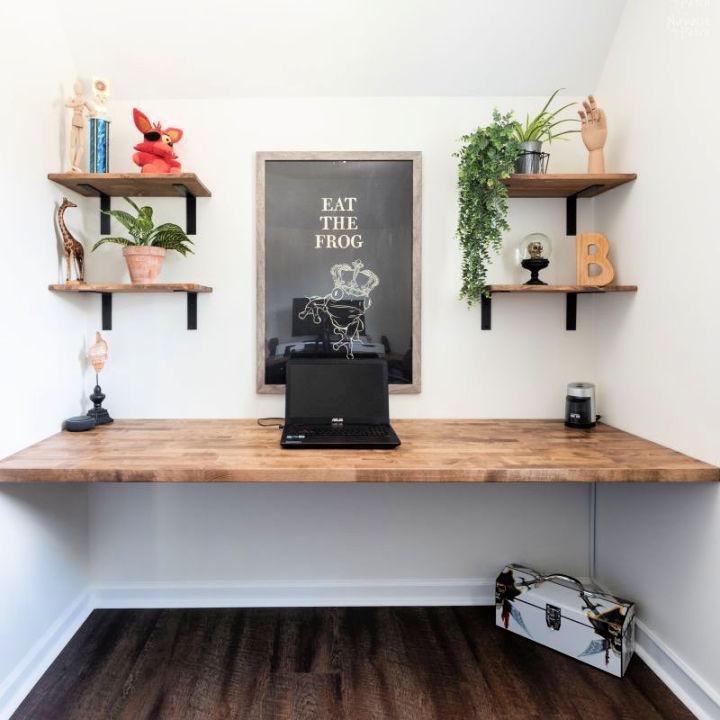 Don't have enough space at home to add another new extension to your furniture? Well, here is the perfect plan for then. Build a floating wall-to-wall DIY computer desk that is a sturdy and attractive work or study solution for small spaces. Assemble plywood sheet, wood glue, hole pocket screws, miter saw, spray paint, nails, silicone caulk. thenavagepatch

Conclusion:
Let's wrap up here with the hope that you have found all your favorite diy computer desk ideas and plans to build your own custom computer desk today at home. All the above-mentioned DIY computer desk plans can be easily achieved with the help of few supplies.
All you need is, measure the proper dimensions of the location you want to place your desk at, gather all the required supplies according to the plan you choose, reserve a day or two for construction, and here you have your desired desk at home. You may also make money out of these desks, wondering how?
You can make different computer desk styles and sell in the market for the people looking for homemade desks at cheaper rates sell in the rates that suit your expense and your invested time. Find the diy computer desk ideas good to go with? Have supplies ready? Let's give it a start today!