If you are someone who likes to keep their habits eco-friendly and environmentally safe, then this article is the perfect thing you need! Find 25 cheap DIY clothesline ideas that will help you dry your clothes naturally using just sunlight. Making your own clothesline will help you save money and is a super fun activity to do with the whole family.
You can personalize the plans according to your convenience, which is often not possible in store-bought ones. These projects are straightforward to build and can be made without hiring someone else as we have given proper instructions with each plan! So let's begin with creating this super useful project for your outdoor space and make your life easier along with saving the environment too!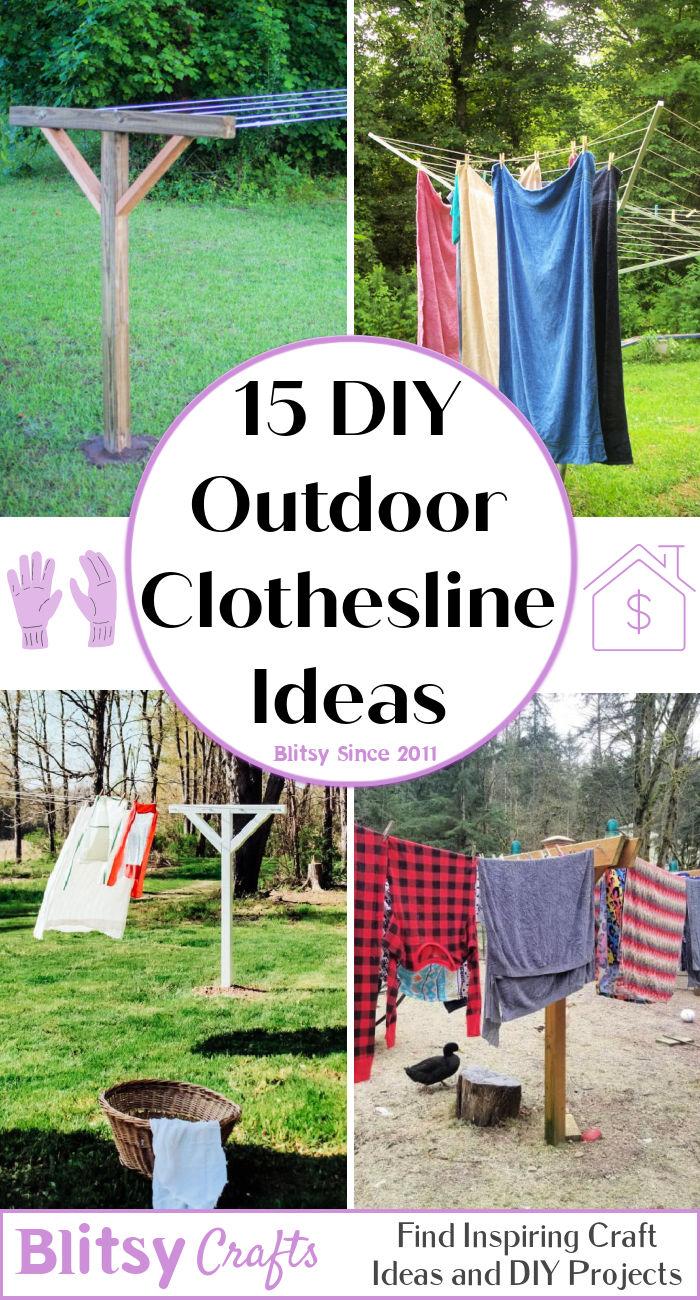 We have compiled a list of different ideas that you can follow and make your own DIY clothesline in this article. A well-designed DIY clothesline can be both functional as well as decorative. So you can select the plan that you like the most! Either you want to make a retractable pulley, a permanent clothesline, old fashioned clothesline, wooden clothesline, basement clothesline, indoor clothesline, outdoor T post clothesline, a mini one, metal clothesline, self-contained camping clothesline, or a 4 x 4 post clothesline – we have it all here!
All you need to do is, assemble the necessary materials, read out the plan carefully, and start doing the project as soon as possible! So, without wasting any more time follow these outdoor clothesline ideas, let's get creative and build a perfect plan to help you save up some money more effectively from now on!
1. Build a Backyard Clothesline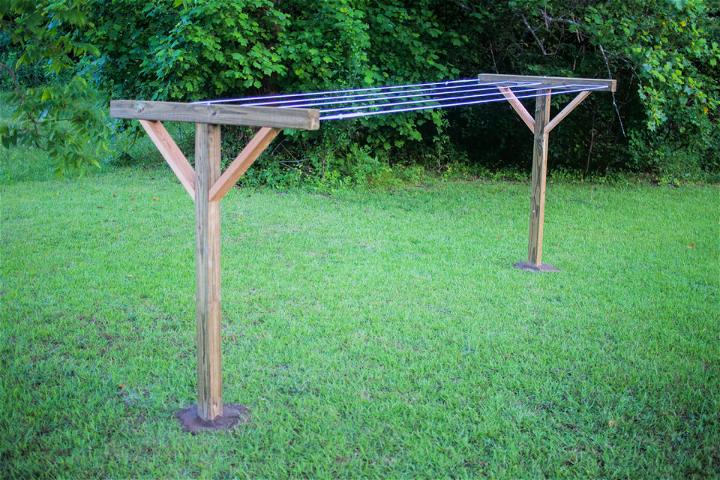 Make the most of a sunny day to dry your clothes with this easy and cheap to-build backyard clothesline. Using simple things like lumber pieces, washers, screws, clotheslines, you can easily build a completely functional clothes drying system on your own. Check out the step by details and list of supplies and materials right here! manmadediy
2. DIY Retractable Pulley Clothesline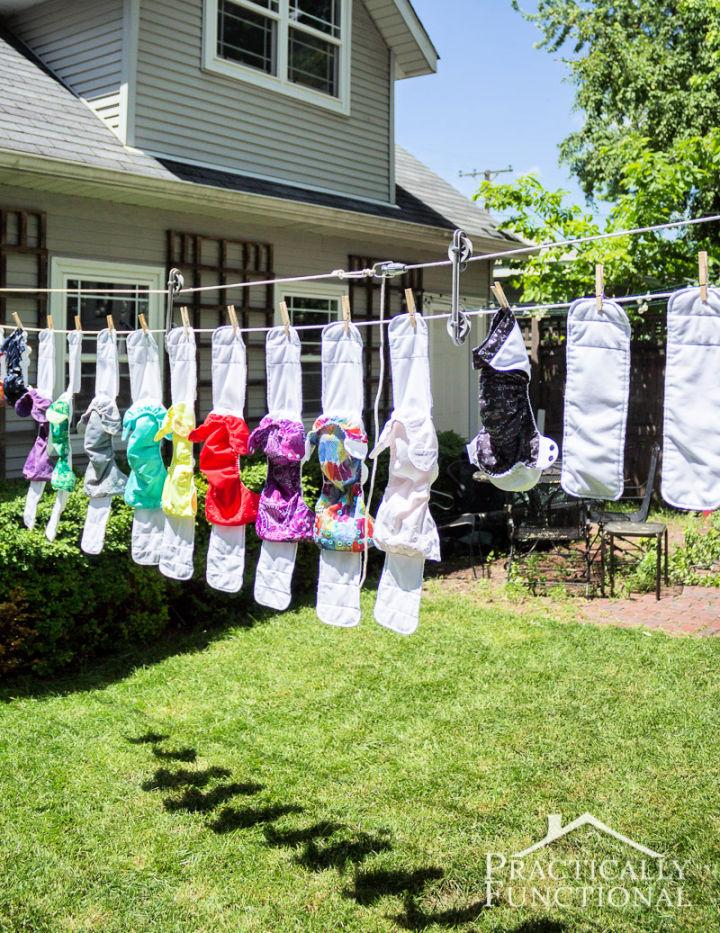 Having a baby means washing and dry out the baby diapers over and over again. So make the most of the summer days with this DIY retractable pully clothesline to dry the diapers so nice and naturally. This DIY retractable pulley clothesline will be sturdy, functional, and not saggy at all. Check out the complete process of making it here. practicallyfunction
DIY Towel Rack: Looking to spruce up your bathroom, but don't have a big budget? These DIY towel rack ideas are just what you need to remodel them from scratch to beautiful!
3. Make a Permanent Clothesline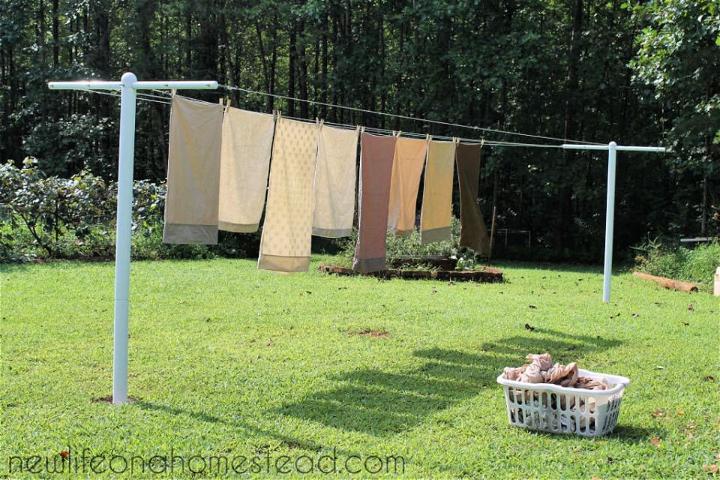 There are so many benefits of building your own clothesline in the backyard. It is cheap, functional and totally eco-friendly too. So, here is the idea of creating this permanent clothesline to dry out your clothes under the sun. The use of the concrete mix makes this clothesline a permanent fix in your yard or garden. Check out the details here! newlifeonahome
4. Old Fashioned Clothesline Tutorial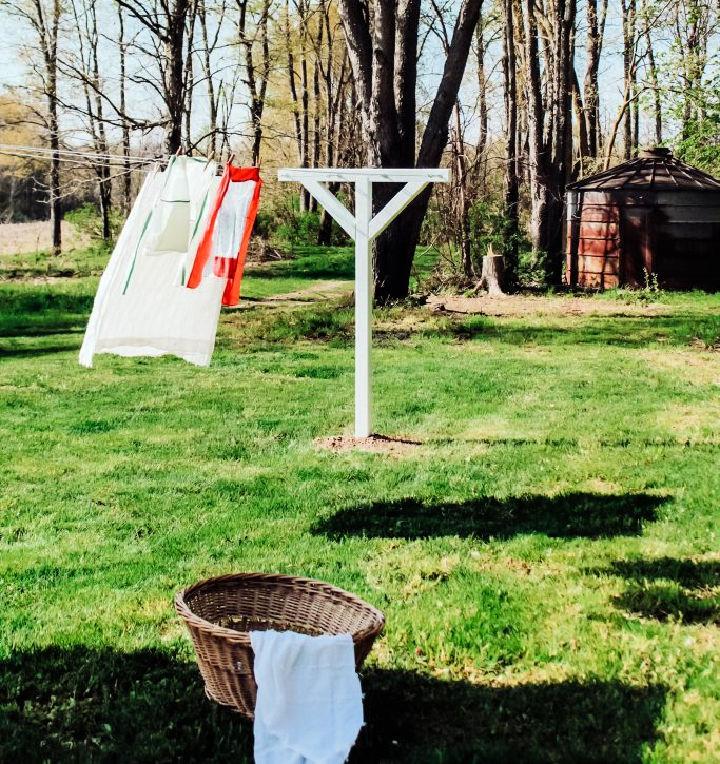 The sunny days mean doing laundry, drying out your clothes in the sun, and saving some electricity. Here is this old-fashioned clothesline tutorial so that you can easily hang your clothes to get dry. The things needed to make this clothesline are the turnbuckles, screws, plastic wire, lumber, and thimbles. Check out more of the idea here! haydenscharrer
5. How to Build a Wooden Clothesline

No more saggy clotheslines of the falling ones when you can build this utterly functional wooden clothesline on your own. So these wooden clotheslines have wooden posts on both sides, thus letting you get the most sturdy and most functional clothesline ever. Get your hands on lumber, supports, braces, stain, and screws to work up this project. Details here! myoutdoorplans
6. DIY Basement Clothes Line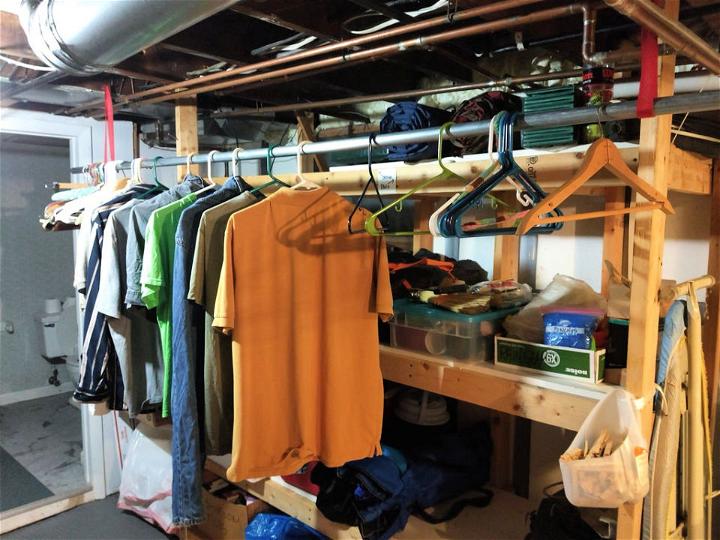 Why waste money on the electricity bills of drying machines during laundry when you can do it free in your yard under the sun. This DIY basement clothesline is going to let you evaporate your clothes totally free of cost. This smart clothesline suggests you use the EMT hanging anywhere around your yard or garden and put your wet clothes on for drying. Details here! instructables
7. Make an Indoor Clothesline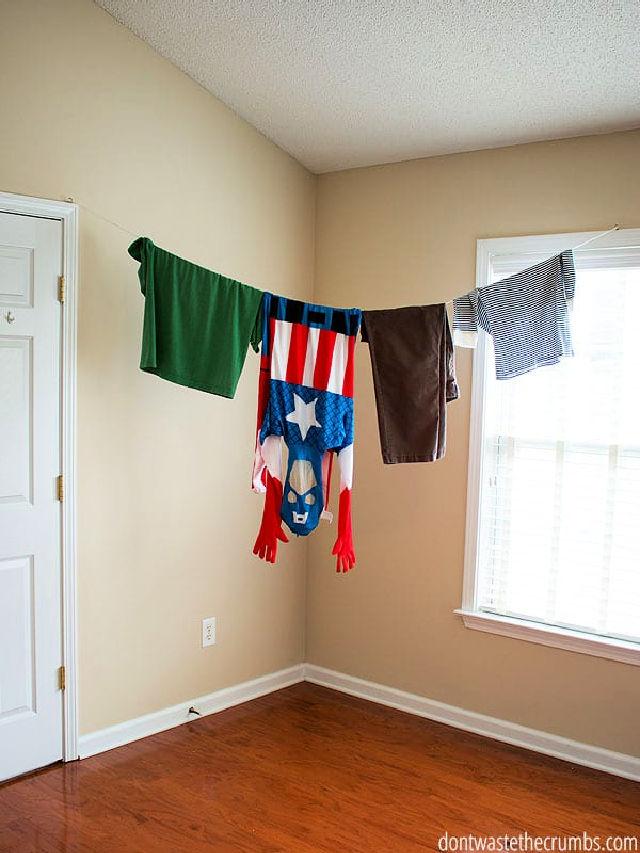 Either you are short on space outdoors to dry your clothes or are not allowed to dry clothes outside, we have the solution. Here is the idea of creating this instant indoor clothesline to dry your clothes naturally. You need only three things to work up this clothesline: the drying stand, retractable clothesline, and wall-mounted racks. Details here! dontwastethecrumbs
8. Build a Kickass Clothesline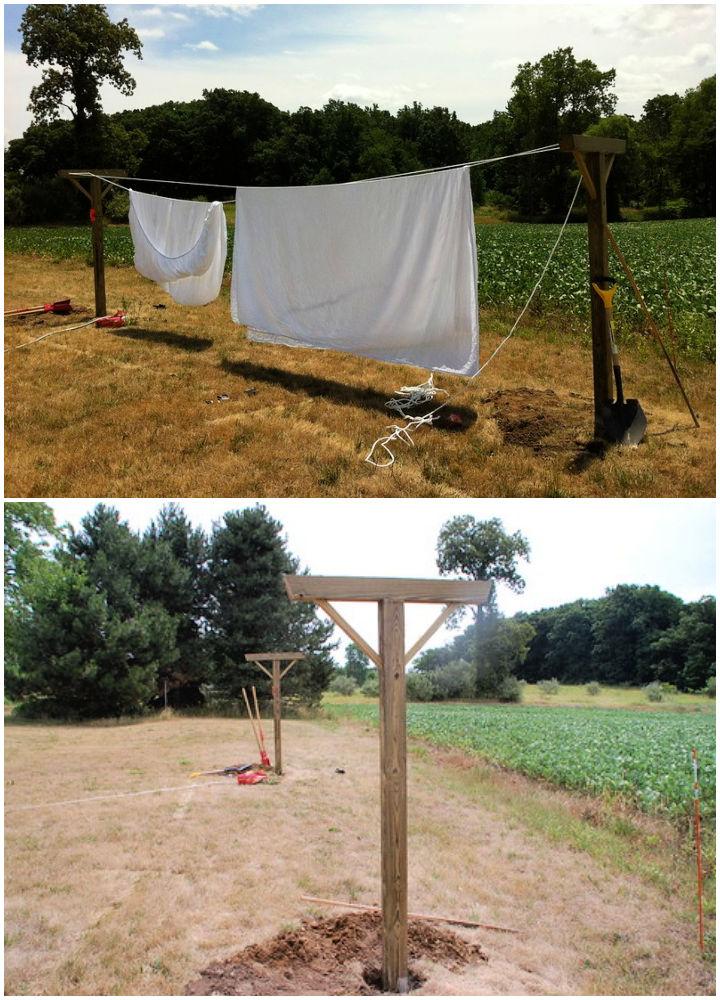 Build this kickass clothesline to dry your laundry free of cost when the sun is shining so bright outside. Using the easy-to-grab things like the wooden posts, screws, hooks, clothesline tighteners, clothesline, and the quick create, you can easily install this functional and robust clothesline. Details of the idea are right here! diydiva
9. DIY Hanging Clothes Line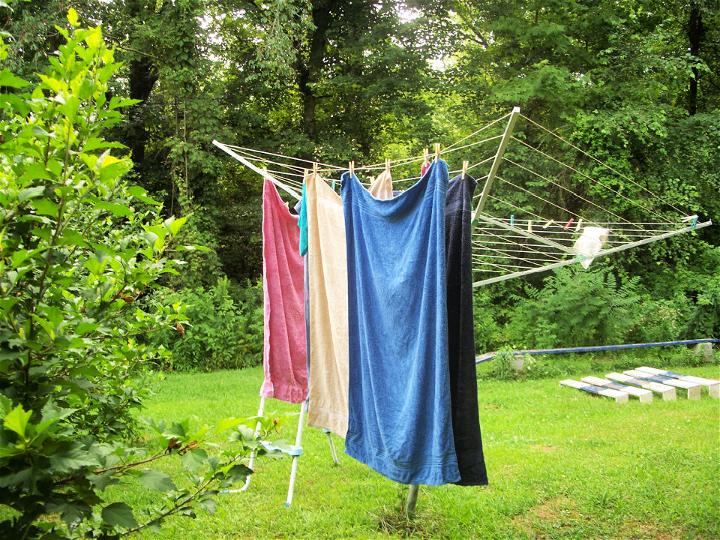 It is such a saddening sight to see your clothesline falling with your clothes getting dirty on the ground. So here is this DIY hanging clothesline where the wooden posts are fixed with the concrete mix to be robust to save your hardly washed clothes from falling. Check out the details of the project here! diywithkathy
10. How to Make a Mini Clothesline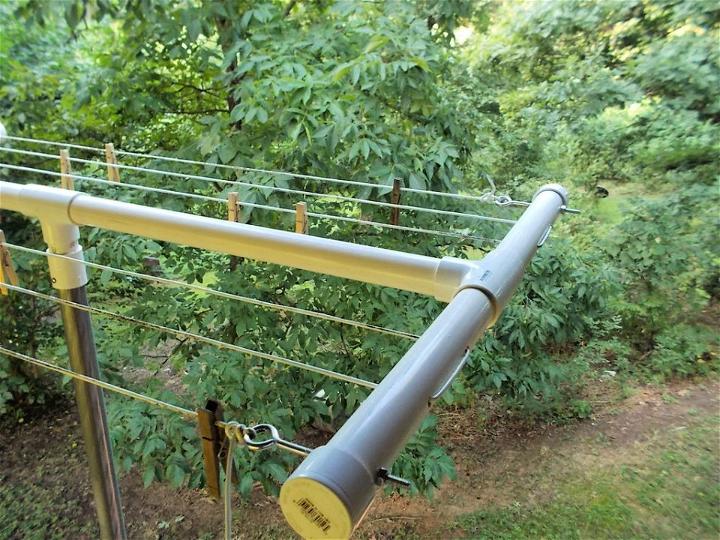 If you are looking for ideas to use those PVC pipes lying uselessly in your store, here is a perfect idea. Making this mini clothesline is the best way to make the most of your PVC pipes, EMT claps, PVC pipes, tee fittings, pipe caps, pipe shoulders, and the regular hardware to work up this clothesline. Follow the easy tutorial with steps here! instructables
11. Outdoor T Post Clothesline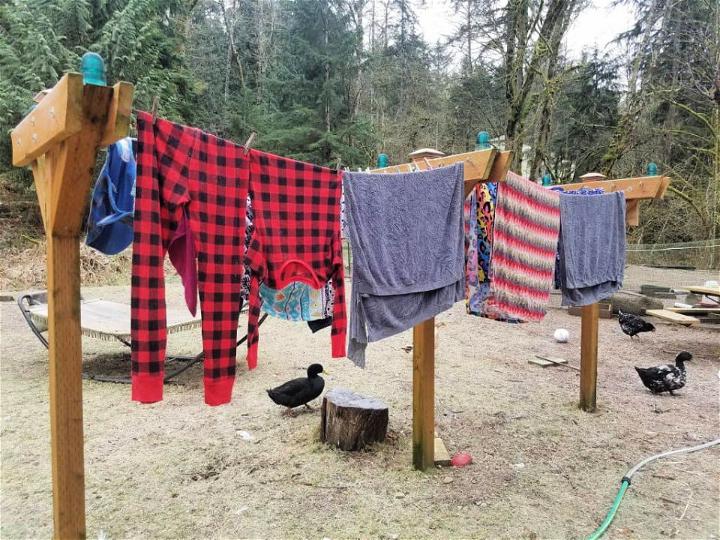 Drying out your clothes is going to be so much fun and easy with this outdoor T post clothesline as it is easy to install, budget-friendly, and purely eco-friendly. The clothesline is installed with the help of the wooden posts and the clothesline rope to be the most sturdy and functional clothes drying system. Check out the detailed tutorial of the idea here! afarmgirlinthe
12. DIY 1 Inch Metal Clothesline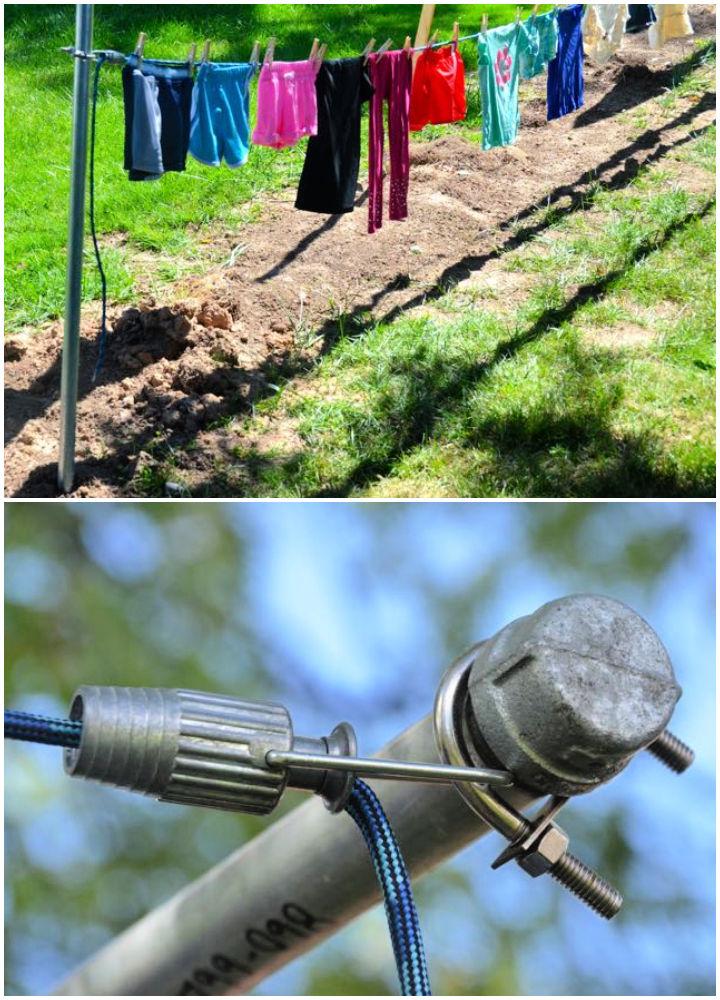 Save yourself a lot of pennies with this DIY I-inch metal clothesline to install in your garden or the backyard. With the help of the metal T???s, this hanging clothesline is the best system for installing the clothesline in your spaces. Check out the details of making this metal clothesline here, as it will be quite sturdy, functional, and permanent. Details here! raiseyourgarden
13. Self Contained Camping Clothesline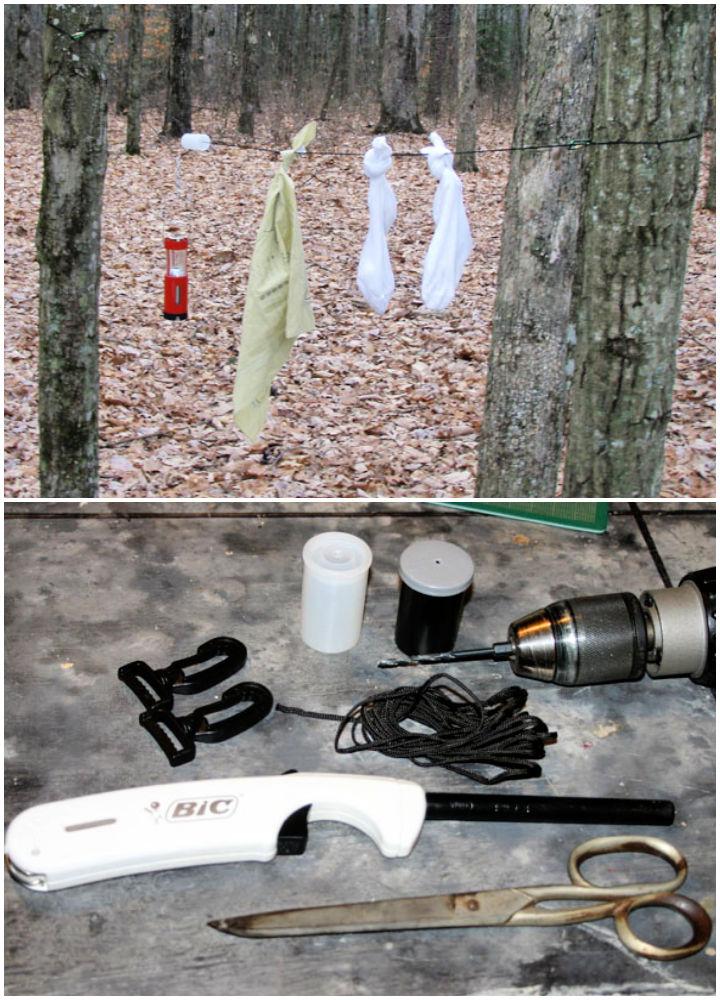 Camping means you have to learn many smart ways to cope with all your needs, from food to your clothes. So here is the idea of making this self-contained camping clothesline on your own. Using only three things like the 35mm film container, nylon-styled cord, and snap hooks, you can easily install this quick and easy camping clothesline. Details of the idea here! monkeybrad
14. How to Build a Clothesline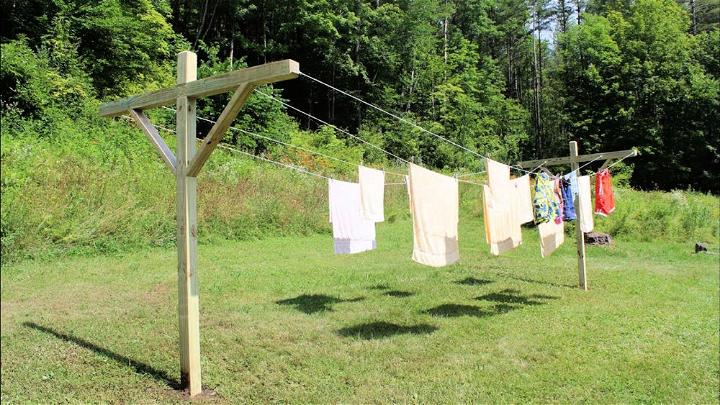 If your laundry day is sunny, then here is the idea of building this clothesline to make the most out of the bright sun. Yes, this functional and robust clothesline would make the perfect clothes hanging system in your garden or yard to dry your clothes naturally under the sun. You need wooden boards, hardware, and tools to work up the wooden posts and the clothesline rope for the project. Details here! youtube
15. DIY 4X4 Post Clothesline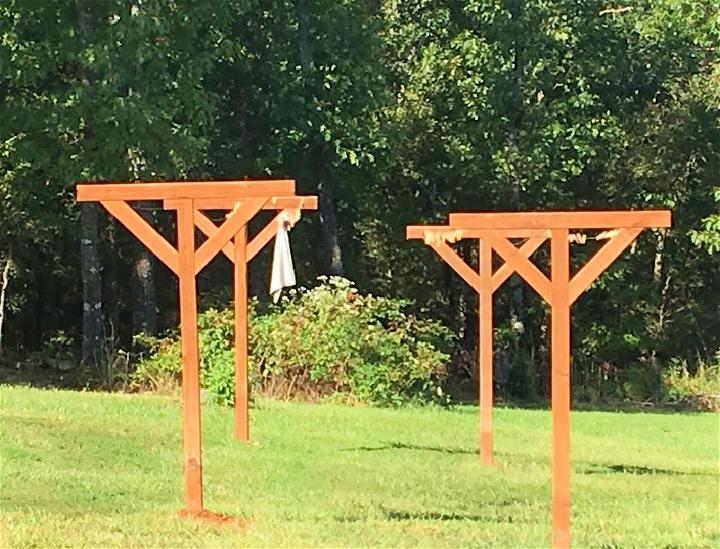 Surprise your wife with this easy and handmade DIY 4×4 post clothesline nicely installed in your yard or the garden. This drying clothes hanging system consists of the grounded wooden posts with sturdy clothesline ropes to hang your wet clothes and dry them cheap and eco-friendly. Get the perfect details of the idea here! youtube
Conclusion:
As we are at the end of our article, we expect that by now you are quite inspired by the ideas of DIY clotheslines and thinking of making one too. We hope that you have your eyes on the plan that you would like to make first. Each of the mentioned plans has its own features, so pick out the ones that suit you the most!
We have provided you 25 best diy clothesline ideas with detailed instructions and necessary supplies for each plan to complete easily. Making these clothes line ideas will save you a lot of money and save the environment from a lot of harm, as you won't be using electricity for the washing machine to dry out clothes– isn't it the best? So let's start with the plans now!