Don't you think that your bathroom needs a proper storage space for the toiletries and other bathroom items just like other rooms in the house? If your answer is yes, you will definitely love these 25 unique DIY towel rack ideas that come with step by step instructions and a material list. mentioned below. Making these DIY towel rack ideas will help you organize and decorate your bathroom even if you have a limited budget since most of the plans are quick, cheap and easy to make!
You can build custom racks to store and organize the bathroom items, and if you are concerned about the space needed for hanging clothes or towels in your bathroom, the wall hooks would really rock. Moreover, if you are looking to display your towels in your bathroom, it will also demand some amazing DIY towel racks or organizers, and here we have some great DIY towel rack ideas for you.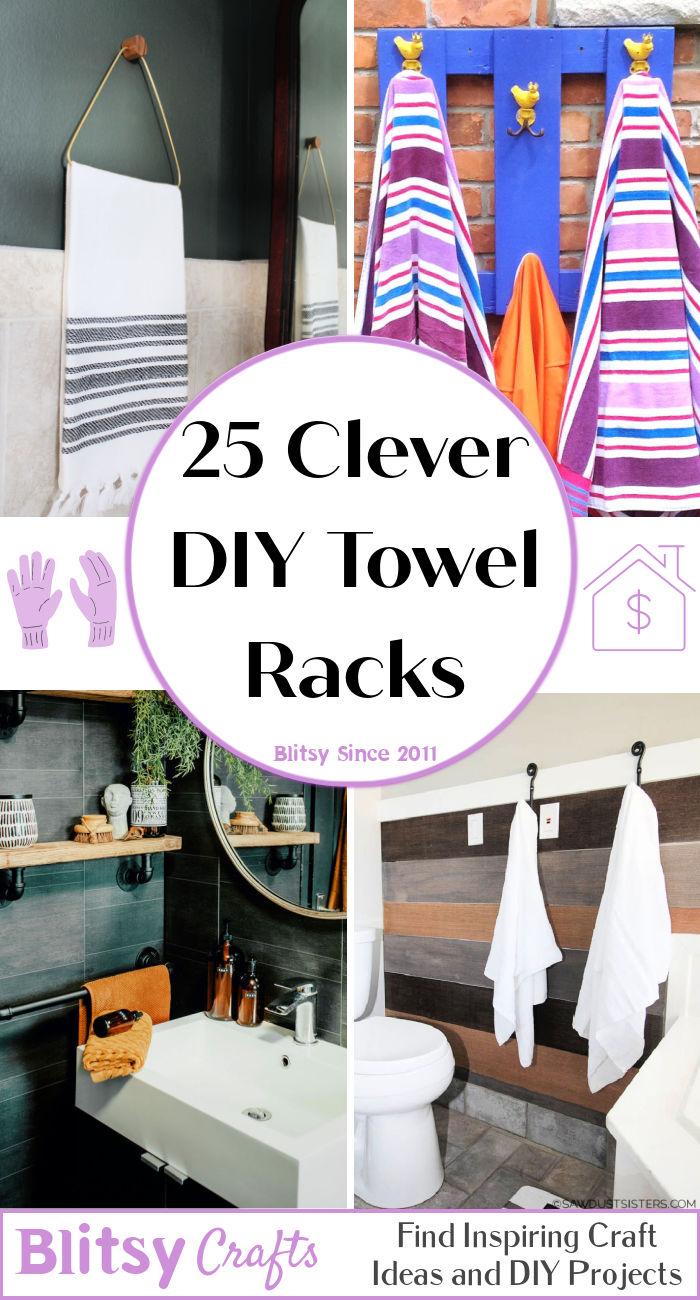 Find all the possible ways to make a DIY towel rack for your bathroom within minutes. These ideas are the ones you need to transform your bathroom into an aesthetic and useful space instantly. You will find everything in this guide, along with the instructions and supplies of all the mentioned plans. Just check out the below-mentioned plans and make your own beautiful and functional bathroom towel rack at home with ease without getting expensive.
While composing your diy towel holder, you can really add custom features and properties to your towel rack. All you need to do is – choose your favorite diy towel holder plan very smartly that suits your home decor, space, budget, and comfort the best. So you should take out some time to check out the plans and build your DIY towel racks. Let's give it a start today!
1. Antique Door Knob Towel Holder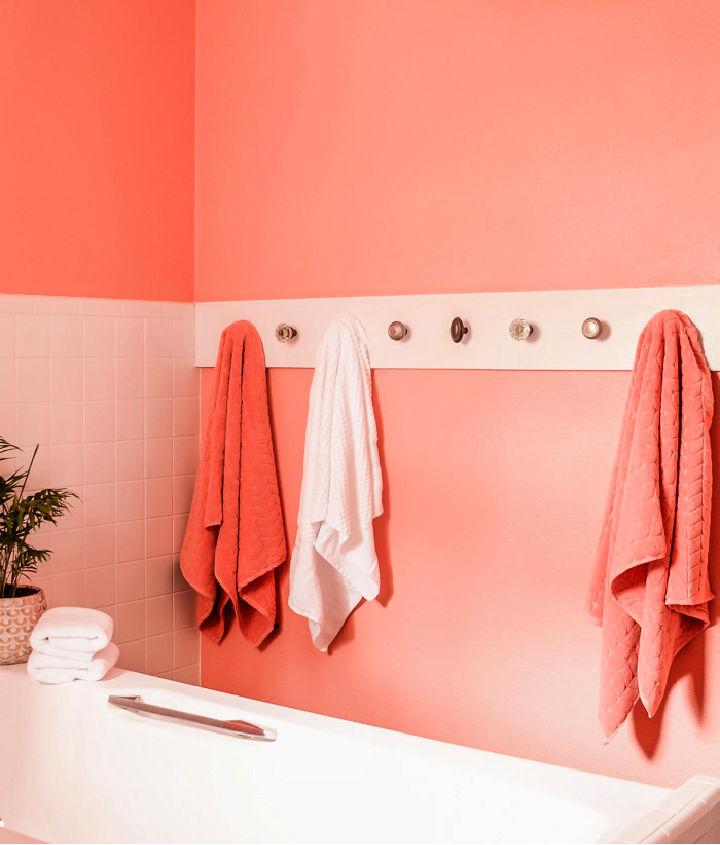 Organize your towel space with this antique door knob towel holder, which is super stylish and gorgeous but cheap to make. Many antique doorknobs have been arranged on a wooden slat using washers and bolts to create this fancy yet budget-friendly towel rack for the family. Check out the step-by-step details here! ishouldbemopping
2. Leather Kitchen Towel Holder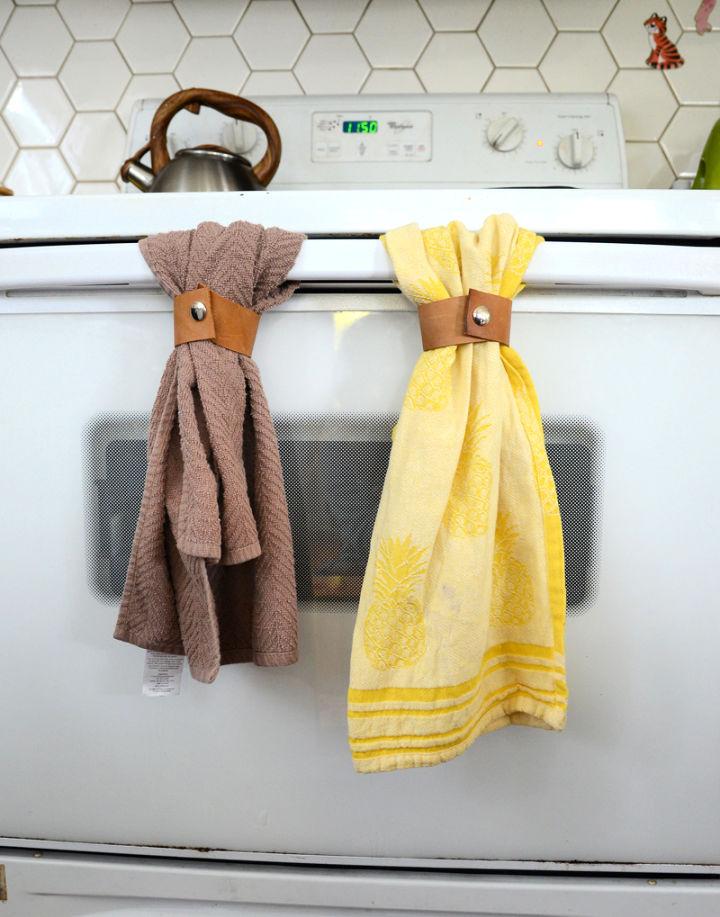 No more towels losing in the kitchen when you need them the most. Here is the idea of creating this lovely and totally functional leather kitchen towel holder for your kitchen spaces. Using these handmade leather holders, you can hold your towels on any kitchen racks and handle. You need leather pieces, snaps and a leather punch to make these. Details here! consumercrafts
3. Outdoor Towel Rack Using Pallet

Enjoy your pool parties with more ease and fun with this outdoor towel rack using the pallets. The towel rack is made out of scrap wood pallets and painted in blue. Then bird hooks are added to the pallet rack using ceramic knob-free. The blue color makes the towel rack perfect to use around the pool. Check out the details here! 100things2do
4. DIY Floating Towel Rack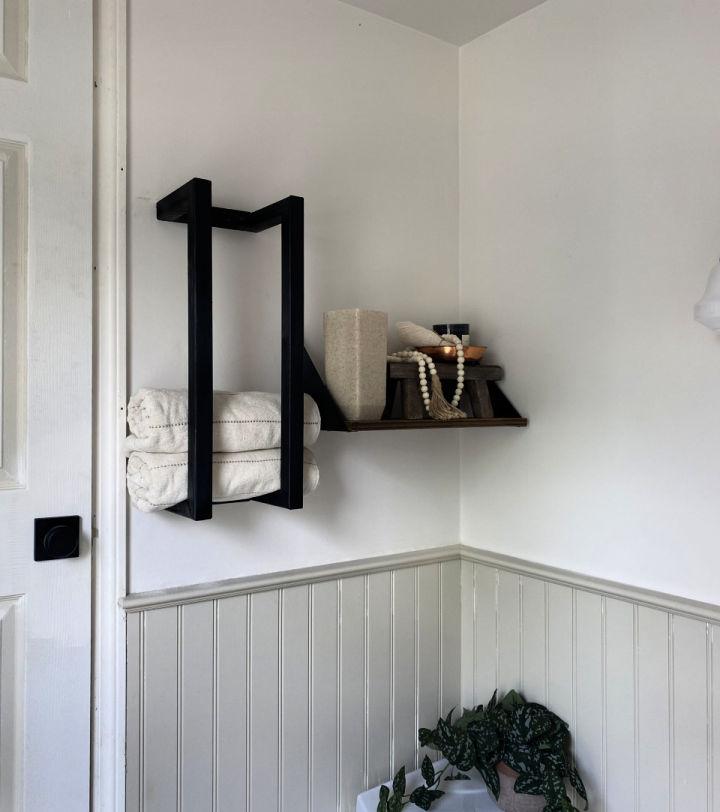 This DIY floating towel rack is the best thing to bring to the farmhouse-style home yours. This is the kind of towel rack you would see on trendy furniture shops, but you can make it at the cheapest rates at home. Using scrap wood pieces of the pine, some rustic dark wooden paint hues and the basic tools and hardware, you can easily make this floating towel rack. Check out the details here! simplyoneden
5. How to Make a Towel Rack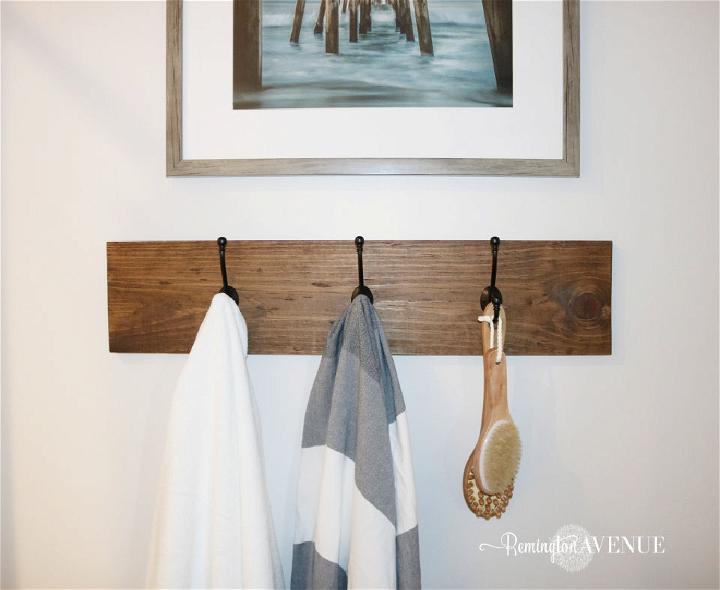 Make your bathroom spaces more organized and functional with this easy-to-make towel rack at home. There are simple things needed to make this towel rack like a wooden board, hooks of your choice, screws and stain hues. This gorgeous and useful towel rack is going to save you a lot of time and money. Details here! remingtonavenue
6. Build an Outdoor Standing Towel Rack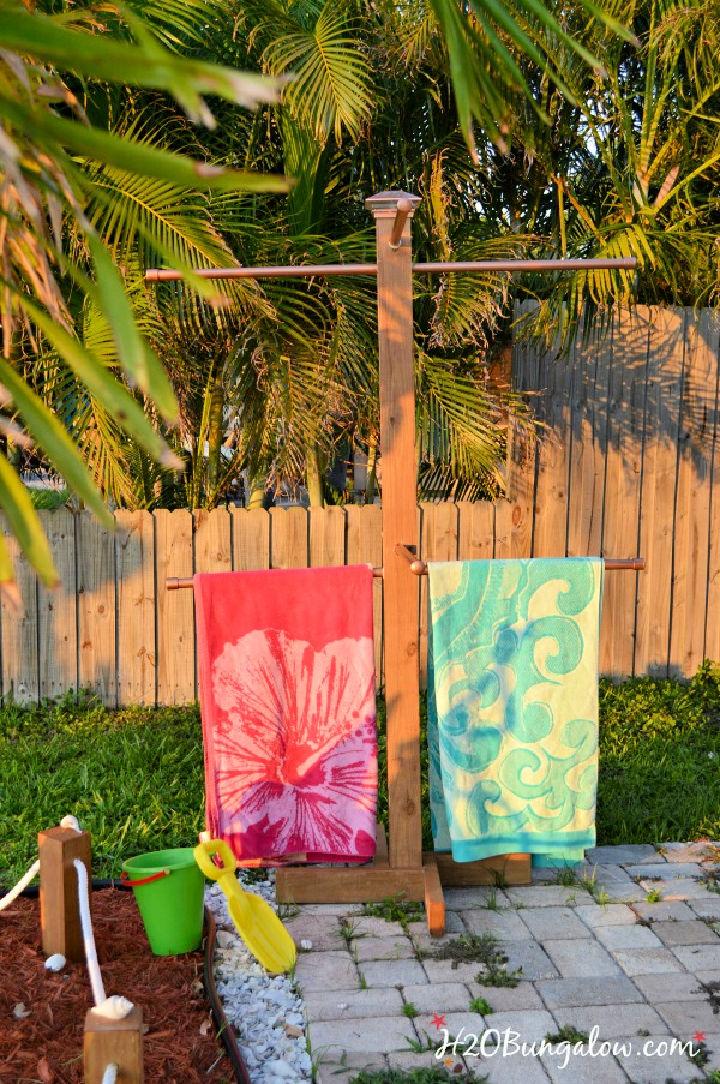 Let your towels dry out in the sun with this outdoor standing towel rack. Using the wooden pieces and the PVC pipes, you can easily shape this outdoor standing towel rack. You can dry your towels on it and use them in your bathrooms to hang and hold the towels. Check out the details of the idea here! h3obungalow
7. DIY Towel Hook Rack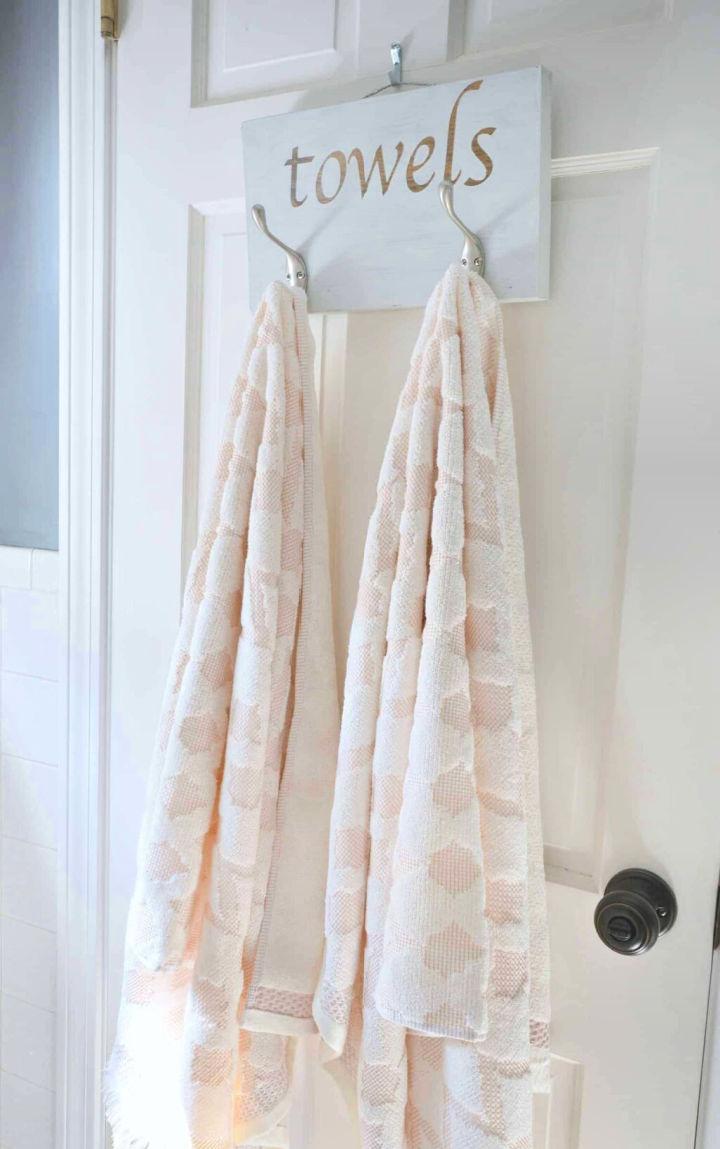 Here is this DIY towel hook rack which is utterly pretty and good-looking. The DIY towel hook rack seems to come out of the fancy brand store for being so chic and gorgeous. You need a wooden board to turn as the rack with hooks. Also, you need vinyl to write the word TOWEL on the rack. Check out the step-by-step details of the idea here! jennakateathome
8. Outdoor Towel Rack with Shelves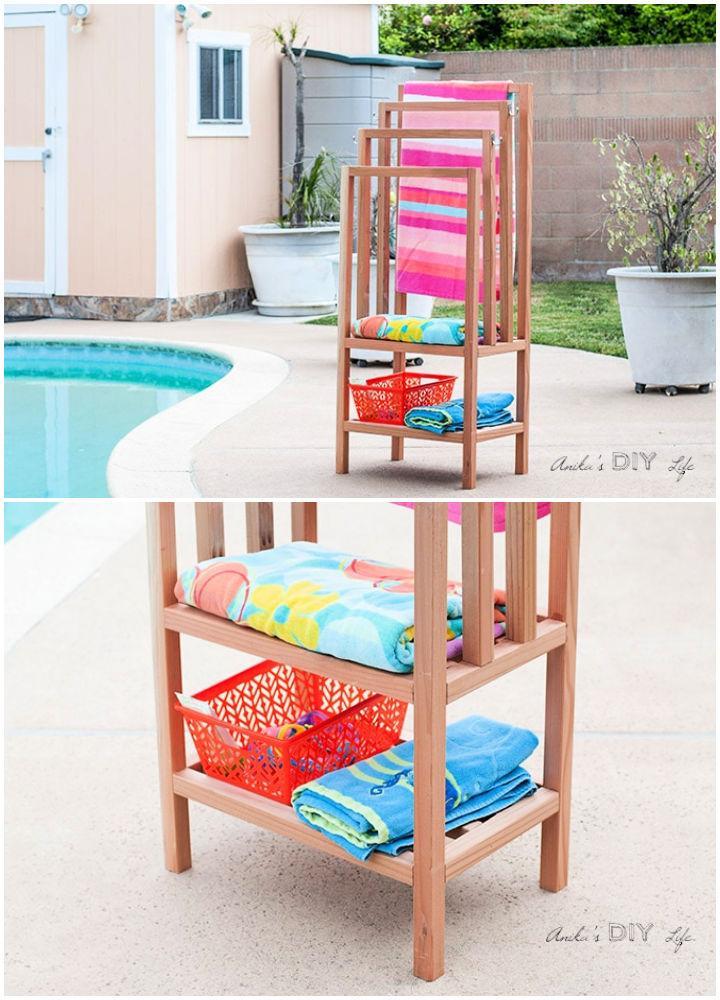 This is the most stylish, cool and quirky kind of outdoor towel rack with shelves to let be around your pools. The towel rack has a wooden square with hooks on the ends to hold the towels, and the shelf can be used to hold the swimsuits, soaps, and so much more. Check out the details of the idea right on the link here to make one at home. anikasdiylife
9. Beachcombers Rustic Towel Rack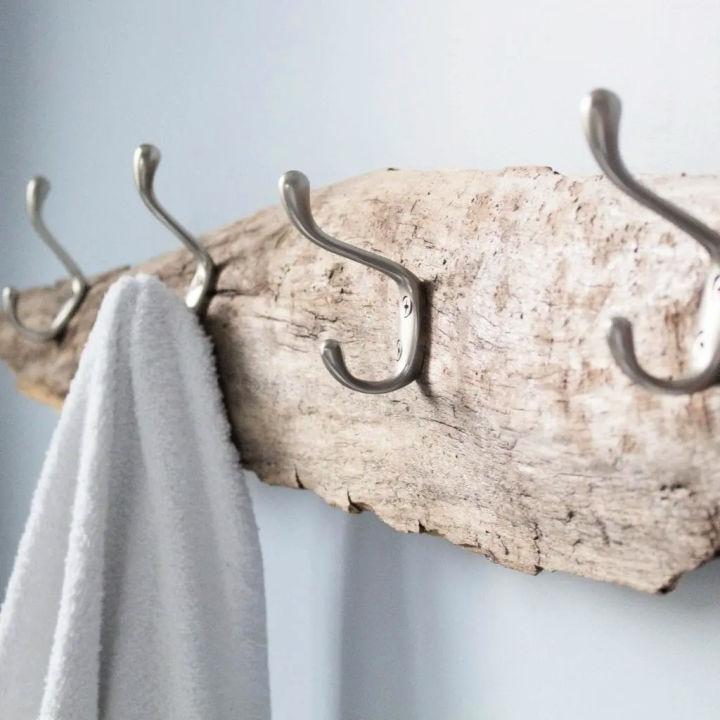 Here is this beachcomber's rustic towel rack to bring the perfect beachy vibes to your summer home. This beachcomber's rustic towel rack is going to take a few pennies to be made. You need a piece of driftwood, a flat piece of fine wood, screws and hooks to make the perfect beachy towel rack. Check out the details of the idea here! sustainmycrafthabit
10. DIY Angled Shelf Towel Rack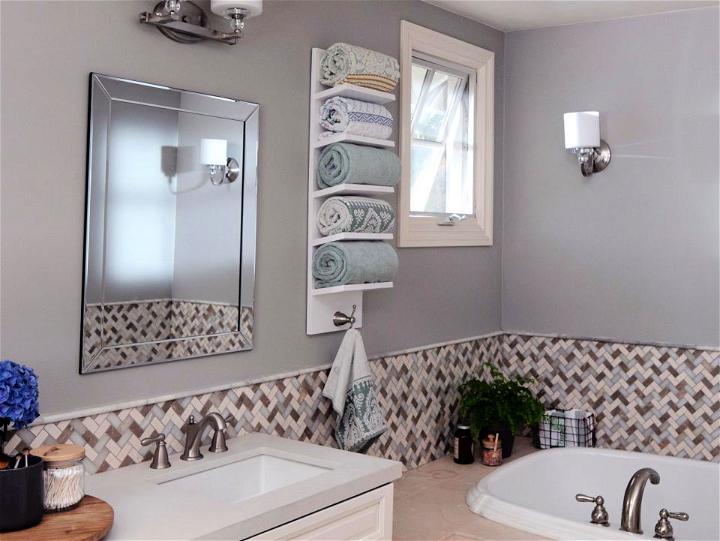 Do you want to organize the bathroom for the guest rooms? If yes, then this DIY angled shelf towel rack is the perfect idea for you. Using flat and plain wooden boards, you can easily shape this multi-layered and tiered angled shelf towel rack for your bathrooms. As the towel rack is big, you need multiple tools and a lot of hardware to work it up. Details here! diynetwork
11. How to Build a Pool Towel Rack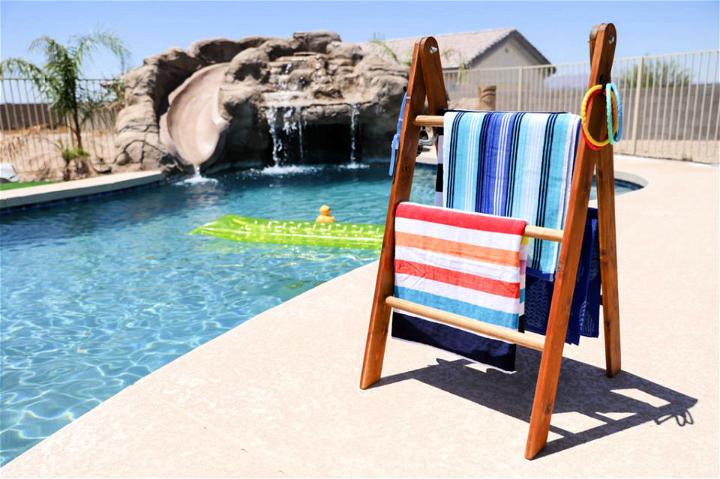 Make your pool parties more of a luxury with this lovely wooden towel rack standing near you and holding your towels for you. The wooden ladder-style towel rack is perfect for holding heavy and thick towels, so nice and easily on it. Also, once used, you can use the rack to dry out your towels under the sun. Check out the tutorial of the towel rack here! addicted2diy
12. Towel Rack with a Shelf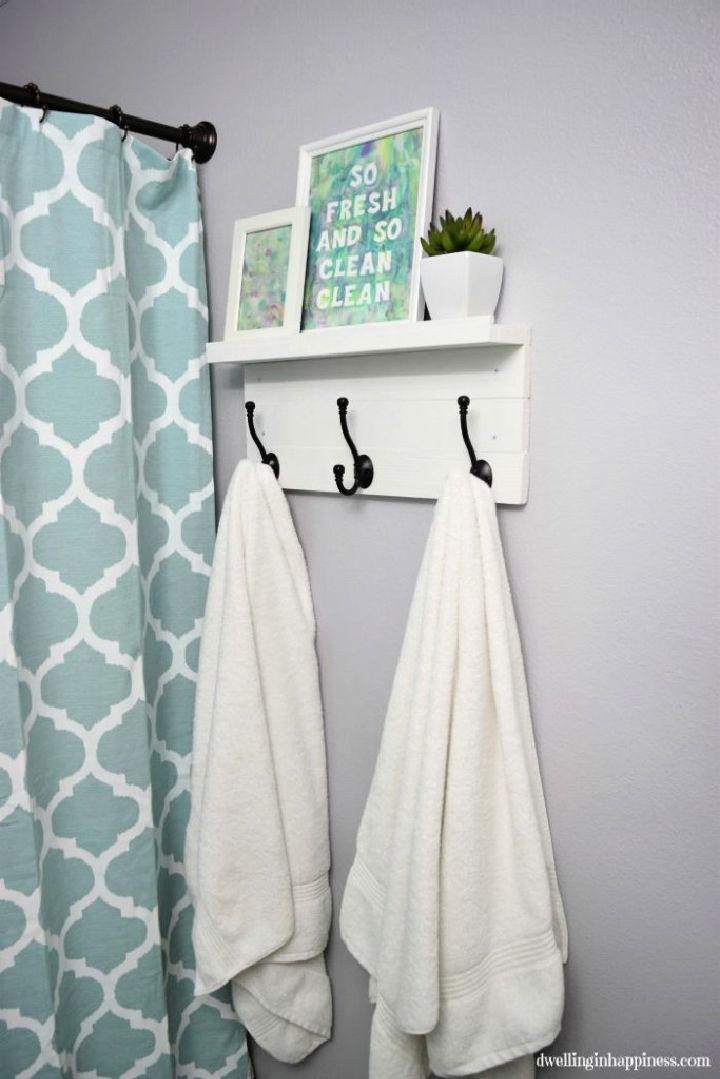 Here is two towel rack with the shelf to be a perfect part of your bathroom spaces. Yes, the towel rack has the perfect shape, and the upper shelf can hold the paintings, frames and pots to bring fresh beauty and d cor vibes to the spaces. You need wooden boards, hooks, screws, paint and tools to work this up. Details here! dwellinginhappiness
13. PVC Pool Towel Rack

Organizing your towels will be a perfect fun task with this super fun and functional-looking PVC pool towel rack. This giant PVC pool towel rack can hold the towels of all the family members at a time, and that is also in apple-pie order. Just grab the whole PVC pipe kit and the tools to work up this towel rack with the tutorial help given here! ehow
14. Vertical Pallet Wood Towel Rack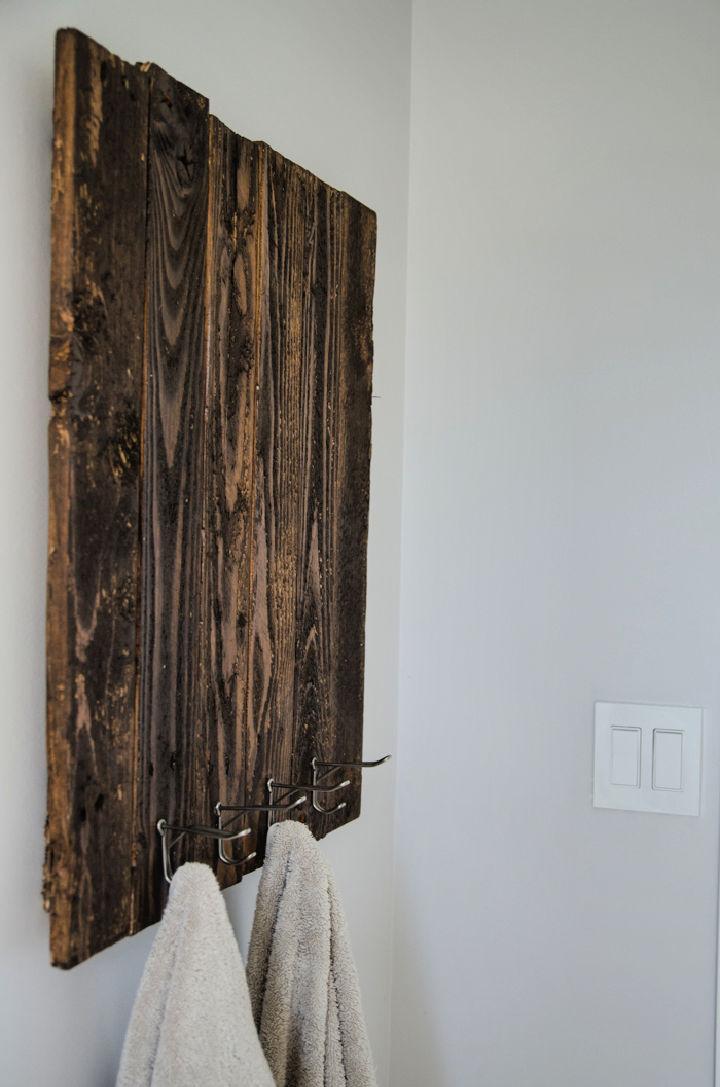 Here is this vertical pallet wood towel rack to bring perfect organization and immaculate in your spaces. Wood rustically sanded and stained pallet wood pieces have been adorned with hooks on each and then put together on a wall to create a perfectly stylish and organized towel rack. Check out the detailed tutorial here! lemonthistle
15. Heavy Duty Rustic Towel Rack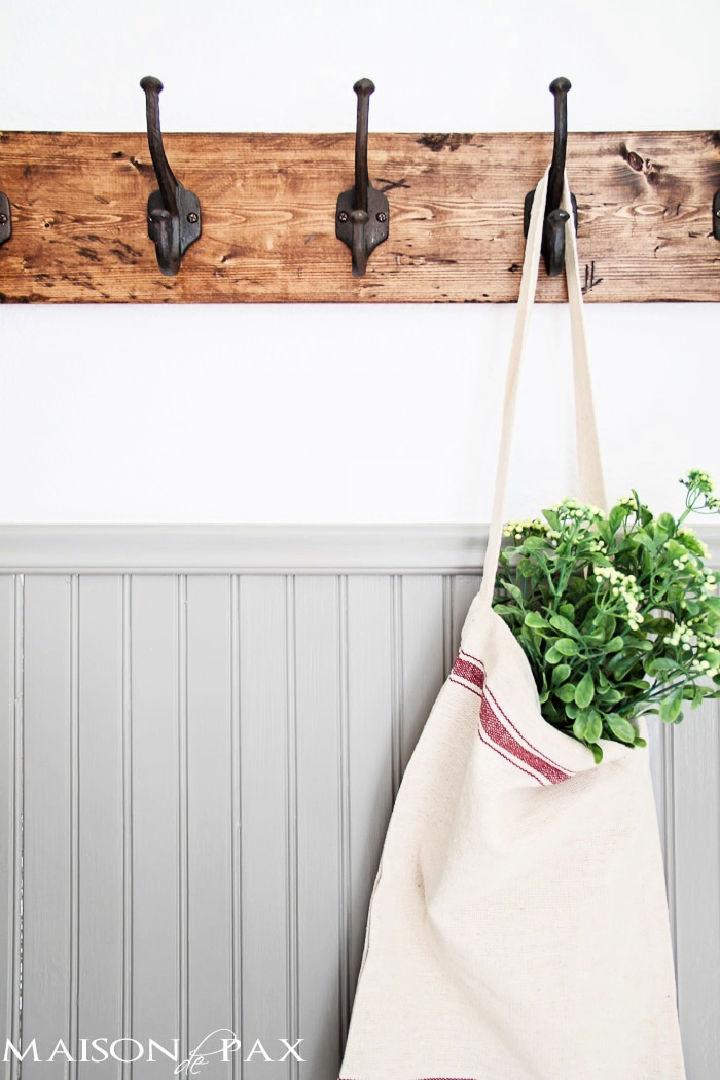 Racks are neediest, and here is this heavy-duty rustic towel rack to bring so much utility and organization to your spaces. This towel rack can hold your towels and bring a lot of elegance and beauty to your spaces. You would need a wooden board, a nice wood stain and the hooks to work up this towel rack with your basic tools and hardware. Details of the idea here! maisondepax
16. DIY Brass Hand Towel Holder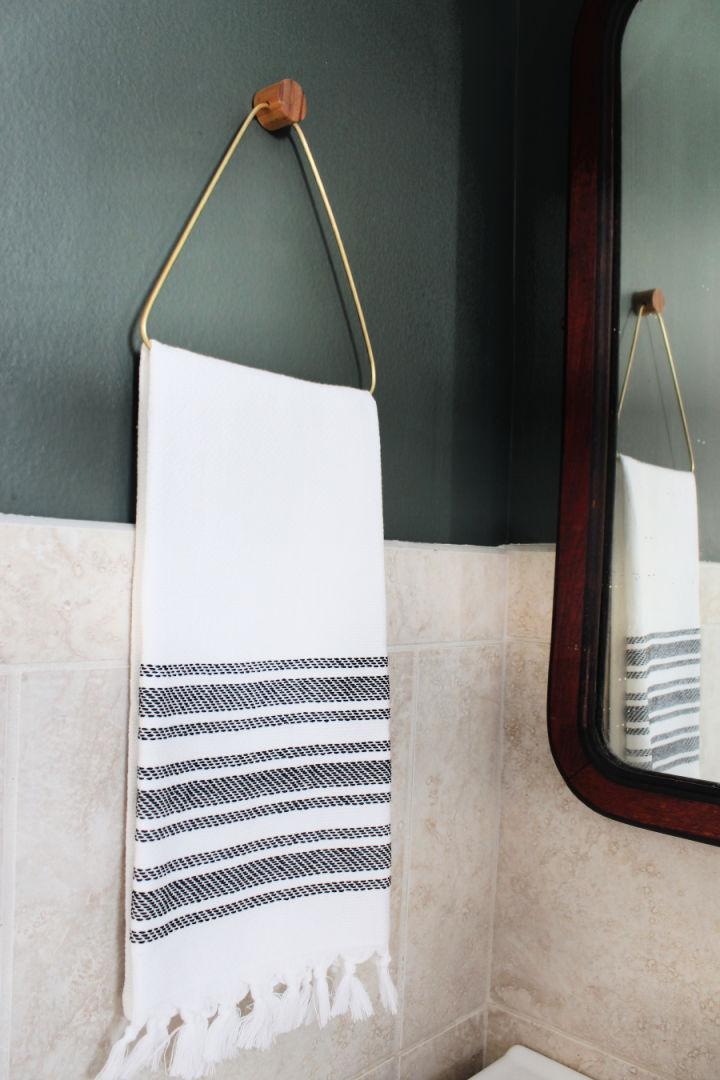 Want something stylish and cool on your bathroom walls? How about this DIY brass hand towel holder to bring perfect modern appeal and functionality to your spaces. These triangle-shaped brass towel racks hold on the wooden hooks on the walls. They are super minimalistic and cute to put on your walls and bring decor vibes to your spaces. Details here! turningithome
17. DIY Peg Towel Rack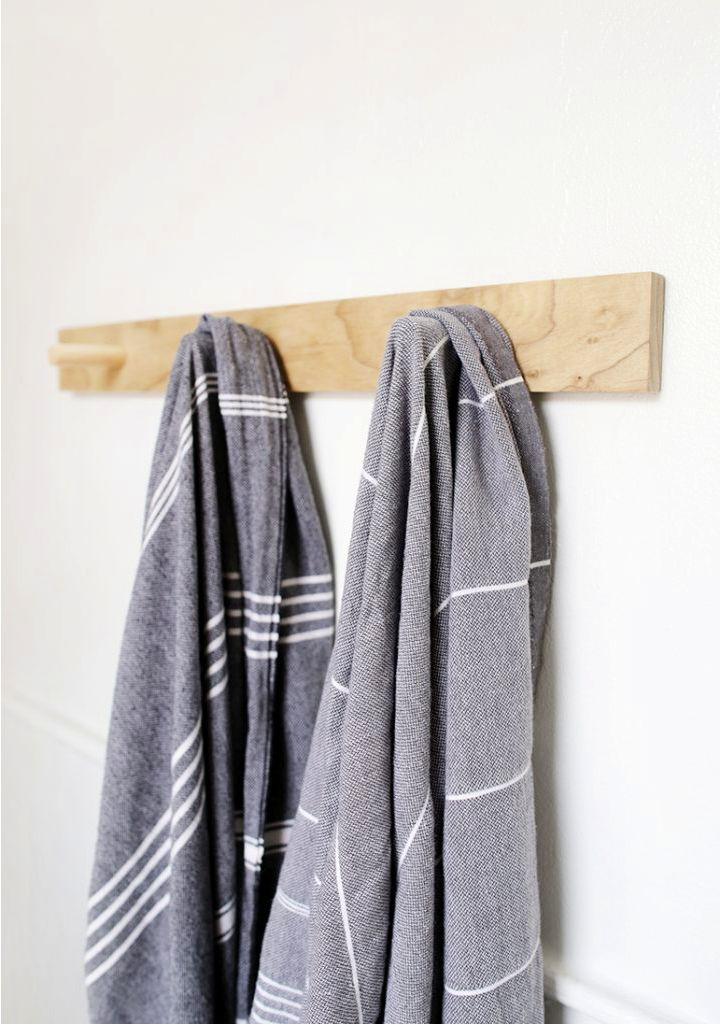 `Here is another quick and super simple idea to create this lovely DIY peg towel rack for your spaces. You need wooden boards and wooden rounds to use as pegs or hooks on the towel racks. You can easily and cheaply make this DIY peg towel rack for your family bathroom and the guest bathrooms. Check out the details of the idea here! themerrythought
18. Industrial Pipe Towel Holder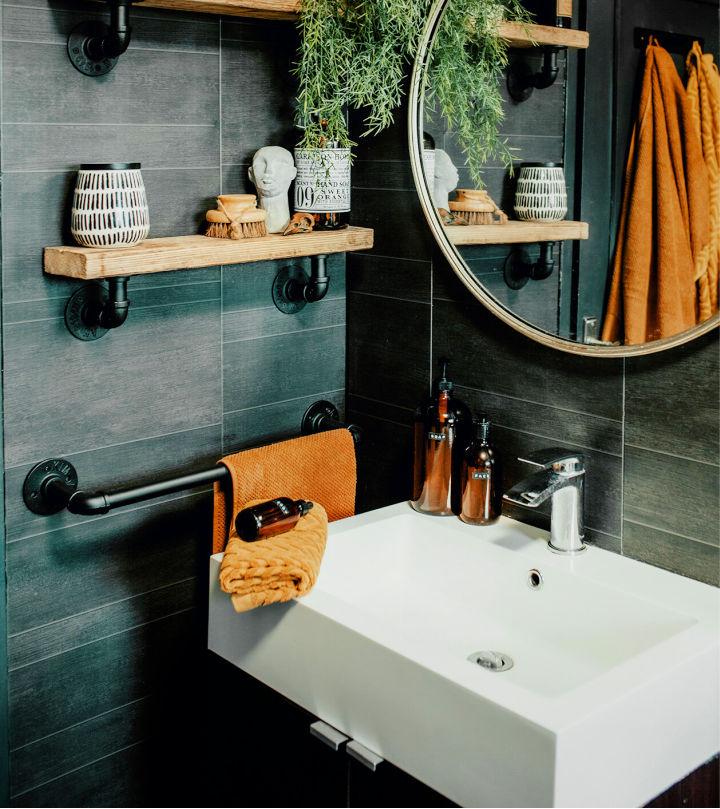 This industrial-styled pipe towel holder will be a perfect fit for your modern and chic bathroom spaces. The stylish and robust pipe towel is made out of threaded pipes, floor flange and elbows. The black paint hues add more to the robust and industrial appeal of the towel holder. Check out the tutorial here! style squeeze
19. DIY Copper Pipe Towel Rack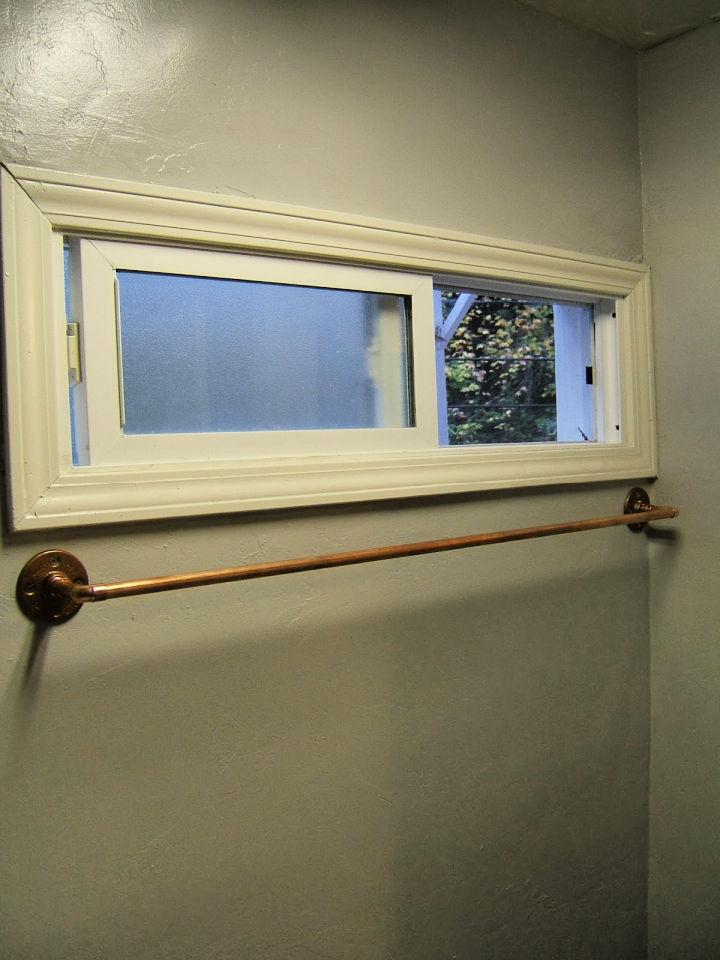 If your bathroom walls are empty and you are also missing out on a towel rack, then this is this perfect idea for you to work on. Yes, this DIY copper pipe towel rack is the best thing to get your hands on. The minimal design of the towel rack would save you space, and the easy structure would let you save time and money. Follow the list of the supplies and tutorials here! ninered
20. ustic Towel Rack from Pipes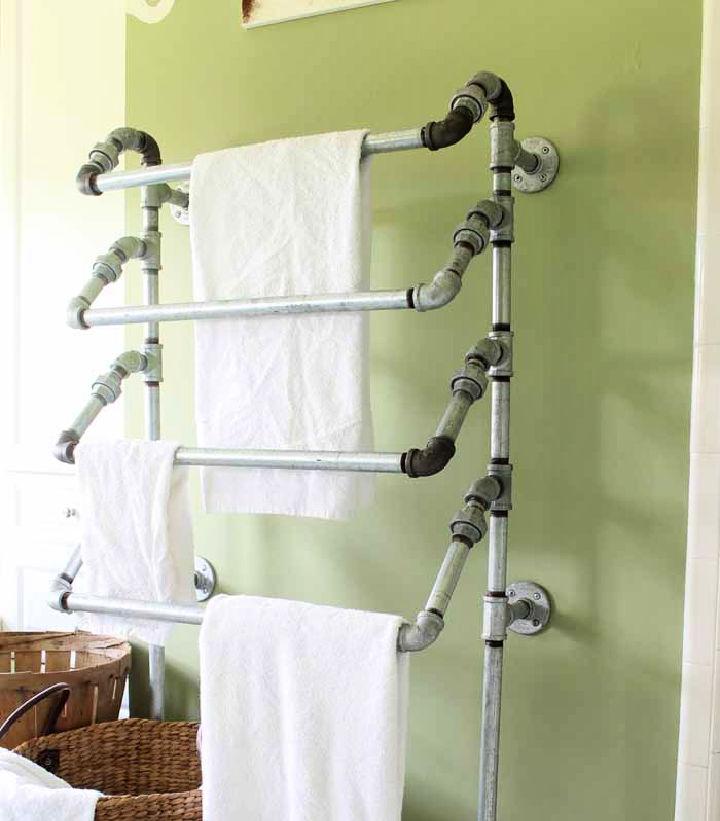 If you have some pipes lying around in your storeroom, then put them to their best use with this rustic towel rack from the pipes. This multi-tiered rustic towel rack is the best to use when you are a happy big family. The wall-mounted towel rack is robust and industrial and is going to bring about oodles of charm to your modern bathroom decor too. Details here! thecountrychic
21. Wire Basket Towel Rack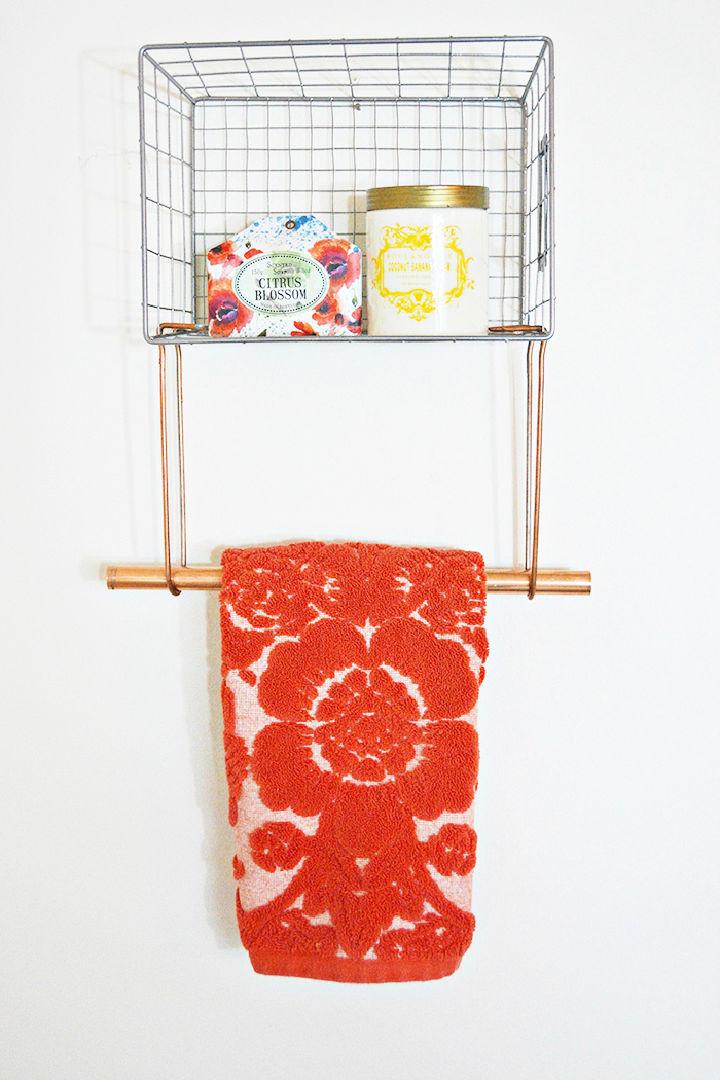 Suppose you are not happy with your bathroom rack, then it's time to replace it. Here is this wire basket towel rack that will be a perfect fit in your bathrooms for being so elegantly gorgeous and functional. The towel rack is made out of the copper pipe holding the wire basket on its top where you can hold your other toiletries. Check out the details here! ajoyfulriot
22. DIY Wooden Towel Ladder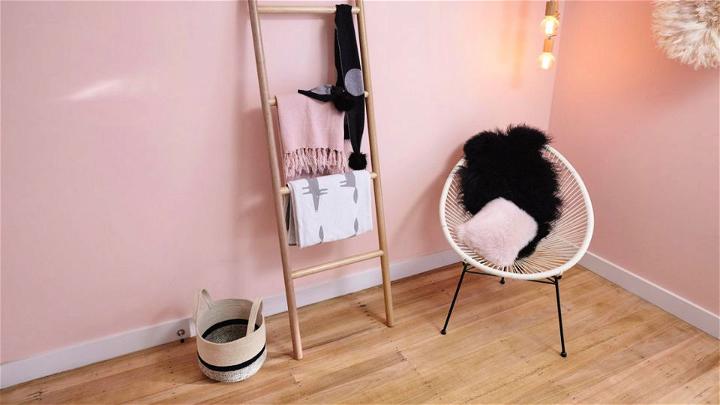 This sleek and minimal in design DIY wooden towel is the best thing to get your hands on. Not only your towels, but you can also display your rugs and shawls on it too. Using grit sandpaper, wood glue and hardwood dowels, you can easily make this towel ladder. Check out the tutorial of the idea here! bunnings
23. PVC Door Hinge Towel Rack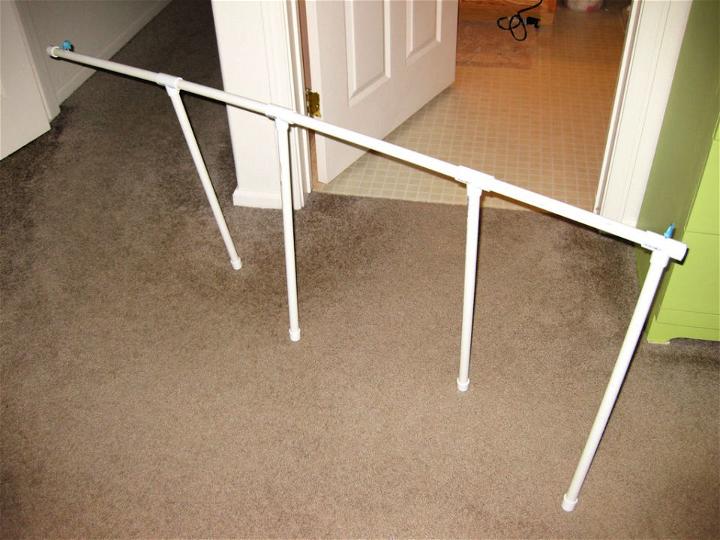 Here is the PVC pipe towel rack that you can make and use behind your doors if you have not spare space to place it. Using the PVC pipes with all their whereabouts, you can easily make this PVC door hinge towel rack with as many tiers as many towels you have. Check out the details of the idea here! instructables
24. DIY Farmhouse Towel Rack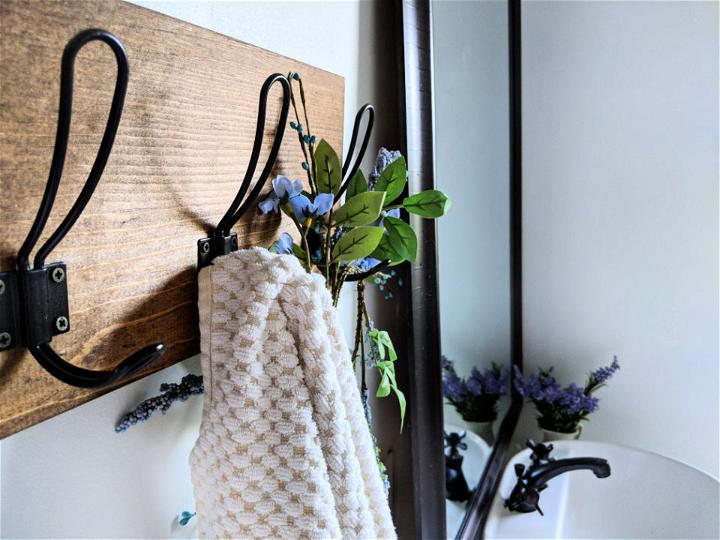 Bring a touch of farmhouse beauty to your spaces with this DIY farmhouse towel rack to be a part of your bathroom. You need a wooden rustic board and a few black hooks to create this perfectly classy DIY farmhouse towel rack. This is the perfect DIY farmhouse towel rack for your guest rooms too. Check out the details of the idea here! orangeandelm
25. Bathroom Towel Rack with Peel and Stick Planks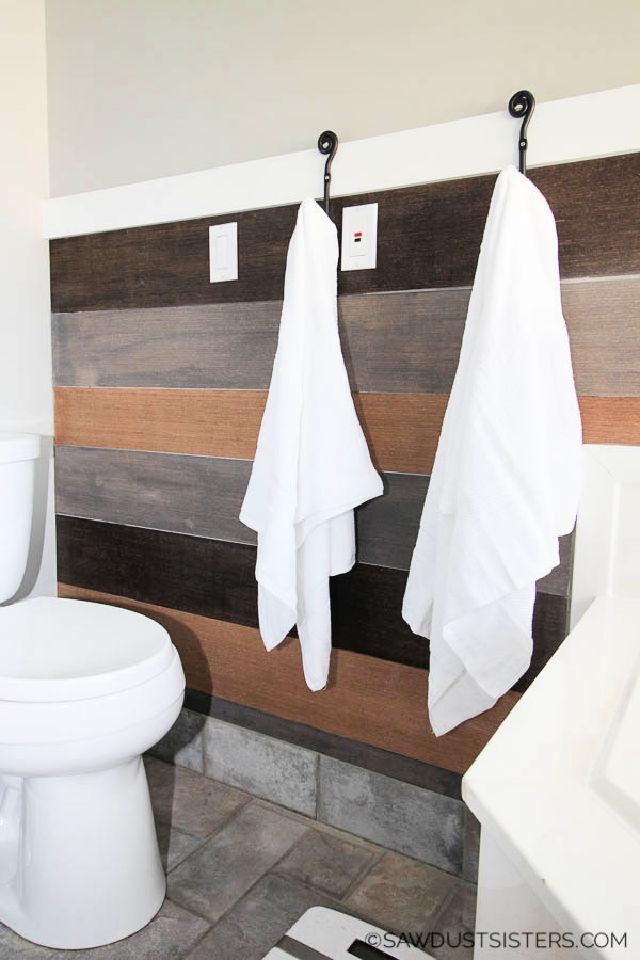 If you are tired of your husband's habit of throwing the towel on the bed, then here is this bathroom towel rack with peel and stick planks. You would not have to worry about the wet towels anymore as this rack would hold them and dry them too. Check out the list of the supplies and the complete tutorial right here! sawdustsisters
Conclusion:
Let's wrap up here hoping that you have found all of the mentioned plans very inspiring, and are ready to make yours too! All the unique towel rack ideas, as mentioned earlier, have unique features and qualities. All you have to do is – pick up your favorite plan to make it the right fit for your home. Wondering if you can use these plans to make money? The answer is yes! But how? You can design and build the towel racks with different designs and sell them to the people looking for such reasonable products who cannot afford expensive ones.
All of the mentioned unique DIY towel rack ideas are easily accessible to start with. Choose the plan, go through the instructions, gather the required supplies according to it, and start implementing it. So liked the ideas? Gathered the supplies easily available or were already lying around? Let's give it a try!