A wedding is a big day to celebrate your love with family and friends. Maybe you are obsessed with a special country, vintage or glam-inspired wedding theme to make your day special. Time to achieve it with these 40 unique DIY wedding decorations ideas allows you to tackle the whole wedding planning and decoration process independently at a low budget. However, opt for these diy wedding decoration ideas if you want to add some personal touches to wedding knickknacks and save a lot of your money.
After looking through these 40 cheap and pleasing DIY wedding decoration ideas, you will not even think to hire a wedding planner. At the same time, you will save a lot of the wedding decoration budget to spend elsewhere. These wedding decoration ideas are creative to impress crafty couples and are pretty affordable to be in one's budget range. From indoor wedding decor ideas to outdoor wedding decorations to rustic or vintage-inspired wedding decor ideas, you will get ideas for every wedding style.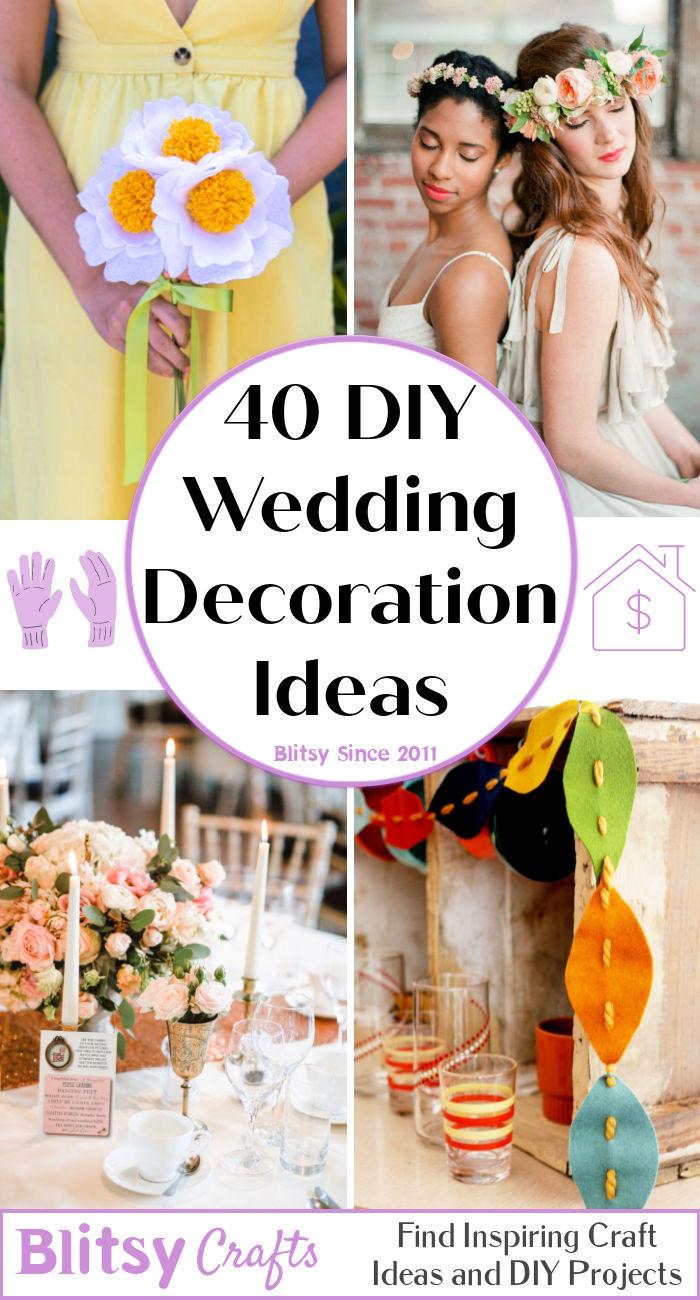 You will learn to make outstanding wedding arbors, divine-looking wedding arches and backdrops, and fantastic chandeliers in bigger wedding decor plans. If talking about the mini DIY wedding decorations, you will get here instructions to make bridal bouquets, bridal crowns, light centerpieces, cake toppers, place cards, wedding signs, wreaths and much more.
The diy wedding decoration ideas will unveil the hacks to make affordable but heart-winning wedding light decor centerpieces, too, will surely raise you as a great wedding planner in front of the wedding crowd. Look through all these DIY wedding decorations to learn a lot about planning and decorating a wedding.
1. DIY Wedding Ceremony Backdrop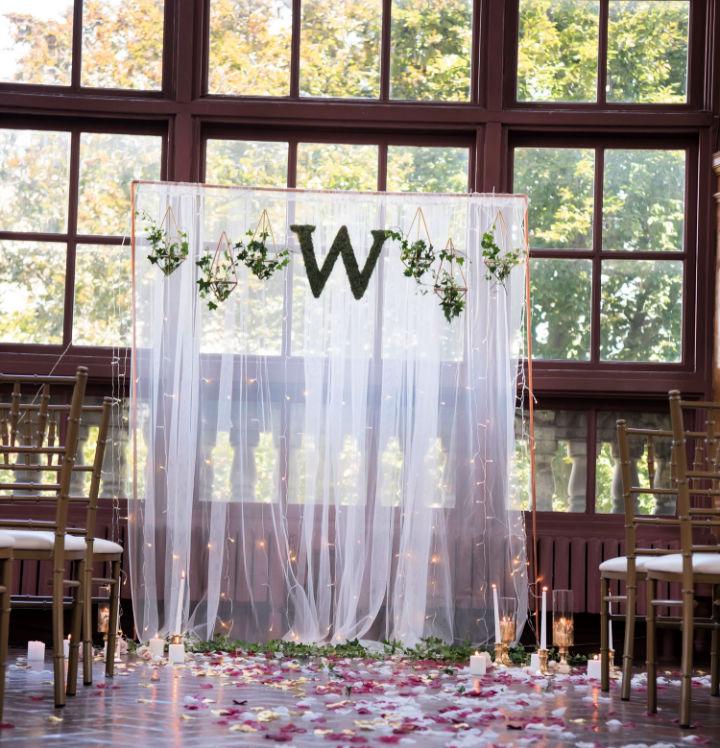 Have you planned a wedding photoshoot to capture the memories while making a wedding photo book too at the same time? So, follow here guides and instructions to make a quick wedding backdrop, which makes a great background for the couple's wedding photoshoot. Make the backdrop frame using the copper metal pipes, and then use the sheer curtains and lights to complete this awesome photo backdrop. So, you mainly need ??" copper pipe, pipe cutter, t-fittings, 90-degree fittings, end caps, lights and sheer curtains to complete this wedding decoration. simplyhandmade
2. How To Make A Wedding Bouquet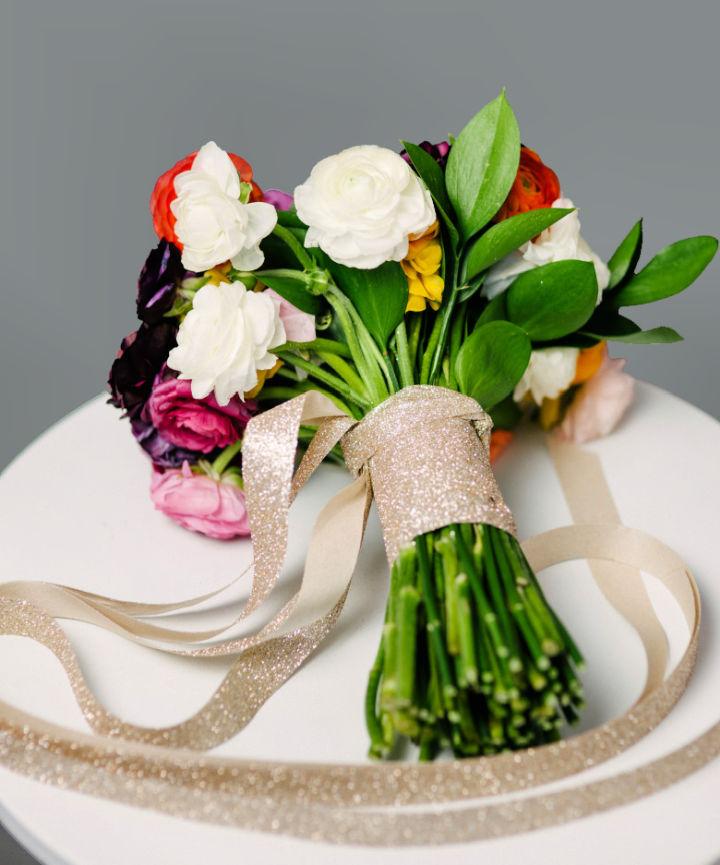 Congratulate a bride with this handmade DIY wedding flower bouquet that is not too difficult to make. It will be like a bundle of best wishes for the bride from you and is easy and quick to make also. You need flower shears, floral tape, bouquet pins, bouquet wrapping, flowers of choice, a bucket and water to whip up this awesome wedding flower bouquet. The whole project is more than easier to do and will also cost you next to nothing. The whole project is more than easier to do. apracticalwedding
3. Easy DIY Flower Crown

Create an impressive appeal of a bride and this spring flower crown, sure to create a princess and queen look of all the brides. Making this crown is one of the easiest tasks if you rightly follow the instructions. You need Juliet garden roses, berzillia berries, jasmine, ranunculus, and rice flowers to make this wedding bouquet in no time. In other supplies, you need ⅜ French double satin ribbon, green florist tape, 16 gauge straight wire, ribbon shears and bonsai shears to do this project. Cut the flowers and tie them onto the wire that you can take into a round shape. Dense the crown with greenery and finish with white ribbon tail ties. greenwedding
4. Best Wedding Arbor Plan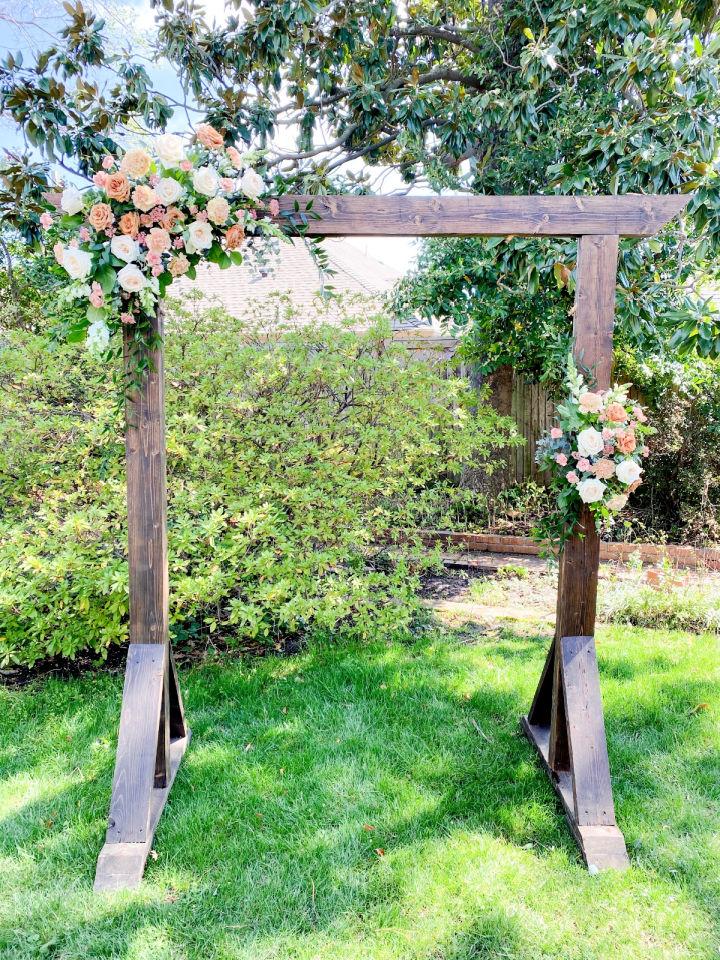 The wedding arches are always a big center of attention for wedding photoshoots, or you need to add a dignified entrance to the wedding location. So, grab here complete guides and instructions to build a backyard arbor loaded with your favorite flowers. You need a large floral foam cage, flowers & greenery, ½ bunch salal/lemon leaf, ½ bunch gunny eucalyptus, roses, ranunculus, carnations, white snapdragons and bunch rice flowers and also an arbor to do this project with total ease. One of the best DIY wedding decorations ideas that everyone can duplicate. weddingchicks
5. Custom Mermaid Man Wedding Cake Topper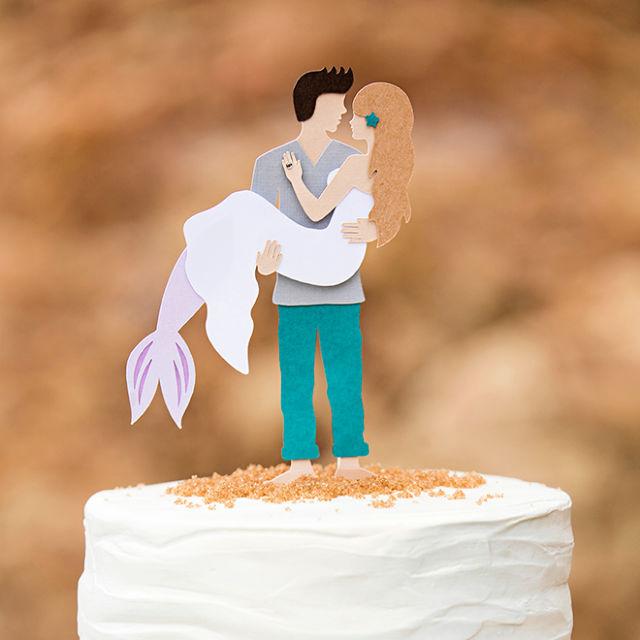 Feel free to make this DIY mermaid and man wedding cake topper, and it gives the wedding cake a glam touch of romance. It is a Cricut Explorer Air project that will complete simply in no time. Along with the cutting machine, pick the 10 colors of cardstock, hot glue gun, 6″ lollipop sticks, and tiny craft rhinestone to make this fabulous wedding cake topper, the best gift for a bride or groom. You can simply download the SVG file to add to your cutting machine to cut the pieces easily. An easy, cost-efficient and beautiful wedding decor idea. somethingturquoise
6. DIY Wedding Centerpieces On A Budget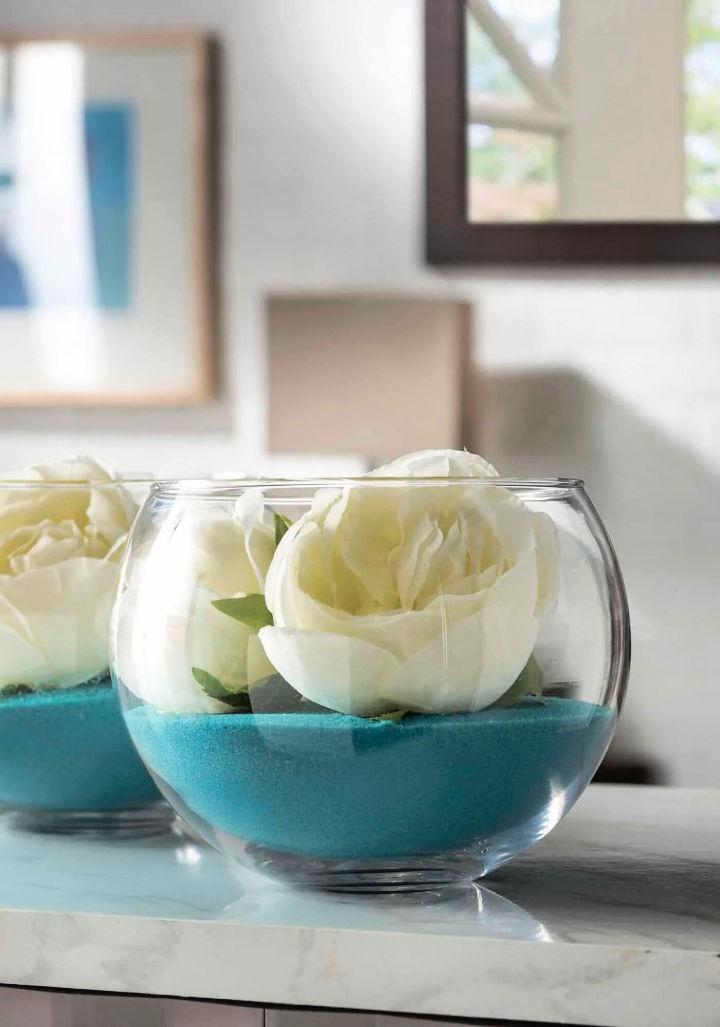 Get also crafty with a handful of items for one minute to make these divine-looking floral wedding centerpieces. They will spice up the wedding decorations with glassy elegance too, and you can also give amazing variations to these wedding decorations to match the wedding decor theme. You need Ashland 6″ bubble bowl, activate decor stand, and faux flowers to make this awesome floral wedding centerpiece. Give amazing variations to these wedding centerpieces by changing the flowers and sand color. Easy and quick to make wedding decorations ever. diycandy
7. Pallet Wedding Sign Under $14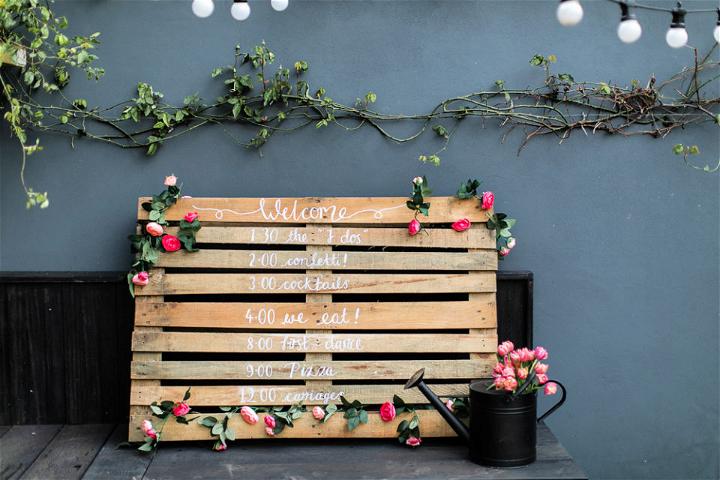 The plan also the wooden pallets to build lasting longer and beautiful diy wedding decorations. Get inspired by these flawless wooden pallet wedding signs, which come with wedding programs and timings written over each plan. The whole wooden pallet wedding sign is quick to make and can be experiment with a variety of flowers. Also, use custom paint colors to write the wedding programs, and you can also use custom stencils. You need wood pallets, pencils, flowers and greenery, and ink pens to do this project with ease. The whole project is beginner-friendly and budget-friendly at the same time. rockmywedding
8. DIY Wall Seating Chart Frame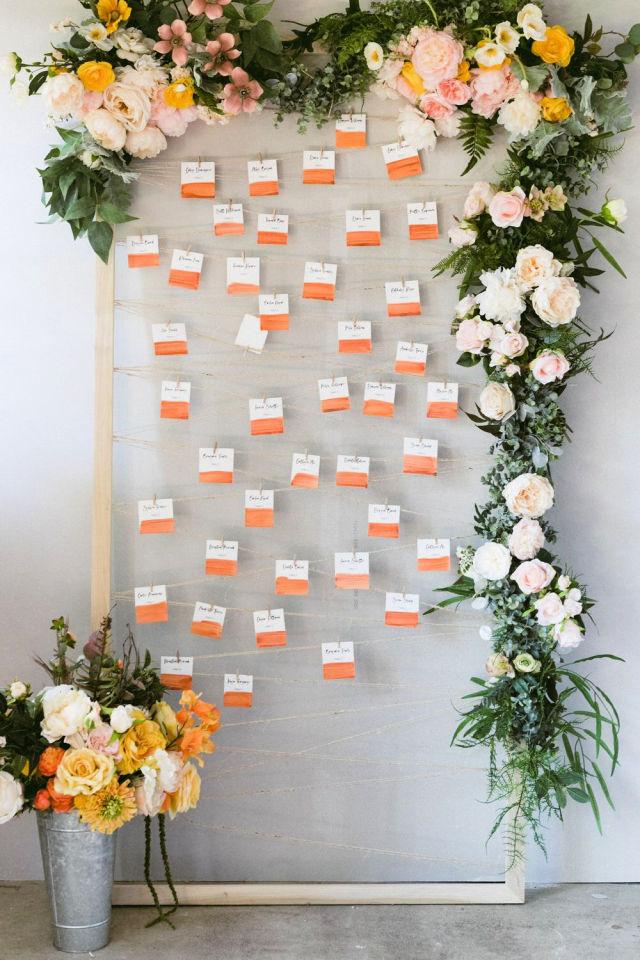 There is a lot to make at home to help take the diy wedding decorations to the next level. Make also this fascinating wall seating chart frame that is loaded with lots of greenery and flowers. Here, you need to build first the chart frame using the 1x2s and L-brackets and add frame sides with eye-hooks for easy twine waving. Next, use the mini clothespins to hang the seating plans or numbers on the string lengths. The very required tools for the project will be a screwdriver, hand drill and hand saw. One of the best DIY wedding decorations to make at home in no time. ruffledblog
9. DIY All White Wagon In 5 Easy Steps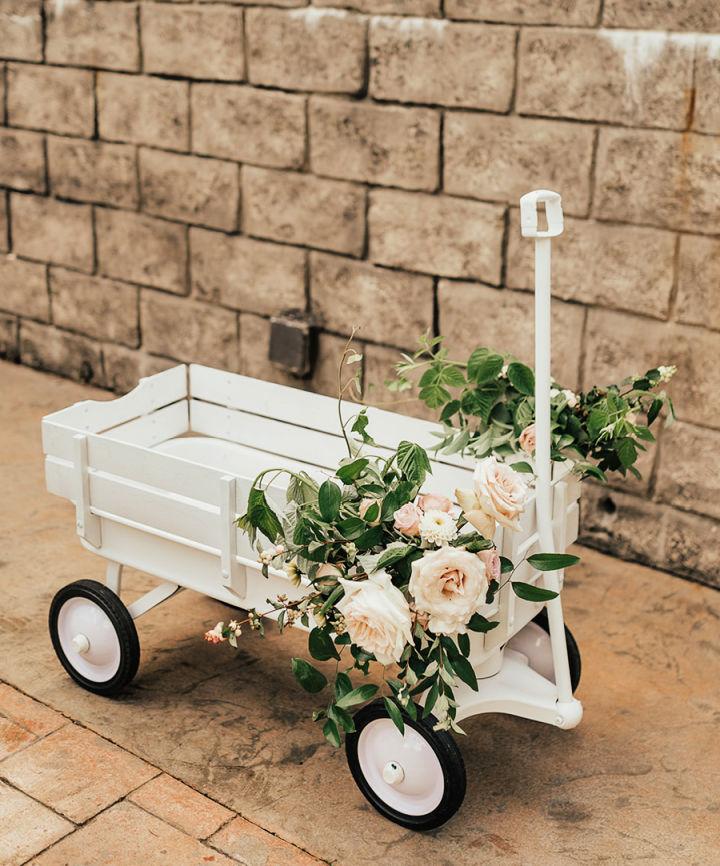 It usually costs you $200-$500 to buy a wedding wagon. But you can easily build one at home quite efficiently. Peek into details of the given wedding wagon design to make with a Radio Flyer Wagon that will cost you around $30. Decorate the finally completed wagon with your favorite paint colors and also with flowers and greenery. Here you need Radio Flyer Wagon, spray paint, newspaper, 4 plastic bags to wrap wheels, a flat-head screwdriver, gloves, water hose, and cloth to clean to make this white wedding wagon. justatinabit
10. Cheap DIY Floral Wedding Basket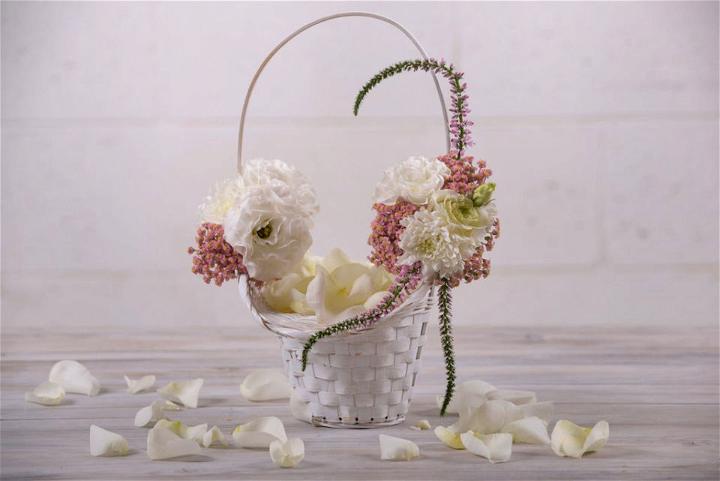 Are you on a mission to select the best diy wedding decorations that will make a wedding super impressive? Then do add this floral wedding basket to your to-do list. Everyone can make it super economical and easy to make and can be added to wedding tables for instant visual grace and a glam floral touch. Here you need a wedding basket, shears, some thin wire or strong string and satin ribbons to make this gorgeous wedding flower basket. It also makes a super beautiful gift for Memorial Days, and you can also make this basket for Valentine's Day gifts. instructables
11. Watercolor Wedding Programs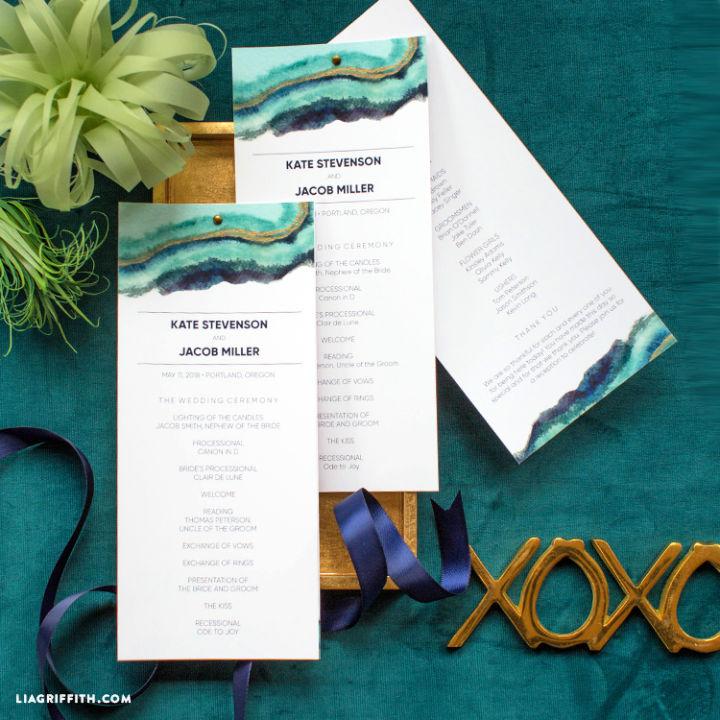 Making beautiful wedding programs is one of the wedding planning essentials. So, learn here to build the watercolor geode wedding programs like a pro. You just do not need to do anything, just download the PDF files here and print them out to get the wedding programs made in no time. The wedding programs are super impressive, and you can make the wedding invitations too in the same way. Choose your favorite watercolors for these wedding programs; everyone can make them with the help of free provided guides. liagriffith
12. Affordable Lit Tulle Backdrop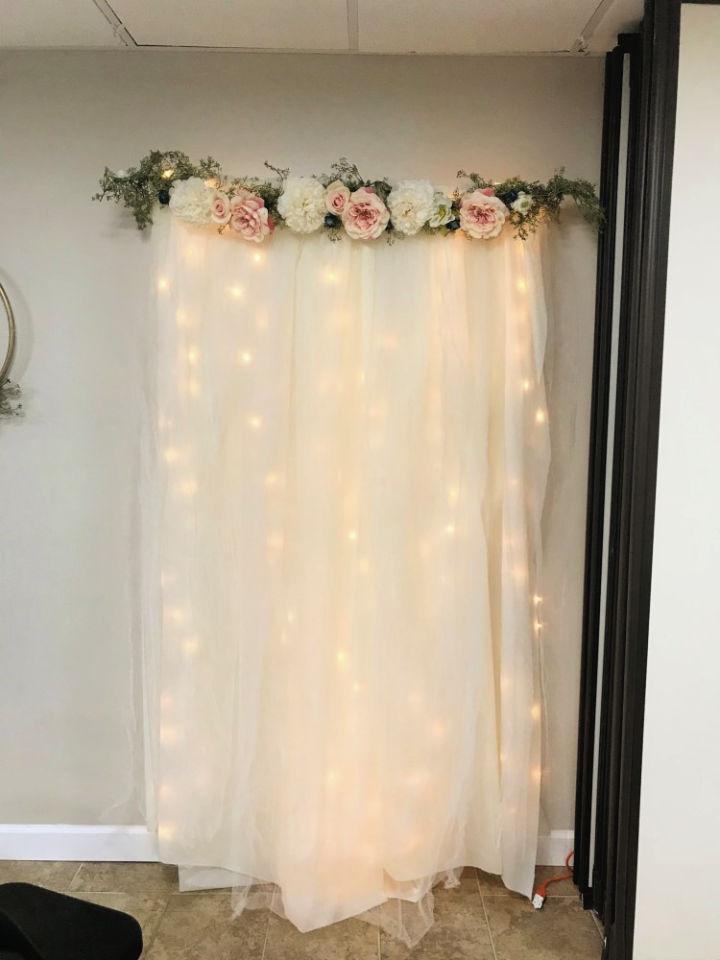 Bring tons of visual grace to your wedding with this lighted tulle backdrop, quite something beautiful and gorgeous to look at. The lights visible through the tulle create a fascinating appeal of this backdrop and make it look super impressive. This backdrop will rock for a baby shower, birthday party, and bridal shower, and you can also add it to a party photo booth to take some great photos of you. So, here you need white tulle curtains, LED string lights and colorful flowers to work up this tulle backdrop, which will make the whole wedding a lot more special. sixcleversisters
13. Make A Wedding Garland With Flowers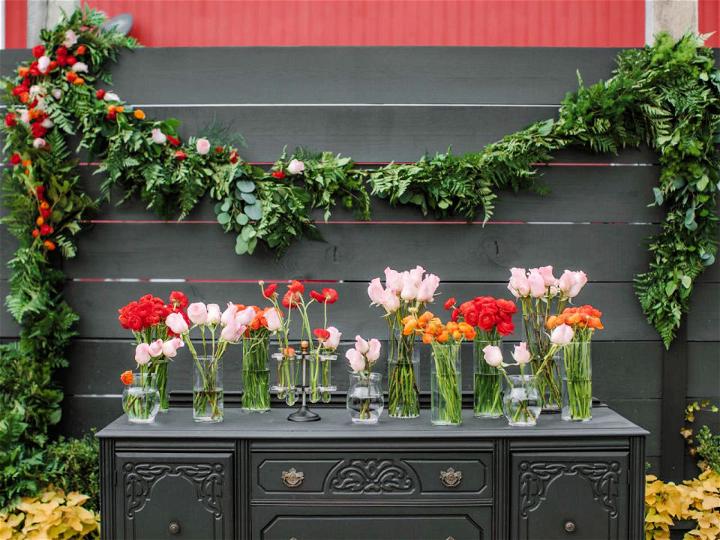 Wedding decorations cost you big always, and you can save tons of money for yourself by try making a few ones at home also. So, follow here guides and instructions to make a beautiful wedding flower garland that comes primarily green and looks awesome and beautiful. You will get here directions to make this wedding garland also. The whole project will be easy on your wallet, and you need red and orange ranunculus, roses, greenery, floral wire and floral tubes to make this wedding garland with flowers. diynetwork
14. Simple DIY Bridal Bouquet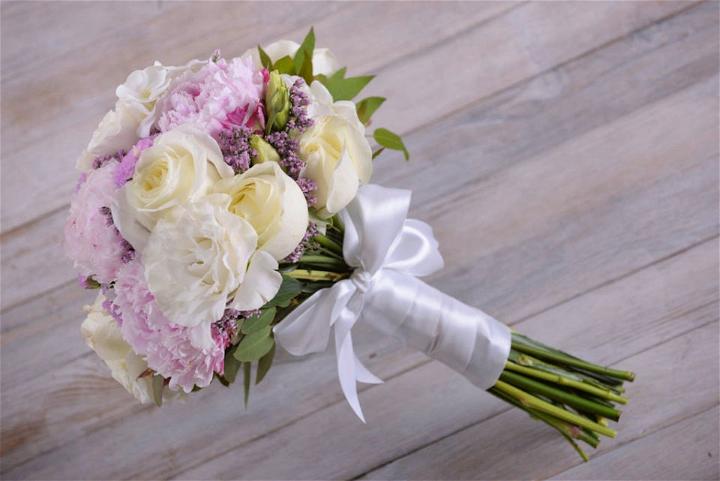 Give a bundle of happiness to your favorite bride by making this bridal flower bouquet. You will get here complete guides to make a one with your favorite flowers, which will not take much of your time. Mainly you need, shears, string, floral tape, white ribbon and your favorite accents and embellishments to work up this bridal bouquet, which will surely impress the bride. The project is all about tying the stems of your favorite flower together using the string and then wrapping the white ribbon all around for added beauty. instructables
15. DIY Wedding Boutonnieres

Grab diy wedding decorations with instructions and complete guides to craft a DIY wedding boutonniere will also be super quick and lovely to make. The project involves using the 5 different types of flowers to make this DIY wedding boutonniere. The ranunculus, spray rose, lisianthus, waxflower, and bleached fern will rock for this project. Dense it using lemon leaf leaves and gunny eucalyptuses, and that's it. The better wedding gift or decor to make in no time will be complete just at the drop of a hat. One of the best DIY wedding decorations to make in no time. thebudgetsavvy
16. DIY Wedding Bouquet And Boutonniere On A Budget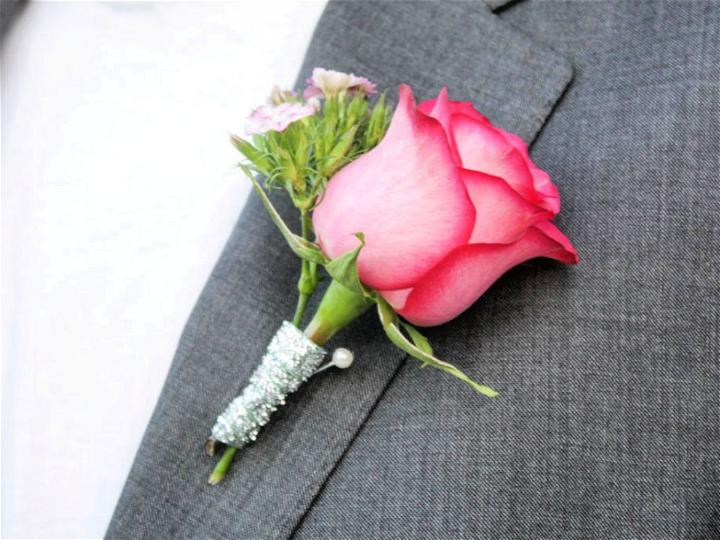 The flower bouquets and boutonniere are never to miss and considered vitally important for a wedding also. Follow the complete diy wedding decor instructional guides to make a rose flower bouquet and a rose boutonniere like a pro. So, manage to have the roses & accent flowers, floral tape, large & small ribbon, floral pins, and scissors to work up this sweet and beautiful wedding flower bouquet. The rose flower bouquet will rock for Valentine's Day and will surely win your lover's heart. Try out this bouquet with various other flowers to give on Memorial Day. thisfairytalelife
17. DIY Wedding Pet Leash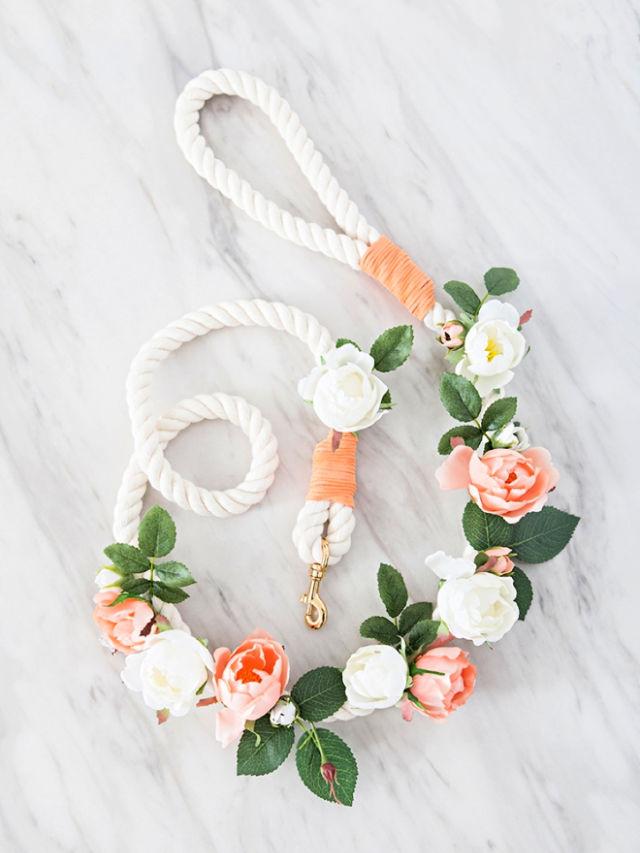 The wedding decor ideas are just never-ending, and here you will learn to make the wedding dog leaches. So, this will make your dogs feel special coming with you to a wedding. You will get here instructions to make 3 different types of wedding dog leaches and make an adorable gift to your favorite friends. Here you need ½″ x 6″ cotton rope, faux flowers, greenery, yarn, lobster claw clasp, wire cutters, 20 gauge or heavier wire, low-heat glue fun and scissors to make these special pet leashes, will rock for cats too. somethingturquoise
18. Football Toss Outdoor Game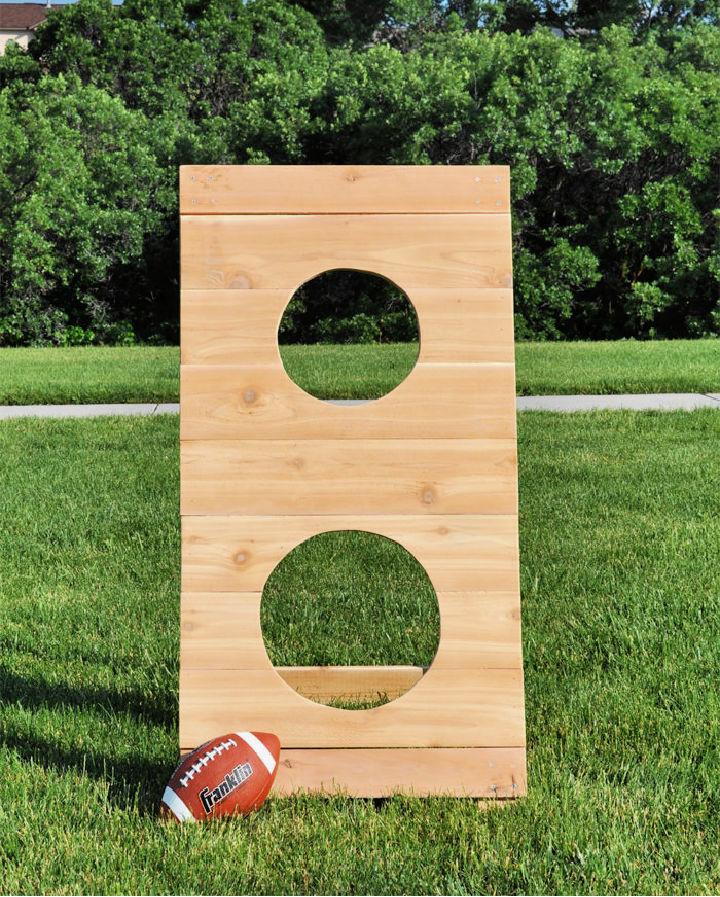 Boost the outdoor wedding fun also by adding this football toss outdoor game to outdoor wedding entertainments. The self-standing game board is to make with the wood of choice, and it will create too much fun for the kids also gathered at the wedding. To build this game, you need cedar fence pickets, utility hinges, string, screws and nails. The project will complete just at the drop of a hat and will surely boost the outdoor entertainments of kids and other wedding guests. One of the best DIY wedding decor ideas to make in no time and without getting a bit expensive. cherishedbliss
19. DIY Wedding Hoop Centerpiece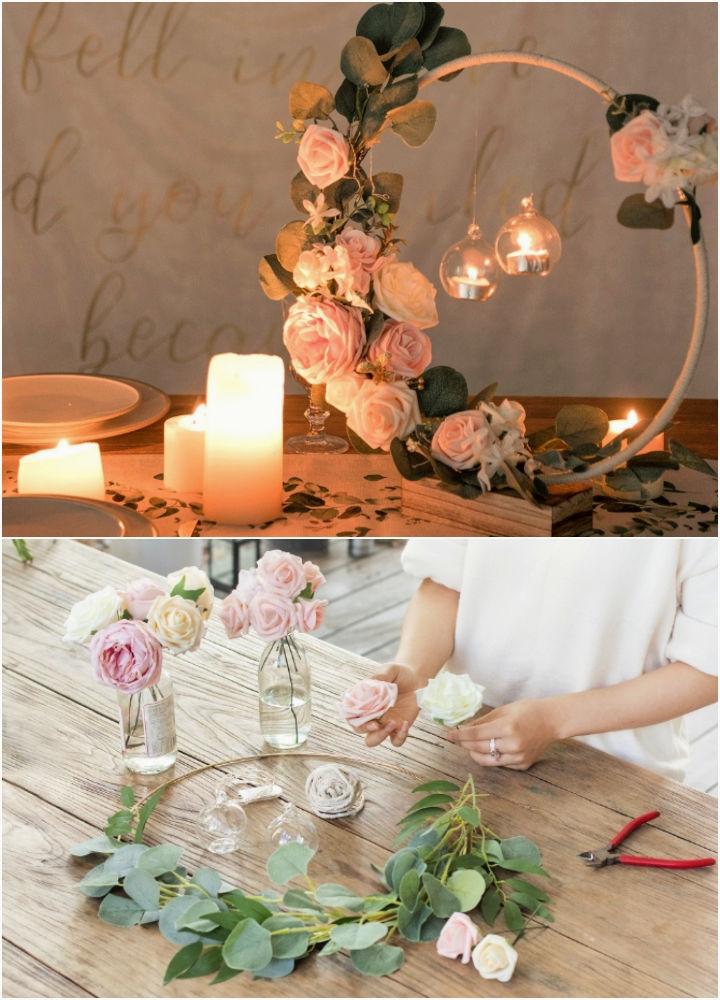 Adding this hoop centerpiece to your wedding will be like adding 4 moons to your wedding. The best and creative wedding decoration that every beginner can build with ease without spending too much from his pocket. You need LED string lights, a 15″ metal hoop, glass candle holders, jute twine, wire, stems, wire cutters, beading thread strings, rectangular wooden boxes and your favorite flowers to make this lighted hoop wedding centerpiece. It will be a big center of attention at the whole wedding. lingsmoment
20. How To Make Wedding Place Cards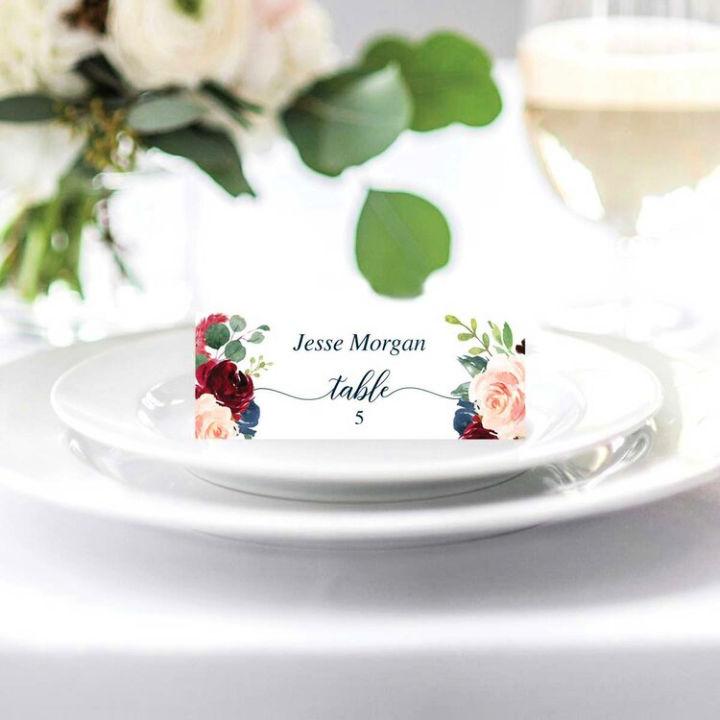 The wedding place cards can be another great item to boost the wedding decorations. So, get here instructions to make unique and lovely place cards for the wedding tables to impress all the guests. They are to make in a couple of minutes and will cost you next to nothing also. You need 110lb white matte cardstock, 90lb white matte cardstock, Avery 16109 template, X-acto knife, scissors and self-healing cutting mat to make these outstanding wedding place cards. One of the best DIY wedding decor projects ever done. creativeuniondesign
21. Paint Dipped Balsa Wood Candle Holder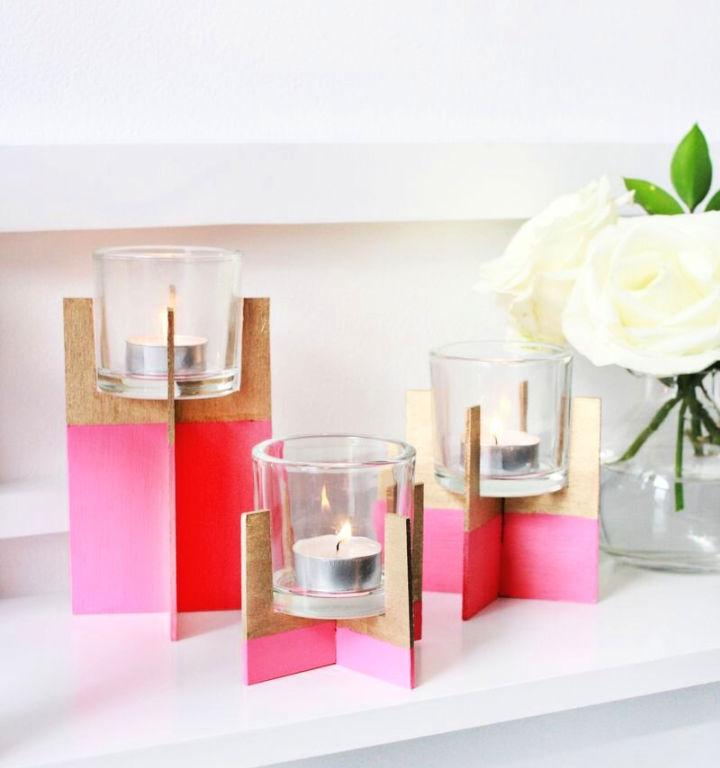 Take the wedding table decorations to the next level with these paint-dipped wood candle holders that are unchallenging to make. Give straight cuts to the vertical balsa wood slats and then fit them together, making the vertical (+) shape holders. Next, make them hold the glass candle votives in the center. You need balsa wood, gold and pink craft paint, masking or painter's tape, ruler, X-acto knife, glass votives and tea lights to work up this pretty awesome wedding decoration. One of the best wedding light decorations to make in no time. abeautifulmess
22. DIY Seed Starter Wedding Favor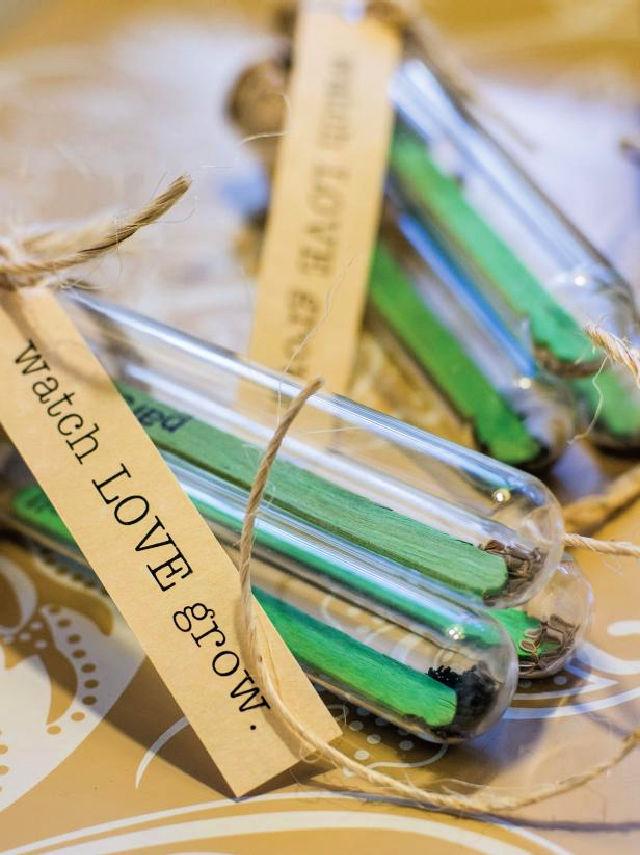 We all love to give wedding gifts that will be unforgettable. So, here is a quick wedding favorite gift idea that will be simply unforgettable. Just make these DIY seed starter wedding favors that will be super quick and easy to make. You need a few supplies to work up these favors, and they will also cost you next to nothing. You need test tubes, cord stoppers, wooden popsicle sticks, ink pad and letter stamp kit, herb seeds, hole punch and twine etc., to make these cute little wedding gifts. hgtv
23. DIY Solar Power Table Lamp

Willing to amaze the wedding audience with the unique light decor? Consider adding this DIY solar power table lamp to your wedding. It will be a big center of attention. This solar light is super graceful and will bring lots of visual attractiveness to your wedding environment. Peek into details of this brilliant solar-powered table lamp that is to make with the non-working thrift store brass lamp, and it will surely bring tons of grace to your wedding and gazebo sitting plans. One of the best wedding decorations ever made. somethingturquoise
24. DIY Felt Pom Pom Flowers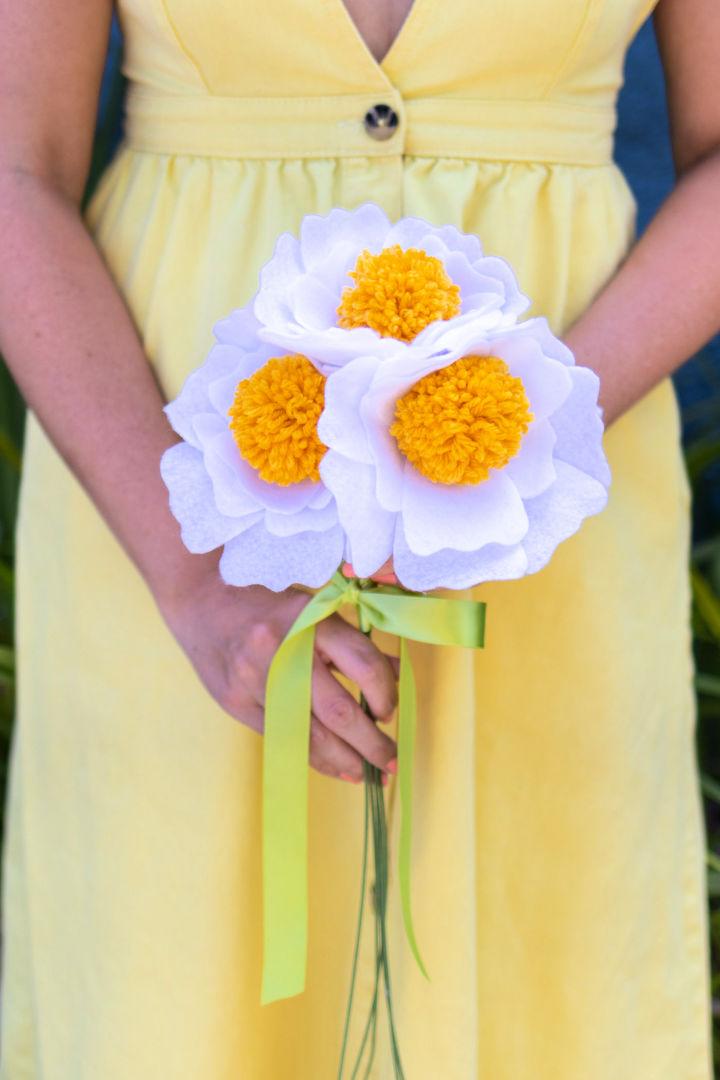 Sorting out the best flower bouquet to give to a favorite bride? Then grab here instructions and complete visual guides to make a one at home. You will learn to make felt pom-pom flowers that you can easily tie together with ribbon and surely please the bride. You need ½ yard felt in the color of choice, yellow yarn, a small pom-pom maker, scissors, floral wire and a glue gun to make this awesome flower bouquet for a bride is one of the best DIY wedding decorations to make in no time. Make the yellow pom-poms for the flower centers. clubcrafted
24. Create a Beautiful Just Married Sign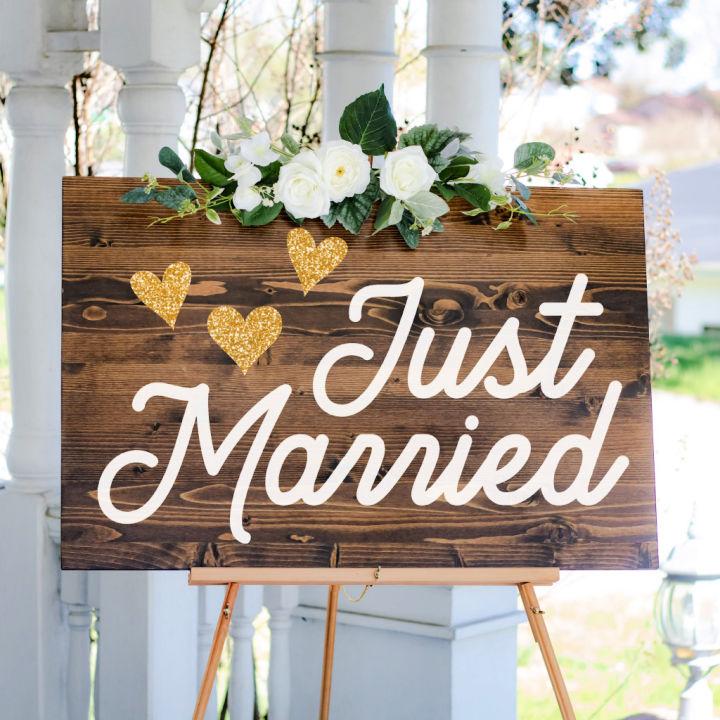 Presenting here a cute and beautiful DIY wedding gift, a heart-winning one. The project will provide you free SVG "Just Married" files that you can simply transfer to your favorite wedding frames, jackets and other favorite clothes for an instant romantic touch. The whole project is more than easier and will surely amaze the audience all around. The best and quick DIY wedding gift idea that everyone can duplicate in no time. All beginners can do this project also. happinessishome
26. DIY Geometric Metallic Vase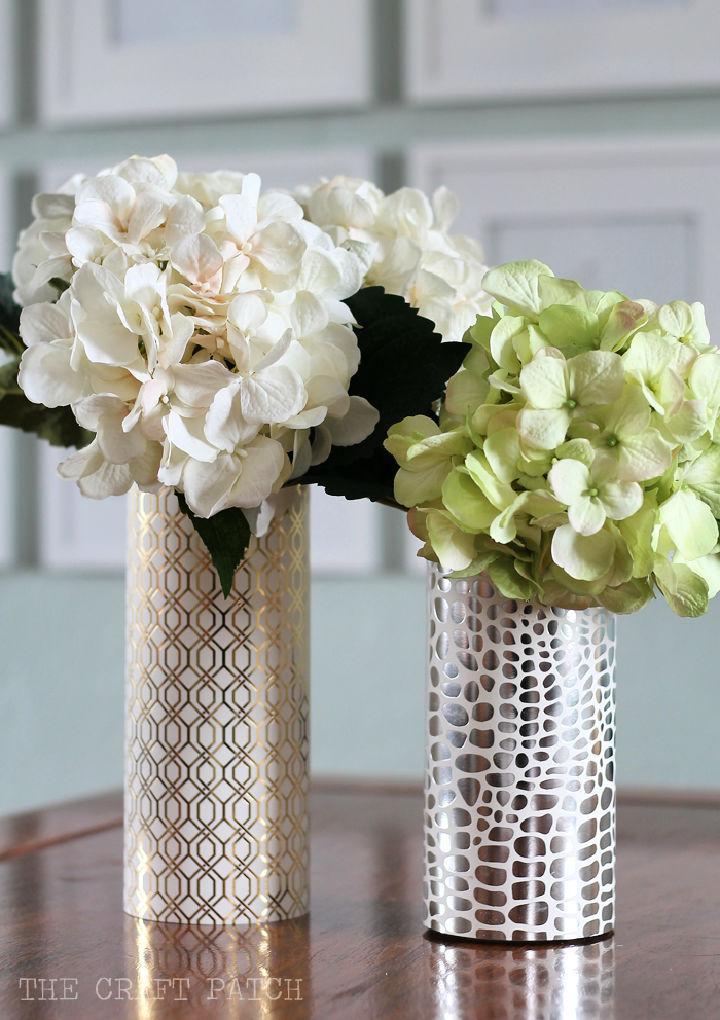 Maybe you are on a mission to feature the geometrical decor elegance to your wedding environments. If yes, then simply duplicate these geometric metallic vases, sure to be an impressive addition to your wedding tables. It will only take about 5 minutes to complete these super budget-friendly vases to make only a few items. Grab the straight-sided dollar store vases and wrap them in metallic gold papers. Finish by adding custom-cut flowers and make quick adorable geometrical vases for your wedding environment. thecraftpatchblog
27. Easy Wire Wrapped Wedding Signs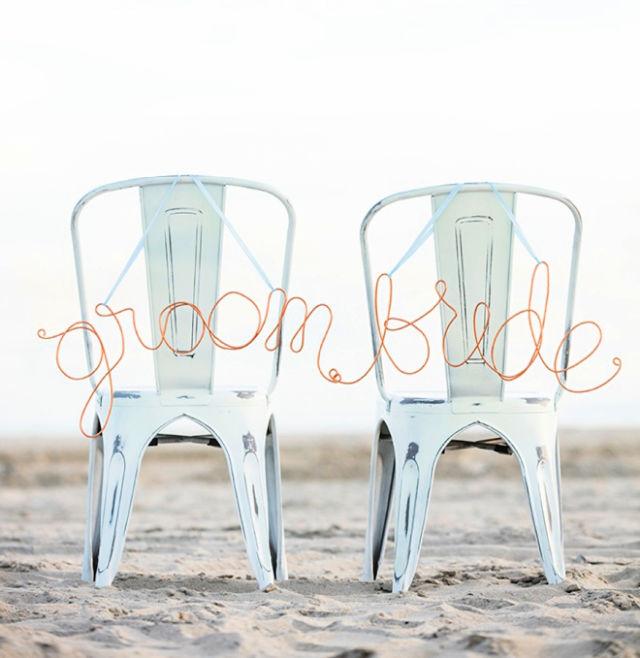 Make a wedding a lot more impressive with these twisted wire signs that will be ready just at the drop of a hat. You can simply hang these "Bride Groom" signs on the wedding couple's chairs for amazing decorative effects. Use the ribbon of choice to hang these wire letters on wedding chairs easily. You need 8 gauge soft-drawn copper wire, wire cutter, pair of flat edge pliers, ribbon to hang your sign with and some creativity to craft these diy wedding decorations in no time. somethingturquoise
28. Craft a Party Perfect Blooming Backdrop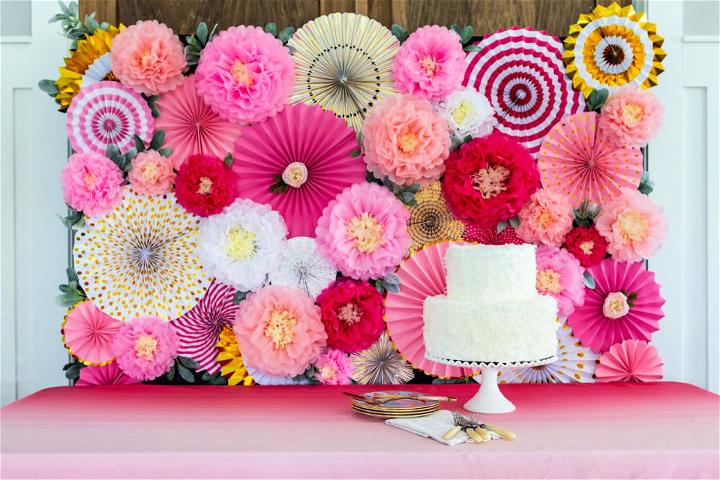 Duplicate this floral backdrop for a wedding and also for an after-wedding party. It will rock for a bridal shower and for any birthday party too. You will be amazed to see that this backdrop is a homemade one and will be easy on your wallet. You need tissue paper flower kits, paper fan kits, 32″ x 40″ black foam boards, hot glue, D-rings, faux lamb's ear, faux greenery, 5 wooden stir sticks, scrap cardboard and scissors to build this perfect blooming backdrop easily. The backdrop will rock for a photo studio also for some great photoshoots. hgtv
29. DIY Fall Leaves Garland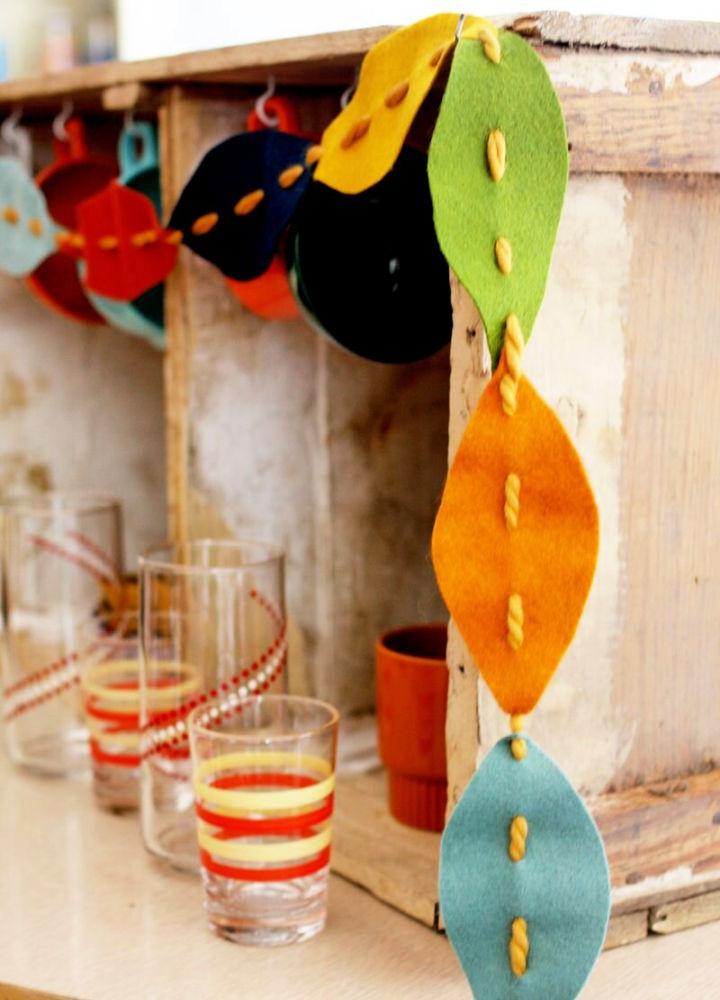 Take your wedding decorations to the next level with this outstanding fall leaves garland like a child's play to make. This leaf garland can be around any photo frame, decorative table and various other decorations and is easy and quick to make. Cut out the colorful fall leaves out of felt and then stitch them using the yarn. Decide the desired length of the garland, and this whole process will be complete in a faster way. It can surround various wedding decorations, too, for added visual appeal and beauty. abeautifulmess
30. Charming DIY Spring Wedding Wreath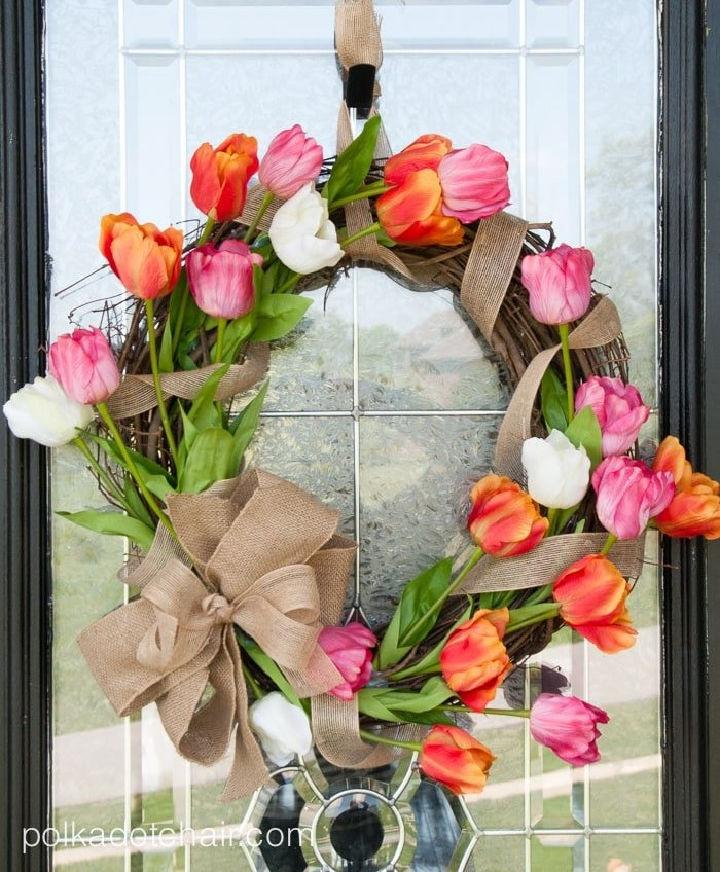 Bring tons of colors to your spring weddings with this tulip wreath that it makes with colorful tulips. The addition of burlap ribbon brings a little rusticity to this wreath, and making this wreath is unchallenging and uncomplicated. Grab a grapevine wreath and keep on adding the colorful tulips with stems on them. Next, adorn it more with burlap ribbon, and that can also be around the tulips to hold them in place. Finally, hang the wreath on your favorite wall or the main door using the same burlap ribbon. One of the best wedding decorations to make at home. polkadotchair
31. LED Mason Jar Lights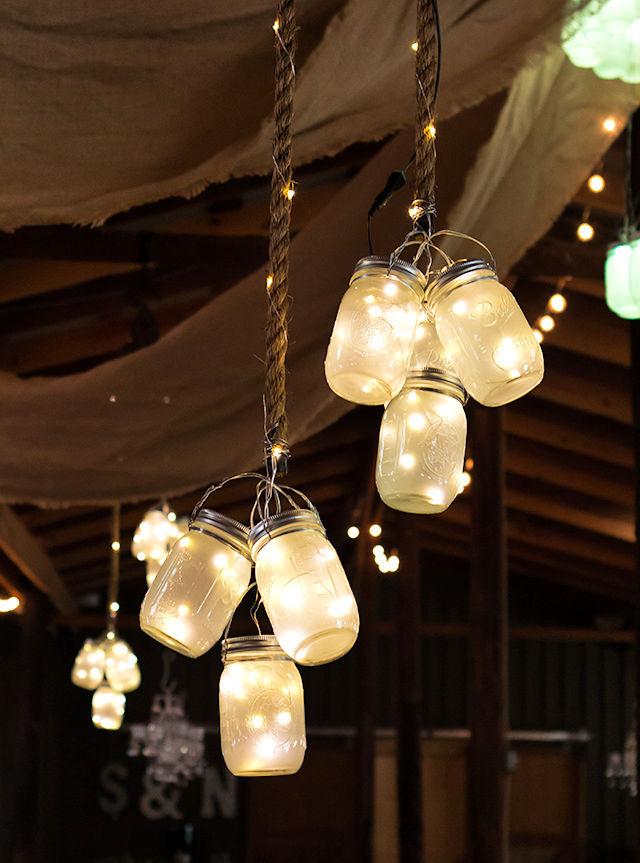 There are always some certain types of wedding decorations and settings, making a wedding unforgettable. This Mason jar chandelier is going to be one of these memorable wedding decorations for sure. Making it at home will be super economical and easy if you rightly follow the free provided instructions. You only need the LED lights, Mason jars and some creativity to build this spiral Mason jar chandelier that is a big center of attention in the entire wedding. This light chandelier is a perfect mixture of rusticity and modern tech. sarahhearts
32. How to Make Paper Flower Garland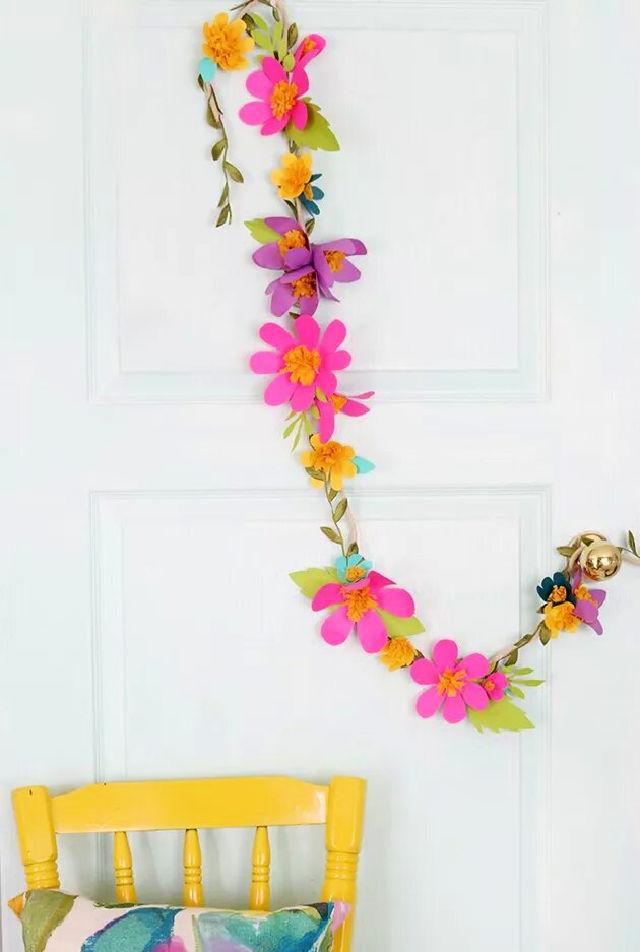 Many of us love to celebrate the happiness of a wedding with flowers. So, if the flowers are crucial to add to your wedding, then time to make this colorful flower garland. Using your creativity, you can use it in diverse different ways to fancy up the wedding environments. The whole project is more than easier and faster to do while using cheap materials. Grab the small flowers and large flowers with leaves, printer paper, cardstock, pencil, scissors, yellow crepe paper, hot glue, braided rope or green paper, and green satin leaf ribbon to complete to make this flower garland. ehow
33. Lacy Paper Lanterns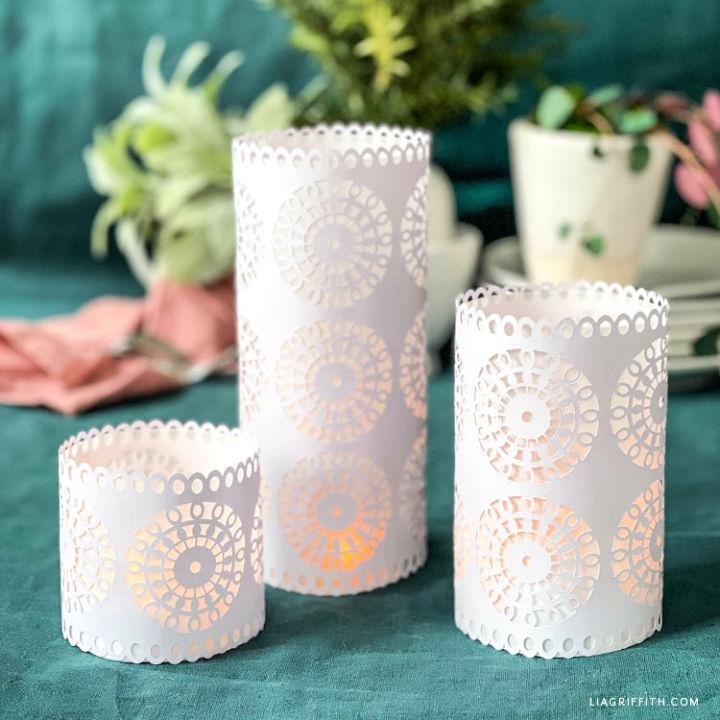 The light decorations are often to make a wedding unforgettable. So, bring that special romantic feel to your wedding by adding these lacy papercut lanterns that are a breeze to work up and will bring tons of decorative vibes to your wedding tables. Making these lanterns is a pretty quick and easy task. In supplies, you need frosted text weight paper, translucent vellum paper, flameless candles, a Cricut Maker, and high-temperature glue to complete these lacy lanterns. One of the best DIY wedding light decor ideas ever. liagriffith
34. Rustic Flower Centerpiece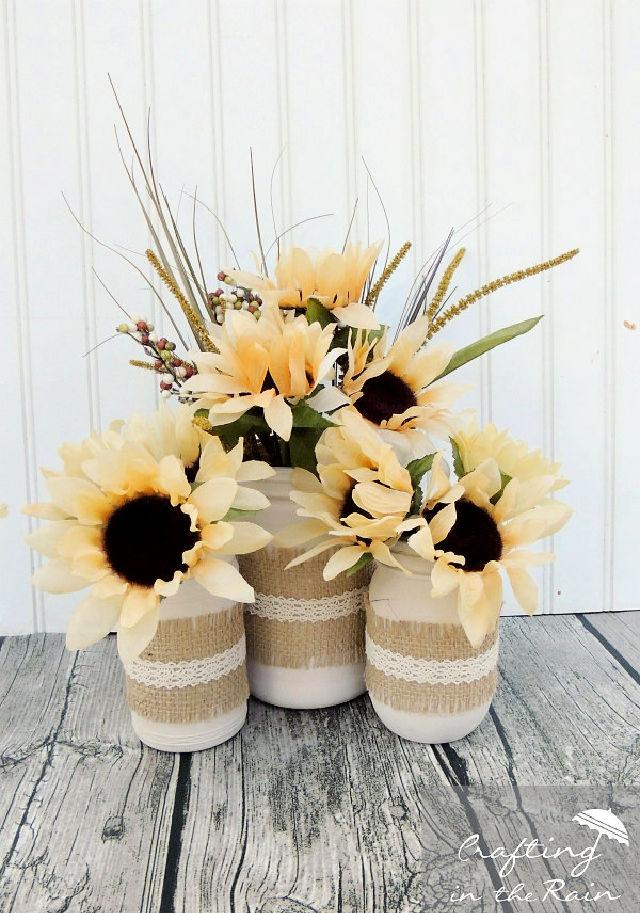 Adding this trio of flower vases will surely take your wedding knickknacks to the next level. The best homemade centerpiece to make in no time. Each vase will be ready just at the drop of a hat, and you can add your favorite flowers in place of sunflowers. But these vases have especially been made for the fall decorations. The addition of burlap and lace bring a rustic glam touch to these pretty awesome flower vases. You need clean jars, chalky paint, brush, burlap, lace trim, dollar store sunflowers and grass and also the hot glue to do this project with ease. craftingintherain
35. Travel Themed Wedding Crafts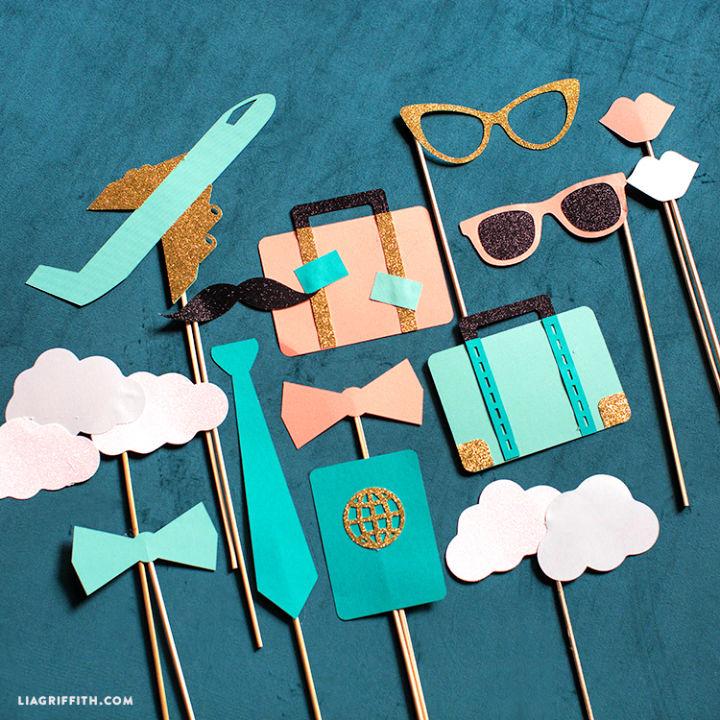 Do you intend to add a diy photo booth to your wedding to capture all those wedding moments and memories? Then here is how to make that photo booth pictures a lot more special. Just make these travel-themed photo booth props, and they are the quickest crafts that all beginners can do. The project is Cricut Explorer bases and will be much doable for all. So, along with this cutting machine, you need a low temp glue gun, bamboo skewers, and Cricut cardstock in teal green, seafoam green, black, white, gold and basis coral to complete these props. liagriffith
36. How To Decorate Your Wedding Table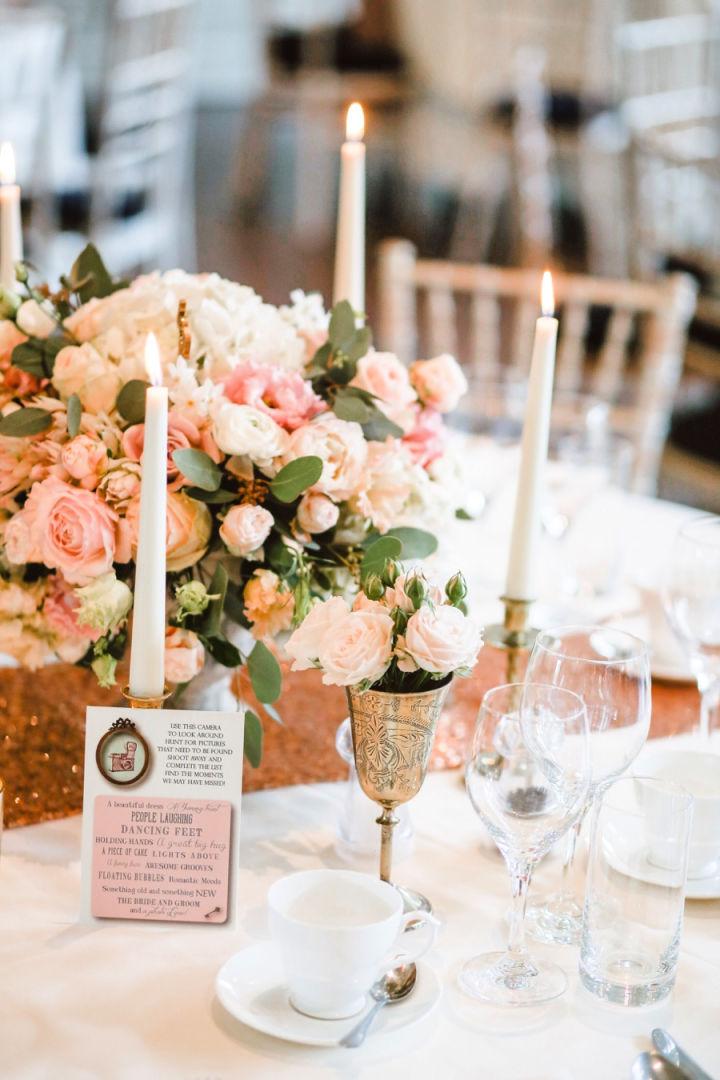 Are you having problems decorating the wedding tables? Then follow free wedding decoration ideas to decorate a wedding table while spending less than $10. The project is all about adding the flower centerpieces or vases and the candles on the candlesticks, and this will live up the mood of the entire wedding table for sure. The project is more than easier, simple and budget-friendly, and everyone can do it with ease. You may need the flower petals, springs of lavender, jam jar filled with wheat, fishbowls filled with petals and other decorations like candles etc., to build it up. weddingideas
37. Curved Floral Wedding Backdrop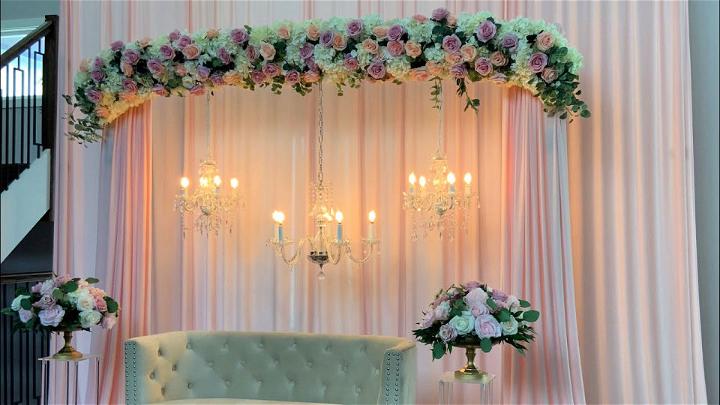 Intending to get an expert in making decorative wedding backdrops of all types? Then follow here complete video instructions to make one that will rock the entire wedding. The project will guide you about building a curved floral backdrop, the pastel color wedding backdrop and the red color backdrop that will be super romantic and will surely impress the entire wedding crowd. First, you need the insulation board, bendable stick or pex pipe, pool noodles, dowel rods, knife scissors, ribbon, zip ties, floral wire and cutter to make the board. youtube
38. Chandelier Floral Backdrop In Multiple Color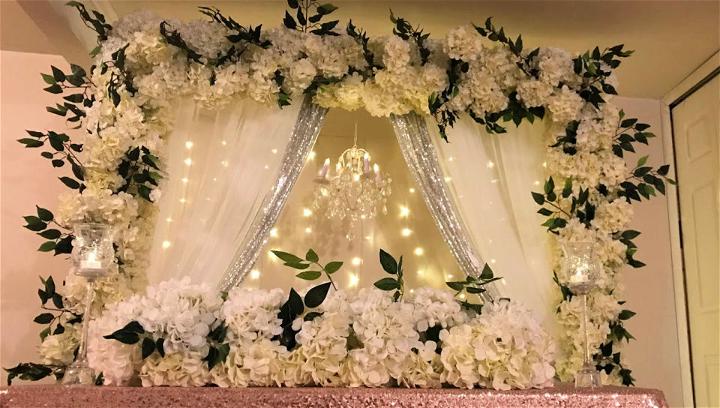 Follow here complete instructional guides to make a chandelier floral backdrop in custom and multiple colors. This will surely take your diy wedding decorations to the next level. You need focus branch or leaves, 4 white curtains, 2 silver sequin table runners, glue gun, floral cutter, skewer sticks, curling ribbons, floral foams, pink roses, ivory hydrangeas, battery-operated taper candles, chandelier, paint stirring sticks and foam boards to do this project. The project will start by cutting the foam boards into 4 vertical pieces. The whole project is easier to do and will also be super cost-efficient. youtube
39. Floral Arch Stage Decor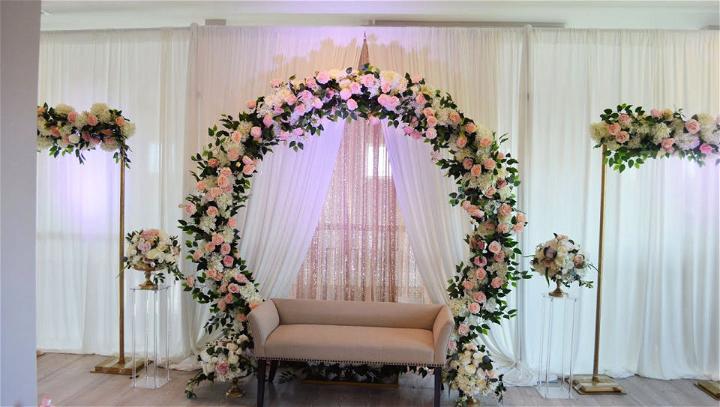 Grab here complete wedding decoration ideas to build DIY floral arch wedding stage decor and add a great background to a couple of photoshoots. In supplies, you need ficus leaves, hydrangeas, roses, 4 upright & 4 drape supports, 3 PVC pipe stands, 2.5 M. Arch, white curtains, rose gold curtains, ties, pool noodles to build this 20ft long wedding floral arch stage decor. One of the best DIY wedding decor ideas that are cost-efficient and much doable. This will surely make the whole wedding unforgettable, and you can also make this stage for various other events and parties. youtube
40. DIY White Floral Backdrop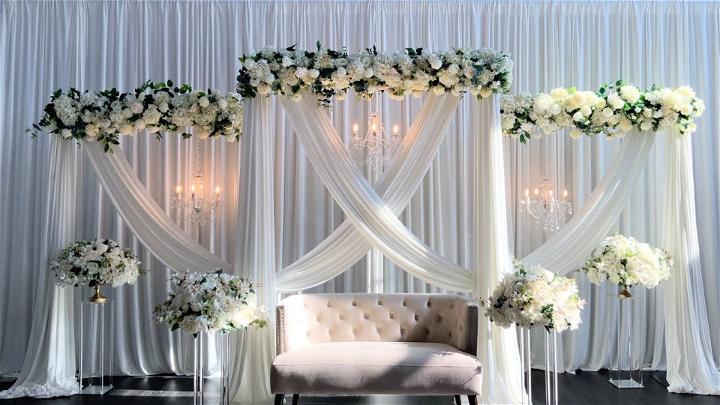 Find these cheap wedding decoration ideas with complete video guides to make a heavenly DIY white floral backdrop. It will make the whole wedding shine and bring tons of visual interest to your wedding photos. You need hydrangeas, 3 uprights, 2 drape supports, 2 backdrops, furring stripboard, and white curtains to build this super gorgeous and divine-looking white wedding floral backdrop; it will be a big love of all and is super beautiful to look at. You will love the way this backdrop will serve your wedding. The video guides will surely allow you to make no mistakes. youtube
Conclusion:
Many of us love to plan weddings and take great interest in decorating a home that will suit a particular wedding theme. So, if you are one of those who want to save money, get crafty and creative-minded persons, then this list of DIY wedding decoration ideas is for you. From making heavenly flower arrangements to whip up impressive wedding backdrops to making lovely table runners, you will get instructions for all.
You will get complete material, tools list, and detailed diagrams to build awesome wedding wreaths, light centerpieces, garlands, boutonniere, bouquets and much more. So, just read through all these diy wedding decoration ideas to learn, making all you have been bought expensive for your wedding decorations for years.