Human nature wants a change in everything, and this has generated the idea of redecorating. Yes, you can't keep up with the same look or fashion of clothing, jewelry, furniture, and other stuff you use in routine. So, get started on your decoupage experience with these 30 unique decoupage ideas! Just grab a bottle of Mod Podge and start making some of these Modge podge ideas. These creative decoupage ideas will allow you to transfer the custom paper and fabric prints to any targeted surface. These decoupage ideas will work great for wood, glass, metal, tin, papier mache, terracotta, and MDF, etc and plastic surfaces can be a little hard to get decoupaged.
See a big list of wonders you can do with the art of decoupaging by opening up this list of 25 amazing DIY decoupage ideas that will rock to remodel, redecorate, update and transform a variety of things, including furniture, utensils, and lots of other stuff. These ideas will be life-changing as they will help add a lot of visual interest to anything that is looking dull.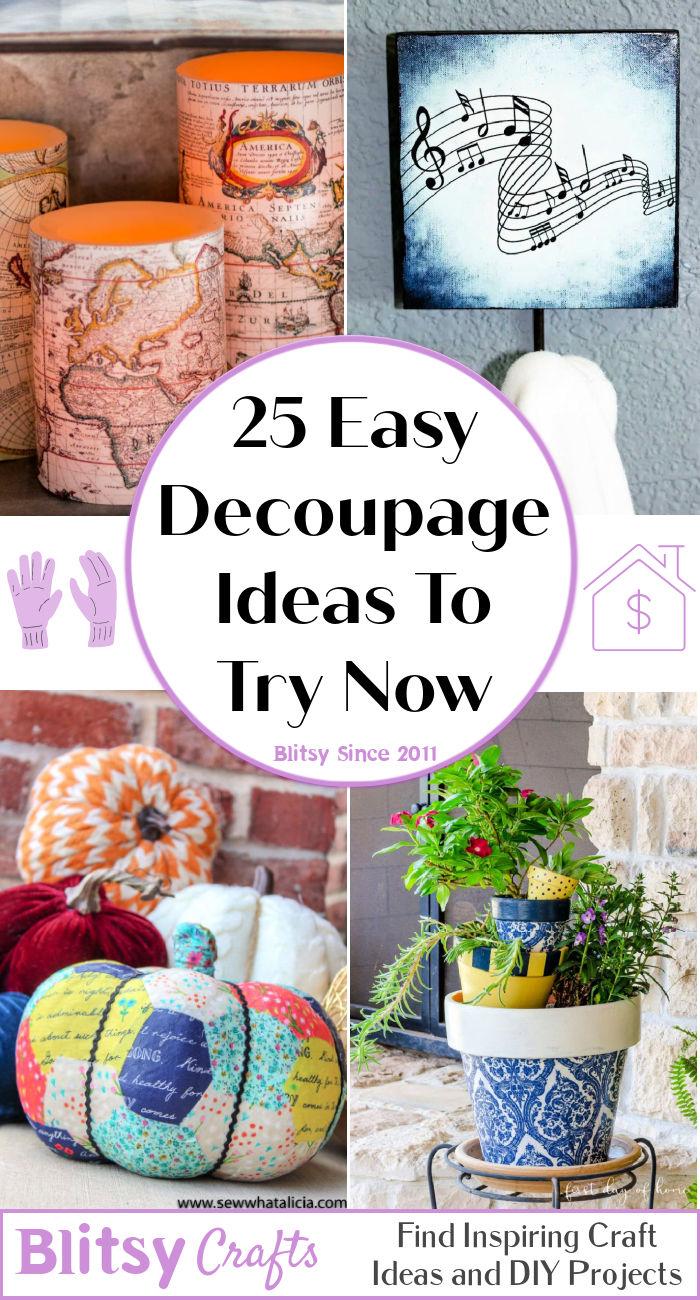 You need paper cutouts and fabric scraps, and even tissue papers to adhere to the surfaces. The mod-podge is the magical ingredient that allows the amazing transfer of prints on the targeted surface, so they look a part of them. Just grab your favorite photo, print a custom paper pattern cut, transfer it to any wood, glass, ceramic,c and metal surface for a personal decor touch. Explore all these DIY decoupage ideas to see lots of decoupaged surfaces more. Reading through all these decoupage crafts will add to your knowledge and creativity.
1. DIY Decoupage Letters with Fabric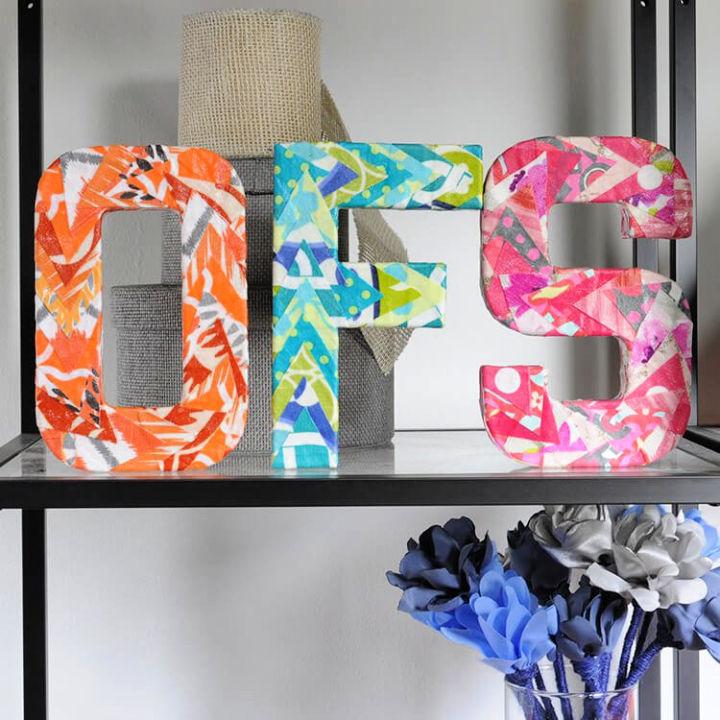 Don't let the old papers go into the trash. Use them to decorate lots of other things and surfaces. The idea is to go with the decoupage technique. You can use both paper and fabrics to decoupage the surfaces. So, you need scraps of fabrics, mod-podge, paintbrush, any object to decoupage, and a rotary cutter to easily complete this project. Here the cardboard letters have been decoupaged for a lovely-looking centerpiece. The easiest way to make a decorative letter centerpiece for your accent shelves. onlinefabricstore
Polymer Clay Crafts: If you are looking for polymer clay crafts then you are going to love today's post! Find 30 amazing polymer clay ideas with detailed free instructions.
2. DIY Decoupage Flower Pot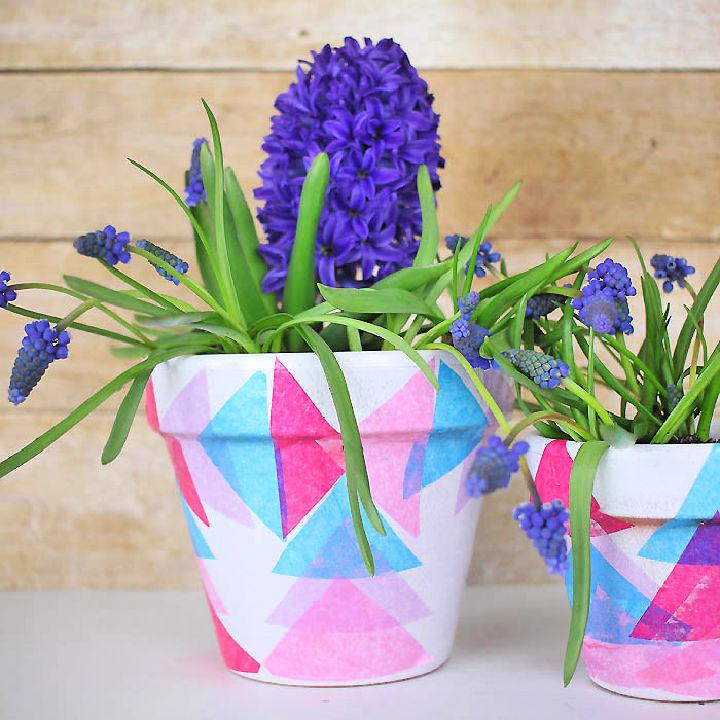 Use the art of these modge podge ideas to make innovative Mother's Day gifts also. Look at the given decoupaged flower pots, are not they beautiful? As you can see, the pots are decoupaged with colorful paper pieces that come together for an amazing geometrical pattern. You need terracotta flower pots, white spray paint, mod-podge, tissue paper in various colors, and some creativity to easily decoupage the pots. Coat the pots with white spray paint and then decoupage with colorful tissue paper triangles that can be put together to make lots of geometrical patterns. One of the best ways to update your old and boring-looking patio pots. gina michele
3. Antique World Map Decoupage Candles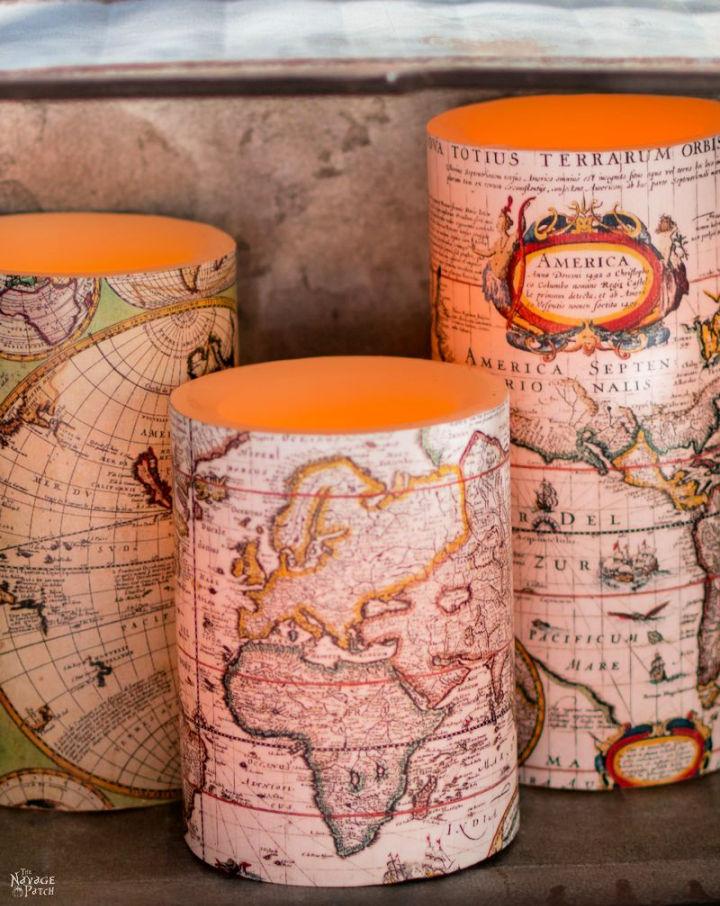 You can use any type of old paper for your modge podge ideas. Here the map papers are used to create these antique candles. Place them on any accent shelf or table for bigger decor statements. The best and quick-to-make rustic light decors that everyone can make in no time. The project will share the two methods here to make these decoupaged antique candles. One method is to spread the glue on the glass, and another method is all about spreading glue on the paper. Just cut the map papers to be perfect around the glass votives and then layer glue on them to adhere around the votives. thenavagepatch
4. Decoupage Wall Art for Beginners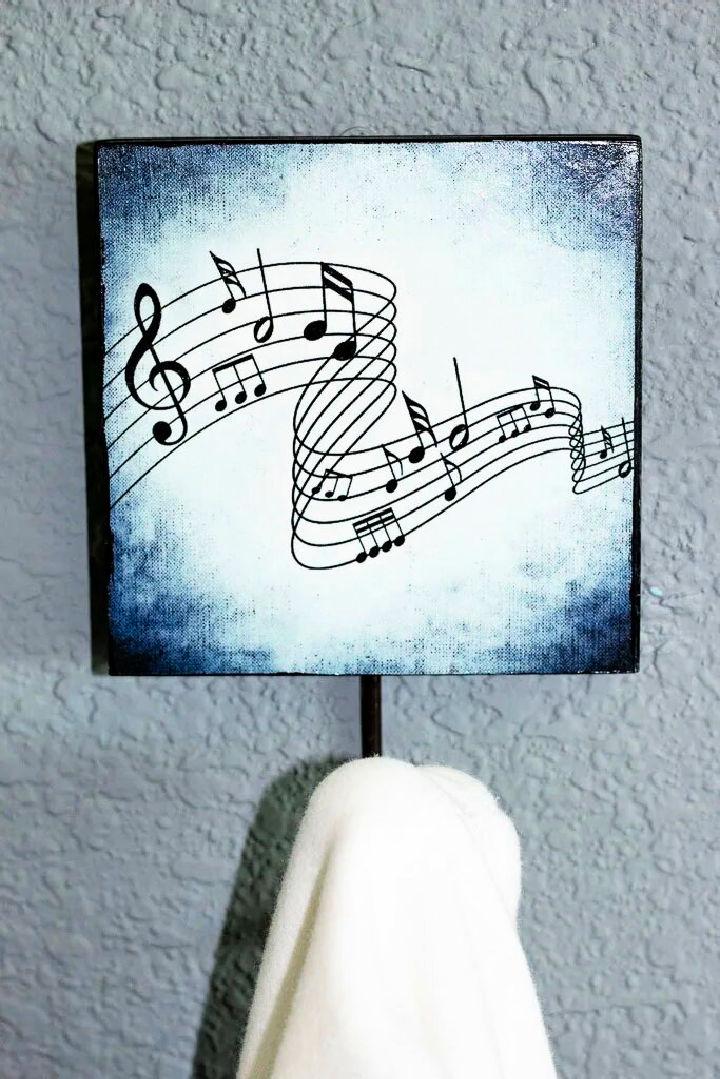 Decoupage allows you to make interesting wall art signs and pieces also. Get inspired by these decoupage ideas to make upcycled chevron wall art signs that will work great to bring grace to any boring and blank interior wall. The whole project is more than easier to do and is a creative way also to keep using your old wall decors. You need mod-podge, cardstock, trimmer, acrylic or chalk paint, and a printer to easily whip up these decoupage wall art signs. Here the chevron signs have been replaced with the other custom prints, which also creates too much fun. leapoffaithcrafting
5. Decoupage a Pumpkin with Fabric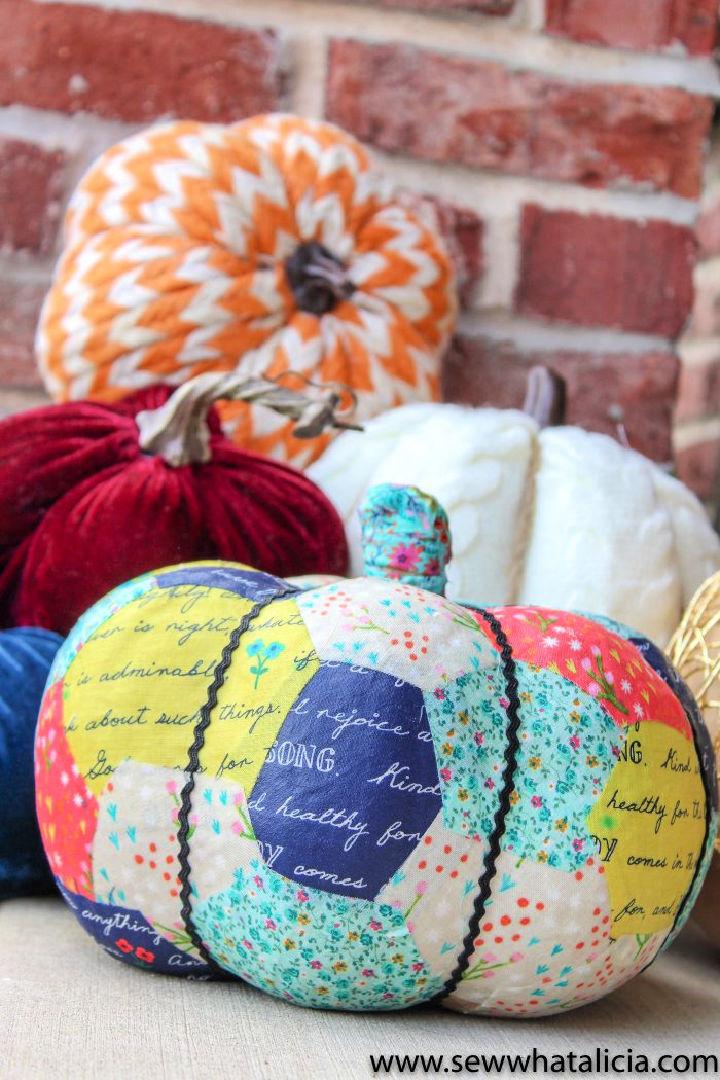 The pumpkins are one of the cutest items to feature in both Halloween and fall decors. So, you can decoupage the pumpkins also to match them with the other fall and winter decors. Grab here complete instructions and visual guides about how to decoupage a pumpkin using fabrics of choice. Here the quilt-inspired pumpkins are created by way of decoupaging. The project is more than easy and quick to do and will help you create any custom look of the pumpkin you are looking for an exclusive decor plan. You need paper mache pumpkin, mod-podge, paintbrush, and fabric hexies to easily duplicate these pumpkins. polkadotchair
6. Postage Stamp Decoupage Jar Tea Lights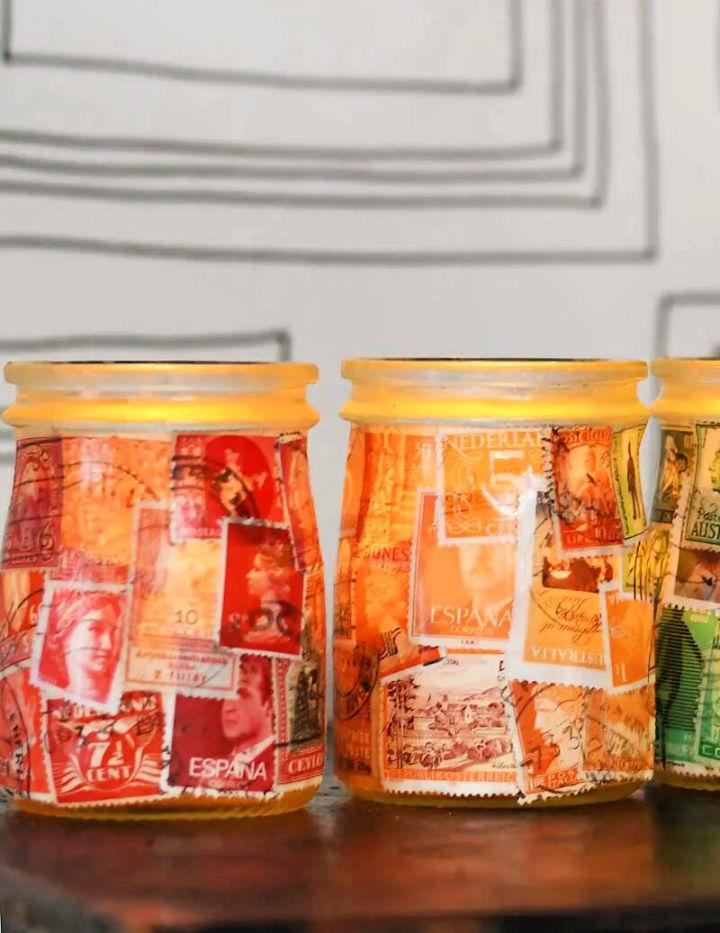 Sorting out the brilliant light decors for your tea and dining tables? Then create the postage stamp decoupage jar tea lights that will be ready at a fraction of cost. You need an assortment of used international postage stamps, small glass jars, mod-podge, foam craft brush, remote-controlled electronic tea lights, and come creativity to easily duplicate these awesome-looking tea lights. The best light decors to make in no time and without getting a bit expensive. A creative DIY Mason jar lantern idea. pillarboxblue
7. Decoupage Flower Pots with Napkins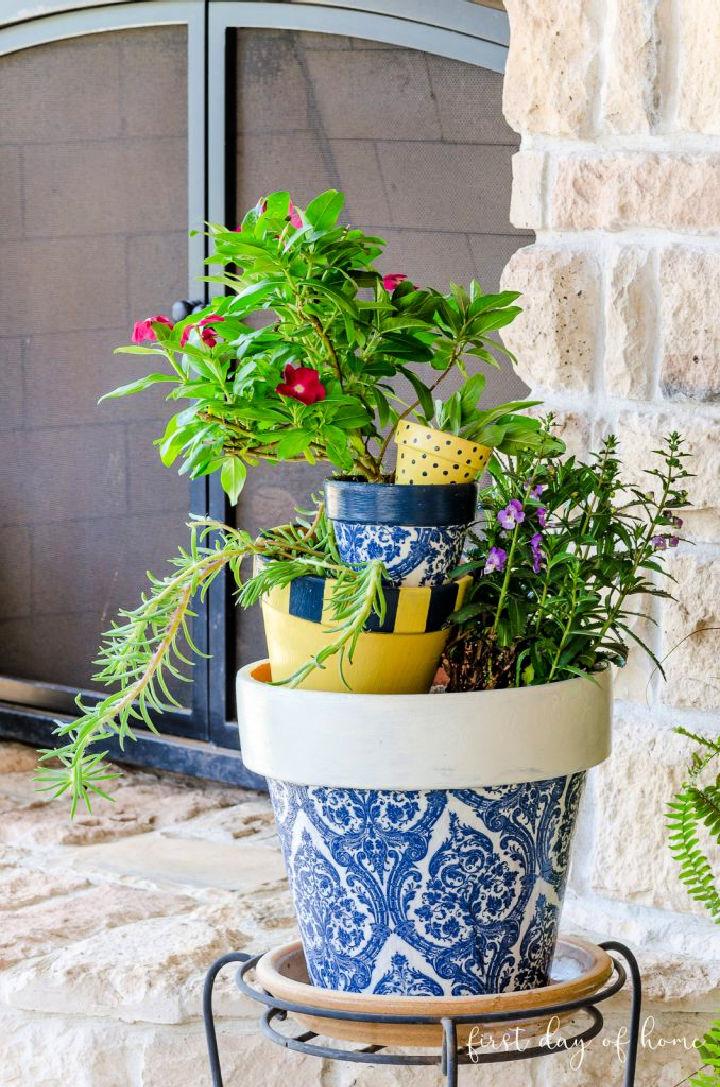 Do your pots are matching to the new patio decor theme? Have they become dull due to weathering? Then time to update them using these decoupage ideas. Get here genius tricks about decoupling flower pots with napkins, so they will look attractive again. Seal the inside of the pots first, then paint the terracotta pots for a custom base look. Next, decoupage the pots with napkins. Use a paintbrush and mod-podge to easily layer them around the pots without any crease. firstdayofhome
8. Homemade Decoupage Mini Photo Frame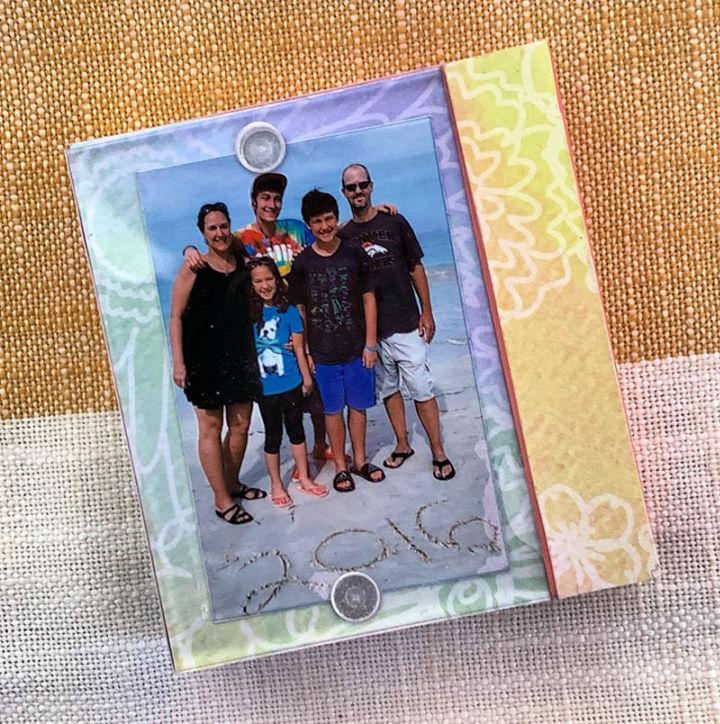 Using fabric scraps, tissue paper, and all sorts of papers, you can simply decoupage anything on your desire list. Here the patterned papers are used to create an enchanting decoupaged border of the photo frames. This makes the photo frames look attractive again. A creative trick to match or contrast the frames with the wall patterns and paint colors. You need a photo frame, patterned paper, mod-podge, and paintbrush to do this project. You have the freedom to use custom decorative papers, coloring pages, and also tissue papers. One of the easiest DIY decoupage projects ever. 100directions
9. DIY Decoupage Floral Bag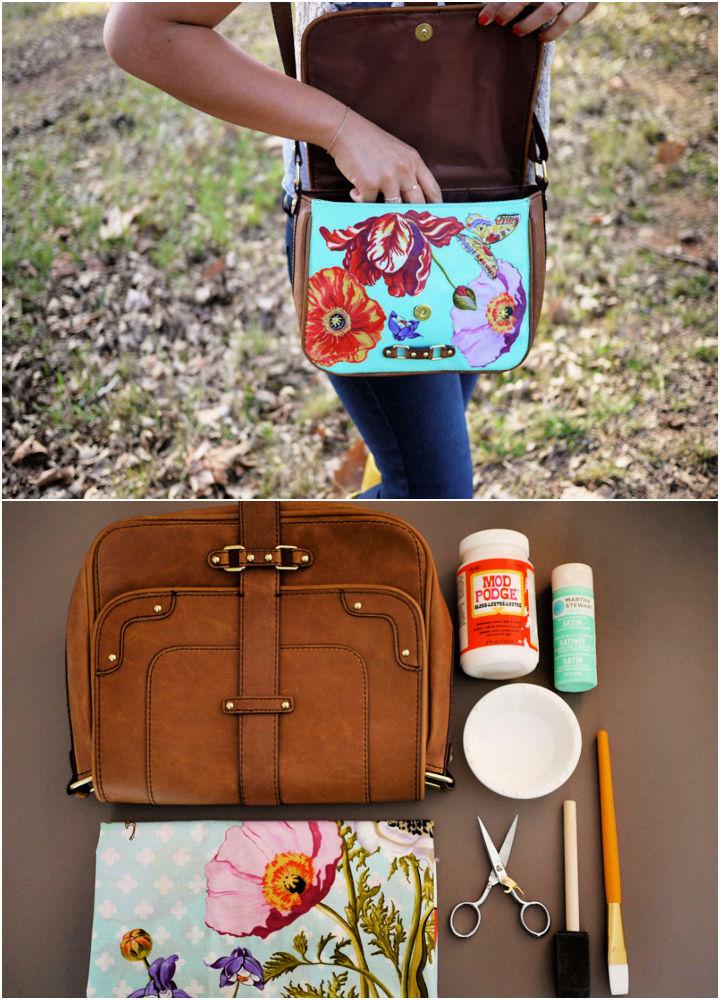 Give your fashion accessories a glam personal touch also by using the decoupage art. Here a handbag is graced up with a decoupaged floral pattern, and this brings tons of visual charm and grace to the handbag. The fabric with large floral prints is used for this decoupaging project, sure to be a big love of all. In supplies, you need a handbag, cotton fabric with a large floral pattern, mod-podge, craft paint, 2 small plastic sides, 2 brushes, and scissors to easily whip up this gorgeous handbag. One of the craziest DIY mod-podge projects ever done. honestlywtf
10. How to Make Decoupage Pumpkins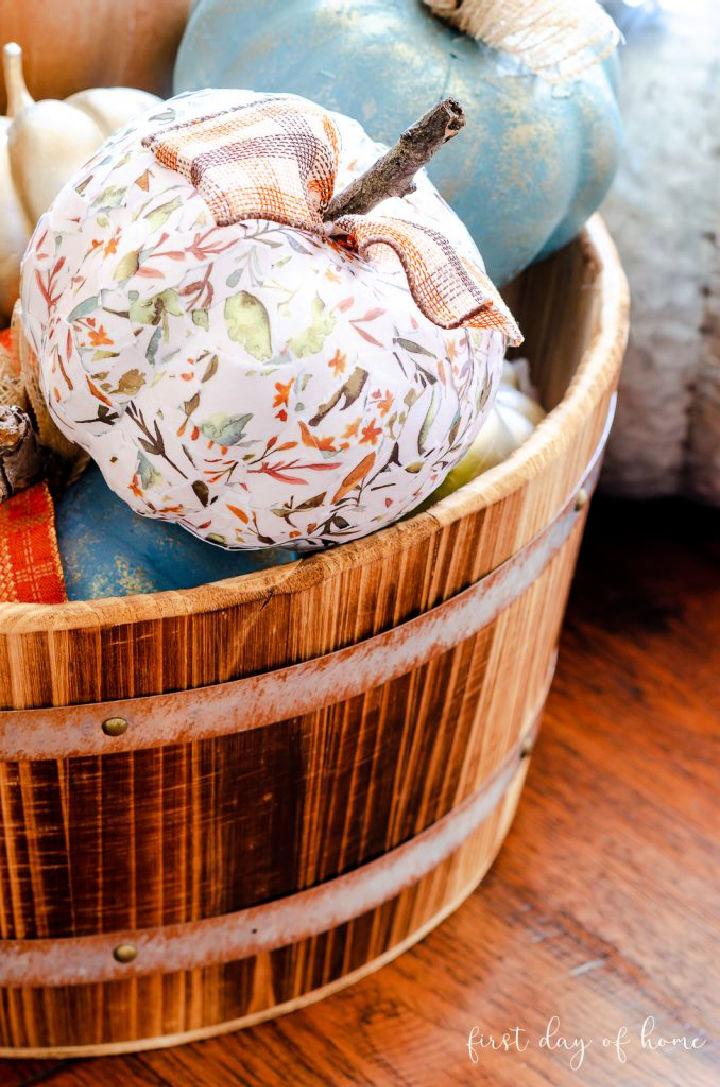 Are you brainstorming about the new innovative ways to use pumpkins for the impressive fall and Halloween decors? Then time to consider decoupaging the pumpkins. This will allow you to create any printed, patterned, and colored appeal of the pumpkins that will be long-lasting too. You need foam pumpkins, seasonal scrapbook paper, acrylic paint, mod-podge, paintbrushes, and stems of pumpkins to decoupage these pumpkins here, will be a big love of all. The project is more than easier to do and can be a smarter way to keep using your old pumpkins for some new and innovative fall decors. firstdayofhome
11. Decoupage Fabric Glass Plates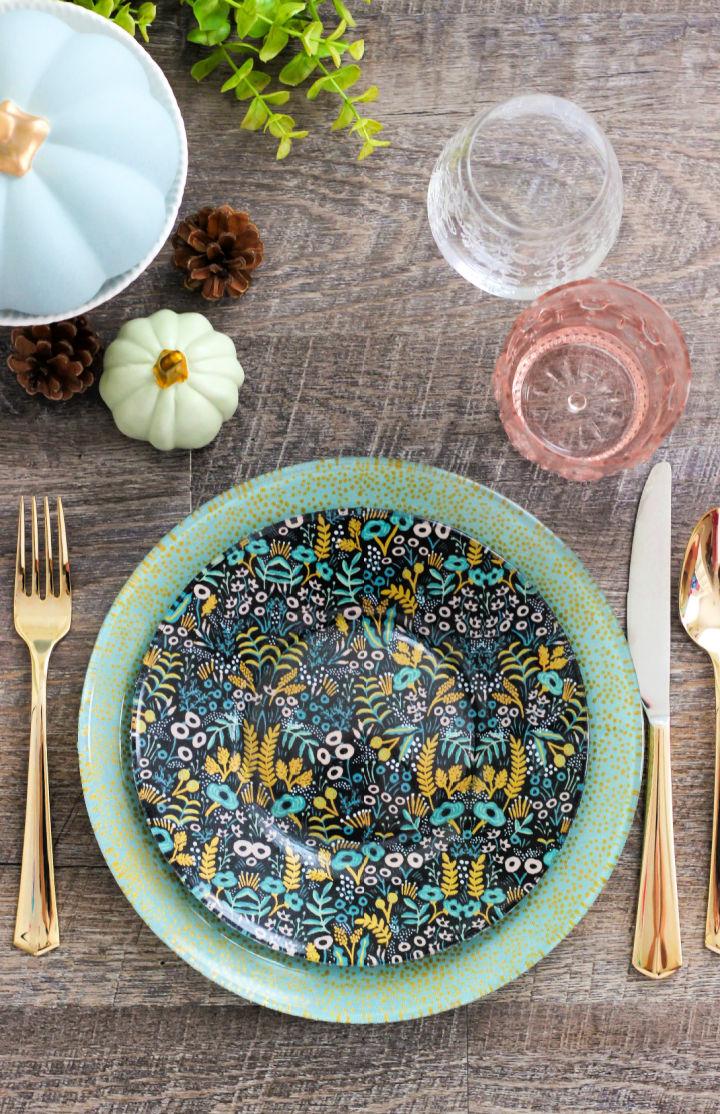 There is a big range of materials and surfaces the decoupaging is applicable. Decorate the glass materials also by using the art of decoupaging. So, you can change the look of any boring glass material you have got bored with. This project will involve decoupaging a glass plate using a custom fabric, creating an amazing final appeal of the entire plate. You need fabric, dishwasher-safe decoupage, glass plates, paintbrush, and scissors to easily duplicate these fabric glass plates. One of the best and quick-to-do DIY decoupaging projects that every beginner can do. purelykatie
12. Restyle Dresser with Photo Decoupage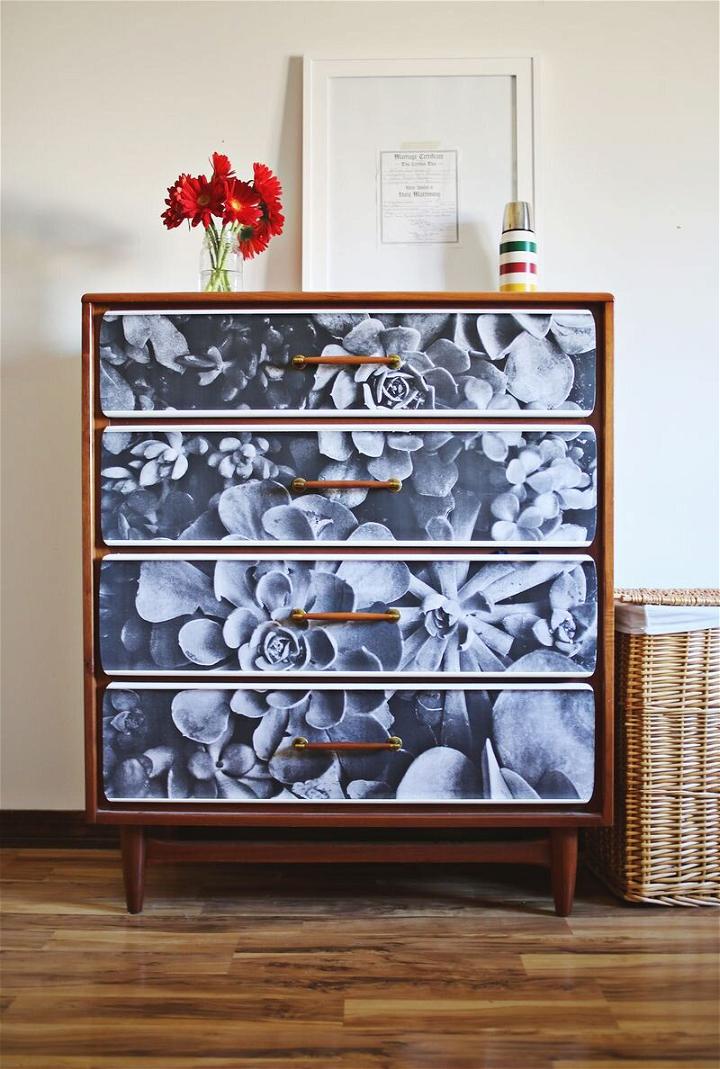 Restyle your old furniture also by giving a decoupage treatment. It will allow you to feature any custom pattern and print on the surfaces of your targeted furniture item. Here the drawer fronts of a chest of drawers have been decoupaged with a black & white floral print. The project will not take that too long to complete and will also cost you next to nothing. You need a blueprint copy of a photo, scrap paper, royal coat decoupage finish, foam brushes, and an x-acto knife to easily do this project. Cut the photo print pieces to the size of drawer fronts and then decoupage them in place. abeautifulmess
13. Art Book Decoupaged Coffee Table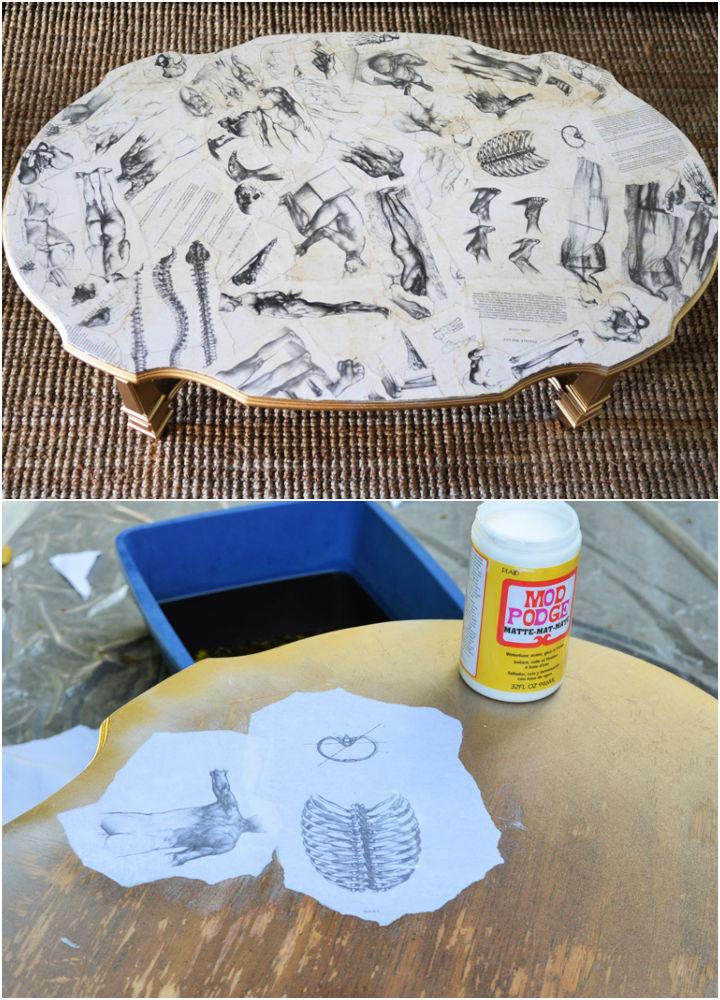 Have you got bored of the same look of your coffee tables, often to place in the center of a living room sofa set? If you are thinking about replacing it with a new one, then redecorating your table is recommended. It will surely make you skip the expensive table purchases. Here an old coffee table is decoupaged with the old art book pages and looks amazingly beautiful. You can do so with any of your coffee tables while choosing papers or fabrics with your favorite print or patterns on them. You need mod-podge or white glue, book pages, spray paint, spray paint primer, polyacrylic protective finish, paintbrush, Exacto or razor blade, drop cloth, and a coffee table to complete this project. mrkate
14. Easy Decoupaged Pot Craft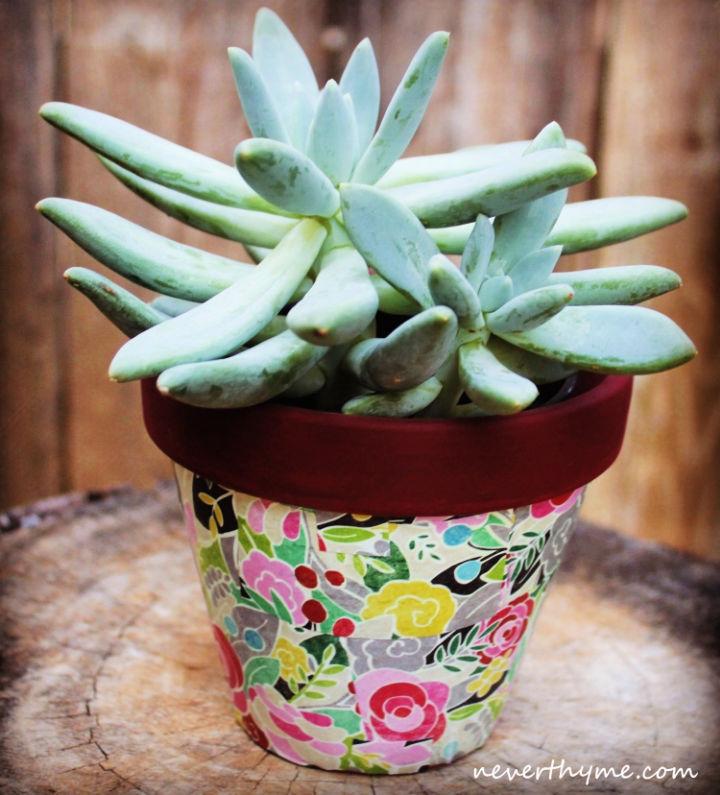 Doing a garden or patio renovation often starts by adding new decorative pots. But what to do with your old patio pots? You can simply redecorate them to use as new beautiful patio pots. However, you can easily update the old and boring pots by way of decoupaging. This will be an easy and cost-effective way to create a new fetching appeal for the patio pots. You have here the freedom to use any paper or fabric for decoupaging. You need a clean and dry pot, scissors, paper or tissue paper, and mod-podge to complete this project. neverthyme
15. Make a Decoupage Wall Art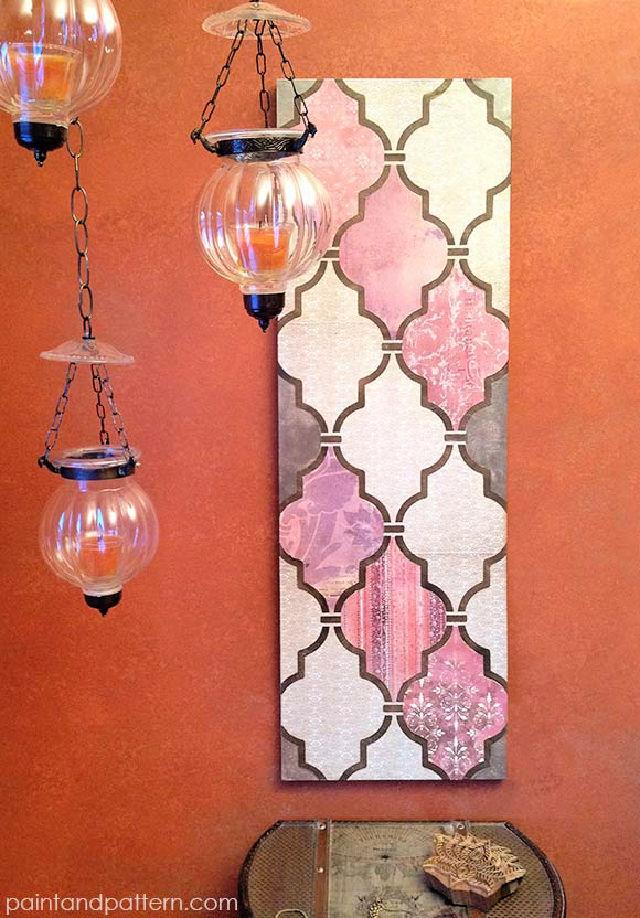 Create that exotic new look of your interior home walls by adding these decoupage wall pieces. You have the freedom to stencil the MDF board lengths or decoupage them with the papers or fabric having custom prints to make these wall art pieces. Mainly, you need a 12″ x 36″ MDF shelf, acrylic paints, patterned scrapbook papers, template, protective surface for cutting and foam brush, etc to easily duplicate these wall art signs, sure to be a big love of all. paintandpattern
16. DIY Decoupage Tabletop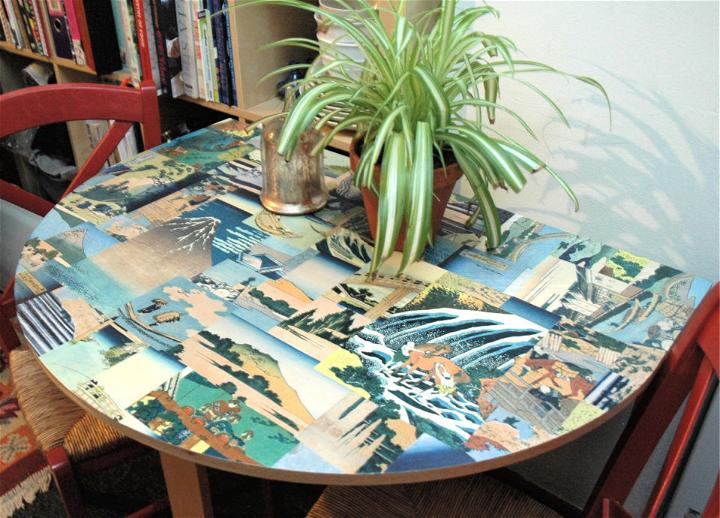 Update the old furniture surfaces by doing a decoupage makeover of them. This will help to transform your tables into totally something new and impressive. In this project, you will learn to decoupage a coffee table while using custom paper cutouts and prints. Sanding the coffee table smooth and giving them base coats is recommended before you start doing the decorative decoupage treatment. You need coarse sandpaper, PVA glue, scissors, paintbrush, tea towel, scalpel, and clear varnish to easily update a coffee table's old and boring look. styleandinfluence
17. Beautiful Decoupage Shell Dish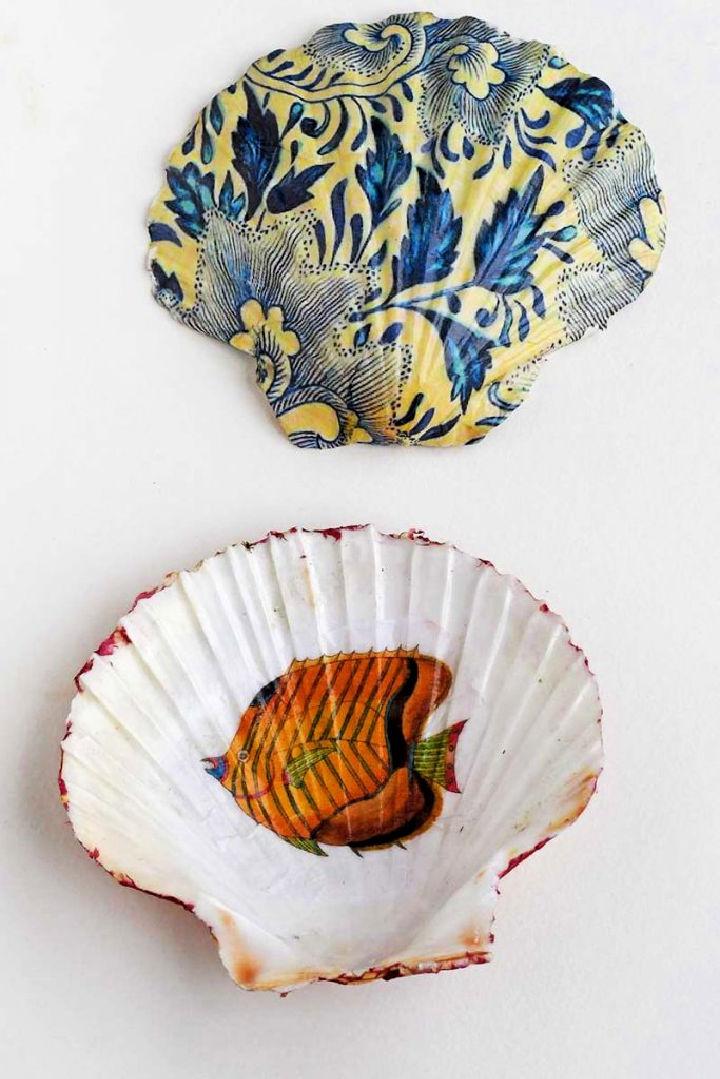 Decoupaging is a brilliant form of art that helps you make all from amazing gifts to impressive decors. It also allows you to easily update and old and boring stuff for instant grace and beauty. Learn here to build a decoupage shell dish that is super gift-worthy also. To make this decorative shell dish, you need scallop shells, mod-podge, white tissue paper, and masking tape. The whole project is easier to do, even for a beginner, and everyone will love creating this decorative shell dish. You can do this decorative makeover of any plate you are having in the kitchen. pictureboxblue
18. How to Decoupage a Cigar Box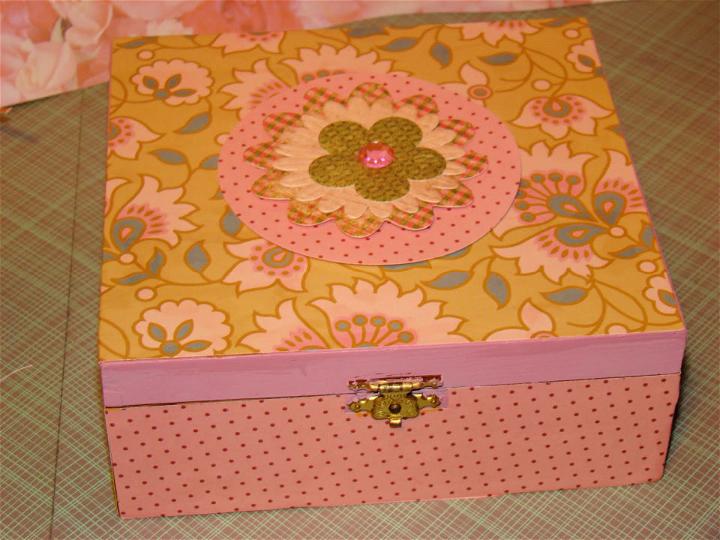 You will love the new look and appeal of this redecorated cigar box, crazily easy and quick to build. The newly decorated cigar box is a big center of attention, and it will brilliantly hold all your expensive jewelry and other items you want to treasure. The idea is to use your favorite decorative papers or fabrics to decoupage the surfaces of this cigar box, quite something beautiful and lovely to look at. The project is more than easier to do and will complete simply in no time also. Here the inside of the box is also decorated in the same way1. bubblegum
19. Decoupage Napkin Flowers on Glass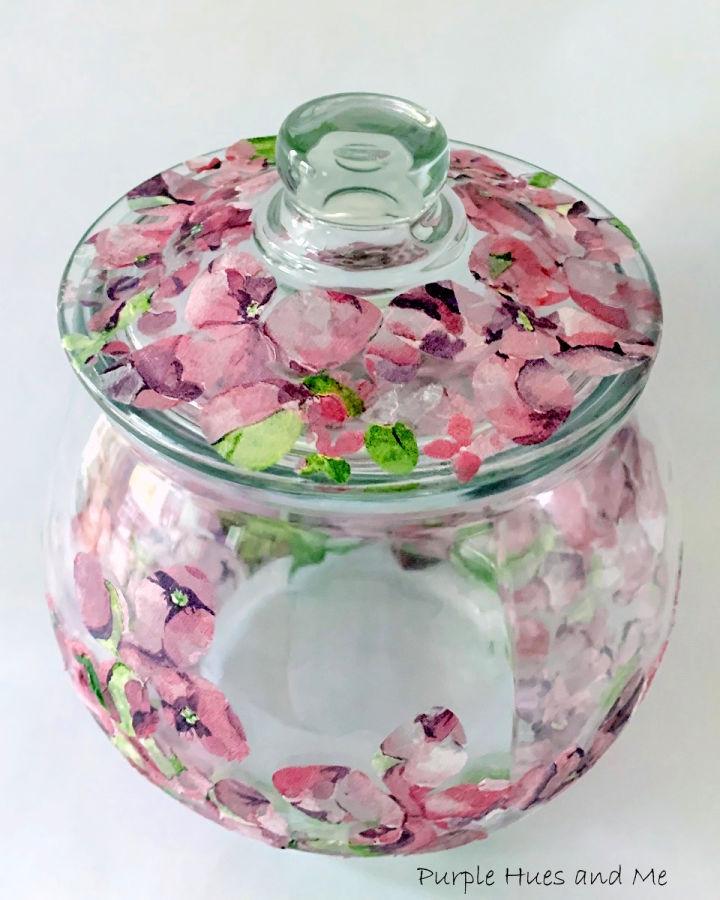 The glass is always delicate to do some decoupaging projects. So, this project here will allow you to easily decoupage the glass surfaces using the napkin flowers. The finally completed glass jar looks just amazing and will surely impress the guests. To do this project, you need a glass container, rubbing alcohol, decorative hydrangeas paper napkins, hydrangeas petal paper punch, matte mod-podge or dishwasher-safe MP, small soft paintbrush, printer paper, and skewer stick to doing this project. One of the best and quick-to-do DIY projects that beginners can do with ease. purplehuesandme
20. How to Decoupage a Glass Jar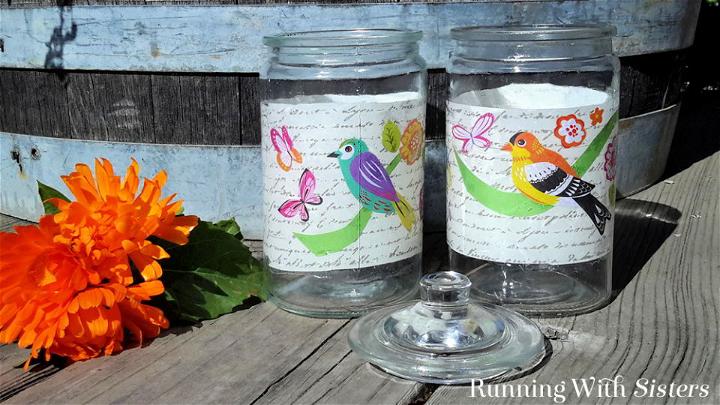 Don't know how to decoupage glass? Learn here the pro decoupaging glass jar tips and fancy up your favorite glass jars and containers. This project will share all the secrets for glass decoupaging, and the final completed jar will surely impress everyone. You need a jar, pretty scrapbook papers, mod-podge, scissors, masking tape, pencil, and craft paintbrush to easily whip up this decoupage glass jar. The whole project is more than easier to do, and the final completed jar also makes a sweet handmade gift. One of the best and quick-to-do DIY project ideas. runningwithsisters
21. Decoupage Coasters with Wood Slices and Napkins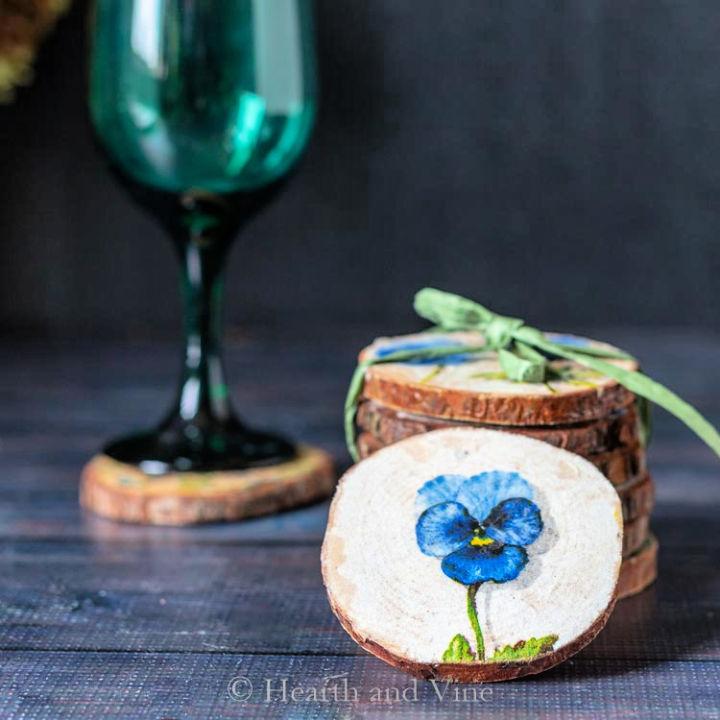 You can decoupage the wood slices also to make lovely coasters, sure to be an impressive addition to your party tables. Here you need the wood slices, mod-podge, sandpaper, decorative napkins, and Dremel style+ to duplicate these coasters. The coasters will also make a great housewarming gift and will be there on your table simply in no time. This is here the easiest and beautiful way to transfer your favorite prints on the wood surfaces. You can experiment with this project with custom photos and geometrical prints also. hearthandvine
22. DIY Decoupage Drinking Glass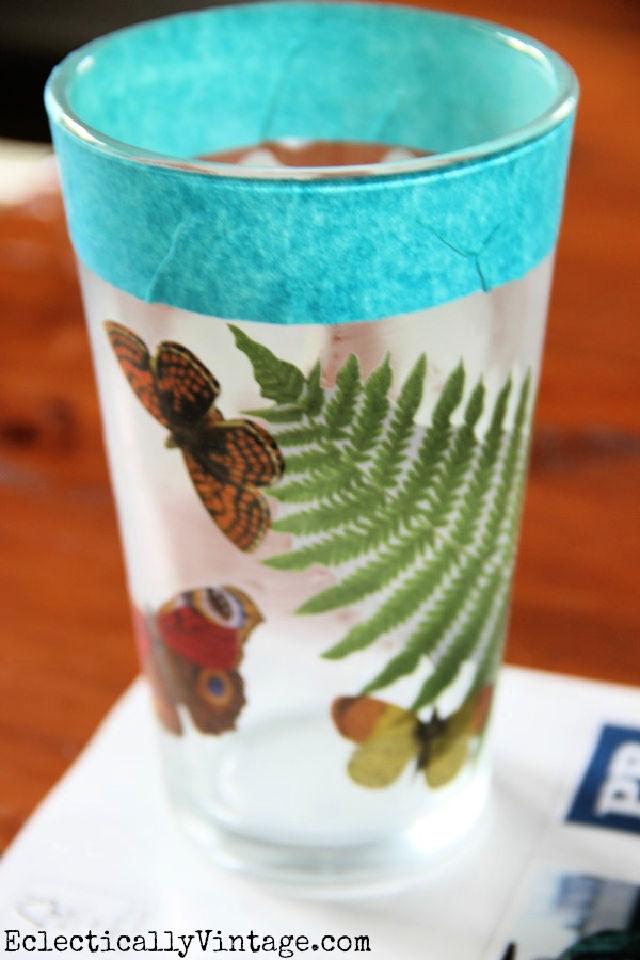 You can easily spice up the glass items with your favorite prints using these decoupage ideas. It allows you to get very genuine results, and here you will learn all about transferring your favorite art and prints on the glass surfaces. This can be an amazing way to make amusing mug or glass gifts for your favorite and beloved persons in the home. Here the custom green leaves and butterflies have been transferred on the outside of a glass. This creates a beautiful and handsome appeal for the entire glass. kellyelko
23. French Fabric Decoupage Dresser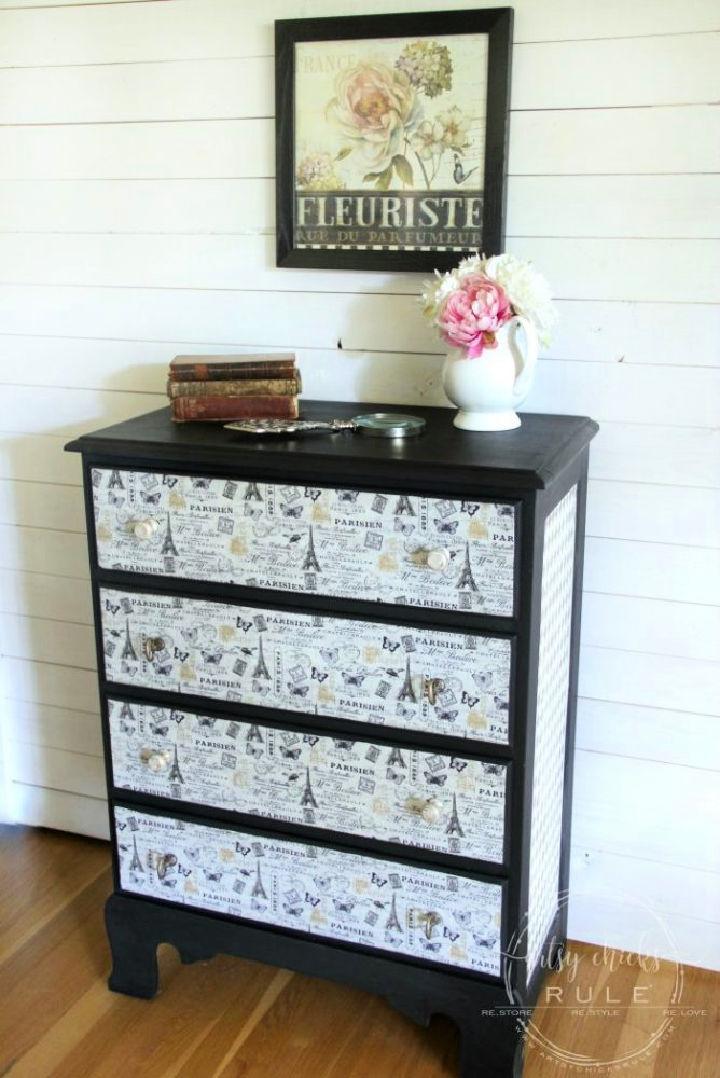 Are you new to fabric decoupage and willing to redecorate your furniture with fabric decoupaging? Then this project is the best place for you to learn all the decoupage fabric secrets. Here an old dresser table is decorated by way of fabric decoupage, and this creates a stunning appeal of the entire dresser table. The idea is to decoupage the sides and drawer fronts of the dresser table using your favorite fabric. You need fabric of choice, mod-podge, x-acto knife, poly, graphite chalk paint, white chalk-style paint, gold paint, wax, and stencil to easily do this decoupage-based furniture makeover. artsychicksrule
24. Tissue Paper Decoupage Decorative Plate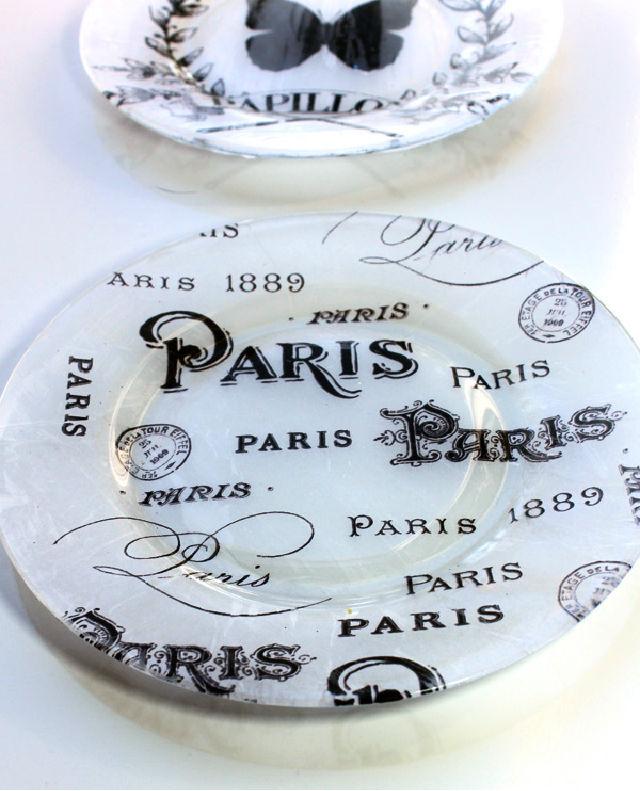 Everyone has the wish to display the custom names and art on the dishware. So, in this project, you will learn here to transfer your favorite letters, art, and logos on the plates using the decoupage medium. The required supplies for the project will be mod-podge, sanding block, glass plate, paintbrush, and tissue paper transfer. The project may look intimidating to do but is fairly easy and quick to do with beginner skills. Read through the entire project to learn some hidden decoupage transfer tricks more. thegraphicsfairy
25. DIY Decoupage Flower Pumpkins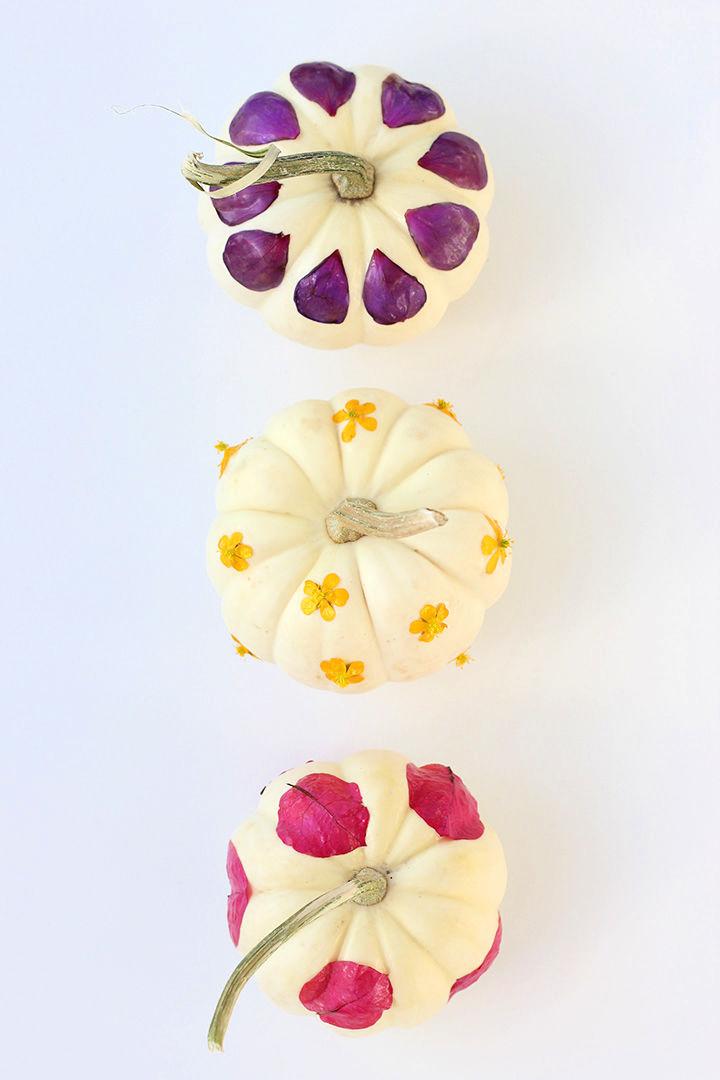 The pumpkins are the most loved items to feature in the fall decors. However, you can spice up this game by adding custom flower prints on the pumpkins. This can easily be done using the decoupage art. Look at the sample pumpkins to get your creativity inspired. You need white pumpkins, foraged flowers, mod-podge, and paintbrushes to easily duplicate these decorative pumpkins. Just put the colorful flower petal all around the pumpkins and mod-podge them in place to get the job done. aliceandlois
Conclusion:
Things get old with time. But that does not mean you should throw them away. After a little decorative makeover using these decoupage ideas, they can be back in beauty again. So, you can try decoupage medium for unlimited redecorating possibilities. Yes, this art will allow you to transfer any fabric or photo print on your favorite surface just at the drop of a hat.
Explore these DIY decoupage ideas and learn all about decoupling. The project will share the complete supply lists and tool lists and provide comprehensive written and visual guides to easily understand the art of decoupage. So, check all the decoupage ideas to become a decoupaging expert and see what kind of project you can do with this form of art.