Crochet witch hats have become a popular and fashionable accessory, perfect for adding a magical touch to any outfit or costume. Discover 25 free crochet witch hat patterns that cater to all skill levels, from novices to seasoned crocheters. These creative crochet witch hat patterns feature various designs, such as modern witch hats, twisted witch hats, and floppy witch hats, suitable for women, men, kids, and adults of all ages.
Each crochet witch hat pattern has detailed instructions and a step-by-step guide, ensuring a smooth and enjoyable crocheting experience. You'll also find helpful illustrations, pdf files, and video tutorials to cater to various learning preferences. Some patterns even include options for mini witch hats or crochet witch hats for cats, adding an extra touch of enchantment to your creations.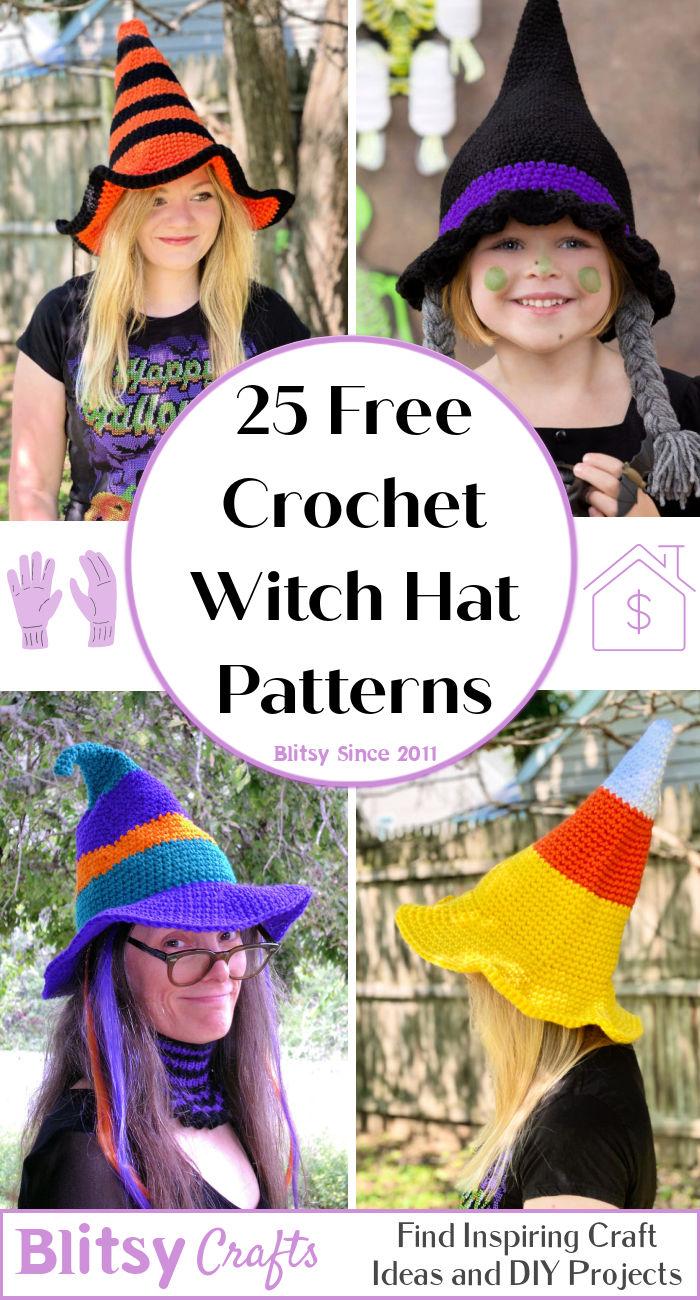 So, gather your crochet hook, yarn, and other supplies, and embark on a magical journey of crafting your very own crochet witch hat. Choose from the wide range of free crochet witch hat patterns available, and create a unique and spellbinding accessory that will impress you. With these captivating crochet witch hat patterns, you'll be ready to add a touch of alluring charm to any outfit or occasion!
1. Crochet Wicked Stripes Witch Hat Pattern for Adults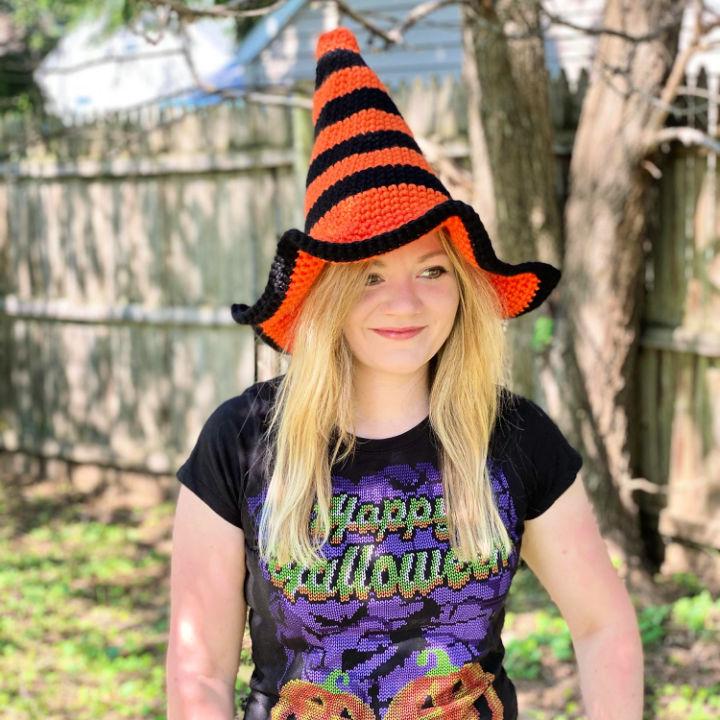 This crochet wicked stripes witch hat pattern for adults is perfect for eager costume makers! With these DIY instructions that are easy to follow, crocheters of all levels will be able to create this fun and festive accessory. The pattern comes in both kid's and adult sizes, so you can customize the look with different colors and embellishments. All you need are a size L-11 / 8mm crochet hook, Oakland black yarn (adult Size: 2 skeins – 160 yds; Kids Size: 2 skeins – 130 yds), scissors, and a yarn needle with large eye – it's never been easier to dress up as your favorite witch this Halloween! craftykittycrochet
2. Free Crochet Bewitching Hat Pattern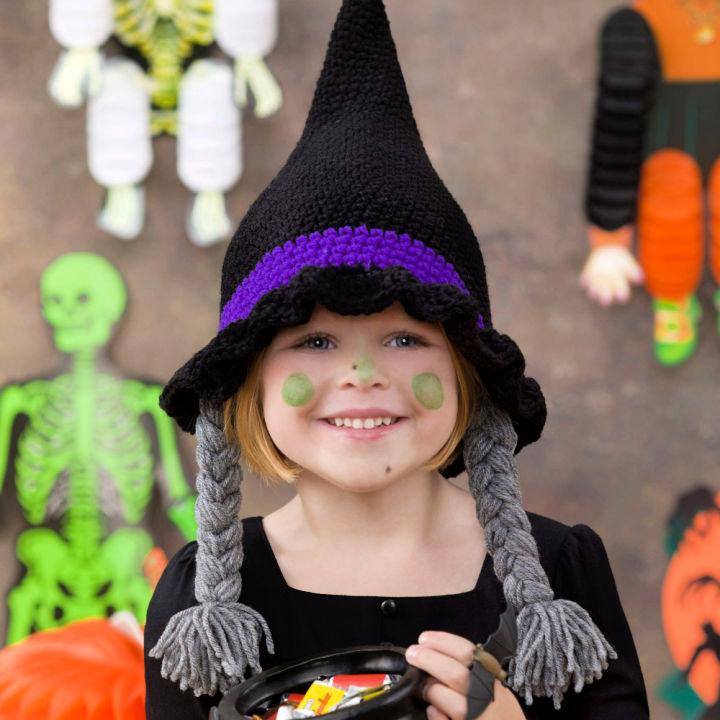 Get ready to make a bewitching hat that is perfect for the Halloween season with this free crochet witch hat pattern! The hat measures 20″ in circumference and 14″ tall. You can use Red Heart 400 Grey Heather B and 356 Amethyst C to complete this project, as well as a crochet hook, yarn needle, and 45 rounds. This hat is sure to be charming and classy – an essential piece of your Halloween wardrobe! yarnspirations
3. Free Crochet Velvet Witch Hat Pattern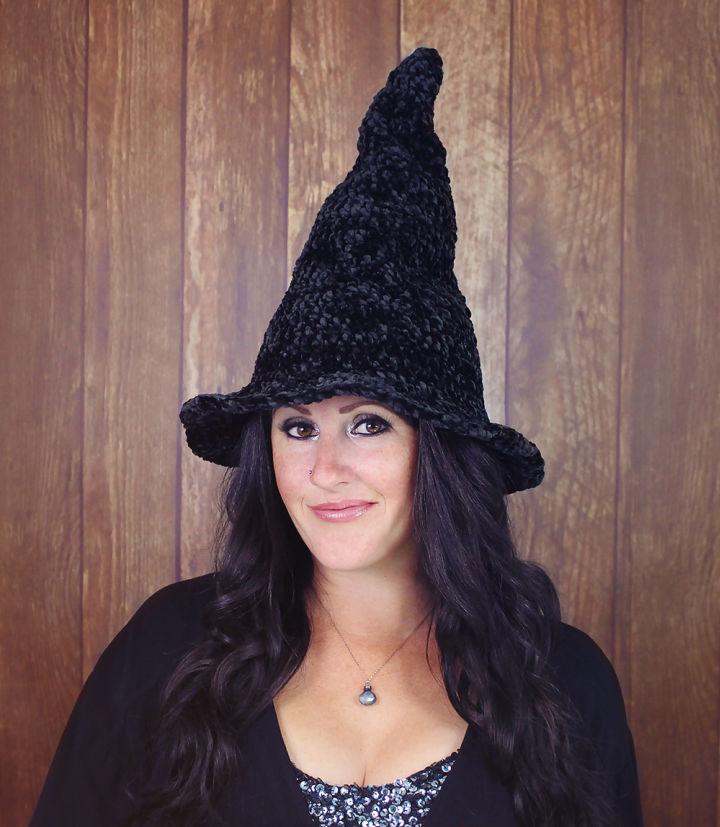 This free crochet velvet witch hat pattern makes bedtime a bit more magical. Perfect for Halloween costumes or just snuggling up at home, this hat is made in soft, plush velvet and features a tall pointy top that makes you feel like the most powerful witch! The measurements are 17″ long (from the top to the brim edge) and 21″ circumference before the brim. Follow the instructions provided by this link to create your own beautiful velvet witch hat today! gleefulthings
4. Crochet Candy Corn Witch Hat Pattern for Kids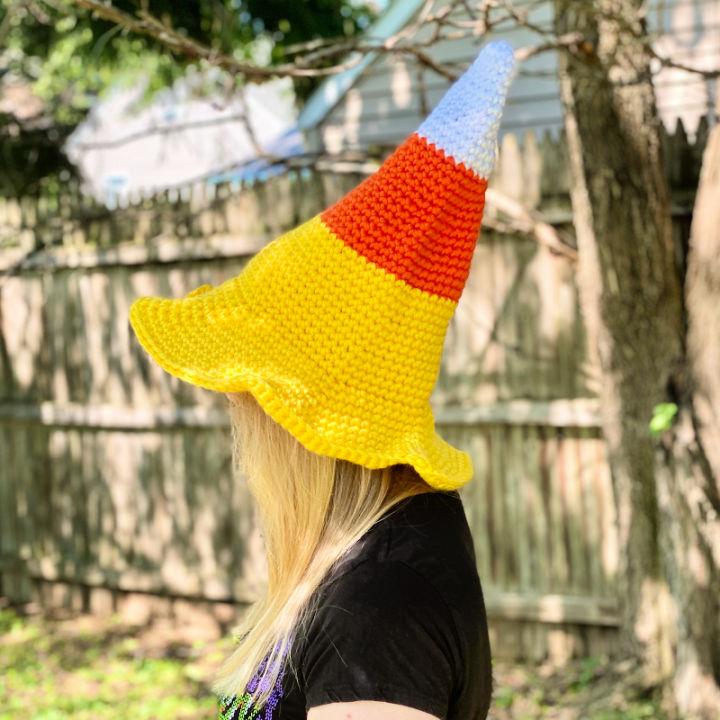 Welcome to the perfect Halloween accessory! This crochet candy corn witch hat pattern for kids and toddlers is a great way to get creative with your family's matching costumes. With three sizes available, it will fit everyone in the family. The lion brand hometown USA yarn will give each hat just the right size and texture you need! The colors are bright and vibrant, while the stitches are beautifully defined. Plus, choose from kids (15-inch length; 20-inch head circumference) or toddler (14-inch length; 18-19-inch head circumference) sizes so everyone can enjoy this fun seasonal pattern! craftykittycrochet
5. How to Crochet Wizard Hat – Free Pattern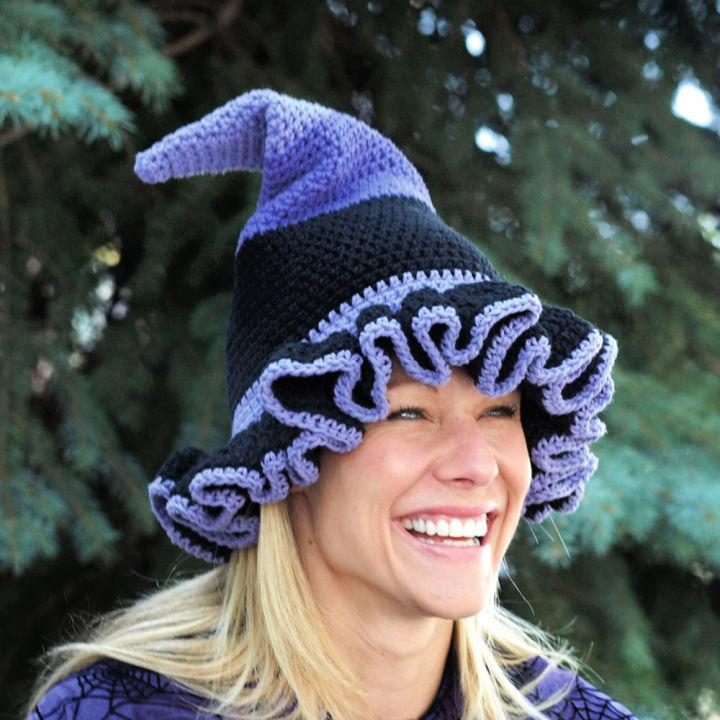 Create a unique and stylish look for yourself with this free crochet wizard hat pattern. This easy-to-follow guide will have you making an adorable, fashionable, and cute hat in no time! Get step-by-step instructions on how to crochet the perfect wizard hat – from start to finish. With detailed diagrams and helpful tips, you'll be able to craft your own aesthetically pleasing accessory that is sure to stand out! Make a statement with this free pattern today. yarnspirations
6. Charming Crochet Mini Witch Hat Pattern

Make your autumn extra special with this charming crochet mini witch hat pattern. All you need is Red Heart super saver yarn, Susan Bates crochet hooks and a yarn needle. Choose from three colors of Pretty 'N Pink A and Amethyst B for the hat, or add an additional color like Pumpkin C to make the shawl too! Get creative with sizes by adjusting your gauge with the smaller hook size for the hat. Have fun making fashion even more personal when you craft something yourself – enjoy! yarnspirations
7. Free Crochet Sunflower Witch Hat Pattern

Transform yourself into a bewitching creature this Halloween with this free crochet sunflower witch hat pattern! Easily make a DIY costume for adults, kids and toddlers – instructions included. Embellish the hat with fun designs like flowers and netting to customize it for the little ones or yourself. Follow this simple pattern to bring out your inner crafty spirit and show off your spooky style! Get ready to cast a spell of creativity with this unique DIY project that's sure to bewitch everyone who sees it. craftykittycrochet
8. Colorful Crochet the Whimsical Witch Hat Pattern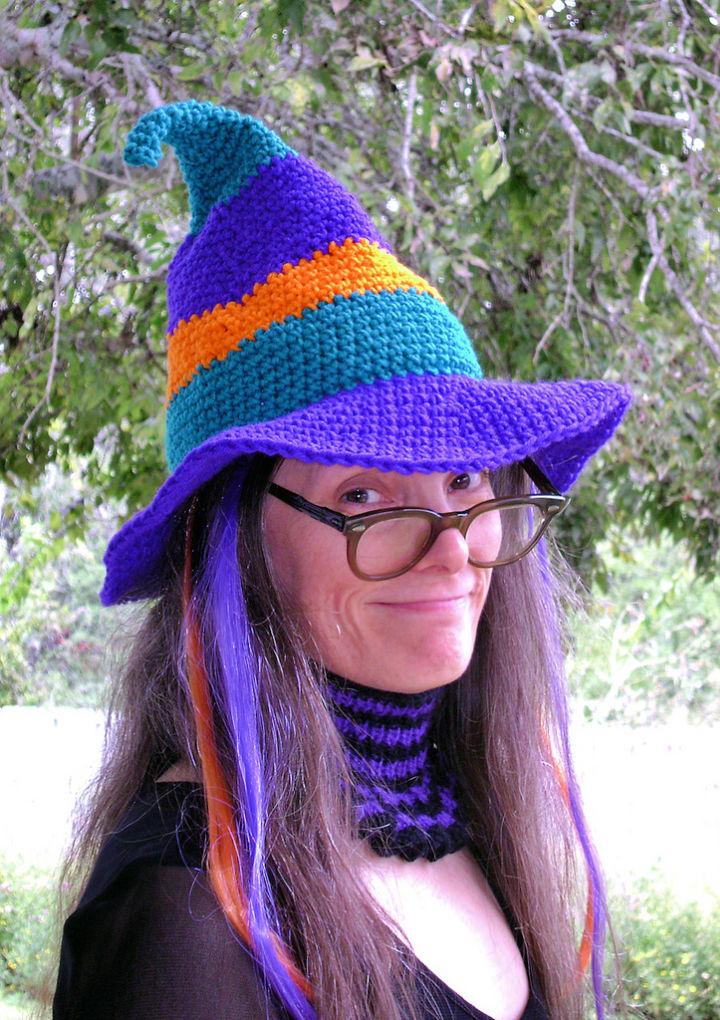 Create a whimsical witch hat with this free crochet witch hat pattern! This easy-to-follow design features a floppy brim and flopped-over point for the perfect spooky look. Choose a worsted weight yarn not labeled "soft" to achieve the best results – Red Heart Super Saver acrylic was used for the pictured hat. So grab your supplies, and make one for yourself or someone special this Halloween season! ravelry
9. Crocheted Wicked Witch Hat Pattern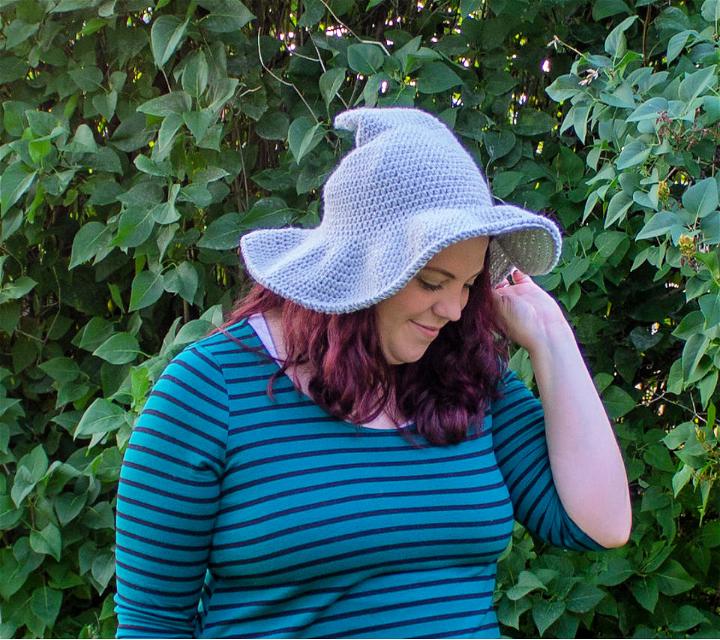 Bring out your inner witch this Halloween with this crocheted wicked witch hat pattern! This modern-styled, detailed hat is sure to make your child look like a little enchantress.
All you need is Brava Worsted yarn, a 4.00mm (G/6) crochet hook, a tapestry needle, scissors and 1/16″ galvanized rope to complete the look. With its easy-to-follow instructions and step-by-step illustrations, you can quickly create this unique witchy accessory for your kid's costume. Show off their spooky style in one of these homemade hats – perfect for any magical occasion! hooksandcocoa
10. How to Crochet Witch Hat – Free Pattern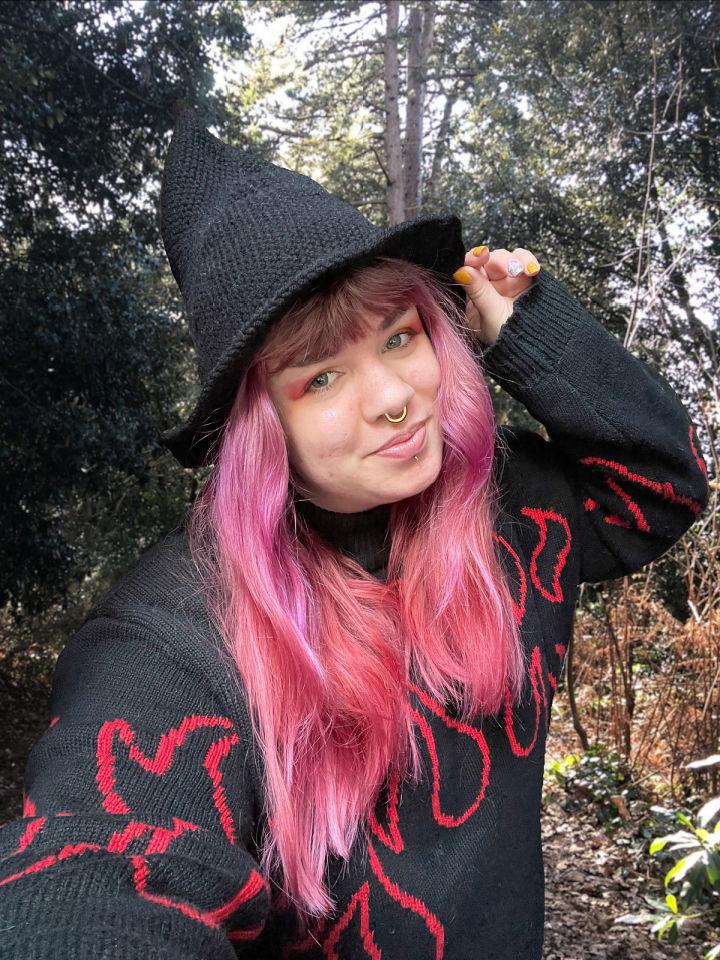 Are you looking for a fun and easy way to make a witch's hat? This free crochet witch hat pattern will show you how! The subtle crinkling and twisting effects give this hat an adorable, classy look. It is also very simple to assemble – worked continuously in the round from top to bottom with no seams required! Learn how to create your own stylish and comfortable witch's hat today. ravelry
11. Best Ice Cream Witch Hat Crochet Pattern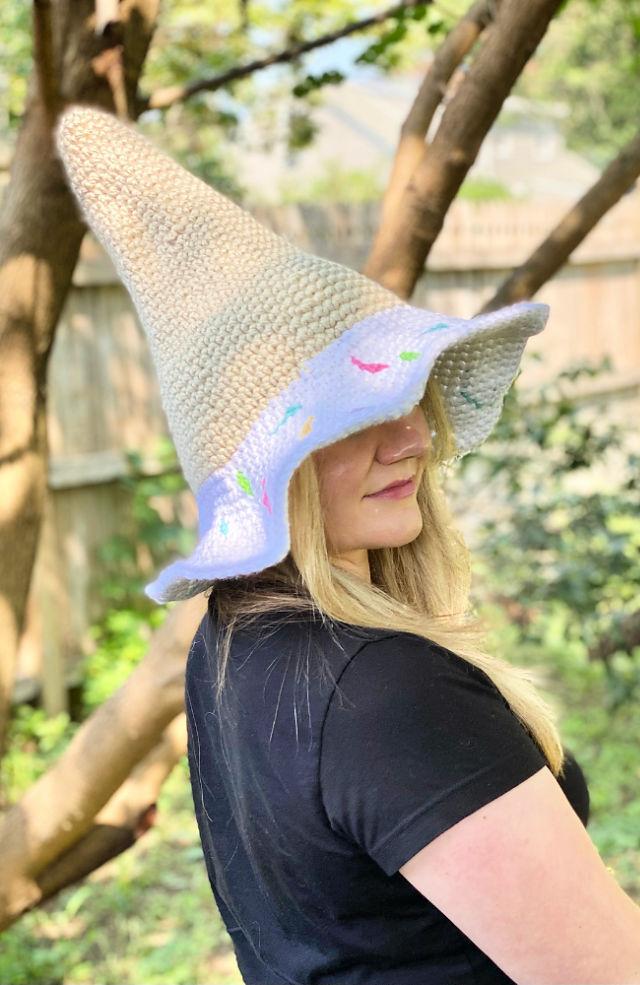 Make your Halloween costume stand out this year with an ice cream witch hat! This unique and fun twist on the classic motif is perfect for adults, kids and toddlers alike. Customize it with colors, "sprinkles," and other embellishments to make it as sweet as ice cream. This crochet pattern includes two separate sets of directions, which makes the hat brim easy to craft. Get creative this holiday season and create a one-of-a-kind look that's sure to be the hit at any party! craftykittycrochet
12. Simple and Cute Pink Witch Hat Crochet Pattern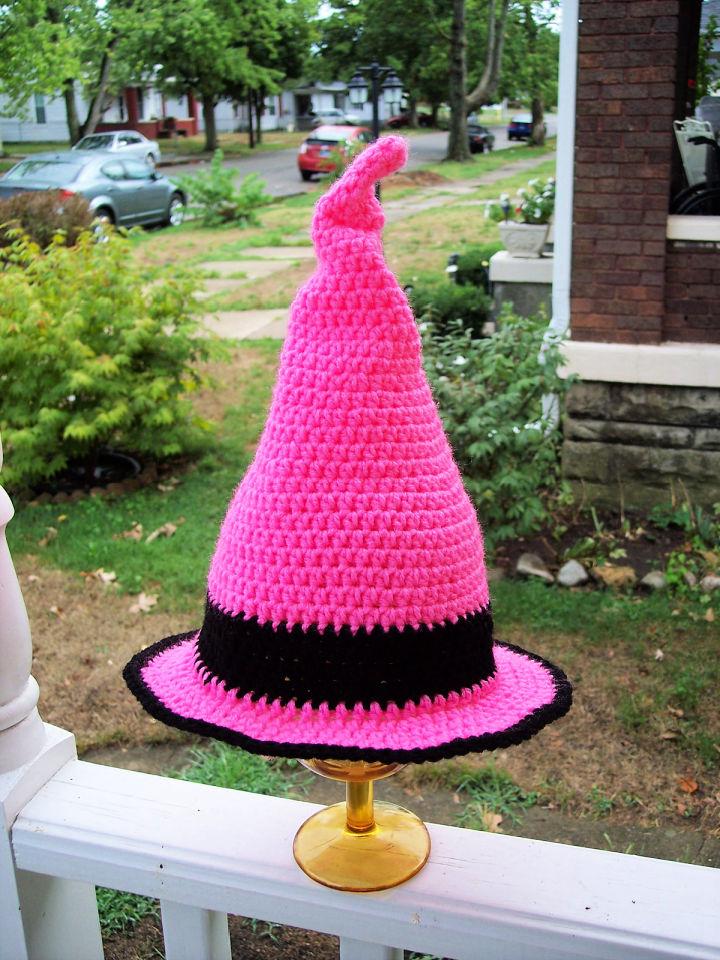 This free crochet witch hat pattern is perfect for creating a simple and cute toddler-size witch or wizard hat. All you need to get started is some worsted-weight yarn, a 5mm crochet hook, and a needle for weaving in ends. Once you have the supplies ready, use the basic stitches: chain (CH), single crochet (SC) and half double crochet (HDC) to whip up this adorable pink creation! It's fun to show off your crocheting skills while making something special for little ones. stitch11
13. Printable Crochet Witchy Cat Hat Pattern

Make Halloween more memorable with this fun and easy printable crochet witchy cat hat pattern. This free crochet witch hat pattern is designed for sizes small, with changes available in parentheses for medium, large, and extra-large sizes. All you need to get started are red heart super saver yarn, a Susan Bates crochet hook, and the included gauge information! Download this hat pattern today and make the cutest witchy cat hats around! yarnspirations
14. Crocheting a Hedge Witch Hat – Free Pattern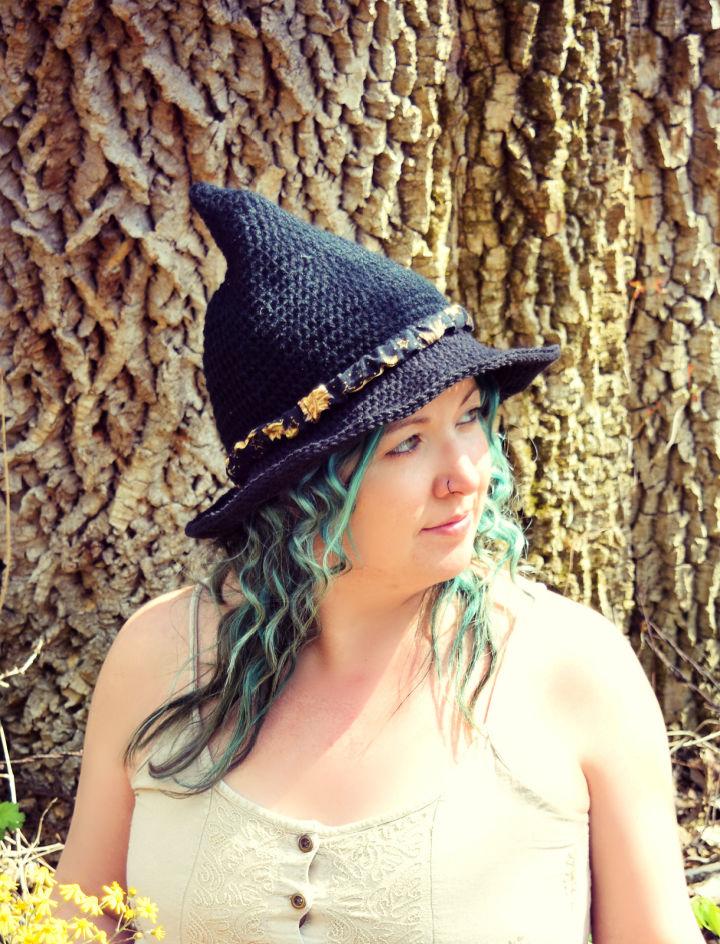 Spruce up a stylish statement with this quick and easy hedge witch hat pattern! This cute design works equally well in two styles, perfect for everyday use or adding a spook to Halloween. Using any #4 worsted weight acrylic yarn, the slight variations between silhouettes give each hat its charm–while allowing plenty of room for customizing with color and accessories. Download the free pattern today to make your very own unique look! moralefiber
15. Cute Crochet Good Little Witch Hat Pattern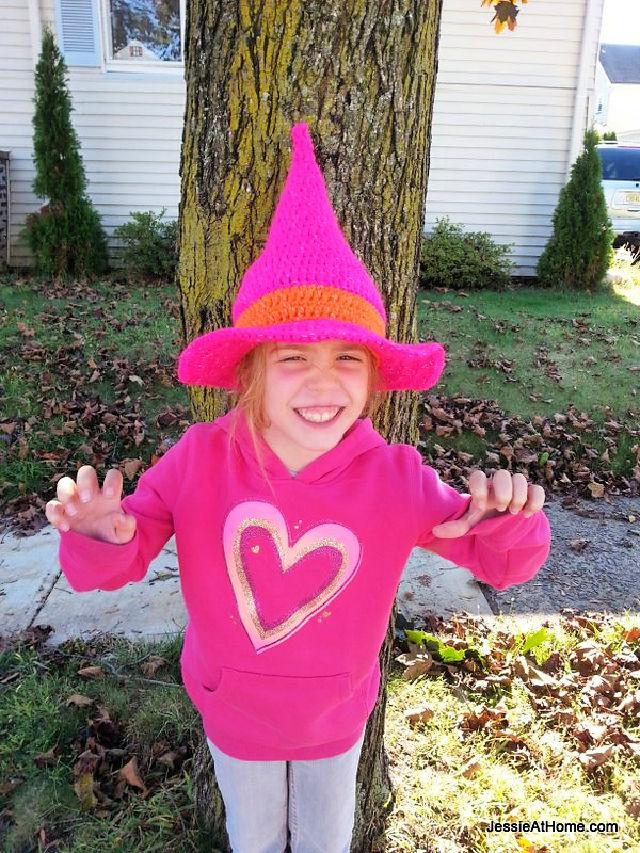 Create a unique look that will turn heads with this cute crochet good little witch hat pattern. This hat has been made with Red Heart Reflective yarn, making it shine in the light and stand out from the crowd. This pattern comes in three sizes: toddler (16″), child small/medium (18″) and child medium/large (20″). Perfect for Halloween parties or just when you want a hint of whimsy to your everyday wardrobe! Make one today and watch everyone take notice of your stylish witchy flair! jessieathome
16. Modern Hedge Witch Hat Crochet Pattern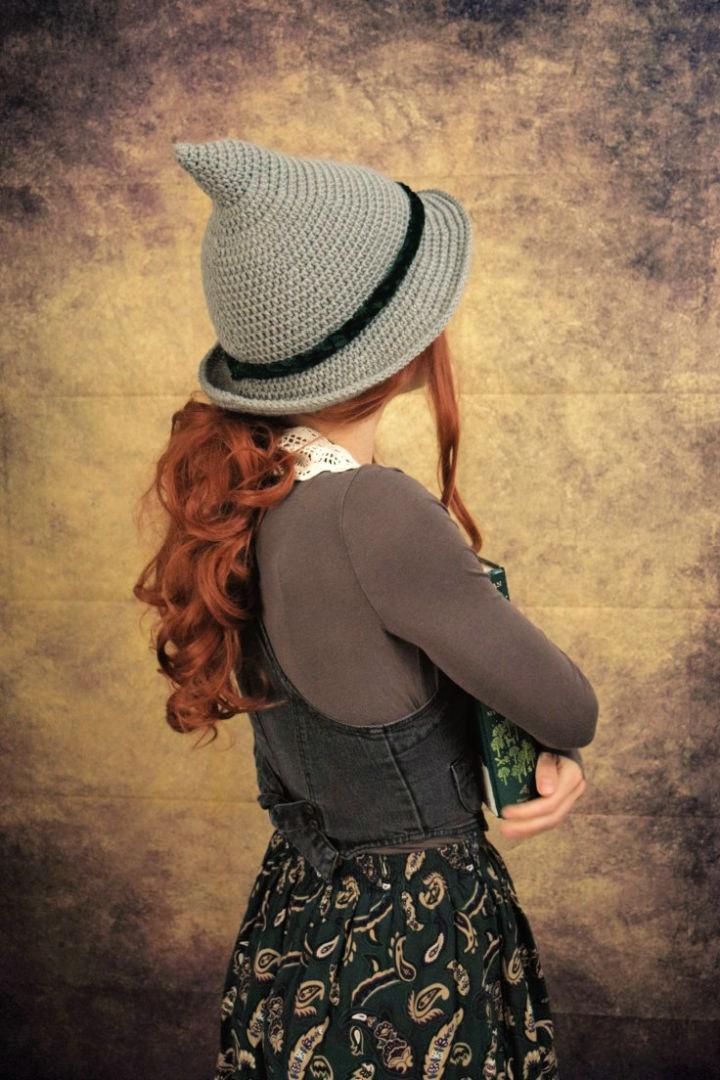 These beautiful and unique crochet witch hats will bewitch everyone! This free crochet witch hat pattern is perfect for an experienced crotchetier. It requires worsted weight yarn in double half stitches, as well as the switchback join technique for a straight seam. Types A and B are available – pointy black & dark gray or rounder light gray & tan versions. Master this modern hedge witch hat crochet pattern today – it's sure to make all your magical dreams come true! moralefiber
17. How to Crochet Insta Witch Hat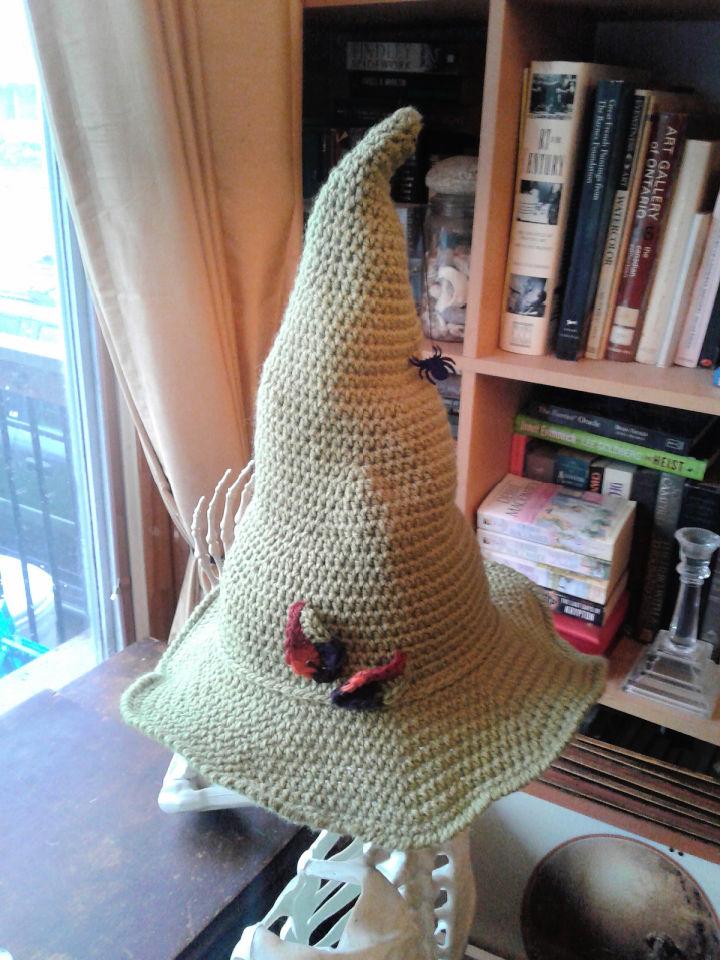 Create a magical Insta-worthy witch hat with this easy crochet pattern! With just 1 ball of worsted-weight yarn, you can make a stylish hat that's perfect for Halloween or any costume. Get your size 5.0mm crochet hook and yarn needle ready; you'll be able to work up this project in no time! This free pattern starts at the top tip of the witch hat and works its way down to the brim, so it's quick and easy to follow. Plus, with its color-changing yarn (similar to Caron Cakes), your one-of-a-kind witch hat will stand out from everyone else's! 365crochet
18. How Do You Crochet Witch Hat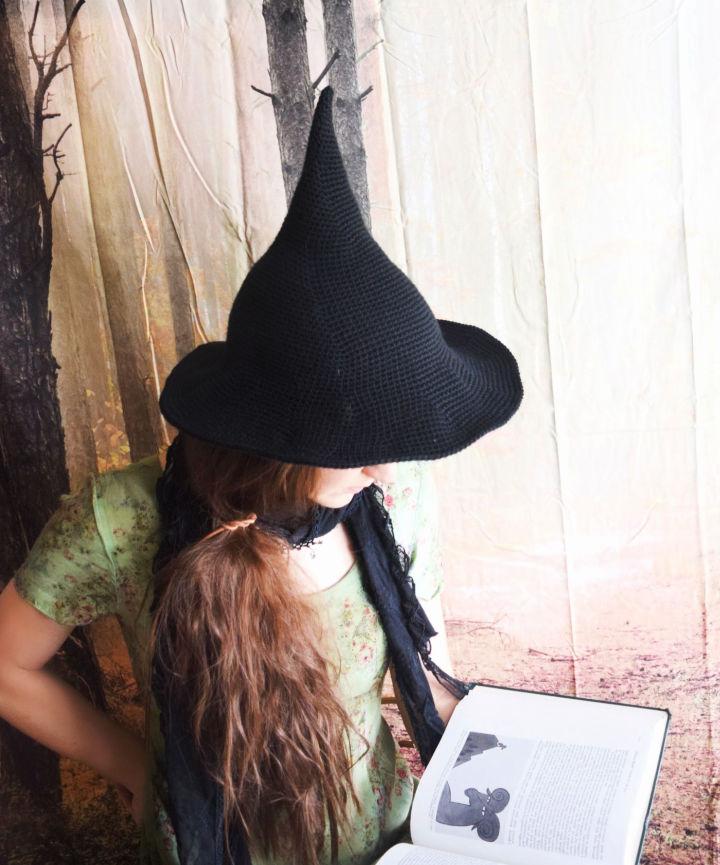 Looking to add a magical touch to your wardrobe? Crochet an authentic witch hat with these easy-to-follow instructions! Start by adjusting the wire for the desired length and hook it together. Then, crochet over this joint until you create a structured brim and severe point that will make any outfit look spellbinding. Follow along with our flawless directions – when finished, you'll have crafted a beautiful witch hat that will turn heads! Get ready to slay in style with this unique handmade accessory. moralefiber
19. Crochet Wickida Witch Hat – Free Pattern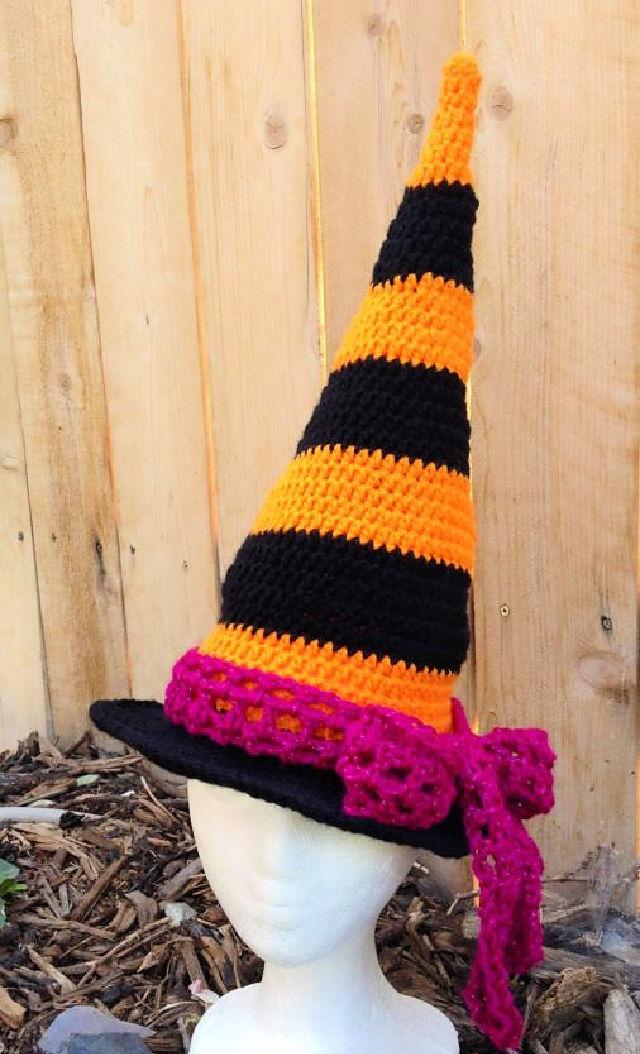 Are you looking for just the perfect Halloween costume? Look no further than this free crochet witch hat pattern to make a wickida witch hat! This beginner-friendly pattern is great for those with basic crochet skills and makes an impressive statement that will turn heads at any party.
Whether you're just starting out in crocheting or are a seasoned expert, this pattern will provide hours of fun and help your costume stand out. Get creative with colors and embellishments, then wear your spectacular hat proudly as you go trick-or-treating or show it off at any spooktacular event! ravelry
20. Simple Crochet Witch Halloween Hat Pattern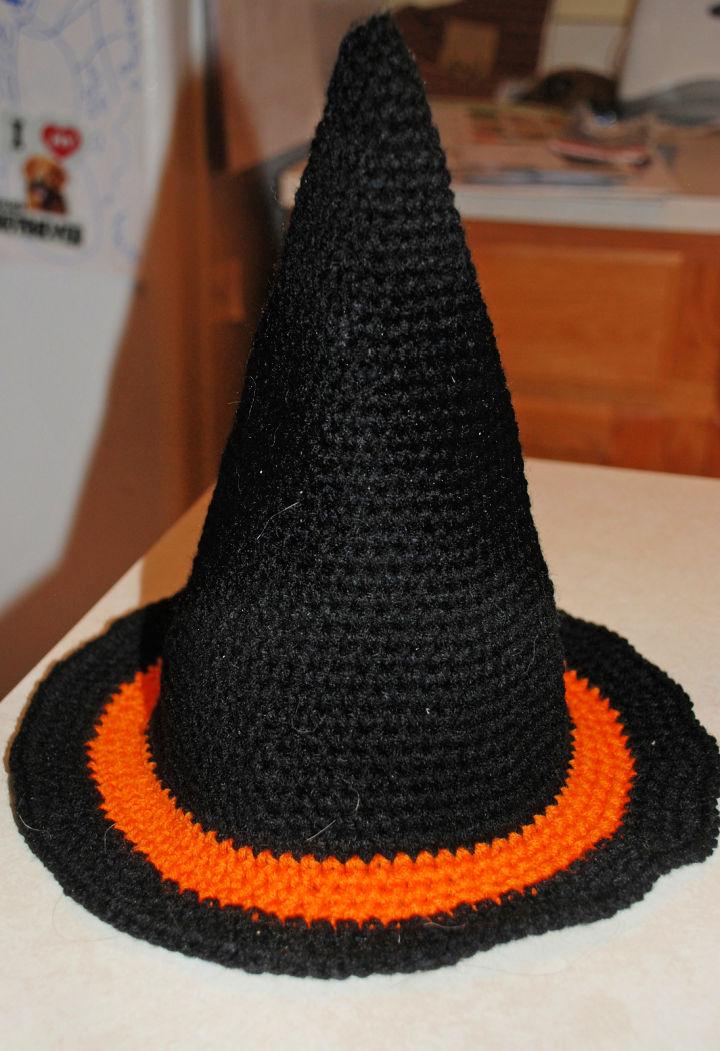 Unleash your inner witch this Halloween with this simple crochet hat pattern! This free crochet witch hat pattern requires just an I hook and some Red Heart Black yarn and orange yarn to make your own fun accessory. With the instructions included, you can quickly form a ring in black yarn and then switch over to orange for an eye-catching strip. The stiffer the black yarn, the better it will stand up after completion! Get creative with colors or add embellishments for extra detail. amyscrochetpatterns
21. Crochet Little Witch Hat Tutorial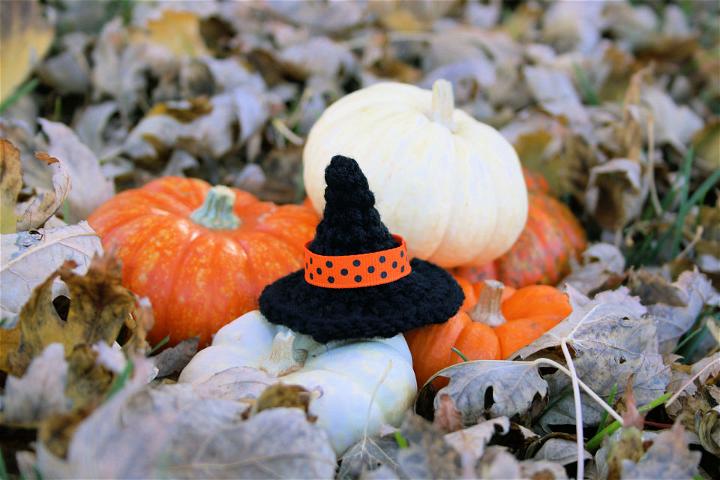 Add some spooky fun to your Halloween crocheting! This crochet little witch hat tutorial is a great way to add a little extra to your amigurumi, give that mini pumpkin display character, or make trick-or-treaters smile. It's quick and easy, perfect for adding a magical touch to any crochet project. Whether you're making up one hat or an entire set of them – this tutorial will have you ready in no time! With detailed instructions and photos – it's easier than ever before to make the perfect witch hat with all the Halloween charms. ravelry
22. Free Crochet Twisted Witch Hat Pattern

This Halloween, crochet your own twisted witch hat and show your spooky and stylish side! This easy-to-follow guide will provide you with step-by-step instructions, so even beginners can make this impressive accessory in no time at all. Whether you want to add an extra touch of magic to your costume or need a unique gift idea, this fun project is perfect for completing the look! This free crochet wizard hat pattern will help you create a fabulous piece that is sure to bewitch everyone who lays eyes on it.
23. Easy Crochet Witch Hat Pattern for Beginners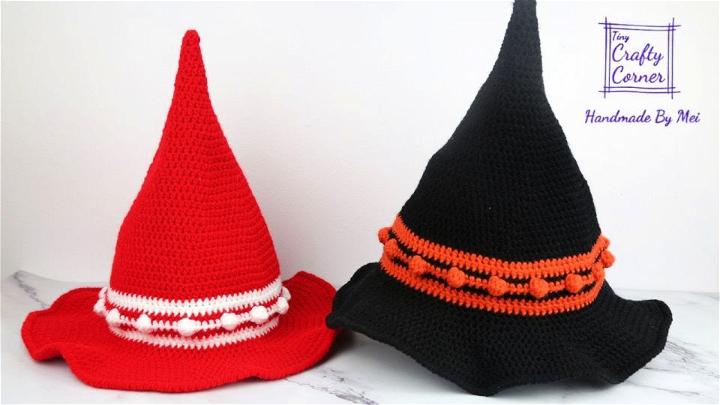 Grab this super cool easy crochet witch hat pattern tutorial for beginners! Make your own classic witch hat in just one day with this simple and fun video. Get a list of all the materials you need, including a crochet ring, scissors, a 5mm crochet hook and yarn. Perfect for Halloween or cosplay costumes, be sure to show us your finished look! Follow along step-by-step as we make it easy to craft this timeless Halloween fashion staple.
24. Quick and Easy Baby Witch Hat Crochet Pattern

Looking for a quick and easy baby witch hat crochet pattern? We have the perfect project for you! This adorable little hat is made from mercerized cotton yarn, which gives it a soft texture. The best part about this pattern is that you only need basic supplies: cotton yards, crochet needles, sewing needles and thread. It's an ideal project for any beginner crocheter and takes little time to complete! Make your unique creation and surprise everyone with your creativity – you will be satisfied with the results!
25. Crochet Witch Hat With Flowers – Free Pattern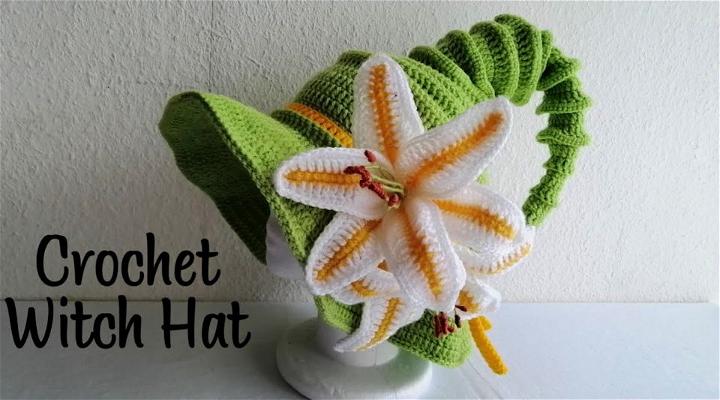 Here's a free crochet witch hat pattern to help you make a stunning witch hat with flowers. This hat is perfect for Halloween or any occasion where you want to add a touch of charm and beauty to your look. You only need yarn, an Apple Green crochet hook 3 mm, and scissors to get started. Create this fun accessory today – it's sure to be the most eye-catching piece in your wardrobe!
Related Free Crochet Hat Patterns
Create the perfect accessory for your outfit with these free crochet hat patterns! With over stylish designs to choose from, you'll find something to suit any look.
Conclusion:

In conclusion, this diverse collection of 25 free crochet witch hat patterns presents an enchanting array of styles for all ages and skill levels. These crochet witch hats range from classic designs to modern twists, offering options for women, men, and children alike. By following these patterns, you can create unique, magical accessories perfect for Halloween, costume parties, or simply expressing your inner witch. So, grab your crochet hooks and let the spellbinding journey begin as you explore and craft these bewitching hats.