Paper bag crafts are quite popular these days. They are not only easy and quick to make, but they are quite eco-friendly too! You can easily try paper bag craft ideas with supplies present in your home. Paper bags are quite thrifty and versatile materials that can be used for crafts in different ways. You can customize your ideas in your own way and enjoy the process. All the mentioned paper bag crafts are super easy that you can even arrange such activities with preschooler's kids and help them learn effectively. Moreover, these paper bag crafts will save you a lot of money rather than buying expensive things from stores. To make these, you first need to go through all the mentioned paper bag crafts for kids and adults below and choose which you would like to execute.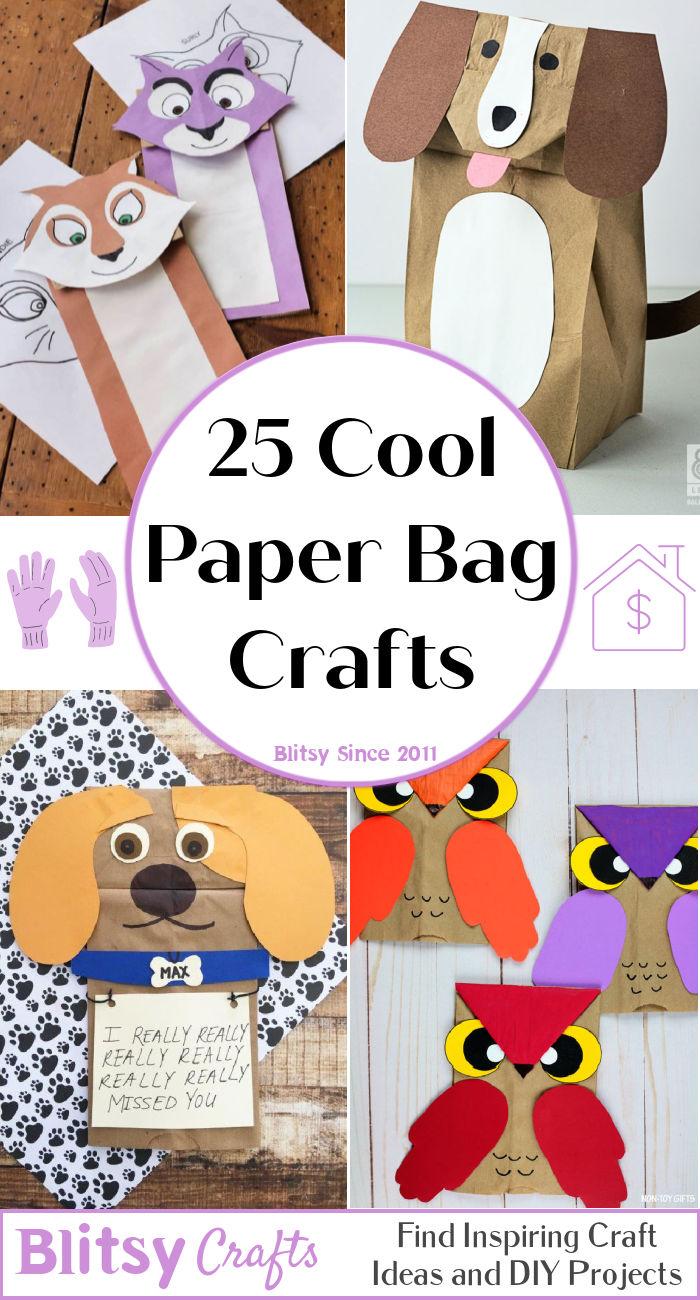 In this article, we have compiled 25 different ways in which you can make paper bag crafts. We have listed a wide range of crafts, including paper bag star decoration, paper bag luminaries, wall art from paper gift bag, paper bag turkey craft, paper bag vase, paper bag flowers, paper bag squirrel puppets, paper bag max craft, paper bag Perry the platypus, colorful paper bag butterfly, paper bag owl, paper bag octopus, paper bag pumpkin craft for kids, stuffed paper bag apple craft, handmade cow paper bag puppet, paper bag sea otter, Captain hook paper bag pirate puppet, killer whale paper bag puppet, paper bag hat, flower bouquet, paper bag Halloween costume, paper bag basket, paper bag animal puppets, and paper bag floor – we have it all mentioned here for you! So, if your child loves crafting, then try these ideas and have fun!
1. Paper Bag Star Decorations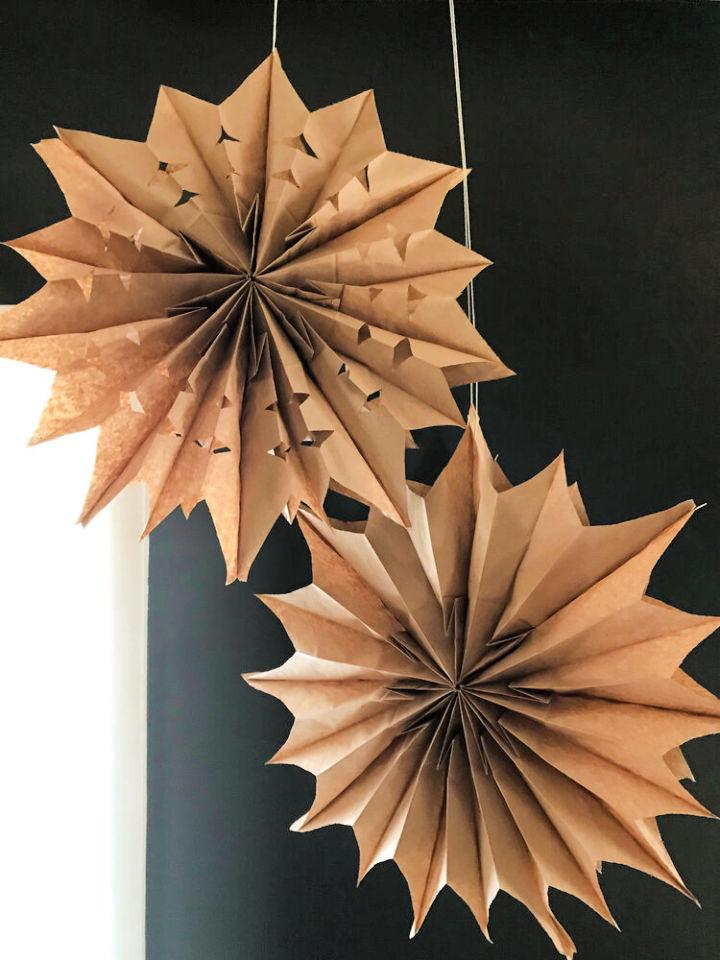 Holidays are around the corner, which means a lot of fun décor will be seen everywhere. If you are looking for a quick and budget-friendly one, this is the perfect place for you! These paper bag stars will be perfect for hanging around the house when there is a party. You can make several in different sizes! For this, you will need some basic supplies like brown paper bags, glue sticks, scissors, hole punch, and strings. steviestorck
2. DIY Paper Bag Luminaries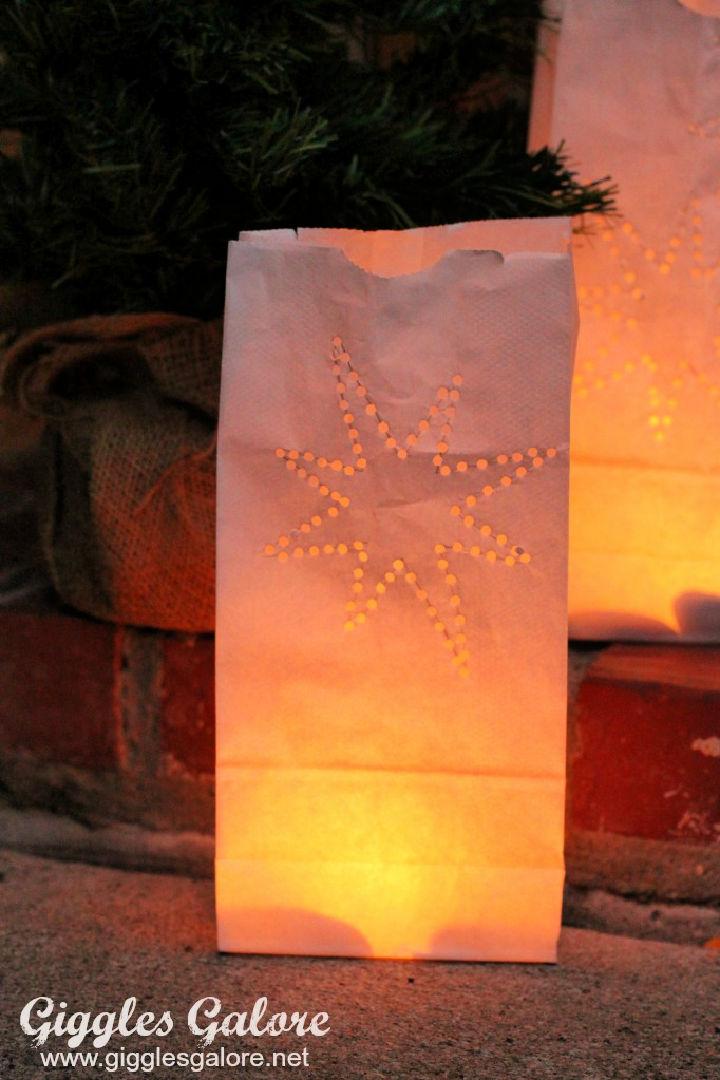 Here is another beautiful paper bag craft to make this year and light up the entire house. These DIY paper bag luminaries are gorgeous and fun décor you can make on a low budget – how cool is that? To make these, you will need white paper bags, tea light candles, an eyelet setter tool, a start template pencil, and sand. gigglesgalore
3. DIY Wall Art from Paper Gift Bag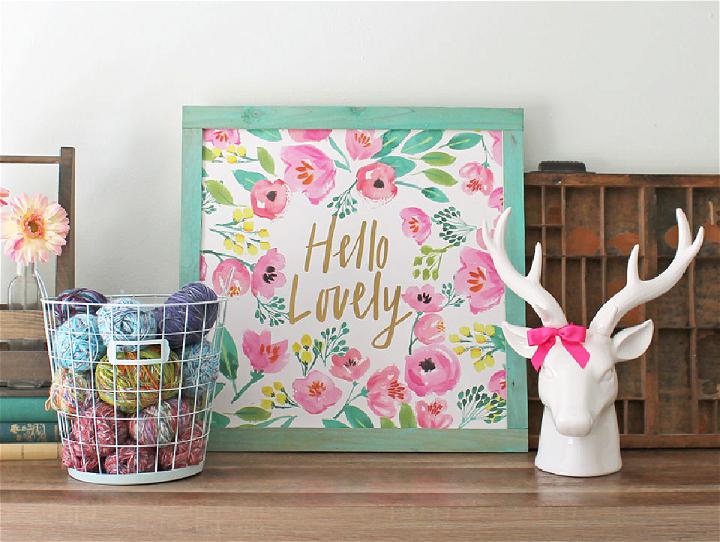 Who wouldn't like gorgeous wall art to be displayed in their home, right? But buying it can cost you an arm and a leg! However, here we are with a simple and cost-effective idea! This DIY wall art from the gift bag is going to be a game-changer. It is super fun to make and doesn't cost a lot as it is made with simple supplies. Just look for a nice gift bag, some glue, a wooden frame, and a pair of scissors – that's it! thecraftpatch
4. Paper Bag Turkey Craft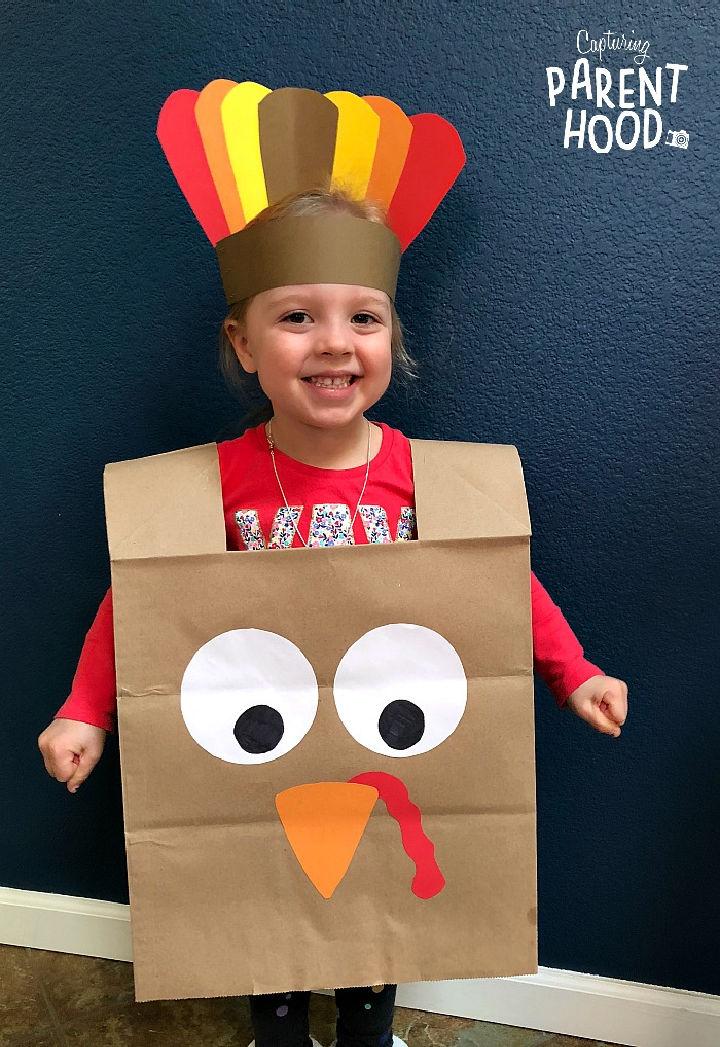 Does your kid have a fancy dress party in school, and you want a last-minute fun costume idea for them? Well, don't worry and check out this super cool paper bag turkey craft. It just takes a few basic supplies that you will find in your home easily, like a large brown paper bag, construction paper or card stock, black marker, glue stick, scissors, and a stapler. capturingparent
5. DIY Paper Bag Vase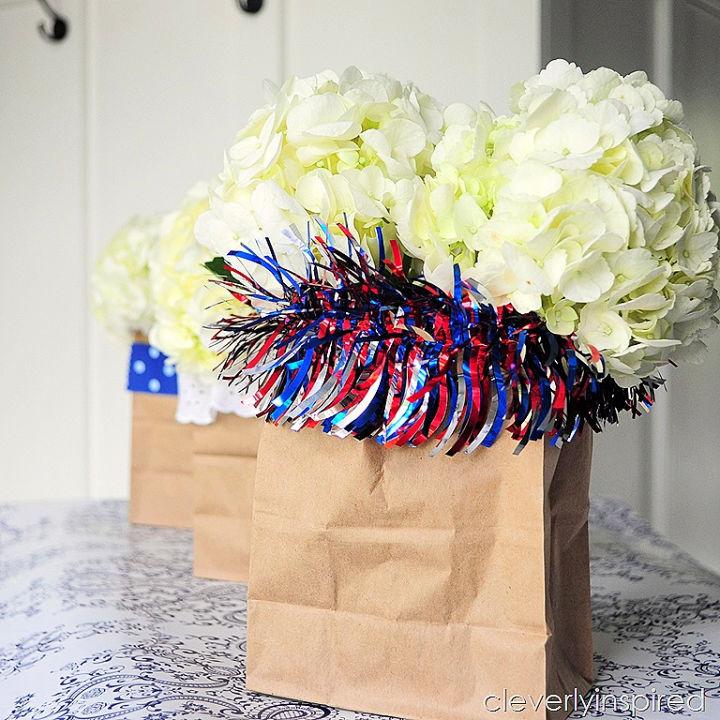 What to do with paper bags? You might have heard about vases made from different materials like glass, cement, plastic, etc., but here we will introduce you to paper bag vases! Isn't it cool? It not only costs less but is quite an eco-friendly option too! If you have kids at home, then you don't need to worry about this breaking too! For this, you will need pinking shears, hot glue, trimmings, brown paper bags, flowers of your choice, and a drinking glass to hold flowers and water in the bag. cleverlyinspired
6. Easy to Make Paper Bag Flowers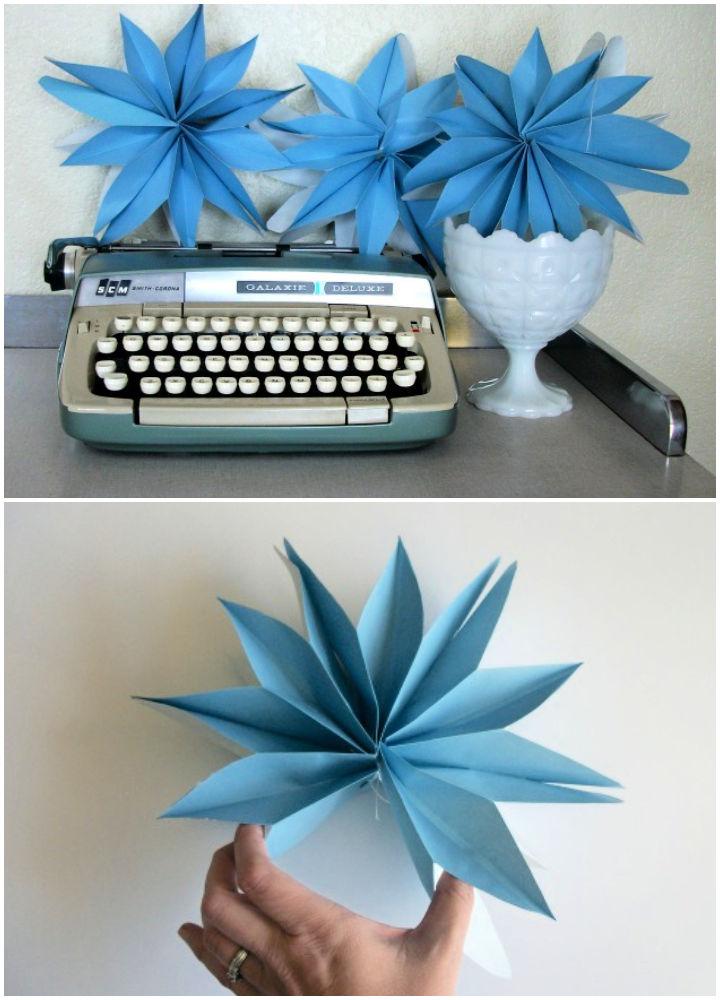 Are you looking for flowers but not the ones that wilt? Well, yes, we do have such flowers! These DIY paper bag flowers are here for your décor inspiration. They look absolutely stunning, you can make them in any color, and they won't ever wilt! So let's make these using materials like string or yarn, tape, hole punch, scissors, and paper bags. maydae
7. DIY Paper Bag Squirrel Puppets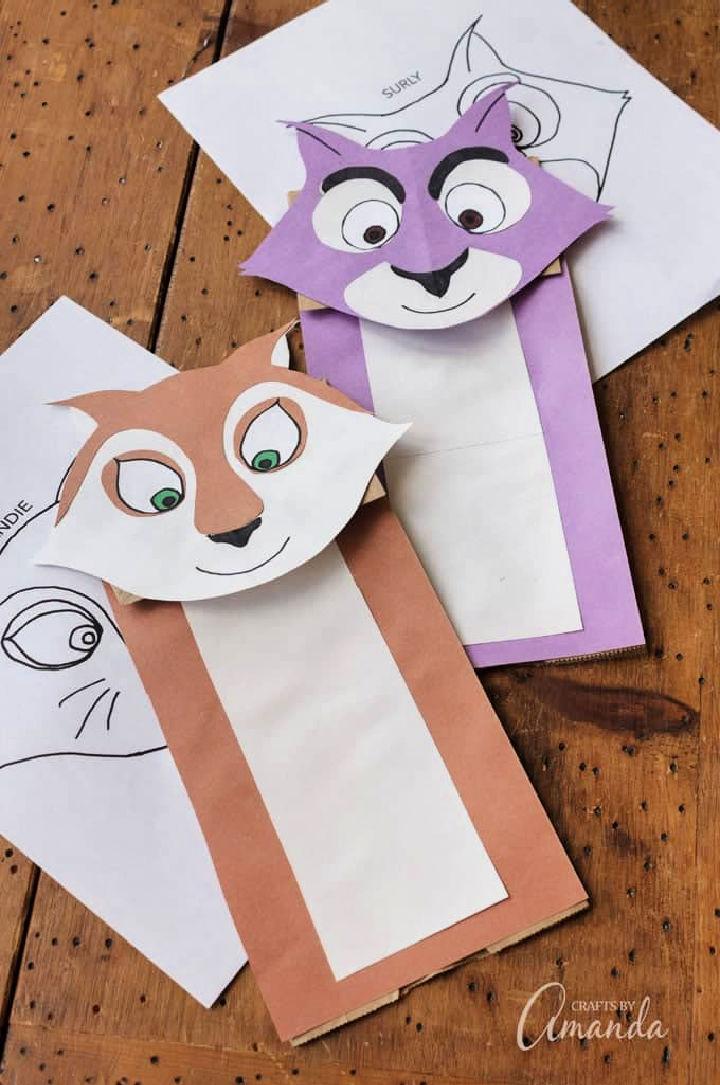 Arrange playtime for your kids using fun activities and imaginative plays. This paper bag squirrel craft can help you a lot and is also quite easy and convenient to make. It uses basic supplies easily found at home like full-face patterns, crayons, markers, colored pencils, brown paper lunch bags, scissors, and glue sticks. craftsbyamanda
8. Paper Bag Max Craft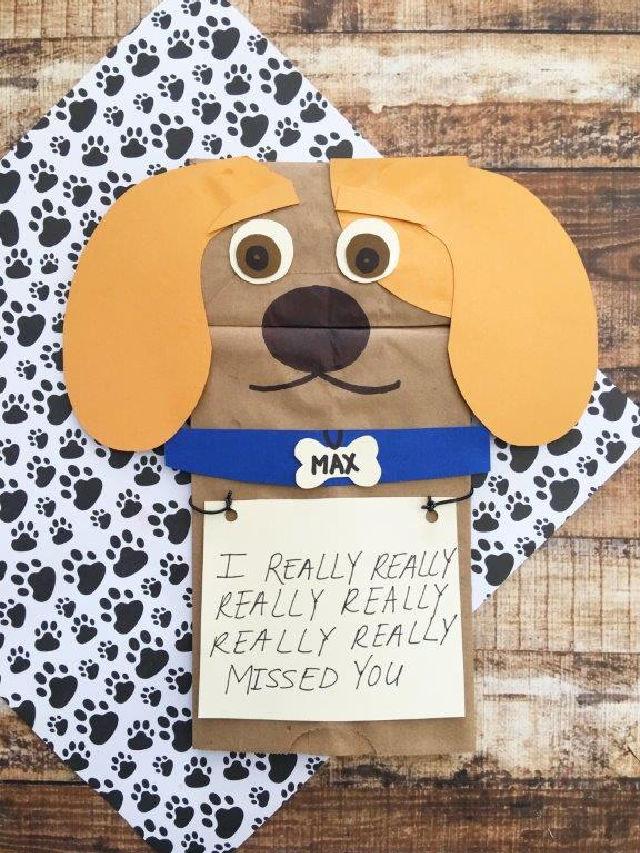 Does your kid like the show "The secret life of pets," and you want to make something for them inspired by the show? Here is a cute and easy paper bag craft for you to make. Your kid can easily help and do the project with you using supplies like a paper sack, card stock in different colors, a black sharpie, black string, hole puncher, scissors, and Elmer's glue. mrskathyking
9. Paper Bag Perry the Platypus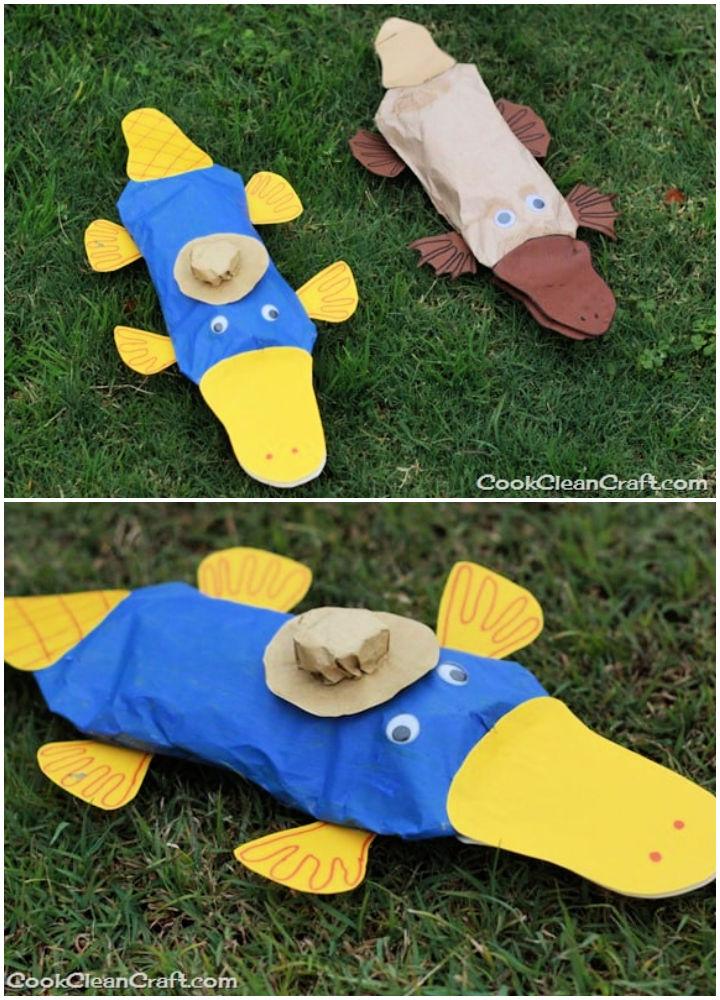 Arts and crafts are super fun for kids, and it improves their imagination and allows them to showcase their creative side. This paper bag Perry the platypus craft is one of the coolest and easiest ideas that you kid can try making. If they have just started out making crafts, then this easy-to-make project is perfect for them. It requires supplies including a brown paper lunch bag, a piece of yellow or orange paper, 2 googly eyes, a small amount of newspaper for stuffing, glue, paint, paintbrushes, marker, and printouts. cookcleancraft
10. Colorful Paper Bag Butterfly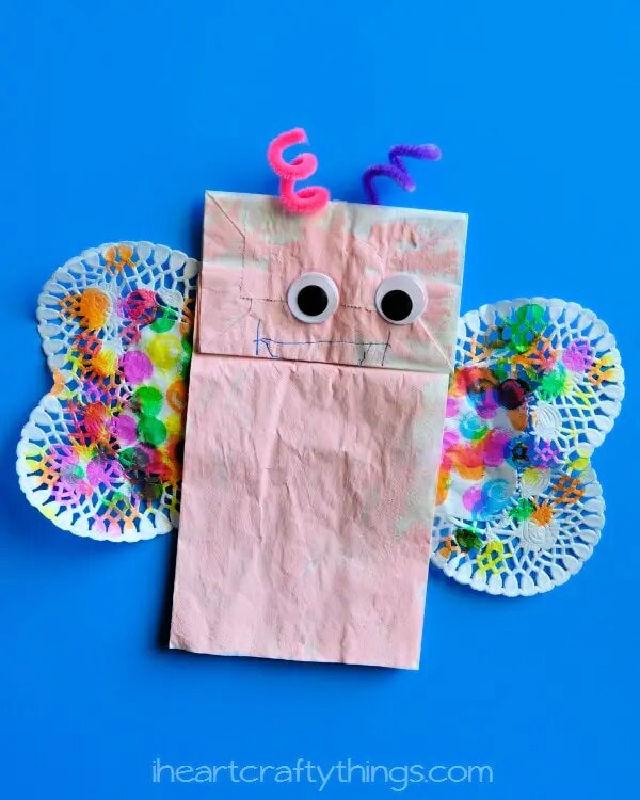 Paper bag crafts are quite an in trend these days as they are easy to make, cost-effective, and environment-friendly! You and your kid can also participate in this craft and make a nice paper bag butterfly with them. Teachers can do this activity with their students in art lessons and encourage creativity in children. The supplies needed for this project include a white paper lunch bag, acrylic paint, two 6-inch heart doilies, Do-A-dot art markers, paintbrush, pipe cleaner, black marker, large googly eyes, tape, and glue. iheartcraftythings
11. Paper Bag Turkey Craft for Toddlers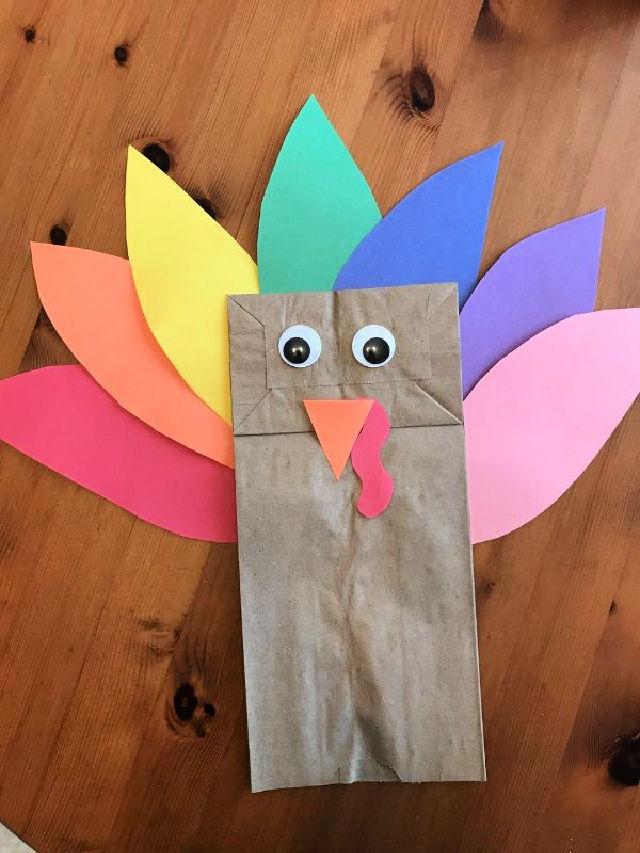 Teach your kids the importance of Thanksgiving by making it fun with this paper bag turkey craft idea. It will engage kids to make such décor for the house and involve them more in such Holidays. What can be a better way to teach preschoolers some crafty work? It is quite simple to make with basic materials like glue, construction paper, scissors, paper bag, and googly eyes. journeytosahm
12. How to Make a Paper Bag Owl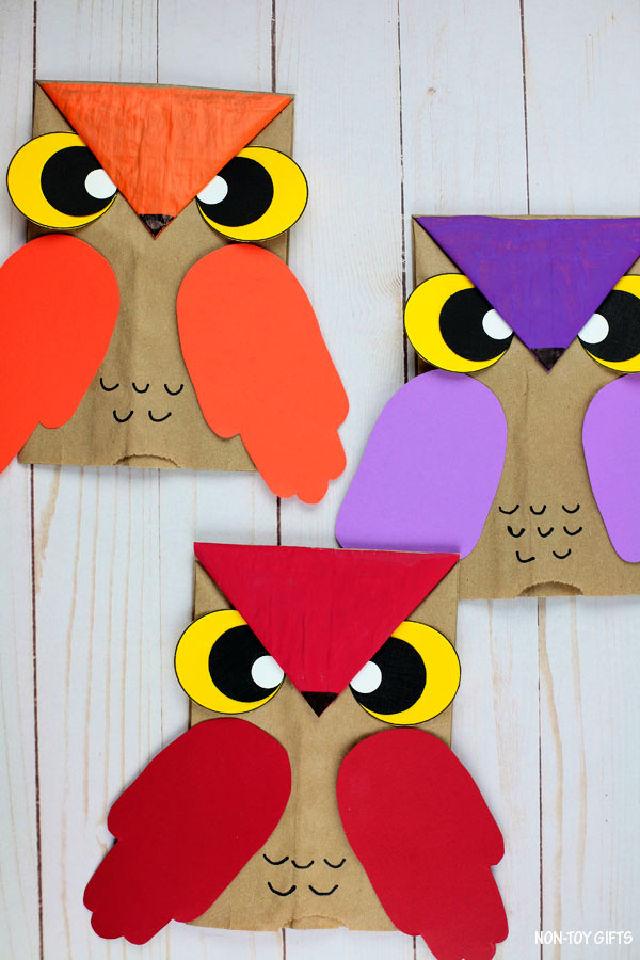 Owls make the perfect and most fun craft for the Fall season! If you are looking for an easy way to make such crafts with your kid, then you are at the right place! This paper bag owl idea gives you the room to be creative and make unique décor items for the house cheap. The supplies that you need to make this includes brown paper lunch bags, construction paper in different colors, craft paint, black marker, scissors, glue, owl template, and circle punches. nontoygifts
13. DIY Paper Bag Octopus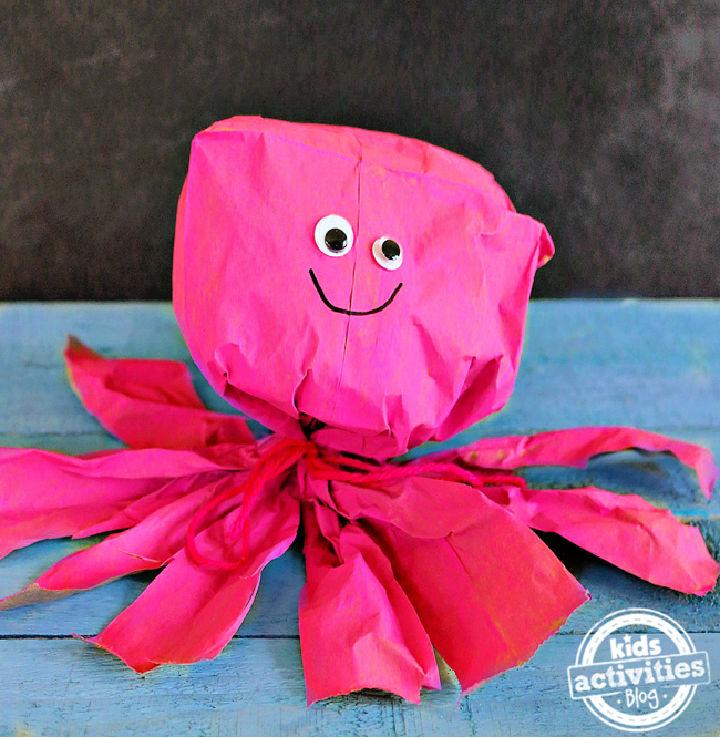 Are you teaching your kids about different animals and looking for some fun ways to make them? Then we have this cool idea for you! This DIY paper bag octopus is a quick and easy craft that you can make with your kid and teach them about different ocean creatures. To make this craft, you will need a paper bag, craft paint, paintbrush, yarn, scrap paper or newspaper, googly eyes, glue, and scissors. toddlerplaydate
14. Paper Bag Pumpkin Craft for Kids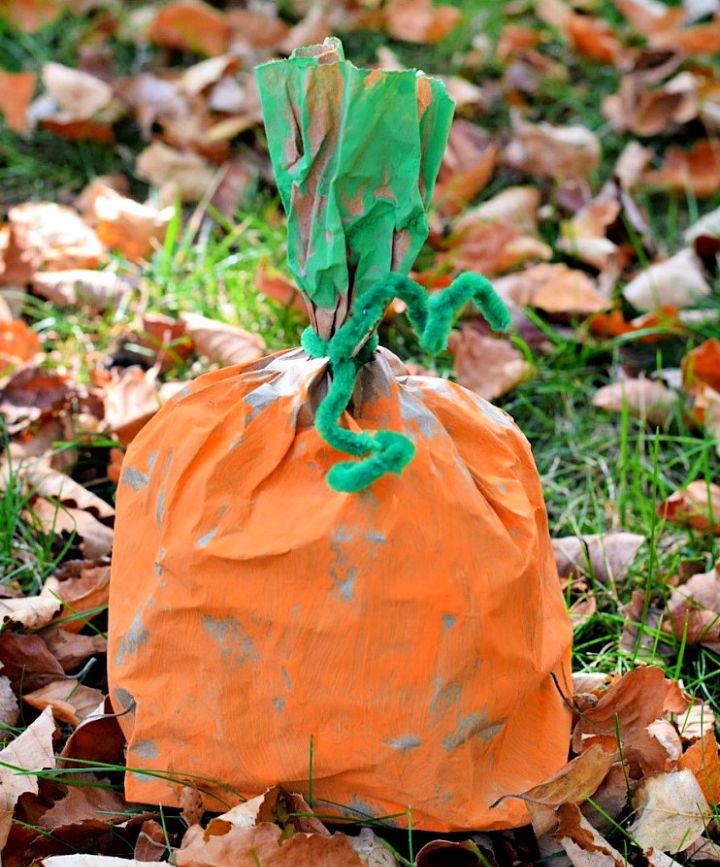 Can't find a pumpkin for your Halloween or Fall décor this year? Don't worry! Here is an easy and simple way to make a pumpkin and decorate your house within minutes! But how? Well, this paper bag pumpkin craft is here for you. Kids will love this craft activity and can also make some for their home décor. The supplies needed are brown lunch paper bags, paint, sponge brushes, green pipe cleaner, newspaper, and twist tie. kidfriendlythings
15. Stuffed Paper Bag Apple Craft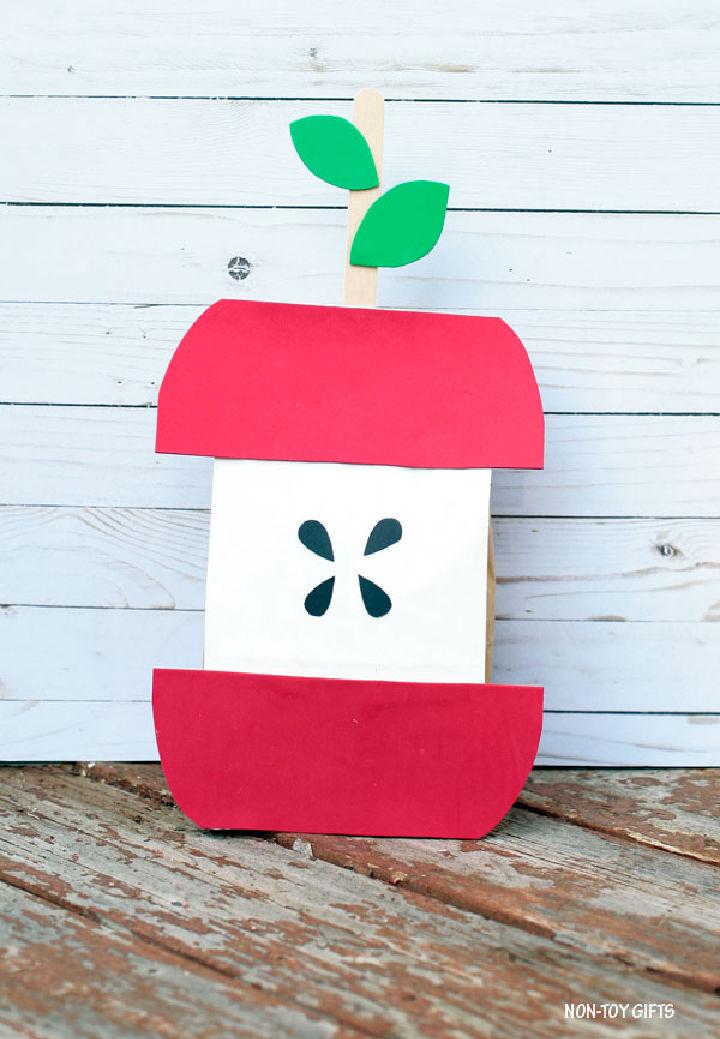 You can make this fun and super easy stuffed paper apple craft for your kid to develop an interest in learning the fruit names. Other than that, it is a nice activity to do with kids indoors in summers when going outside in the scorching heat is not possible. Few basic supplies are needed to make this, like a brown paper bag, white paint, paintbrush, foam sheets, craft stick, glue, staple, pencil, scissors, and polyester fiberfill. nontoygifts
16. Handmade Cow Paper Bag Puppet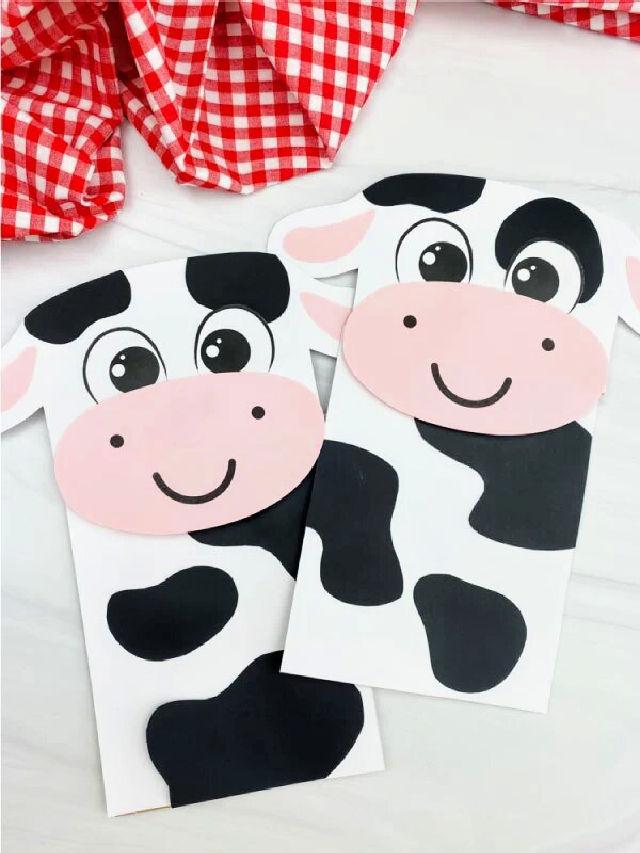 Next up in paper bag craft ideas, we have this cute cow puppet paper bag craft. If your kid has started learning about farms and animals, it is the perfect activity to try out with them. Moreover, it is quite a cost-efficient project which requires minimal money. Some supplies include a brown paper bag, colored cardstock or construction paper, scissors, glue, cow template. simpleeverydaymom
17. Paper Bag Sea Otter with Free Printable Template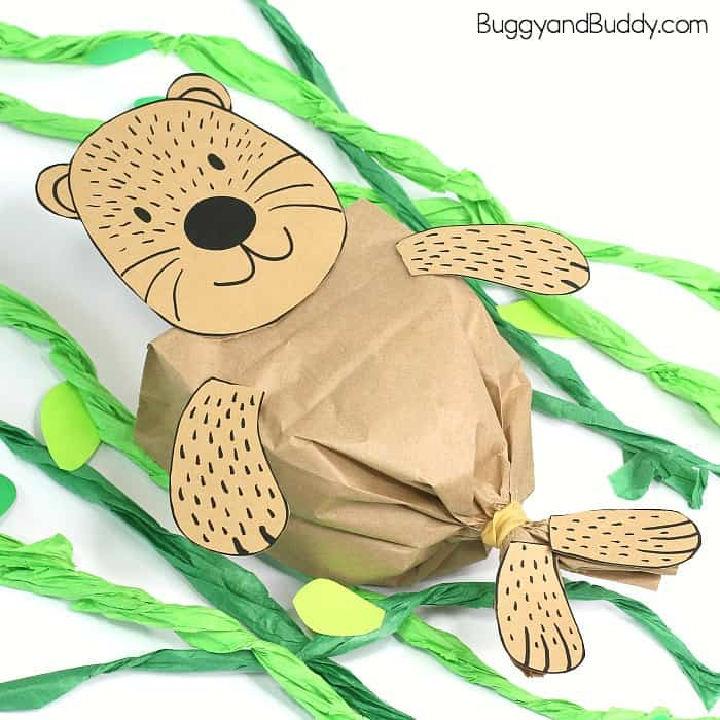 Make this super adorable paper bag sea otter craft with your little ones. It is a unique way to teach kids about animals while being creative as well. The supplies you will need for this project include a brown paper lunch bag, newspaper or other stuffing material, rubber band, white cardstock, scissors, glue, printable sea otter template, tissue paper in different colors, and printable baby sea otter. buggyandbuddy
18. Captain Hook Paper Bag Pirate Puppet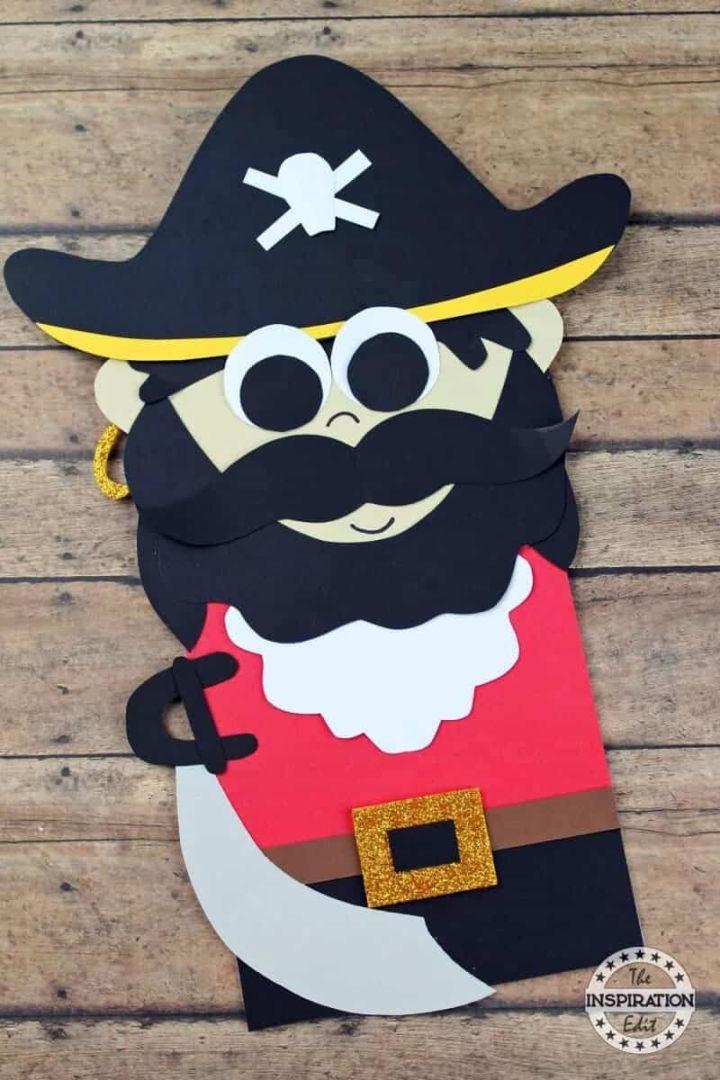 Have a Disney channel fan at home? Or know someone in the family? Now you have an easy but super cool birthday for them! This Captain Hook-inspired paper bag pirate puppet is the one to make. It is a super amazing craft that can be made at a meager price with basic supplies already present at home, and you need some passion and creative skills. Supplies for the project include cardstock or construction paper, a white paper bag, scissors, glue stick, gold glitter paper stock, gold foam sheet, and a black marker. theinspiration
19. Killer Whale Paper Bag Puppet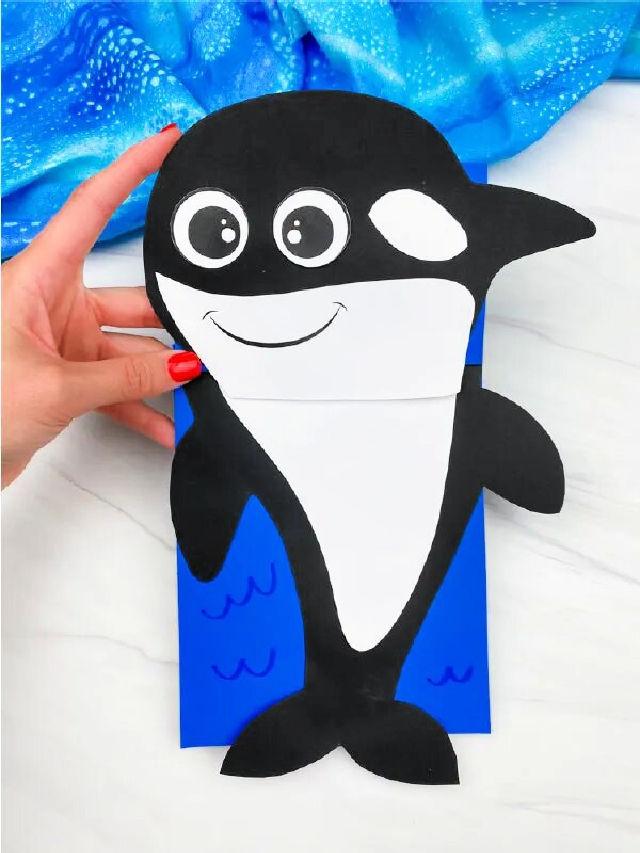 Here is another fun-filled activity that you can try with kids and make a killer whale puppet with a paper bag. If you buy puppets at the store, they can be quite expensive and out of budget, but this easy and quick way to make this puppet is this one to try. It helps to reuse paper bags which we can easily find in our homes. To make this, you will need supplies like a brown paper bag, colored cardstock or construction paper, scissors, glue, a dark blue marker, and a killer whale template. simpleeverydaymom
20. DIY Paper Bag Hat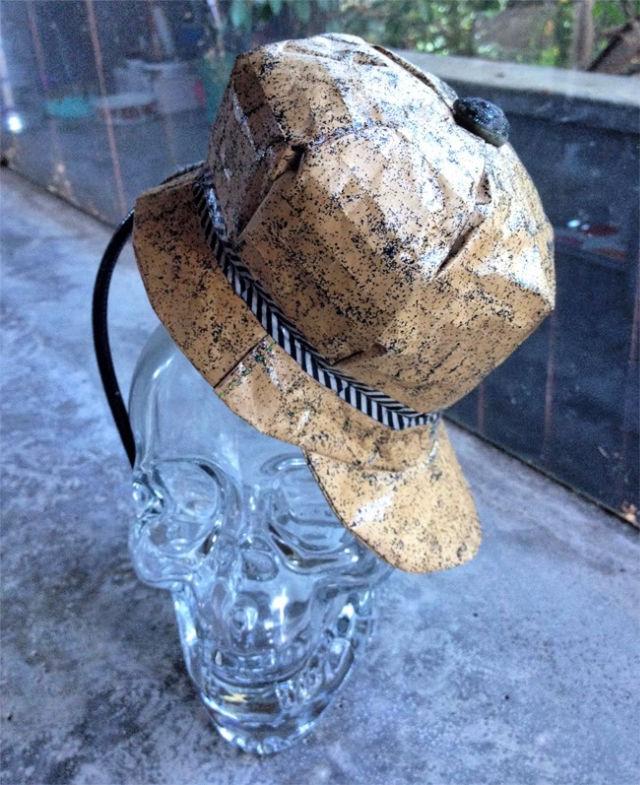 If you are looking for a quick and easy crazy hat day idea for your kid, then you've arrived at the right place. Here we have a simple and cheap idea on how to make a DIY paper bag hat. The step-by-step instructions make it super easy to follow and complete the process. You will need a paper bag, scissors, glue, and decorative items for your hat to complete the project. lenasekine
21. Lower Bouquet Using Paper Grocery Bag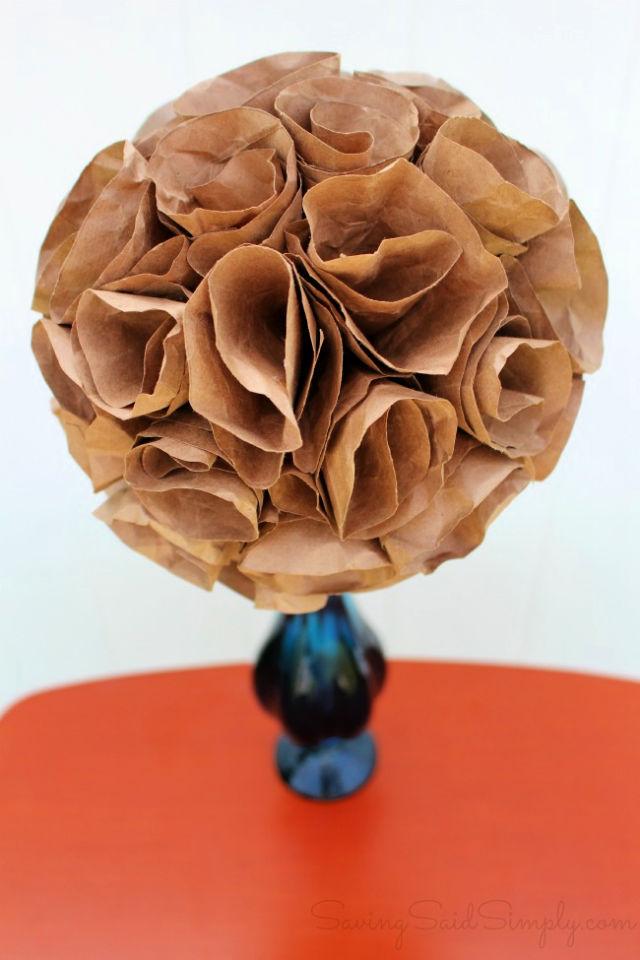 Let's make a bouquet that never wilts and stays the same forever! Yes, that's now possible with this fun DIY paper flower bouquet. It makes a nice and sustainable gift that you can give on special occasions like Mother's Day, Father's day, birthdays, etc. it makes a nice craft idea for someone who is an environment enthusiast and likes to be eco-friendly. For this craft, you will need paper grocery bags, a circle stencil, hot glue, scissors, and chopsticks or ribbon. raisingwhasians
22. Paper Bag Halloween Costume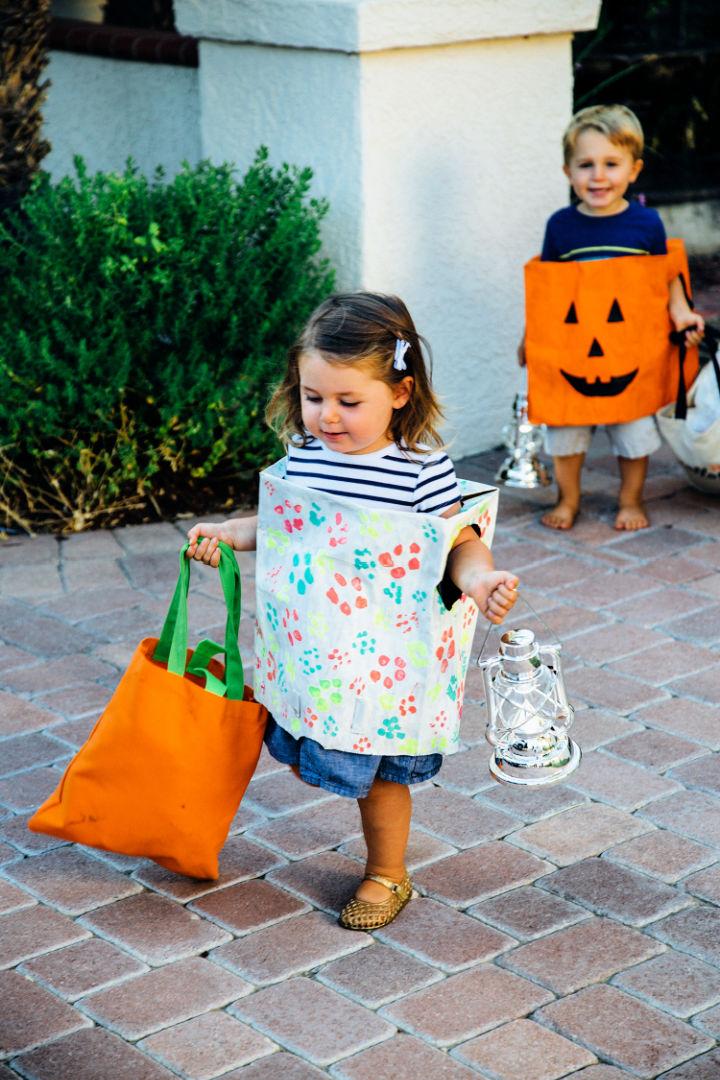 Halloween is just around the corner, which means your kids are demanding some cool and unique costumes to wear that they can wear and trick or treating with their friends. Well, to make things easy and fun for you – you can try making their costumes on your own this year using paper bags! It is not only a budget-friendly idea but also gives you the space to be as creative as you want. To make it, you will need large paper bags, acrylic paint, paintbrushes, and a pair of scissors. pacificplaytents
23. Brown Paper Bag Basket

Recycling things have become quite common these days due to the world's deteriorating climate. Many people have started opting for sustainable and eco-friendly options in their daily lives to save the world. You can also play a part in this and try out this quick and fun DIY brown paper basket. It can be made using only 3 supplies – a brown paper bag, scissors, and glue. priyam simplejoys
24. Paper Bag Animal Puppets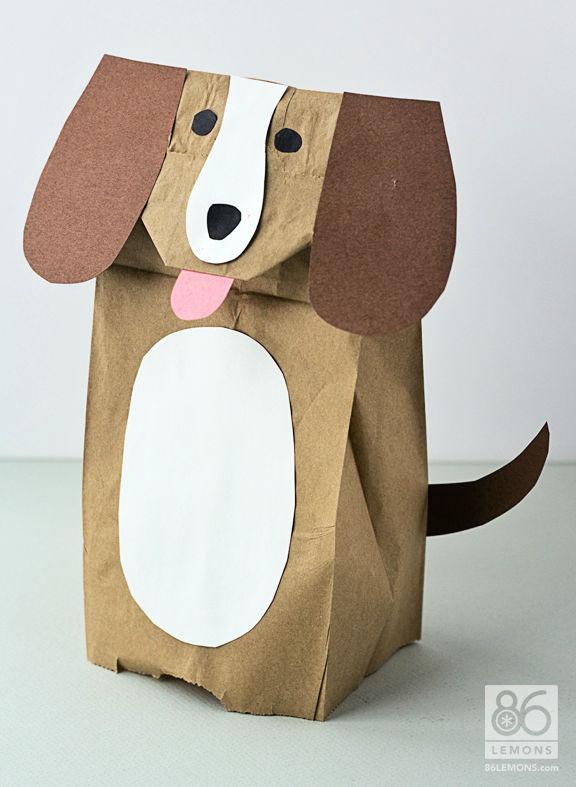 This DIY paper bag animal puppet is a super cool and fun activity for kids during their art lesson. It will not only teach them art but also helps in instilling the idea of reusing things for a better world tomorrow. You can try and make any animal that your kid likes. You will need a pink paper bag, pink construction paper, black construction paper sheet, glue stick, scissors, and templates for this cool project. 86lemons
25. DIY Paper Bag Floor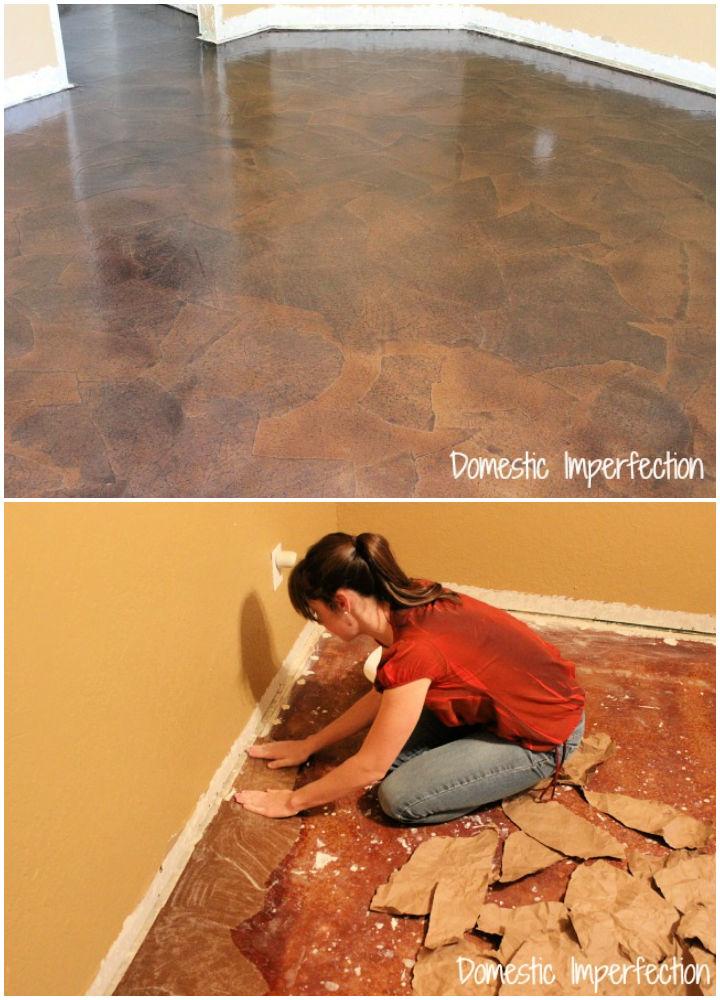 Are you looking for the best budget-friendly flooring solution for your house? If yes, then you have come to the right place! This paper bag flooring technique is not only sturdy but very budget-friendly too. It is the perfect option for people looking to renew their flooring but at a lower price. You can easily execute this idea using supplies like Kraft paper, Elmer's glue, oil-based stain, water-based floor polyurethane, and a deck pad. domesticimperfection
Paper plate crafts: Whether your kids are bored at home or you just need a fun summer project, these awesome paper plate crafts and ideas are the perfect thing to try!
Conclusion:
So, here we have come to the end of this article with the hope that you must have found all the mentioned paper bag crafts and ideas quite fun and are ready to make your own. These paper bag crafts and ideas are quite popular nowadays as we move towards a sustainable and eco-friendly world. Paper bags can be repurposed for arts and crafts and can be a great way to teach kids informative things. Activities like these encourage imaginative play in children. They can create whatever they like the best, like animals, hats, their favorite cartoon characters, etc.; all you need to do is, go through all the paper bag craft ideas and decide which one you want to make first. Then gather all the necessary supplies for the project, and you'll be good to go! So, let's start making paper bag crafts and have fun indoors this summer!