Learn how to draw a boy with these easy boy drawing ideas that are perfect for any artist who wants to go from a beginner level to an intermediate level. If you're someone who wants to improve their art and make it into the art industry, you need to learn the basics. One of the most basic things that you might have to draw would be human figures of different genders. This easy boy sketch guide features boy drawing ideas, and learning them will completely take you to an advanced level!
Furthermore, it might look like an easy thing to draw a simple boy. However, it's a hard task, and you need to focus on many things when it comes to drawing a boy! Firstly, you need to focus on the expressions and change the face according – like a wider mouth if the boy is smiling and creases around the mouth if the boy is sad, etc.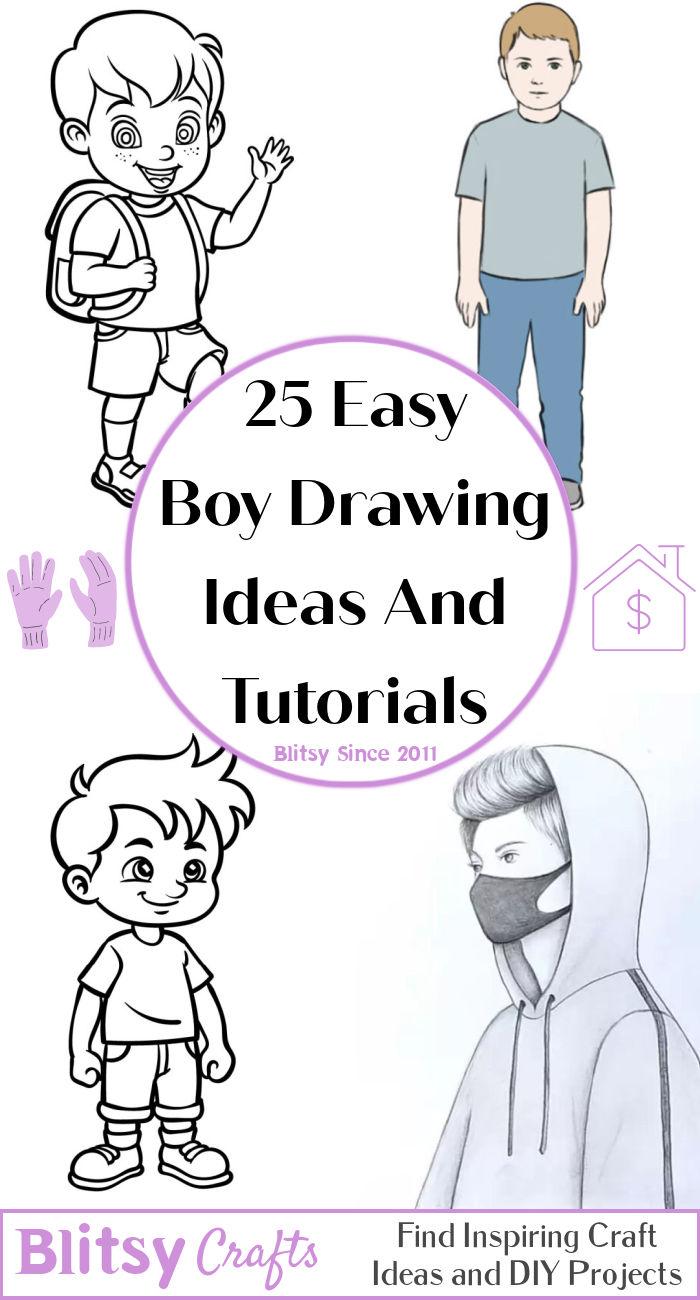 Secondly, you need to focus on creating a symmetrical face, and boy – you can learn to do that perfectly by following these easy boy drawings for kids come with include step by step guide, printables and coloring pages. Lastly, you need to think of interesting outfits to draw, as well. This guide has many different options for you – sad boys, happy boys, cartoonish boys, realistic boys, cartoon characters, etc.
1. How to Draw a Boy Step by Step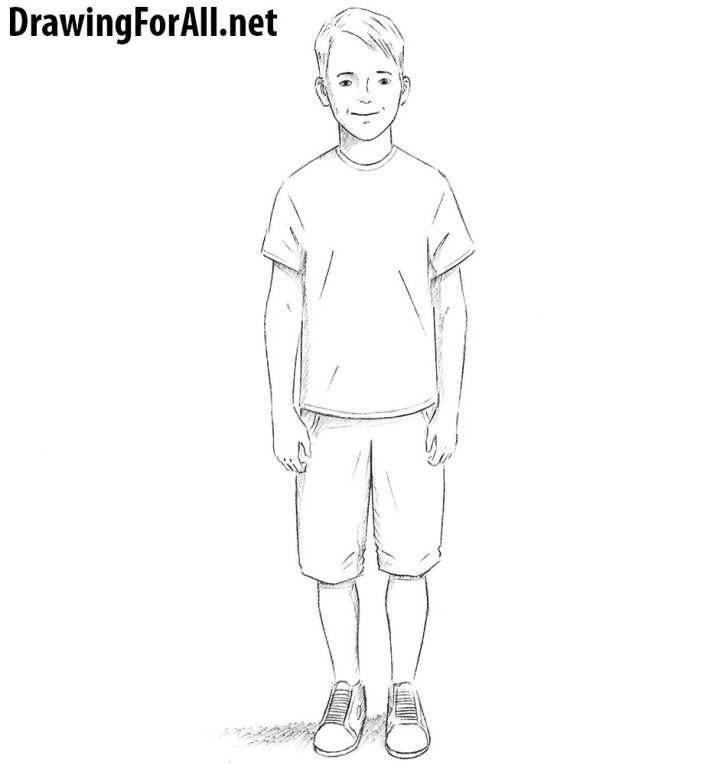 Have you ever wanted to draw a boy but couldn't plan on where to start? It can be hard to exactly plan a drawing like this one, so that is why it is recommended to follow this guide. It features a simple boy drawing – the boy has a neutral facial expression and is wearing a plain t-shirt with a rounded neck, knee-length shorts, and basic sneakers. drawingforall
2. Easy Way to Draw a Boy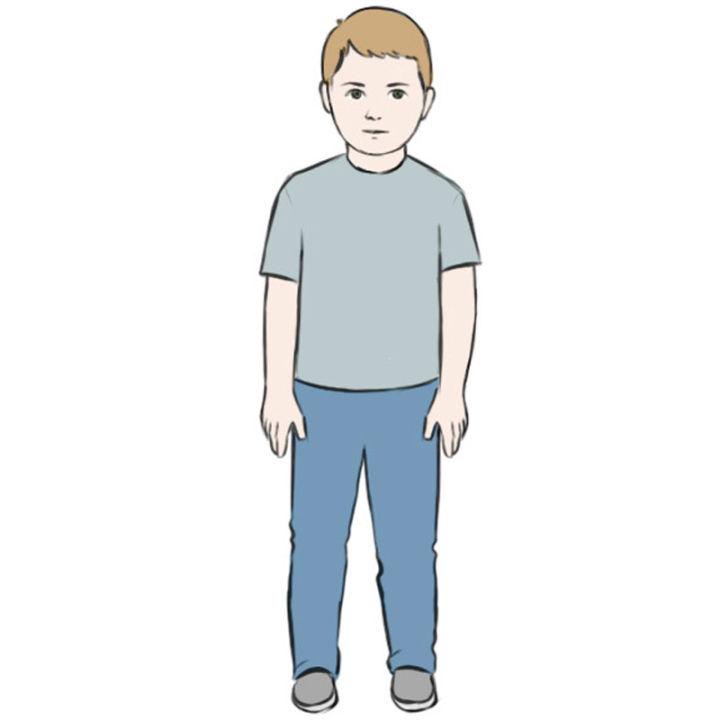 Are you trying to draw characters inspired by the old anime style? If you take a look at older animes from the 90s, their style is unique, and people love to draw in this style. It is a beginner skill to have, so if you're just starting, this is the drawing guide that you should follow! The boy is wearing simple clothes and has a serious expression on his face. easydrawingart
3. How to Draw a Boy for Kids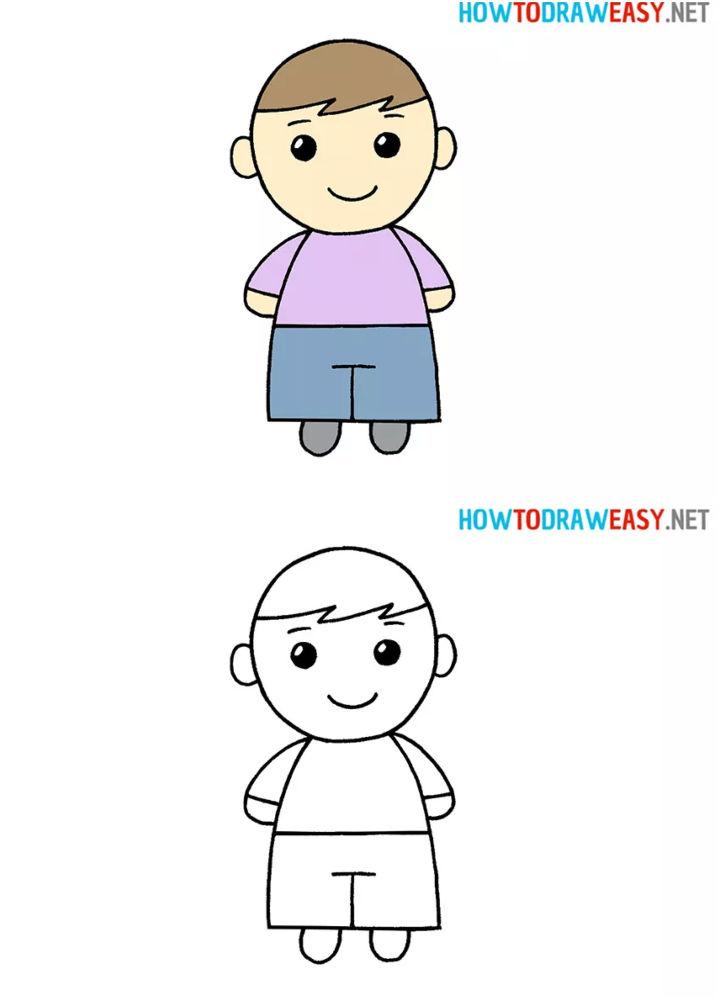 Kids can not draw stuff that requires complicated lines or shading. However, you can always find a guide that features straight lines, no shading, and basic coloring – just like this one! You will be able to make this cartoonish figure in around 9 simple steps. The best part about this guide is that every step has an illustration to explain it better. howtodraweasy
4. Little Boy Drawing in Just 6 Easy Steps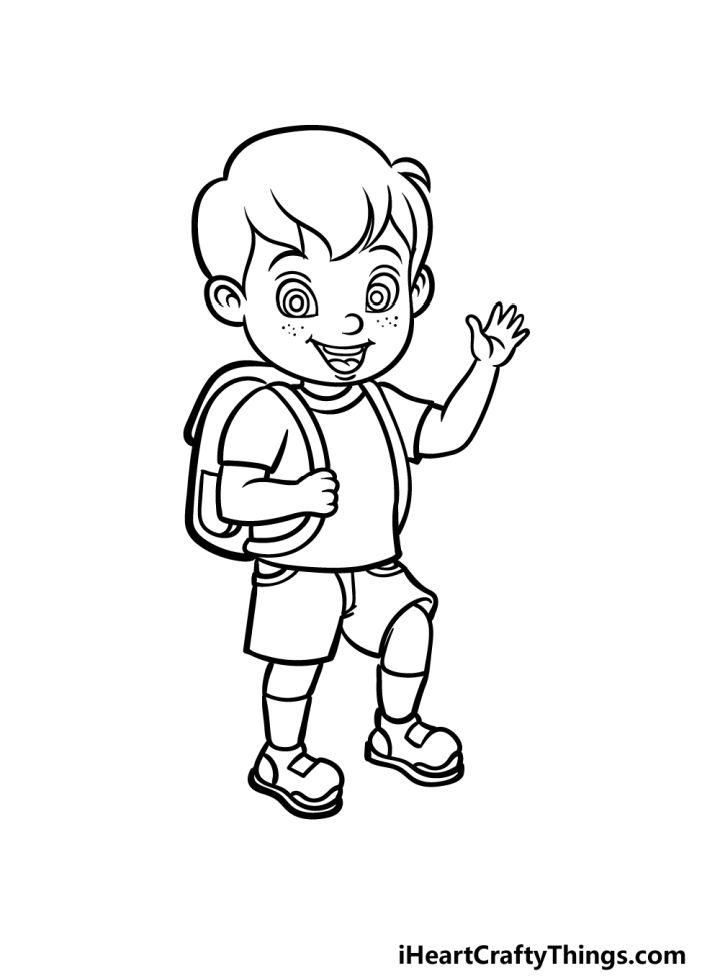 Everyone loves drawing cartoons as even though they have a glimpse of reality in them, they can still be romanticized or changed to however you like. Moreover, cartoon-style art is also easier than realistic one so if you're a beginner, follow this guide to make this amazing simple boy drawing! You will love the final result as it turns out to look beautiful. iheartcraftythings
5. Draw Your Own Man Boy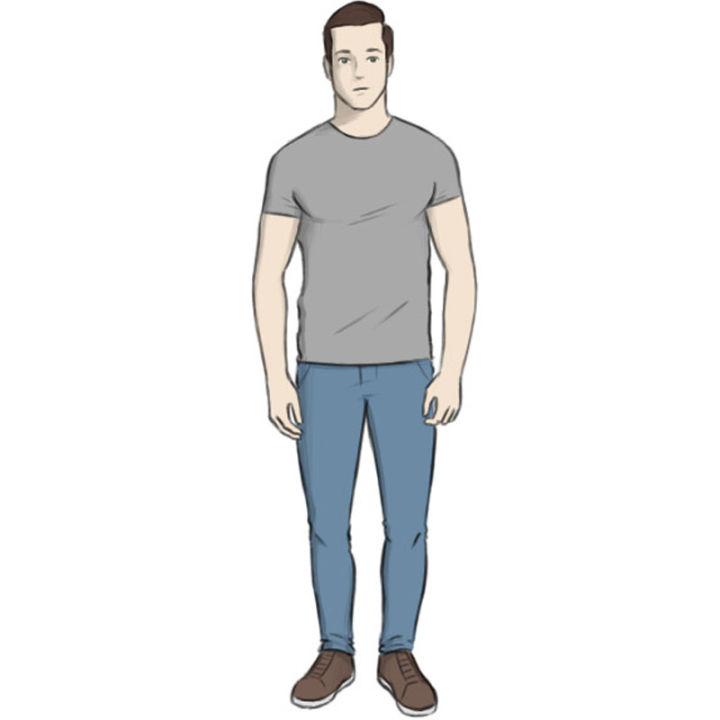 Do you want to draw a man that looks like he's in his 20s? Well, then this is the guide for you! This guide features a man with a muscular figure, big arms, a plain t-shirt, jeans, and shoes. Moreover, this figure is great to depict main characters or superheroes in storybooks or in your drawings. It's recommended to start with the outlines. easydrawingart
6. How to Draw a Cartoon Boy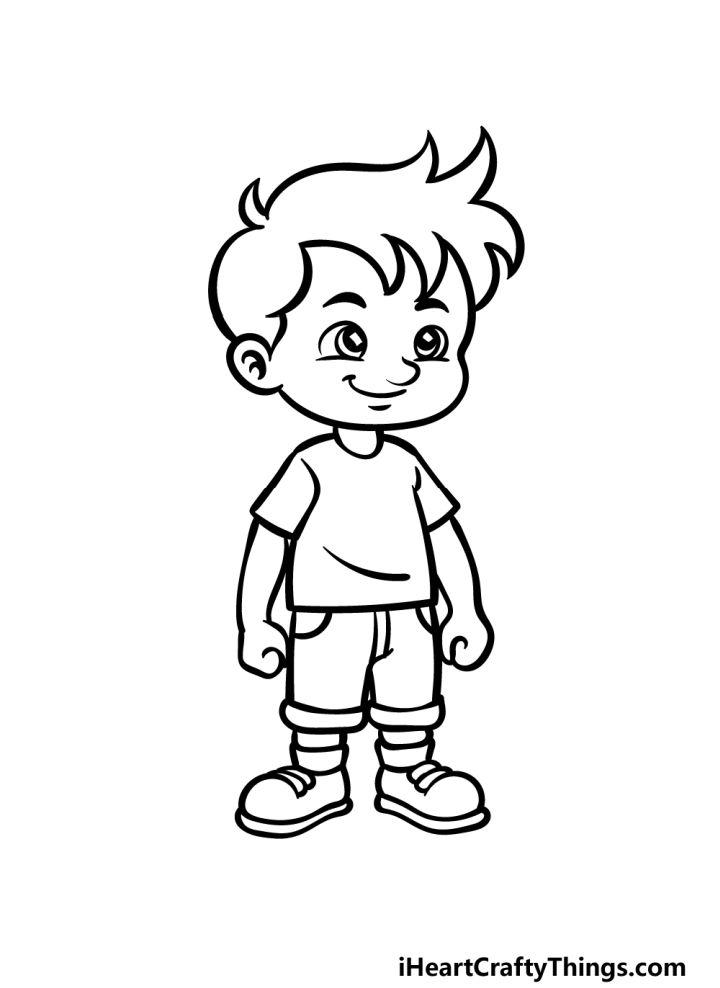 In comparison to all of the other boy drawing ideas in this guide, you should learn this one as it features a cartoonish drawing. Any good artist should be able to draw cartoonish people – especially younger boys as they are used in children's storybooks all the time! This boy has a friendly smile, blonde hair, a big face, and a cute red, green outfit. iheartcraftythings
7. Cute Anime Boy Drawing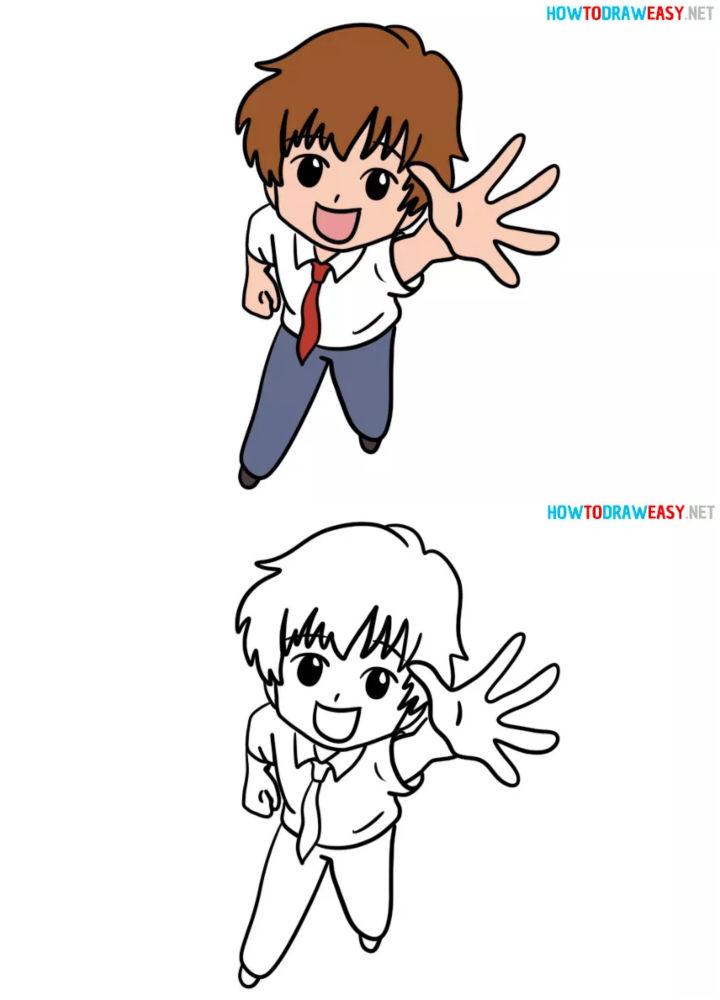 Every anime character has some distinct features – usually very beautiful and long hair, big eyes, suits, and smiley faces. This drawing covers almost all of those things and turns out to look stunning! You just need to gather your supplies or download your drawing software to get on this stunning anime boy drawing! howtodraweasy
8. Cartoon Black Boy Drawing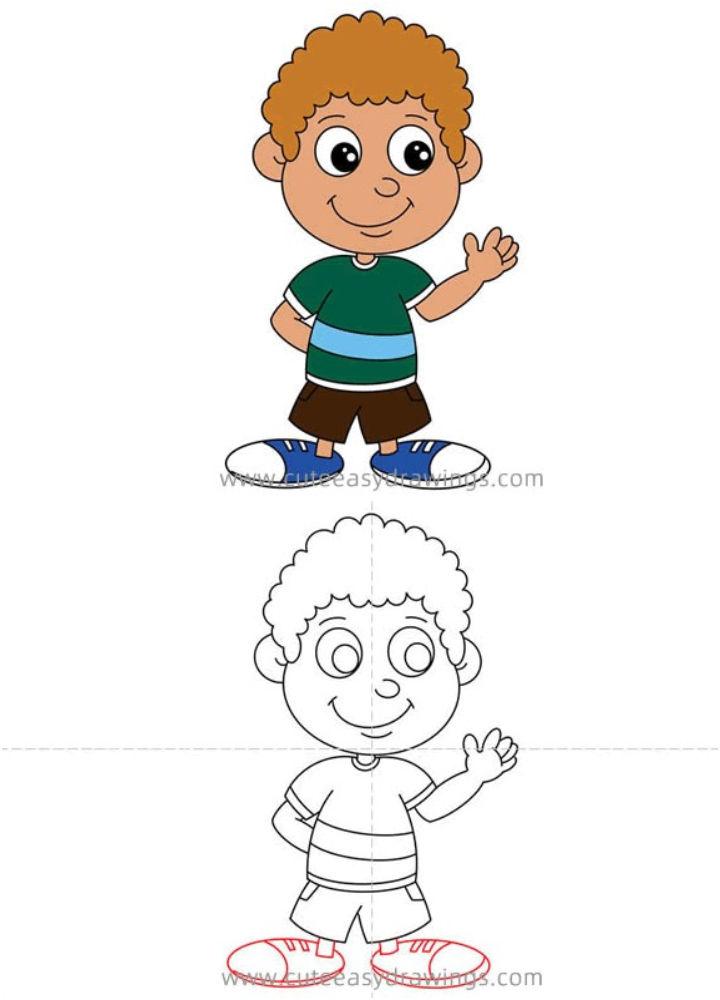 Any good artist will be able to draw all races and be able to differentiate between white, brown, and black people when drawing them. This guide will take you through the process of learning to draw a black boy. The drawing shows an adorable black boy with a friendly face, curly hair, black skin, big eyes, and a really cute outfit – a striped shirt and shorts with sneakers! cuteeasydrawings
9. Boy Hair Step by Step Guide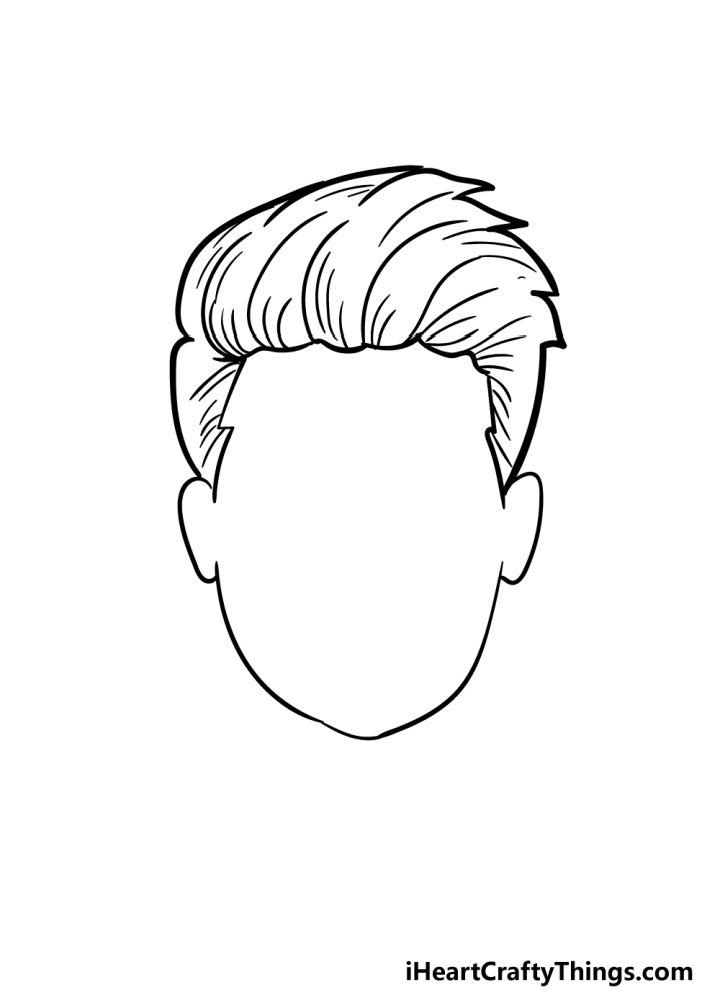 If you have ever tried to draw a boy before as an artist, you might have realized just how hard it is to draw hair! Why is that? It's simply because you have to focus on almost every hair and make it look realistic. However, this guide will change the game for you as it has the perfect hacks for you to draw beautiful hair in your boy drawings! iheartcraftythings
10. How to Draw Beast Boy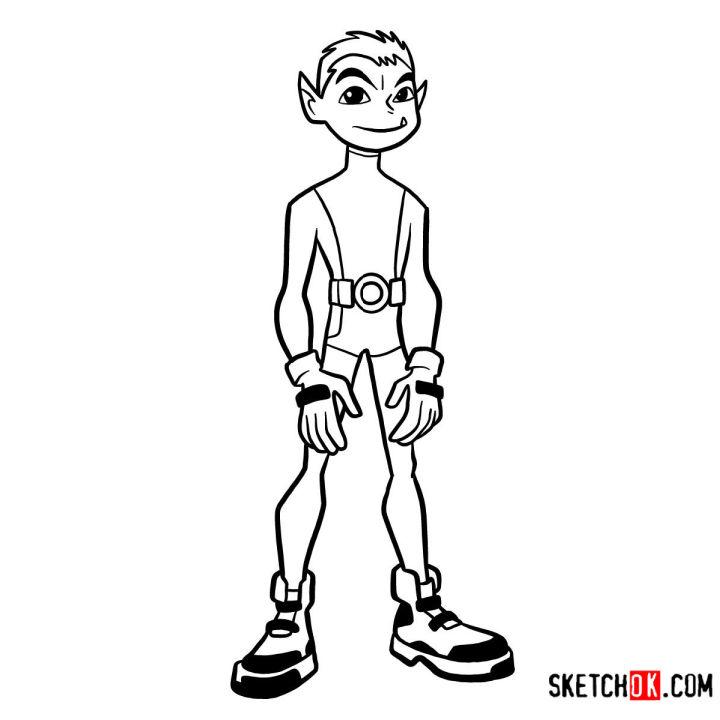 A beast boy might be your children's favorite character in cartoons as he is a famous one, and most kids love to watch how cool he is! You can ask your children to draw them in their natural elements while following this guide. The beast boy is wearing an eccentric outfit in this drawing – a skin-tight jumpsuit, a huge belt at the waist, and chunky shoes. sketchok
11. Simple Boy Drawing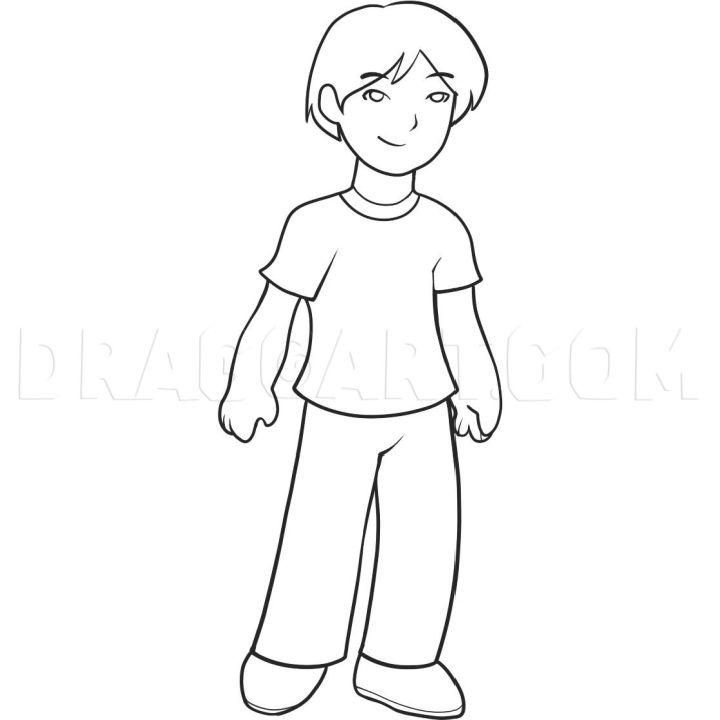 Many artists are obsessed with drawing boys that look like vampires as these types of boy drawings are quite famous these days and do well on social media – people can use them as covers for their Wattpad stories, Tumblr profile pictures, TikTok profiles pictures, or just as their wallpapers! You should give this a try! dragoart
12. Drawing of a Boy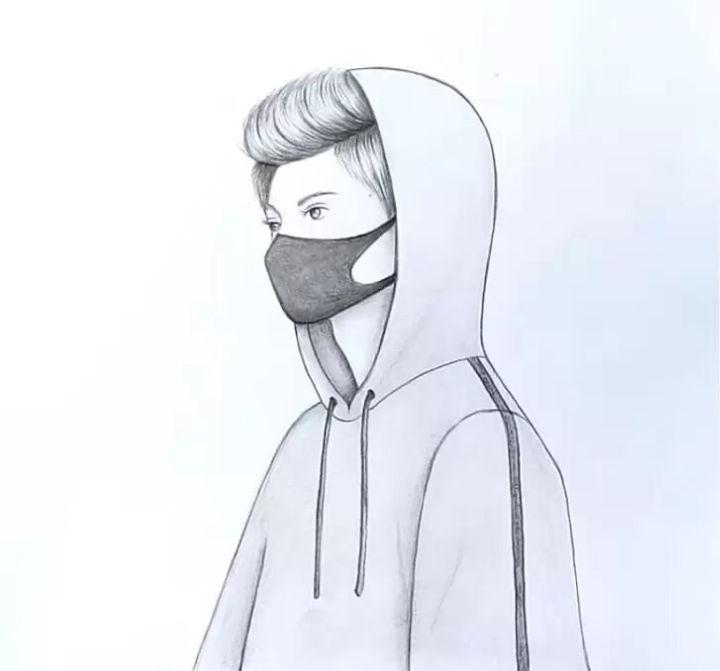 This picture of a boy might give you vibes of 2016 Tumblr as he's wearing an oversized hoodie and covering his face with a mask! It is quite popular these days to dress like this and look "incognito" – which means that people can't identify you just by looking at you dressed like this! Moreover, this type of sketch can be used to portray villains in your stories. 3dvkarts
13. Wonderful Boy Drawing for Beginner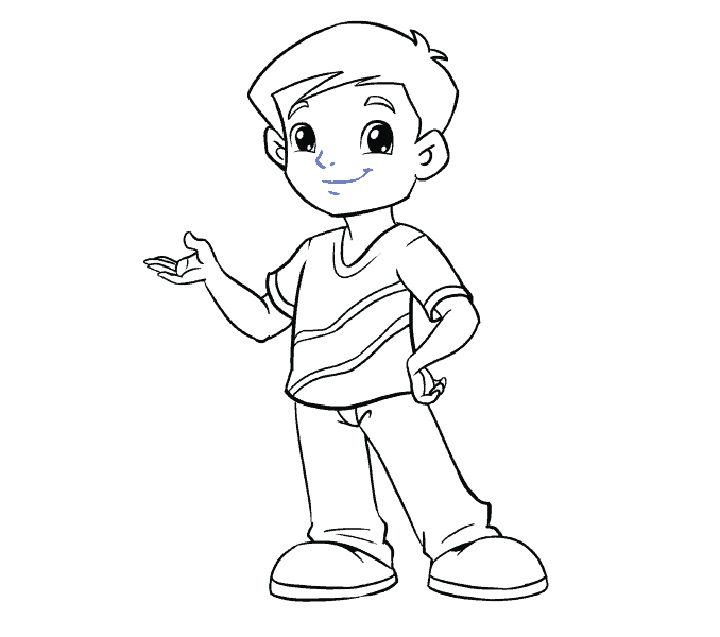 Are you looking for an innocent-looking boy drawing idea? This type of drawing can be used in many different stories – it can be a son or just a happy character. The boy has a cute smile on his face, big wide eyes, high eyebrows, and a simple outfit that is not colored in. However, you can choose to color this picture depending on whatever colors you prefer. easydrawingguides
14. How to Draw a Boy Face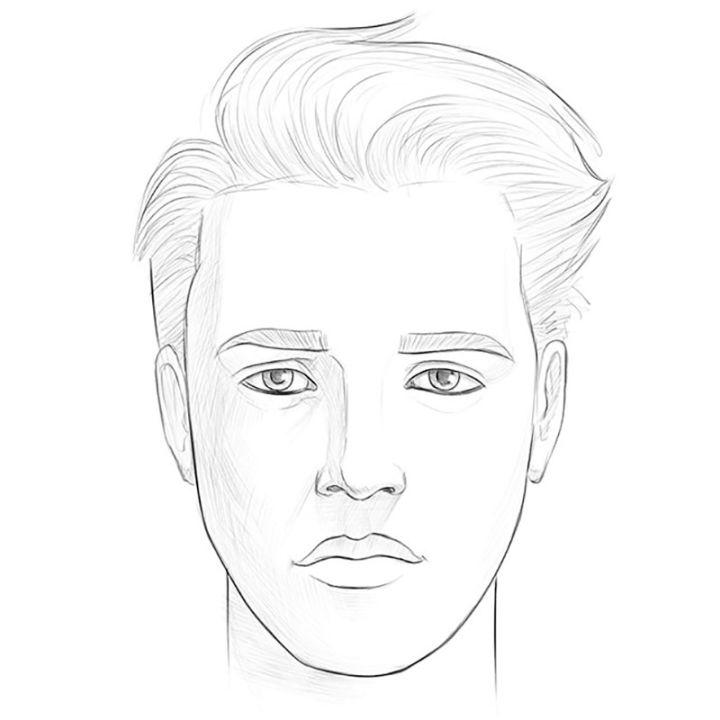 It can be quite hard for beginners to draw faces as to draw them right – you have to make them symmetrical. Many beginners can find it hard to make perfectly symmetrical faces, but you can follow this guide to learn how to do it well! Moreover, you will also need to focus on the expressions on the boy's face while drawing this. drawingforall
15. How to Draw Anime Fluffy Hair Boy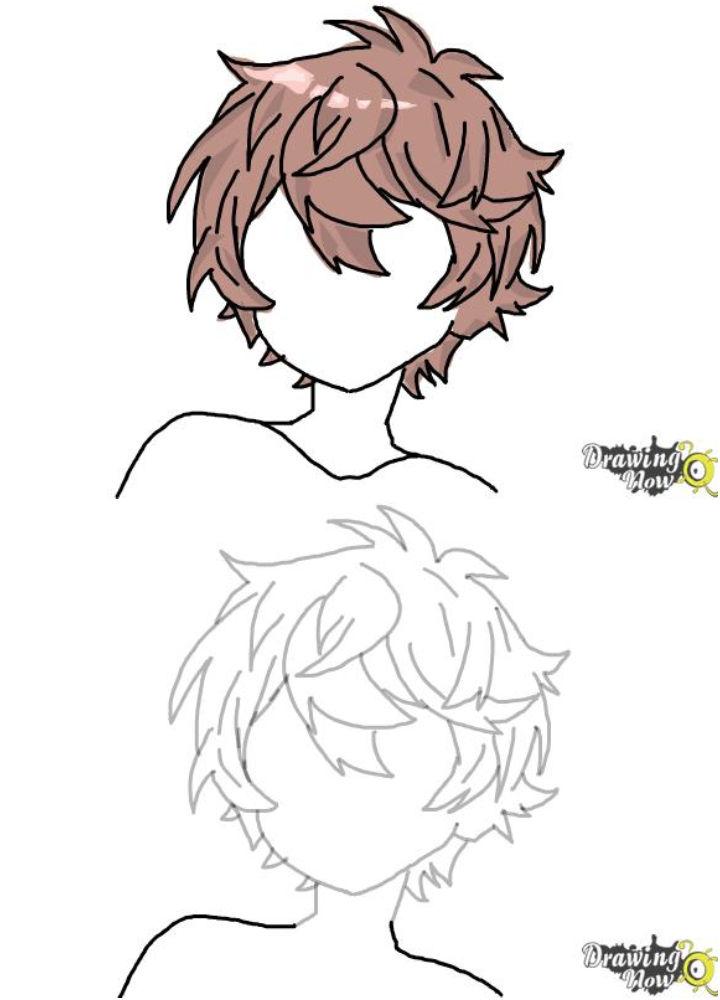 Anime boys are famous for their fluffy hair and shape jawlines – all of that is covered in this amazing guide! Moreover, there are no features or expressions on this anime boy's face, which makes it the perfect drawing idea for people who are not good at art but still want to give it a try! You will love the final product and can use it as a print for many unique and different things! drawingnow
16. Boy Sketch Drawing with Pencil

Here's another boy drawing that features a boy with a puffy hairstyle – similar to the type that Justin Bieber had when he was younger. Moreover, the boy is wearing an oversized t-shirt that says "LA" on it layered over a full-sleeved tee. This boy is also wearing sunglasses to make him look super cool! You can draw this just for fun and post it online!
17. Handsome Anime Boy Drawing

Anime boys are liked so much as they usually are quite handsome and have soft personalities – this drawing shows the perfect ratio of that! It features an anime boy with a beautiful face, long hair, and teary eyes. The tear-stained eyes and blushy cheeks represent the personality of this anime boy – he cries easily and is a sad boy!
18. Boy Child Drawing Lesson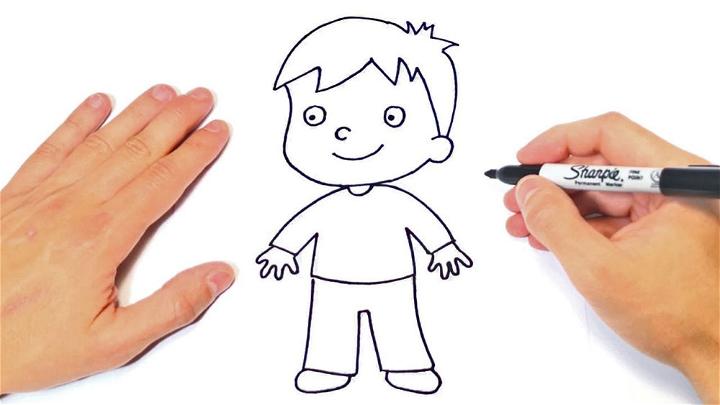 Do you want to teach your little ones to draw a simple boy so they can use it whenever they have an assignment that requires them to draw a person? Well, then here is the perfect guide for you as it shows a boy with plain hair, a simple face, basic clothing, and a friendly smile! This would be the ideal basic drawing to teach them.
19. How to Draw a Realistic Boy with Cap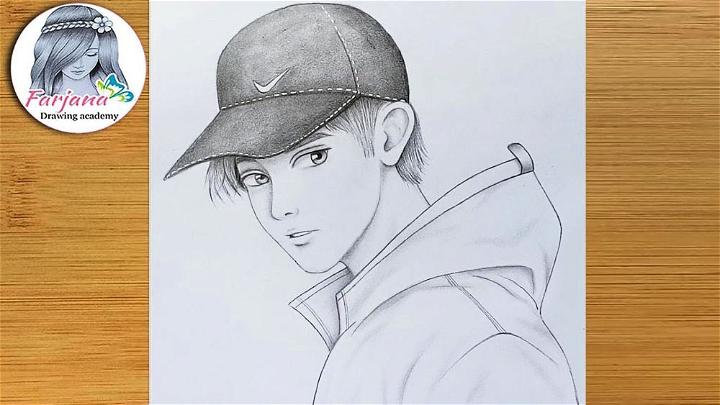 Realistic boys can indeed be hard to draw as you need to make everything perfect, and if you mess up – it will show in the drawing. However, if you follow this guide – it will make it easy for you to draw the perfect handsome realistic boy and guide you on how to hide or fix mistakes if you end up making any! Make sure to have fun with this drawing.
20. Handsome Boy Drawing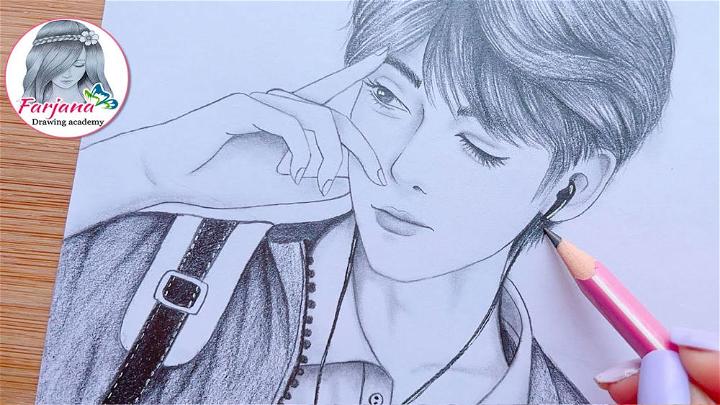 Here's another guide that will take you through the process of re-creating this handsome boy through sketching! Only half side of his face has an open eye in this drawing which makes this drawing look quite aesthetically pleasing and fun to look at! You will love the final result after you're done following all the steps and shading everything perfectly!
21. How to Draw Anime Boy Eyes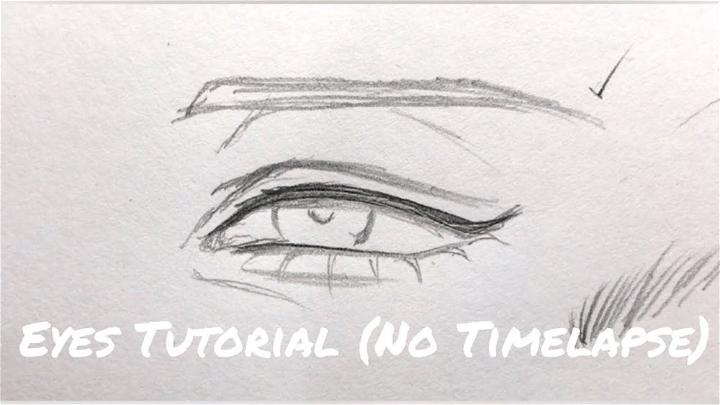 Anime eyes can be different for all genders; however, straight boy anime eyes are unique! Mostly, anime girls tend to have rounder eyes, and anime boys have cat-shaped wide eyes, and that is exactly what you will learn to draw in this amazing guide! Are you excited to give it a try? You can use this type of eye shape to draw beautiful anime boys.
22. Anime Boy Crying Drawing

One thing that is shown in anime a lot when it comes to boys is their emotions! The emotions of anime characters set them aside from all other types of animes. Moreover, this drawing idea shows exactly that – a cute anime character with long hair, a nice face, and ear piercing while crying. You can use this for sad parts in your story or just use it for fun.
23. Sad Boy Drawing with Pencil Sketch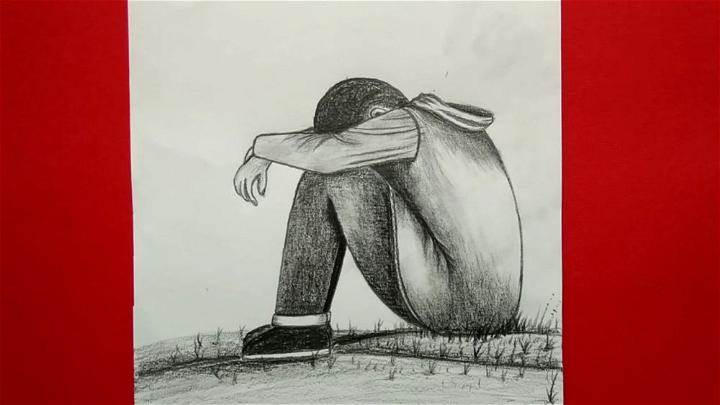 Usually, when boys are sad, they tend to sit down on the ground with their heads in their arms and their arms on their knees. This is a sad human behavior that is shown in many different animes, stories, and books to portray the emotions to the audience. You can learn to draw this type of sketch so you can use it when you're asked to draw it.
24. How to Draw Boy and Girl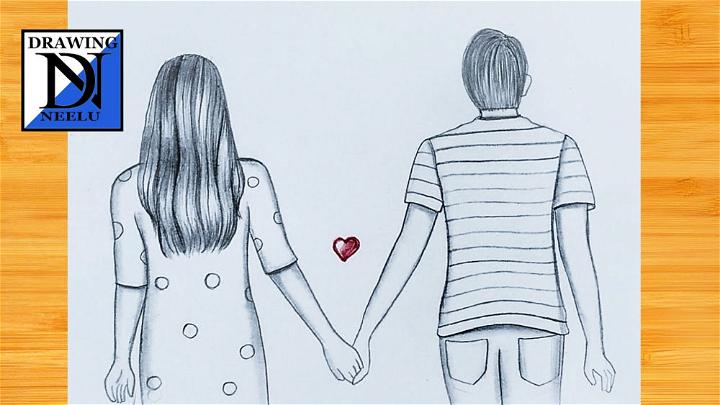 When it comes to sketching and drawing it is usually used to portray human emotions and the things that are hard to say out loud. Many people use illustrations like these to release their emotions into the world – you can re-create this drawing and post it online, as well! The drawing features a guy and girl holding hands with a cute heart drawing in the center!
25. How to Draw a Aesthetic Boy with Guitar

Last but not least is this aesthetic boy with a guitar! Indie boys and skater boys usually have a guitar with them – this would be the perfect drawing to make if you're trying to draw indie aesthetic sketches! The final result turns out to look super cute if you do everything right and do the shading right. Make sure to gather the supplies before getting started.
Related Drawing Ideas:
Face Drawings: We've brought you the easy face drawing ideas of all time. Whether you're a newbie or you've been drawing faces for years, there's something here that will inspire you.
Hair Drawings: Find the perfect hair drawing idea, including curly, long and short hairstyles in line drawings. Find tips on how to draw hair and what to consider when drawing hair.
Hands Drawings: Learn how to draw hands in one hour with this tutorial. This collection of hand-drawn sketches and designs will surely inspire your creativity.
Nose Drawings: Find a list of easy nose drawing ideas for all skill levels, from beginners to advanced artists, with step-by-step instructions and video tutorials.
Sad Drawings: If you're sad and want to draw, we have some sad drawing ideas for you. Whether it's a cute cartoon character or a sad face, there is inspiration here for all of your moods.
Conclusion:

So, are you ready to give these boy drawings ideas a try? Are you excited to go through the guides and pick out your favorite options to learn to draw them? You will be able to use these simple boy drawing ideas in so many different things – whether you are drawing a boy for a picture book, story, or just for fun! Moreover, teaching the easier options to your little ones would help them develop better skills in sketching!