Without adding the exact hairs, we can't give that ideal personality to a character. Being an illustrator and sketcher, you will know how much drawing the hair matters while approaching the most realistic look of the character. From anime characters to cartoons to real girl and boy hair, you will learn to draw almost all sorts of hair in diverse styles. Learn how to draw hair with these 25 easy hair drawing ideas include step by step sketch guide, printables and coloring pages that will discuss how to draw the braid's hair, pigtails hair, curly hair or kinky hairs, spiky hairs and wet hairs etc. So, looking through these projects will surely help sharpen your sketching and illustration skills. From easy to intermediate to advanced, there are hair drawing projects here for all skill levels.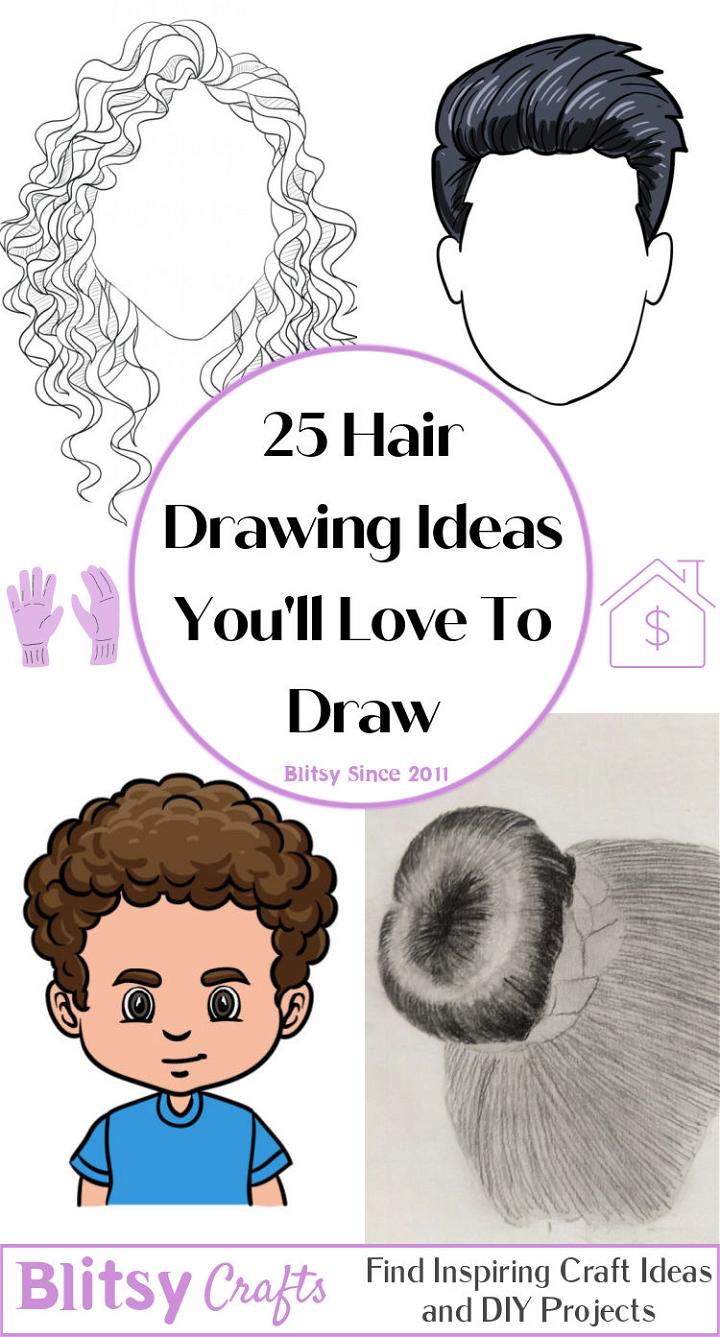 The project will share different professional tricks and strategies to draw hair. Most of these hair drawings involve drawing first the outline of the hairs. Next, you can add shading and textures and add the necessary gloss to complete these DIY Hair Drawing Projects with ease. The list will share so many different hair drawing ideas that will help polish and sharpen your drawing skills for sure. Most of the projects require lead pencils and drawing papers, and hence they all will be budget-friendly. Not merely the hairs, you will learn here to draw the whole characters and faces also.
1. How to Draw Hair Step by Step Guide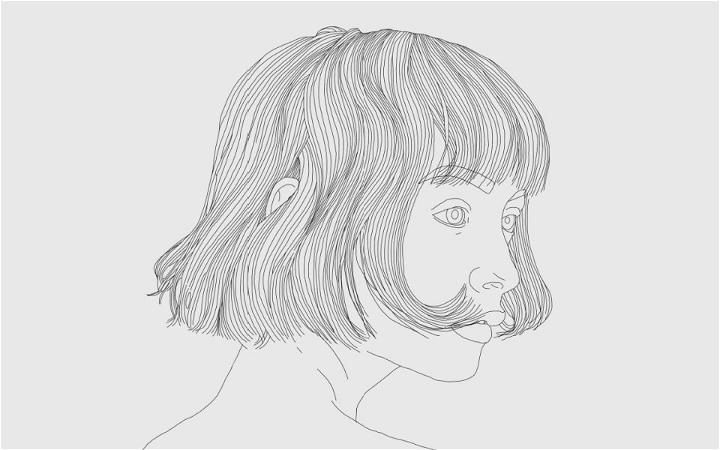 The hairs are the most important thing to draw nicely when intending to make a drawing look realistic. So, the project will show you how to illustrate different hair types, sure to bring lots of precision and accuracy to your drawing projects. You can start with the basic overall shape and ending, and next, you can use different techniques and pencil strokes to get the necessary texture and spunk. From curly to straight hairstyles, these projects will guide you through drawing all types of hair. The instructions are shared from an artist's point of view. thoughtcatalog
2. How to Draw Anime Hair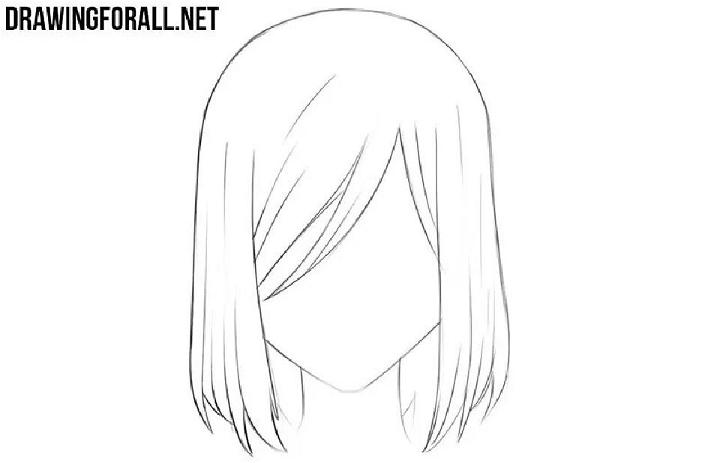 How to draw girl hair? Many of us are deeply in love with the anime characters due to their spectacular hair. So, if you are willing to draw an anime figure or drawing, you must learn to draw anime hair, which will have a bigger impact on the overall beauty and precision of the drawing. So, you will get here instructions about how to draw the anime hairs in the best possible way. First, depict the head and then draw the hair outlines. Next, you can start adding the hair details. You will get here different inspirations for anime hair. drawingforall
3. Curly Hair Drawing – How To Draw Curly Hair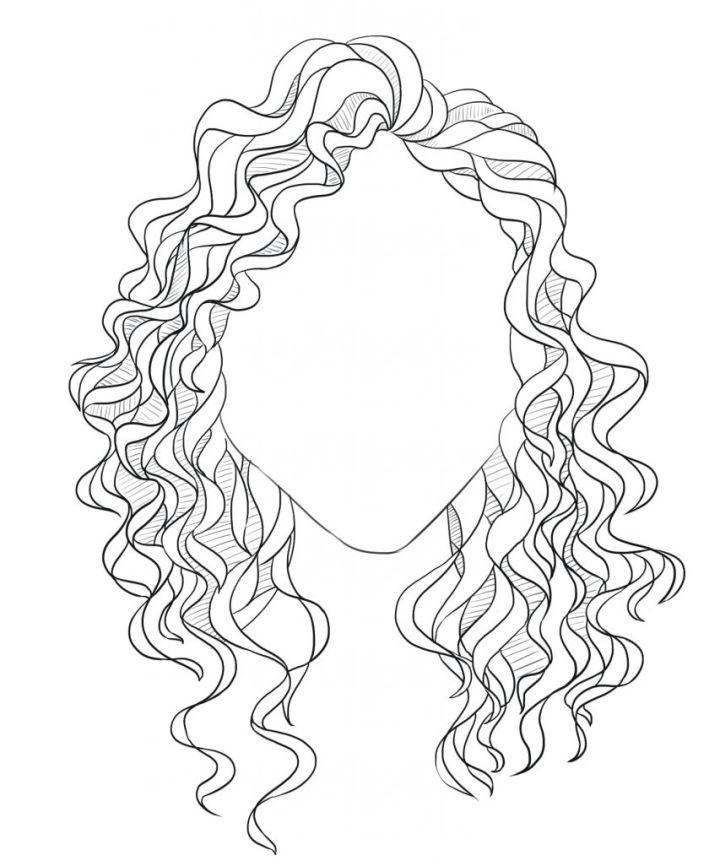 The toughest thing in the drawing and sketching project can be drawing some curly hairs. So, if you are on the way to becoming a professional artist, you must get your hands mastered in drawing all sorts of hair. Learn how to draw curly hair with step-by-step instructions to easily draw curly hairs like a pro. Start the curly hair drawing by drawing the guidelines first, and you can draw a horizontal and vertical line for it. Next, just outline the hairs and start adding the details. The project will be more than easier to do once you get into the detailed diagrams. wonderstreet
4. Draw a Braid In a Front View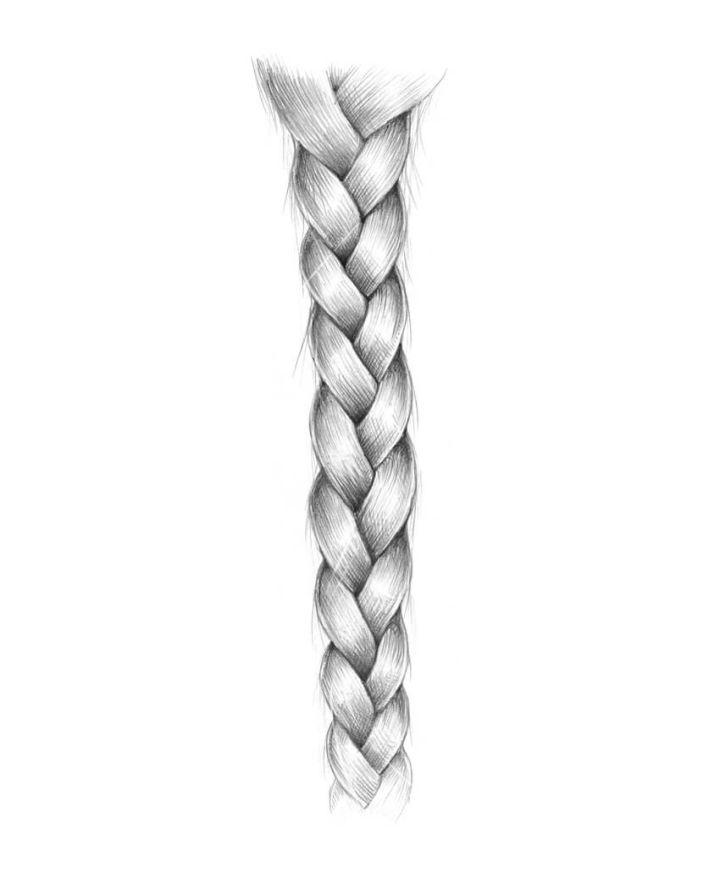 The list will cover drawing all sorts of hairs like a pro, and this will be a great idea to make your drawing look more realistic. So, hone your artistic skills by drawing a lovely braid, sure to impress you all at a very first glance. You need a couple of graphite pencils to draw this most realistic-looking hair braid, guaranteed to impress the audience. You need an HB graphite pencil, a 3B graphite pencil, an eraser and drawing paper to complete this project easily. Start the guidelines first, add the braid outlines, and finally, add the details. design tutsplus
5. Male Hair Style Drawing – Step by Step Instructions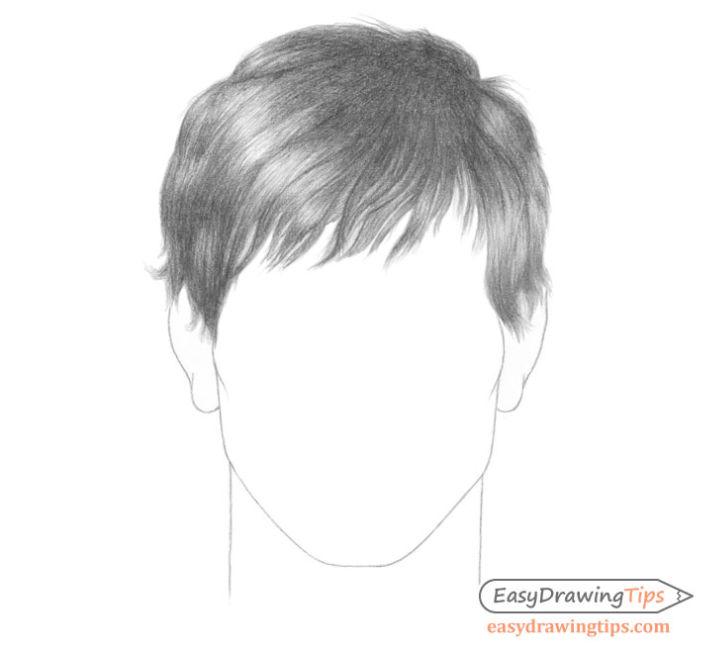 After you exactly draw facial features and complete face sketch, drawing hairs can be the most challenging. So, willing to get an expert in drawing hair? Follow here quick guides about how to design the male hairs in the best way to look much near to real. The project will share comprehensive guides about how to draw natural-looking hair, combed hair and spiky hair, and this is going to be great fun for sure. You can exactly outline the hair strands according to the face by drawing first the head. Next, you can easily draw the hairs that will look much realistic. easydrawingtips
6. DIY Short Hair Drawing for Beginners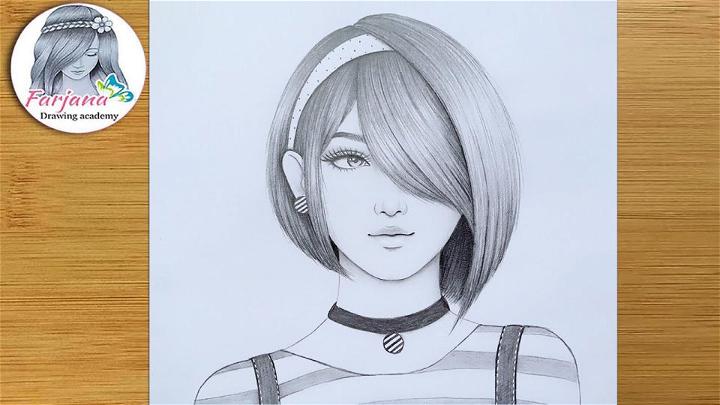 Get here complete and comprehensive guides to draw the beautiful girl's hairs. The hair looks just perfect and comes with the necessary gloss and shading. Draw first the head, and then you can move ahead to draw the hairline and hair outline. After you get the exact dimensions of the hair volume, you can start adding details. This project will provide some additional guides also about how to start shading the hair and how to enhance the gloss of the hair for a perfect look and appeal. htdraw
7. How to Draw Facial Hair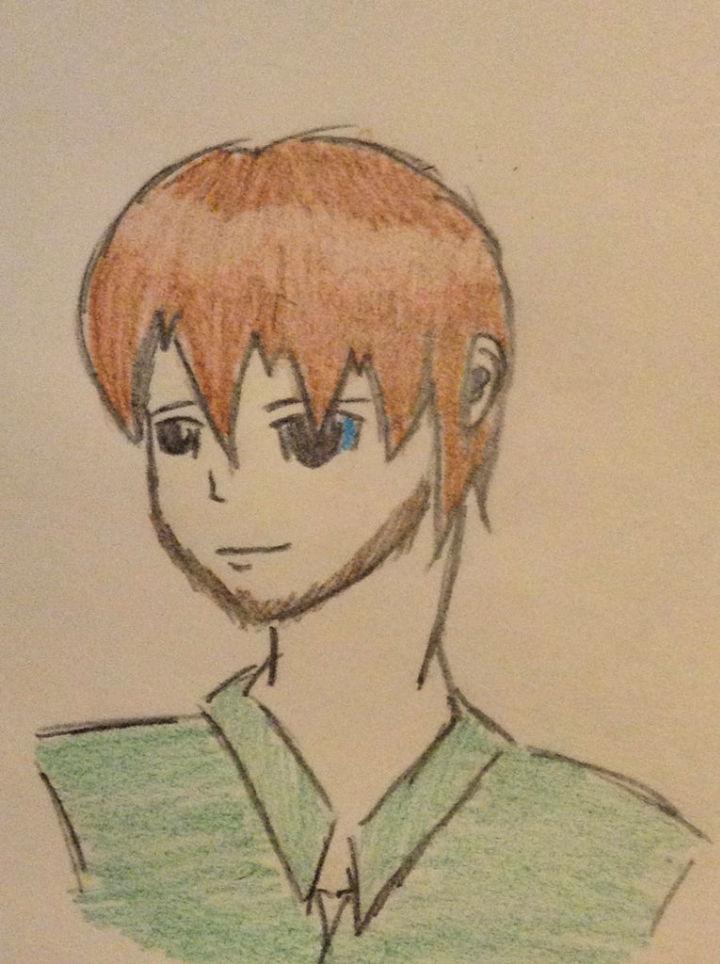 Just like head hair, you can learn to draw facial hair and complete your drawings and sketches neatly and beautifully. Learn where to draw the whole male face with lovely head and facial hairs and shoulders and other details. First, draw the face and head hair outline, and then you can start drawing the scruffy facial hair while going along the jawline. Finally, you can add the custom details and fill in custom colors in the whole drawing. The easiest yet quickest way to draw hair. instructables
8. Hair Bun Drawing for Beginners

After you learn to draw the braids, curls and simple straight hairs, move ahead and master drawing the buns. So, get the professional artist guides about how to draw a lady's bun expertly with all the necessary shading and gloss. First, you need an HB pencil, 2B pencil, drawing paper, kneaded eraser and reference image to complete this outstanding hair bun. Draw first the bun outline, and then you can start adding details, including shading and gloss. The project completes super quickly and will inspire your inner artist. paintingcreativity
9. Draw Long Anime Hair In Pencil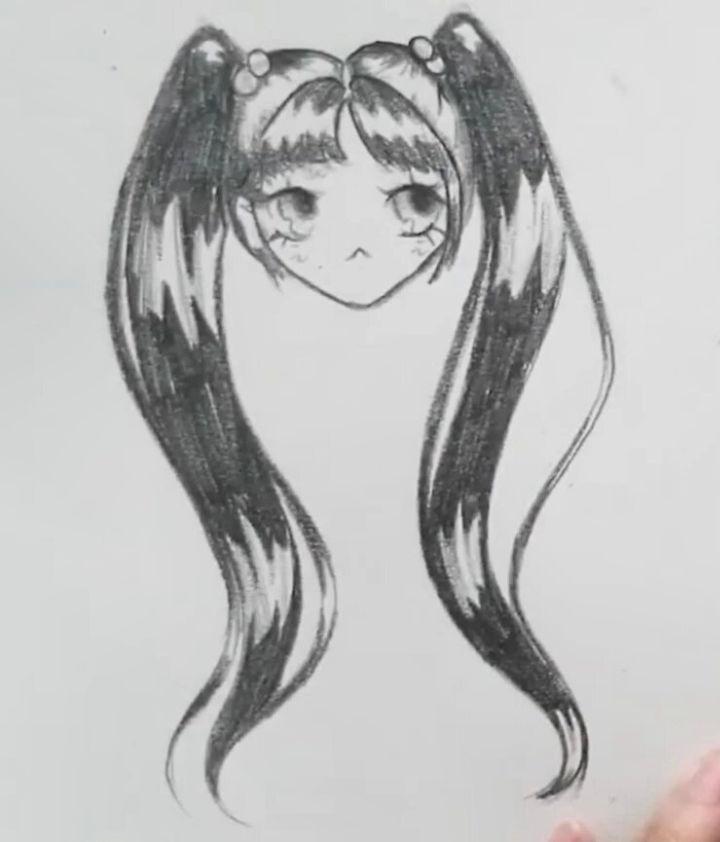 Get here instructions to draw the anime hair in the best possible way. This will give realistic effects to the entire anime drawing and will be easier to draw with the provided guides. Draw first the cute face of the anime, and then you can move forward to start adding custom details. Here this anime comes bangs and pigtails and is crazily easy and cute to look at also. The finally completed anime looks precious, and the exact hair drawing creates that much realistic appeal of the entire anime. wingedcanvas
10. How to Draw Girl Hair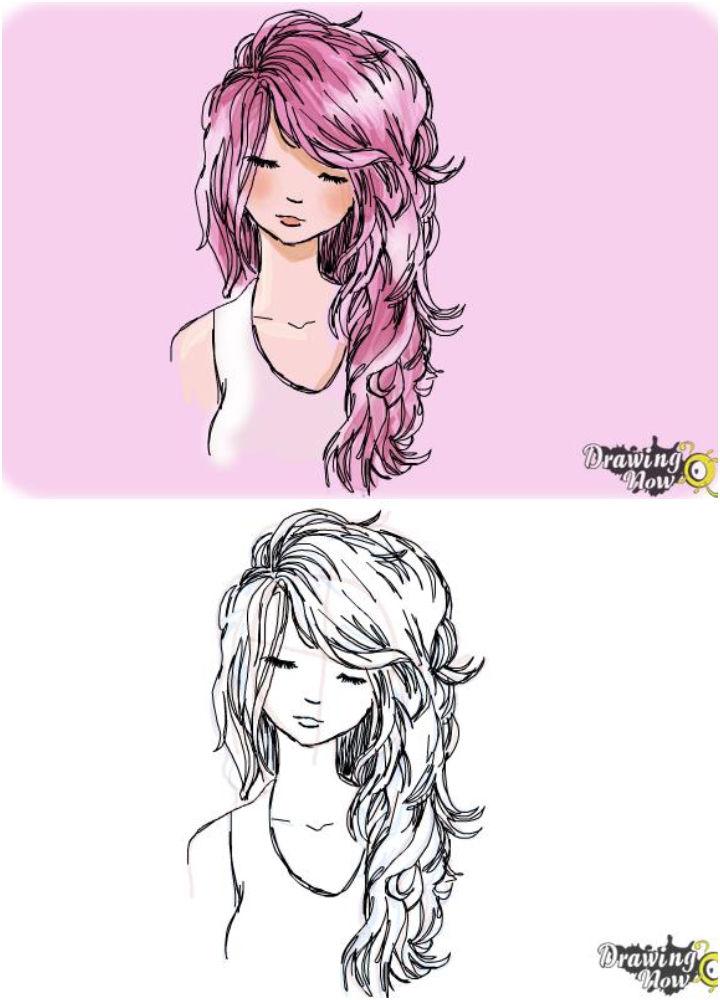 Intending to become an expert in drawing and sketching? Then follow the comprehensive guides and detailed diagrams about how to draw a girl with some fantastic hair. Here the entire drawing starts by making a face circle defining the face curves in the best way. Next, draw the face guidelines to accurately outline the hair and add the facial features precisely. Outline all the hair, neck and body, and then you can start adding details while going slow and steady with the pencil. One of the best girls drawing with a cartoon face. drawingnow
11. DIY Realistic Male Hair Drawing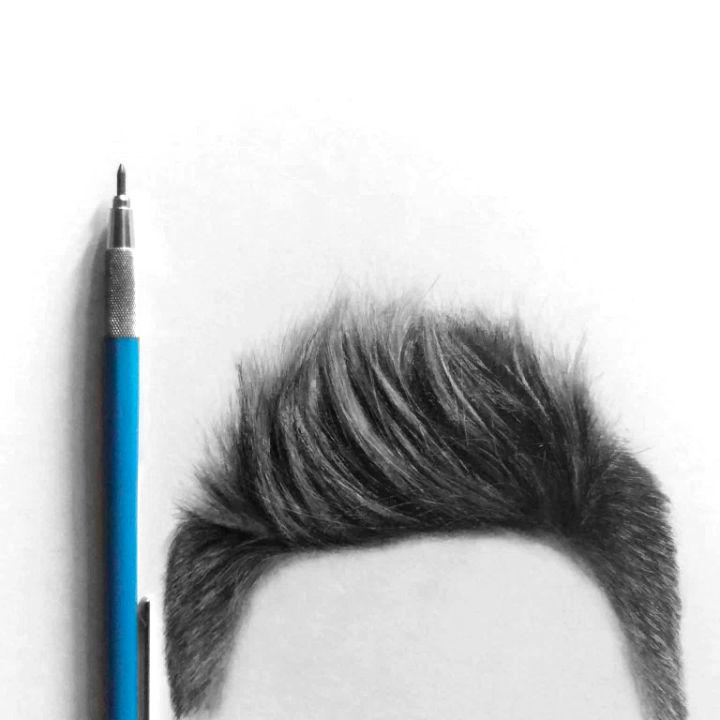 Just like the girls, drawing male hairs can be intimidating for many artists also. However, drawing exact hairs will give that necessary prominence and elegance to the entire sketch or drawing. So, you will get here step-by-step instructions about how to draw the most realistic-looking male hair. You need a 6B pencil, 2H pencil, kneaded eraser, needle stylus, color shaper and q-tip to complete this most realistic looking male hair drawing. It will be a big love of all. You can use a reference image to get helped in drawing the male hairs with exact texture and gloss. onlypencil
12. How to Draw Wet Hair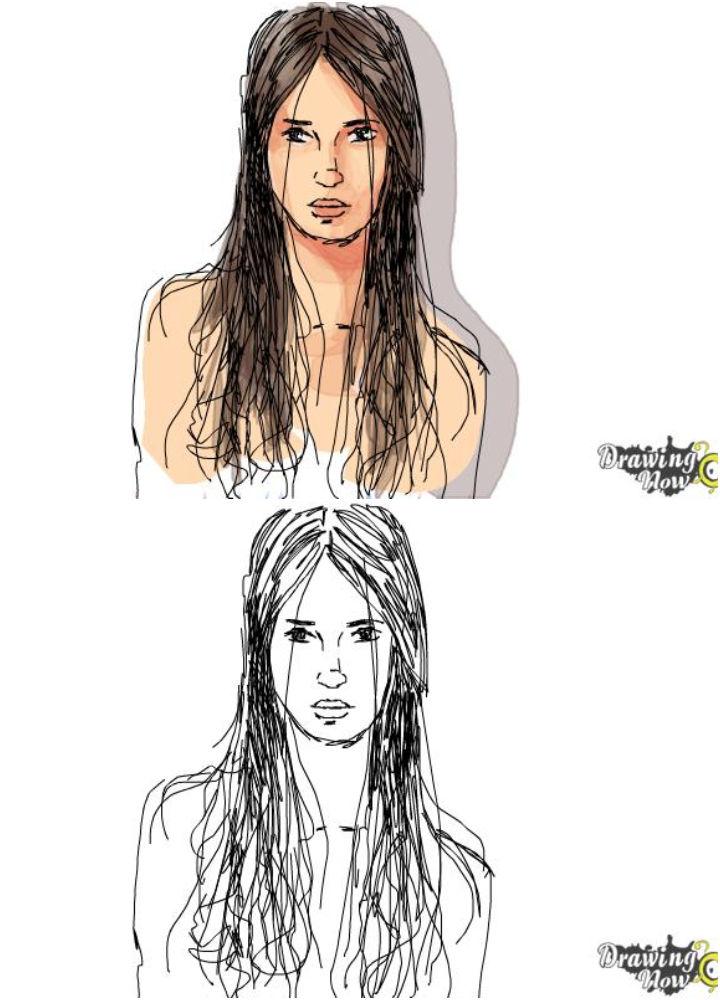 In this list of hair drawing projects, you will learn to draw all sorts of girl and boy hair. This project will discuss how to draw the wet girl's hair professionally without getting a bit puzzled. First, draw the face outline and then add the guidelines in the center of the face to mark the exact points for the hair curves and outlines. After drawing the hair outline, you can draw the most visible hair strands and add comprehensive details. The whole project is much doable and easy to understand also. drawingnow
13. Manga Boy Spiky Hair Drawing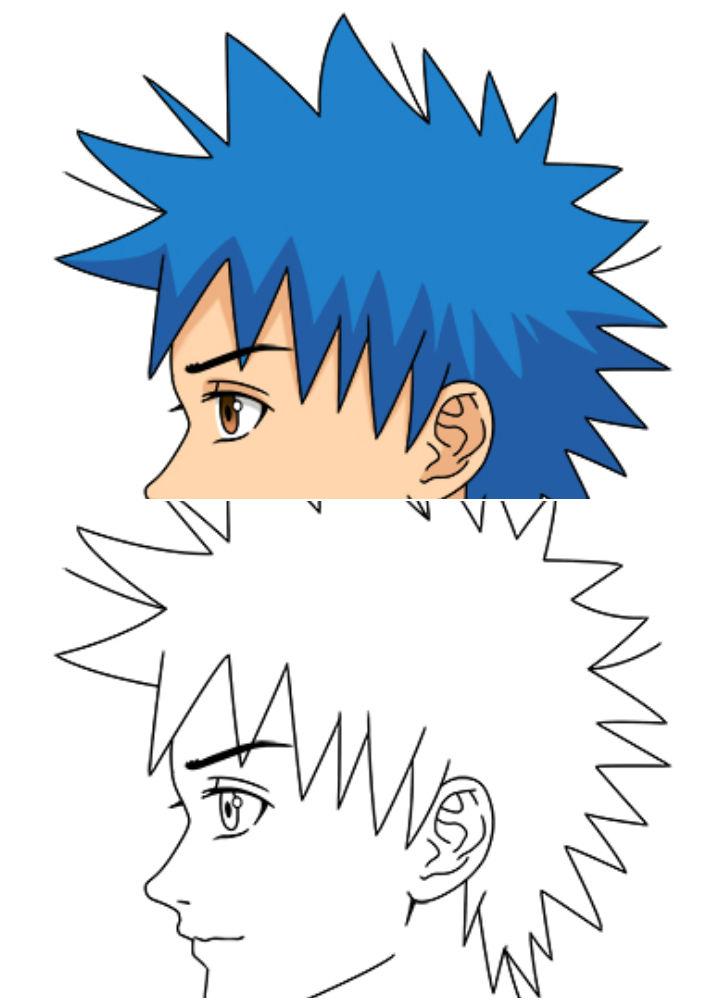 The manga boys and girls are the most loved ones in Japanese novels and comics. Get here guides and instructions about how to exactly draw a manga boy with spiky hair. The project involves drawing the side view, and this gives the better detailing of the hair spikes. First, just draw the manga boy's head and then outline the spikes on the head while adding the face features. Draw the face features, and next, you can fill colors in the manga boy and hair. The entire drawing project is fairly easy and quick to do and will create too much fun for beginner artists. how2drawmanga
14. Draw African American Hair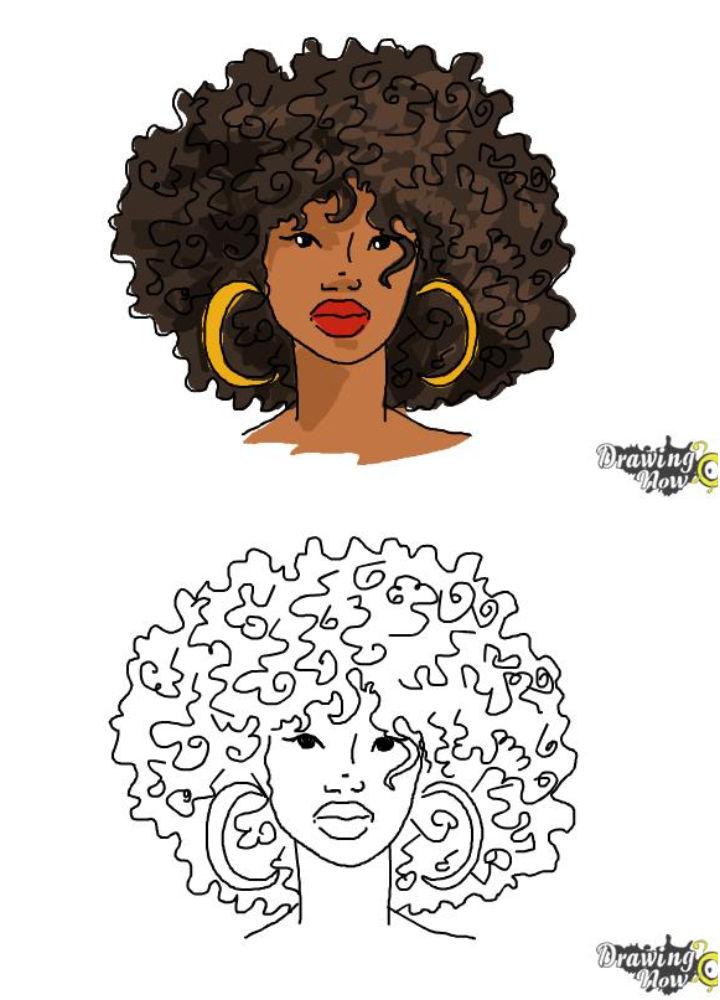 There are tons of different hairstyles out there. If you are on a mission to learn about drawing all sorts of hairs and hairstyles when being in professionally or interestingly in the art and sketch. So, follow the instructions here to draw the most challenging type of hair at home, the African American curly hairs, sure to bring tons of visual effects to your completed African girl drawing that is insanely cute and lovely to look at also. Take a better start by drawing the face outline and other guidelines. Next, sketch out the earrings and complete the project with ease. drawingnow
15. How to Draw Curly Male Hair

Once you get an expert in drawing hairs, you can try drawing all sorts of hairs. Follow here quick guides and instructions about how to draw curly male hair. The step-by-step instructions will guide you through drawing a little boy cartoon with curly hair volume. You can draw first the face and scalloped hair outlines. Next, go ahead and bring the necessary gloss, shading and details to the male curly hair. The whole project is much doable even for a beginner artist, and you will love the final results for sure. iheartcraftythings
16. DIY Cartoon Hair Drawing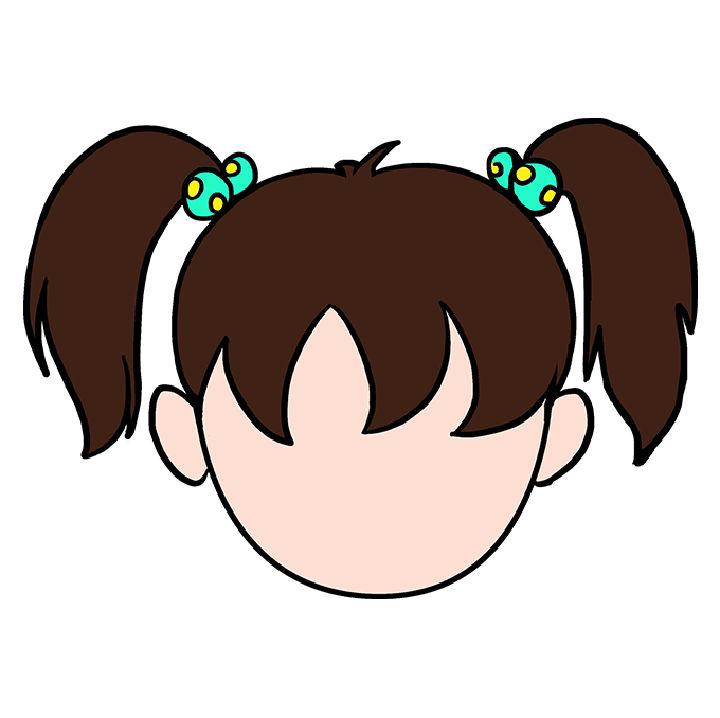 Get here quick guides and instructions about drawing the cartoon girl's hair with pigtails and bangs. This can be a beginner drawing project for all as it will not involve adding lots of details, gloss and shading. Start drawing the face by drawing a big circle, and next, draw the guidelines to easily outline the hair curves. This type of hair will also rock for anime drawings, and doing this project will surely help hone your drawing and art skills. The detailed diagrams make the whole project easier to do. easydrawingguides
17. How to Draw Wavy Hair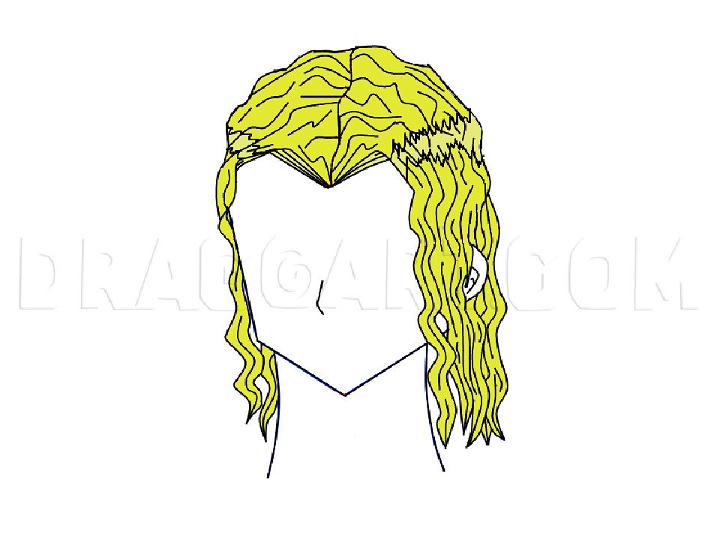 Are you addicted to making cartoon drawings? Then the cartoon characters come with many unique hairs that can be a big challenge to draw also. So, follow here guides and instructions about how to draw lovely wavy hair. So, it will be easier for you to draw custom cartoon characters. The hair design and curves are much achievable. However, you can draw the custom guidelines to make the project easier and quicker. So, do add this project to your to-do list of hair drawings. dragoart
18. Easy Way to Draw a Chibi Girl Hair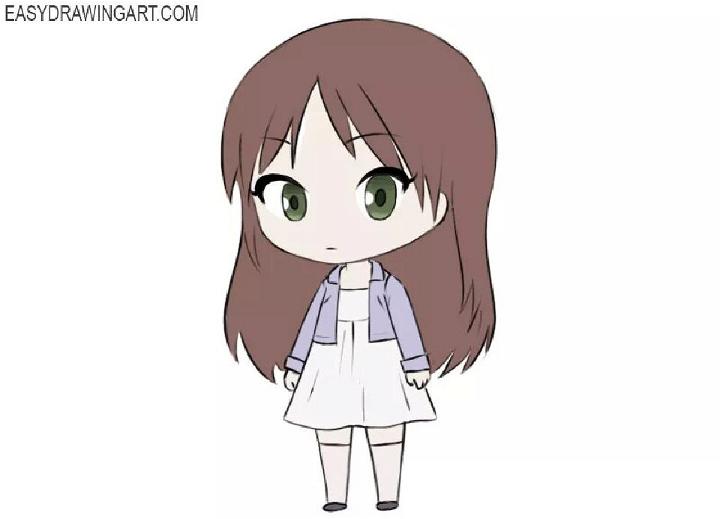 Looking for some cute cartoon drawing projects to do at home? Then you must try sketching this chibi girl that is cute, short and chubby and will surely help satisfy your love for anime drawings. The best part is that you will learn to draw the best cartoon hair that will also add to your drawing and sketching skills for sure. First, draw the face outlines that will be like an oval shape. Next, draw the rest of the outline and move ahead to add details. Add the face, outfit, and hair details and easily complete the project by following the visual guides. easydrawingart
19. Draw a Messy Bun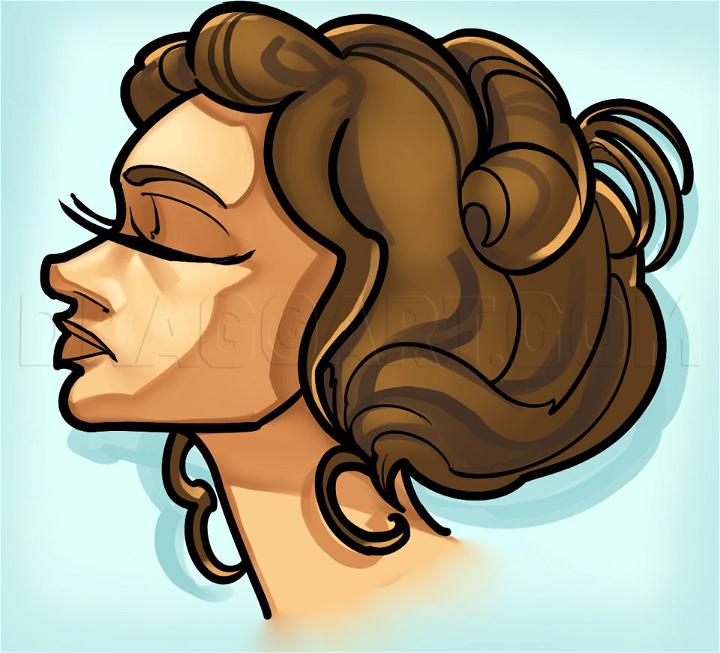 You will love the professional instructions here about easily drawing a cartoon lady's messy bun. This will help you draw some amazing cartoon drawings and will also add to your overall drawing skills. First, grab a reference image and start to outline the face of the cartoon lady. Mark the face features and then outline the jawline, hair and neck. After you complete the whole sketch, you can also give the completed drawing to kids as a great coloring page. The project is beginner-friendly and will be a total pleasure to do with the beginner drawing skills. dragoart
20. DIY Short Curly Hair Drawing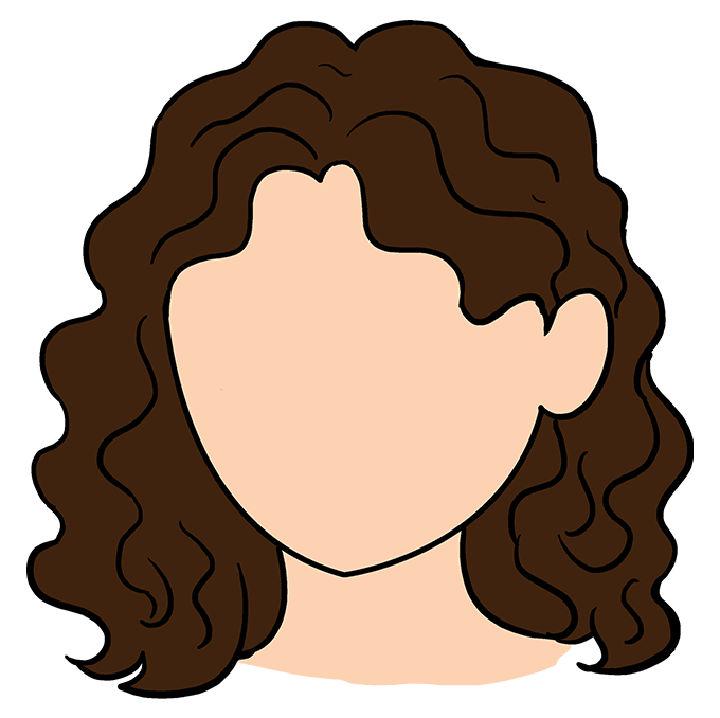 Master the art of drawing curly hairs by doing this quick curly hair drawing project. It involves drawing the face of the lady also. According to the provided instructions, you can easily achieve the whole drawing by drawing a big circle. Extent the lower circle for face curves, jawline and ear, and you can outline the hair that comes over the face. Outline the rest of the curly hairs, and then start filling in other hair details. You will get here complete step-by-step tutorial for this curly hair design. easydrawingguides
21. How to Draw Anime Boy Hair

Anime drawings are a big hit over the internet. Once, completed they make outstanding coloring pages also for the little kids. In this tutorial, you will learn how to draw anime boy hair that is a little curly and looks double cute. Start this drawing project by drawing first the jawline. Next, keep on adding the hair outlines that involve little curvy lines. After you complete the whole sketch of the hair, start adding the details in the drawing. Shade the hairs and add the necessary gloss, and this will give an exciting drawing experience to all artists. drawingnow
22. DIY Boys Hair Drawing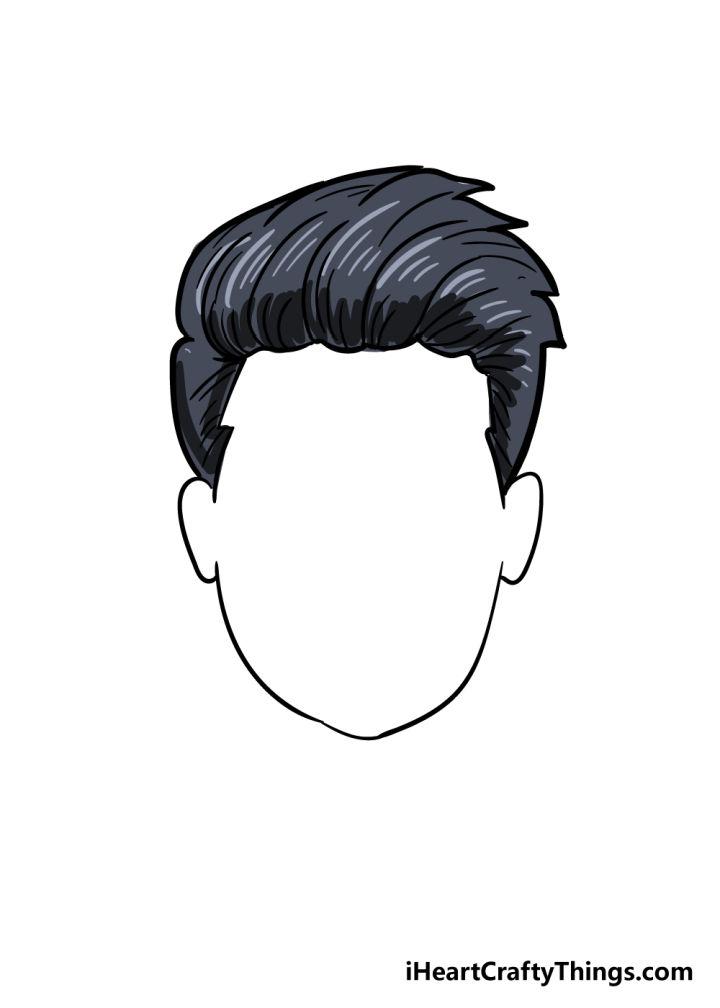 Get here a complete visual tutorial about how to draw the boy's hair. BY learning drawing this hair, will help you draw some amazing sketches and art drawings that will surely get praised. So, get a lot of appreciation for your drawing skills by making these boys' hair look realistic. First, draw the top hair outline and then the sides of the hair. Add the hair fringe, and then you can easily draw the lower face. Add the details in the hair, like shading and finish by adding the necessary gloss. The entire project is a breeze to do when having detailed step-by-step diagrams. iheartcraftythings
23. How to Draw Female Hair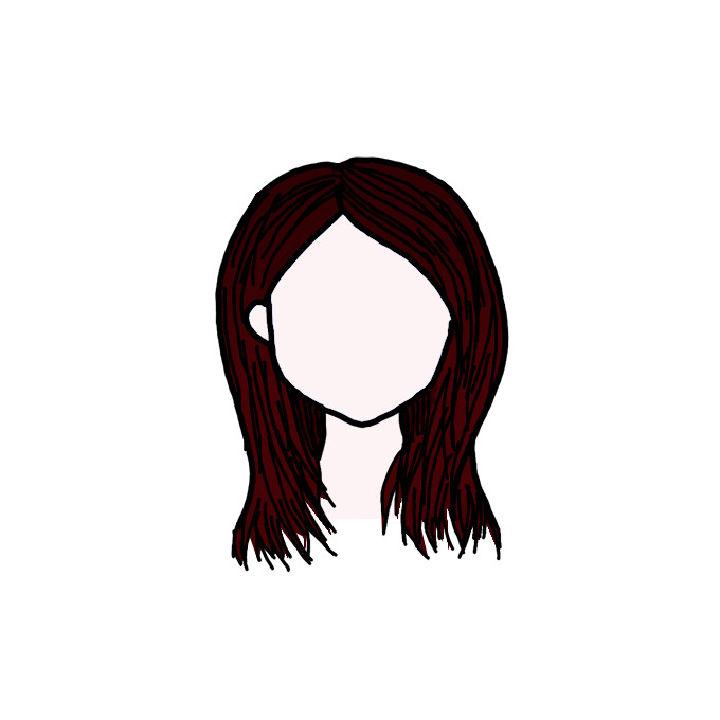 Drawing hairs with the necessary details and shading can be the most challenging in drawing and sketching projects. So, don't miss out on the opportunity hair to sharpen your drawing skills by doing an easy hair drawing project. Draw first the lower face outline and then extend it with the inner hair outline. Now, draw the outer hairline and start adding the hair texture details. After adding all the necessary hair details, you can fill your favorite colors in the completed hair. You need drawing paper, pencil, marker or crayons and half an hour to complete this project. drawinghowtos
24. DIY Hair Bun Drawing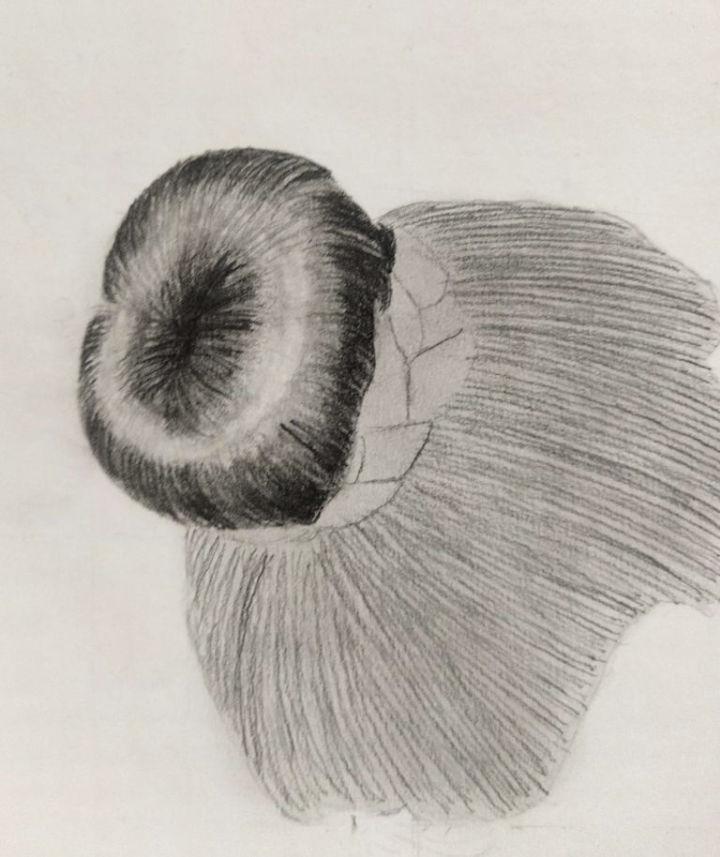 Jump into this other project involving drawing the best hair bun you can add to various girl drawings. From outlining the outline to adding the texture and gloss, the project will provide instructions for all steps for sure. Not merely for the bun, the project will also provide instructions for wavy hair, and you will love doing both of these projects. So, add to your drawing and sketching skills by drawing the bun and wavy hairs, which will add great effects to your drawings. theraviarts
25. How to Draw 4C Hair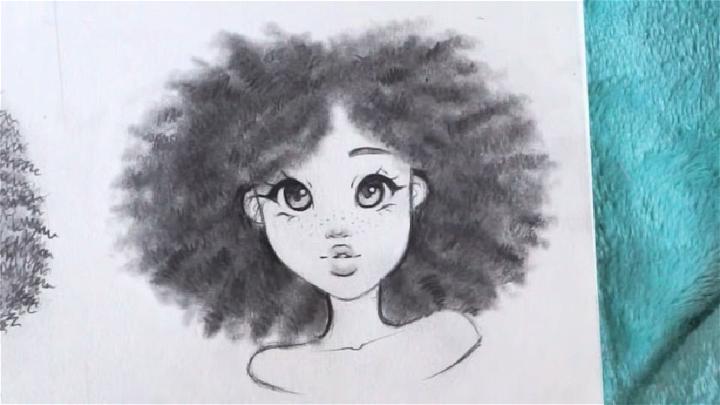 Get here the comprehensive video guides about how to easily draw the kinky and curl hair textures. So, you can use them in your art and painting projects for some amazing realistic effects. Drawing hairs can be most challenging in human sketching projects, and you must get an expert in it to bring tons of accuracy to your art sketches. The project provides instructions to draw 3 different types of curly and kinky hair. First, draw the outline, shade the outline and then add the necessary texture and details. So, do avail the better chance here to learn drawing the hair of all types.
Related Drawing Ideas:
Face Drawings: Here are some easy and fun face drawing ideas that will have you drawing a face in no time!
Nose Drawings: This list of drawings is a compilation of nose drawing ideas, with pictures, that are easy to follow. These are all step-by-step guides with tutorials on how to draw noses.
Hands Drawing: See these hands drawings that are all about hand drawing, sketching and art education.
Conclusion: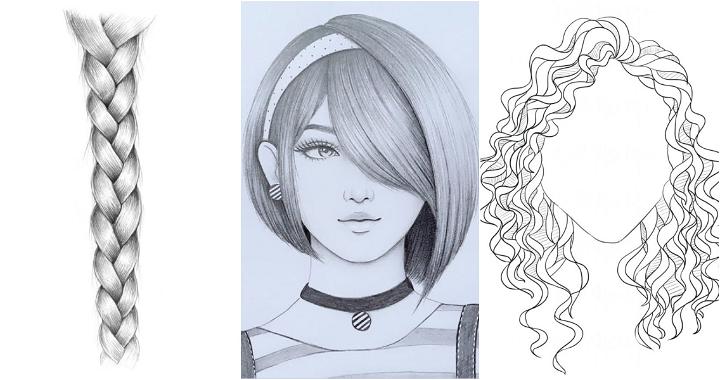 The hairs over the human heads are in millions, and they come together to give that necessary texture, gloss and shape to hairs. However, depicting the hair intricacies in the drawing and sketches may seem to be a daunting task for many artists and sketchers. So, if you are on a mission to learn to draw the hair with comprehensive details, then these easy hair drawings are for you. These hair drawings will provide some unique tricks to draw hair in almost all styles and shapes. Reading through all these projects will add a lot to your drawing and sketching skills.