A women's makeup is one of the essential parts of her life and having a corner dedicated to that is a must for them! So, here we are with this article mentioning several ways to make pallet vanity. The best thing about these DIY wood pallet vanity plans and ideas is that they're budget-friendly and made with 100% reclaimed wooden pallets, so you wouldn't have to break the bank to make them. We have rounded lots of exciting options that you can make and revamp the space in your room into something useful and fun. Other than that, you have the option to make the plan and even sell it out for making that extra bucks this summer. The selection that we have compiled for you will definitely entice you into making one for yourself! So let's have a look at all the pallet wood projects mentioned below!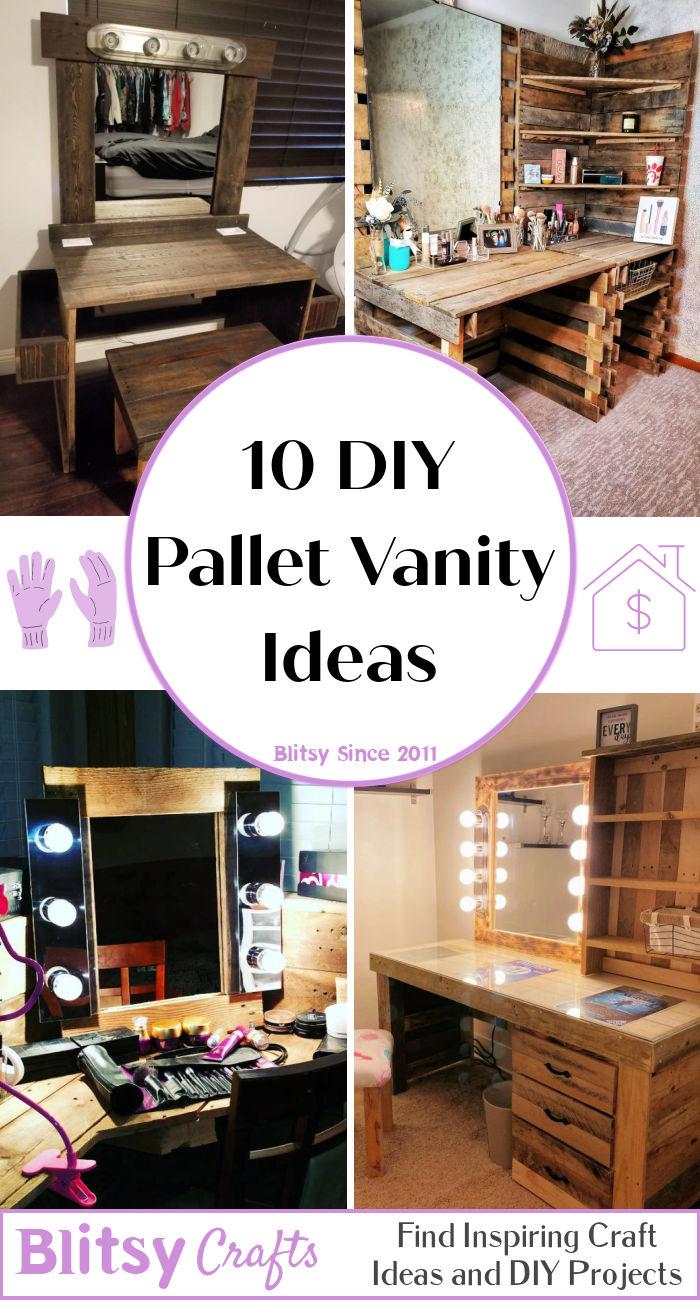 This article has 10 different diy pallet vanity plans that give you a nice variety. Make sure to use good quality supplies, so your projects are durable and maintain their durability for a longer time. We have used different wood pallets and styles to have a variety of plans to look at and try out. There is no need for expertise skills; even following the plans step-wise will help you create the perfect vanity. Furthermore, you can put matching chairs in front of them and make the perfect corner for you to get ready and create different makeup looks. Customization can be done according to your style, space, and budget. Moreover, adding shelves and drawers makes the vanity even more useful and versatile. So without any further ado, let's start building these amazing pallet projects!
1. Pallet Vanity With Shelves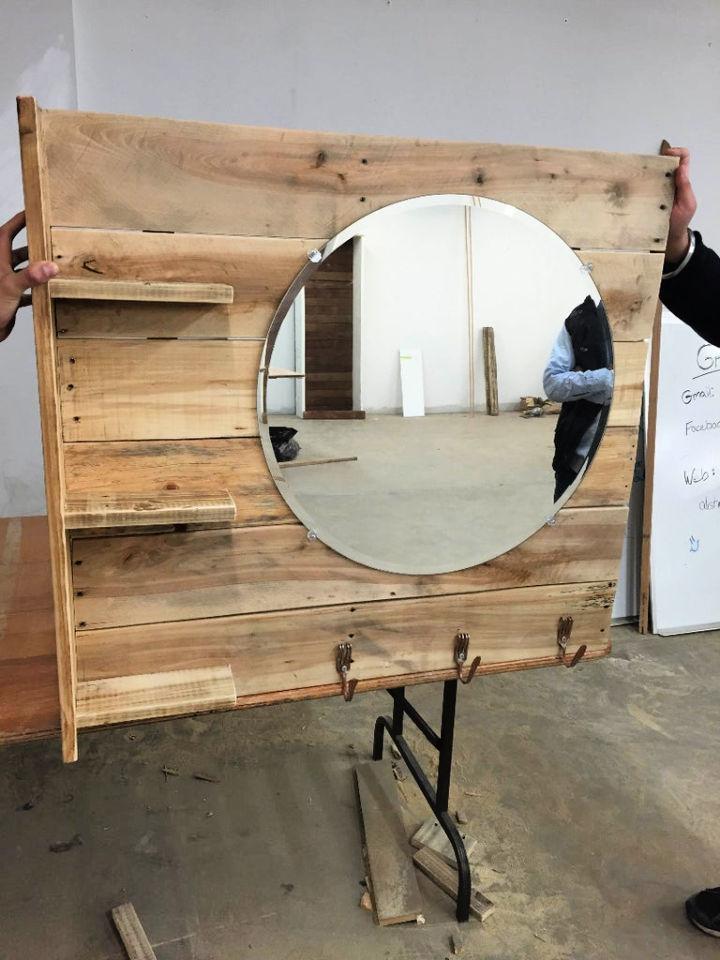 Repurpose some old wooden pallets to make this vanity with shelves. You can place this in your makeup room, and it is also a budget-friendly project. You need supplies like old pallets, mirrors, screws, old forks, and mirror clips to make this amazing plan. instructables
2. DIY Pallet Makeup Vanity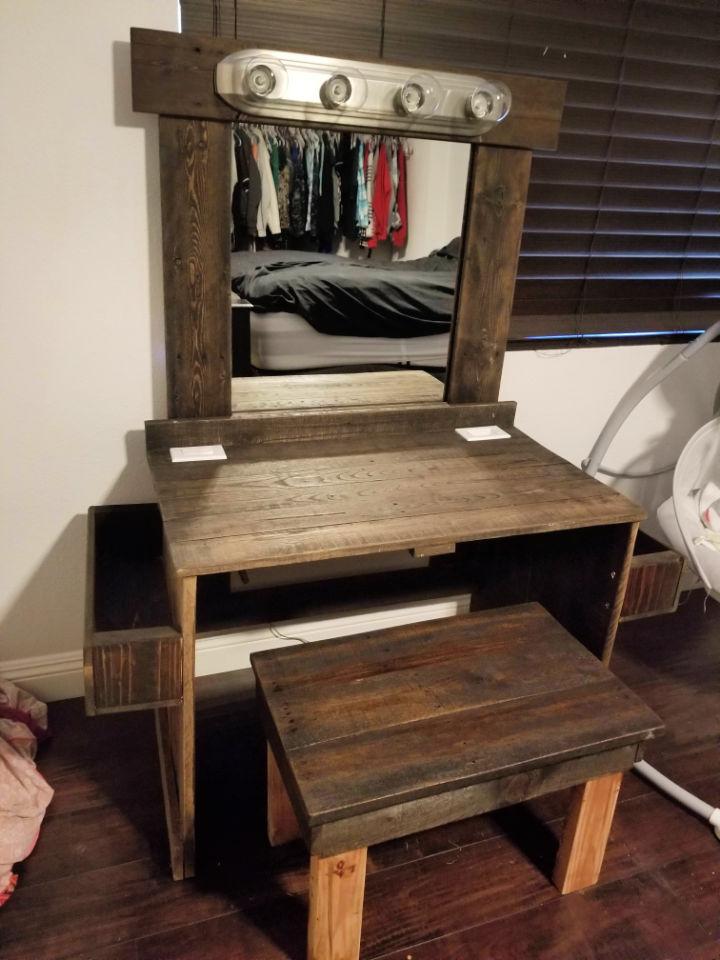 Did you always dream of making a make-up vanity at home but didn't have much money to buy expensive ones from stores? Well, don't worry! Here we have a DIY pallet makeup vanity made from reclaimed pallet wood. This rustic style vanity is perfect for a sturdy look and will last you years! So grab the necessary supplies, and let's start! imgur
3. How To Build A Pallet Makeup Vanity

Make this simple makeup vanity mirror from pallet with a little style by adding some lights around the mirror. The lights are used to add some light around the vanity so you can easily get ready and do your makeup! So, make sure to arrange the tools and supplies needed to make this project at home easily. youtube
4. Homemade Makeup Vanity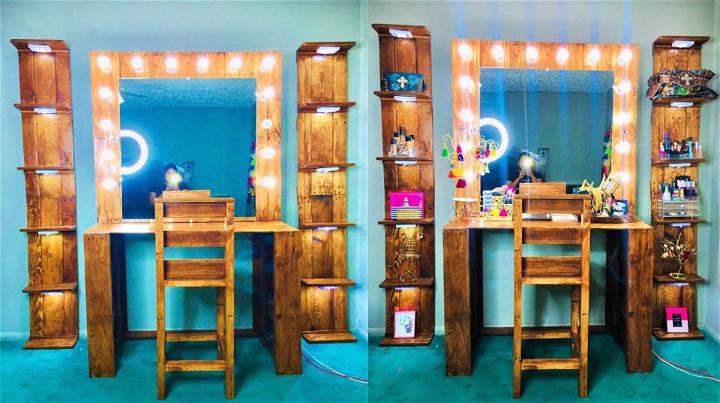 Here is an aesthetic homemade makeup vanity that you can DIY at home for woodworking projects. This stunning piece of furniture is perfect for adding to your room, and it doesn't even cost much; how cool is that? Ready to make yours? Then, gather the supplies and start the project now! youtube
5. Building A Makeup Vanity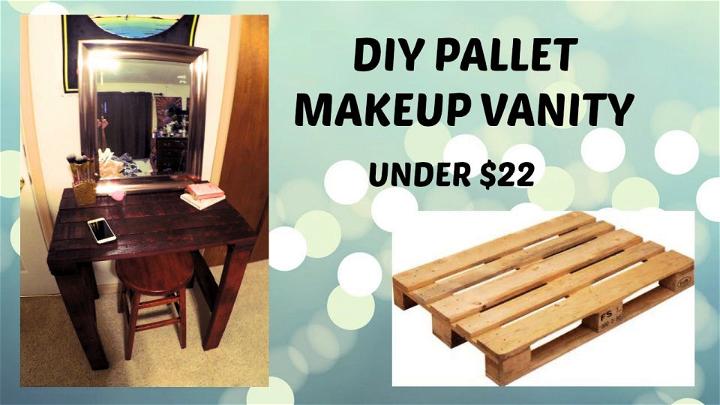 Wooden pallets projects have been quite popular nowadays, and people are making DIY projects with such recycled stuff at home! This makeup vanity is made out of pallets that are fun to make and also very cost-efficient. It is super sturdy, and you can customize the size according to your available space. Furthermore, you must have supplies like pallets, wood nails or screws, a drill, wood glue, a sander, measuring tape, wood stain, a mirror, and stool, or a chair. youtube
6. Wooden Pallet Vanity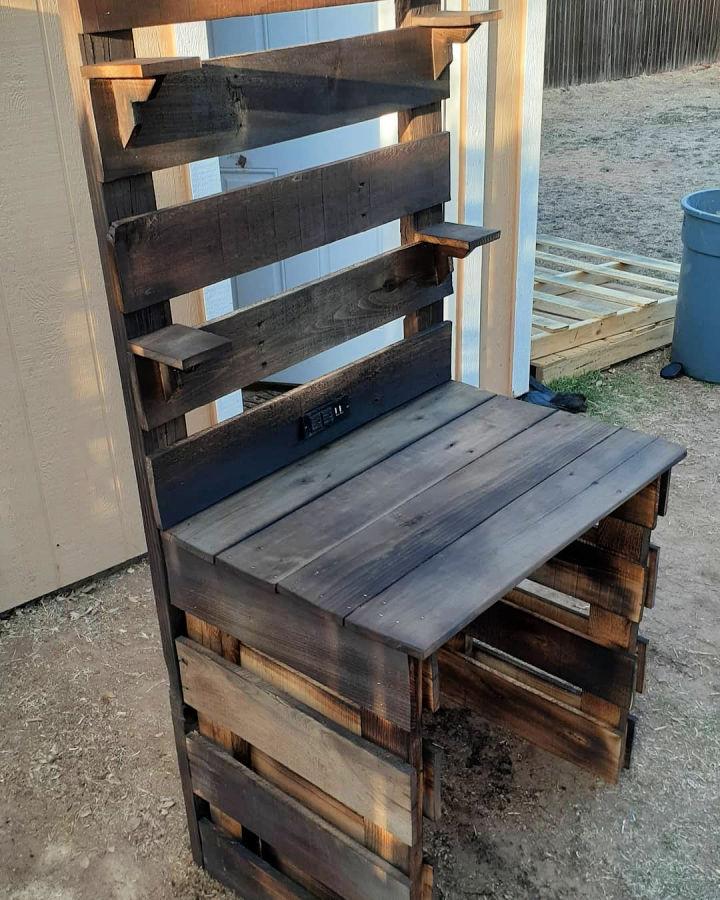 Don't have any space to place all your beauty products on and do your makeup looks? Then why not make one yourself? This DIY wooden pallet vanity is the perfect plan for you to try. It not only has a low budget but is also very simple to build. Even if you are not an expert, this easy-to-make plan can be completed following the instructions. You'll need some basic materials and tools to start.
7. Makeup Vanity Made From Pallets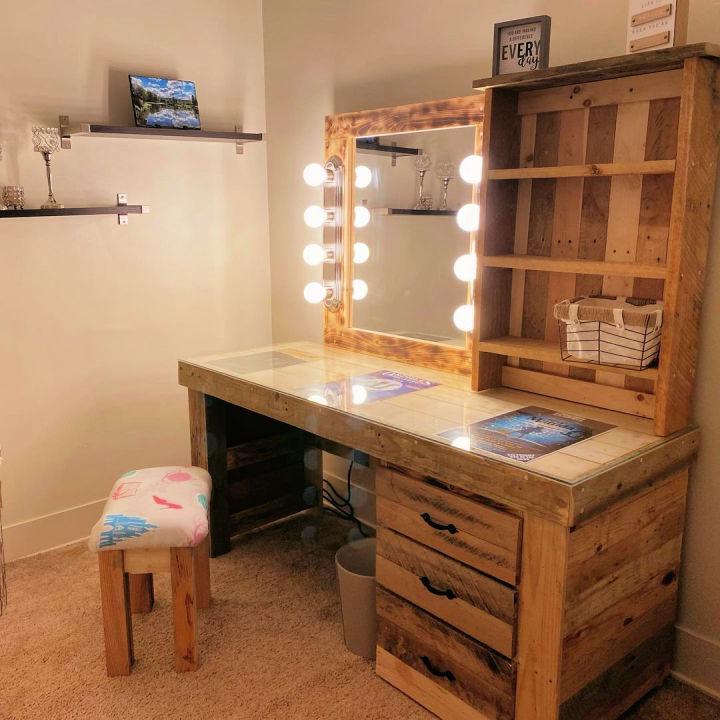 A refined design and contemporary style make this makeup vanity a charming piece of furniture that you can place in your bedroom. It is made out of pallet woods so it is a low-budget project that won't cost you an arm and a leg. Moreover, it has lots of shelves and drawers to store a wide range of products in it as well. You can build this vanity within a weekend with proper tools and supplies and need no such expert skills.
8. Pallet Bathroom Vanity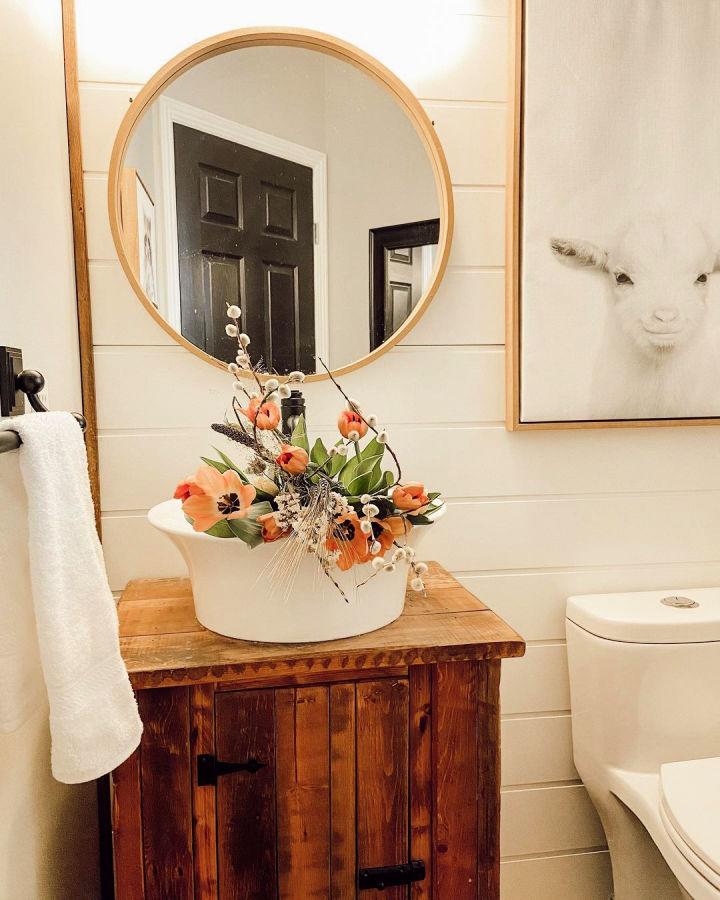 Here we have an amazing bathroom vanity installation DIY made from pallets. It will enhance the look of your bathroom space as well as add functionality to it. This beautiful project will look spectacular, so you've got to add it to your home. Assemble the needed things, and you'll be ready to make it.
9. Rustic Pallet Makeup Vanity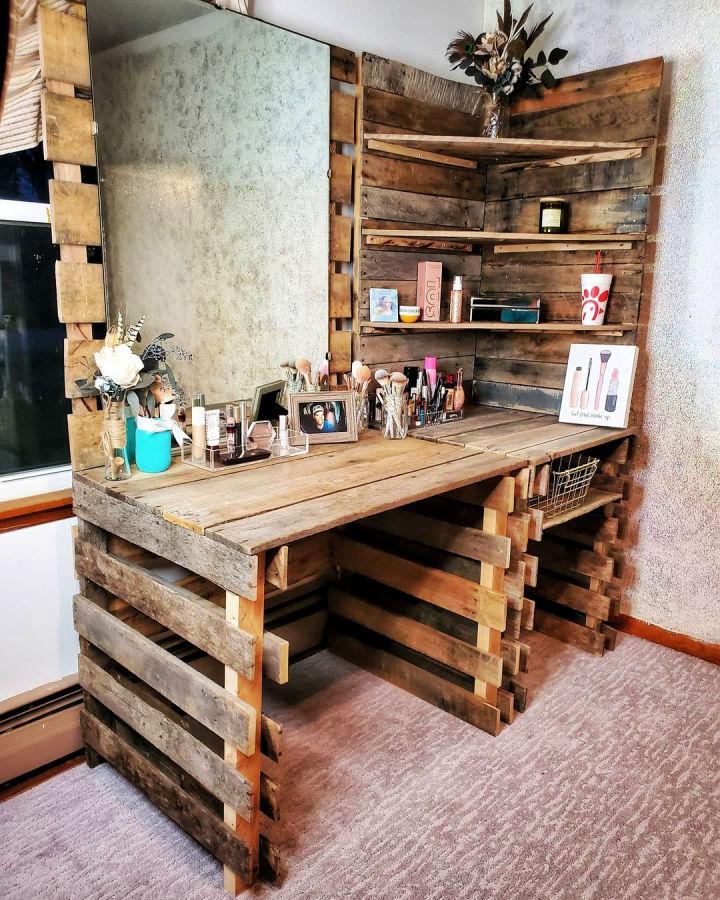 Who wouldn't love a rustic-style makeup vanity made from pallets? What if we tell you that now you can make your own at home and that too, without breaking the bank? Sounds amazing, isn't it? Moreover, you can place a mirror and some décor items to beautify the space further. Customize the vanity according to the space available in your room. Add shelves or drawers to suit your preference.
10. Pallet Makeup Vanity With Lights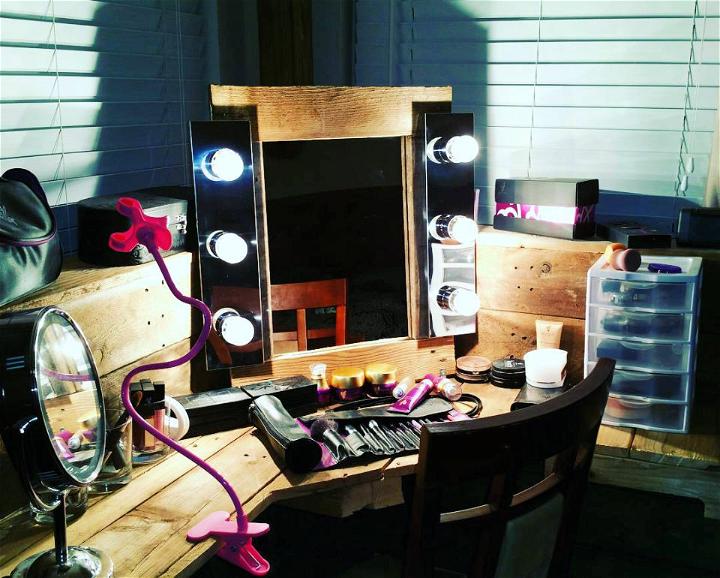 A girl's room is incomplete without vanity, isn't it? If you agree, then you must be looking for a makeup vanity to build for your room. Have a low budget? Don't worry; this plan is made using pallet woods to lower costs but gives a stunning look to the vanity. It is quite durable and will last you a long time. To make this, you will need some woodworking tools and supplies you might already have at home.
Conclusion
So let's end our article here and hope that you must have liked all of our pallet vanity projects. If yes, then you might have picked out your favorite pallet furniture and are ready to build it since it is super easy and requires no such expertise. If you have the necessary tools, supplies, and a passion for such projects, then you're ready to start this DIY plan. Your dream of having a makeup vanity in your room can now be fulfilled with these amazing designs. Additionally, these plans are quite budget-friendly as compared to those we see in the stores so we'll be saving up on a lot of bucks by DIY-ing on your own. You have a lot of variety to choose from so you can decide whether you want a large-sized or a small one. Customize the vanity by keeping in mind how much space is available. Happy building!