If you are a mom reading this article, then you are in great luck today! How? Well, we have got just the perfect lego organizer ideas for all your lego problems with these 25 exciting and unique lego storage ideas that come with detailed free instructions. We all know how annoying it gets for the moms to keep picking up lego pieces from here and there, and don't get us started on the kid's frustration over losing a lego piece! After all, the whole concept falls apart. Before we get started, the best part about these lego storage ideas is this they come not only with storage but also some cool flat space to build that lego structure!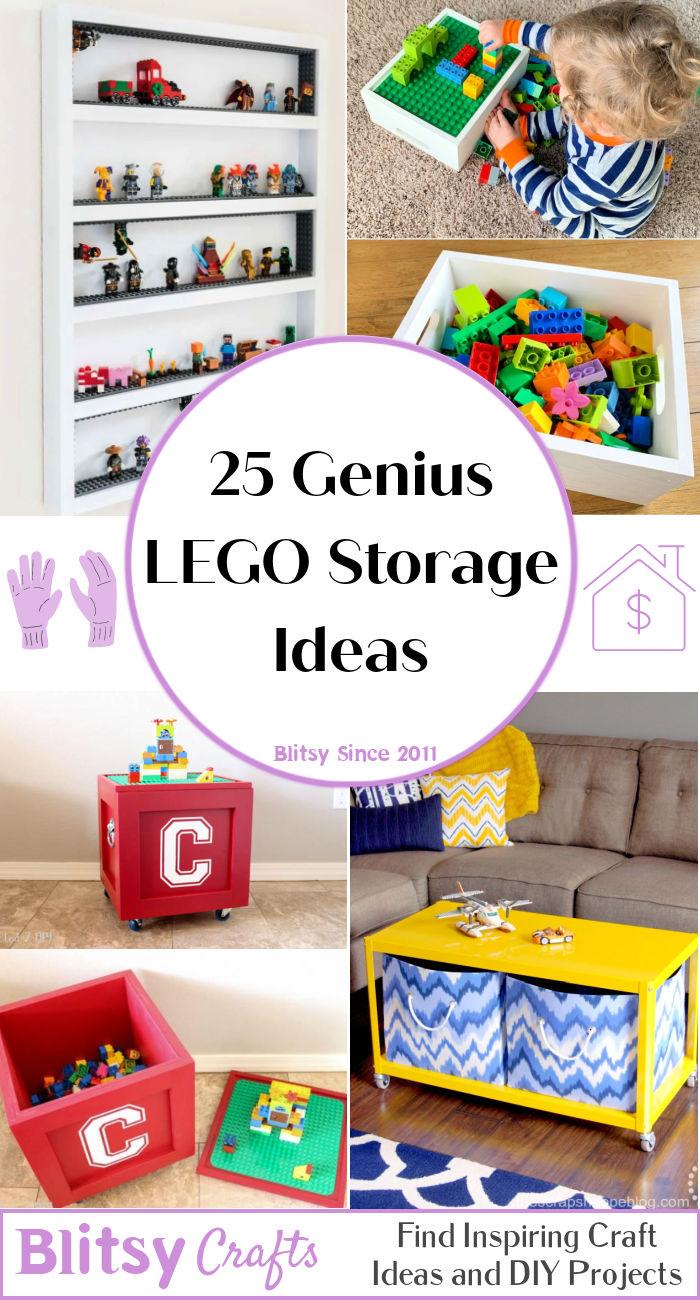 We have rounded up below some super cool lego storage ideas! So, supermoms and dads, it's time to gather these simple and easy-to-find supplies and spruce up these lego storage plans. From lego tray with organizer to drawstring bag for lego storage or portable lego tote to cube, we have it all here! If you have a whole bunch of lego lovers at home, you are so going to love our giant fabric bins with lego storage idea; it's quite the show-stealer. Oh, and guess what the best part is? Most of these lego storage ideas can be built with containers and supplies that are already lying around your home to be simply repurposed. Let's start this lego ride then, yeah?
1. DIY Lego Tray with Organizer

Does your kid like to keep their lego pieces alongside all the time? Believe us, we all know how hard it is to keep picking up those pieces from the floor. Well, not anymore with this superb DIY lego tray with organizer. Gather supplies including 1*4 board, ½ "of plywood, plastic organizer, wood glue, and brad nail gun with a few more things. thehandymans
2. Lego Duplo Play Tray with Storage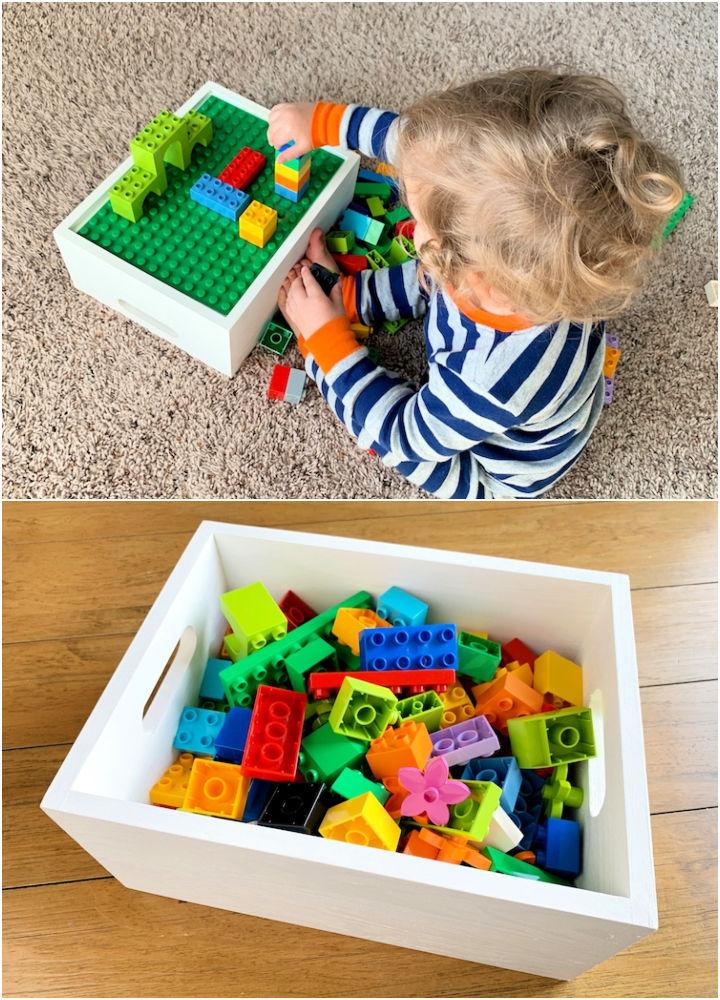 Talk about some super cool 2 in 1 idea? We totally adore this DIY Lego Duplo play tray with a storage idea. All you need is an unfinished crate (small), Duplo Lego baseplate, craft knife, ruler, acrylic paint, multi-purpose glue, and a foam brush. allthingstarget
3. Drawstring Bag for Lego Storage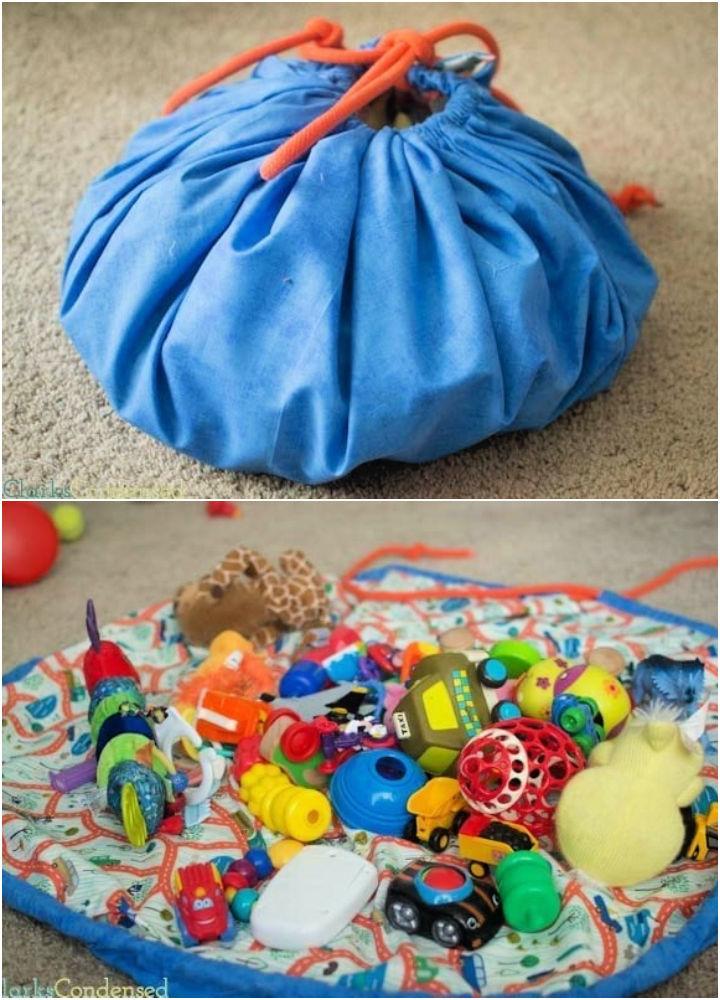 Like to keep it simple? Maybe help your little one learn tying some knots as well. This drawstring lego storage idea is absolutely adorable and as simpler as it gets. All you need is 2 pieces of fabric, ideally 43″ wide and 56″ tall, 3″ wide strips of fabric, a coordinating thread, and measuring tape with a few more supplies. clarkscondensed
4. Make a Portable Lego Tote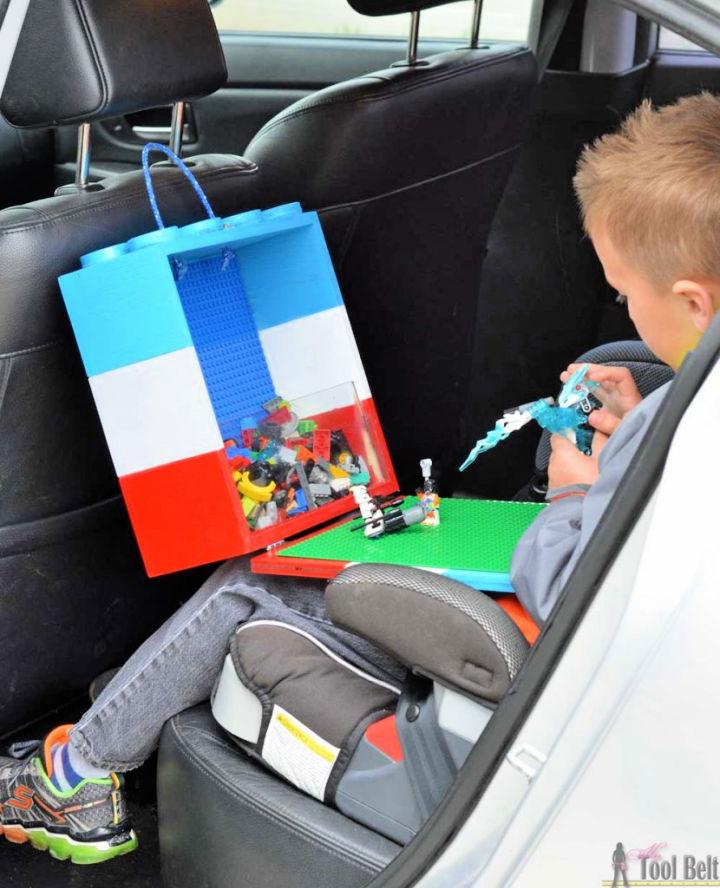 We all know those fussy kids who just won't travel without their favorite toys alongside. Now imagine if that favorite toy is lego pieces, falling everywhere. This portable lego tote comes with a flat surface to play as well. All you need is a few supplies and some high spirit to keep the lego pieces together! ryobitools
5. DIY Lego Storage Cube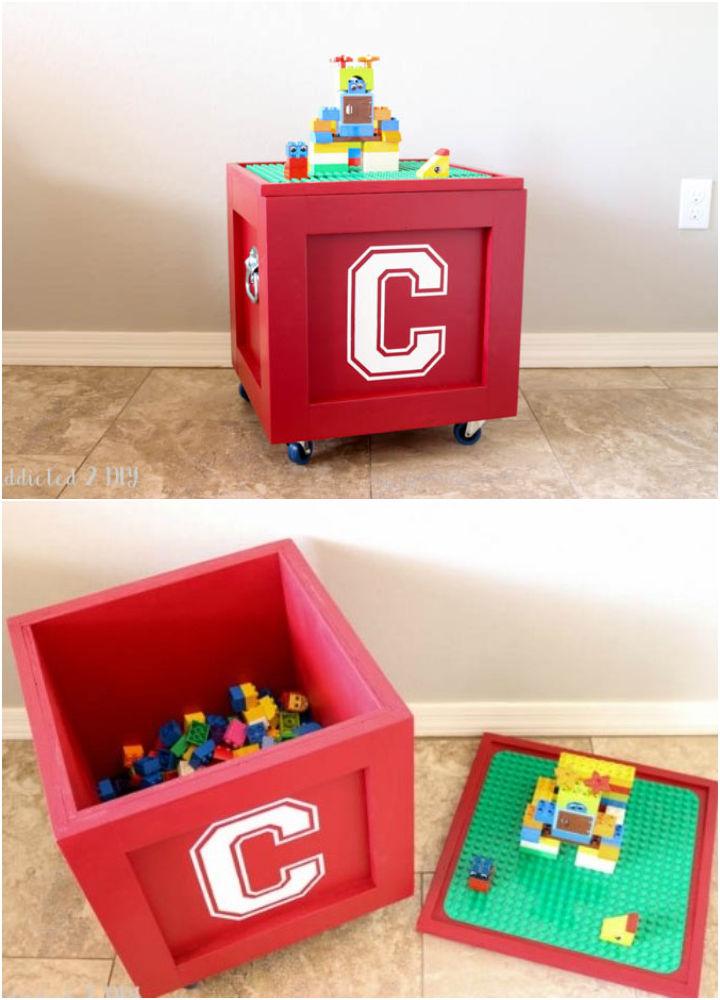 If you are a decor loving parent, this lego storage idea is going to be your personal favorite. A piece of veneer plywood with some woodworking tools can do wonders here! In 7 easy to understand steps, finished with some cool paint, you can easily spruce up this DIY lego storage cube. addicted2diy
6. Giant Fabric Bins for Lego Storage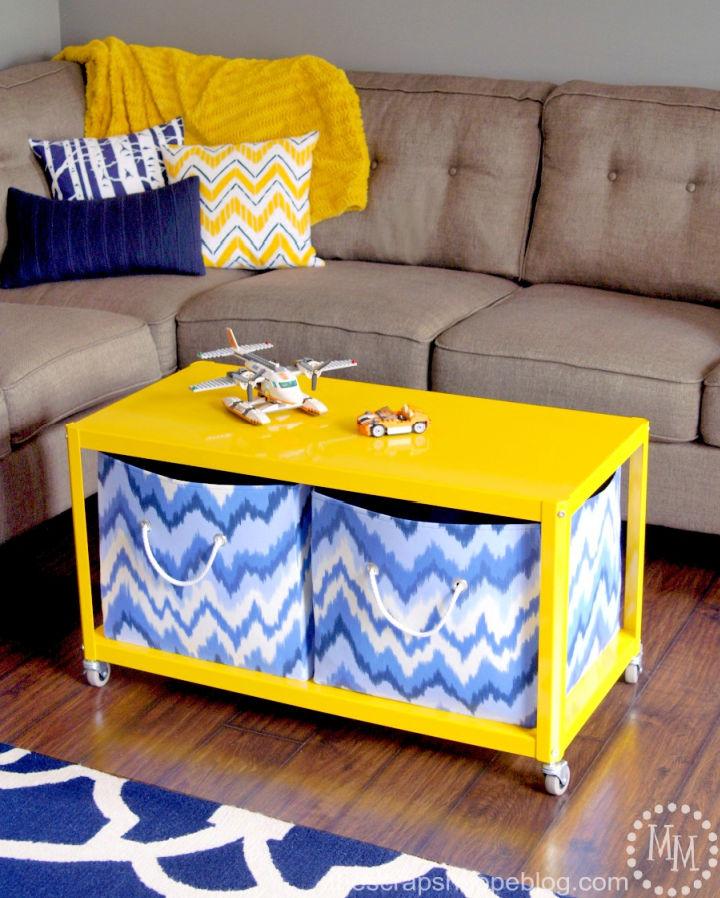 Get your hands on 2 or 2.5 yards of outer fabric, 2.5 yards of the liner fabric, stitch witchery, decorative rope trim, thread, and few more supplies. These giant fabric bins for lego storage are an absolute win-win. You can store A LOT of lego pieces in these huge bins, plus they are very easy to clean and maintain as well. thescrapshoppe
7. Lego Travel Case from Lunch Box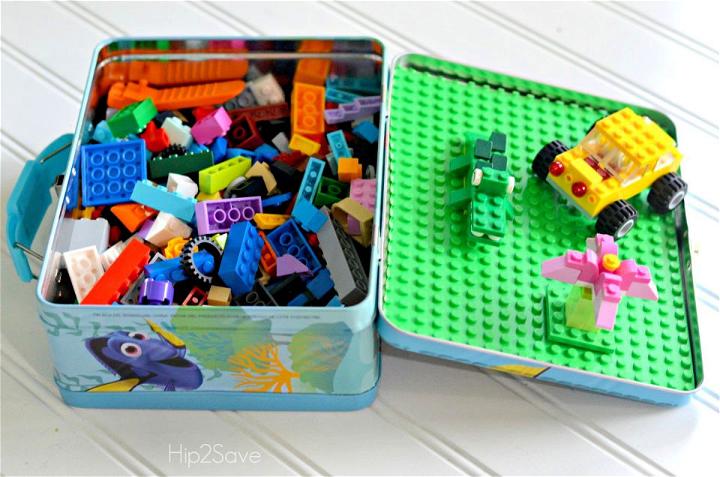 Time to repurpose some old lunch boxes into this new lego travel case! All you need is a lego baseplate, tin lunch box, glue sticks, and hot glue gun, utility knife, and Lego bricks. Just start by measuring the inside of the lunch box and cutting the lego baseplate accordingly. Take it up from there! hip2save
8. Lego Organizer Using Mason Jar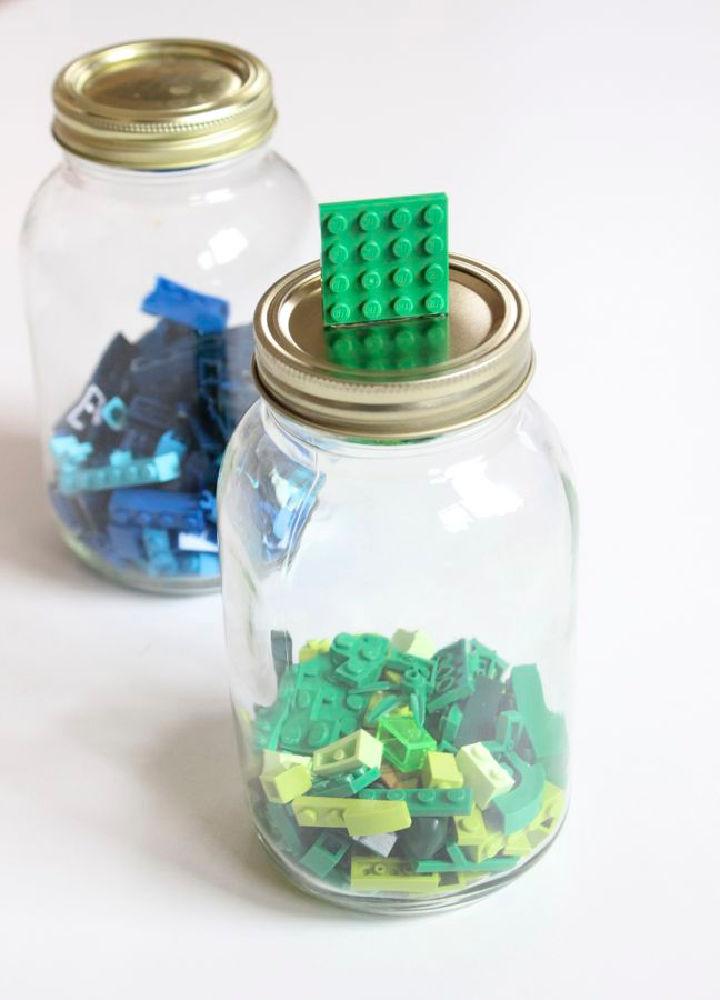 We all love mason jars! The reason being they can be used as pretty much anything! Just like this exciting lego storage idea. Above all, it is the easiest ever lego storage plan you will come across. Gather supplies including hot glue gun or super glue, 5 to 10 mason jars with mason jar lids, and lego pieces. Bingo, here you go! momtastic
9. Lego Head Storage Containers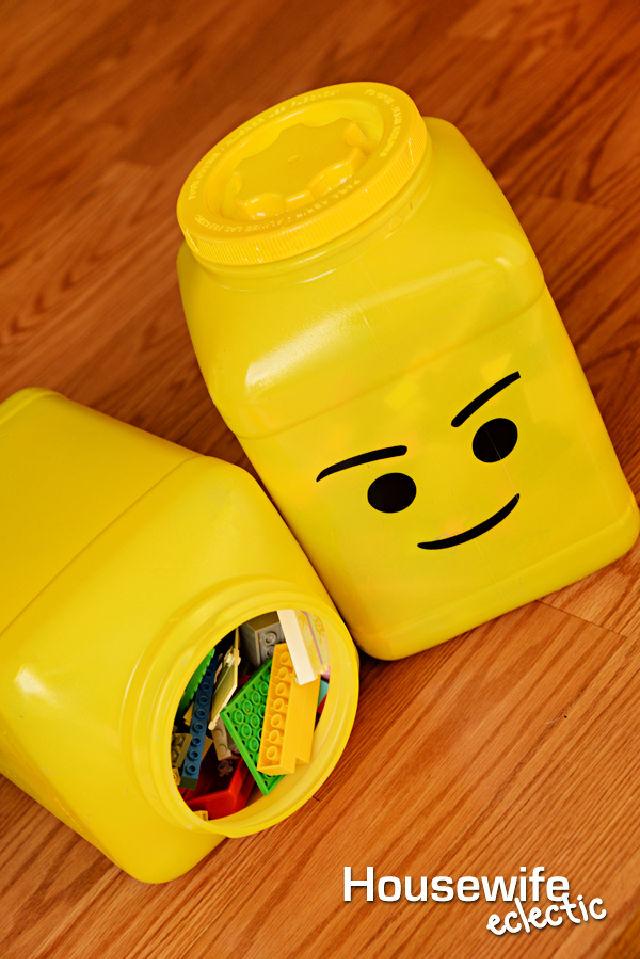 Are you ready for some super exciting upcycling? For all those empty detergent containers, maybe! All you need is a large container (if you have a lot of lego boxes, choose an extra-large lego box), yellow spray paint (use the one which is ideal for plastic), and black vinyl. Start by cleaning the container and take it up from there! housewifeeclectic
10. The Ultimate Lego Organizer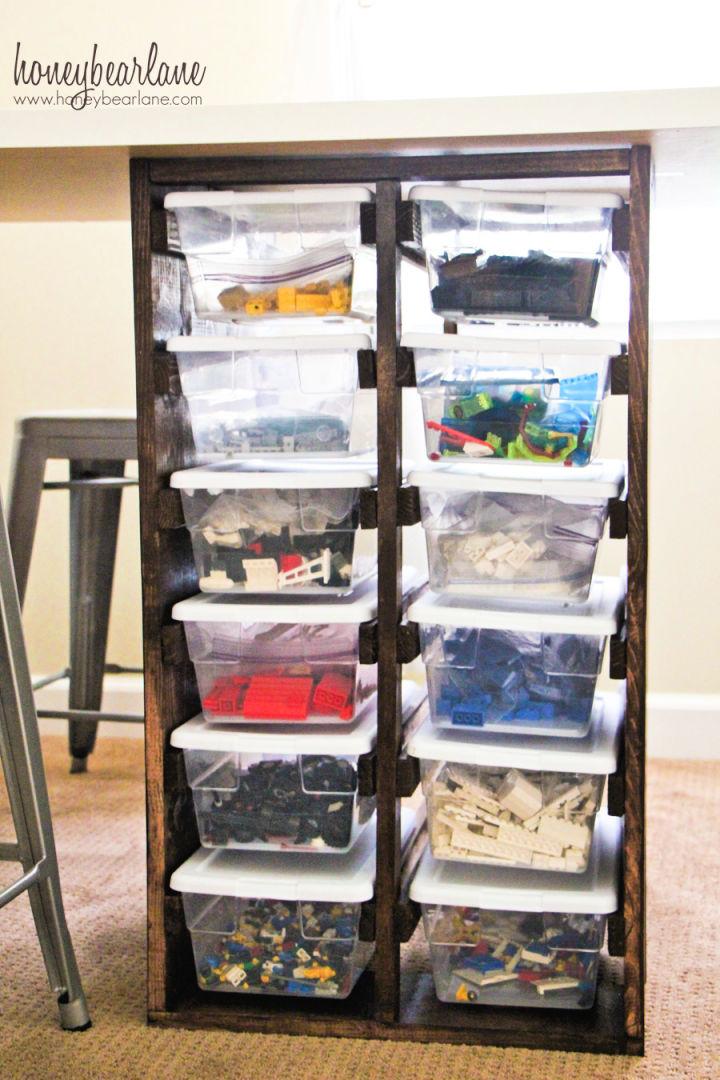 Does your family has this passing on the lego pieces tradition? If yes, you are in great luck with this lego storage idea. Get your hands on these huge plastic bins, 1 x 6 boards, ½ x 2 for the slides, ½s on top, and 1×6 on the bottom. Hit the link for more details! honeybearlane
11. Lego Storage from Formula Container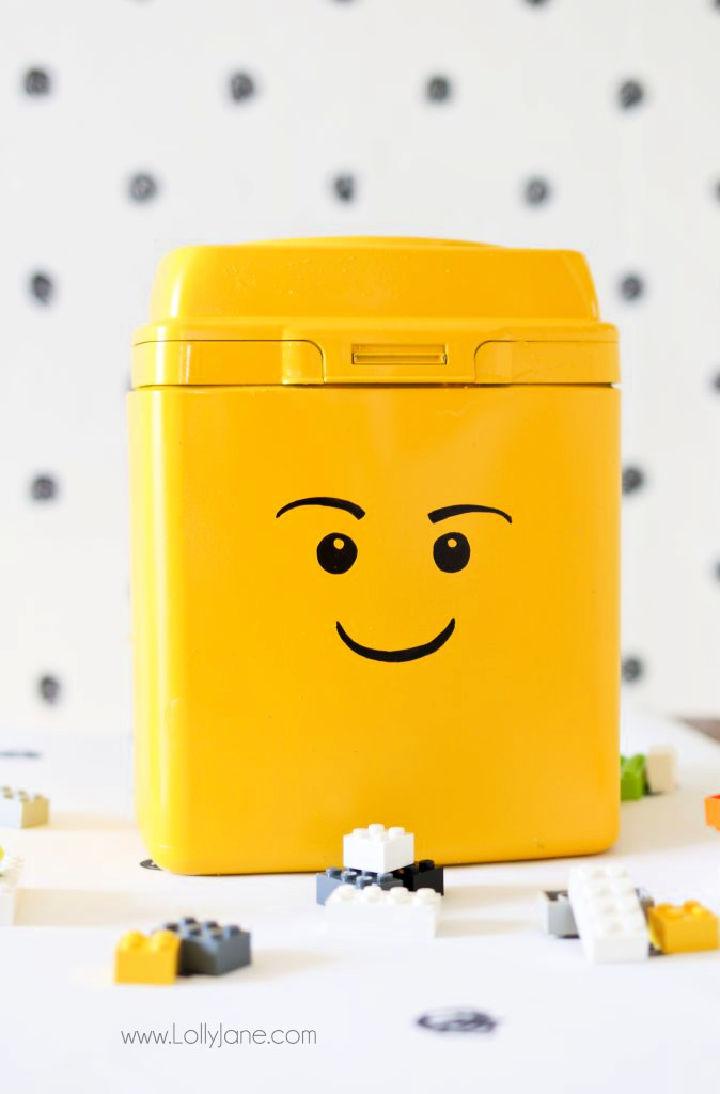 As kids grow up and formulas containers get empty, lego pieces take over everywhere. Let's put things in the right place with this lego storage idea! This lego storage container can be completed simply in 2 steps. Spray and let it stay! lollyjane
12. Lego Bin with Baseplate Storage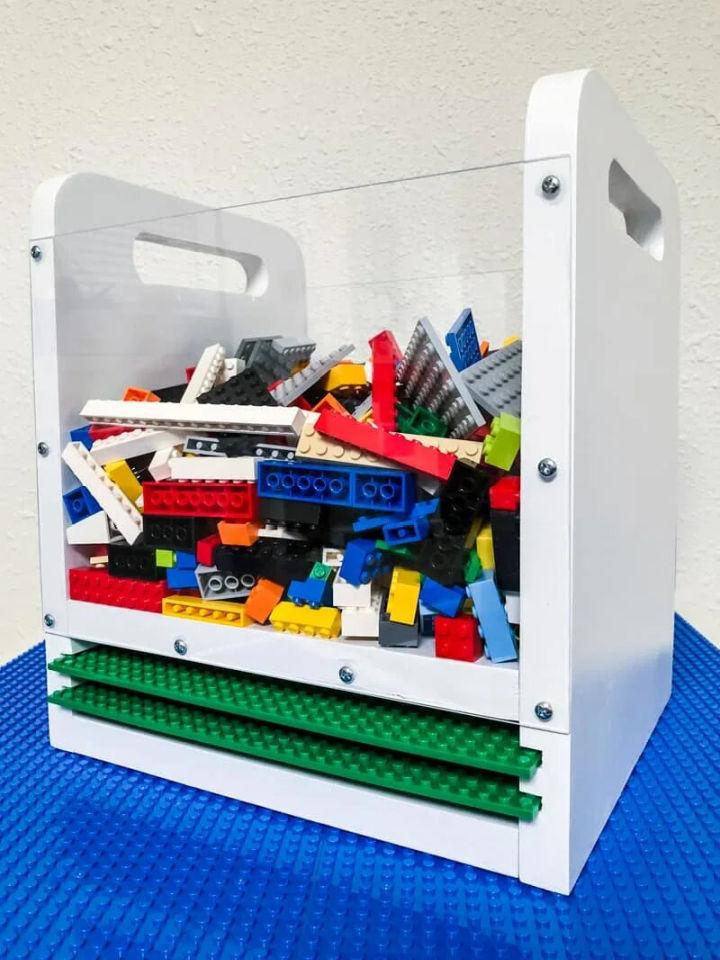 If your kids love lego, they are going to love this lego bin with the lego baseplate storage. It's kind of a lego box itself, and the lego baseplate holds the base! Moreover, this can be easily taken to the park, on the ride, or to Grandma's and played anywhere they would want to build the lego pieces together! See for yourself in the link below. thehandymansdaughter
13. DIY Rolling Lego Sorter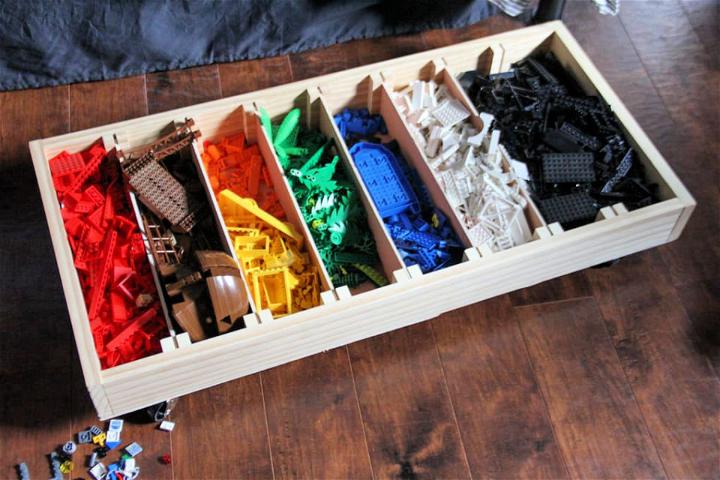 If your kids like to keep their things sorted, they must also admire keeping their lego pieces sorted! Hence enter this lego storage roller, and you are going to be the favorite parent ever! It not only comes with different assorted boxes but also has rollers underneath. Perfect for holding a lego play date party after dinner, yeah? brightgreendoor
14. Lego Minifigure Storage Shelves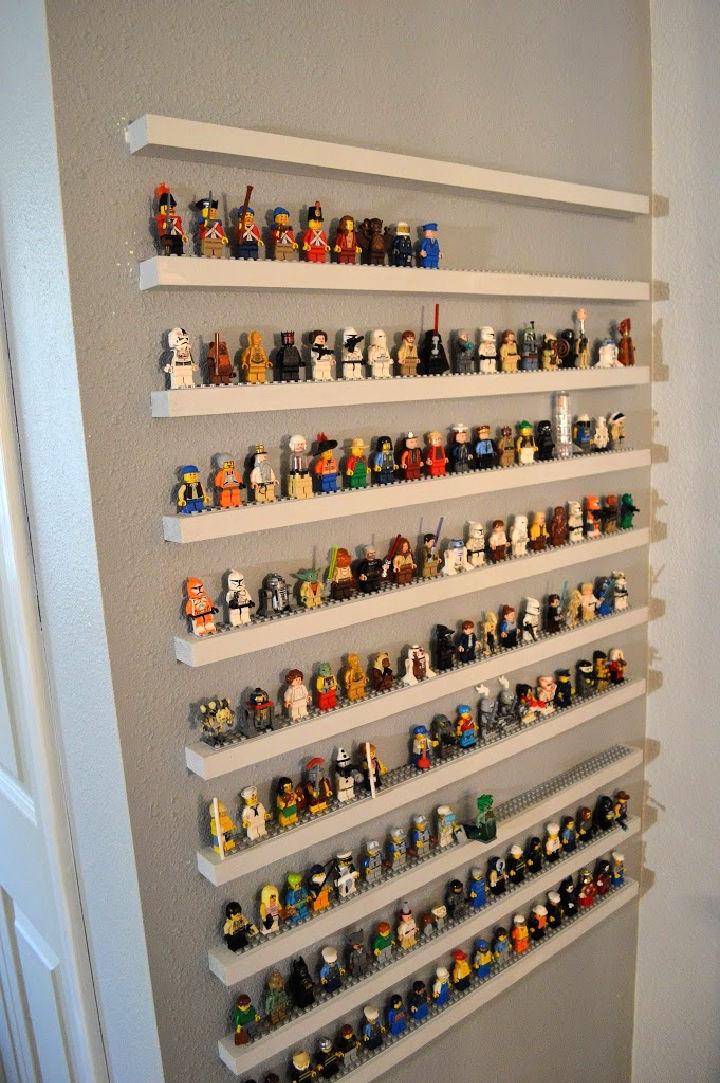 Not all lego pieces are to be stored like individual pieces! If your family has this beautiful habit of making lego Minifigures, this lego storage idea is your way to show off those pieces. All you need is ¾" pinewood or MDF, lego building board, utility knife, paint, nail gun, and a few more woodworking supplies. jedicraftgirl
15. DIY Lego Head Storage Container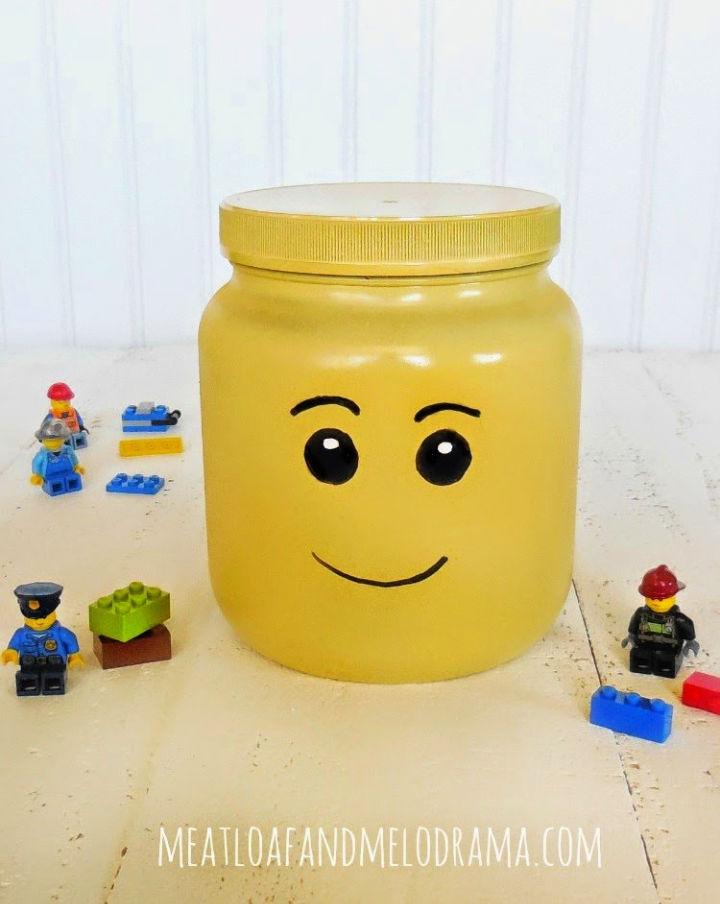 Here's another simple and easy to spruce lego storage idea! Though there are quite many lego storage plans if your kids still somehow lose the lego pieces, all you need is this plan with a storage lego head. Head over to the link below for step by step guide. meatloafandmelod
16. Under the Bed Rolling Lego Storage Drawers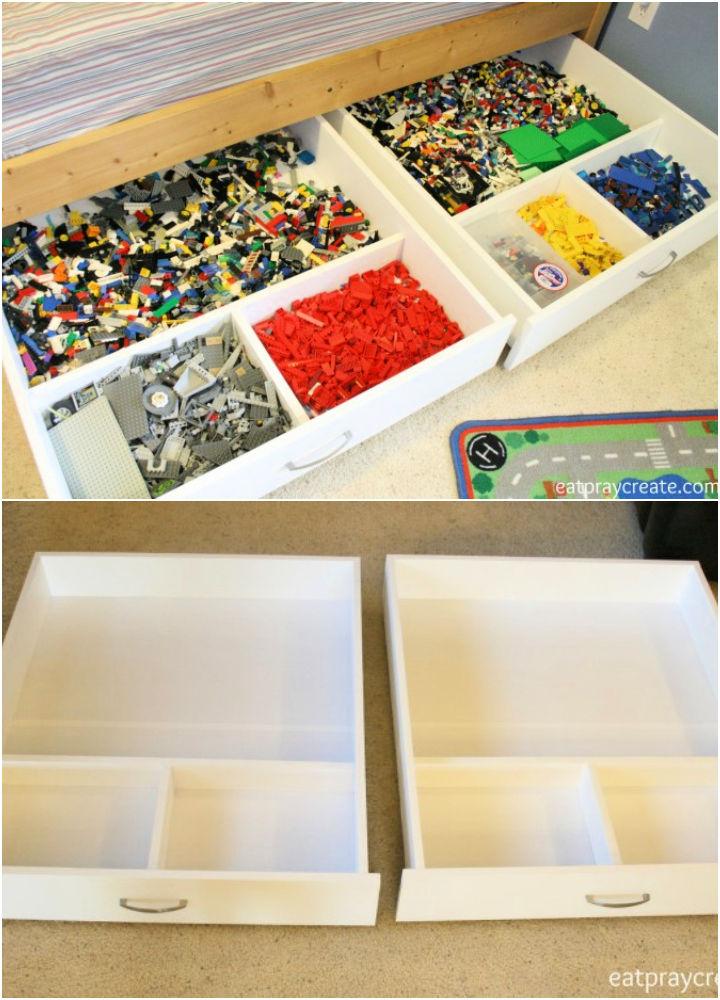 Every mom's biggest dream is under the bed storage plans! This Lego storage idea is going to be your absolute favorite, especially if your kids are crazy about lego pieces. This simple to assemble plan can be modified as per the space that is available under your kid's bed, hit the link, gather supplies, and get started. eatpraycreate
17. Build a Lego Storage Table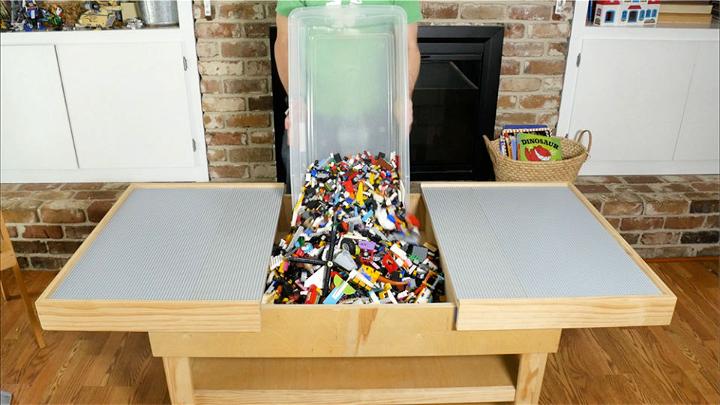 Well, this lego storage table truly looks like a lego flooded pool! Isn't it just dreamy? If your kids just can't get enough of Lego pieces, this is your huge solution to your huge problem of keeping those lego pieces together. This could be your hidden storage with a flat surface available for some lego building time! iliketomakestuff
18. IKEA Lego Table Hack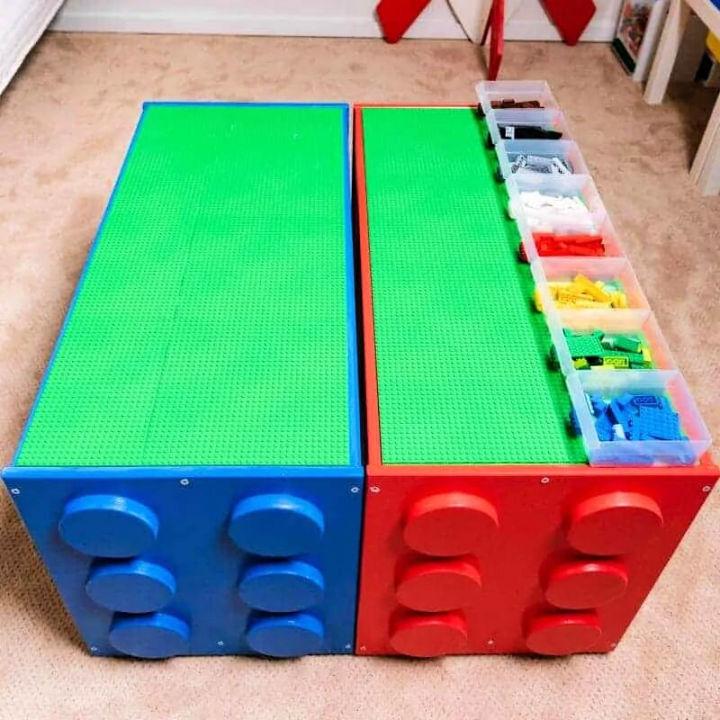 A huge Lego table?! Truly some dreamy vibes, right?! This dreamy venture starts with the IKEA Trofast frame and transforming it into your huge lego table. You need shallow Trofast bins, 5″ hole saw, brad nailer, wood filler, and few more supplies to get started. thehandymansdaughter
19. Under the Bed Lego Storage Trays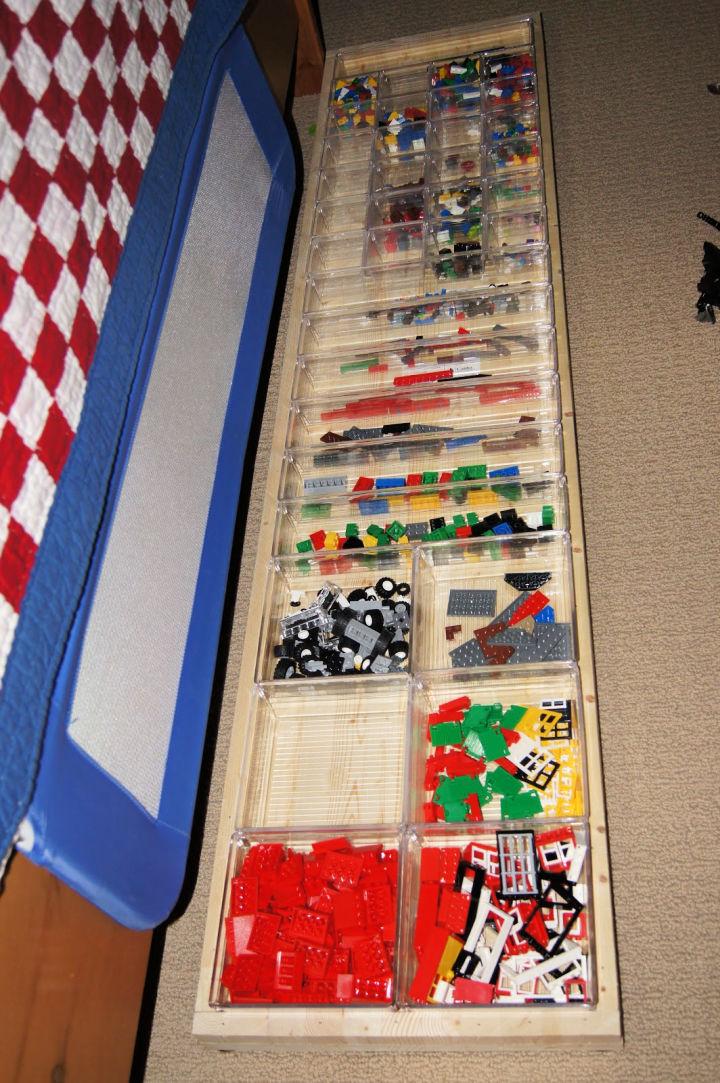 Here's another easy and super cool lego storage solution to make your day! You need to get started with carpet sliding pine trays; make sure to keep their width such as to fit the size of the storage containers. Head over to the link below for more details! makingmontessor
20. Wooden Crate Lego Minifigure Display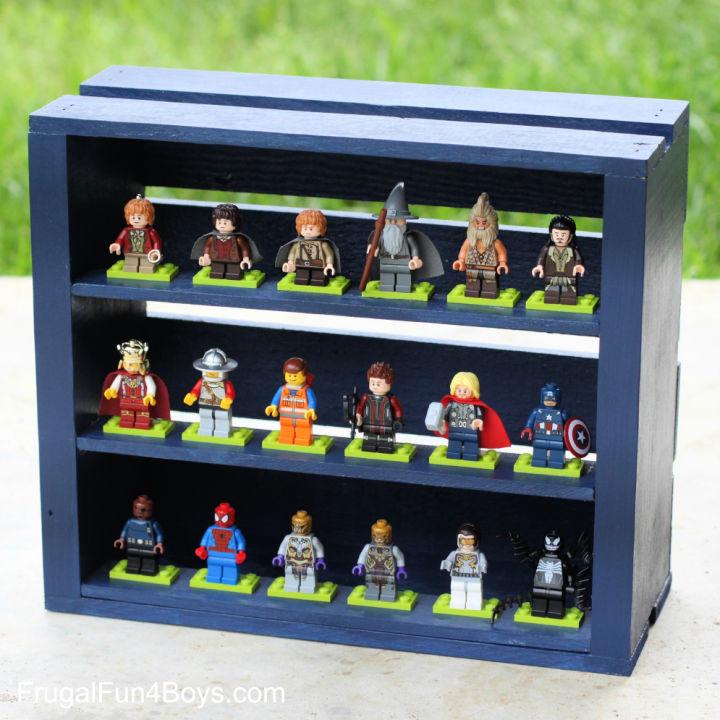 Time to put the boring wooden crate to some cool lego storage idea and mini-figure display! The coolest thing about this plan is that it can make quite a charming addition to your home decor while your kids get to enjoy their showcase of Lego Minifigures! It all starts with wooden crates. frugalfun4boys
21. Lego Table with Huge Storage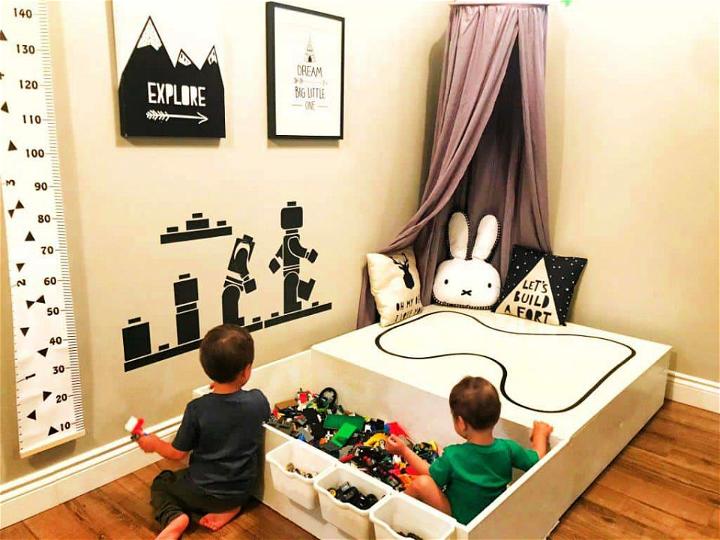 If this isn't the lego wonderland dream come true kind of plan! We are absolutely loving the feels of this lego storage idea. Disclaimer alert; this plan will hardly take 4 to 6 hours to get completed, and all it needs is TWO simple cuts! How? Hit the link below to unveil the mystery! teachyourkid
22. DIY Lego Travel Case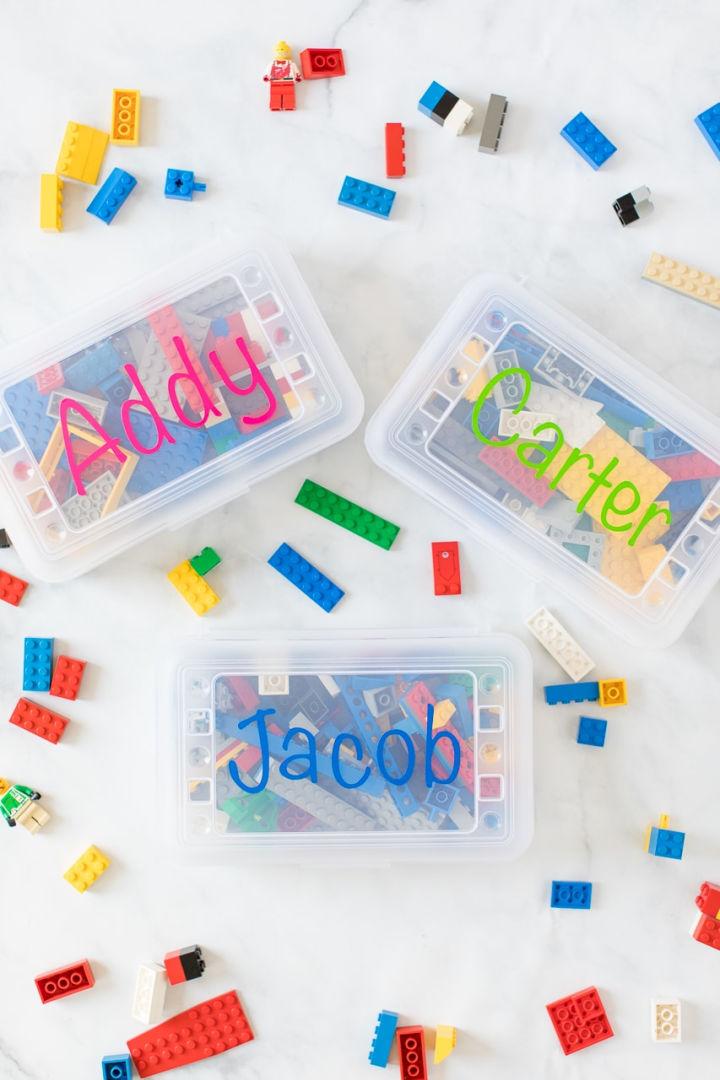 No more lego fights! These simple lego storage boxes are absolutely helpful for both parents and kids. Whether you are traveling with them to grandma's or want them to have a peaceful play day at home, this lego storage idea is easy to assemble and fun to work with. madetobeamomma
23. Lego Minifigure Display Case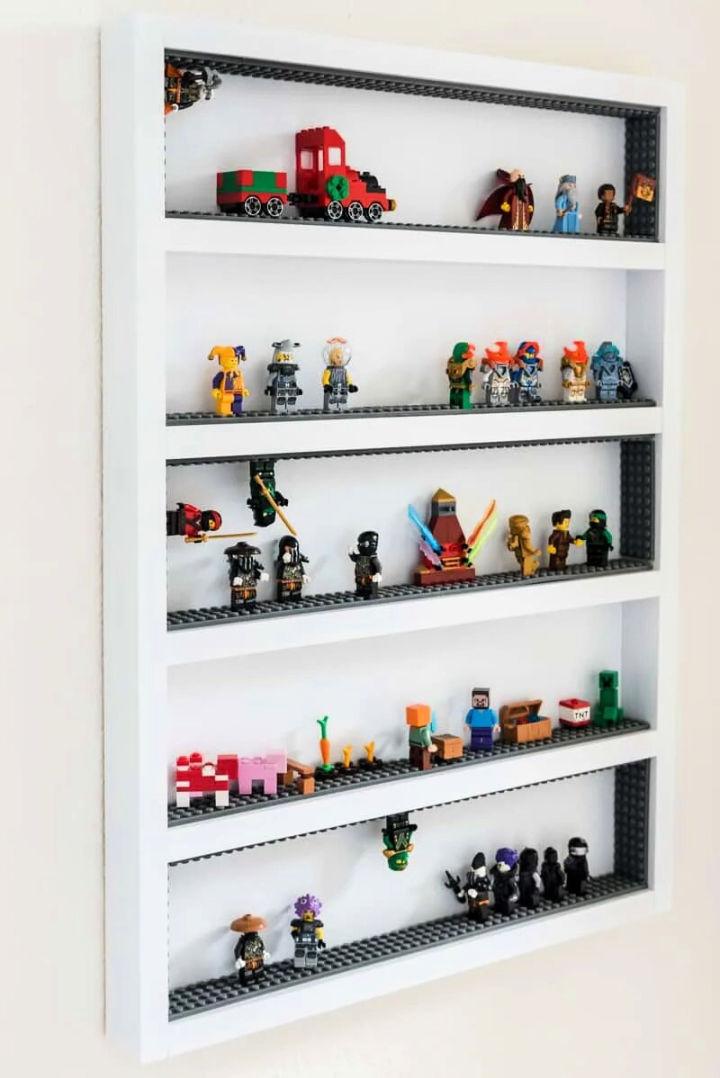 Here is another one of our lego Minifigure display cases! Quite the charmer and fun to make. It's kind of a level 2 lego storage idea and Minifigure display. How? Well, you get to be more creative with adhesive tape for showcasing your Minifigures. Hit the link and get all the details to get started. thehandymansdaughter
24. Lego Storage and Play Table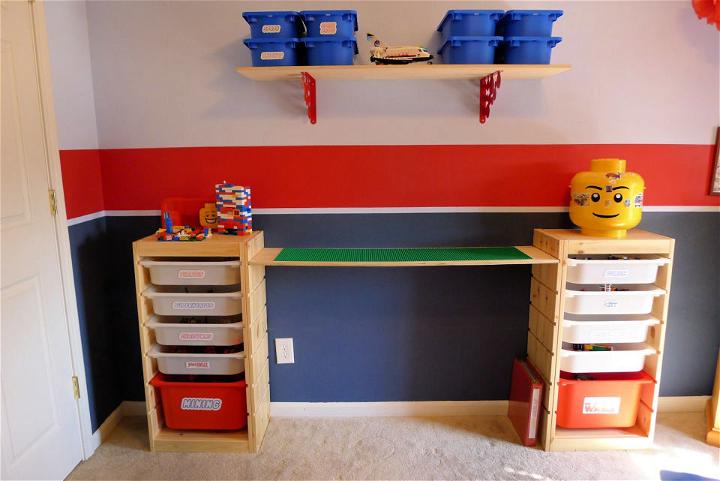 Simple to manage and fun to make! This lego storage and play table is every mom's dream IKEA hack. It includes the famous IKEA Trofast storage and, of course, some green lego baseplates. It all starts with 3 Trofast frames; see the link for step by step guide. thatmommy
25. Under Couch Lego Storage Drawer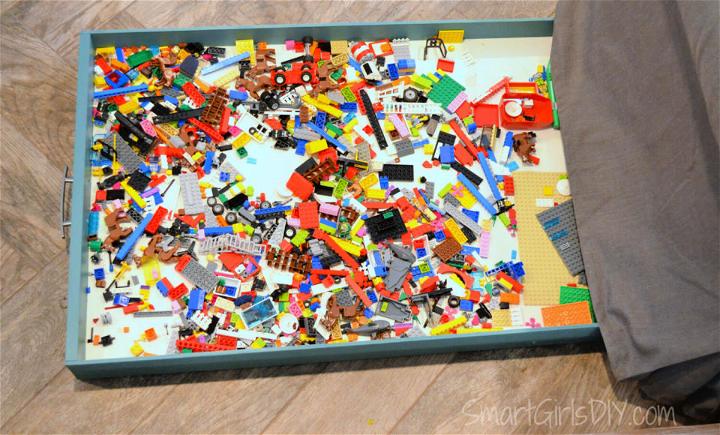 Every mom's dream is some under the sofa or the bed storage ideas! Hence you are in luck with this lego storage idea. Get your hands on the IKEA Linnmon tabletops (it's the magic ingredient here); you need a drawer handle, liquid nails, and some wooden scrap pieces! smartgirlsdiy
Conclusion:
So here you go with these easy-to-make and super cool lego storage ideas! We must say they are quite win-win lego organizer ideas for both kids and parents both. Firstly, none of these lego organization ideas are expensive or difficult to assemble; in fact, most of them are repurposed. Secondly, your kids get to enjoy complete autonomy over their lego play places while you can easily enjoy the out-of-sight, under-the-bed/sofa storage benefits! Lastly, you get to be creative with your decor game as well! Hence it's right to say that these lego storage ideas are absolute win-win plans! So, what are you waiting for? Gather the supplies, choose your favorite plan first, and then get started.