Find these 25 free kawaii coloring pages for kids and adults that provide a wonderful opportunity to express your creativity and imagination freely. These adorable and charming pages feature cute characters and designs that are sure to bring a smile to your face. Coloring is not only a fun activity but also has many benefits for both children and adults. It can help improve focus, reduce stress, and promote mindfulness.
Kawaii, which means "cute" in Japanese, has become a popular trend worldwide. From fashion to stationery, the Kawaii style has captured the hearts of many with its playful and cheerful aesthetic. Free Kawaii Coloring Pages offer a wide variety of designs to choose from, including animals, food, and characters.
Coloring is an activity that can be enjoyed by people of all ages. It's a best way to spend time with family and friends or to unwind after a long day. The best part is that it doesn't require any special skills or materials – all you need are some coloring pages and your favorite coloring tools.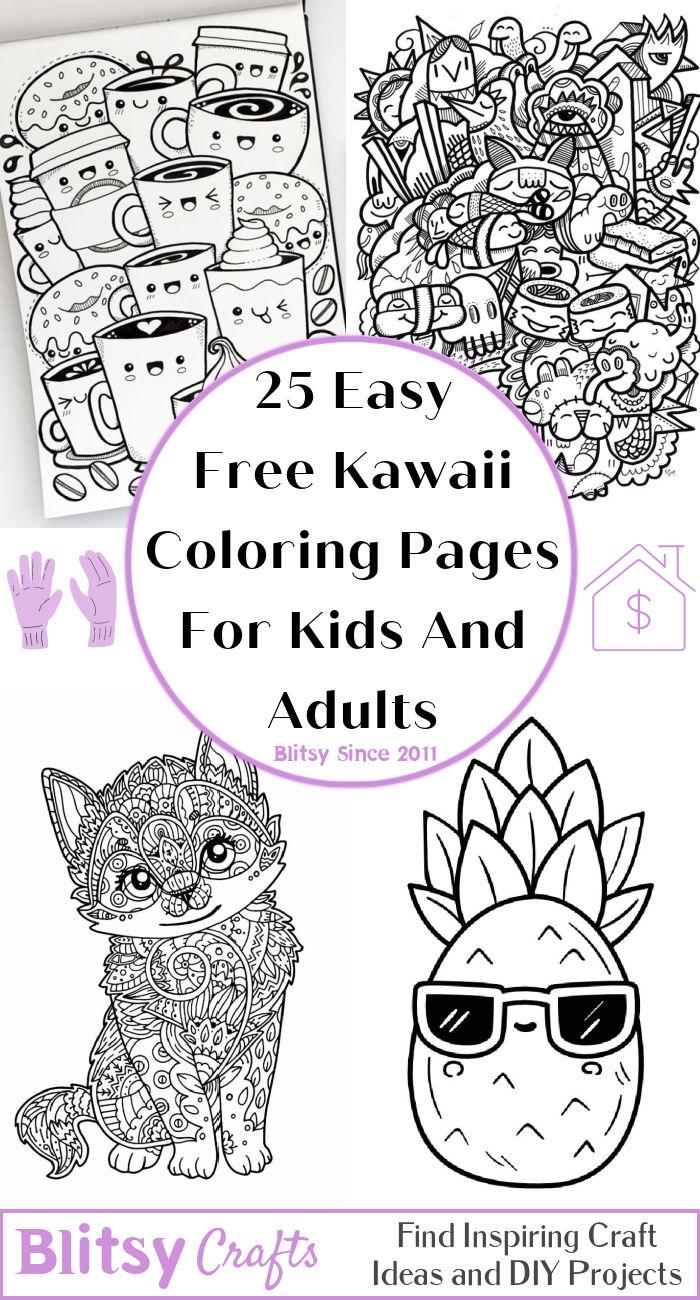 Free Kawaii Coloring Pages: A Fun and Creative Way to Relax and Enjoy
If you are looking for a fun and easy way to express your creativity and add color to your life, you might want to try free Kawaii coloring pages. Kawaii is a Japanese word that represents "cute" or "adorable," and it is a popular aesthetic that features characters, animals, food, and objects with big eyes, round shapes, and bright colors. Kawaii coloring pages are perfect for kids and adults who love the Kawaii style and want to have some fun with it.
In this article, we will demonstrate you how you can find and print free kawaii coloring pages online and give you some tips and ideas on how to use them. Whether you want to color a cute unicorn, a chibi girl, a kawaii cat, or a Pokemon character, you will find something that suits your taste and mood. You will also discover some creative ways to use your finished coloring pages, such as making stickers, keychains, bookmarks, magnets, and more.
How to Print Free Kawaii Coloring Pages Online
To print these free kawaii coloring pages online, you will need a printer, paper, scissors, and crayons or markers. You can follow these steps:
Choose the website and the coloring page that you like from the links above.
Click on the image or the link to open the high-resolution PDF file on a new page.
Download the PDF file to your computer or device.
Print the PDF file using your printer settings. You can adjust the size and orientation of the paper as needed.
Cut out the coloring page along the edges with scissors.
Enjoy coloring your Kawaii picture with crayons or markers.
How to Use Your Free Kawaii Coloring Pages
Coloring is a relaxing and enjoyable activity that can help you reduce stress, improve your mood, boost your creativity, and have fun. You can color your free kawaii coloring pages whenever you feel like it, or you can make it a regular habit. You can also use your finished coloring pages in different ways, such as:
Display them on your wall, fridge, bulletin board, or desk as decorations or reminders of your achievements.
Share them with your friends or family members as gifts or cards for special occasions.
Turn them into stickers, keychains, bookmarks, magnets, or other crafts using some materials and tools (see below for some ideas).
Scan them or take photos of them and upload them to your social media accounts or blogs to show off your work or inspire others.
10 Craft Ideas To Do With Kawaii Coloring Pages
Here are ten cheap, fun, and creative things you can do with your completed coloring pages!
10. Stickers: If you can, copy and paste all the kawaii figures, you want to turn into stickers onto the same page. Then you're going to print them out onto sticker paper. From there, you're going to use the Cricut for its Print and Cut feature; the Cricut should "read" the page and cut out the stickers perfectly. You can also use printable vinyl if you want to put the kawaii figures on water bottles or anything that could get damp.
9. Keychains: You can make cute keychains from your kawaii coloring pages – all you need is some shrink sheet paper, markers, a hole punch, keychain O-ring and connectors, and an oven. Print the illustrations of choice onto the shrink sheet paper and have the kids color in the main figures with markers. Then cut out the shapes and punch a hole at the top. Bake them in the oven according to the instructions on the package. They will shrink and harden as they bake. Once they are cool, attach them to the keychain O-ring and connectors.
8. Bookmarks: You can turn your kawaii coloring pages into bookmarks that you can use for your books or journals. Cut out the shapes of your favorite kawaii characters or objects and laminate them with clear tape or a laminator machine. You can also punch a hole at the top and add a ribbon or a tassel for extra flair.
7. Magnets: You can make magnets from your Kawaii coloring pages that you can stick on your fridge, locker, or whiteboard. Cut out the shapes of your kawaii figures and glue them onto some cardboard or foam board. Then glue a small magnet on the back of each one.
6. Collage: You can create a collage from your kawaii coloring pages that you can frame or hang on your wall. Cut out different parts of your kawaii pictures, such as eyes, mouths, noses, ears, hair, accessories, etc. Arrange them on a large piece of paper or cardboard in a creative way. Adding stickers, glitter, or other decorations can make it more interesting.
5. Scrapbook:You can use your kawaii coloring pages as part of your scrapbook or photo album. Cut out your kawaii figures and paste them next to your photos or journal entries. You can also write some captions or quotes that relate to your Kawaii theme.
4. Cards: You can make cards from your kawaii coloring pages that you can send to your friends or family members for birthdays, holidays, or any occasion. Fold a piece of paper or cardstock in half and glue your kawaii figure on the front. Write a message inside and decorate it with stickers, stamps, or doodles.
3. Origami: You can fold your kawaii coloring pages into origami shapes that you can use as decorations or toys. You can find many origami tutorials online for different levels of difficulty and different types of shapes, such as animals, flowers, stars, boxes, etc.
2. Paper Dolls: You can make paper dolls from your kawaii coloring pages that you can dress up and play with. Cut out your kawaii characters and their outfits and accessories. You can either glue them together or use tabs to attach them to each other.
1. Puppets: You can make puppets from your kawaii coloring pages that you can use for storytelling or role-playing. Cut out your kawaii figures and glue them onto some popsicle sticks or straws. You can also add some yarn or fabric for hair or clothes.
1. Free Printable Kawaii Coloring Pages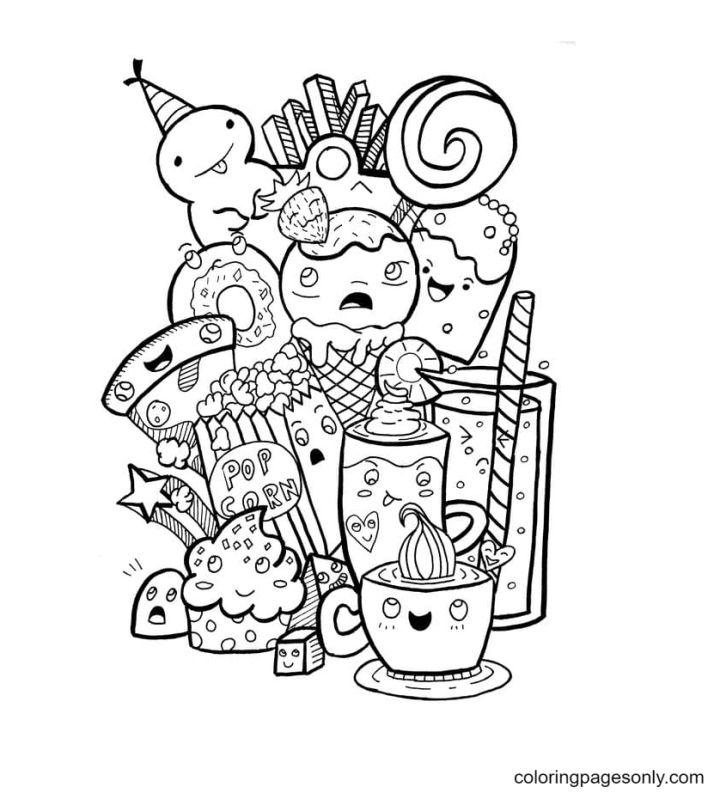 Discover loads of free, printable kawaii coloring pages for kids and adults alike! From cute animals to peaceful scenes, find a huge selection of fun illustrations that will brighten up your day. Enjoy hours of relaxation color therapy with these hand-drawn designs that are perfect for all ages. So, simply print off the designs you like best and start creating beautiful art in no time. Hence, get creative today and explore the world of Kawaii with these free kawaii coloring pages! coloringpagesonly
2. Coloring Pages of Kawaii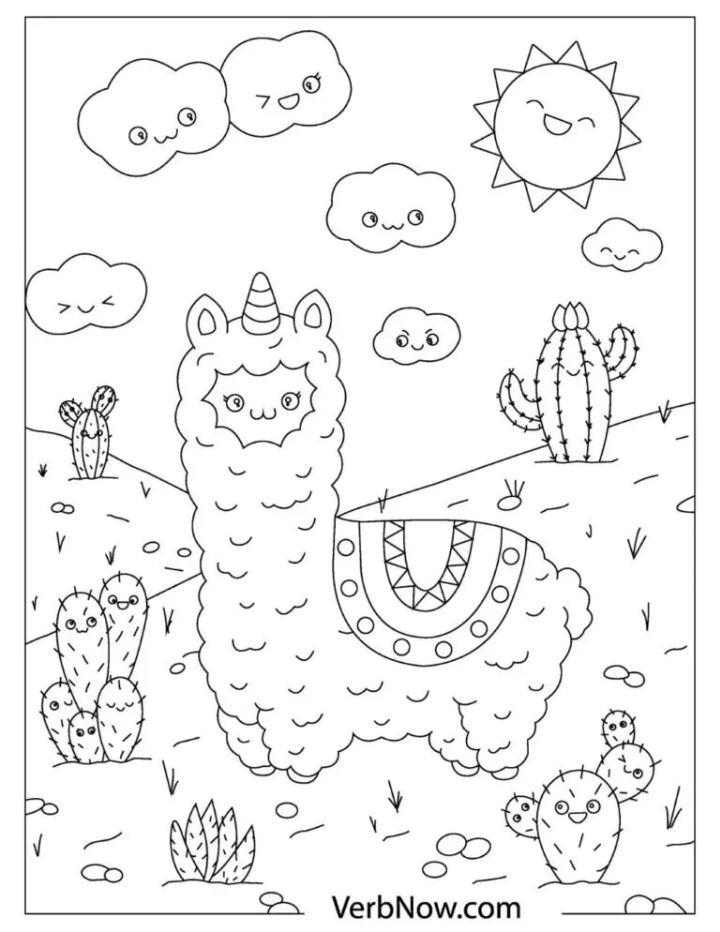 Kawaii coloring pages are an ideal way to help kids improve their artistic skills. Filled with adorable characters, these coloring sheets provide a fun and creative outlet for children of all ages. In addition, with vibrant colors and intricate designs, they offer hours of enjoyment that encourages exploration of artistry while boosting confidence in the little ones who color them. From cute animals to mesmerizing landscapes, there is something here for every budding artist – let your kids express themselves with kawaii coloring pages! verbnow
3. Printable Kawaii Coloring Pages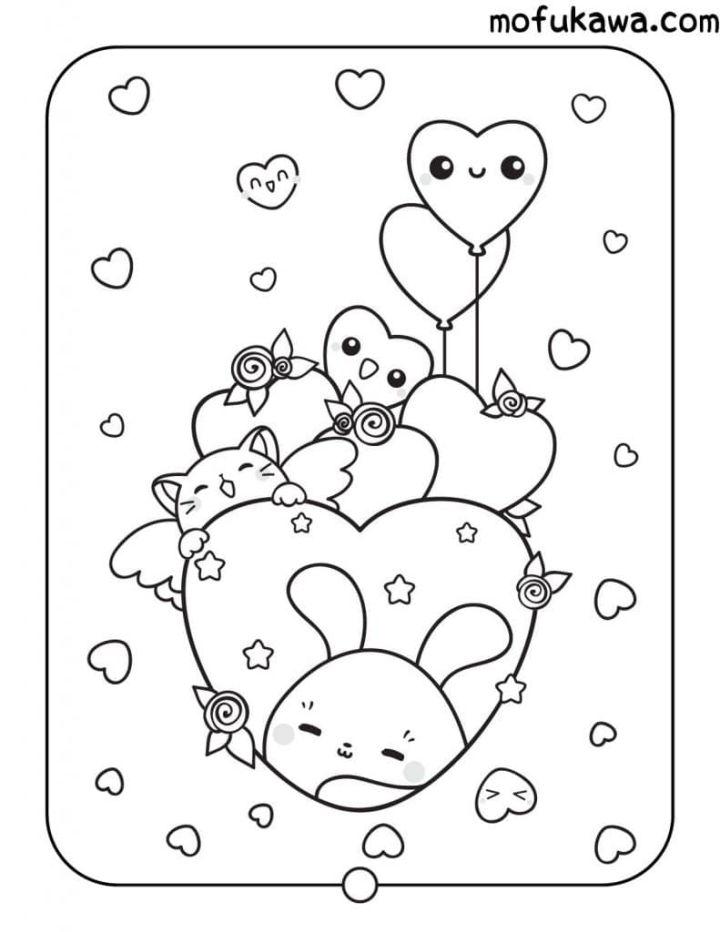 Bring some cuteness to your day by exploring this collection of printable kawaii coloring pages! With a range of fun and unique designs, you can customize each page with your own special touch. Perfect for kids, adults and artists alike, these pages are sure to bring out the creative side in everyone. This exclusive selection of kawaii drawings will have you coming back for more – get ready to let your inner artist shine! Download now and start coloring today! mofukawa
4. Kawaii Coloring Pages and Printables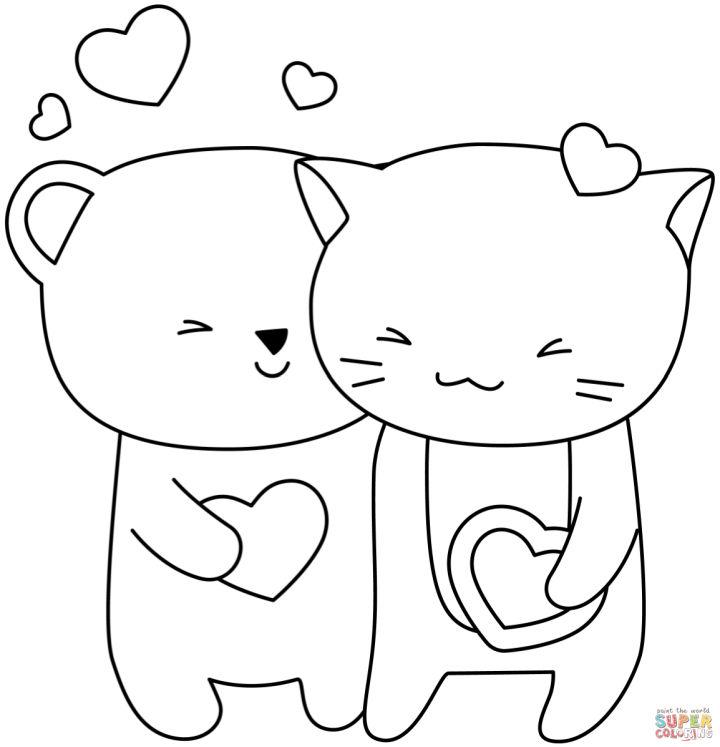 Keep your kids entertained and creative with kawaii coloring pages and printables. This collection of coloring pages features characters, scenes, and more from the world of cute Japanese cartoon art known as kawaii. So, get ready for hours of fun as your little ones color their way through these adorable illustrations. Plus, these printable pages are perfect for taking on the go – ideal for keeping restless minds occupied during car trips or while waiting in line! supercoloring
5. Free Kids Kawaii Coloring Pages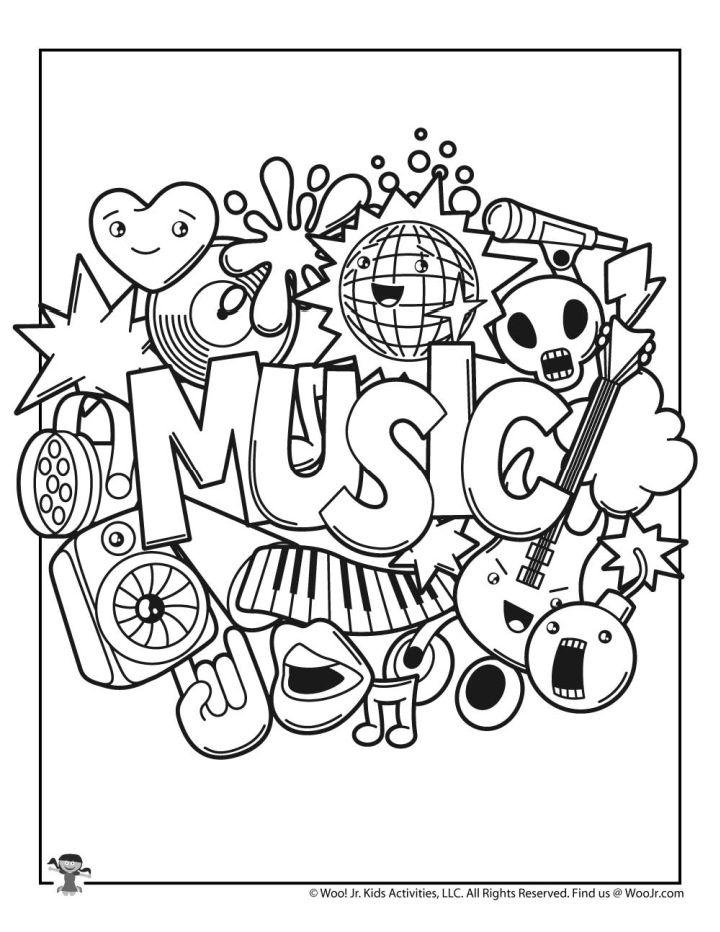 Discover a world of fun and creative coloring pages for kids with these free kawaii coloring pages! This collection features cute drawings of animals, foods, flowers, and other adorable illustrations. With easily available supplies required, children can explore their creativity and imagination as they color these engaging pages. Moreover, each page is filled with vibrant colors that will bring hours of joy to your little ones – guaranteed! So, get inspired today by downloading these free kids' kawaii coloring pages now! woojr
6. Free Printable Kawaii Coloring Sheet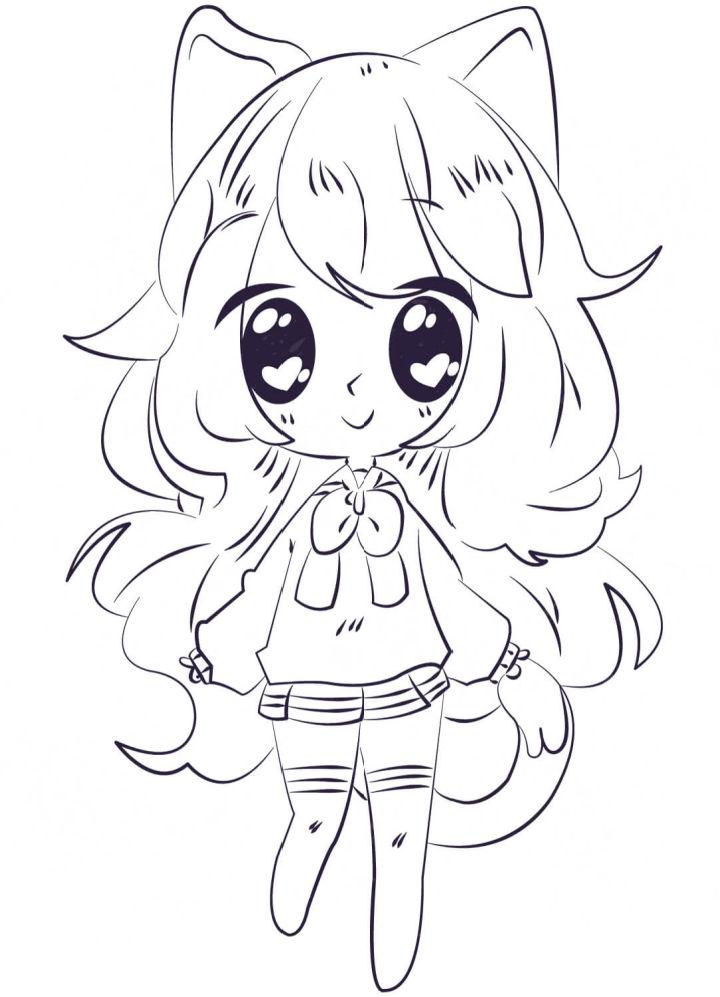 Unleash your inner artist and add some joy to your day with this free printable kawaii coloring sheet! It's the perfect activity for kawaii fans of all ages. Notably, with cute characters, intricate patterns and bursts of vibrant colors, this coloring sheet encourages you to explore your inner artist. So, get ready to unleash the power of creativity with this amazing coloring sheet – download, print it out and color away! Above all, enjoy a relaxed break while creating something beautiful that you can proudly display when finished! coloringonly
7. Kawaii Coloring Pages for Kids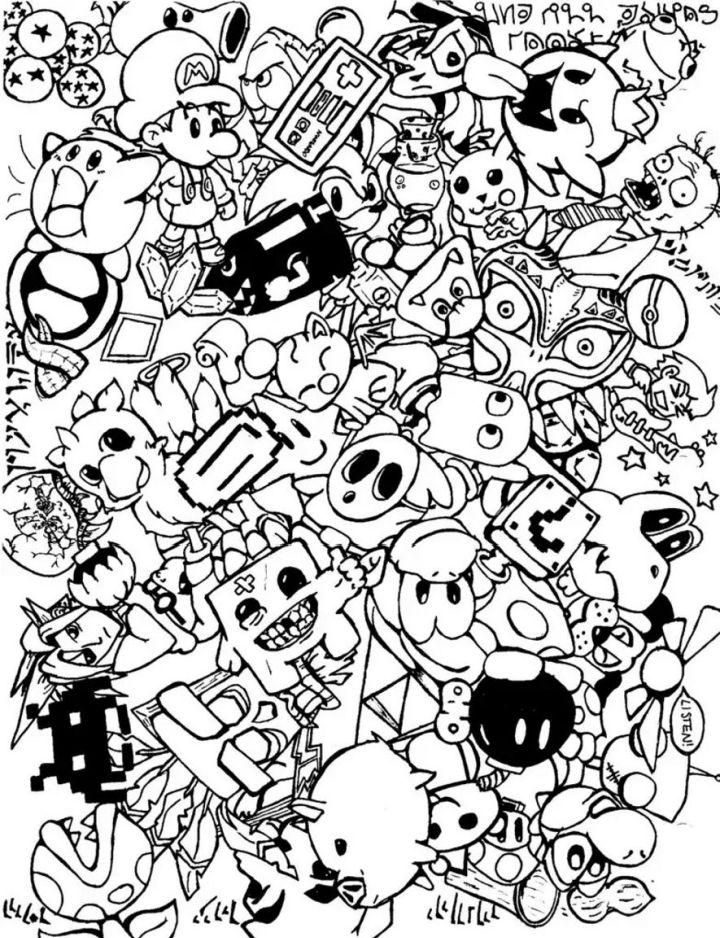 These kawaii coloring pages for kids will bring a smile to anyone who colors them! Get ready for hours of creative fun with a set of these professional-grade coloring pencils, a good sharpener, markers, a white pen, an eraser and blenders. However, ensure easy and neat coloring with this detailed guide. And then let your kids explore their creativity safely by getting these kawaii coloring pages today! justcolor
8. Kawaii Coloring Pages and Printables

Kawaii coloring pages and printables are a great way to bring some fun and creativity into your life! This guide features vibrant, cute artwork that will help you relax while spending some quality time with yourself. This collection of kawaii coloring pages is perfect for all ages – from little kids to adults! Notably, each page contains intricate designs that require hours of concentration, allowing you to practice mindfulness as you color away. So, whether you're looking for something simple or complex, kawaii coloring pages have something for everyone! bestcoloringpages
9. Kawaii Coloring Pages to Print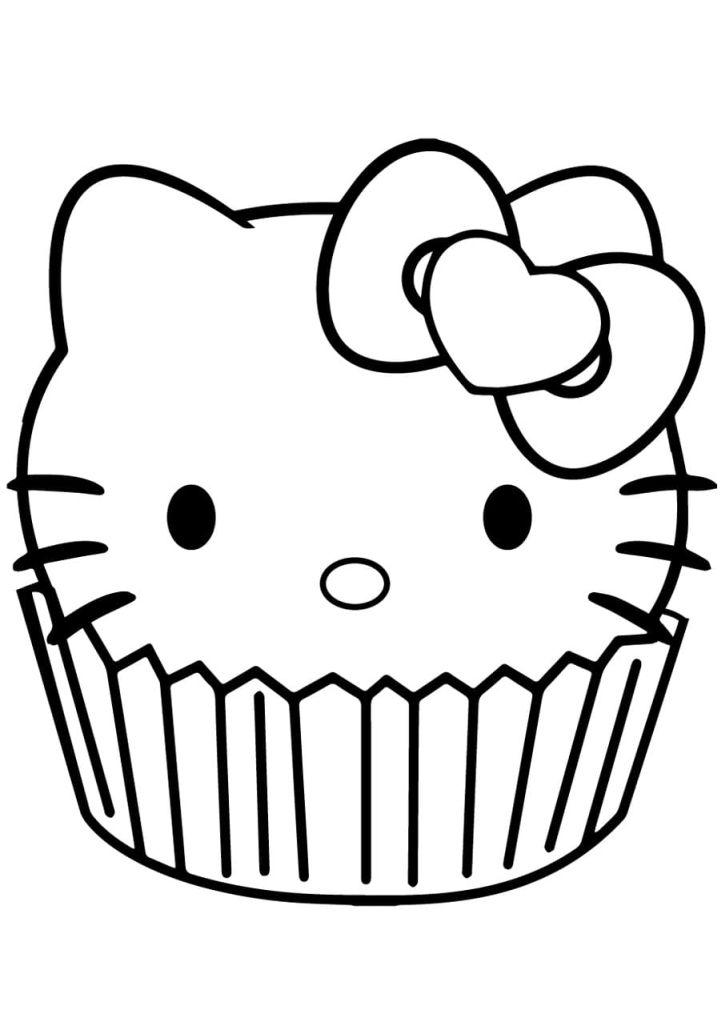 Love coloring? Then grab these kawaii coloring pages and printables, as they are perfect for you! Above all, this collection of exciting designs includes cute animals, cartoon characters, hearts and flowers to add a touch of fun to your creativity. Enjoy hours of creative entertainment with these free printable pages that always feature unique designs. So, let your imagination run wild as you explore the world of kawaii! Hence, download now and start coloring today! raskrasil
10. Kawaii Pictures to Color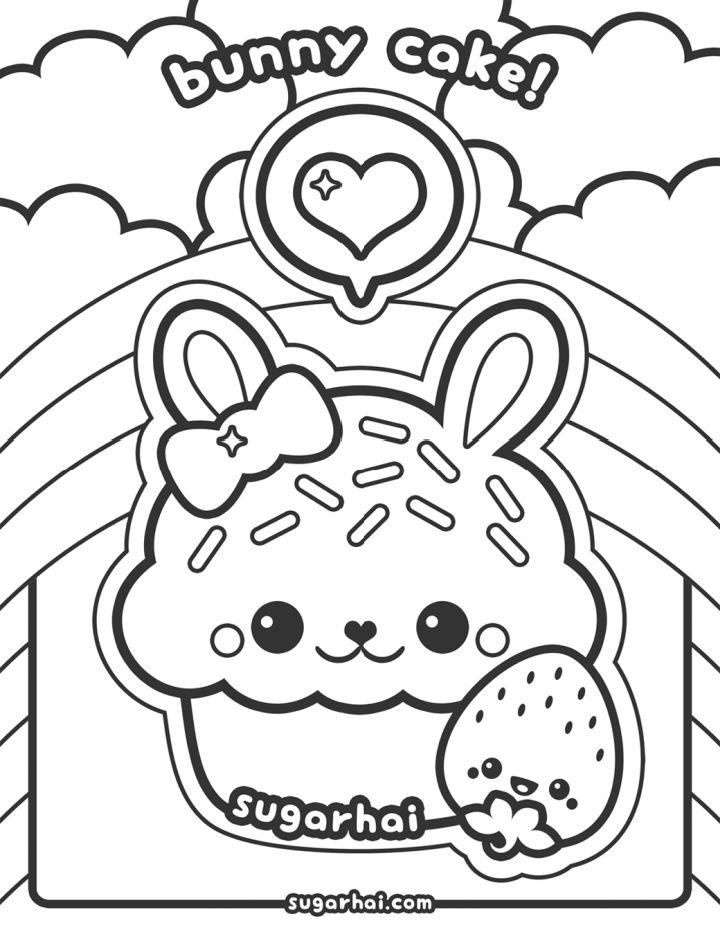 Looking for a fun and creative activity? Try these kawaii pictures to color! Enjoy the bright colors of Japan's popular culture as you color in sweet, cartoon-like images. Coloring is an enjoyable pastime, and it can also help improve fine motor skills and creativity. So, visit this link now to browse through hundreds of unique designs featuring animals, nature scenes, and more. Moreover, with these Kawaii pictures to color, you'll have hours of colorful entertainment at your fingertips! clipart library
11. Free Kawaii Coffee Coloring Page

Spruce up your wall with this free kawaii coffee coloring page. This cute printable coloring page is perfect for adults and children to enjoy some creative fun. From a smiling cup of coffee to heart-shaped marshmallows, you'll be sure to find something to love in this adorable design! So, download today and start adding color to the picture – it's the ideal way to relax while expressing your creativity! katehadfielddesigns
12. Printable Kawaii Girls Coloring Pages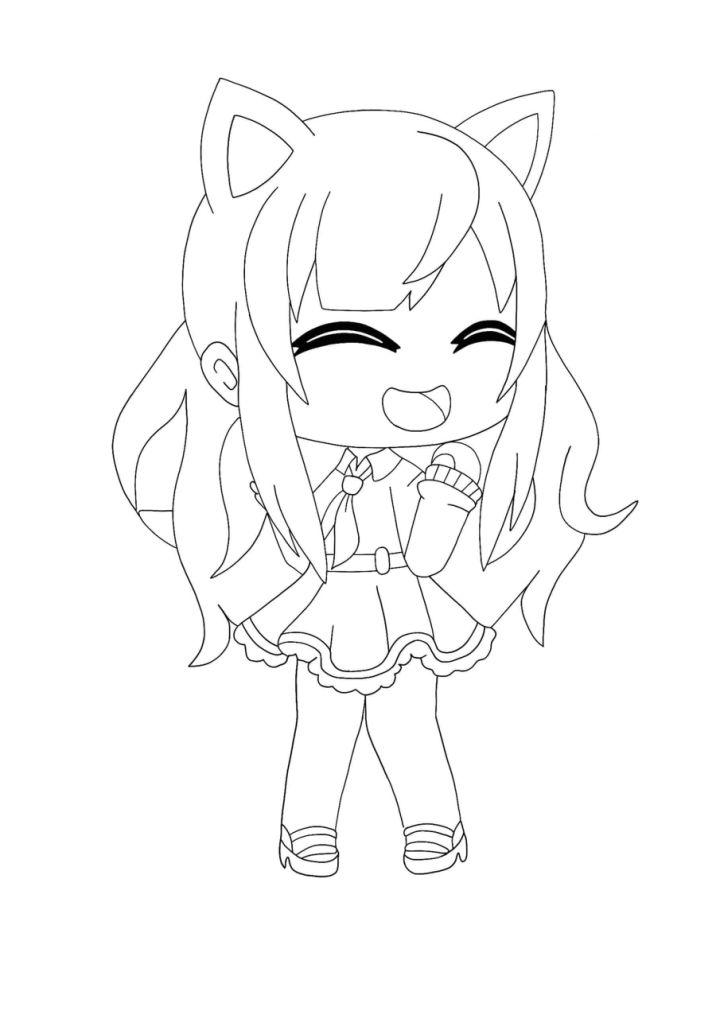 Looking for fun and cute printable coloring pages? Check out this collection of kawaii girls' coloring pages! Featuring unique designs with adorable characters, these pages will bring a smile to any young artist's face. But, above all, with easy-to-follow instructions, you can quickly and easily create amazing works of art that are sure to brighten up any room. So, download now to get started on this exciting creative journey today! coloringhome
13. Kawaii Coloring Book Pages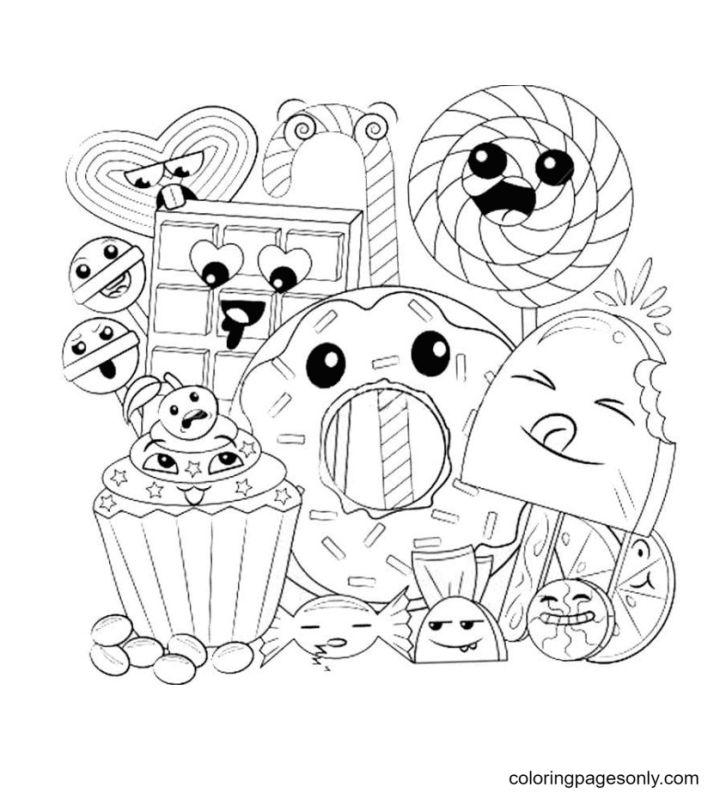 Experience Japanese kawaii's vibrant, fun world with these exciting coloring book pages! Notably, this collection includes over 50 pages featuring fun and unique characters, cute creatures, and delicious food. So, whether you're a beginner or an advanced artist, these illustrations are sure to challenge your skills and bring out your inner artist. Plus, they are perfect for gifts! Hence, get creative with kawaii coloring book pages today! coloringpagesonly
14. Cute Kawaii Food Coloring Pages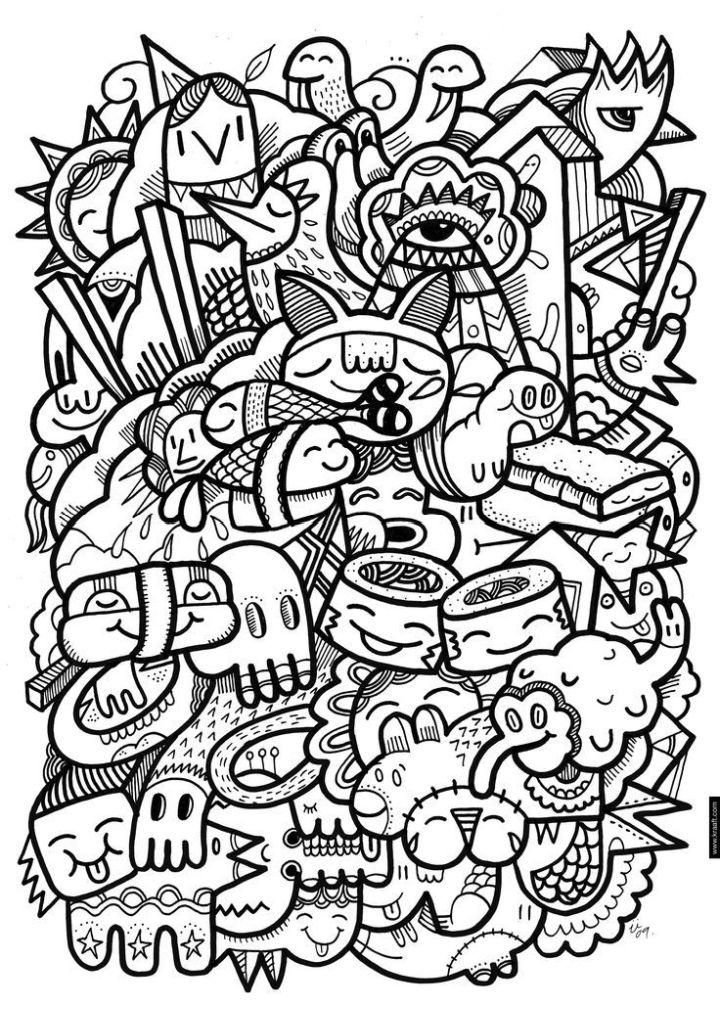 Unlock your child's creativity with these adorable and fun kawaii food coloring pages! Featuring a variety of food-themed designs, from sushi to ice cream cones, these coloring pages are sure to capture the attention of any young artist. Moreover, with bright colors and intricate patterns, each page provides hours of entertainment that will help teach fine motor skills while promoting self-expression. Therefore, get creative and make your own masterpiece today with these free kawaii coloring pages! clipart library
15. Free Kids Kawaii Cat Coloring Pages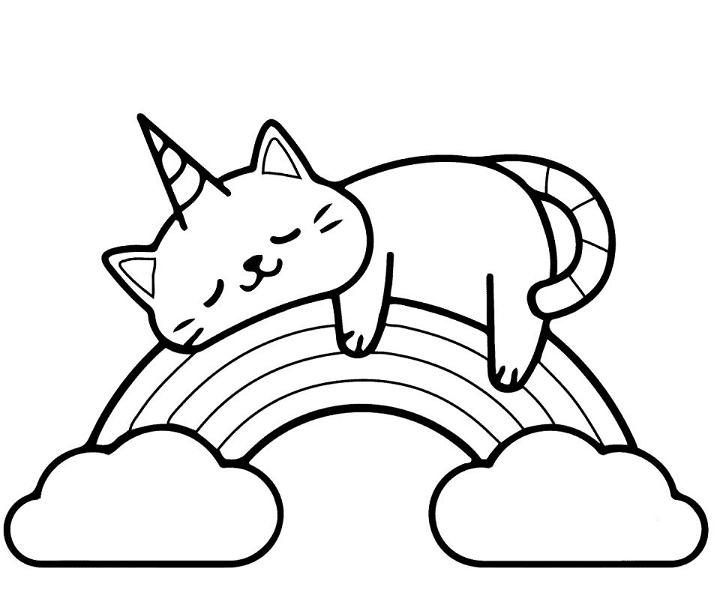 Let these free kids' kawaii cat coloring pages awaken your child's creative spirit! These fun and creative pages feature adorable cats in a variety of poses that will keep kids coloring for hours. In addition, with bright colors, whimsical designs and intricate patterns, these pages are perfect for all skill levels. For an optimal experience, make sure to have the necessary supplies, such as colored pencils, markers, erasers, sharpeners and paper clips, on hand. So, create unique works of art with this awesome selection of kids' kawaii cat coloring pages; it's sure to provide endless entertainment. coloringhome
16. Kawaii Unicorn Coloring Page to Print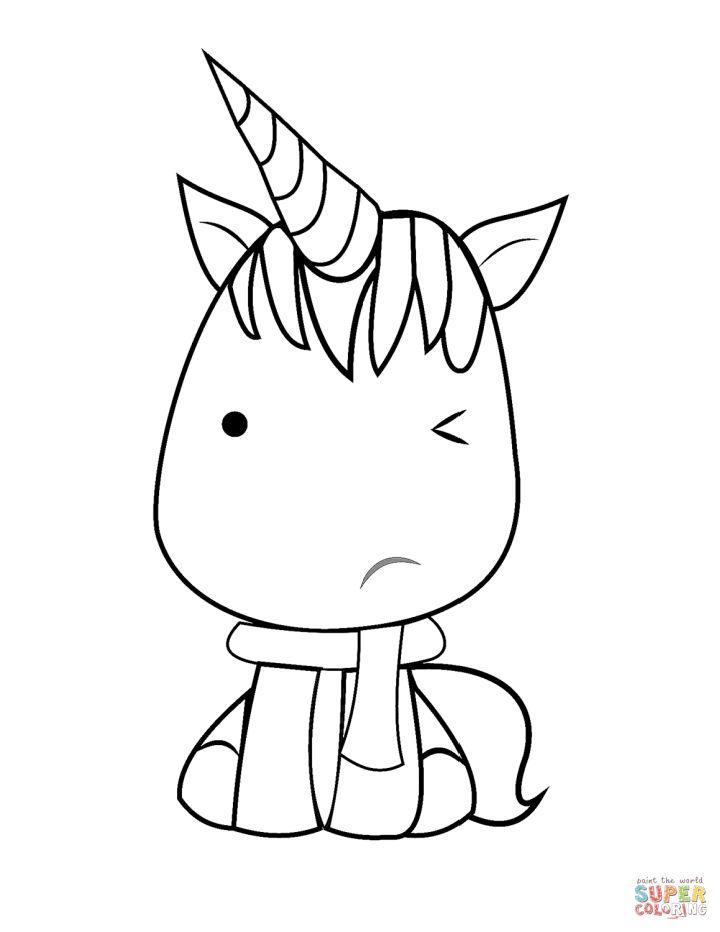 Help your child's artistic side shine with this free and exciting kawaii unicorn coloring page! This coloring page is sure to bring smiles, perfect for after-school projects, summer crafts, or a quick and easy way to keep children entertained. Featuring adorable unicorns surrounded by bright stars and flowers, it's perfect for introducing kids to the world of creative art. Above all, the printable format makes it easy for home use – download today and enjoy hours of imaginative play! supercoloring
17. Kawaii Summer Pineapple Coloring Page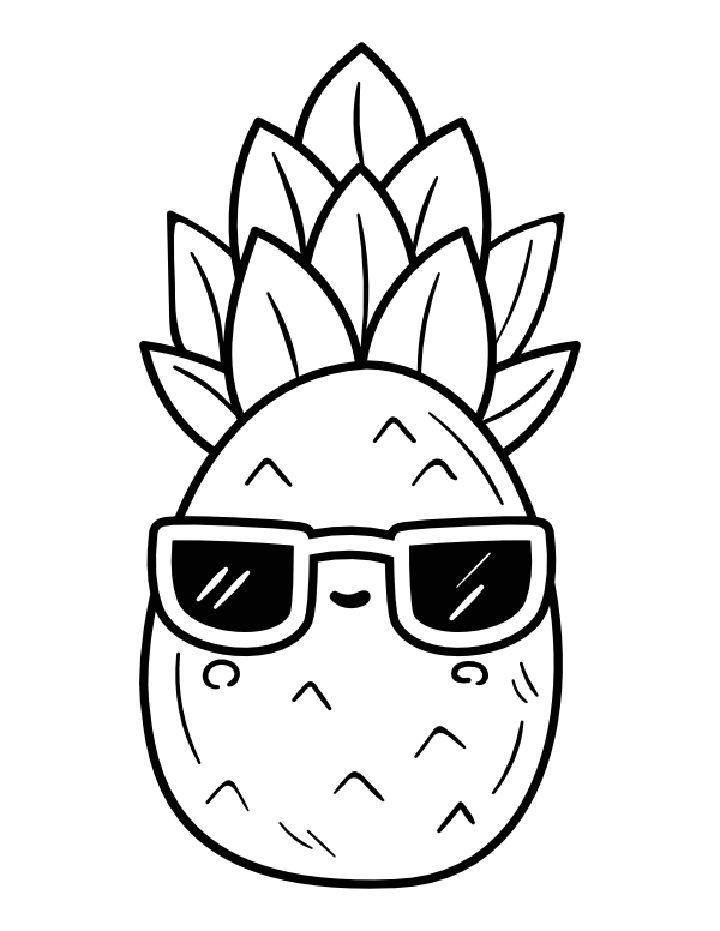 Bring summer vibes to your day with this kawaii summer pineapple coloring page! Above all, its cute smiley face and colorful details make it a great way to relax and express your creativity. But it's certainly a perfect activity for kids of all ages, the coloring page is sure to bring hours of fun. So, download it now and start adding color to your world! museprintables
18. Kawaii Fox Coloring Book Page for Adults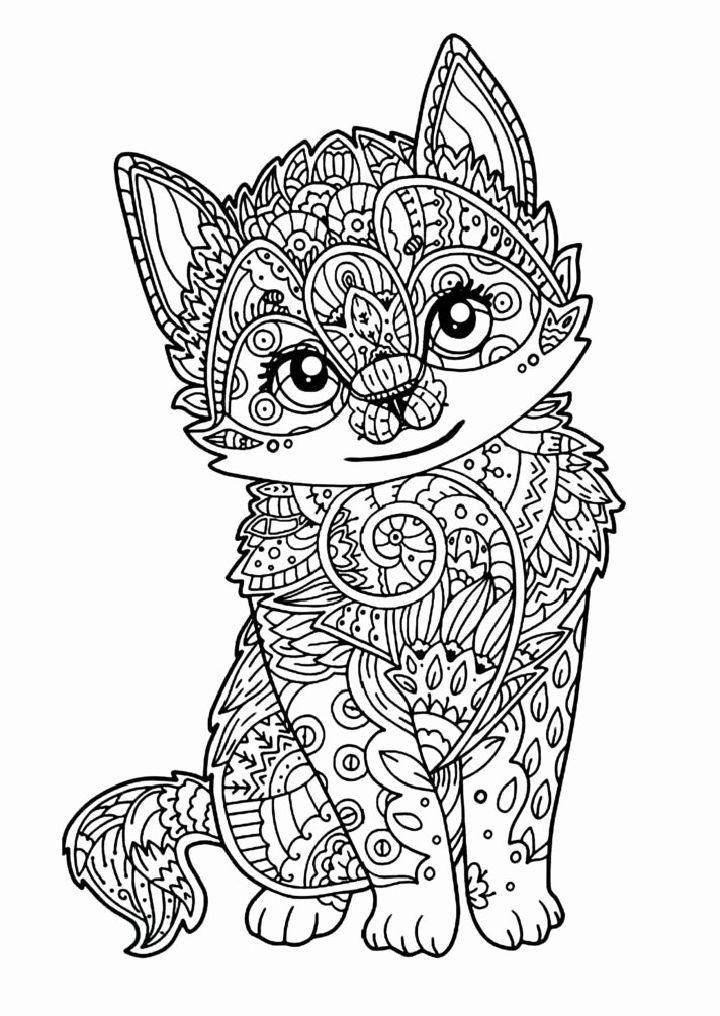 This kawaii fox coloring book page for adults is the perfect way to relax and get creative. Combining modern art with cute animal designs, this coloring page will bring you hours of stress-free entertainment. However, make sure it's printed on quality paper that won't bleed through, it's sure to give your coloring a professional finish. And then perfect for any skill level, from beginner to expert, this fun fox design will add a splash of color to any home or office space! So, order now and make your day more colorful! coloringhome
19. Kawaii Panda Coloring Page for Little Ones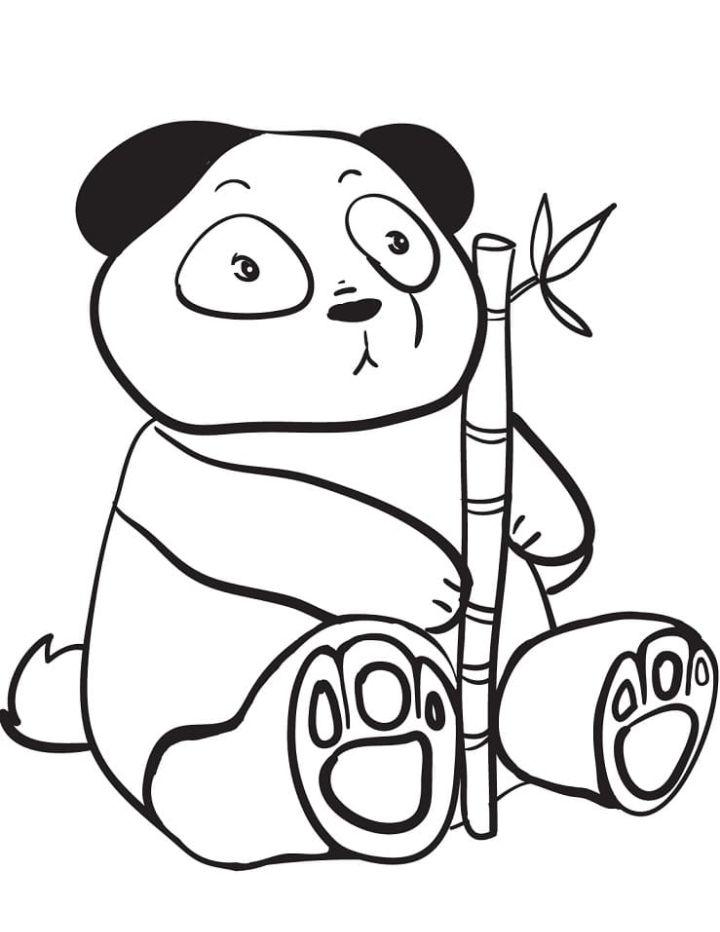 Spark your little one's imagination with this kawaii panda coloring page! Featuring a bright panda smiling at the viewer, this fun page will spark smiles and encourage artistic expression. Perfect for kids of all ages, the simple design makes it easy to color while providing an enjoyable experience. So, add some colorful markers or crayons and make learning more exciting with this kawaii panda coloring page! coloringonly
20. Free Printable Kawaii Donut Coloring Page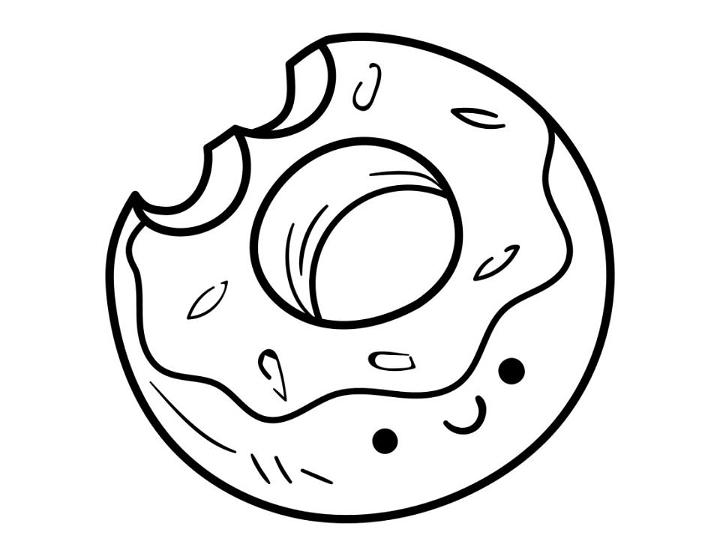 Bring a smile to your child's face by downloading this free printable kawaii donut coloring page. Moreover, these fun and creative designs are sure to keep them entertained while they color in the sweet treats! Featuring various shapes and sizes, these colorful donuts can be filled with their favorite colors for hours of creative enjoyment. Whether you're looking for an activity that will help teach about different colors or want something fun for your little one, these Kawaii donut coloring pages are sure to satisfy everyone's sweet tooth! museprintables
21. Free Kawaii Ice Cream Coloring Page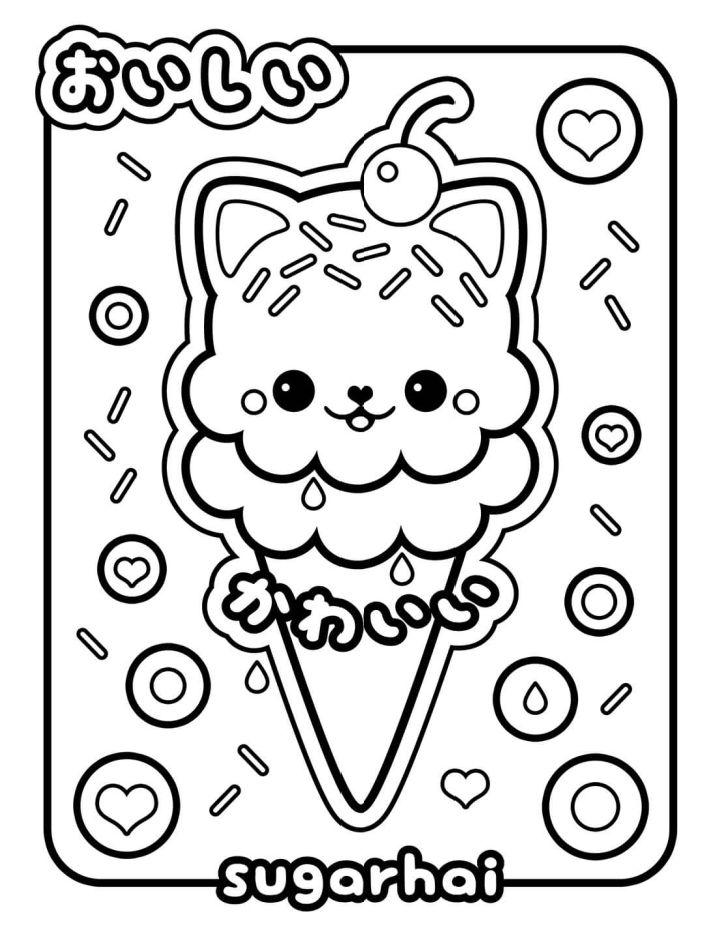 This free kawaii ice cream coloring page is a perfect way to get creative! This fun activity lets your little ones explore their imaginations and express themselves. Moreover, they can choose from an array of vibrant colors to bring their tasty treat to life. With plenty of details – like sprinkles, cherries, and other toppings – they can make each masterpiece as unique and delicious as they'd like! Grab some crayons or markers, and let the coloring begin! coloringonly
22. Kawaii Animals Coloring Sheet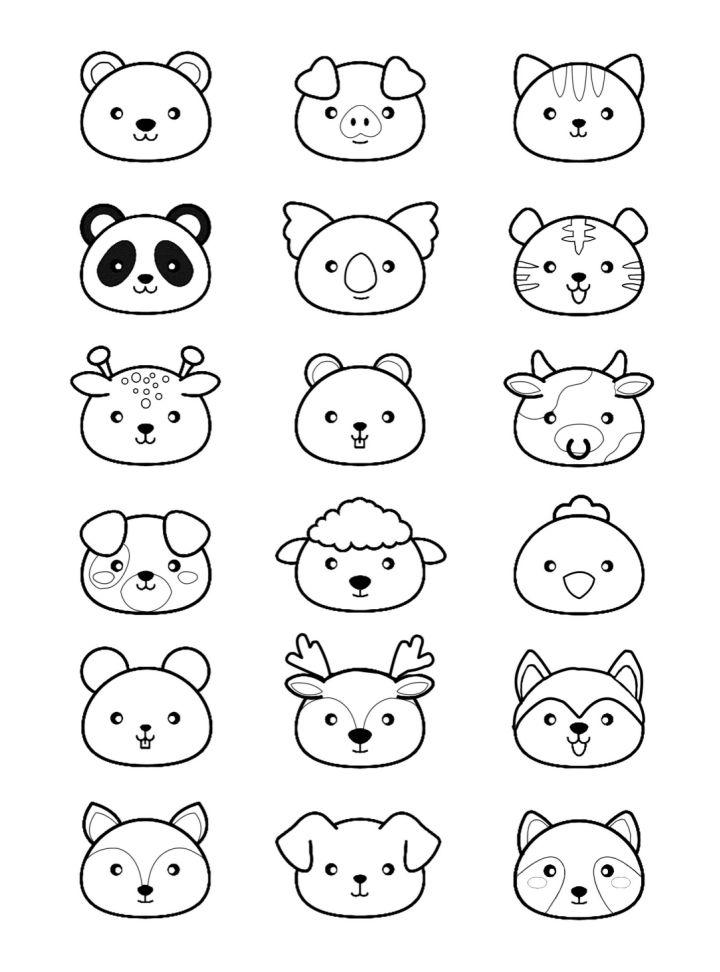 Are you looking for some fun and creative way to entertain your children? Get them these kawaii animals coloring sheets! This coloring sheet features cute and adorable animals that will captivate kids of all ages. It includes 10 unique illustrations, all in high-quality resolution. The images are simple yet detailed enough to provide hours of entertainment. Plus, it's the perfect opportunity to teach colors while having fun with family or friends. Order now and get ready for some fantastic coloring time! justcolor
23. Printable Kawaii Halloween Coloring Pages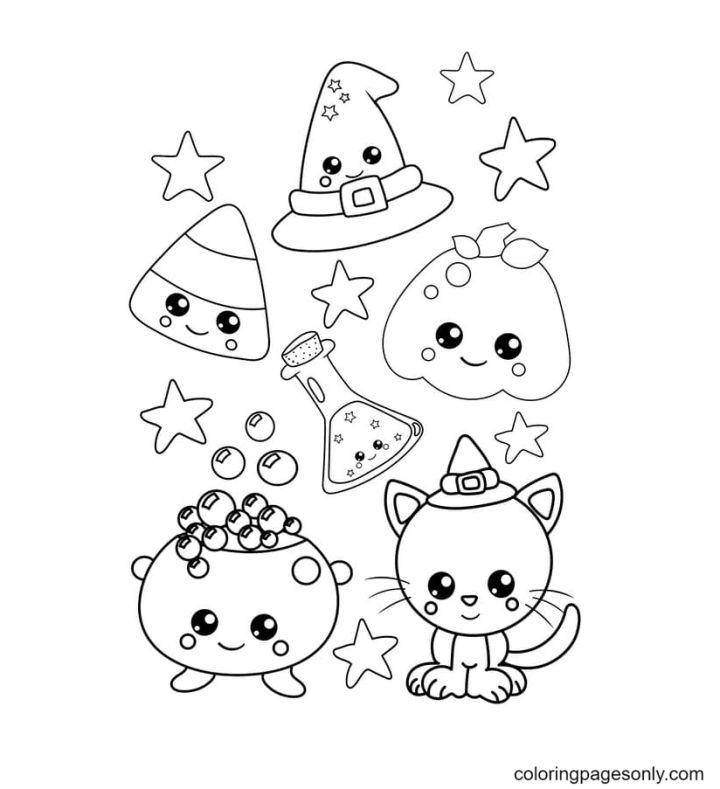 Capture the spirit of Halloween with these fun and free printable kawaii Halloween coloring pages! Featuring adorable characters, spooky scenes, and lots of cute little details that'll bring a smile to your face – these doodle-style designs will make an excellent addition to any child's holiday activity. Print them out for some festive fun or save digital copies for when you're on the go – either way, it's perfect for getting into the Halloween mood and having a great time. coloringpagesonly
24. Coloring Page of Kawaii Sanrio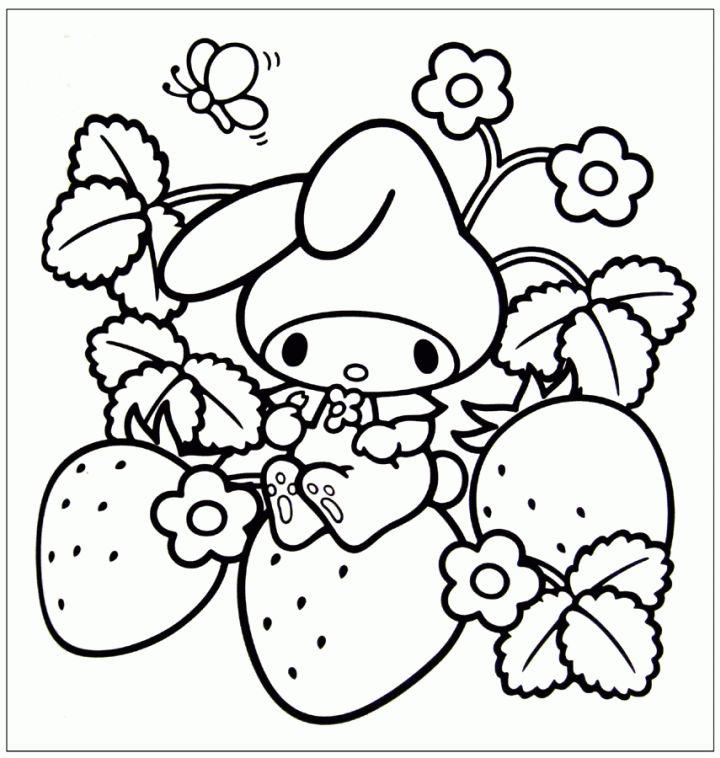 Check out this free coloring page of kawaii Sanrio features an adorable illustration of a cute character from the beloved Japanese cartoon series. Your kids will love bringing this little creature to life with their own imaginative colors and patterns. With its simple design, even beginners can make beautiful artwork in no time – perfect for any art enthusiast! Get your little ones engaged in hours of fun activity as they practice their artistic skills and create something truly special with these free kawaii coloring pages. clipart library
25. Free Kawaii Girl Coloring Page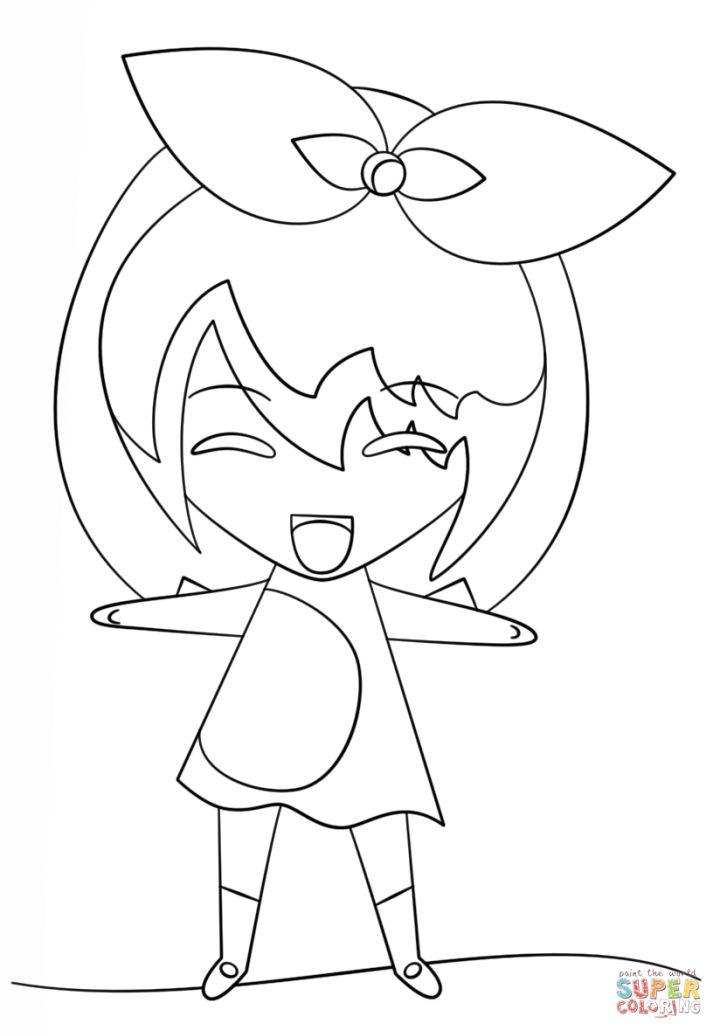 This free kawaii girl coloring page will bring a spark of joy to any child's day! With its cute and colorful design, kids can get creative with colors as they color in the fun-loving character. Perfect for an art class or family time at home, this printable coloring page is sure to become a favorite. Download it today for hours of imaginative playtime fun! supercoloring
Related Free Coloring Pages
Download free coloring pages of your favorite video game characters! Print and color these high-quality illustrations to bring fun and excitement into any room. Perfect for kids or adults who are fans of gaming culture.
Conclusion: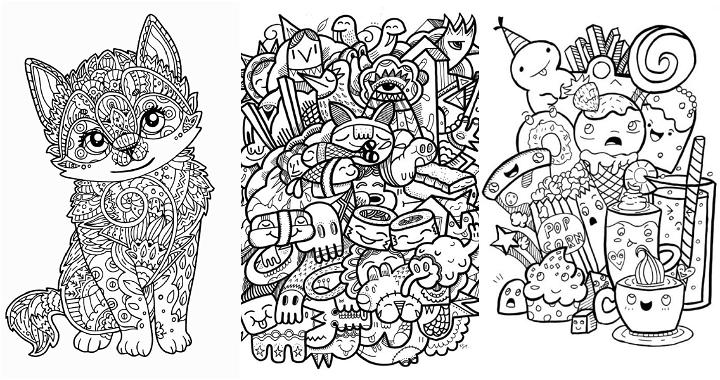 If you love cute and colorful things, you will adore these 25 free kawaii coloring pages. They are perfect for relaxing, expressing your creativity, and having fun with your friends. You can select from a variety of adorable characters and themes, such as animals, food, unicorns, and more. Whether you want to color them online or print them out, these Kawaii coloring pages are sure to brighten up your day. So grab your crayons, markers, or pencils and start coloring these kawaii pages today!