Do you intend to celebrate the baby shower this fall season? Sorting out the best decoration ideas for the baby shower parties? Then nothing will work great but the season itself. Yes, the fall baby shower themes will work great that will be celebrated in the fall or months like September, October, November or December. Choose from these 25 unique fall baby shower ideas, themes and decorations guides that will surely hit your taste. So, you will see a hot mixture of both the celebration of baby arrival and fall decor that will impress all.
At the same time, you will also get amazing autumn outdoor baby shower ideas that are guaranteed to leave you stunned. So, you will love these ideas to celebrate the arrival of your little pumpkin. This does not end here, there are lots of further fall baby shower themes to choose from for these baby showers.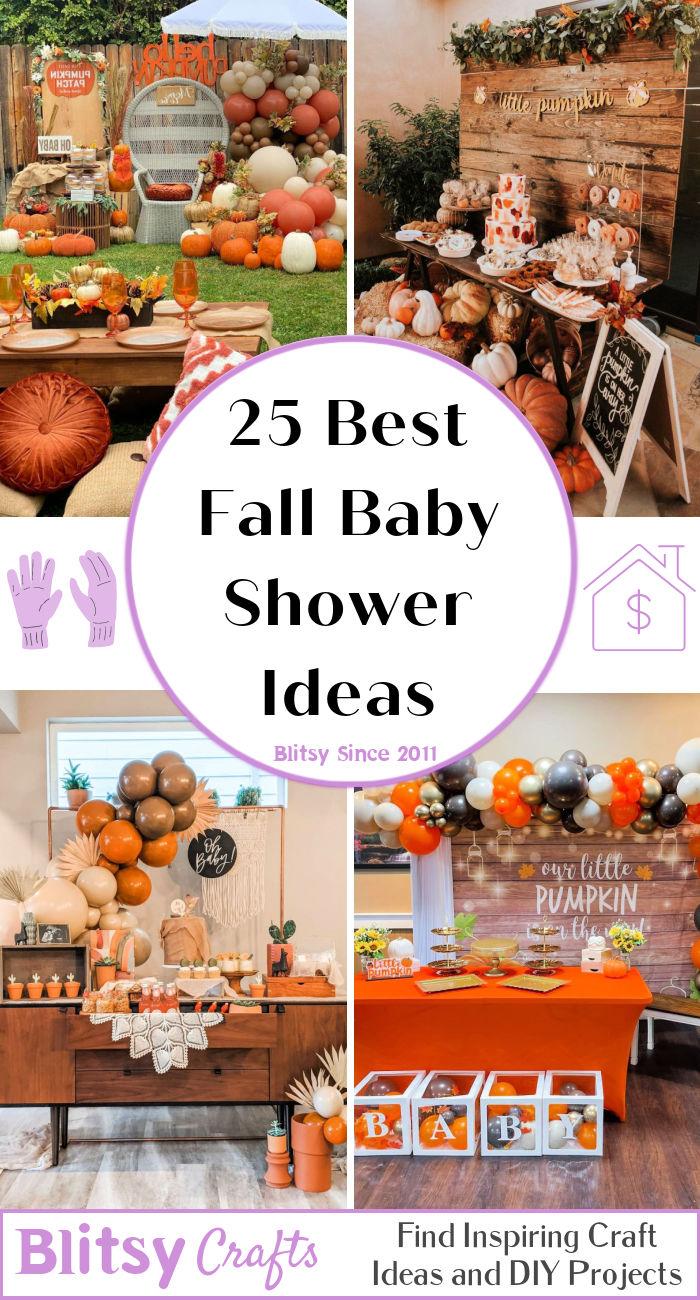 Moreover, you will get ideas to make the best baby shower gifts, centerpieces, baby costumes, baby shower favors, and custom balloon arches. You will love the baby shower table displays and balloon arches backdrops shared here, and they will surely rock the entire baby shower party. The best part is that all these fall baby shower ideas are super budget-friendly and will rock for Thanksgiving and Halloween as they all feature decorative pumpkins. All fall lovers will fall for these baby shower ideas, and they will create so much fun.
1. Pumpkin Baby Shower Decoration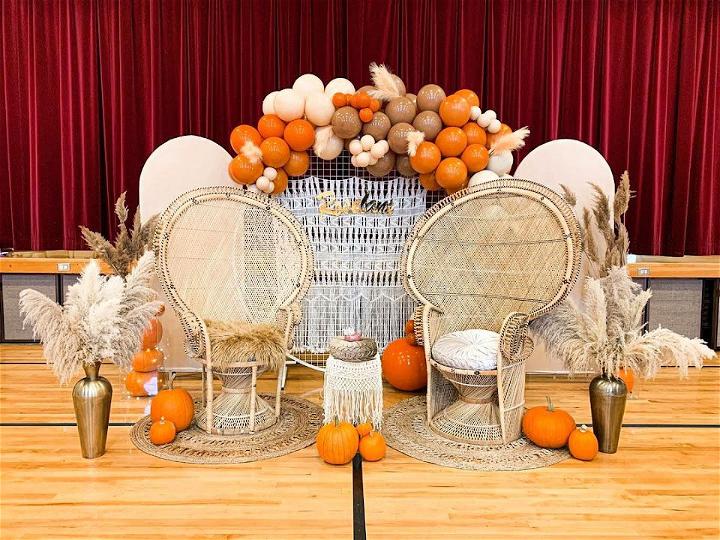 Double up the joy of celebrating a baby shower by decorating the pumpkins with it. Yes, you can also celebrate the baby shower with the fall season, which will be a great idea for the seasonal baby shower party. So, here is the idea of throwing a baby shower party on a fall special theme. Just go with the pumpkins, creamy whites and light browns to bring the fall theme to the baby shower party. This can be done in multiple different ways. Get inspired by the given pumpkin baby shower decoration to get inspired more.
2. Sunflower Baby Shower Theme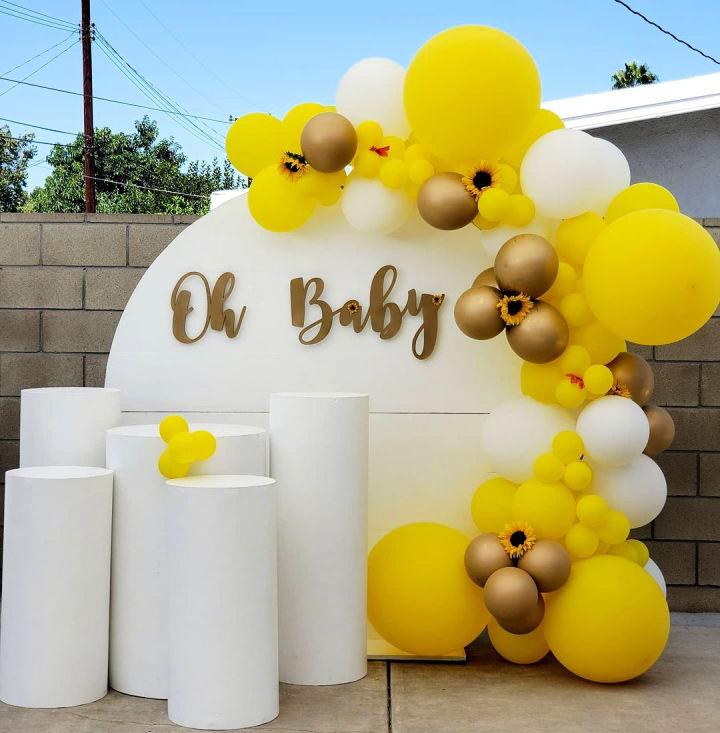 There is no special reason to celebrate a baby shower, but it can be the best event to reconnect again to your loved ones for sure. So, if you are to celebrate a baby shower in the fall, you will love this amazing decoration idea. Here is a sunflower-themed fall baby shower decoration that is super easy to achieve. The whole decoration features yellow, gold, white and brown and will be easier to duplicate. Just make a balloon arch with "Oh Baby" letter cutouts, and then add some vertical pillars around it to hold many decorations.
3. Rustic Baby Shower Decor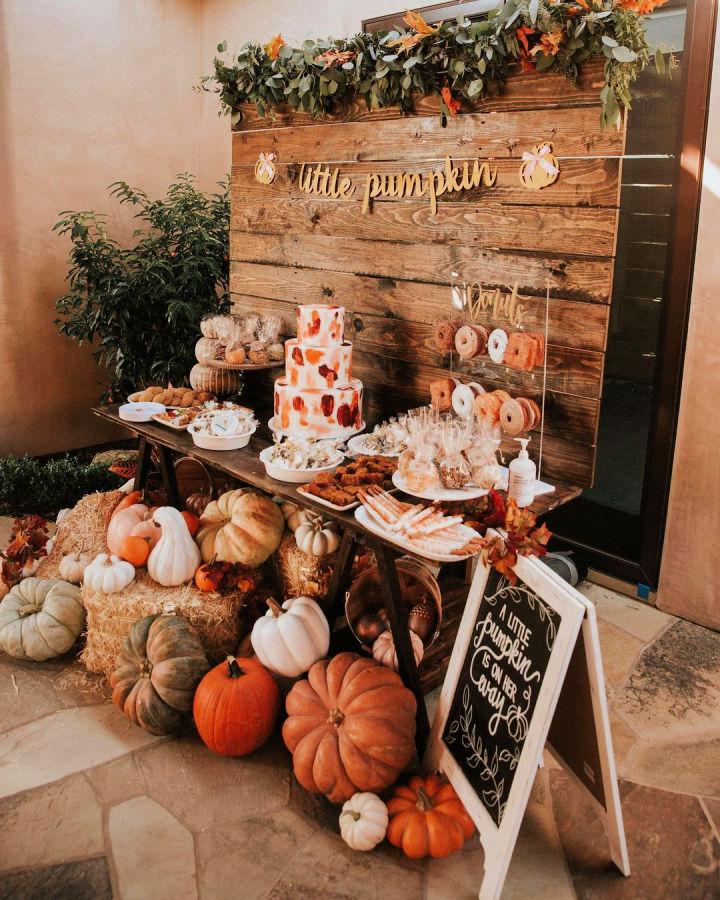 You can just celebrate a baby shower on so many different themes, but you can mix it with fall decor also if it is to celebrate in the fall season. So, here is a brilliant idea for rustic fall baby shower decoration. Just create an amazing baby shower dessert display with a slatted background wall loaded with custom greenery and fall flowers. Place loads of different colored pumpkins on the bottom side of the table, and that's it. Don't forget to add the "little pumpkin" letter cutouts enclosed with pumpkin accents.
4. Fall Theme Baby Shower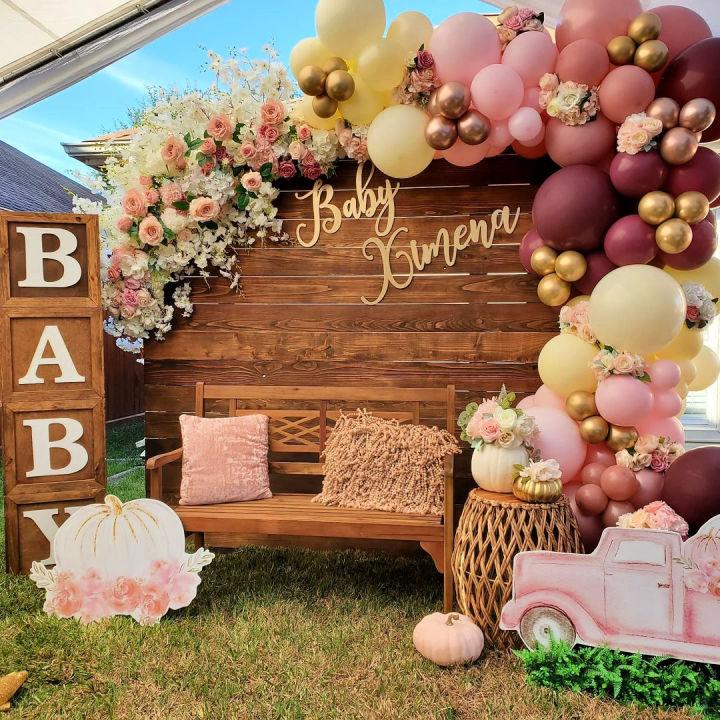 You will love this great baby shower backdrop or stage background that comes with an outstanding balloon and flower arch. The "Baby" stacked blocks or cubes just add a lot to the party decoration, and finally, the custom floral centerpieces and vehicle decorations are added as cute decorations. You can easily build the back wooden wall using longer wooden slats or recycled wood pallets. Pick the balloon colors representing the fall season. One of the best fall baby shower ideas ever.
5. Cute Autumn Baby Shower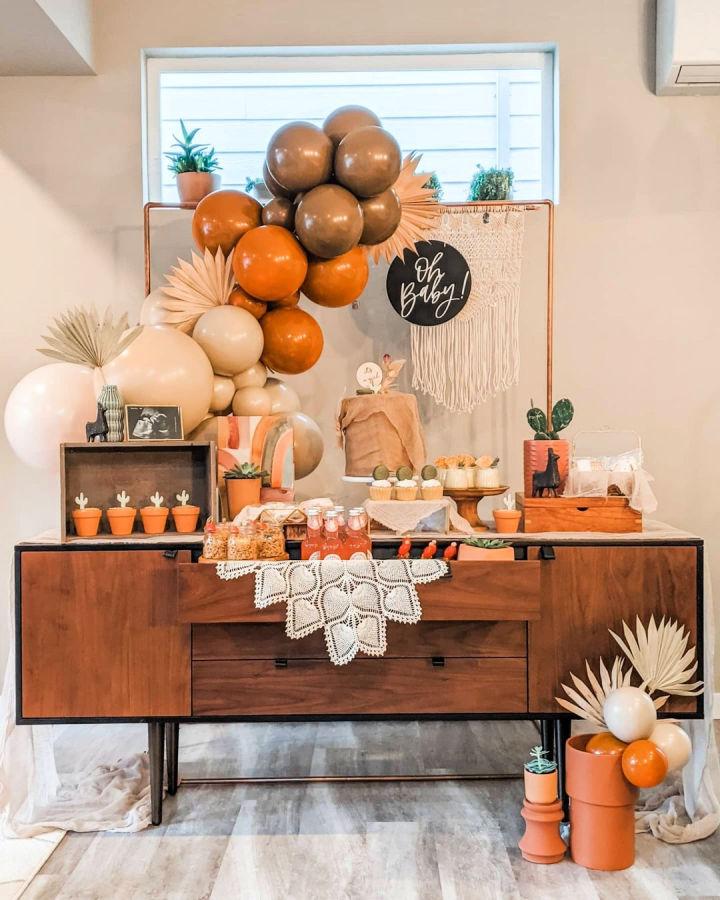 Celebrate the arrival of little pumpkins this fall with this unique fall baby shower idea. It will be a lovely way to combine the fall decor with the baby shower theme, and the results will be highly impressive. From making fall baby shower plans to fall baby shower dessert table displays to fall baby shower favors, you can involve all in this idea. At the same time, you can plan custom fall activities also. All expecting moms will fall in love with this extra brilliant autumn baby shower decoration. It comes with a brilliant balloon arch backdrop and a fabulous dessert table with food items that make it fall colors.
6. Best Ever September Baby Shower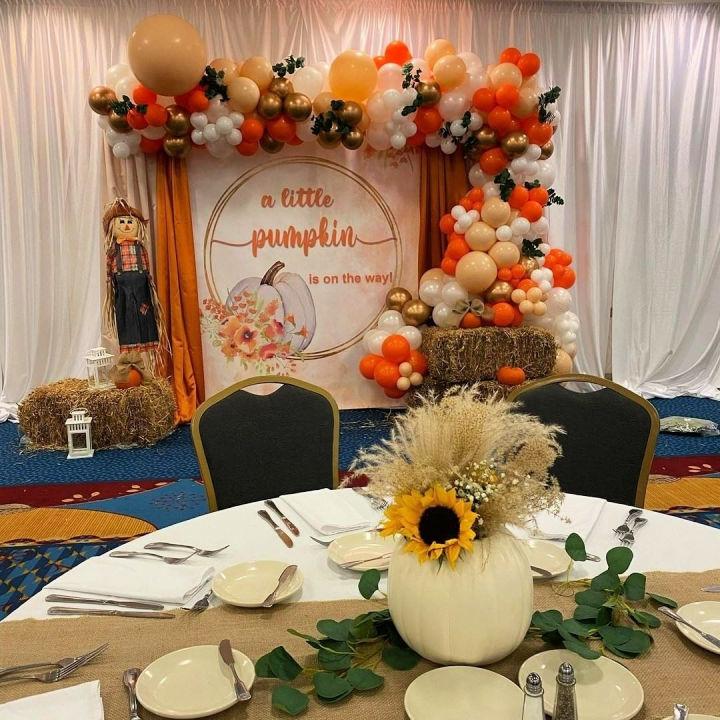 Making a balloon arch is all-important to make a perfect baby shower backdrop. So, you can simply choose the colors of the balloons that will represent the fall pumpkins and other lovely fall pastel shades. Mixing a baby shower with fall will be a brilliant way to celebrate the arrival of that little pumpkin at home. Make a sunflower centerpiece for the party tables and complete the lovely balloon arch backdrop with a surprise curtain opening. The grass, scarecrow and antique lanterns are also used for this outstanding fall baby shower decoration.
7. Outdoor Fall Baby Shower Decoration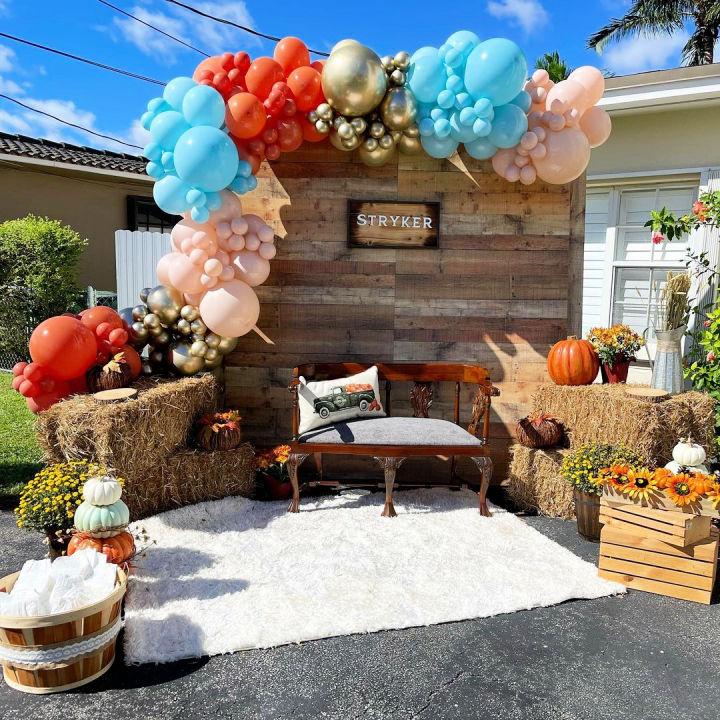 Get inspired by this perfect fall baby shower decoration for an outdoor baby shower party. First, you have to build a big wooden ball that will hold that balloon arch and custom and nameplates. Next, surround the wall with grass, pumpkin and sunflower-based decorations and also add the crate and wooden bucket planters for added fall decor vibes. Finally, place a bench in front of the wooden wall over the white rug, and that's it. Here assorted balloon sizes in blue, cream, golden and orange colors are used for the outstanding balloon arch.
8. Neutral Fall Baby Shower Theme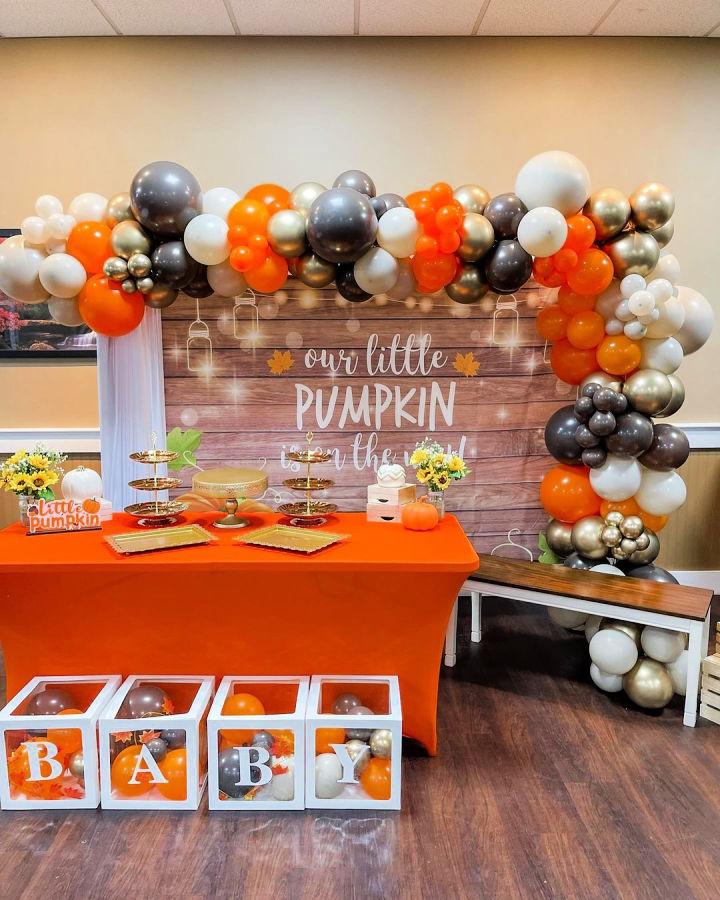 Celebrate the pumpkins season and the arrival of little pumpkins with this neutral fall baby shower theme. Everyone will just fall in love with this amazing baby shower party decoration, and everyone will just fall in love with it. The orange dessert table appears with pumpkin decor and sunflower vases and gold cupcakes, and cake stands. The orange, dark grey, creamy white and golden balloons are used to make the arch and the cube boxes that come with "BABY" letters written over them. Also, use a lovely rustic bench in front of the backdrop to sit on for amazing photography. Don't forget to add custom lights to the wood wall background.
9. Simple And Easy Fall Baby Shower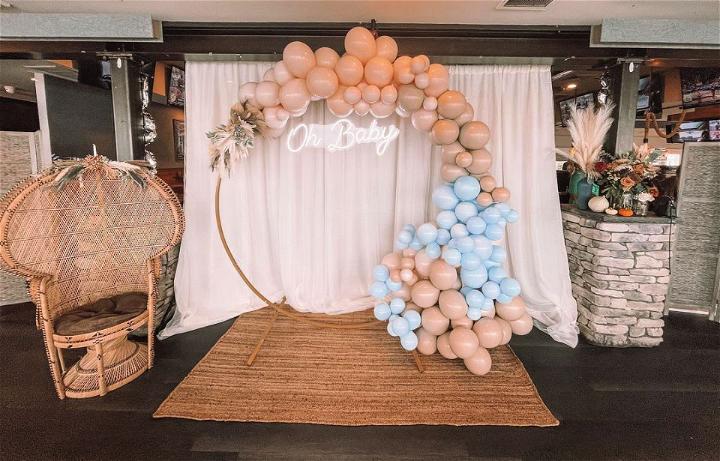 This simple, cheap, but super graceful fall baby shower decoration and balloon arch. Just grab a wooden hoop self-standing frame and load the balloons on it selected in the pastel pink and blue shades along with a little greenery and foliage. Also, add the custom baby quotes or letters in the center and then use the white curtains for the background. Use a vintage rustic chair to put on the front side of the balloon arch background to let the baby shower fun start.
10. October Baby Shower Theme For Boy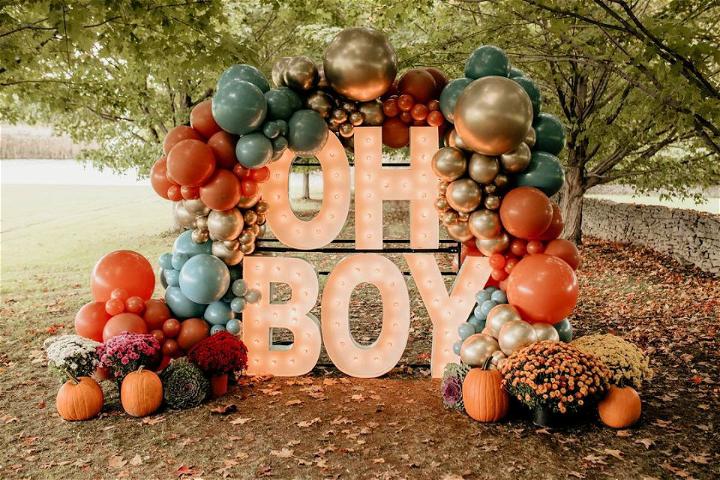 Choose a gender-specific fall baby shower when you already know the gender of the about-to-born baby. Get inspired by this outstanding October baby boy shower theme. It looks extraordinary due to giant marquee "OH BOY" letters. The project is totally easy and cool to look at, and everyone will just fall in love with this extra brilliant fall party theme. Choose a variety of different balloons like orange, blue, golden and brown etc, to complete the balloon arch, the whole beauty of this baby shower decoration. Don't forget to add the pumpkins and flowers for added visual grace.
11. November Baby Shower Theme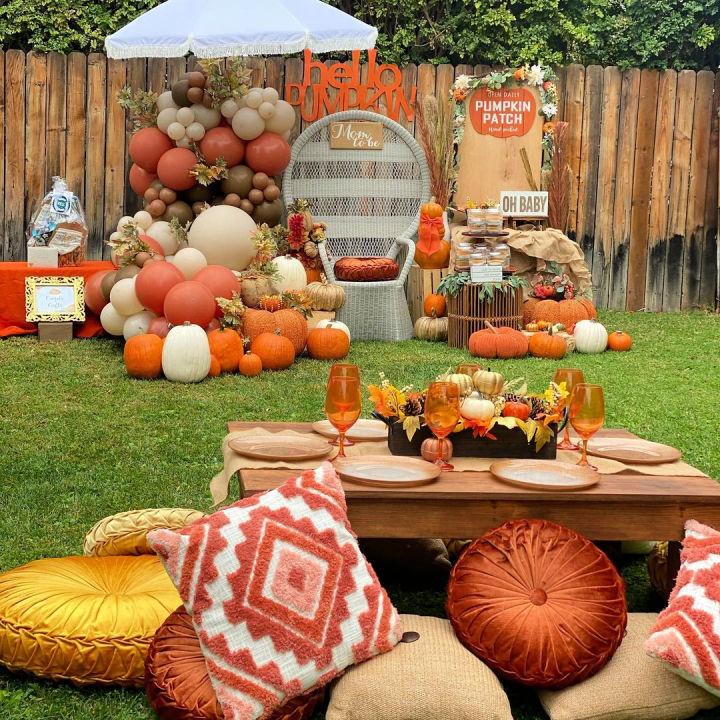 Not merely season-wise, you can change the baby shower fall themes month-wise also. Get inspired by this outstanding November baby shower theme that is just looking extraordinary with the balloons, rustic wooden tables, parasol, pumpkin decorations and also with custom fall decor and centerpieces. It will not take that too long to achieve these outstanding baby shower party decorations, and they will also you next to nothing. The project is just much doable for all beginners too. Duplicate this party decoration setting for fall birthday decor. One of the best baby shower ideas ever to choose for the autumn season.
12. Rustic Fall Baby Shower Invitation

Presenting here a beautiful invitation card idea for your fall baby shower party. You can easily design this card in the computer software and print it out to distribute among the guests and family members. It comes with the pumpkin print having custom letters written on it, and you can also go with your favorite quotes or sayings. Next, just mention the program date and day and here you go. Choose also the orange pumpkin color envelopes to add these invitations in them. A sweet and simple fall baby shower card idea, everyone will love it for sure.
13. Fall Baby Shower Pumpkin Centerpiece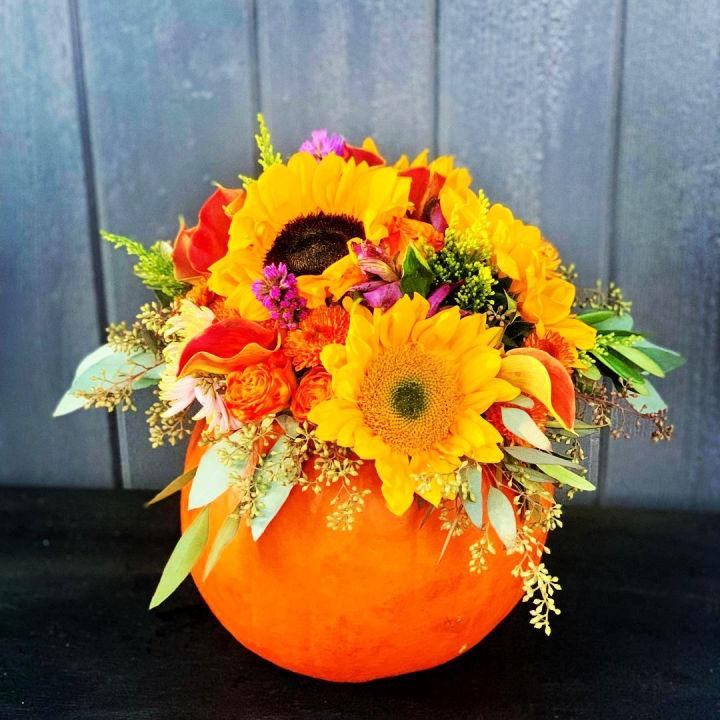 Take your fall baby shower decorations to the next level with this pumpkin centerpiece. Just grab a faux orange pumpkin, cut it out from the top center, and add the custom fall cut flowers in it. Use the custom foliage, fillers and greenery to make the centerpiece look extra cute and beautiful at the same time. You can easily grab the faux or real pumpkins from the stores, and you can also use the real or faux flowers for the project. The whole project will be super quick and budget-friendly.
14. Little Pumpkin Baby Shower Banner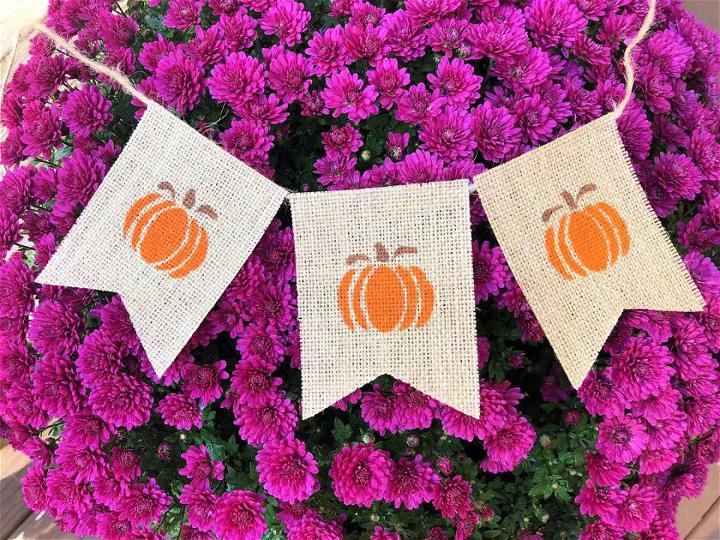 Also, make the burlap buntings at home for the fall baby shower. Make this rustic baby shower banner at home using the burlap buntings and pumpkins stamps or templates. String up those finally completed burlap buntings, and here you go. You can easily grab the burlap from home along with the rustic rope or twine to easily duplicate this bunting garland. Use this same pumpkin bunting banner for thanksgiving and Halloween decorations also. One of the easiest DIY fall and Halloween decoration ideas that will cost you next to nothing.
15. Fall Baby Shower Table Decor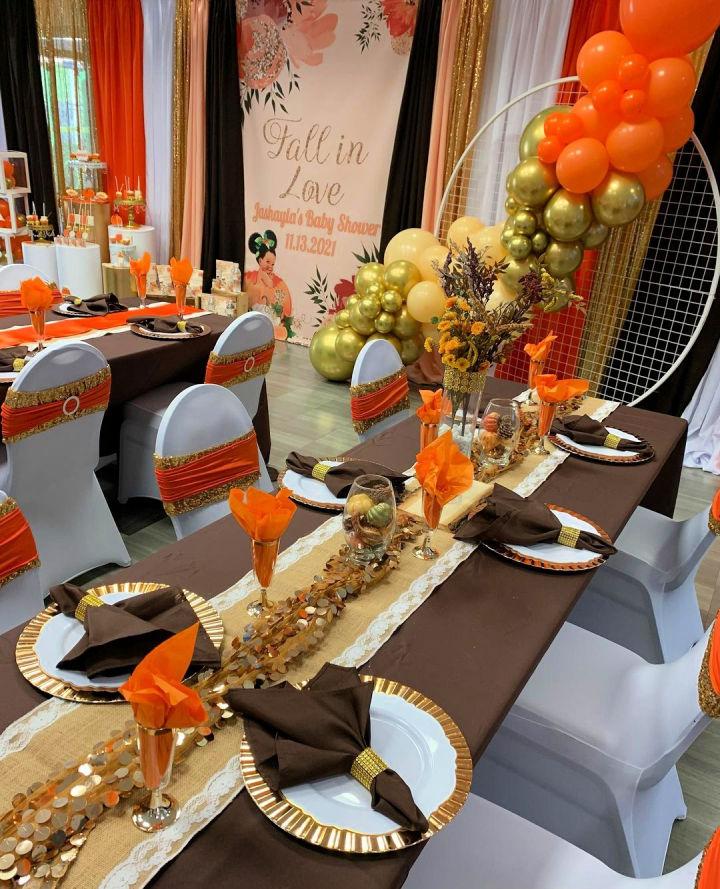 You will praise the table decor and setting here that is impressive and feature the fall leaf and pumpkin colors. Use a custom hoop for the balloon arch and pick the assorted balloons for this outstanding fall baby shower decor. The white chairs are added with orange and gold ties, while the table comes with dark brown napkins, white plates, a neutral burlap table runner, pumpkin paper decorations, and the sunflower vase. It will be easier to duplicate these party table and balloon arch settings, sure to cost you next to nothing. Pick custom balloons also to match other baby shower party decor.
16. Elegant Pumpkin Cupcake Toppers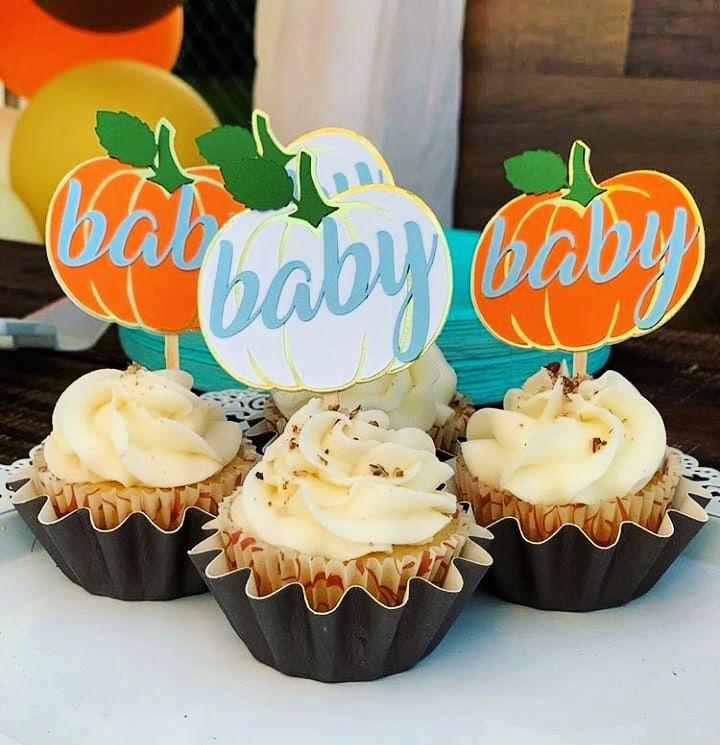 Just use your hands or the Cricut machine to easily cut the baby letters and these pumpkin cutouts. Combine them both and start decorating the completed pumpkin cake toppers in the way you like. This will just be an amazing idea for the fall, and it will cost you next to nothing also. You can easily cut these pumpkins out of cardboard also that you can fill them with custom colors and details then. One of the best and quick-to-do DIY pumpkin baby shower decoration ideas, sure to be a big love all.
17. Pumpkin Guest Book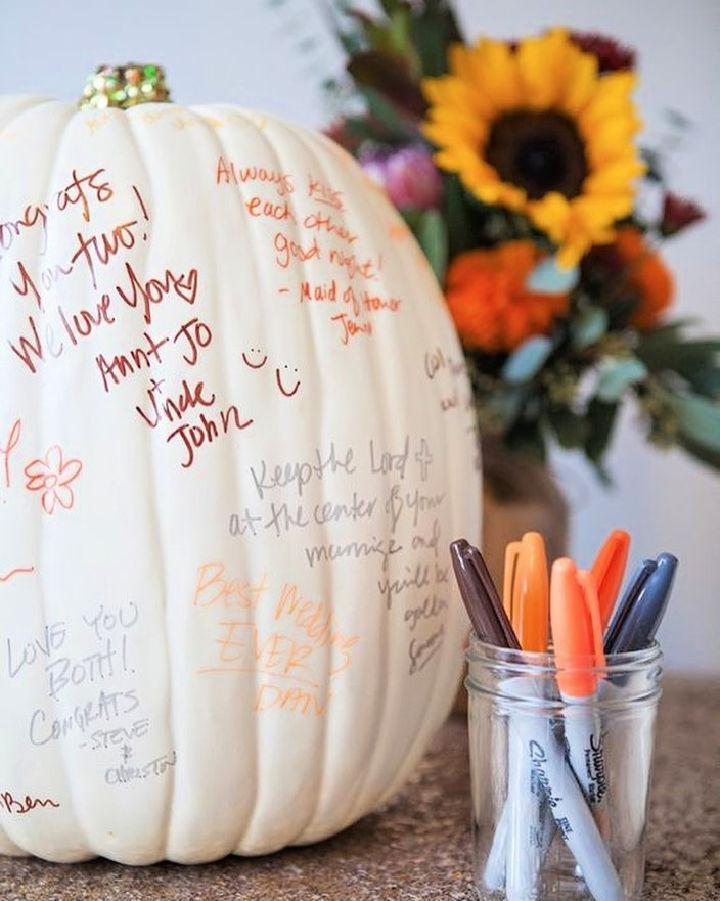 Collect the signatures and pieces of advice from the guests at the end of the baby shower party with this white pumpkin guest book. It provides a large surface area to go with, and you can also use custom sizes of the pumpkins for this guest book. However, you can easily place the selected pumpkin guest books on a table and some colorful markers in a pencil organizer to complete this entire project. One of the best and impressive fall baby shower ideas that will be easier to duplicate for all beginners.
18. Fall Baby Shower Cookies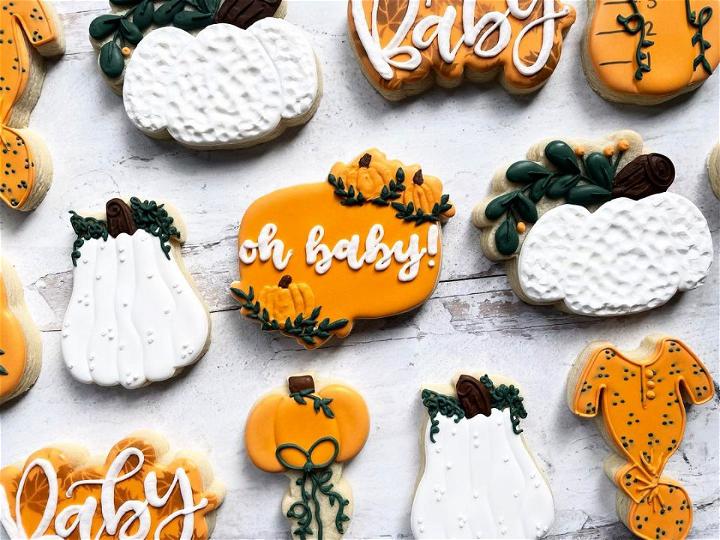 Celebrate the fall season and the baby shower sweetly with these sweet fall pumpkin-inspired baby shower cookies. They will be a great addition to your dessert table and will be quite something quick and easy to make right in your kitchen. All the kids will just love to eat them with milk, and they can be packed to give as a special fall gift to your favorite persons. Some cookies also come with overwritten letters, and you can go with your own words. However, you can also use the respective cookie cutters to easily cut these cute cookie shapes.
19. Fall Baby Shower Cake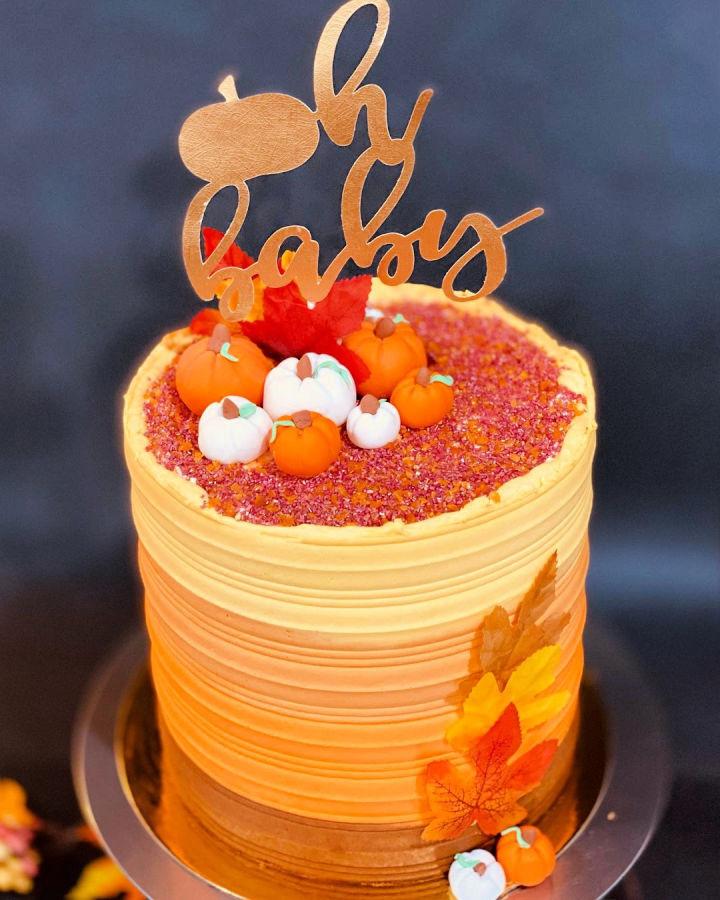 The cake is a big must-have for baby shower celebrations and parties. So, you can make this special fall cake for the baby shower, which will speak volumes for the arrival of a new baby and also fall decor. It is made in the fall colors and will be a total breeze to duplicate at home. The custom letter cutouts, orange and white pumpkins on the top bring tons of cuteness to this particular baby shower cake. Place the cake on a cake plate for a nice display, and don't forget to add two or more fall leaves to the sides of it for added visual grace and fall fun.
20. Fall Baby Shower Treat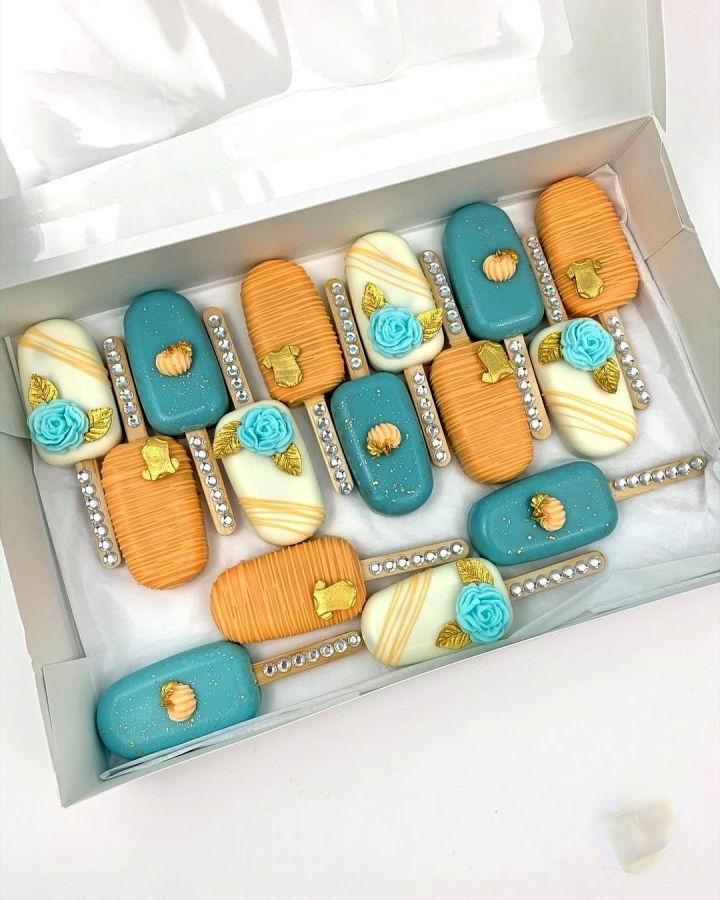 Win the heart of the little kids and babies at the baby shower party with these outstanding popsicle treats. They are made in dark zinc, creamy white and yellow gold colors and have beautifully been packed in the box. The addition of flowers and other accents makes these treats a lot more special and lovely. It will just be a great idea to take your fall baby shower decor to the next level, and everyone will just fall in love with these exclusive treats. You must make these treats to make the kids a lot more interesting in the baby shower.
21. Low Budget Fall Baby Shower Party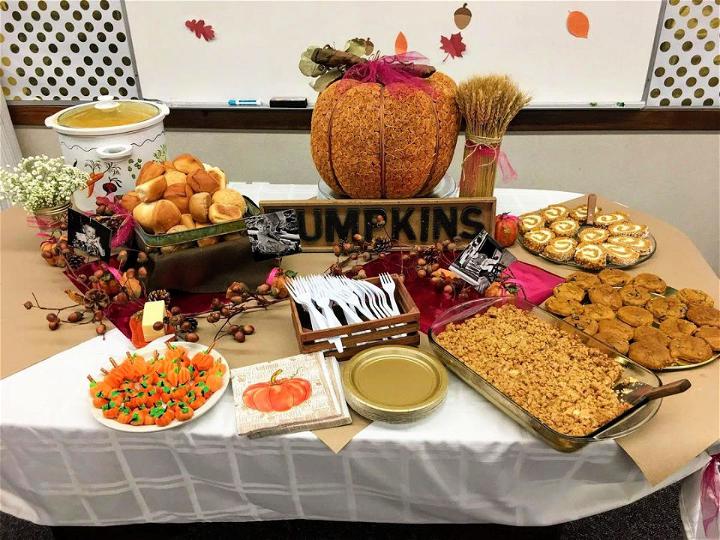 While celebrating the baby shower on a fall theme, it will also help save tons of money. Because you will be adding most of the items and decor in the rustic country style. Get inspired by this low-budget fall baby shower party, and everyone will just fall in love with this extra brilliant baby shower idea. Use the acorns, pumpkins and fall leaves for the baby shower decorations here, and it will not take that too long to complete this outstanding fall baby shower setup.
22. Autumn Baby Shower Decoration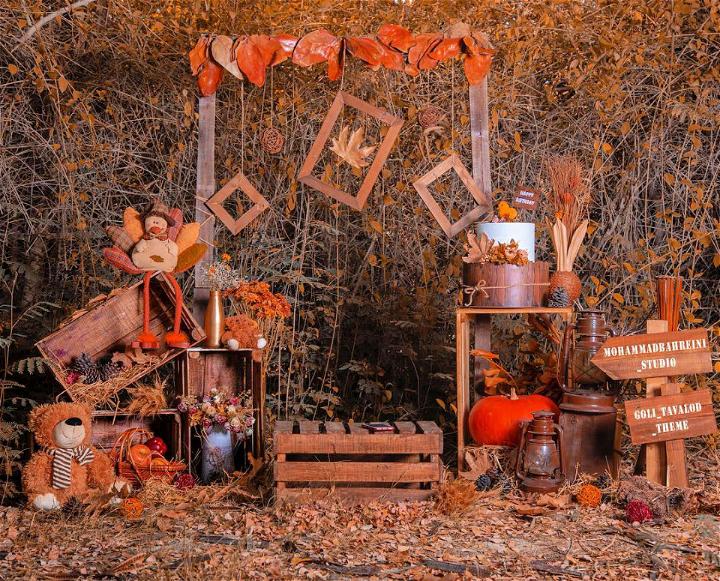 Bring tons of grace to your rustic party environments with this outstanding setup, done to bring those amazing fall vibes to a simple baby shower setup. The project is much doable for beginners and involves making a beautiful rustic arch with hanging frames and a variety of decor and centerpieces in the crates. The addition of turkey decorations, pumpkins and other fall special vases will make this decoration perfect for thanksgiving. Use the antique lanterns or hand lights to brighten up the entire space more.
23. Fall Baby Shower Gifts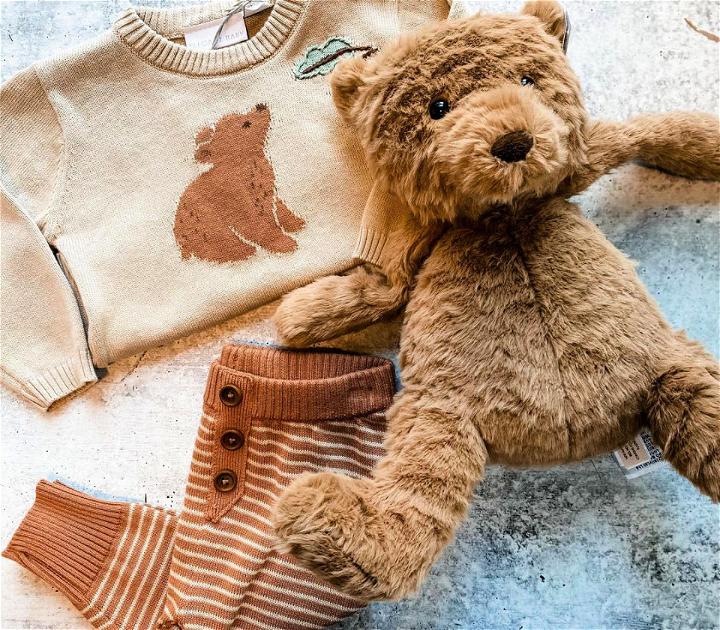 If you are to go to a fall baby shower party, you will also be looking for a much relevant gift. Look at the sample gifts here that will rock for the fall baby shower parties. The teddy bears or the t-shirts with teddy bear motifs and custom sweaters and garments featuring the fall colors or decor will work great for this fabulous baby shower idea. One of the best and quick-to-do DIY gift ideas for the fall special baby shower parties. There is a lot more to think about for the fall gifting, and you can use your brain for that.
24. Sunflower Baby Shower Shirts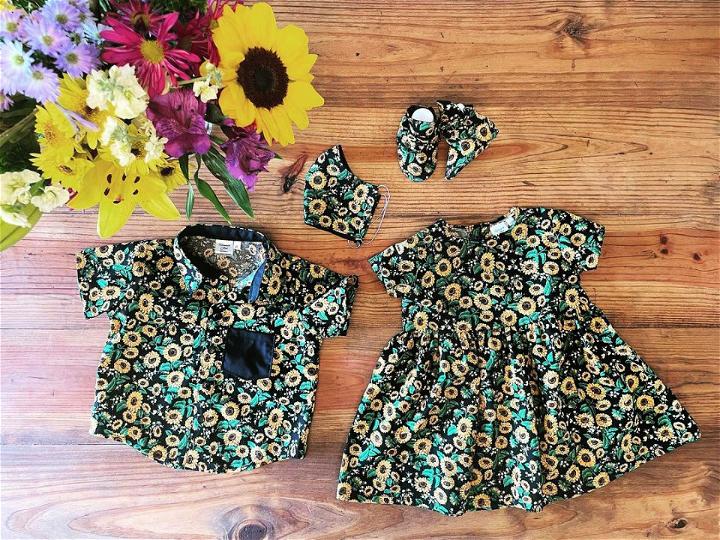 Take your baby shower celebrations to the next level with these sunflower baby shower shirts. You can make them for both boys and girls, and they will never go out of style. The sunflowers will go amazing with the fall theme of the baby shower. You must be a little expert in sewing to easily sew these cute sunflower baby shower shirts at home. The entire project will cost you next to nothing, and everyone will just fall in love with this extra brilliant baby shower shirt idea. However, you can sew these shirts to gift to the mom-to-be also.
Diaper Cake Ideas to Make a Baby Shower More Special: Work up a beautiful assembly of baby diapers, making them capable and appropriate for a celebration with these DIY diaper cake ideas.
25. Fall Baby Shower Baby Teething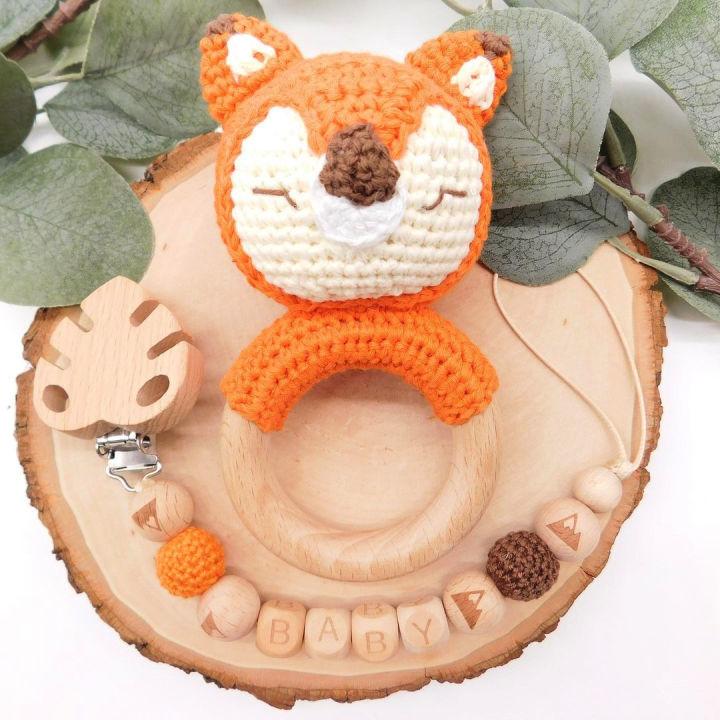 Get inspired by this another great fall baby shower gift idea, sure to please all the moms-to-be. Just do a little crocheting around a wooden ring and make the perfect fox baby teether. String up the wooden alphabet beads and crocheted beads to make a teether necklace or chain. The project will be much doable for all beginners and will complete just at the drop of a hat. The best handmade gift to make for a mama-to-be, and it will be super budget-friendly also. Just put the teething on a wood log slice to easily complete this entire DIY baby shower project with quite ease.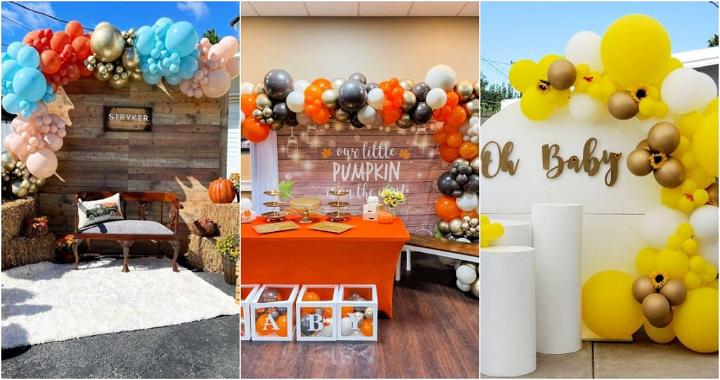 Conclusion:
There are lots of different baby shower themes to choose from. But you can celebrate it with the fall theme if you are throwing a baby shower party in the fall season. So, the purpose of these fall baby shower ideas is to share all the possible settings, decorations, gifts and party favors you can make for a fall baby shower.
So, all these fall baby shower ideas will speak volumes for the baby's arrival and the rustic fall decor. The best part is that all these budget-friendly fall baby shower ideas will be loved dearly by all the rustic and fall lovers.