Want that absolutely therapeutic weighted blanket to help you deal with physical and emotional regulation? Why not create one yourself! Yes, learn how to make a weighted blanket within the comfort level of your own home. Who would want to struggle for that therapeutic blanket when one can create their own DIY Weighted Blanket themselves at home? We all struggle with anxiety issues, so it is best if one decides to make that perfect DIY blanket themselves rather than spend the day in several stores and markets trying to choose the perfect one. Find 25 best and free diy weighted blanket ideas that will help you to make the best anxiety blanket at home in your favorite style and color scheme.
So, in this article, we have for you about 25 absolutely unique and cool ways to figure out how you want to design your blanket. Providing a step-to-step guide with each method, this DIY Weighted Blanket article will assist you in making sure that you created it just the right way! From being some of the best treatments for anxiety to dealing with both physical and emotional regulation, these weighted blankets have been super helpful and, thus, some of the most demanded ones throughout the globe. Since the ingredients required are super cheap, and you might even find them in your house, so why spend loads of money in purchasing one when you can easily create a DIY weighted blanket yourself? So, head over to these following various ideas to help you in the process of making one for yourself and get all cozy in it.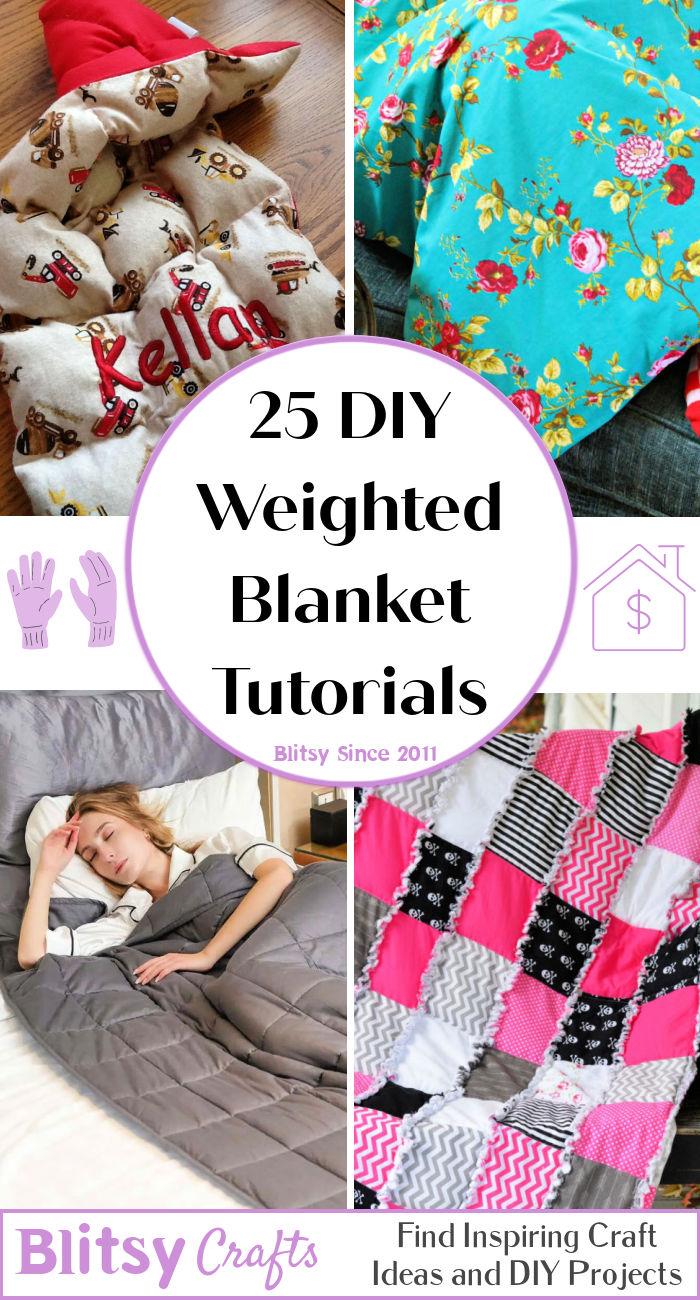 1. DIY Weighted Blanket for Anxiety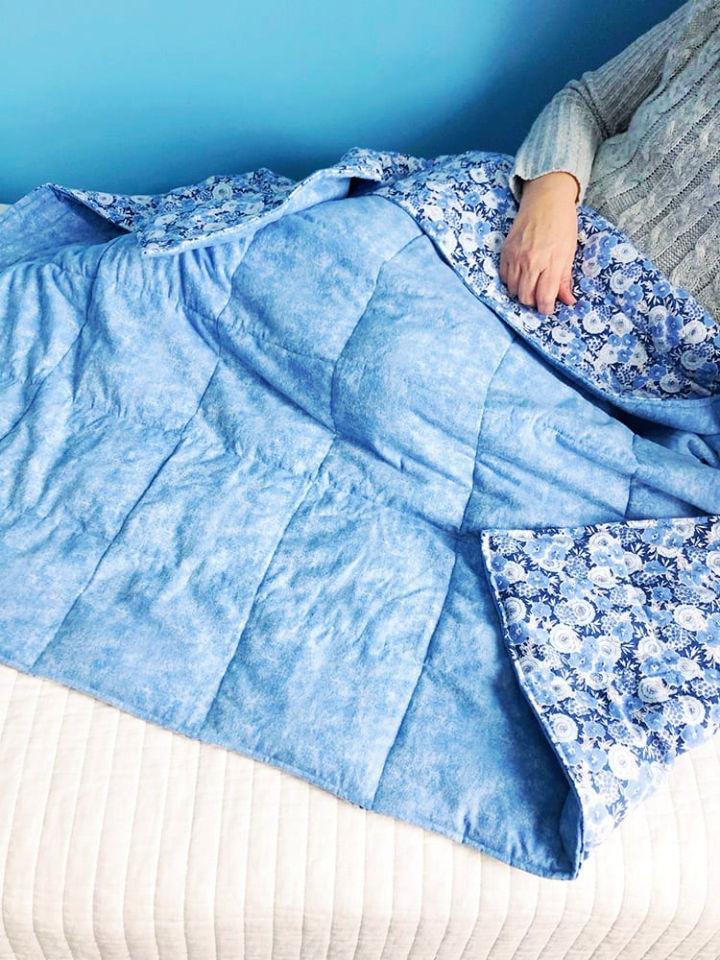 Want to relax your body both physically and mentally but do not want to step out of the house? And also want to save yourself from the hustle of rushing from one store to another to find that one perfect weighted blanket? Then, this one is definitely for you! Learn how to make a weighted blanket for yourself at home. If you wish to make a durable DIY weighted blanket, do remind yourself to fetch 52″ x 52" quilt batting, but remember, it makes the blanket hotter. So that's totally up to you! shrimpsaladcircus
2. How to Make a Weighted Blanket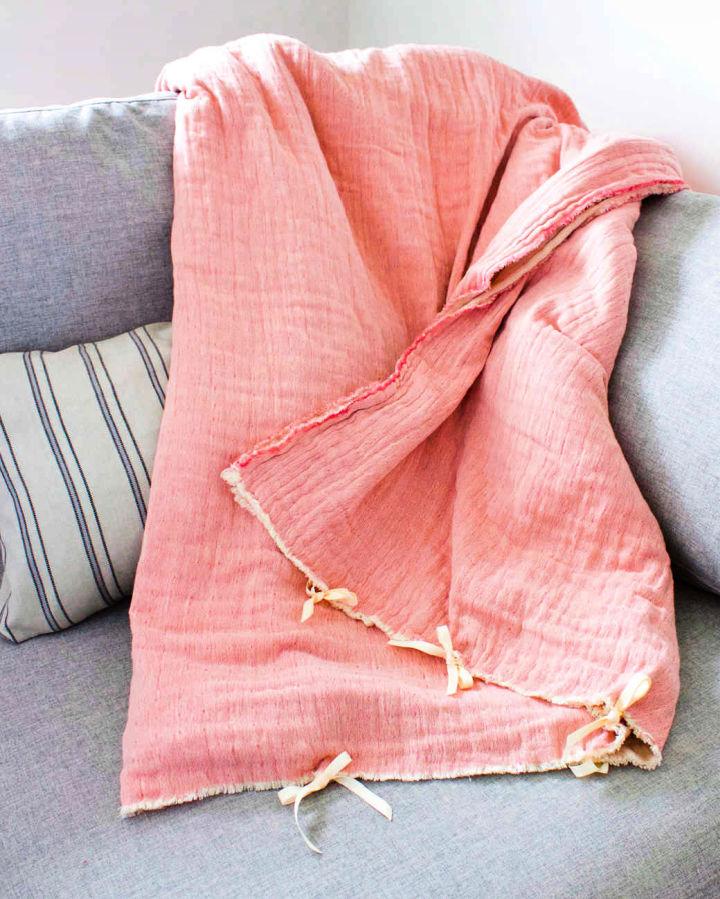 Next on the list is our ultimate guide on how to create that perfectly soothing and soft DIY weighted blanket for those nights when you can't sleep no matter what. Opting for a more natural and eco-friendlier version, fill each quilted pocket with uncooked rice and feel the magic! So, say no to those plastic pellets-filled blankets and get your beauty sleep from the DIY weighted blanket. marthastewart
3. No Sew Weighted Blanket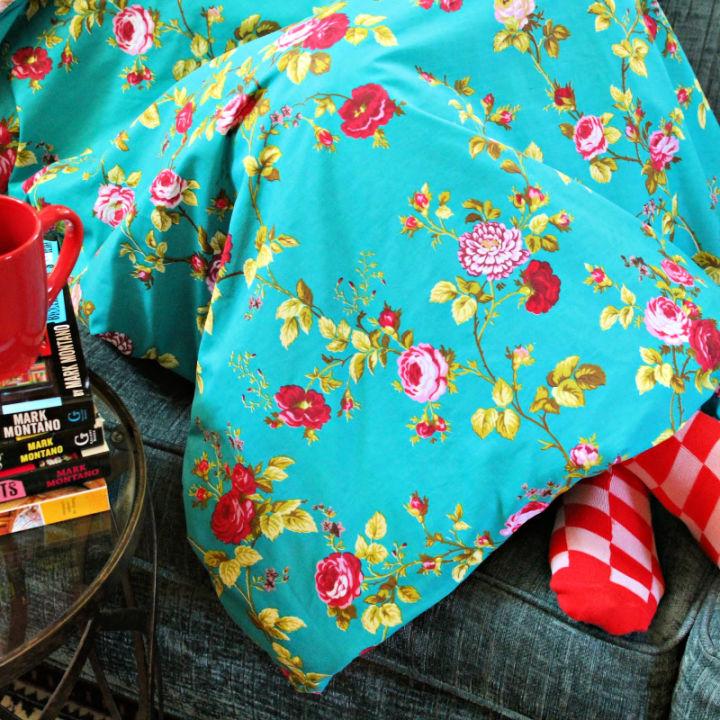 Heard all the hype about those popular weighted blankets and really want to see what the fuss is all about? Why not create one yourself? Yes, it is possible with this simple tutorial and a step-by-step guide on creating your own DIY weighted blanket. Remember to leave a 14" gap in the center on the salvage edge. markmontano
4. Make a Weighted Blanket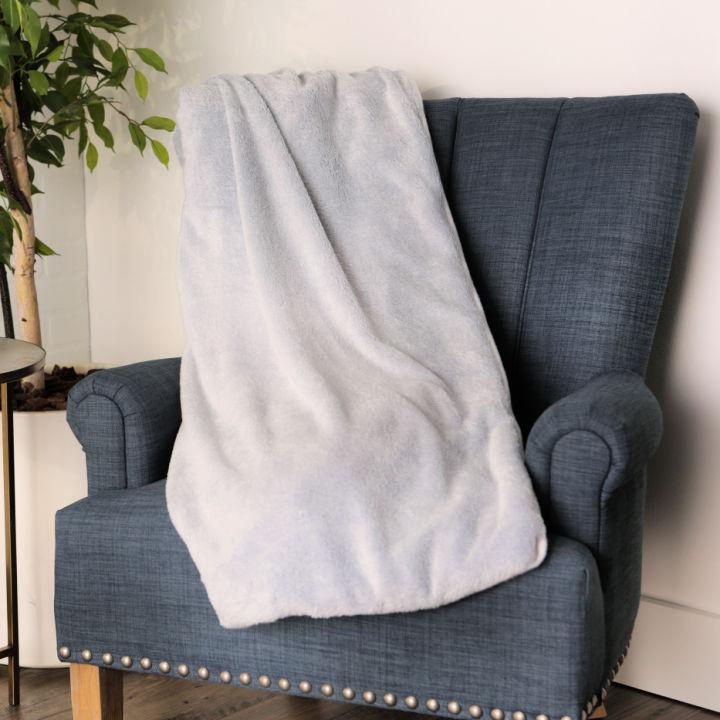 Tossing and turning during those sleepless nights? Worry not! Here, we have for you our complete tutorial on how to create your own DIY weighted blanket to get a better night of sleep. The best thing about it is that you can customize it according to your body weight, following the instructions provided to you in this tutorial. You can either go for the outer fabric, or you can use polyester fleece. bhg
5. Weighted Blanket for Toddlers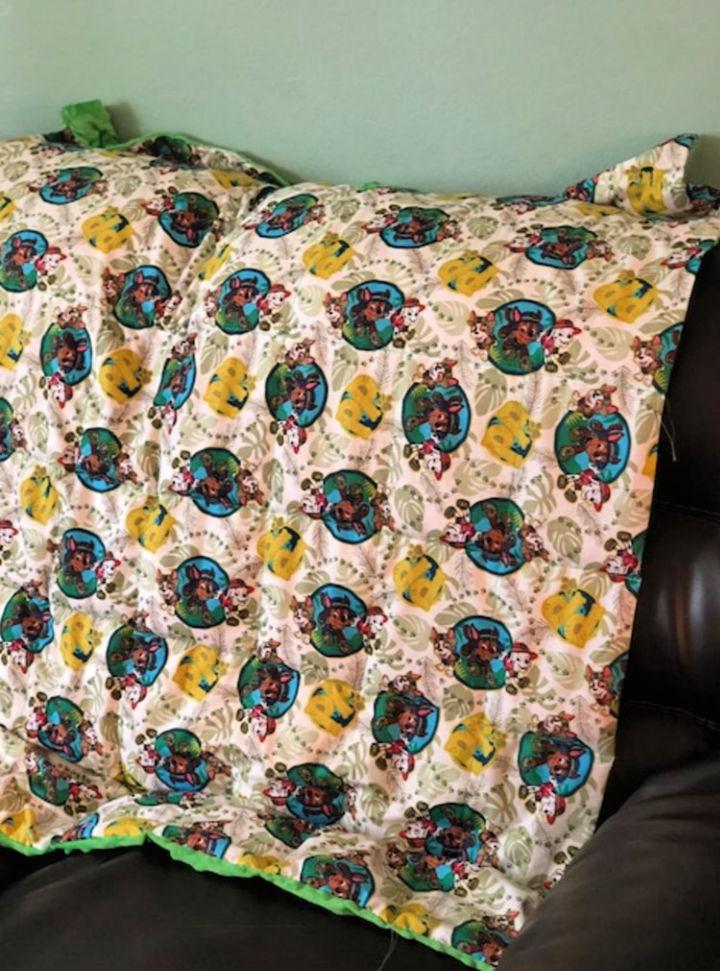 Why spend loads of money on a single weighted blanket when you have this opportunity of creating the same or even a better quality one at home while saving money at the same time? We have made this possible with our special yet straightforward tutorial guiding you on creating your own DIY weighted blanket. Requiring just some fabric, Polly-pellets, and thread, you can easily make it at home. Click on the link for more details! clarkscondensed
6. Weighted Blanket from Pillowcase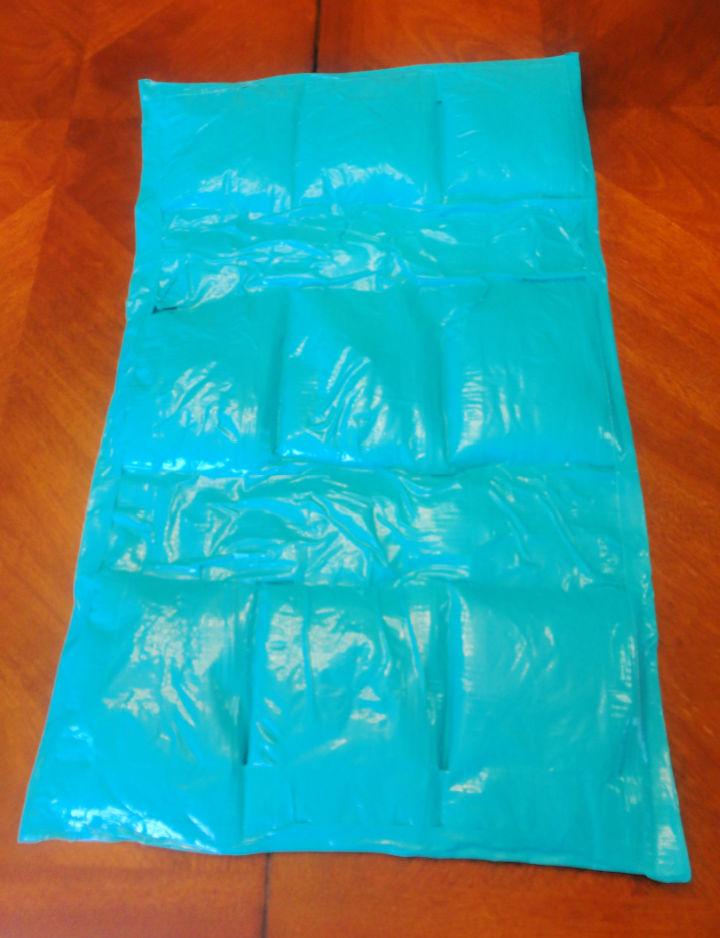 An inexpensive way to give yourself or the kids the much-needed therapeutic feeling and comfort! Yes, you got it! We are talking about creating your own DIY weighted blanket, which will also be an enjoyable project. Apart from that, it will hardly take an hour. You can switch from six bags of rice to nine according to your requirement. jesttupositive
7. Rainbow Weighted Blanket for Kids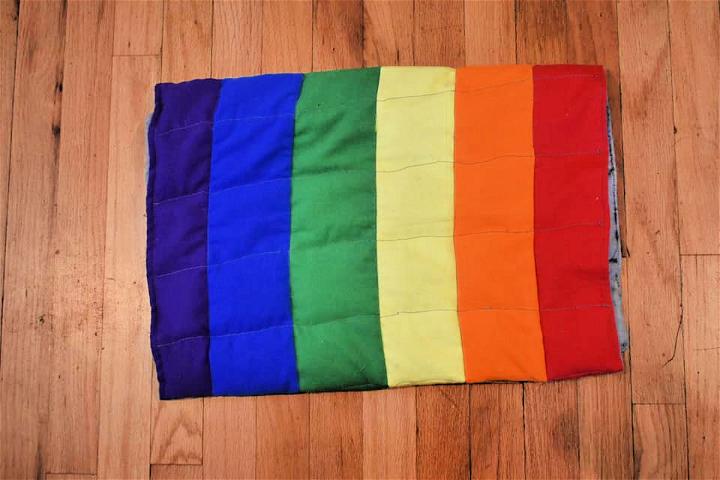 If you are a mom who's always picking colorful items for her kids, then this rainbow-weighted blanket is going to be your personal favorite! This wonderful and full of colors weighted blanket tutorial is the most searched one on this list. For this, you will need about 2 – 4 yards of fabric (you can obviously increase or decrease the amount depending on how many you plan to make) modernalternative
8. Weighted Blanket Sewing Pattern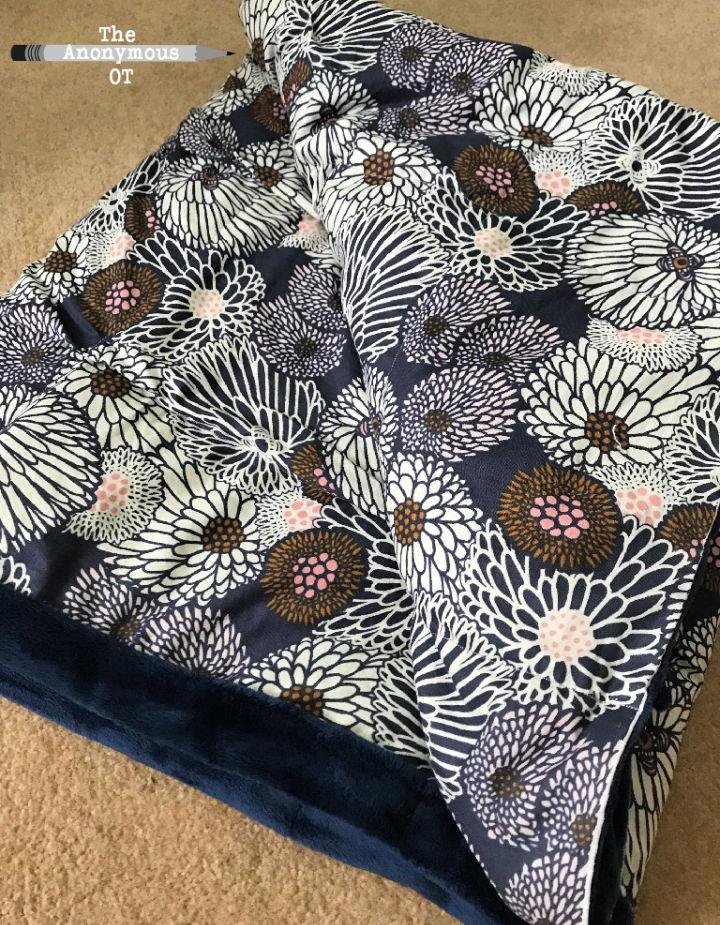 Feeling stressed out? Worry not; we have this really simple and super convenient method to lower your stress hormone levels. Yes! We are discussing creating your own DIY Weighted Blanket, which will help you relax by grounding your body during sleep. Head over to the link provided below for the step-to-step tutorial. theanonymousot
9. Homemade Weighted Blanket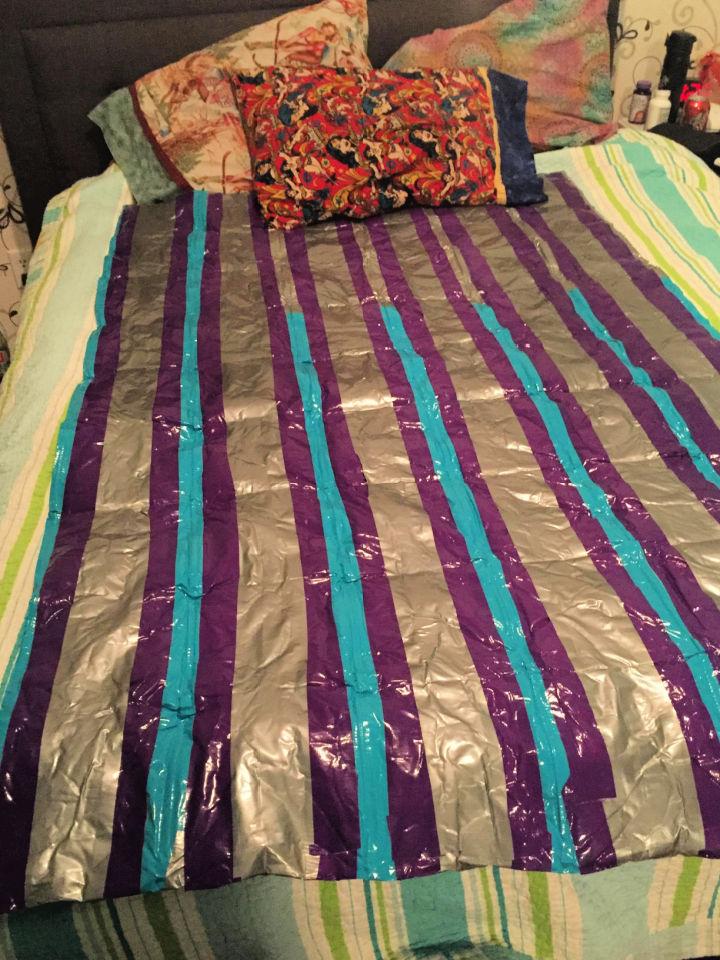 If you are thinking about getting your hands on that extremely soothing and therapeutic weighted blanket to help you deal with sensory or anxiety issues but at a low price, then you have come to the right place. So, start working on this exciting project already and get ready to experience that super comfortable and soothing feeling without having to worry about spending money. imgur
10. Make Your Own Weighted Blanket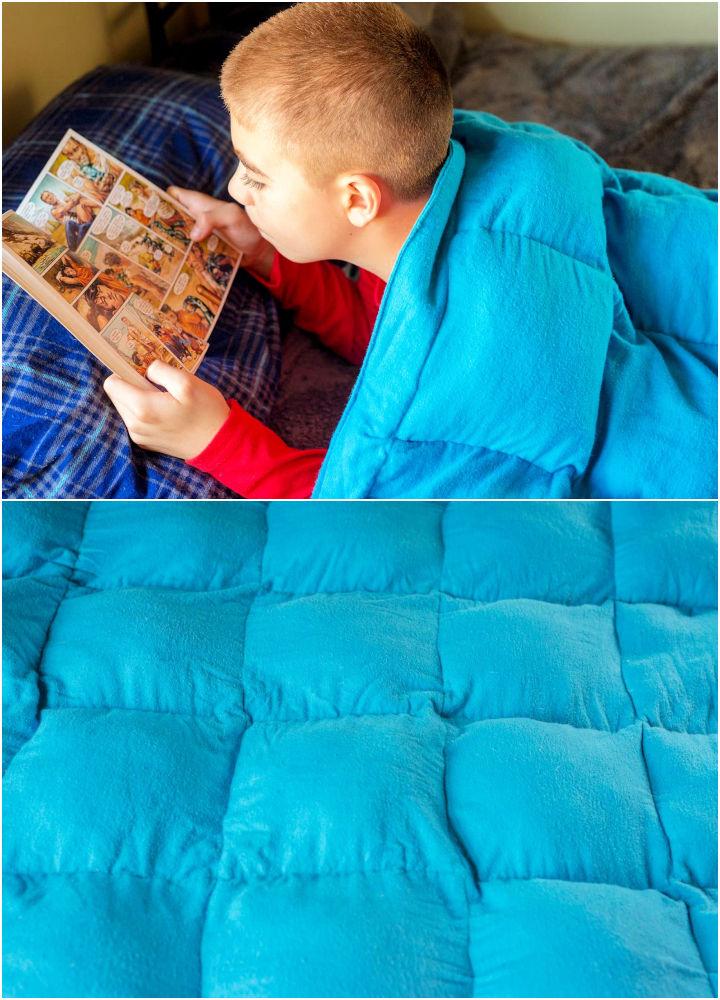 Relieve that stress, soothe your anxiety, and relax your body with the deep pressure touch of this cozy DIY weighted blanket! It is simple to make and convenient to use. Sharpen your sewing skills and learn how to make a DIY weighted blanket in no time with this step-to-step guide. Remember to fill the bottom row pockets with the correct portion of pellets. diynetwork
11. Weighted Blanket Rag Quilt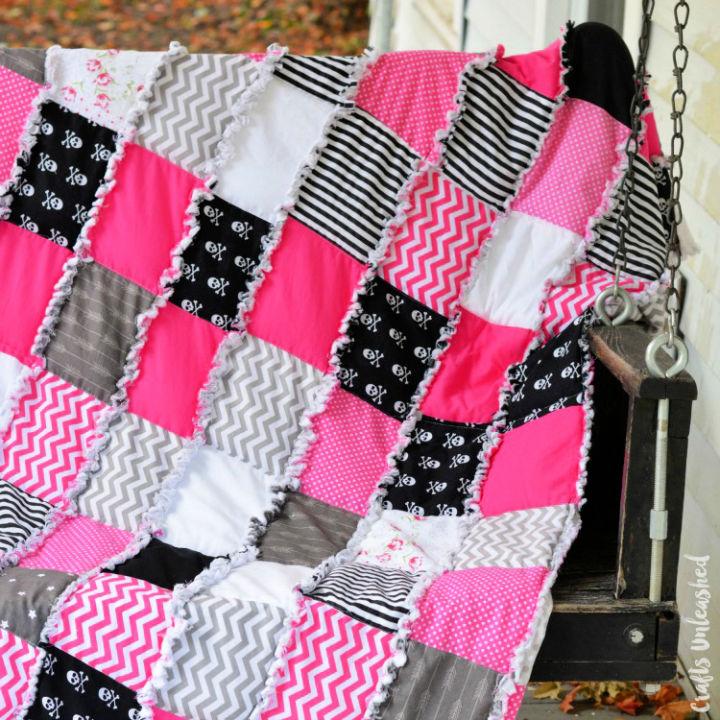 Give yourself that comforting weight with this rag quilt-styled DIY weighted blanket tutorial. At the same time, it can also fit right in with your style or décor. The fun part is that you can also resize this pattern according to your needs and requirements. However, the size mentioned, approximately 54″ x 60″, will work great for a child's bed or even for your couch. consumercrafts
12. DIY Large Weighted Blanket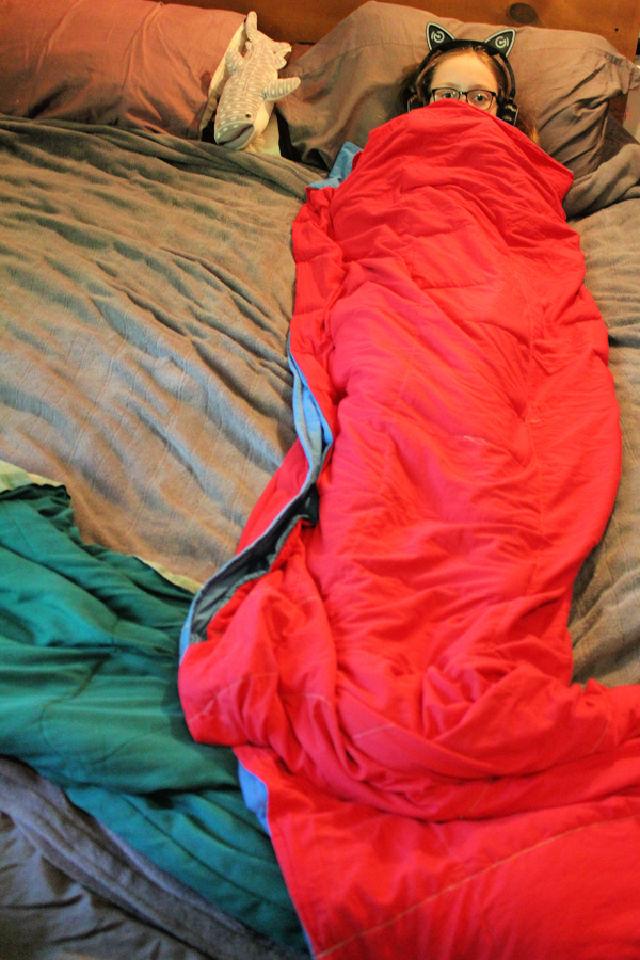 Looking for that miracle cure for your insomnia or anxiety? Then, worry not because we got you covered with the relief of this DIY weighted blanket tutorial. Using sustainably sourced or natural materials, it is very easy to make your own DIY weighted blanket. All it takes is some sewing prowess and fiddly work. Since polyester fabrics might turn out to be crummy for the surrounding, switch to this eco-friendlier DIY weighted blanket. craftingagreen
13. Stylish DIY Weighted Blanket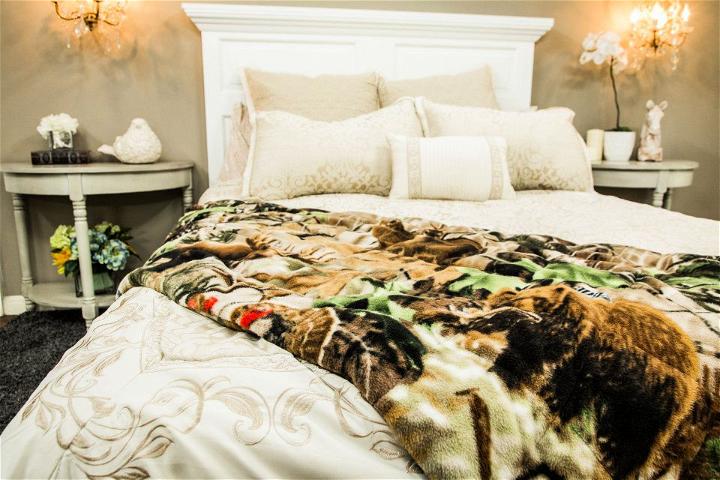 A super cool way to help you keep relaxed the entire night! So, line your pieces of fabric together and get ready to work on this extremely fun project which is creating your own DIY weighted blanket! Do remind yourself to zip up the bags securely once you fill these bags with rice. hallmarkchannel
14. Sew a Weighted Blanket for Adults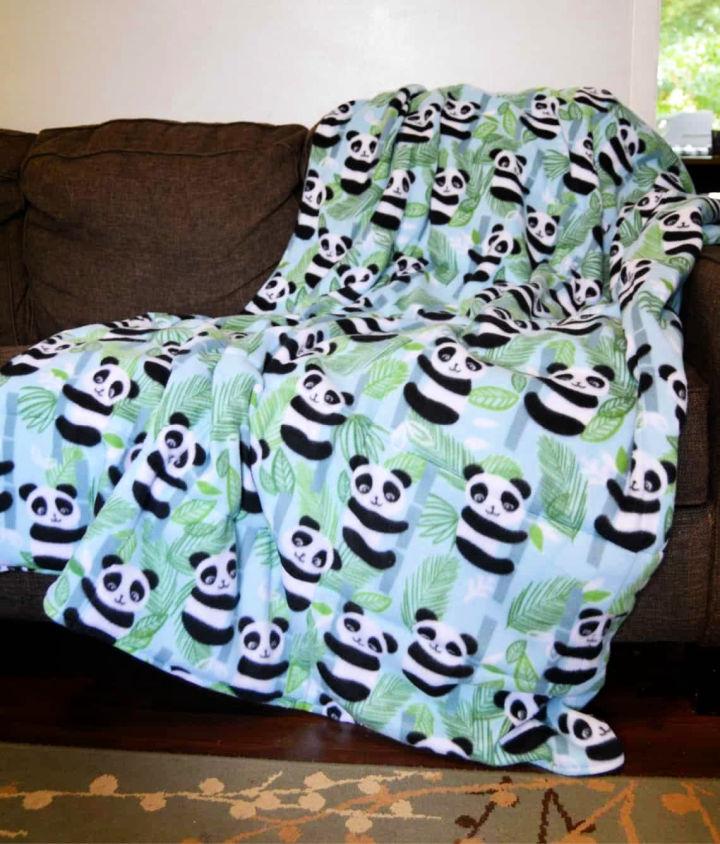 Here are 8 easy steps to make your own DIY weighted blanket in a short span! Gather your fabric, postal scale, coordinating thread, sewing pins, and pellets. But make sure you use weighted pellets because the amount varies according to the person's size this blanket is made for. A little bit of sewing prowess, the required materials, and you are good to go! marymarthamama
15. DIY Stress Reducing Weighted Blanket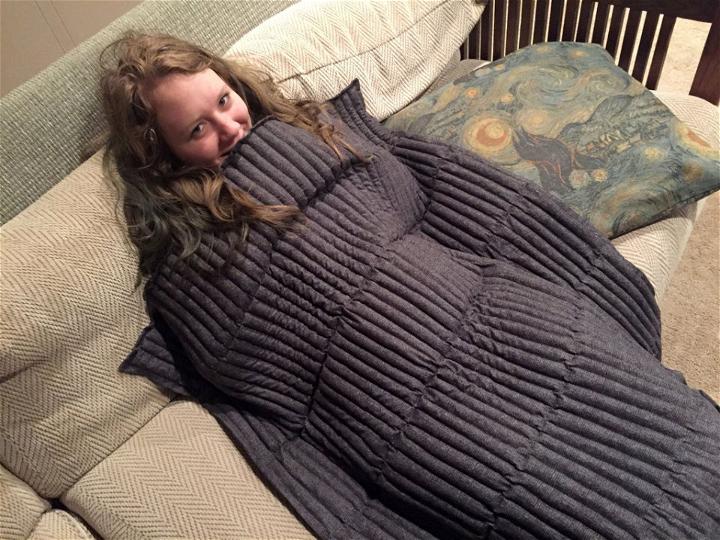 Does that relaxing gravity blanket also grab your attention every time you hear about it but don't want to spend a lot of money over a blanket? Then, you will surely love this one! Create your own DIY weighted blanket without worrying about the price and get the comfortable sleep you deserve. Plastic pellets give the blanket its weight, so use them according to the desired person's size. instructables
16. Sensory Weighted Blanket with Autistic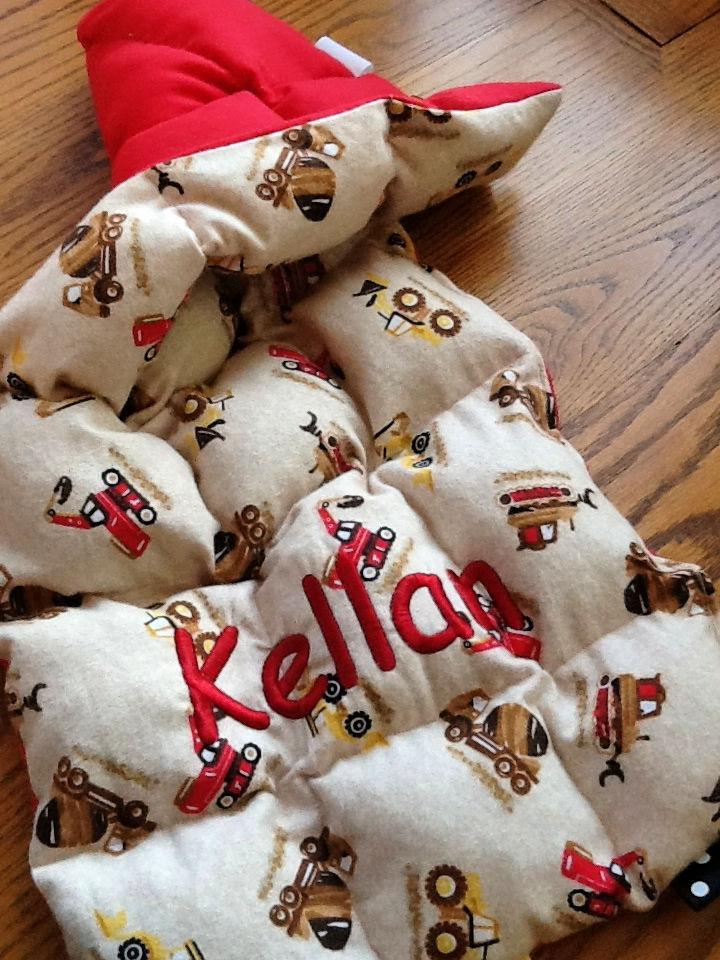 Rolling out this DIY weighted blanket for your special ones who are diagnosed with SPD or autism! Made from a breathable fabric like the flannel fabric used in this tutorial, this DIY weighted blanket tutorial helps create a blanket as a portable lap pad or as a toddler-size blanket. However, it can come in all sizes, weights, and textures, depending on the number of materials you decide to use. lipstickandsaw
17. Easy DIY Weighted Blanket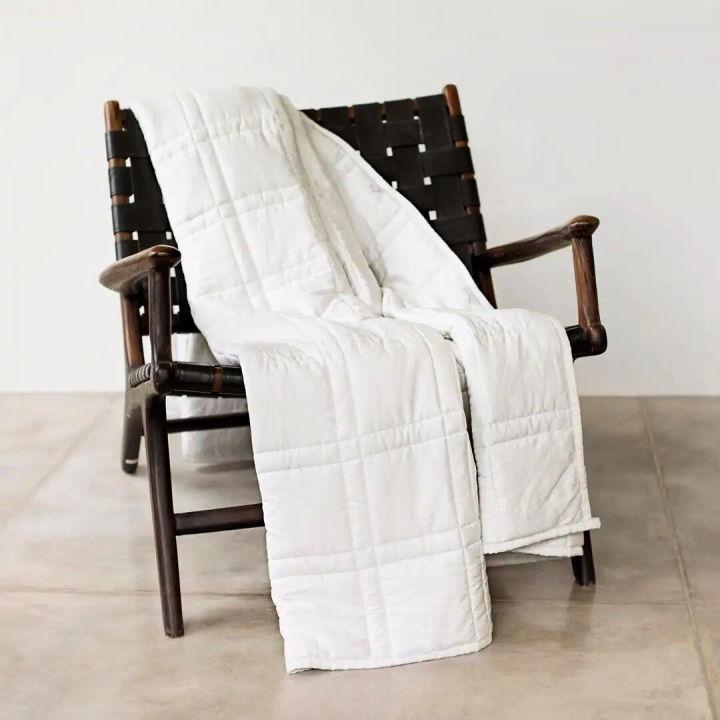 With its numerous proven advantages, this DIY weighted blanket tutorial is something not to be missed at any cost! If you are someone who experiences insomnia quite often, then the length of the blanket recommended is from chin to heel. Furthermore, the appropriate heaviness should be 10% of the individual's body weight. legit ng
18. Weighted Blanket with Soft Fabric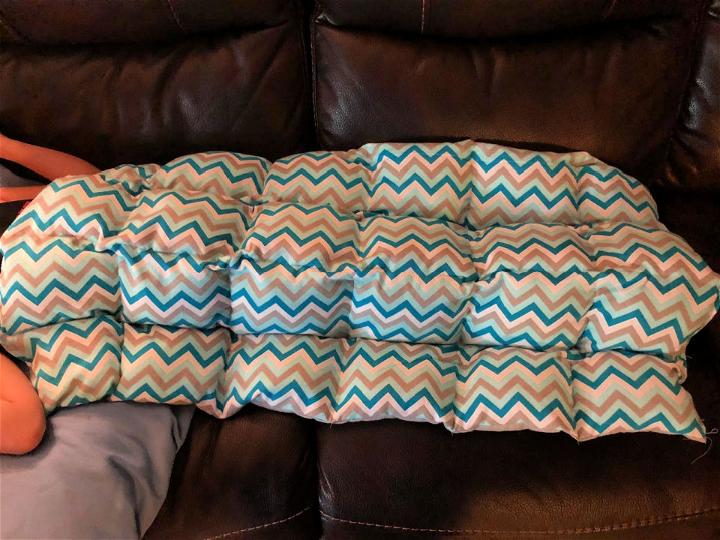 Master the art of making your very own weighted blanket with the help of this step-to-step guide. Fetch some Polly Pellets from any nearby local stores and a yard of fabric each for the top and bottom. You can vary the amount of fabric depending on how big you want your blanket to be. Totally up to you! workingmom
19. How to Sew a Weighted Blanket

In search of ways to ease anxiety issues without having to go through the long and expensive therapy sessions or medication? Then, this one is definitely for you. Create your own DIY weighted blanket with these easy steps. For this, you need fabric, plastic pellets, thread & a zipper, and you are good to go. The zipper is optional if you want a cover for your blanket. hollieshome
20. Weighted Blanket for Sensory Seeker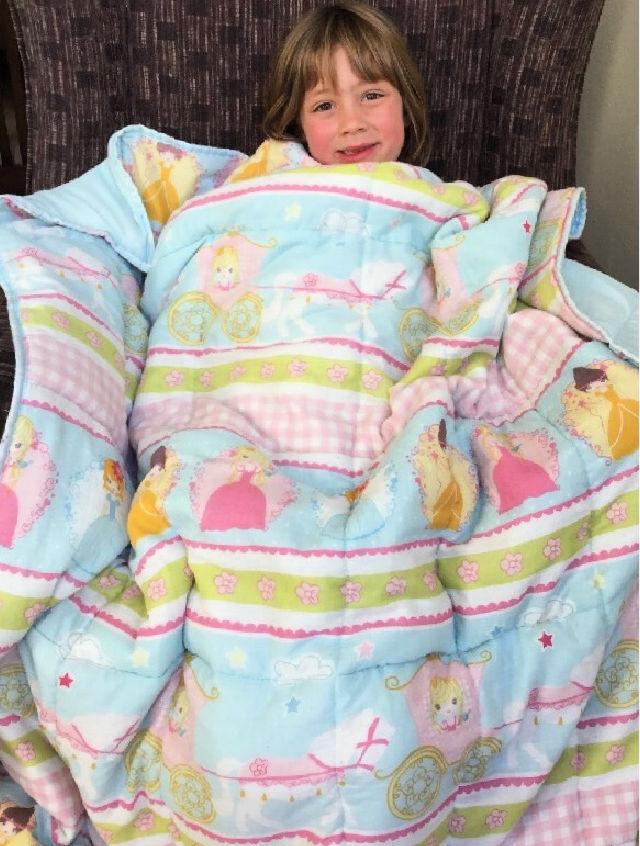 Here we have another super convenient method to make a DIY weighted blanket for sensory seekers which will ultimately be cheaper than purchasing a new one. Since they are easily available at all stores, fetch some plastic pellets from a local soft toy company or Amazon if you don't want to step out of the house. Cross all the items off the list of materials needed and get to work! teach me, mommy
21. DIY Gravity Weighted Blanket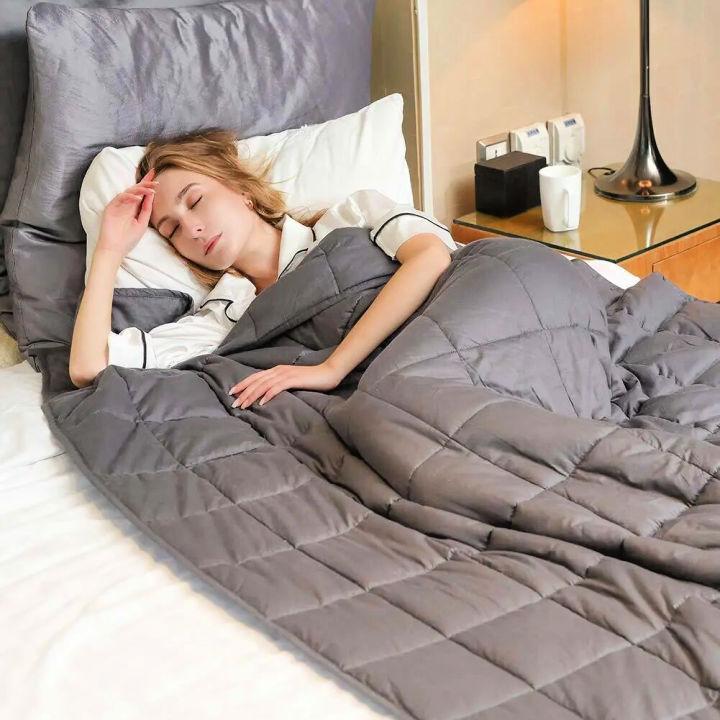 Boost your sleep quality with this super convenient and simple DIY gravity weighted blanket tutorial. What could be more fun than creating your own personalized and pocket-friendly DIY blanket? You can fill the squares with micro glass beads instead of Plastic Polypropylene Pellets or whatever material you select. phatfusion
22. Adjustable and Washable Weighted Blanket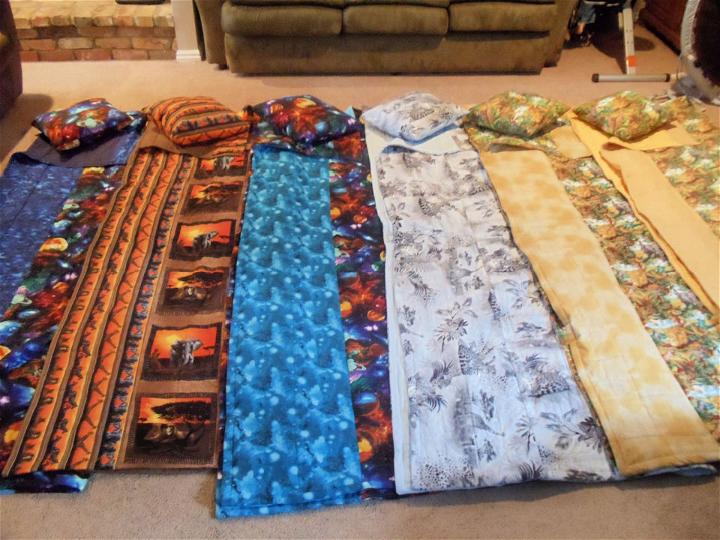 Letting aside its numerous advantages, just the thought of a weighted blanket is so warm and comforting. This tutorial is all about helping you through the process of making a weighted blanket easily at home. The best part is that it is also washable and adjustable. You can either start from scratch or attach weighted pockets to a blanket. But the blanket should be made from a strong material that can hold the weight. autismunder
23. Simple Weighted Blanket Pattern

Save your time during the process of making a weighted blanket by checking out all this compiled information and a complete tutorial on how to make one cheaper than those available in stores efficiently. This weighted blanket pattern considers all the different patterns so that you can choose the one that you love! fabricnin
24. DIY Quilted Weighted Blanket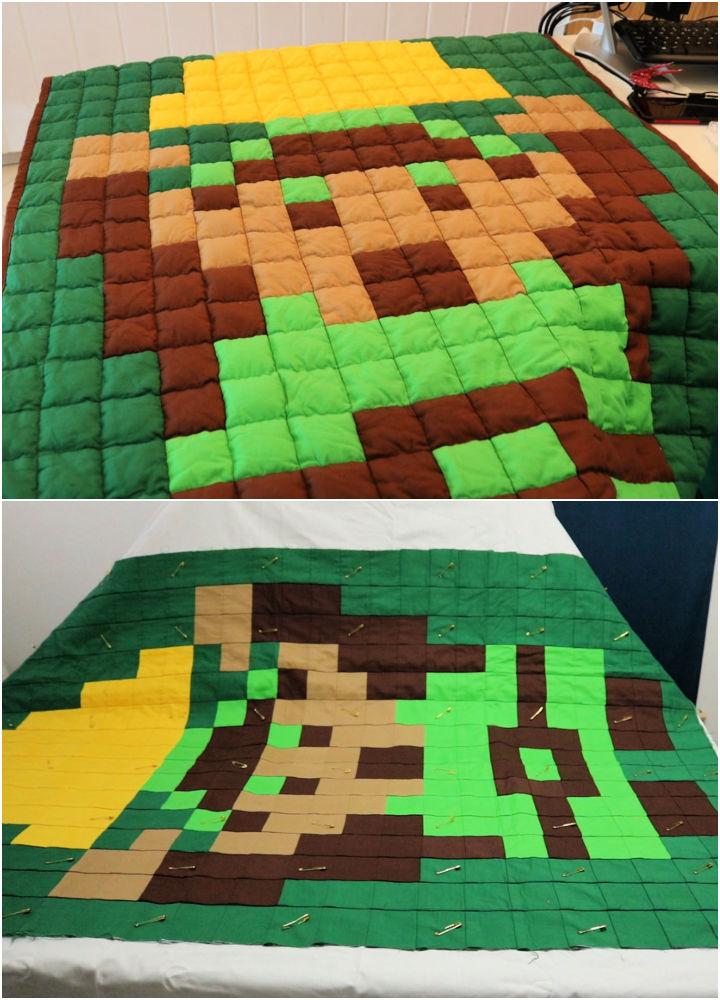 Weighted blankets are the talk of the city these days, and you can literally see them everywhere in local stores. So, if you are also obsessed with them, you definitely need to try out this tutorial on how to create your own DIY quilted weighted blanket. Use bigger compartments if you plan to choose poly filling beads. instructables
25. Weighted Dog Blanket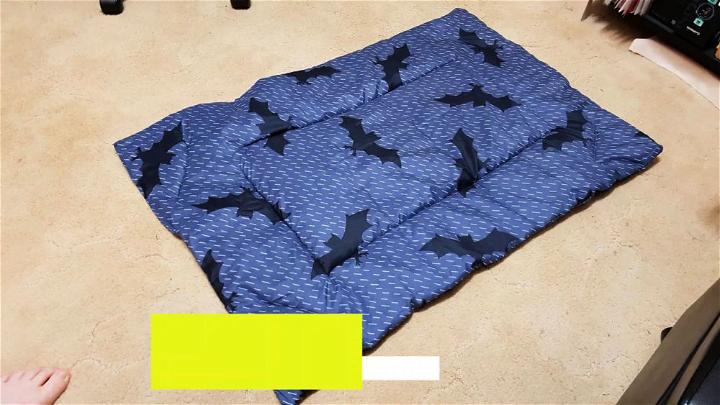 Planning to get a weighted blanket for your dog but unsure about the size? Then, check out this amazing tutorial on how to make a DIY weighted blanket for your dog and just the right size! Your dog will love that cozy feeling! So, what are you waiting for? Head over to the link for a complete step-to-step guide. youtube
Conclusion:
Reaching the end of this article, we all are well aware that weighted blankets can get really pricey at times. So instead of purchasing those expensive anxiety blankets, save yourself a fortune by following these weighted blanket ideas and craft your own. Browse through the various tutorials provided above to make your own DIY weighted blanket according to your needs and requirements anywhere, anytime, without having to worry about the price. With its deep pressure therapy (DPT) that radiates an overall calming effect, this popular weighted blanket also has the ability to relieve stress. Contrary to what most people think, this is not a cumbersome task at all. Try the above methods and save yourself a significant amount of money!