Sitting too long makes you gain weight and raise your risk of obesity. If you are working in the office or working from home on the computer, you may face these problems. Changing things up and switching to a DIY standing desk will improve your mood and energy levels and help reduce your back pain. These diy standing desk plans will help kill the sedentary sitting and habits in you and will promote overall health also. The best part is that you can easily build a standing desk at home rather than spending a lot of money. So, if you want to learn how to build a standing desk and solutions, then look through these 25 easy diy standing desk plans sharing a lot of homemade desks and all the genius standing desk building hacks.
There are many material choices for whipping up these easy diy desks that are well explained in this big list of projects. So, time to get rid of all the health problems related to sitting too long, with these new stylish standing desks.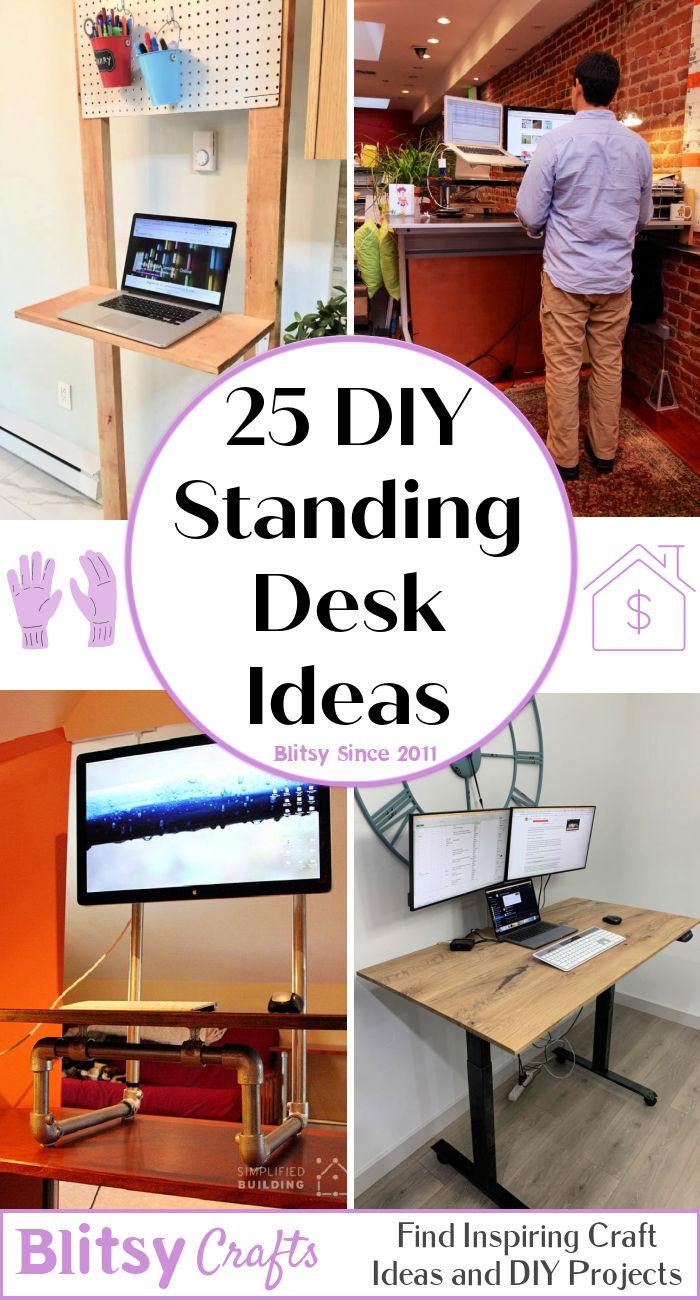 You will get free diy standing desk plans to build a whole beautiful standing desk with wood or combined wood and metal materials like metal pipes, copper pipes, and other metallic adjustable desk mechanisms. Next, you can build the standing desk converters, and riser stands to help change every sitting desk into a standing desk.
Finally, you will get diy standing desk plans with ultimate instructions to build wall-mounted, height-adjustable, and rolling standing desks that will be a big game-changer. Each diy standing desk plan will provide a material list, cut lists, detailed diagrams, tool lists, and step-by-step instructions to build the targeted standing desk model easily.
1. How to Make a Standing Desk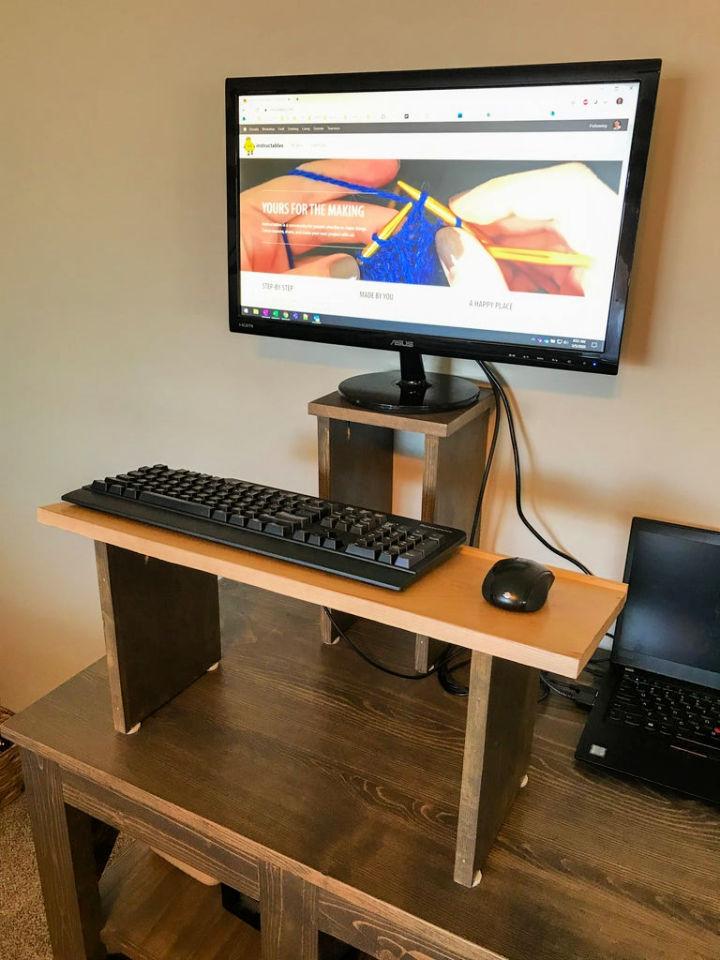 The computer stand is on everyone's need list, and it allows you to perform better on the laptop or computer and hence increasing your productivity. Go with this hack and build a straightforward, stylish, and functional model of the standing desk. It will allow you to operate the laptop in a standing position and make it with much less wood, and you can even use the scrap wood pieces to build one in no time. You need plywood boards and custom wood pieces for the mouse stand sides, monitor stand sides, monitor stand top, and mouse stand top. You also need the wood edging and wood veneer and stick on felt furniture pads for this project. instructables
2. Building a Leaning Standing Desk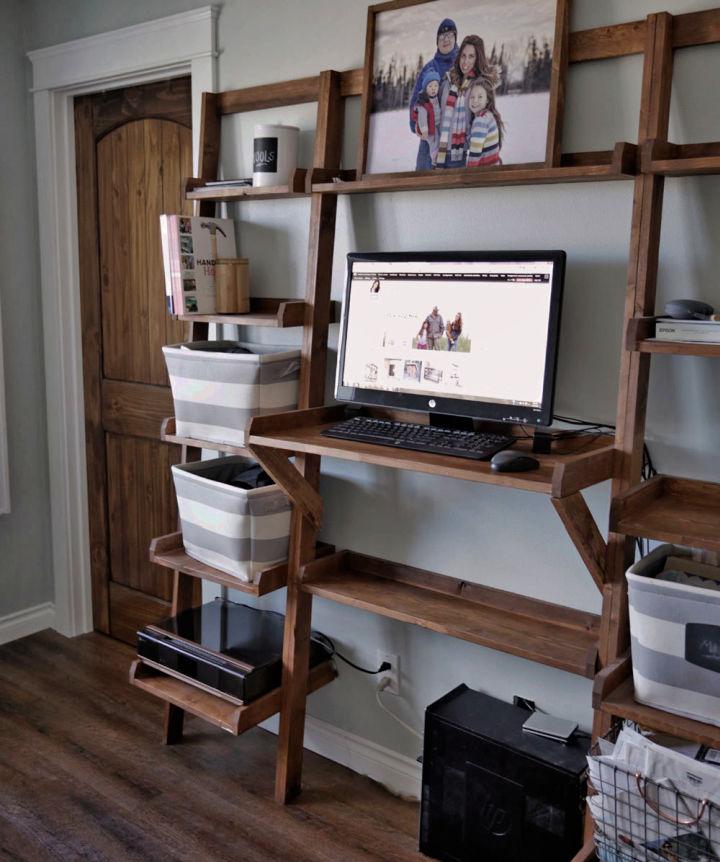 Kill the sedentary sitting by operating your laptop in a standing position using this leaning standing desk. This learning desk comes with a built-in shelf that will help organize all your accessories and gadgets. The desk is 76″ tall and 32.5″ wide and comes with a shelf with 15 ¼″ width. The height of the working surface is 40″. It will take much less wood to build this leaning standing desk. Finish the desk with your favorite wood stain and sealer to extend the overall life of the desk. You need 1×3, 1c8, and 1x4s to build this desk. ana white
3. Make a Adjustable Standing Desk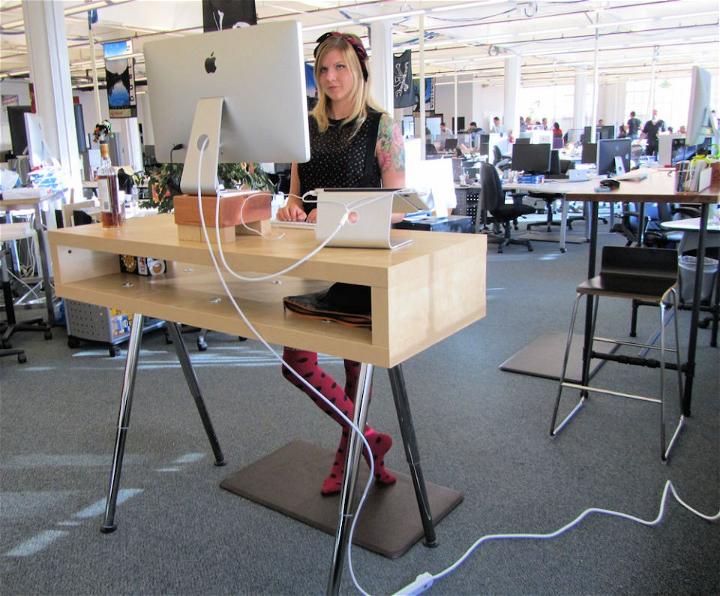 Lower your risk of weight gain and lower your blood sugar levels with this hand-built model of a standing desk, a great IKEA hack. So, operating your computer for hours will not make you sick now. This desk comes with a height to be easily accessible when standing and allows you to type on the keyboard easily. The angle outward metal legs make it stand durably, and it enchants with the modern minimalist and a little retro desk design. It provides lots of space inside to store and organize your gadgets. Build this modern standing desk with an IKEA TV console, and it will never get out of style. You need an IKEA Lack TV unit and IKEA Galant A-frame desk legs to build it. spacekat
4. DIY Adjustable Standing Desk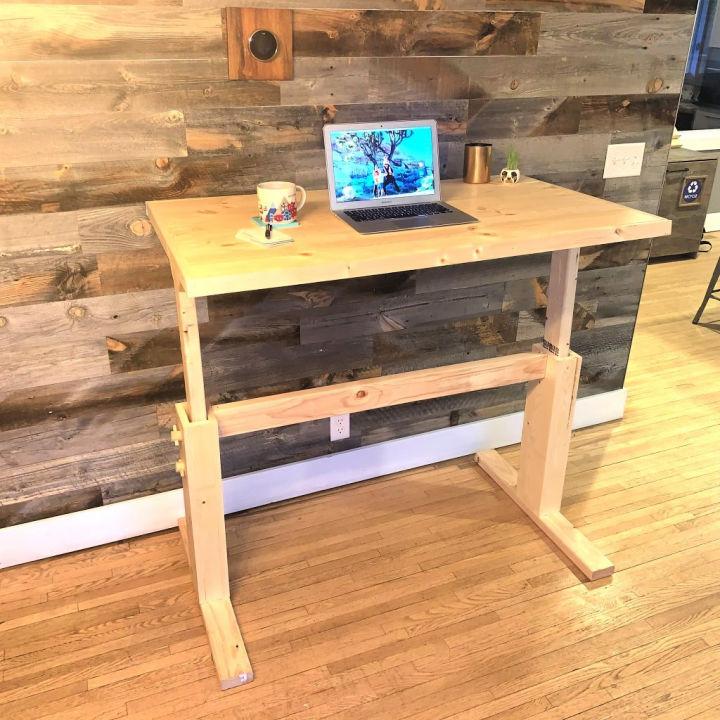 The market rates of standing desks are higher when you bought them with custom features and dimensions. So, build your one at home and save tons of your costs to spend elsewhere. This pattern will guide you to build a sit or stand adjustable desk that will provide comfortable laptop and computer operating. The desk was amazed by the adjustable height mechanism. You need 1×2, 1×4, 2×4, 1×6 boards, and a ⅜″ wood dowel to build this stylish and beautiful wooden deck. The best homemade gift to give to a laptop user in-home or family. familyhandyman
5. Standing Desk Converter

Having no money to buy a standing desk? Time to change things up quickly. Just build this standing desk converter that will help transform your computer desk into a comfortable standing desk. The converter comes with 2 levels, one for the keyboard and the other for the screen. And is to make with wooden shelving boards and metal plumbing pipes, so durability is guaranteed. Use the Kee Klamp Rail Support Fittings and VESA mounting bracket to hang the computer screen on the metal pipe. You will get the complete step-by-step visual instructions for the component and pipe fittings. simplifiedbuild
6. Electric Adjustable Standing Desk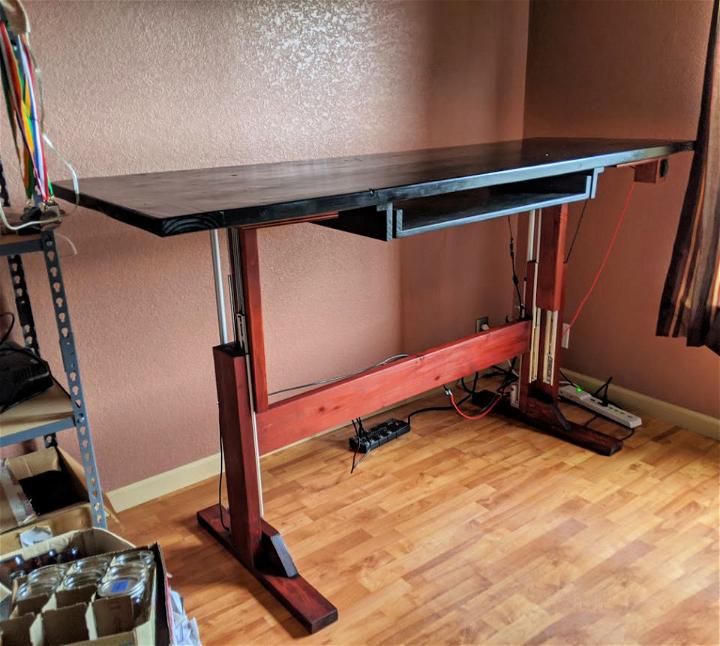 Every computer lover will just say a big wow while peeking into details and features of this DIY electric standing desk, a mind-blowing and durable wood creation. This electric standing desk provides the electric controls to smoothly adjust the desks' height to a comfortable point. The electric lifting mechanism uses the 18″ 12 VDC linear actuator to build this electric desk, which will make the most amazing gift for a laptop user at home. The diy standing desk converter is just super stylish and makes an unforgettable gift to a special person or friend. davidgunter
7. Build a Stand Up Desk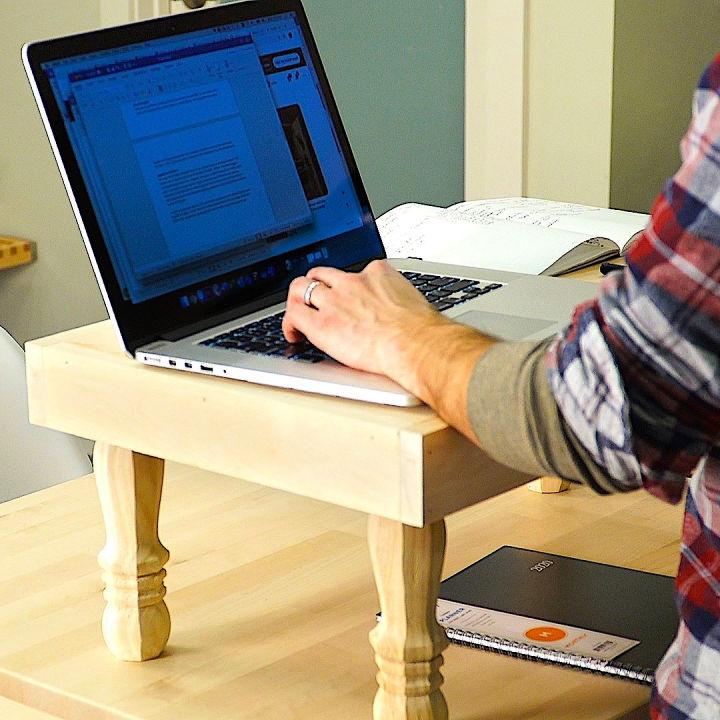 There are tons of hacks out there to build a standing desk at home in an easy peasy way. We are sharing here another one. The hack is to build a lovely converter that will help change any desk into a standup desk in no time. The whole desk will complete in just 30 minutes or less, depending on your skill level. You need 1×3, ¾″ plywood, glue, table legs, braid nails, and table leg hardware to build this lovely standing desk in no time. Simply place the desk on a desk, and here you go. One can even build it with the wood scraps. familyhandyman
8. DIY Sit Stand Desk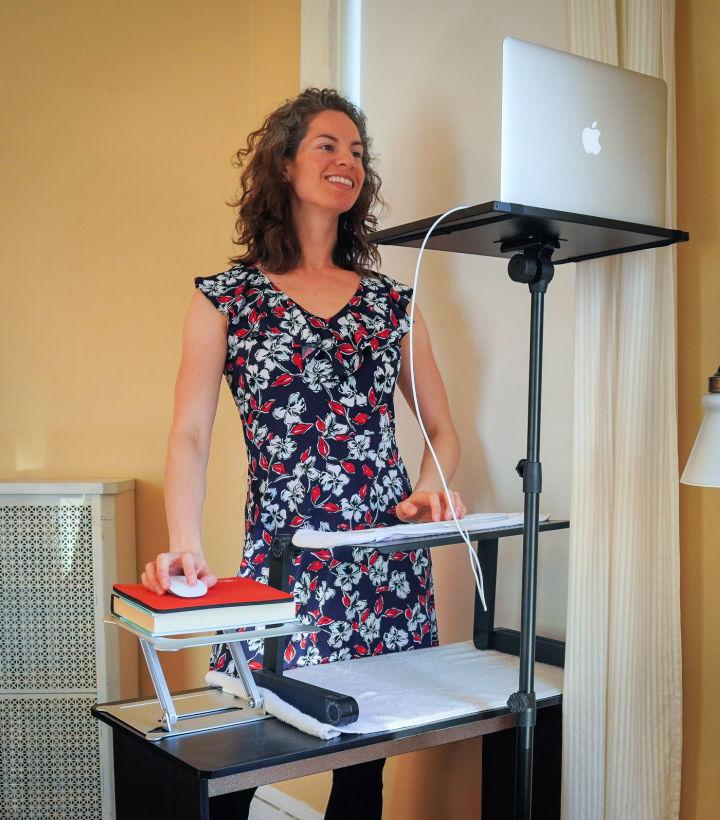 Are you working from home? Need to build a quick home office with a standing desk? So, presenting here the free plans and hack to build a sit-stand desk. The desk will allow you to operate the laptop while sitting and standing and will be a total pleasure to build. The magical component in the entire project is the DJ stand that is an adjustable metal stand and allows the computer screen and keyboard to be set on any height level. In addition, you need a regular sitting desk, detachable keyboard and mouse, keyboard standing, and a stand for mouse pad and mouse. One of the best DIY Sit-Stand desk ideas. aroundtheworld
9. Adjustable Standing Drafting Table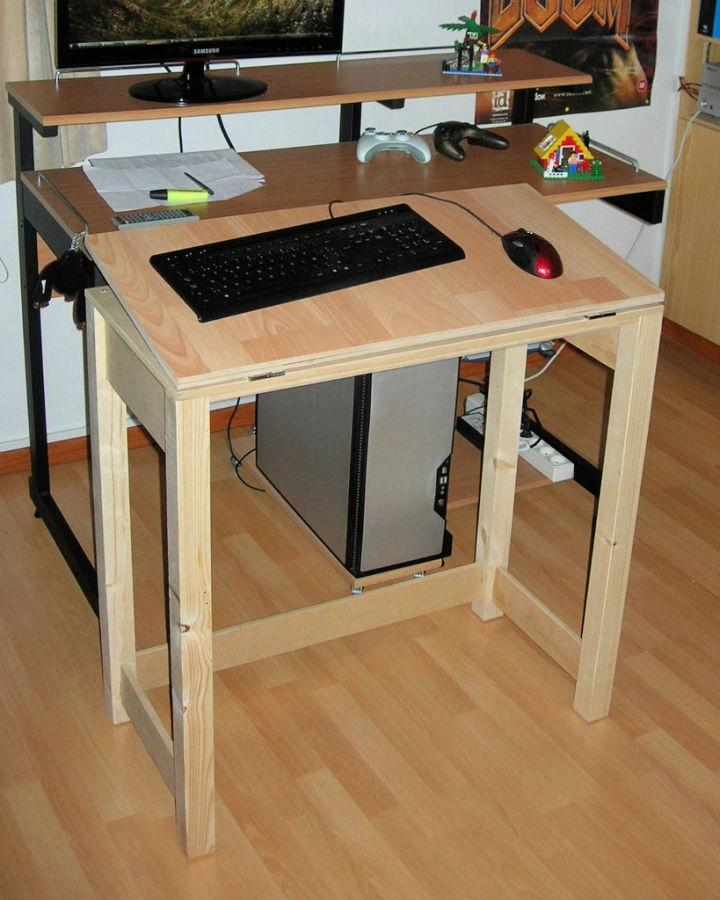 You will love the way this adjustable drafting table will serve you in routines. Add this standing desk to the front side of any DIY computer table to turn that into a standing computer desk. It comes with the slide-like hinged top set to an angle for easy keyboard and mouse operating. You need MDF, Wood for square table legs, table leg feet, wood for angled surface, hinges, and glue to whip up this lasting, longer, and beautiful standing desk. It will never get out of style and makes an amazing handmade gift also. Learn more by looking through the project. instructables
10. Building Your Own Standing Desk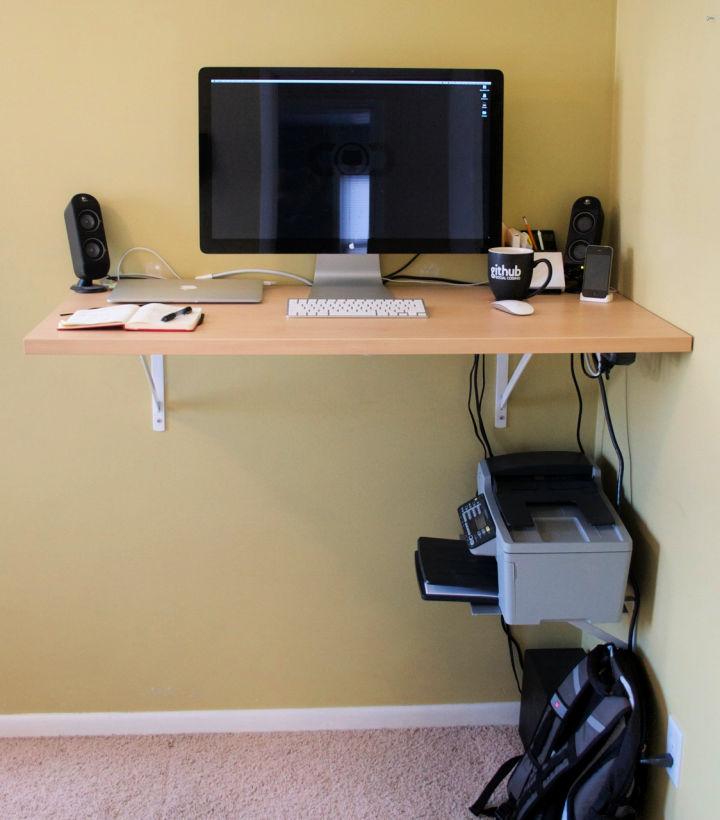 Are you suffering from short space issues in your home? Not having the proper space for installing a computer desk or building a home office? Follow here guides to build a space-savvy wall-mounted standup computer desk, will nicely hold your screen and other components for easy and comfortable operating while standing. It will help kill sedentary behavior. Also, be the best way to lower your blood sugar levels and the risk of obesity. To build this simple corner desk, you need heavy-duty 19″ shelf brackets, desktop surface, drill, level, screws, stud finder, and a pencil to build this standup desk. opensoul
11. How to Build a Standing Desk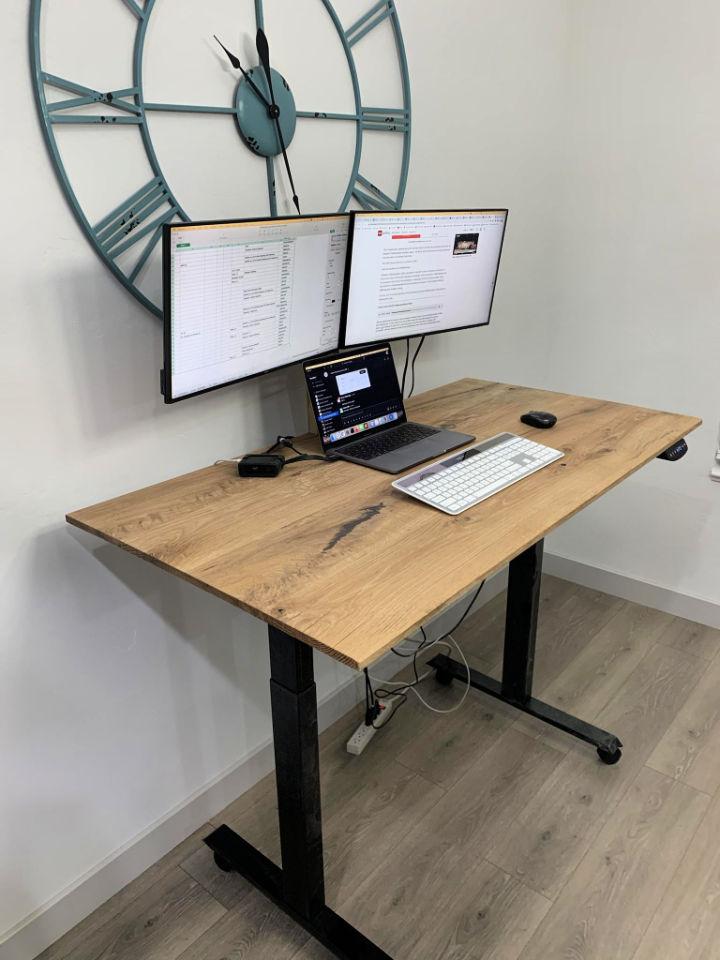 Willing to set up a quick home office while being on working-from-home routines? Then must look through this diy standing desk converter. This allowing you to build lasting longer standing desk designs super quickly and at a cost next to nothing. You have to buy an electric standup desk online to build this mind-blowing and stylish design of a standing desk. The stand should come with a dual motor and cable management rack height-adjustable sit-stand standing desk. The given desk is built to hold a dual monitor at a standing height. It will be easier to install the edged wooden top. imgur
12. DIY Standing Desk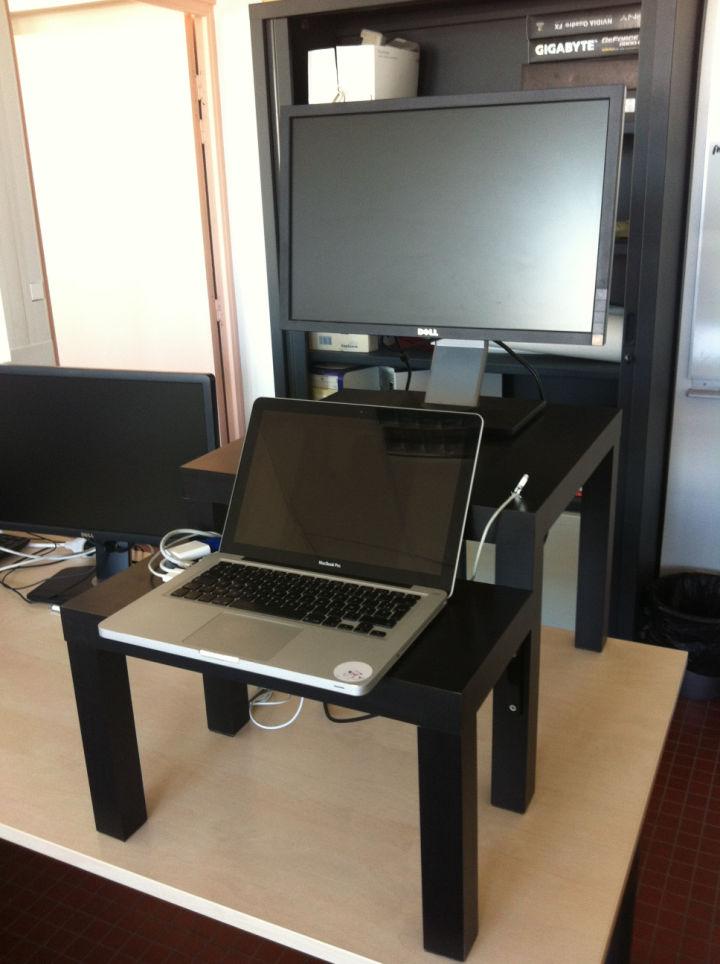 The standing desks are one of the most expensive types of desks when selected with custom style and features. So, presenting here the free step-by-step instructions to build a standing desk at home without getting a bit expensive. You need 2 side tables, 2 black brackets, a black rubber slab with adhesive backing, wood glue, and few tools to build this durable yet beautiful wooden standing desk. The desk will rock for writing, reading and laptop operating and will not cause any health issue that a sitting desk may cause. Do clone it for a friend. williamdur
13. DIY Industrial Standing Desk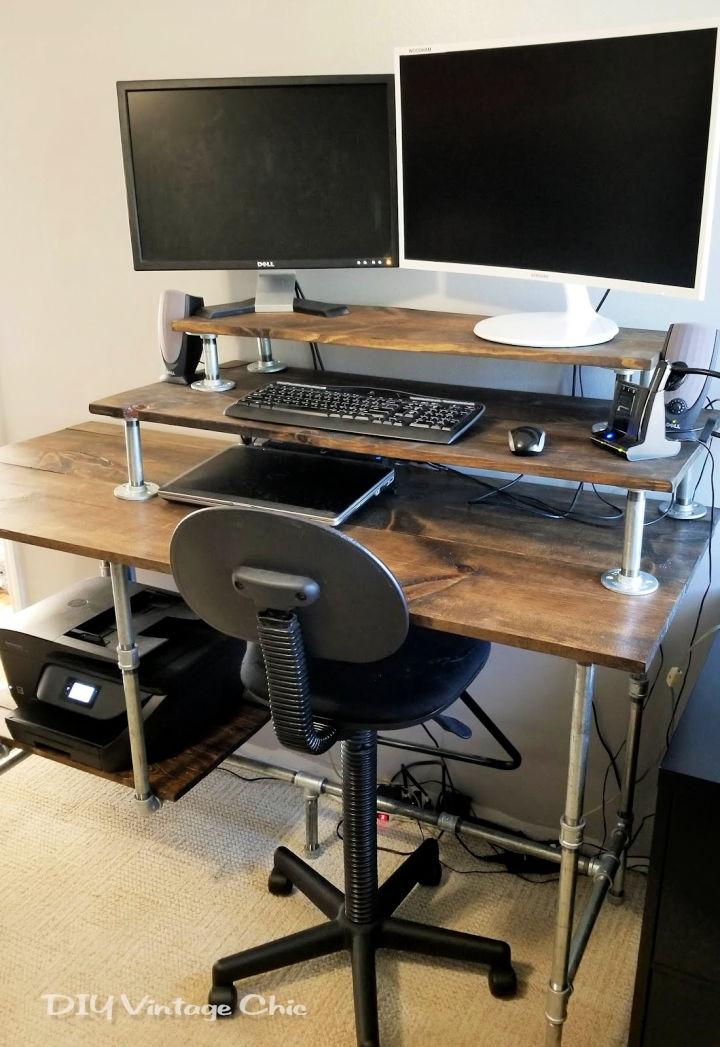 The industrial style or wood-metal desks are always more durable and stylish. So, presenting here this DIY Vintage chic industrial standing desk is to make with metal pipes and wood. Plan the metal pipes with elbows, fittings, and floor flanges to build the whole frame of the multi-level sit-stand desk, and then use the bigger wood slats and boards to add the desk surfaces on different height levels. This industrial DIY pipe desk is both a sitting and standing desk and provides a built-in shelf to hole your CPU machine. All beginners can build this fantastic desk. diy vintage
DIY studio desk: We've collected the best DIY studio desk plans to get you started with your music-making and recording stations.
14. DIY Wood Standing Desk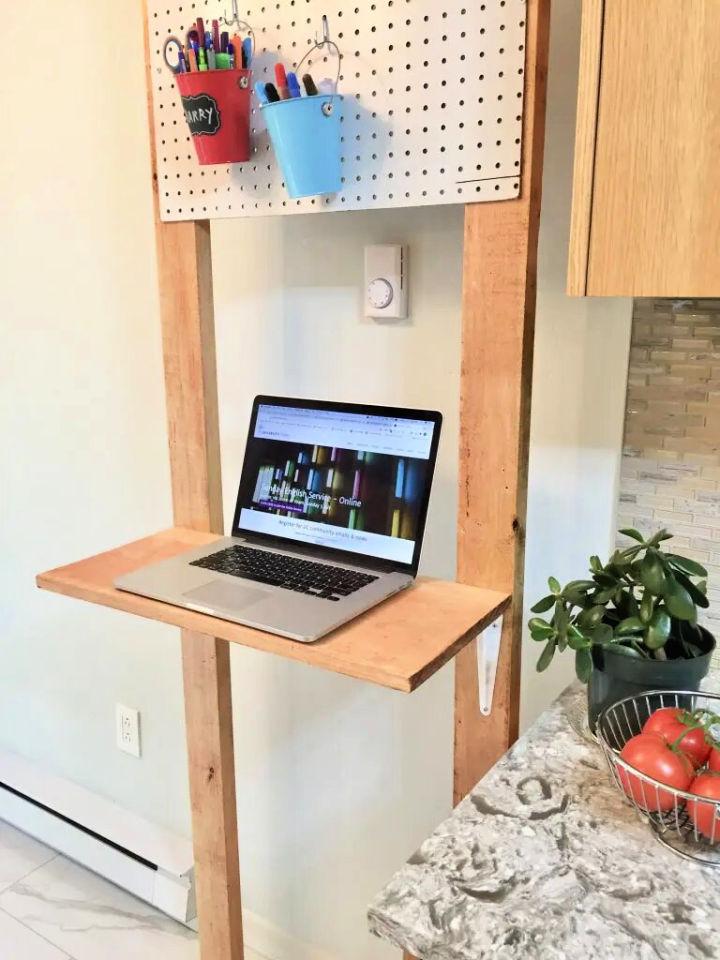 Save tons of your costs on building and setting up a home office by building a standing desk at home. Grab here the free plans and instructions to build a solid DIY standing desk in no time, will make a quick handmade gift to a mobile or laptop user. The desk will complete in just 45 minutes, and you need the 2×4 timber posts and fabric 2×4 adjuster brackets to build this standing desk. Install the metal grid basket to the lower side of the desk to store the extras and important items like a documentation. Don't forget to add the final pegboard on the top for organizing other tools. thestoragewall
15. Homemade Standing Desk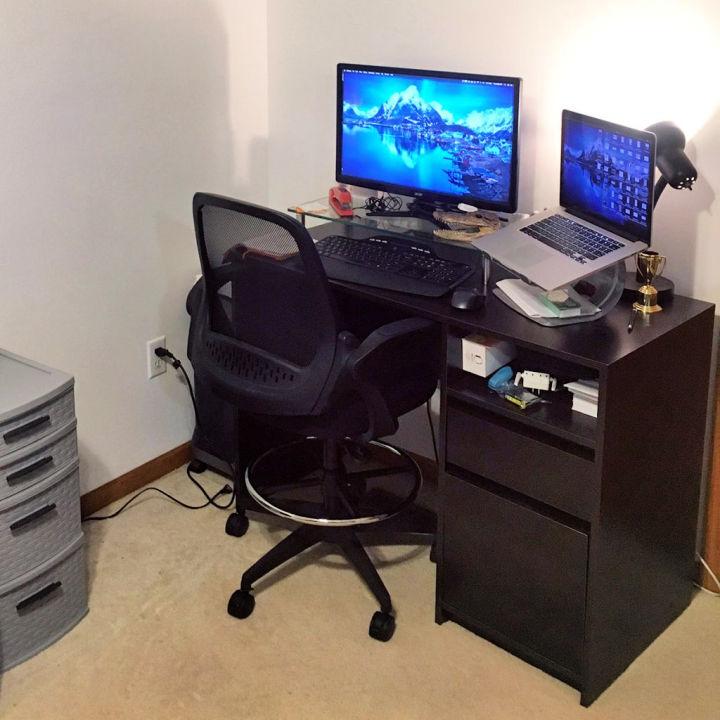 How much do you want to spend on a standing computer desk? It is super expensive to buy a custom model. So, if you do not have enough money in packets, then go with this DIY standing desk project that involves building a standing desk for under $100. The project is all about giving a stylish elevation to the top of the sit computer desk to get transformed into a standing desk. You need a new table, metal pipes, fittings, and screws, etc., to build this DIY standing desk. You will never quit the style trends. One of the best computer desks ever built. jeremyweis
16. DIY Standing Desk for Under 50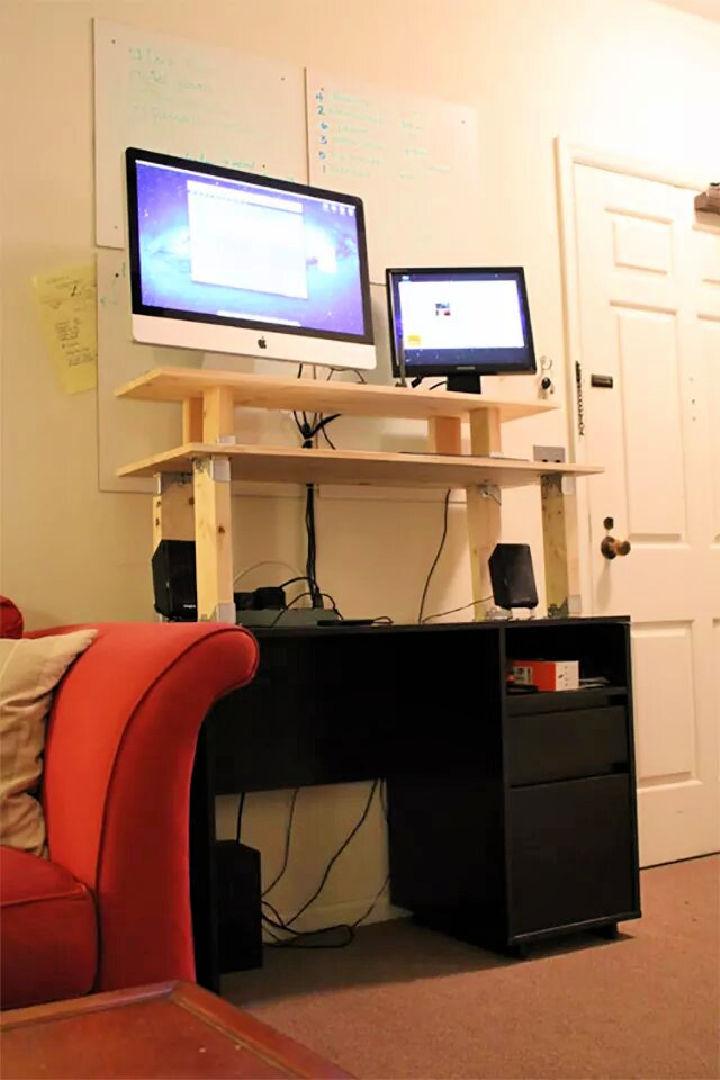 Get here plans to build a standing desk at the cost of $50. You need the laminated pine boards and 2x4s to build this very beautiful and lovely standing desk. The standing desk is a converter and can be installed on any sitting desk to gain a standing desk. The standing desk looks like a two-step stair and nicely holds the screen and keyboard and will surely increase your productivity and performance. This desk will help lower your blood sugar levels and not let you gain weight. Do switch to this standing desk to lower your risk of heart disease. joshuaberman
17. Convertible Standing Desk

Do you love the lift-top tables? If yes, then you can start building the standing desks in the same way. Peek into details of this convertible standing desk that looks like a normal sitting desk and comes with lots of built-in storage options. It magically opens with the top elevated at the time of use to give the user a super comfortable and stylish standing desk that will allow easy and comfortable laptop operation. The whole project will cost you next to nothing and will be much doable even for a beginner. Learn more by looking through complete project details. imgur
18. Wall Mounted Standing Desk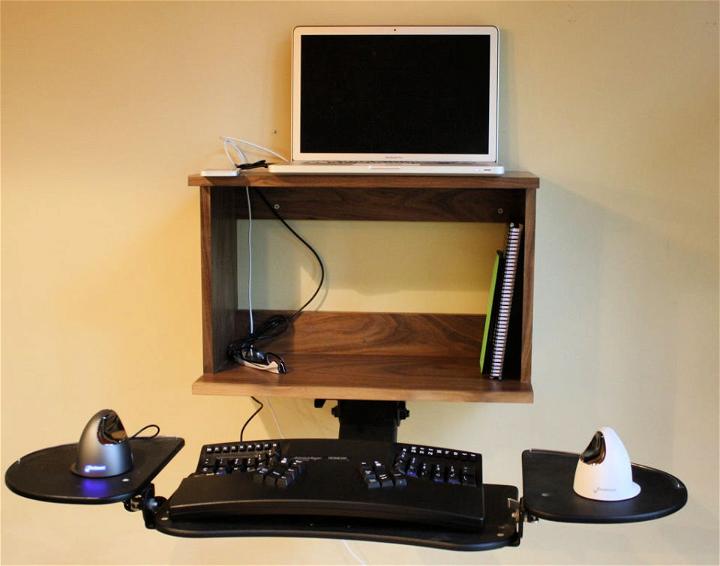 You will love this, another great standing desk that super space-savvy and is much easier to build. This standing desk involves building a box-like design that you can easily install on the wall for storing your computer accessories and screen on the top. You can easily install the mount keyboard tray to the lower side of this desk to hold your keyboard and mouse nicely and elegantly. The best standing desk module for the short space interiors can easily be shut down on the wall when not in use. Amaze the laptop users around you with this DIY standing desk. instructables
19. Stylish Homemade Standing Desk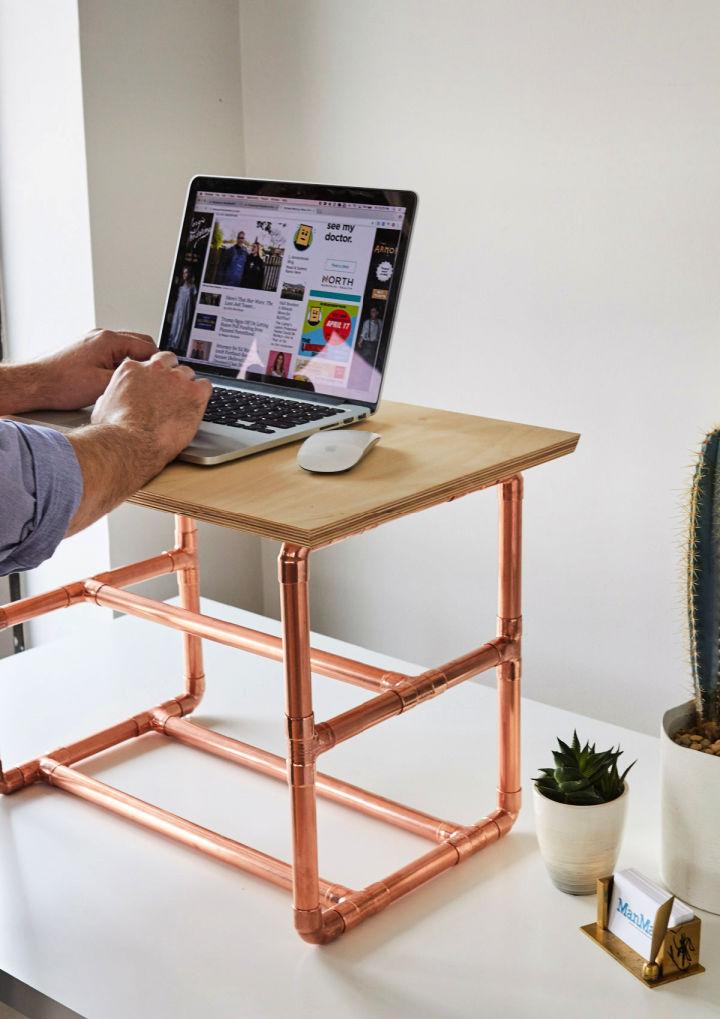 Follow how to make a standing desk instruction to build a riser stand for a sitting desk; it will easily transform a sitting desk into a standing one and give you all the health benefits. Standing for hours will extend your life by boosting your overall health while sitting too long can kill you. Build this riser stand with copper pipes and finish with a wooden top. You need the copper pipes and fittings to put together the standing desk riser. It will never get out of style. The project is big fun to do and will amaze your creativity. So, dig the home trash store for some copper, iron, or PVC pipe scraps to whip up this standing desk. manmadediy
20. Mid Century Modern Standing Desk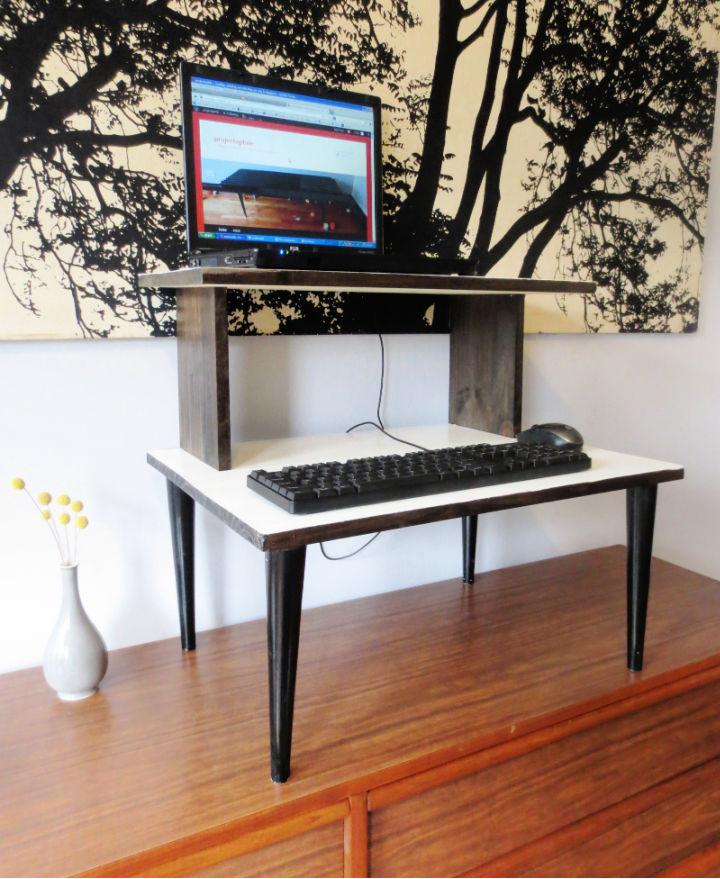 Grab the ultimate diy standing desk plans and instructions to build a mid-century modern standing desk, impresses with two elevation levels, and stands on the nice and stylish tapered around legs. This riser stand or desk can be added to any desk to gain an instant beautiful standing desk, and it will give you the ease of removal so you can get back to a normal sitting desk again when tired of standing too long. Working on your computer standing will improve your mood and energy levels too. You need plywood, legs, oil-based primer and latex paint, T-brackets, glue, filler, and water-based polyurethane to build it. projectophile
21. Standing Height Desk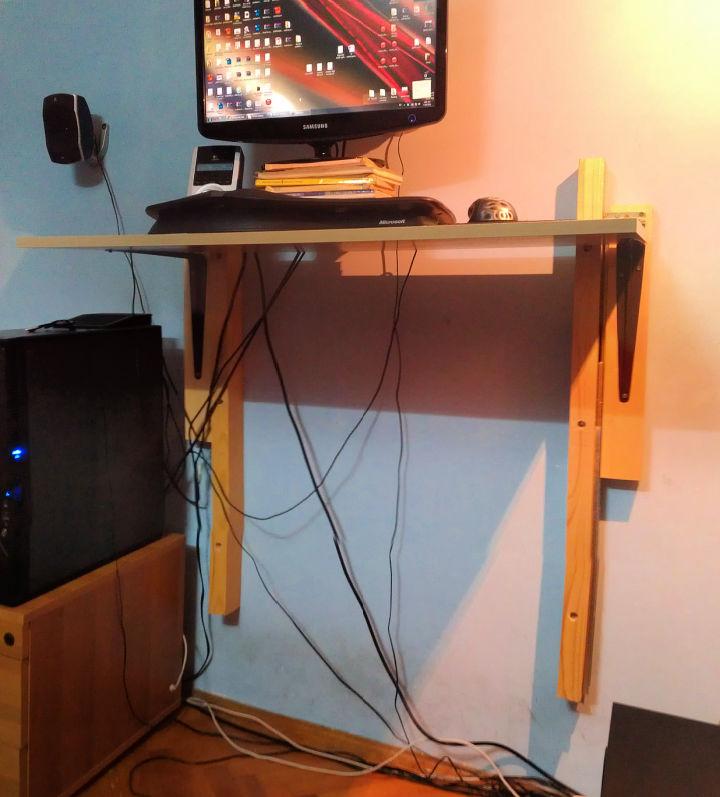 You will love the creativity and design of this superspace savy standing desk that nicely holds the keyboard and other gadgets. The desk is built for the regular height and involves using the metal drawer slides that nicely slide over the vertical wooden wall supports to move the desk up and down. Install the latch lock on the moving panels and drill the equally spaced holes in the wall pieces so you can easily lock the desk on an adjusted height. The whole project will cost you around $25. One of the most genius DIY standing desk projects ever. tumblr
22. Easy to Make DIY Standing Desk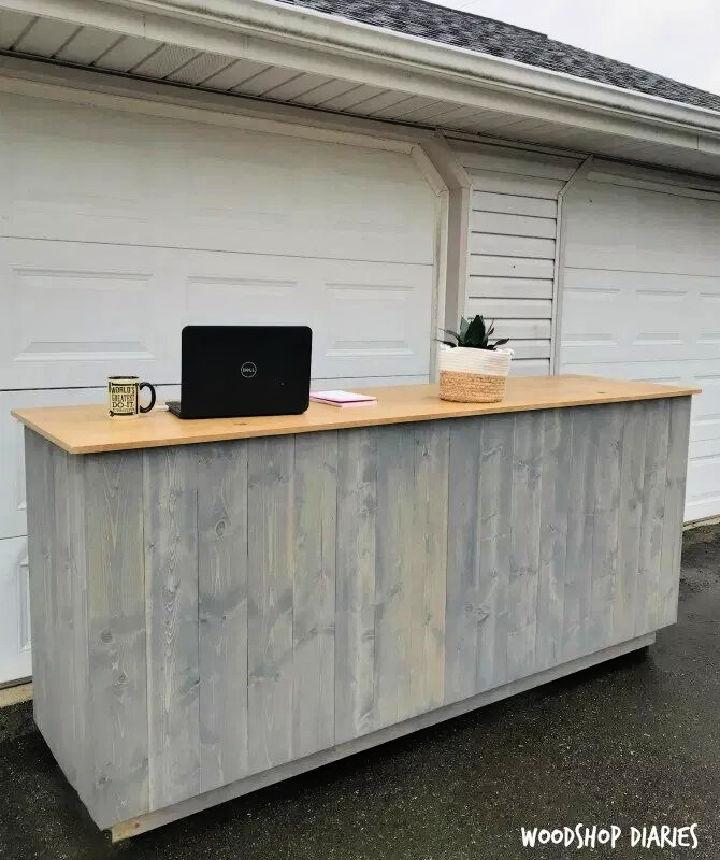 Learn here to build a wooden standing desk manually, and it will allow you to easily operate the laptop and computer at the same time. The desk comes painted in grey and impresses with the rustic blank wooden top and will never quit the style trends. There is built-in shelves underside the top to hide your computer accessories and gadgets. The desk will rock for offices and shopping malls and any space of this kind. You need 1x6s, ¾″ sheet of plywood, 2x4s, 2x2s, 2x6s, and ¾″ edge banding to build this flawless standing desk. woodshopdiaries
23. Standing Desk from Steel Pipe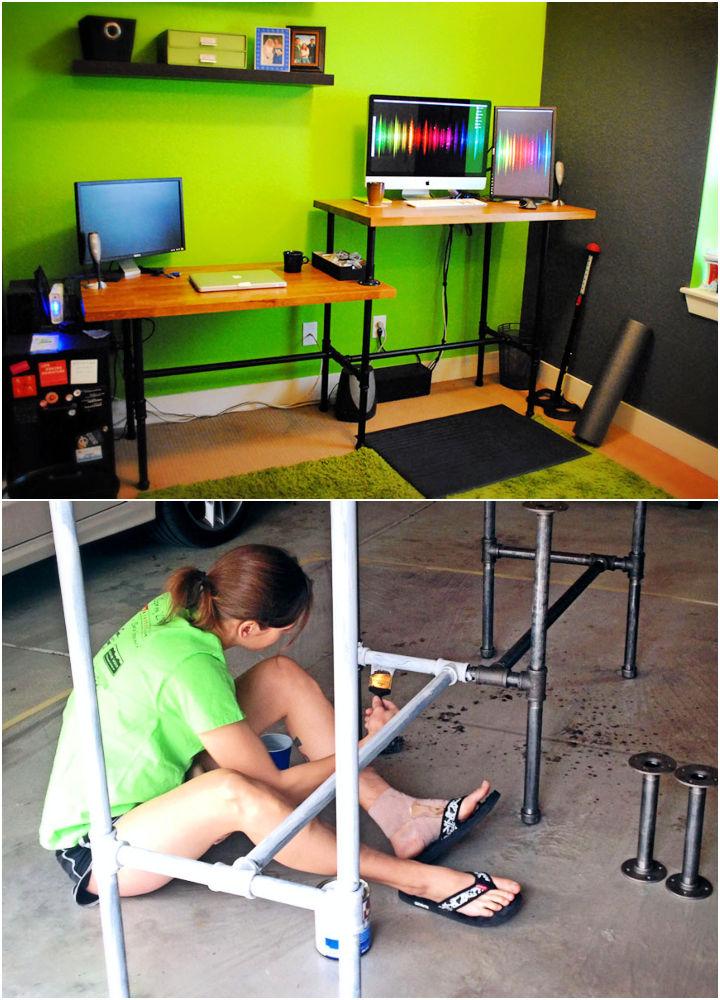 You will love this IKEA hack helping build a modern and super functional DIY desk. It will lower your risk of obesity and heart attack and will improve overall heart health. You need IKEA Numerar Countertop, black pipe, and fittings to build this lasting longer and solid wooden sitting is standing desk, which will never get out of style. The best modern standing desk will complete in no time and will cost you around $364. This is here the best industrial desk design also. sparksight
24. Mobile Stand Up Computer Desk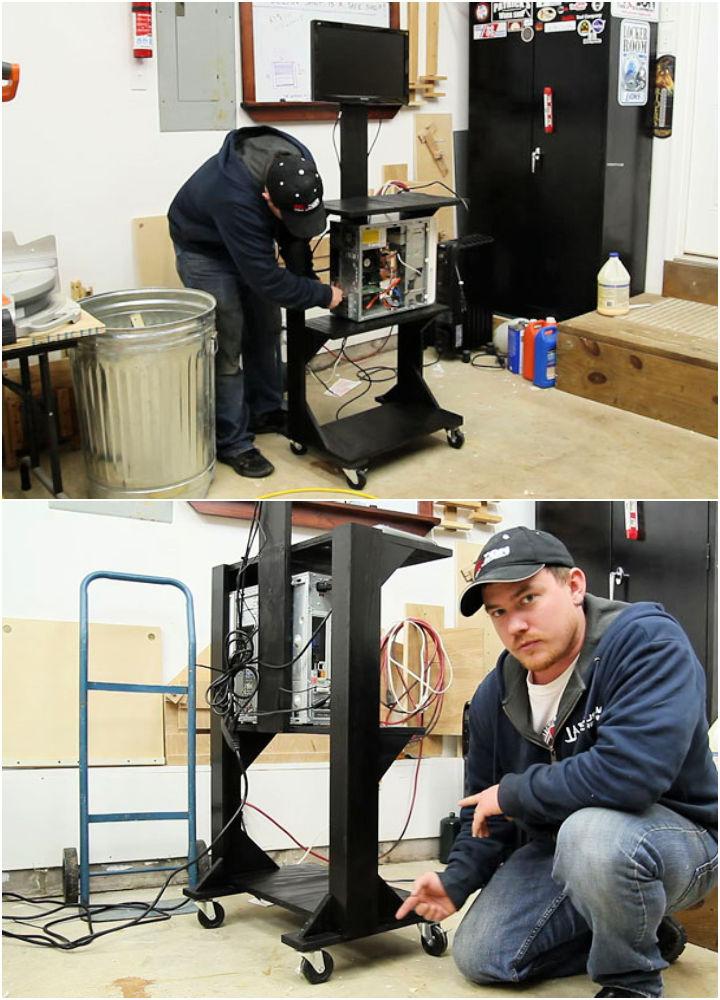 This standing desk comes on wheels and can be dragged to any particular interior location. Here, it is the most stylish and functional design of a computer desk that will never quit the style trends and is easy and quick to build. The model is much achievable, and you can easily duplicate this stylish mobile standup desk using plywood. Simply make a rolling car with 3 tiered shelves, and next, add a back vertical support to hold the computer. You can also use the VESA mount to hold the LED screen on the vertical support. jayscustomcreation
25. DIY Motorized Standing Desk Converter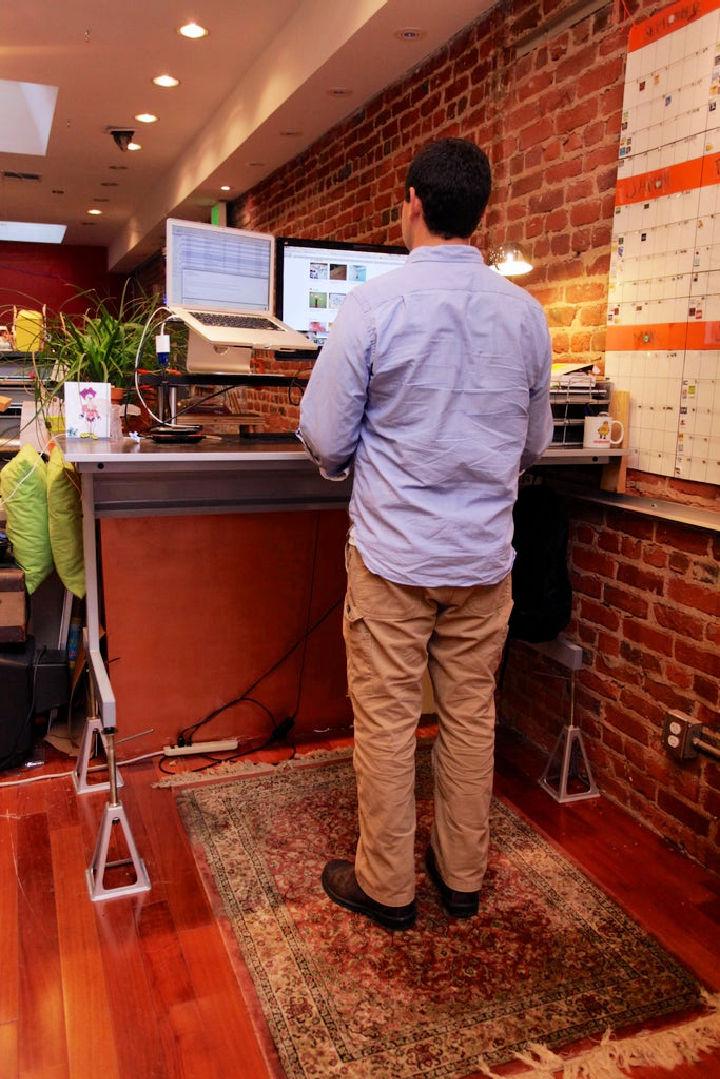 Save tons of your costs on buying a standing desk by building this adjustable standing desk conversion at the cost of $38. Here the most amazing part of the construction is the jack stands that make the best stylish feet and play a big role in the adjustable height mechanism of the diy standing desk converter. You can easily adjust this jack stands under a desk to convert it into a stylishly beautiful standing desk. The whole project is much beginner-friendly and will amaze all the audience around. One of the best standing desk designs ever built. instructables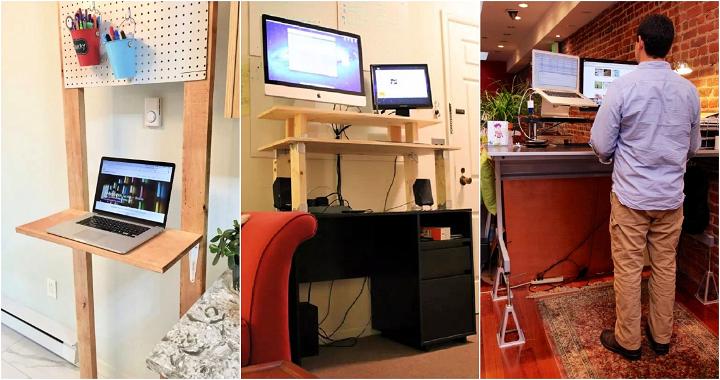 Conclusion:
Homemade standing desks cost you nothing with custom added features like adjustable height mechanism and storage features. So, skip buying the expensive standing desks and try building the super functional and stylish homemade standing desk designs at home.
These diy standing desk plans will help build a standing desk model with custom storage and operating features. From wall-mounted to rolling to adjustable standing desks, you will learn here to build all sorts of standing desks like a pro.
All these simple diy standing desk plans are much doable and mostly fit beginner and intermediate skill levels. Looking through these projects will surely make you a master in building all sorts of standing desks at home you are looking for.