Do you want to adjust and place the router more efficiently in your workshop? If yes, consider these most effective and durable 30 free DIY router table plans that come with photos, diagrams, and step by step pdf instructions. These router table plans will help you to complete your woodworking projects effortlessly and easily. If you are looking for inspiring workbench and router table plans, get help from the mention below free plans.
Excitingly! You can make these DIY router table plans with less time and effort with the simplest crafting supplies. Well, these tables will cost you less than store-bought workbenches and tables. Thus, you don't need to go to a store a buy them at higher rates. All the listed free router table plans have all the functionalities and features you desired to see in your router table. Moreover, step-by-step guidelines will make it much easier for you to work on these diy router table plans.

The only thing you need to do is choosing the plan according to your router machine and woodworking projects specifications. So, you can build a customized and requirement-oriented router table effortlessly and without any difficultly. It's the right time to get hands-on on a desirable DIY router table!
1. How to Build a Router Table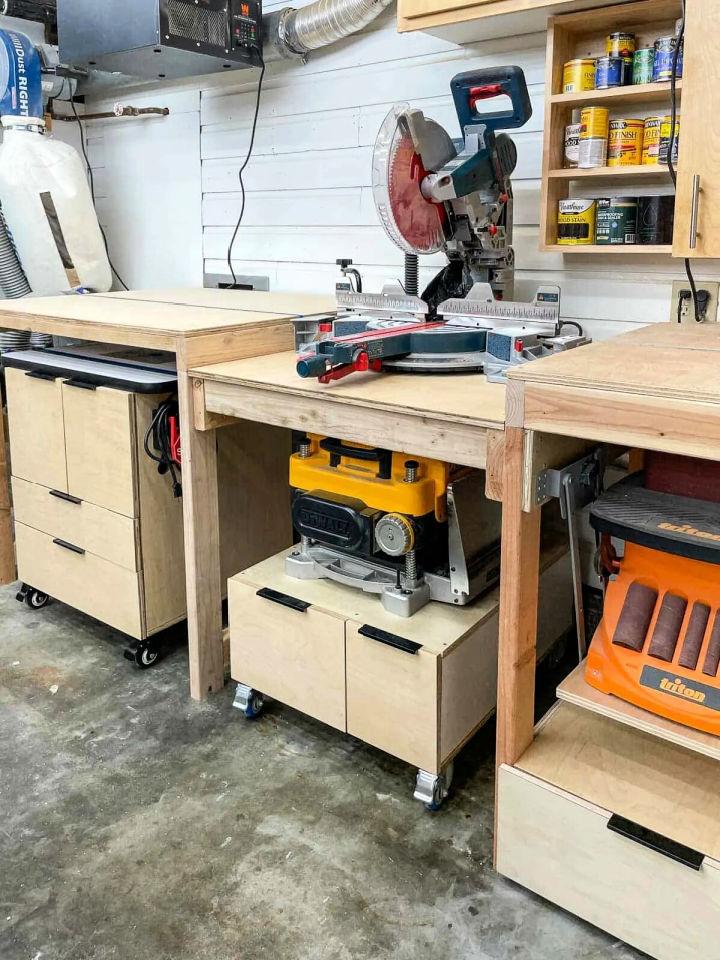 Are you looking for an affordable and easy-to-make DIY router table plan? If yes, you can make it yourself by following the step-by-step guidelines. No doubt, store-bought router tables are too much expensive. Therefore, it's better to customize them by yourself in your own style. If you are a wood crafter, you would surely love to work on this project. For this, you require plywood sheets in specified measurements, locking casters, pocket hole screws, cabinets hinges, router dust bucket, and control button. One more thing, if you are new to this project, get help from the tutorial for ease of work. thehandymans
2. Free Router Table Plan Pdf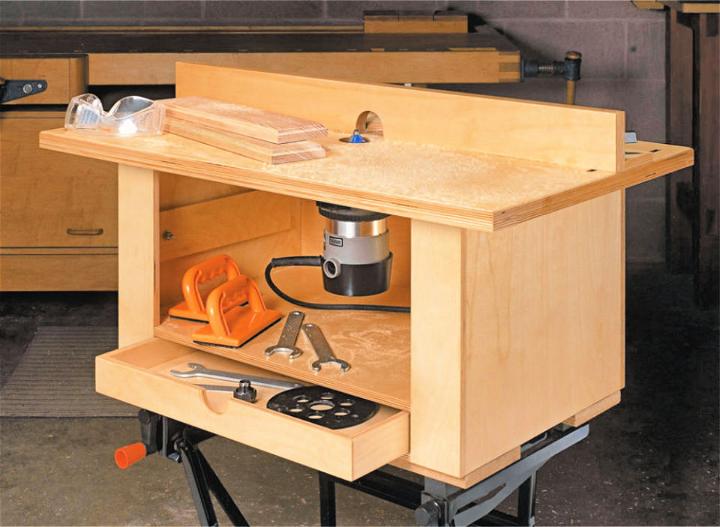 Make and DIY a quick and affordable router table for your workshop with a free pdf pattern. You can get all the guidelines and instructions to make a worthy router table with this format. For making it, you require plywood in different sizes and measurements for cases, top, fence, and drawers. You can also print the pdf before start working on this project. So, you can complete it easily and comfortably. woodsmith
3. Rolling Bench Top Router Table

DIY this rolling bench router table easily and super affordably with a written pattern. For this, you can use the plywood and wooden plank according to your project specifications. Additionally, use the steel wheels with different controlling buttons. You can also adjust and drill the buttons on the backside of this table and the front. To complete this craft project, you require intermediate-level wood crafting skills. housefulofhandmade
4. DIY Horizontal Router Table

Make this horizontal router table for working on your small-scale wood-crafting projects. You can make this router table effortlessly and easily with written guidelines. One more thing, you can also create it on the top of the slot mortiser quickly. Use firewood, and table saw, wood cutting tools, control buttons, and a fence. No doubt, this DIY project requires expert-level wood crafting skills. But you can also work on this with step-by-step guidelines. woodgears
5. Building a CNC Router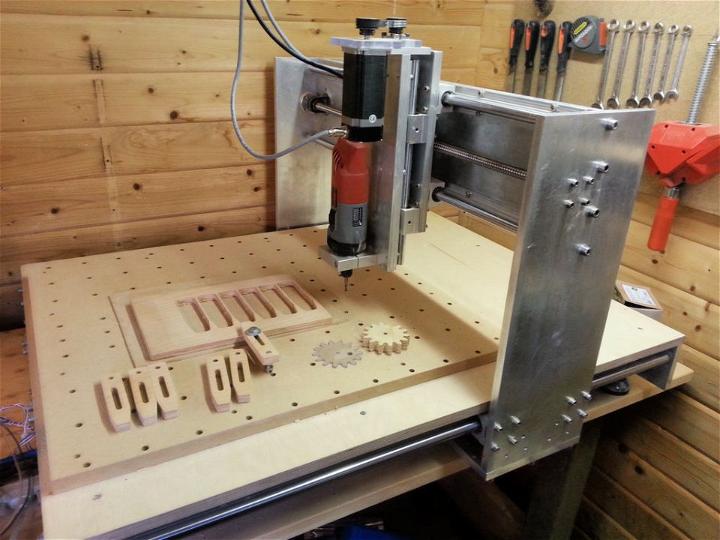 Build this CNC router with tutorials and written guidelines like a pro. One more thing, you have to make a design on blank paper before creating this homemade machine. It would be easier for you to create this router table with a template. You require wood supply and electronics such as a stepper motor with drivers, breakout board, and power supply. If you want a small size CNC router, customize it with a moving table. instructables
6. Make a Router Table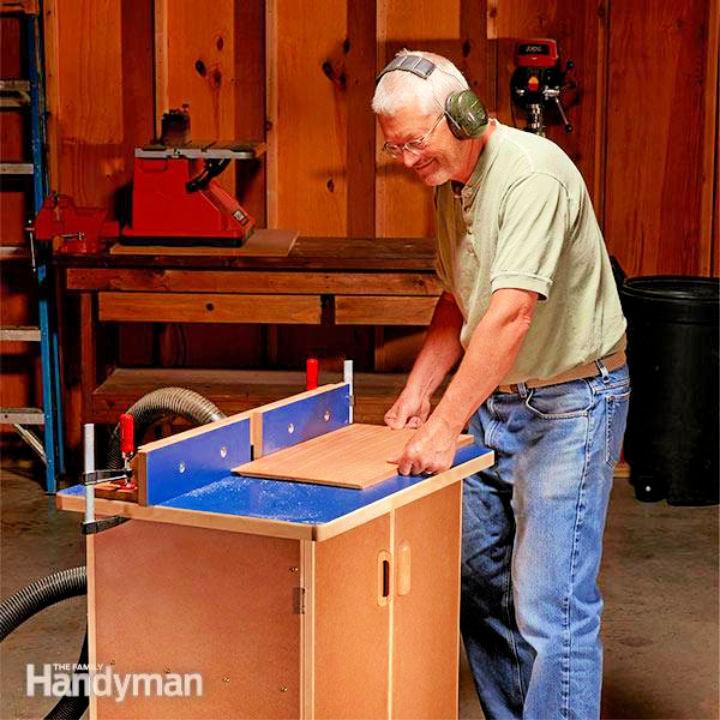 Handled routers look more stylish and easier to make. Moreover, it's much easier to work with handled routers on small-scale projects. You don't need to buy them from wood stores. Make it yourself with wood crafting supplies and electronics. For this, use clamps, drill, extension cord, hearing protection, tape measure, and table saw. You can work on table cases, fences, and sides separately for your ease. Additionally, you can build the drawers at the end while giving a smooth finishing to this handled router table. familyhandyman
7. Small Router Table for Beginners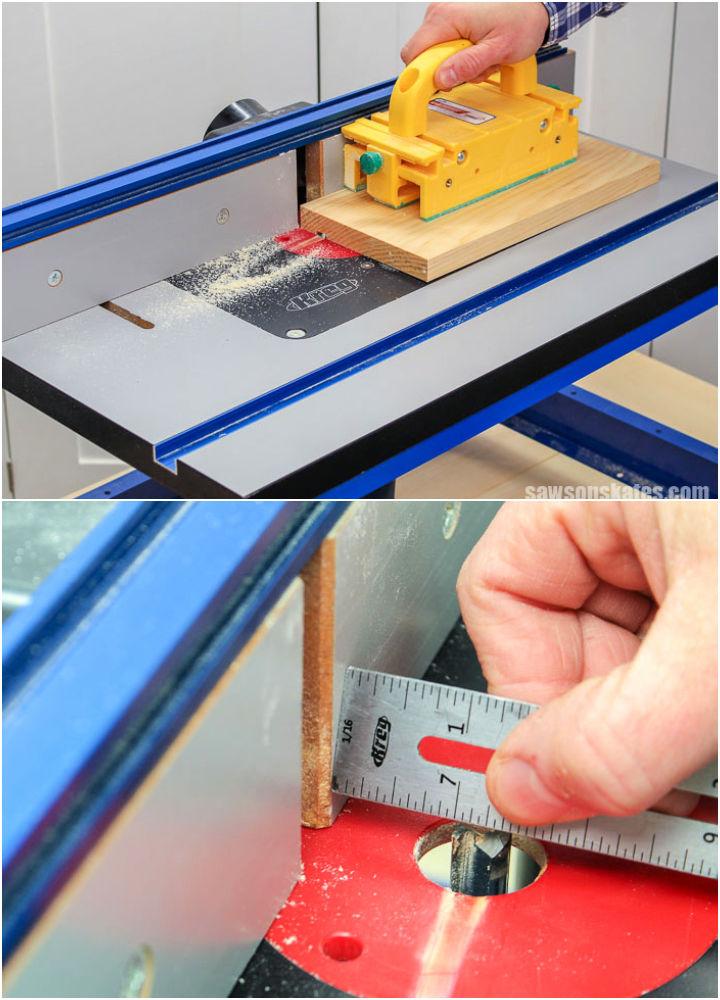 Are you looking for an affordable and easy-to-make router table plan for beginners? If yes, get guidelines from this written format. No doubt, there are several written formats and methods to customize the routers. But you need to choose according to your needs and specifications. You can use the same wooden supplies mentioned in the instructions, electronics, and wood crafting tools to make this effortless router table. It's better to get help from a pro to make a router table for large-scale projects. sawsonskates
8. Simple DIY Router Table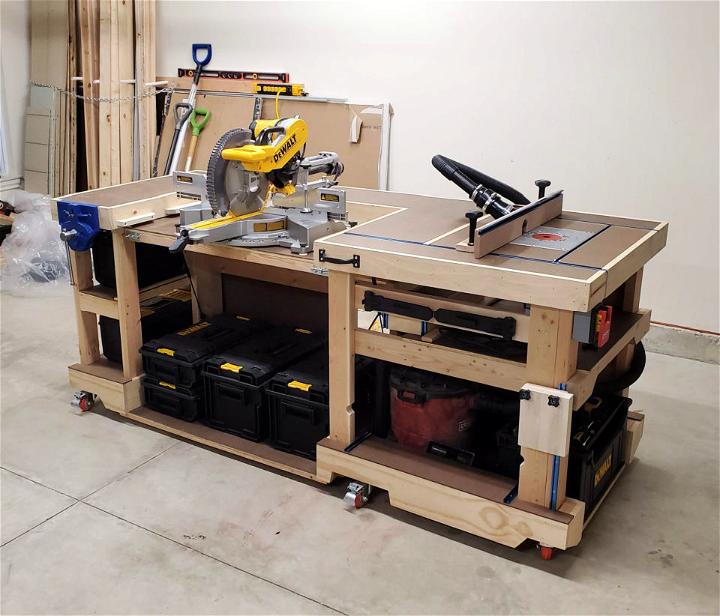 DIY This easy to make and simple router table with workbench leftovers. You don't need to buy new supplies and materials. Use the scrap and leftovers of other wood-crafting projects. Moreover, draw a template or pattern on paper before working on this project. In this way, you can complete it effortlessly and having all supplies on your hands. For this, you can also use plywood with a lot of clamps to offer support. imgur
9. How to Make a Router Table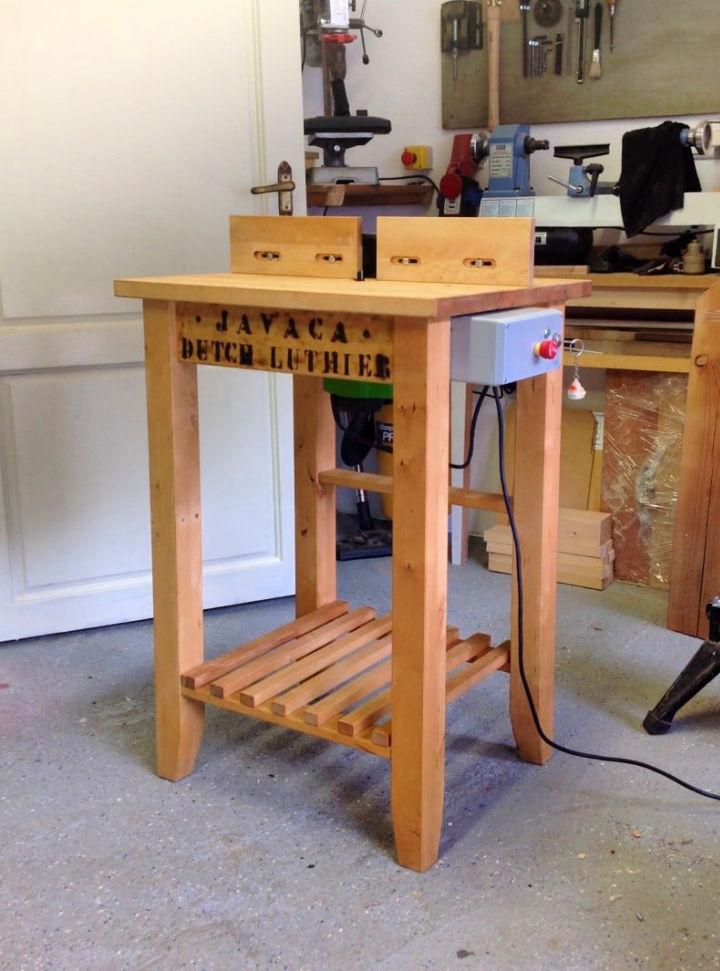 Make this super easy and productive router table for your wood crafting shop with reclaimed supplies. For this, you can use the kitchen trolley, spice racks, threaded inserts, and wood oil. The only thing you need to do to complete this project like a pro is drawing the paper's template. Once you have done with it, start cutting and customizing a beginner-friendly router table. Furthermore, use IKEA for making side drawers on this table. ikeahackers
10. Homemade Router and Saw Table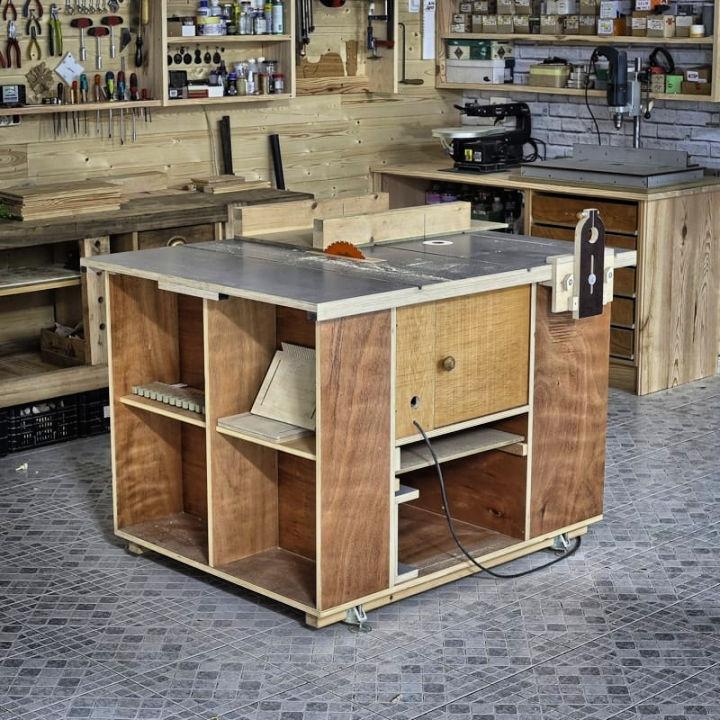 DIY an easy and super stylish router and saw table for small-scale projects. You can get hands-on with your DIY projects effortlessly and easily with this customized table. Moreover, you can also use this router table to organize all the craft accessories in the same place. This homemade table involves the horizontal router, cabinets with lids, vertical router, and box joint jig. You also add up more things according to your needs and specifications. paoson
11. Build a Benchtop Router Table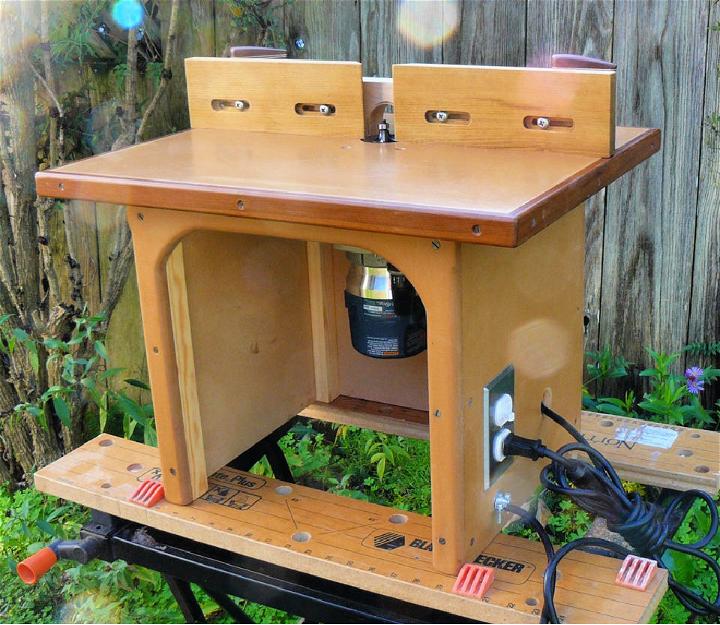 No doubt, the router table gives you great comfort and ease of work to complete your wood-crafting projects. However, it doesn't involve all projects. But you can make it yourself by getting help from written guidelines and instructions. It's much easier to customize a router table with a format. But if you are a beginner, you may face difficulty only while creating the table fence. So, a DIY router table plan is a great project to consider or work on a weekend. thewoodwhisper
12. Homemade 3D Router Table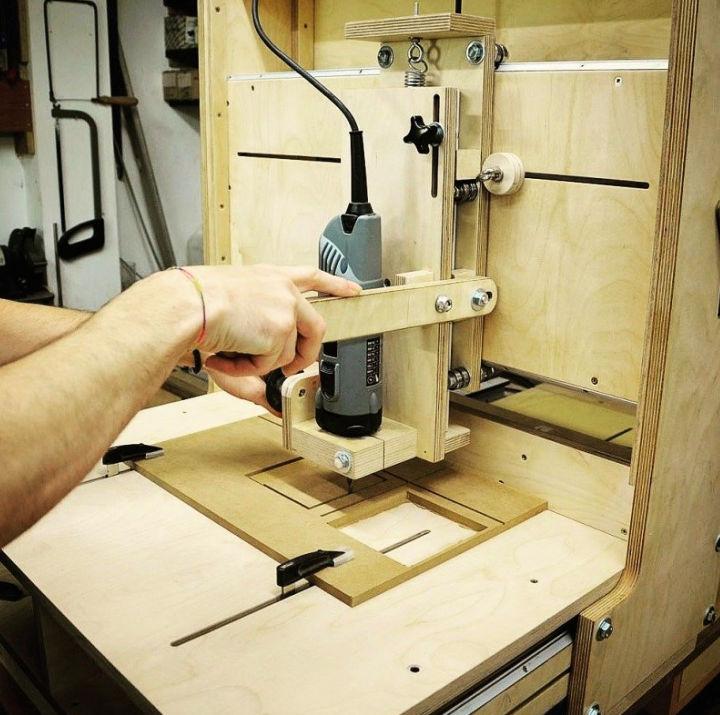 The 3D router table may look more critical and difficult to make. But you can create it effortlessly with a format and getting guidelines from a professional wood crafter. There are many CNC and simple router tables, but the versatility and cleverness of this 3D router table are the main things. You can gather all your craft skills and the best design for customizing this router table like a pro. One more thing, you can reuse a Paoson Lutheir router table for making this 3D router. magazine
13. American Woodworker Router Table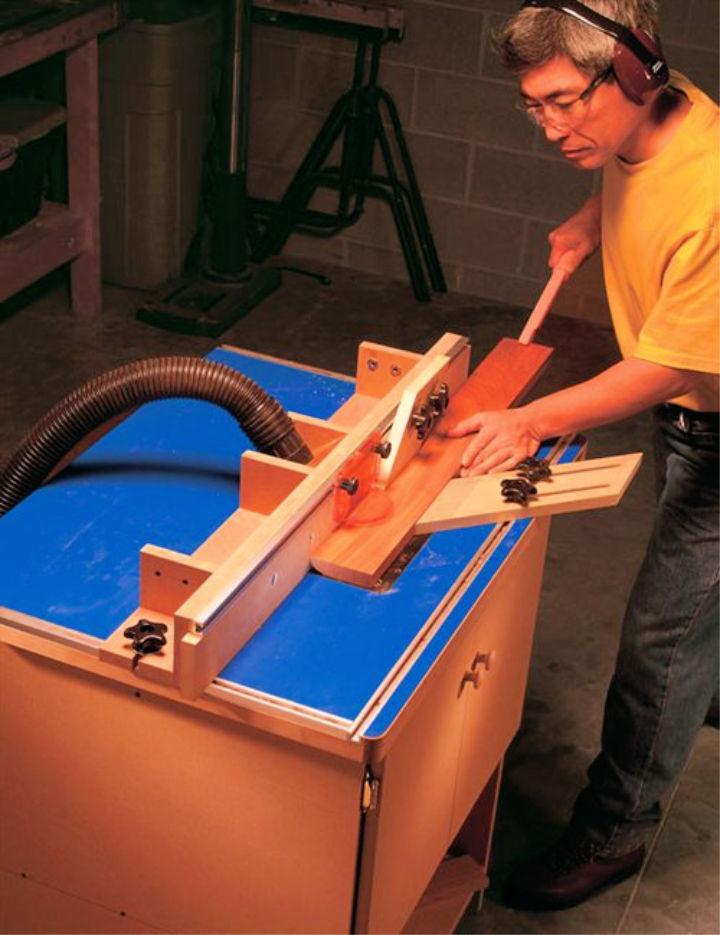 If you are looking for more productive and looking like a store-bought router table, this American router table is the best option for you. It consists of all the modern and well-maintained features to work on wood-crafting projects smoothly. The best thing about this project is that it is easy to build and budget-friendly. This router table involves the sag-free top, necessary fence, and an easy-to-make cabinet. You can work on each segment step by step and separately to make this project easier, even for beginners. popularwood
14. Cheap DIY Router Table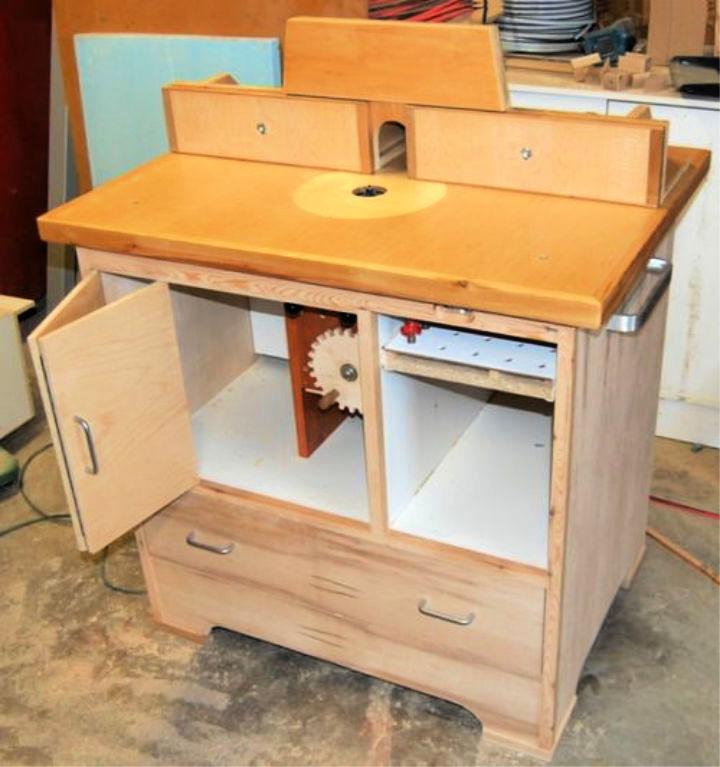 A cheap DIY router table is the best and ideal option to consider for small-scale crafting projects. You can make it yourself for your wood-crafting workshop with reclaimed and leftover supplies. This table has a built-in router lift with all necessary arrangements. Moreover, it has a thread on the backside for vertical motion. You can also use the hardboard instead of plywood to make the small gear in this router table. Moreover, you can also make changes whenever you want because of router uplift and tabletop distance. woodgears
15. Make Your Own Router Table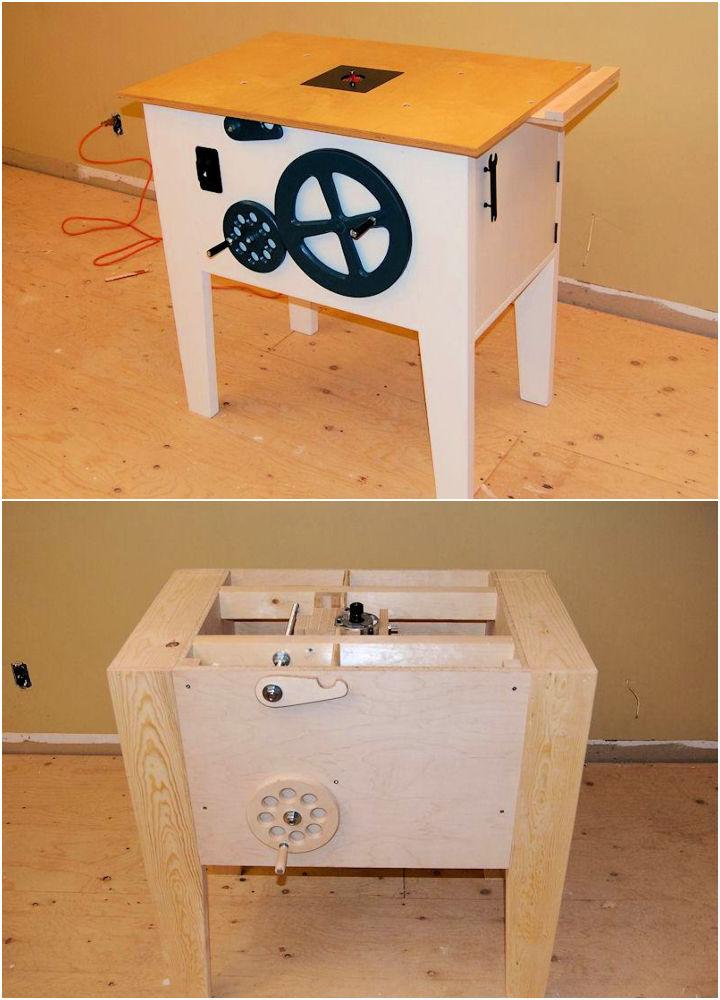 Make your own router table and use it for craft projects efficiently! This small and super stylish router table is easy to make. You can customize it in less time and effort as compared to a large router. Moreover, you also require limited supplies and materials for getting hands-on with this simplest router table. You can start work on this project with an inclined plane. Moreover, use birch or plywood for making the fence, cabinets, and top of this table. You require strong clamps and notches for adjusting the router motor on this table. ibuildit
16. DIY Adjustable Router Table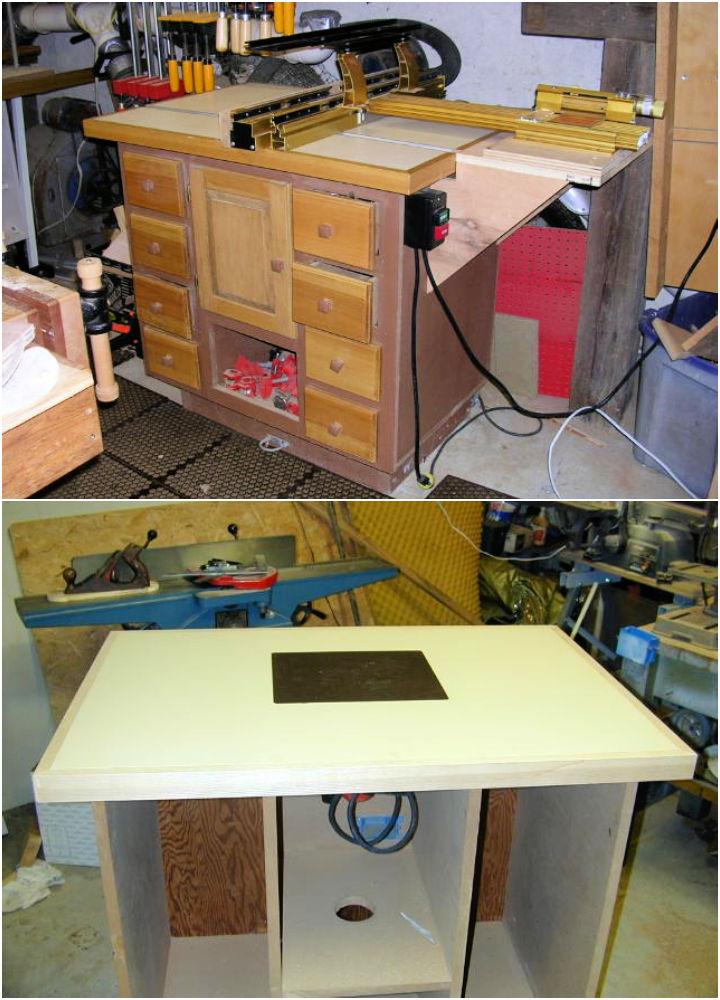 DIY adjustable router table super easily by following the step-by-step guidelines. For making this router, you can buy wood supplies and electronics from an affordable craft store. Once you have done cutting and assembling all the materials, paint this router table with acrylics paints. However, it's not essential to paint. But it would give a smooth finishing to your project. No doubt, this homemade router table will cost you less than a store-bought router. cerealport
17. Patricks Router Table Plan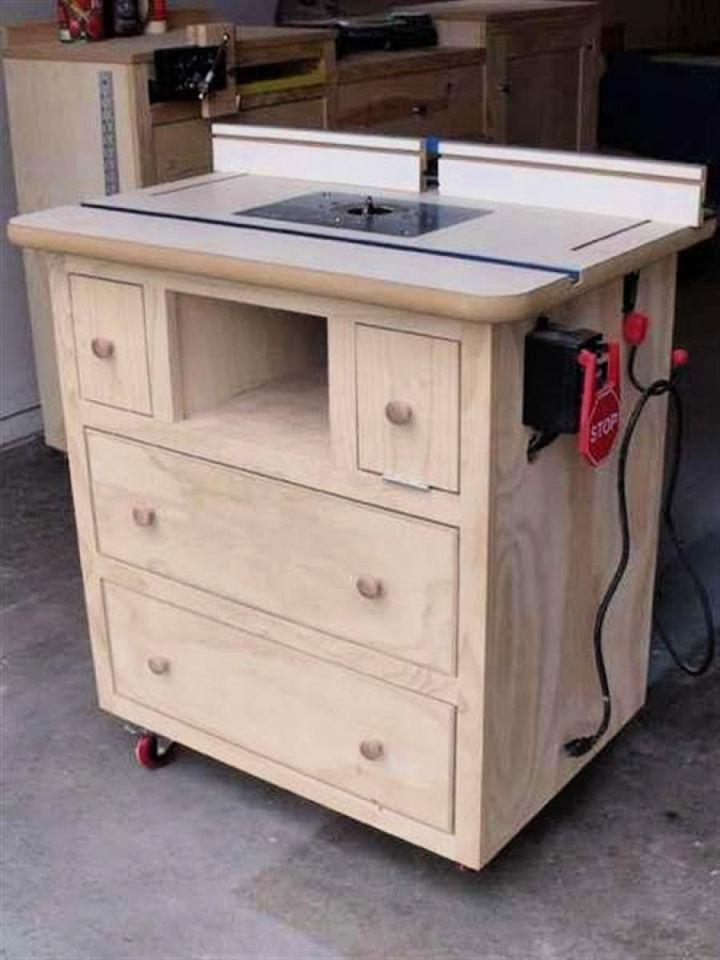 Have you seen the tutorial of Patrick and Gabriell Gallant's farmhouse router table? If yes, you can get inspiration from that video to make this Patrick's router table. This table involves all the modern features and parts like any other router, such as controlling switches and cords. Excitingly! You can get more storage space to organize all the accessories by customizing this table in your own design and format. ana white
18. Easy to Make Router Table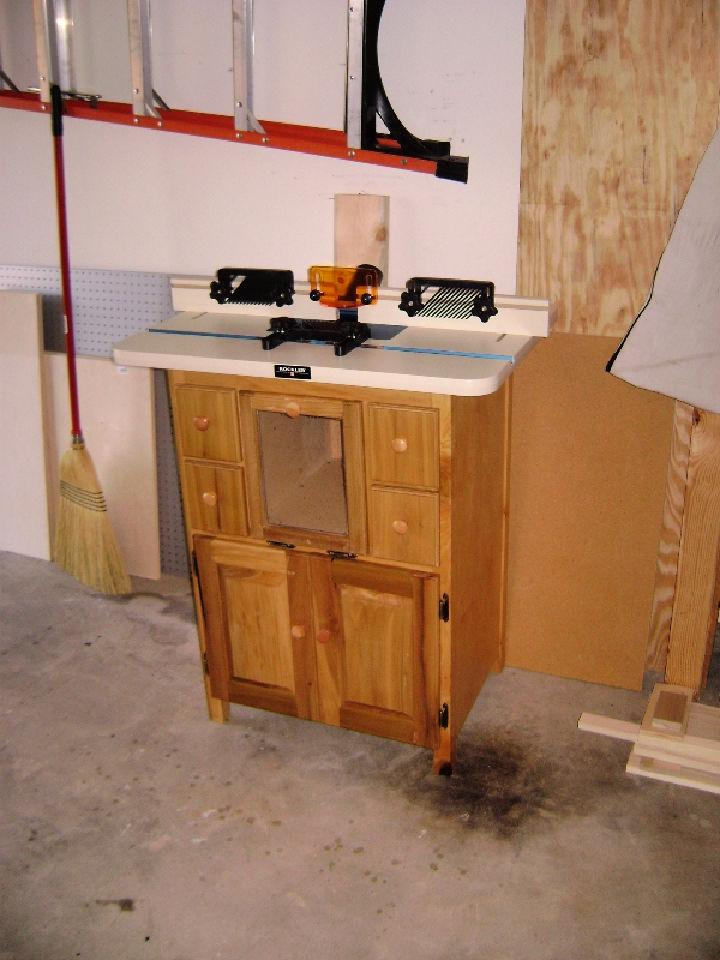 Well, there are a lot of plans and formats to make the simplest and complex router tables. To DIY this easy-to-make router table, you require the circular saw, clamps, standard drill, orbital sander, and pocket hole jig. You can also get help from written methodologies to craft a router table efficiently. Furthermore, you can use plywood for making the base and top of this table. Assemble drawers, fences, and tabletop using drilling tools and supplies. scottmoore
19. Router Table with Cabinet

Build a quick and super easy router table with a base cabinet. For this, use plywood sheets with different measurements, hinges, drawer slides, caster wheels, lag, and pocket screws. Firstly, assemble all the cabinets using drilling tools and screws. Moreover, make or install the drawers and attach the casters. Once you have done assembling, install the dust collector and other parts of the router on this customized table. Complete this project by placing a safety switch on the front side of the router table. instructables
20. Build a Basic Router Table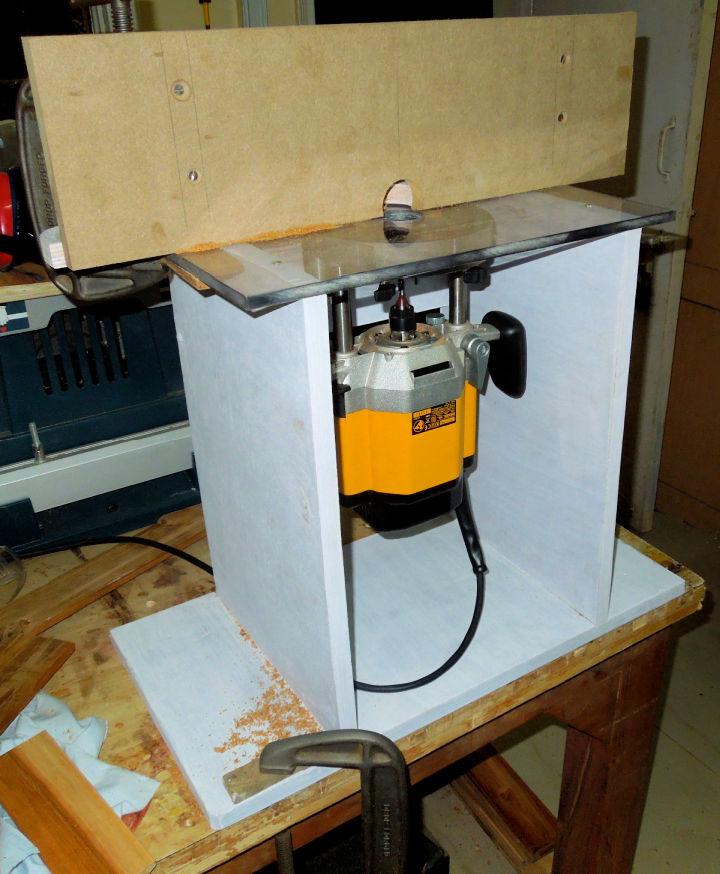 No doubt, the router is the ideal tool to consider for wood-crafting projects. Unfortunately, store-bought routers are not budget-friendly. Don't worry. You can make a router table yourself with a written format and affordable supplies. You can improve the functionality and safety level of crafting projects with this router. So, it's better to customize it yourself instead of buying at higher rates. For this, you can use the plywood with other electronics, drilling, and crafting supplies. You can also paint the wood with desired colors to make the router more good-looking. indiandiy
21. Making a Router Table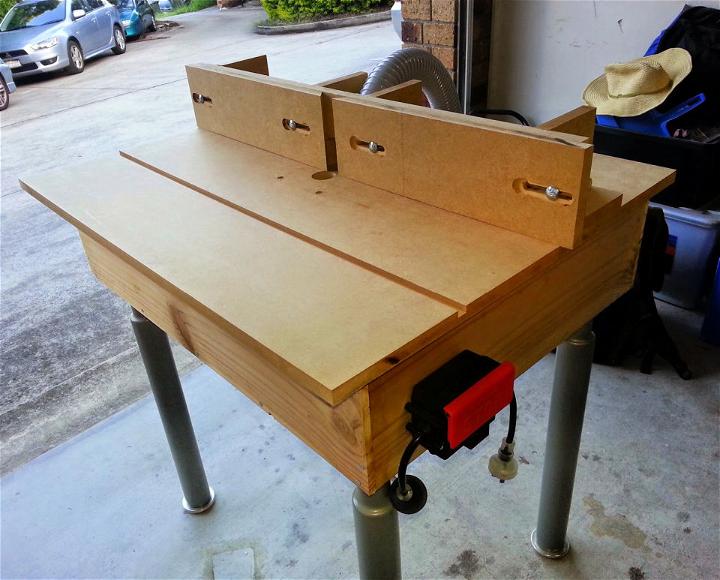 DIY a simple and affordable router table to complete your DIY wood projects smoothly. But before making this router table, you should have all supplies and required material and choose the right plan from our list of 30 unique and free DIY router table plans. Otherwise, it may become difficult and daunting to DIY a router table. For this, you can also draw a template on paper earlier. So, you can understand all the project's needs and requirements. Additionally, follow all the provided guidelines if you want to get a desired and proficiently working router. incompleteat
22. Build an Ultimate Router Table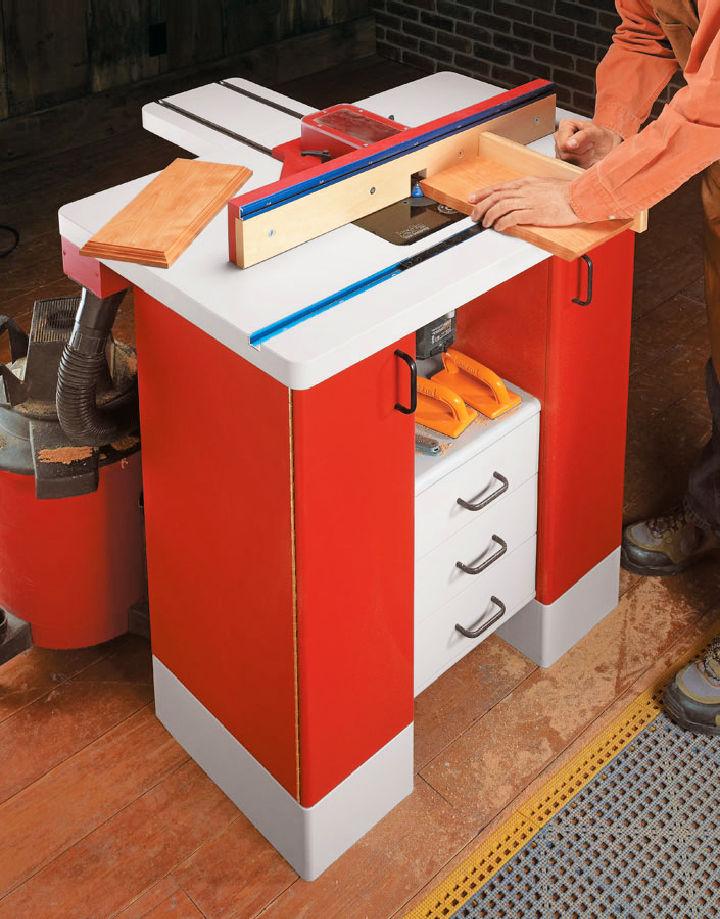 Build an ultimate router table stylishly and efficiently with MDF, hardware supplies, and electronic materials. This ultimate router also consists of a thick miter track to hold jigs and other accessories. If you are using the MDF for this DIY project, it will not cost you more than your budget. The best thing about this router table is that it also involves side storage parts. So, you can organize all the items and supplies effortlessly. lakewoodies
23. Router Table from Reclaimed Desk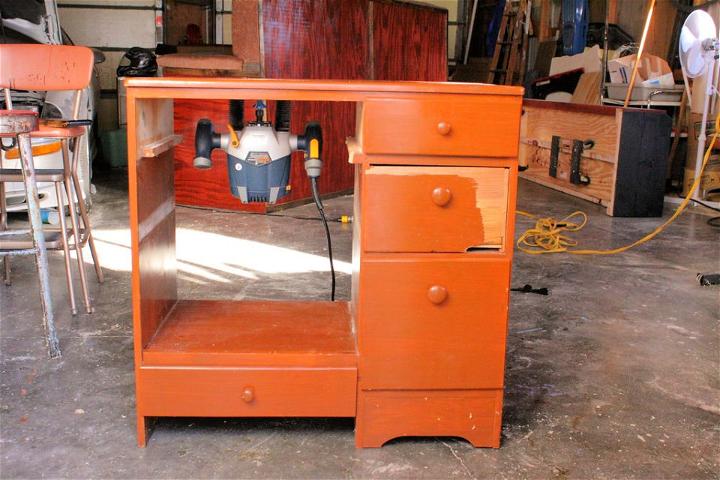 Do you want to create a router table without stepping out of your budget? If yes, you can reuse and reclaim the desk wood for this project. In this case, you don't require to buy or have any other wood supply. The whole things you require to complete this router are drilling tools, electronics, and caster wheels. However, wheels are optional. The only thing you need to do is drilling for mounting the router motor on this table. instructables
24. Build Your Own Router Table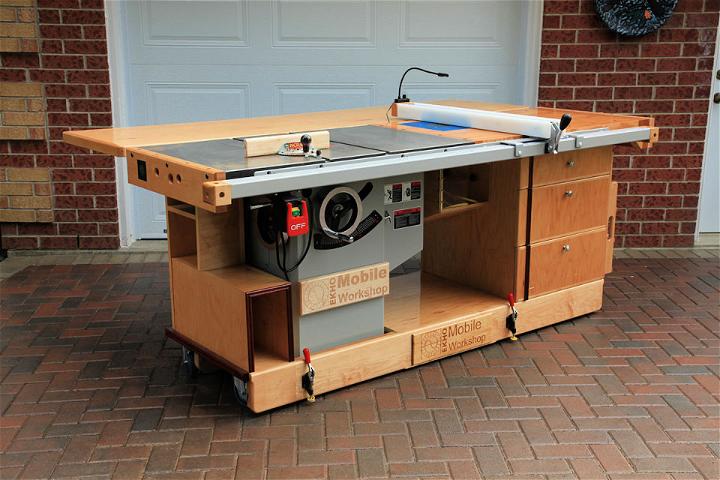 Build your own router table affordably with lumber. This DIY router table will cost you less than a store-bought router. Therefore, it's better to consider it for your crafting workshop. Moreover, you require a fireboard, drywall screws, drill, jigsaw, measuring tape, and pencil. Once you have all supplies in your craft store, start working on this project with step-by-step guidelines. One more thing, make it essential to wear gloves and masks while creating the router to save yourself from physical harm. buildroutertable
25. Mobile Router Table Combo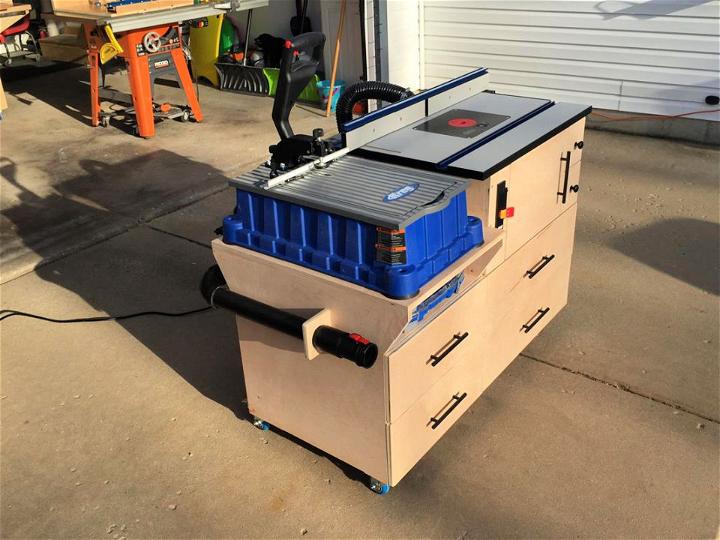 One of the best and most functional router table plans. Make mobile router table combo with plywood, locking casters, hinges, small washers, wood glue, cabinets, hardware handles, and knobs. Well, it's not a complete list of all supplies. Therefore, you can use the material and items according to your DIY project. The best thing about this router table is that you can move it easily wherever you want. You can increase the numbers of drawers and cabinets desirably and accordingly current provisions. kregtool
26. Create a Router Table

Create a router table by using the reclaimed and discarded wooden crate. The main reason for considering the recycled supply is to make this project more budget-friendly. If you don't have leftovers, you can also buy the plywood from a craft store at affordable rates. Excitingly! You can use and access the router machine conveniently with this DIY router table. Moreover, it also involves the dust collector at the backside. You can use the hinges and screws to adjust the collector and the router machine on this DIY table. imgur
27. Portable Router Table Base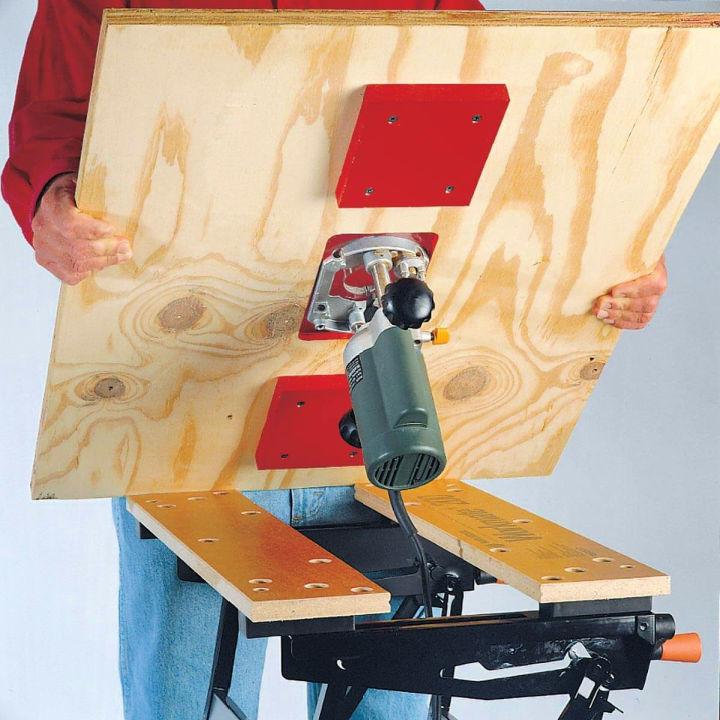 Use a portable workbench to make this super stylish and easy router table. The best and most suitable thing about this project is that you can reuse the workbench leftover and supplies whenever you want to make a router table. For completing this base, the only thing you need to do is adjusting the workbench portably. You can use the drilling and screwing items to get you hands-on with this DIY project smoothly and like a pro. familyhandyman
28. DIY Trim Router Table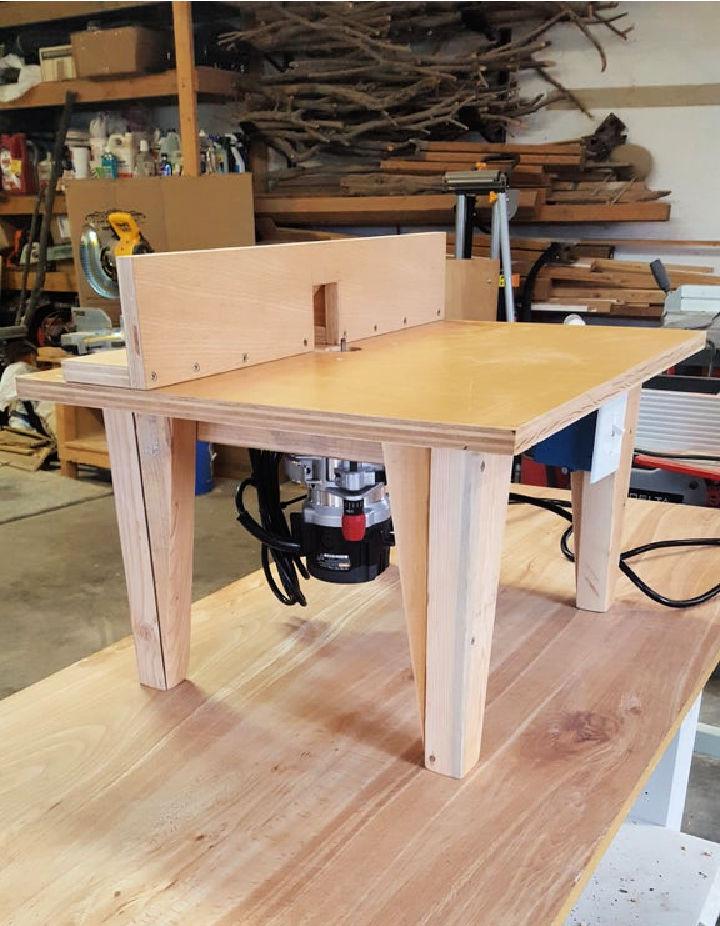 DIY a simple trim router table yourself with appropriate guidelines and instructions. For this, you have to choose a suitable piece of wood. So, you can make the base of the table, fence, and dust collector efficiently. However, you can also include the drawers in this trim table. But only if you desire. Otherwise, it's not essential. Moreover, use the drilling tools, screws, wheel casters, jig, and table saws for customizing this super easy router table. instructables
29. DIY Router Table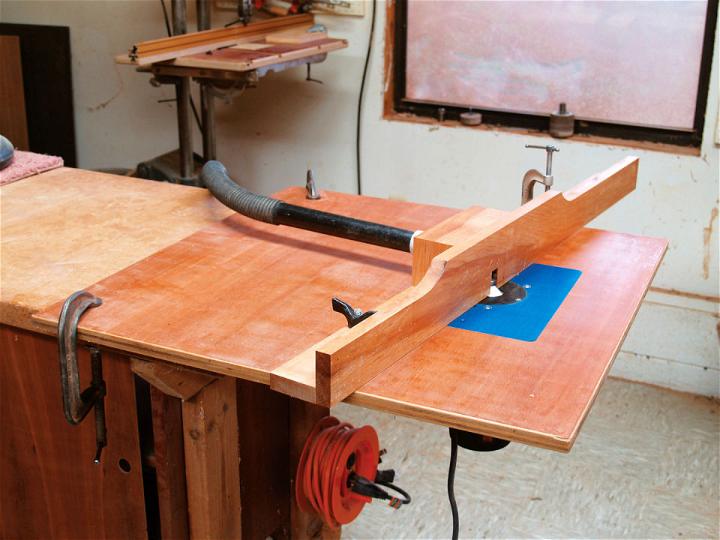 Do you want to adjust your router in the workshop effortlessly and budget-friendly? If yes, you can create a table by yourself for this purpose using our list of most useful router table plans. Use the plywood sheet with specified measurements to make this table base. Moreover, you can also include other features such as a fence, dust collector, control switches, and an easily accessible router to this plan. Therefore, it's better to design a paper and get pdf print from an online format. popularwood
30. Portable DIY Router Table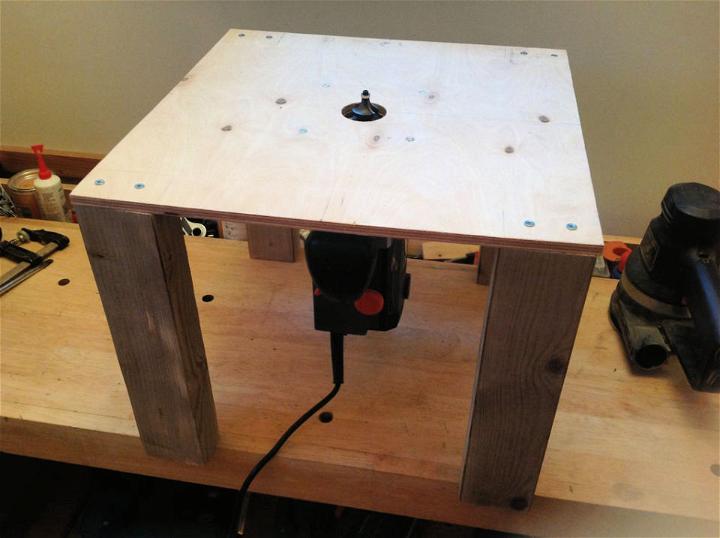 If you face difficulty using a router just because of inappropriate placing, you can DIY a simple and affordable table for the router. For this, you can use the plywood sheet for the base and legs of this table. However, you can also use any other type of wood supply for creating this router table. Additionally, use the drilling tools and screws for crafting an easy-to-make DIY router table. Luckily! The beginners can also work on this project. instructables