Providing a designated spot where kids can read, write, paint, draw and study can bring tons of comfort to the learning phase of kids. So, go with these 25 cheap and easy DIY kids desk plans that can be installed in any space and set to gain a learning station for your childrens in no time. These diy kids desk ideas involve all the popular creative, stylish, and modern wooden desks that everyone can build at home. So you will get the ultimate kids workstation at a fraction of the costs. They will be expensive to buy from stores, especially when selected with custom designs, sizes and features.
So, browse this collection of 25 free DIY kids desk plans and see a wide range of ready-made kids' desk samples made to suit different needs and settings. From storage-friendly desk designs to space-savvy wall mounting or folding down desks to height-adjustable desks, you will learn here to build all sorts of DIY desks like a pro. These ideas will unveil all the professional secrets and hack to make you construct a beautiful desk easily and quickly.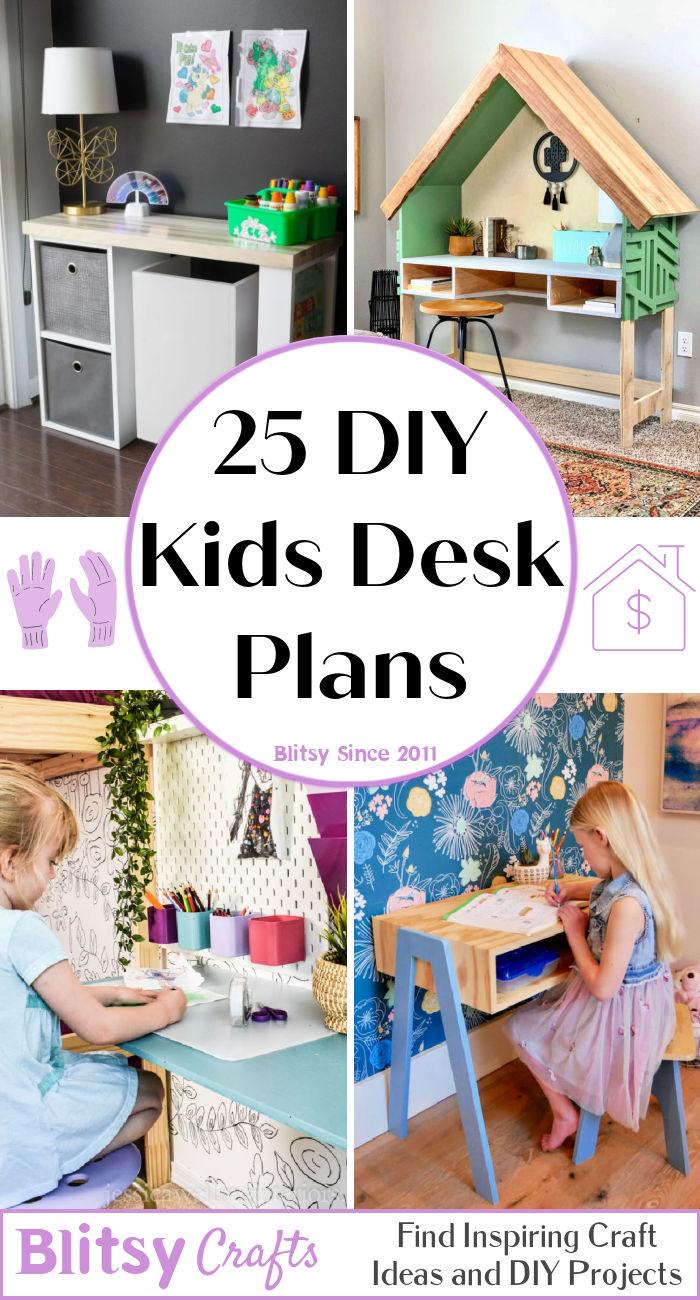 These homemade diy kids desk plans will provide plenty of IKEA hacks to help you build ultimately functional and modern desks, which will be loved dearly by all the kids. This desk will help organize a kids' workspace, and you can also decorate them according to your kids' personality and interests. There are DIY kid desks plans here for all skill levels from beginner to intermediate to advanced.
You will learn to build all the popular kids desk designs from home-shaped wooden desks to A-frame wooden desks to copper framed desks. Finally, you will learn here to build instant beautiful kids desks out of recycled cardboard boxes also.
1. DIY Childrens Desk with Storage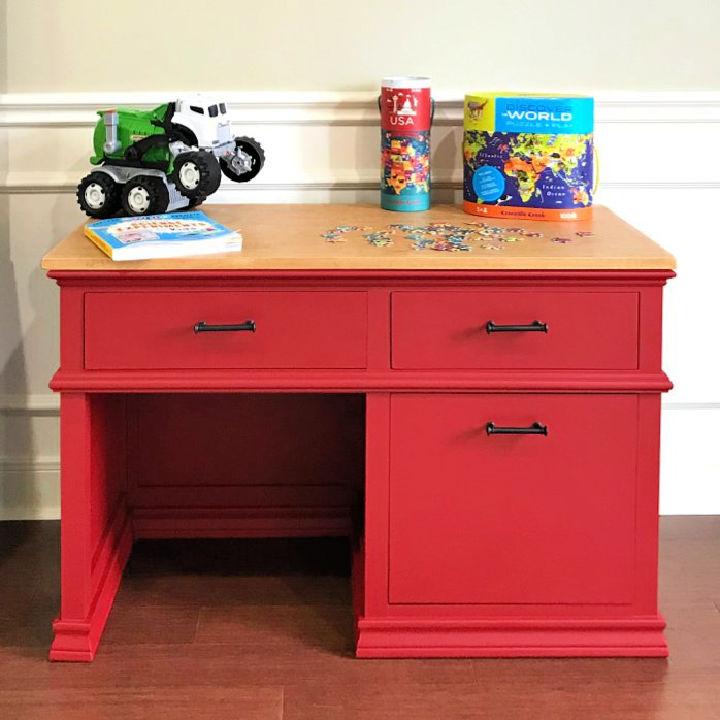 Whether your kids love to be crafty or spend their time productively making drawings or paintings, a desk will be a big need. So, before the expensive desk purchases start making you worried, pick here the simple solution to get a beautiful deck with a customized layout and features. Yes, this project will teach how to build a fabulous storage-friendly kids' desk without getting expensive. The design comes with a blanket wooden top but a painted base containing 2 drawers and a cabinet. You need edge banding, plywood, high door casing, cap molding, panel moulding, cove moulding and 2×2 dimensional lumber, and 16″ bottom-mount drawer slides to build this desk. abbottsathome
2. DIY Toddler Art Desk

Are you working on increasing the dexterity of the kids? Just indulge them in art and crafts. This hand-built wooden desk will make you do that easily. Build it yourself with a handful of cheap materials. You need a cabinet front with door and a drawer, 1x3s pine boards, plywood, 4 wood furniture feet, 4 tables, let mounting plates, paint and chalkboard paint to complete this project. The required tools for the construction and assembly will be a wood clamp, sandpaper, and other woodworking tools. A best little toddler's desk with storage. hallmarkchannel
3. DIY House Frame Kids Desk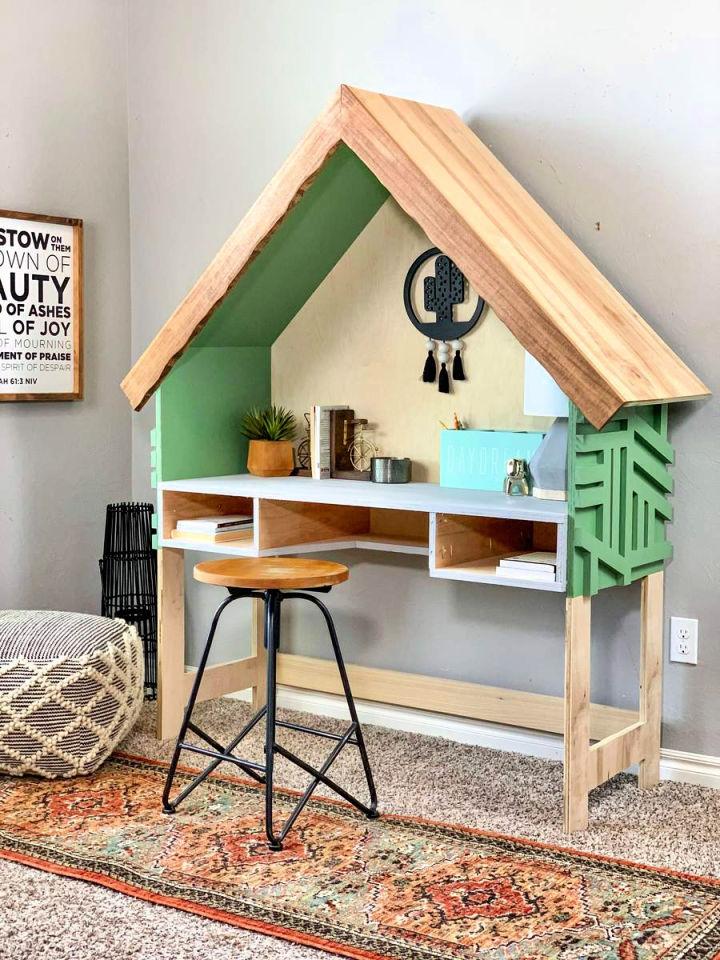 Here you will see a scarce and unique design of a wooden kids' desk, impresses with the home-shaped shaped frame. It provides built-in storage compartments where users can organize the books and other important gadgets in storage features. Employ this desk for laptop opening, do art and craft, and do the routine homework. You need 1x4s poplar boards, 1x2s pine boards, plywood, chalk paint, Behr Ultra Laurel Tre, and varathane stain in the walnut shade to whip up this exclusive model of kids' desks. handmade haven
4. Build a DIY Kids Desk with Storage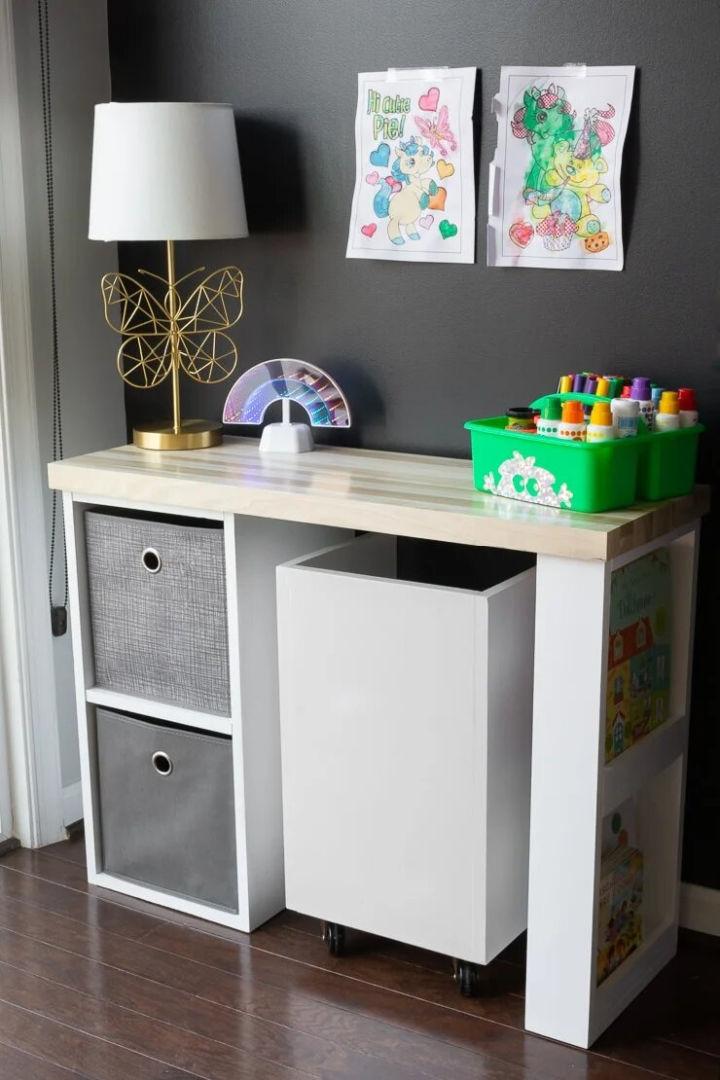 Are you brainstorming to build a simple yet beautiful desk for the kids? Then time to build this simple kids desk that comes with storage also. The desk impresses with the sleek modern wooden top, file cabinets and also with side storage pockets. You need poplar for the top, metrie project panels and regular old pine for the base, 11″ fabric cube storage bins, wood filler, white semigloss latest paint, Zinsser primer, varathane matte water-based polyurethane, Kreg jig K4 and other woodworking tools to duplicate this outstanding looking desk design with awesome storage. bybrittanygoldwyn
5. Small Child Size School Desk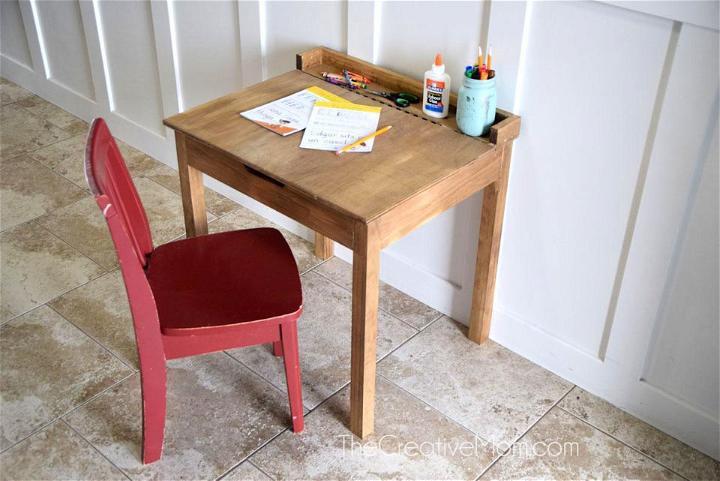 Sorting out an easier and quicker DIY kids table project that all beginners can do? Then start building this phenomenal wooden desk from the list of free school desk plans, appearing in the small child size and is easy and quick to build. Here, you need to build a simple table-like design with a little holding panel added to the back end of the top. The design looks pretty rustic and is super easier to achieve also. The desk will rock for smaller kids and not take that too long to the right in the kids' rooms. Inwood supplies, you need 2x3s, 1x4s, 1x2s, and plywood to build this epic desk design. Use Kreg pocket-hole jig for amazing pocket hole assembly of it. kregtool
6. DIY Kids Floating Desk Tutorial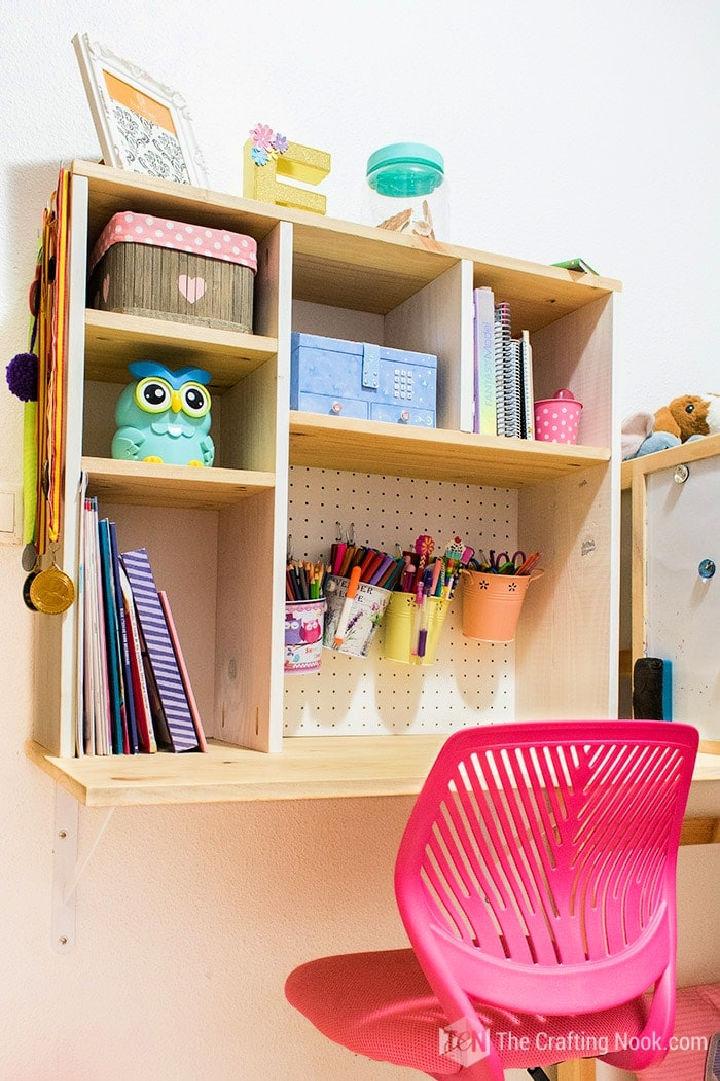 Still, have a beautiful and storage-friendly desk in your need-list when going short on money and floor space? The outstanding solution is to build this floating desk for kids, beautifully holds the supplies and materials, and provides a pegboard to organize the stationery buckets easily. Finally, the design ends with a great flat bottom deck surface for both reads and writes purposes. It will rock for doing some great art and craft projects too. You need pinewood, plywood, pegboard and your woodworking tool kit to complete building this amazing wooden desk. thecraftingnook
7. How to Make a Kids Desk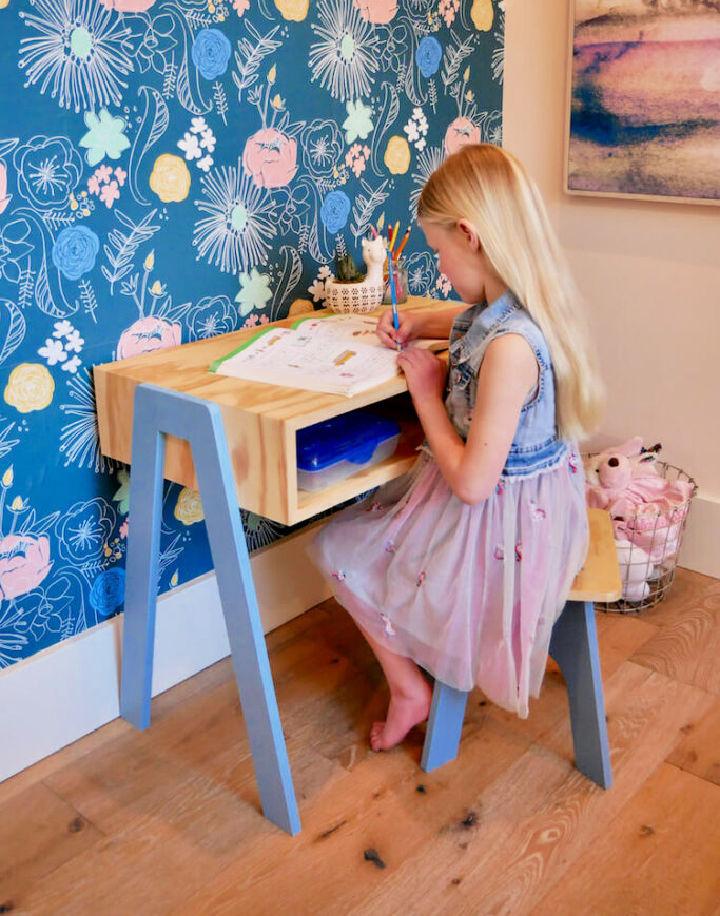 You need an intermediate skill level and about $25-$50 to build this kid's desk. Looks amazing with the A-frame sides and legs. You need an intermediate skill level to build this lasting, beautiful wooden desk design, which will be completed in a day. The project will provide free downloadable plans also to easily duplicate it for your kids, the best handmade gift to make for them. You need plywood, iron-on edge banding, wood glue, and your woodworking tools to complete this project. The whole model is assembled through a pocket-hole joinery system. Don't forget to build a matching chair. Here the legs are painted, but the box-style top is left blank. rogueengineer
8. DIY Kids Desk Plan with Storage Drawers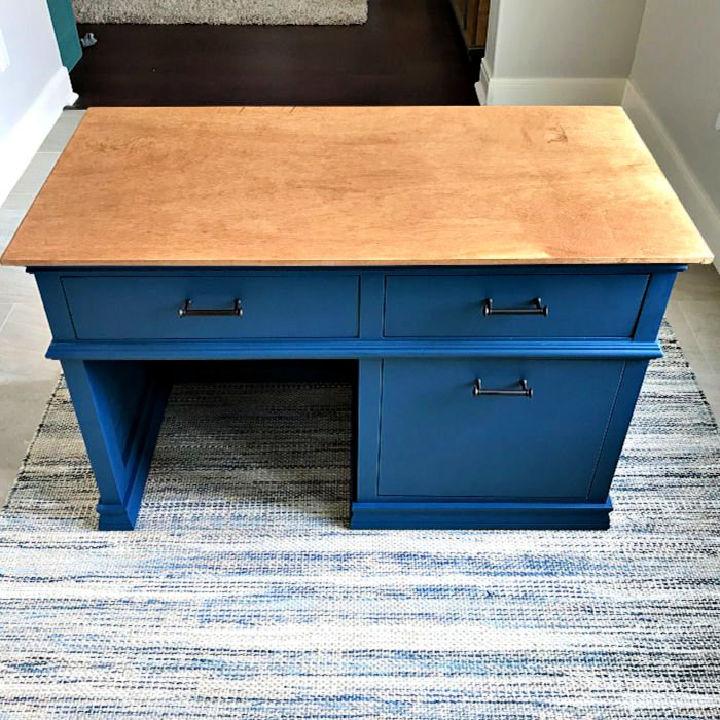 Follow here plans for building an outstanding kids desk that offers storage drawers for a super secured type of storage. The design is achievable even for a beginner and looks beautiful with the painted base and a blank wooden top. It features a different type of molding for a graceful appeal. You can use various types of wood, including plywood, to achieve this super elegant and beautiful wooden desk design. It will never quit the style trends. Two drawers, a cabinet, and a big wooden blank top accent feature this outstanding kids' desk with storage drawers. abbottsathome
9. DIY Kids Craft Desk for Under $50

Follow here guides and instructions to build a fabulous craft desk and crafting station for the kids while spending less than $50. The design is capable of holding a variety of supplies and materials quite carefully and beautifully. You need a perforated pegboard panel, adjustable folding sawhorse, MDF panel, pegboard mounting spacers, pegboard wire brackets, pegboard organizer kit, home bucket and lid and flat head screws to build this lasting longer design of the wooden desk. It will make a better handmade gift to a favorite kid and person for sure. handmadecharlotte
10. Wall Mounted Corner Desk in Childs Room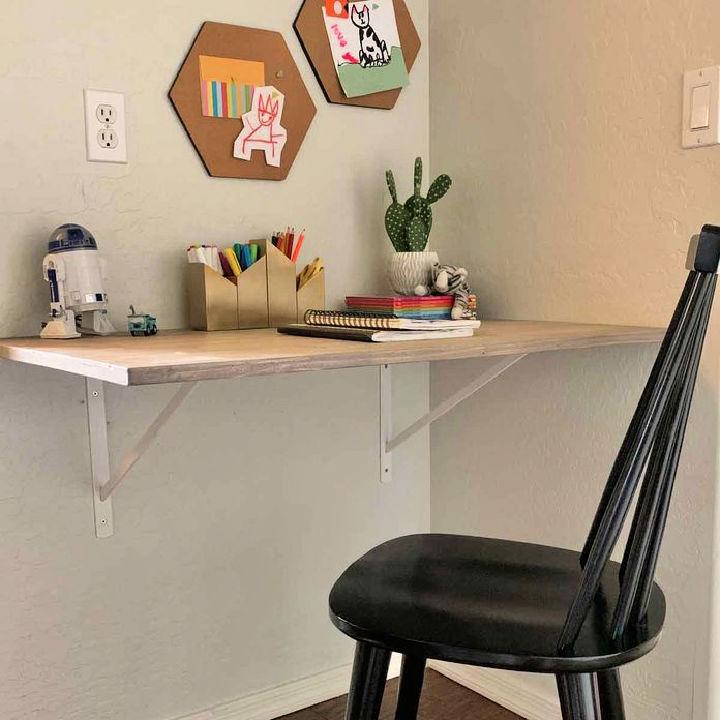 This wall-mounted desk will rock for every room where you lack space. Simply install the bigger metal brackets on the wall to hold a large wood panel, and this will instantly give you a mind-blowing wall-mounted desk that you can complete simply in less than an hour. The whole project will cost you around $20-$50, and you will love the way it will serve the crafting-loving kids. The kids can do the homework and other assignments on it also. You need a metal shelf bracket, precut board, wood conditioner, wood stain and custom assembling hardware to duplicate this desk. familyhandyman
11. Copper Pipe Childs Desk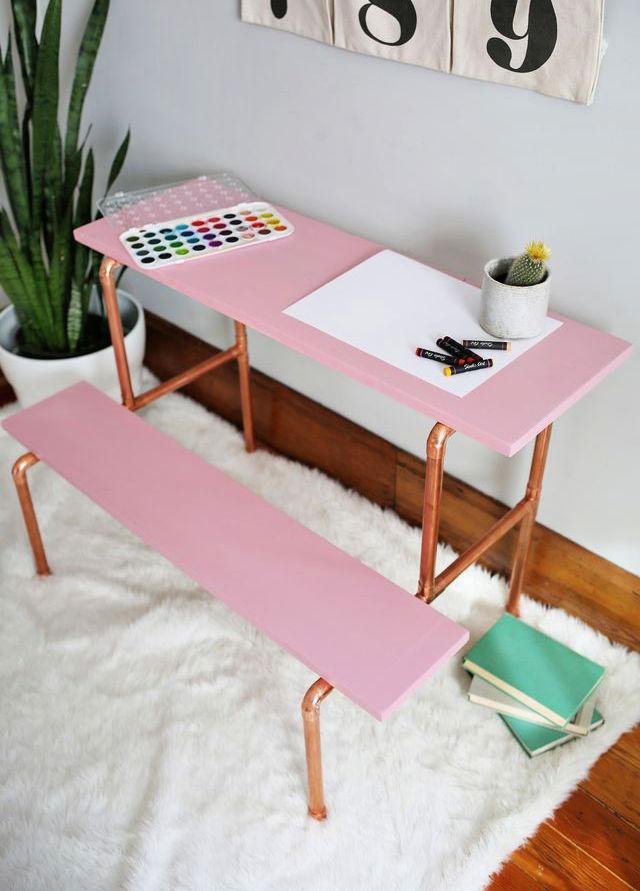 This handsome desk design is aimed to last longer. It comes with a copper metal pipe frame and has surfaces made of wood. What makes the design of the desk unique is the attached bench or seat. Both desks and seats have been built right on the standard height level, and this desk will rock for all purposes for sure. To complete this project, you need copper pipes with fittings and joints, pinewood boards to build bench seats and tabletop, light pink spray paint, clear enamel, and custom wood hardware and finishes. The project is more than easier to do and makes a sweet handmade gift also. abeautifulmess
12. DIY Adjustable Art Desk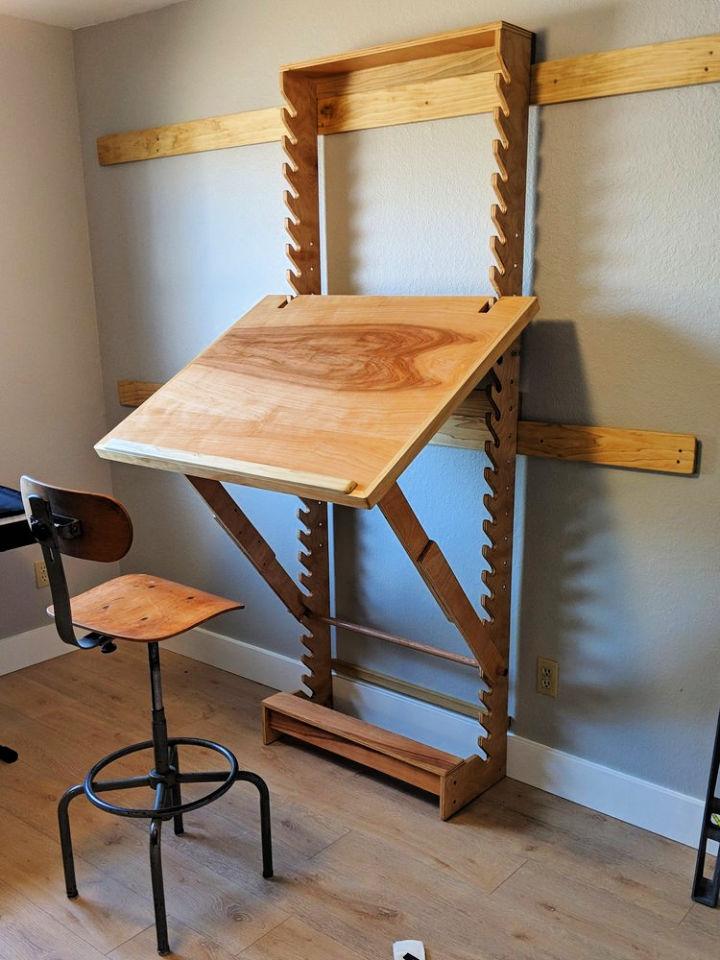 Amaze your friends and kids by building this unique and super functional design of a wooden desk. What makes the design one-of-a-kind is the adjustable height and angle ability. Adjusting the desk to any height level and angle makes it suitable for many different projects and purposes. You will get detailed diagrams and written and visual instructions to easily build this affordable and wonderful desk design. Almost the entire design is made of plywood, and everyone will love to build it and own it. One of the best DIY kids' desks ever made. imgur
13. Wall Mounted Drop Down Desk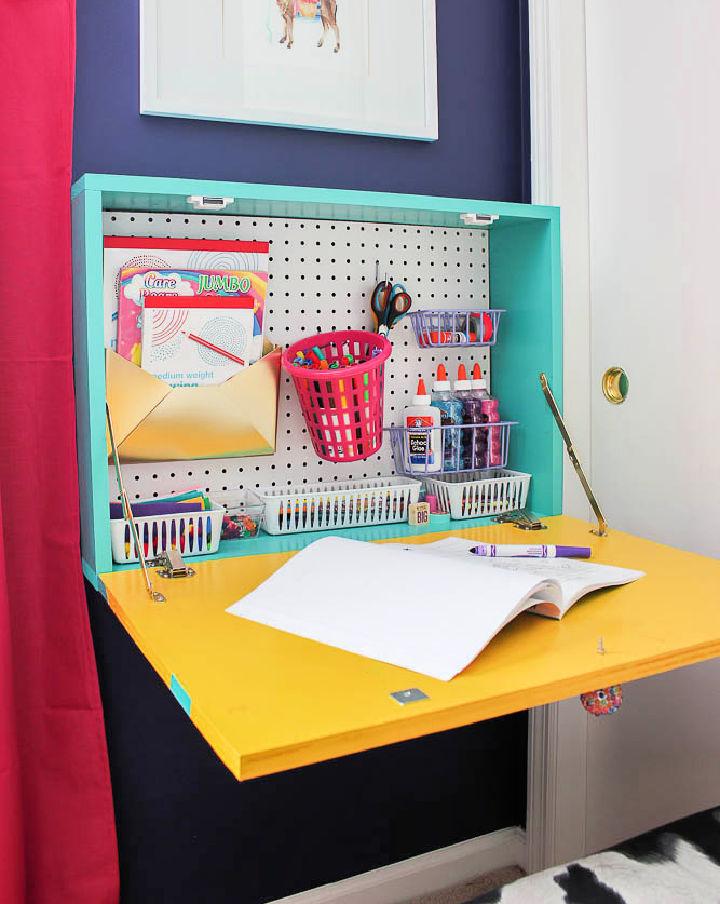 The things done smartly always grab the extra attention of the audience. The same will do this wall-mounted drop-down desk, which can easily be stored flat on the wall when not in use. It amazes with the brilliant pegboard storage that is fixed on the wall as a cabinet. The front door drops down to provide an instant desk surface. Durable hardware is used to hold the surface flat in place. You need 1x8s, sanded plywood project panel, 1x2s furring strip, pegboard project panel, magnetic door catches, 90-degree surface mount hidden spring hinges, pegboard hooks, pegboard baskets, lid support left & right hinges, paint, knob and custom woodworking tools and hardware to build it. rainonatinroof
14. DIY Plywood Kids Desk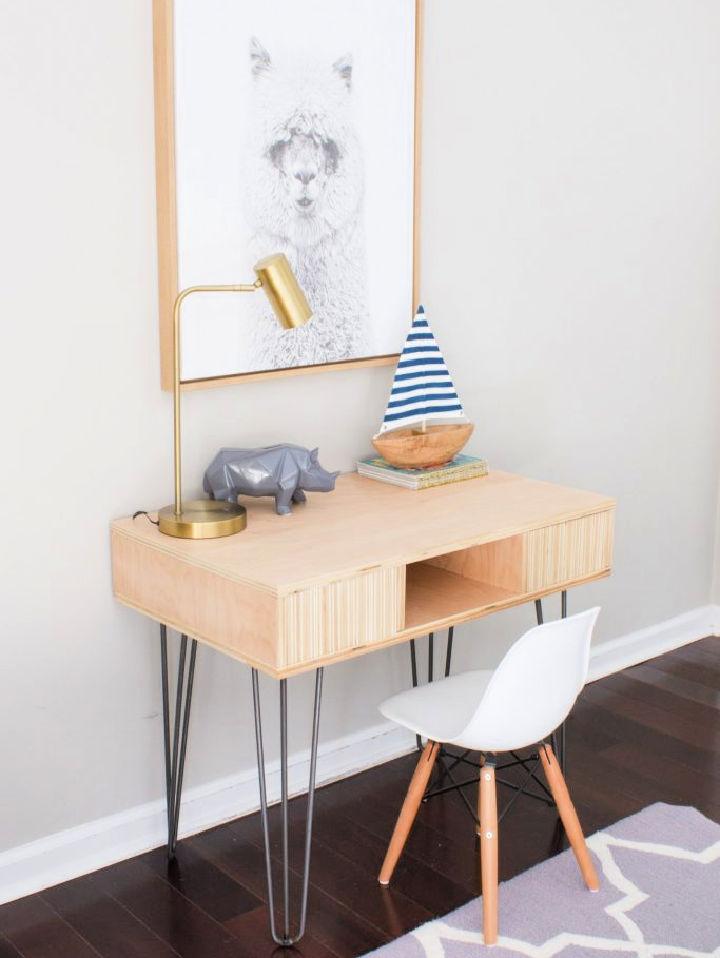 A big thanks to plywood for this adorable, stylish and modern kids' desk creation. The desk stands on the metal hairpin legs and is easy and quick to build also. You need this pure bond plywood, circular saw, miter saw, pocket hole jig, small magnets, hairpin legs, Minwax polycrylic satin and paintbrushes to complete this project. Browse the project details to get the complete list of hardware also one of the best DIY desks to build at home in no time. The built-in storage options are the most surprising feature of this wood-metal desk. erinspain
15. Kids Wall Desk for Room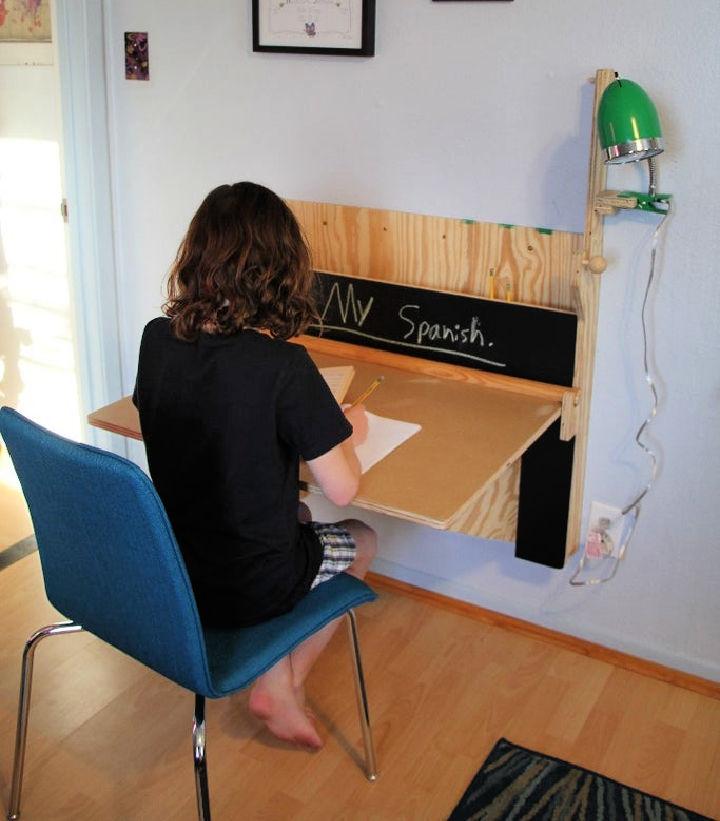 Why use the floor space as you can build durable and stylish desks on the wall? So, make the kids' rooms look smarter by adding this wall desk, quite something quick and easy to build with minimal wood and hardware supplies. When stored on the wall, it will be like a simple flat surface of the chalkboard. The user can adjust this desk to two different angles to serve the purpose best. The desk surface also pivots on a wood dowel that helps adjust its movements. You need MDO plywood, 1 ⅛″ wood dowel, ply, and ply to build this wall-mounted desk. The design also comes with a book rack is looking amazingly cute with the chalkboard painted surfaces. instructables
16. Cool DIY Pop up Desk for Kids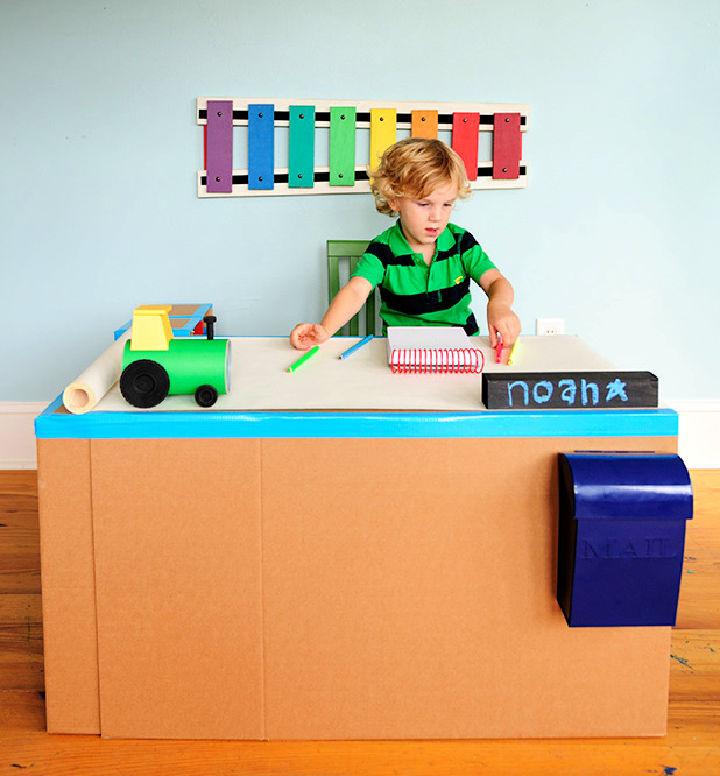 Willing to build some instant beautiful desks for the kids? Then opt for the empty cardboard boxes also. Yes, you can put together large boxes to serve as desks, and small boxes can be added as brilliant desktop organizers and storage options. Get inspired by this popup cardboard desk that is insanely cute and beautiful to look at and can quickly be made with no experience at all. You need two 20″ x 24″ cardboard boxes for the main desk, a 14″ x 14″ cardboard box for the milk crat file cabinet, two 6″ x 6″ cardboard boxes for the storage cubbies, 8 binder clips and one roll of duct tape to build this lasting longer and beautiful kids desk. potterybarn
17. DIY Kids Desk on a Low Budget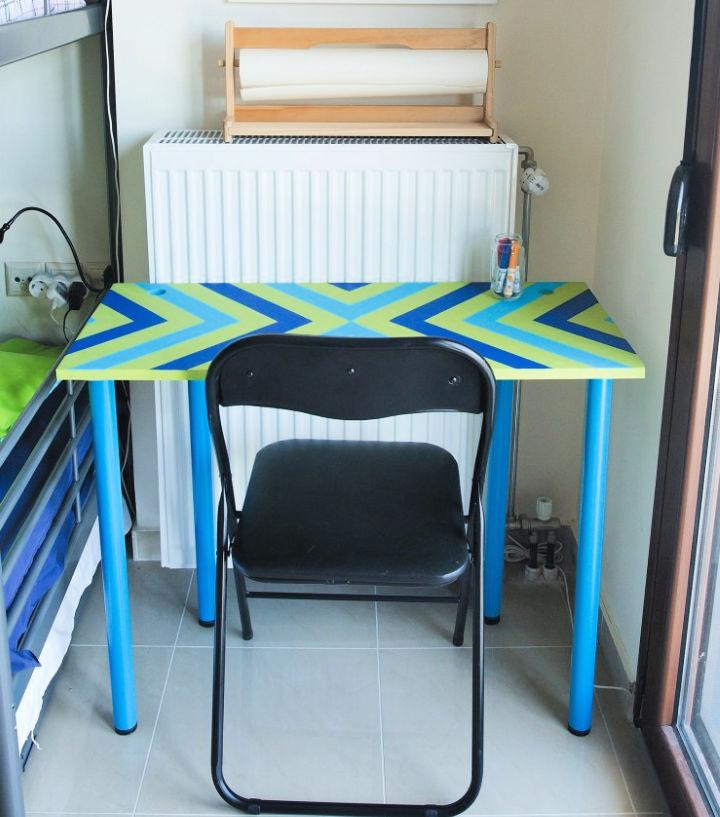 Want to build a lasting longer yet stylish desk for the kids even when being on a budget? Then duplicate this desk that will cost you next to nothing. This desk here is a brilliant IKEA hack and sure to be loved by all the kids. You need 1″ thick adjustable IKEA legs in the color of choice, a piece of wood, metal plates, paint and painter's tape to build this fetching kids desk. You will get here guides also to paint the perfect chevrons on the desktop. Finished the painted chevron surface with clear varnish and installed the IKEA legs using plates. Each IKEA leg will cost you about $3. sixcleversisters
18. Make Your Own Kids Desk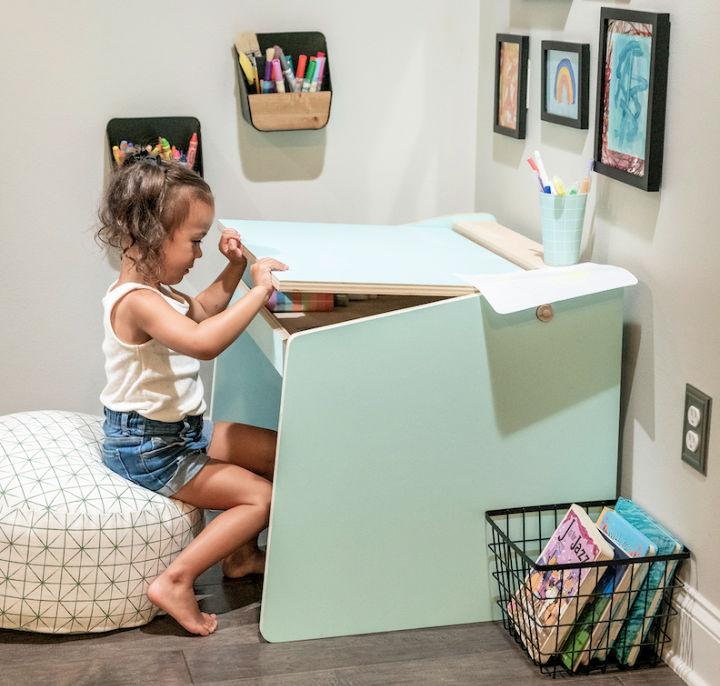 During the learning phase, the desks are the best companions of toddlers and kids. They provide an instant comfortable surface where kids can express themselves by doing their favorite drawing, painting, and art & craft projects. So, build this desk for your kids will be the ultimate learning station for them. You need plywood, 2x2s, ⅜″ wood dowel, drill bits, wood glue, sandpaper and 1 flat head Phillips screws to construct this stand-out design of the wooden desk. The desk also provides lift-top storage and can be painted in any color to match the kids' room decor. For more ease and comfort, the desk surface here comes at a sloped angle. harttools
19. Kids Homework Desk Ikea Hack

Let your kids do the homework quite efficiently by providing this homework desk. Again a brilliant IKEA hack is here helping you out to build a lasting longer and beautiful kids' desk. You need IKEA Sundvik kids' table and chairs, 2 plastic cups, 1 quarter interior home paint, white and green crafting paint, 1 nylong paintbrush, dauber crafting paintbrushes, painting tarp, sanding paper, drill and hole saw to complete this DIY wooden desk project. Cut out two big holes in the desktop to fit in the stationery holders and use the paint and paintbrush to paint the small and big circles. twosisterscrafting
20. Easy to Make Kids Desk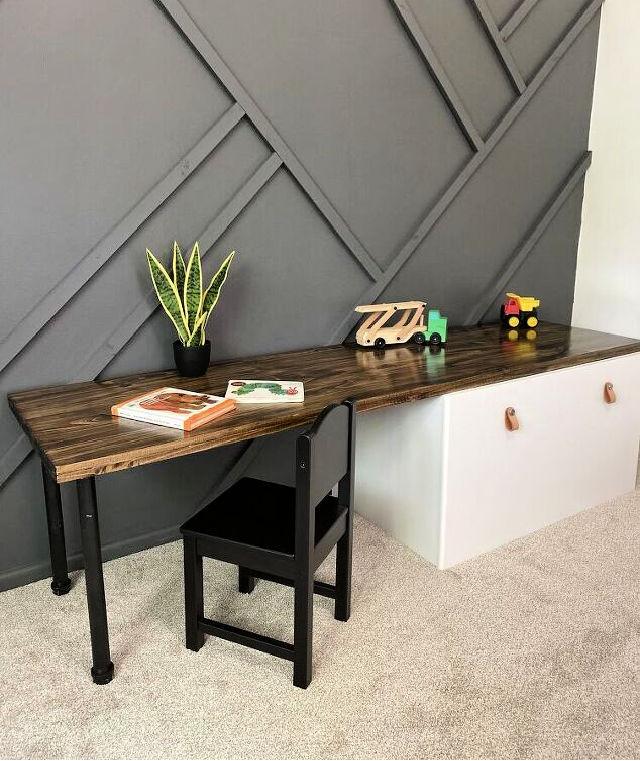 Peek into details of this most unique and beautiful design of desk that comes with the well-finished rustic wooden top. The desk has one side staying on a wooden box and the other on the galvanized steel pipe legs, creating the entire desk's brilliant industrial appeal. The painted legs, white painted box and sleek wooden top, fit beautifully into modern home interiors. The desk is ideal for doing homework, various other art and craft projects and will also rock for playing with toys. In the form of this desk, you are providing the best learning station to your kids. hometalk
21. Kids Art Center Worktable with Storage Shelves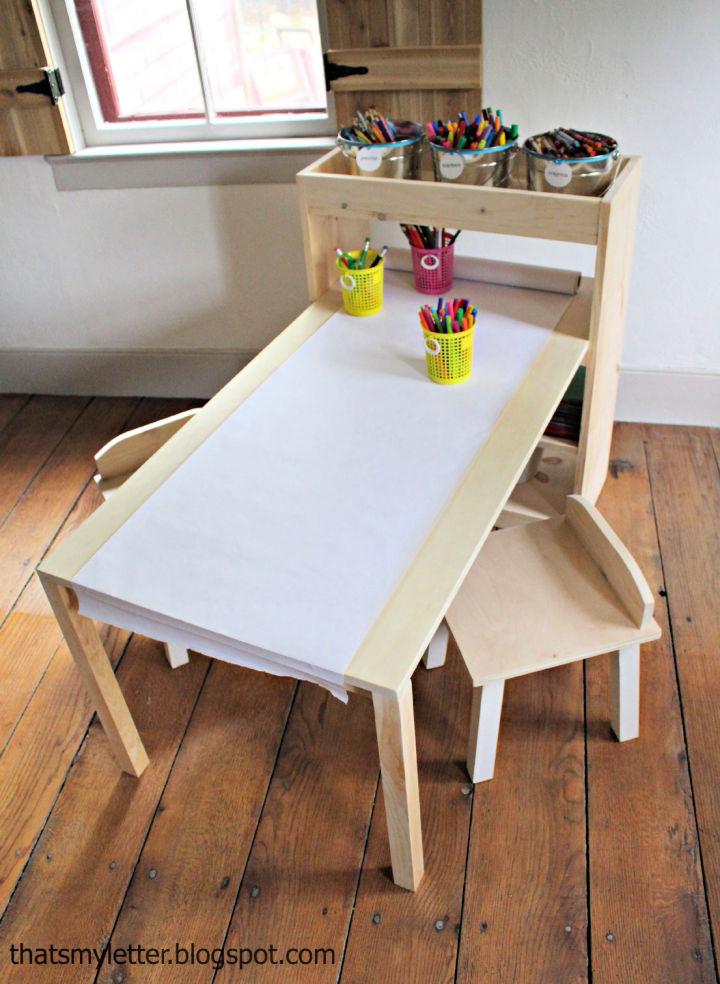 Feel free to duplicate this another fetching desk design that provides storage shelves on one side. The project is about building a wooden bookshelf with built-in supports where one side of the desktop will fit in. Rest the other side upon some custom legs and complete this functional and unique wooden desk design. Use the leftover wood to build the stools, and this will not take too long to complete this project. One of the best DIY desks ever built will be loved dearly by all the kids. The project will involve using the 2x4s, plywood and 1x2s etc. jaimecostiglio
22. DIY Student Desk for Under $20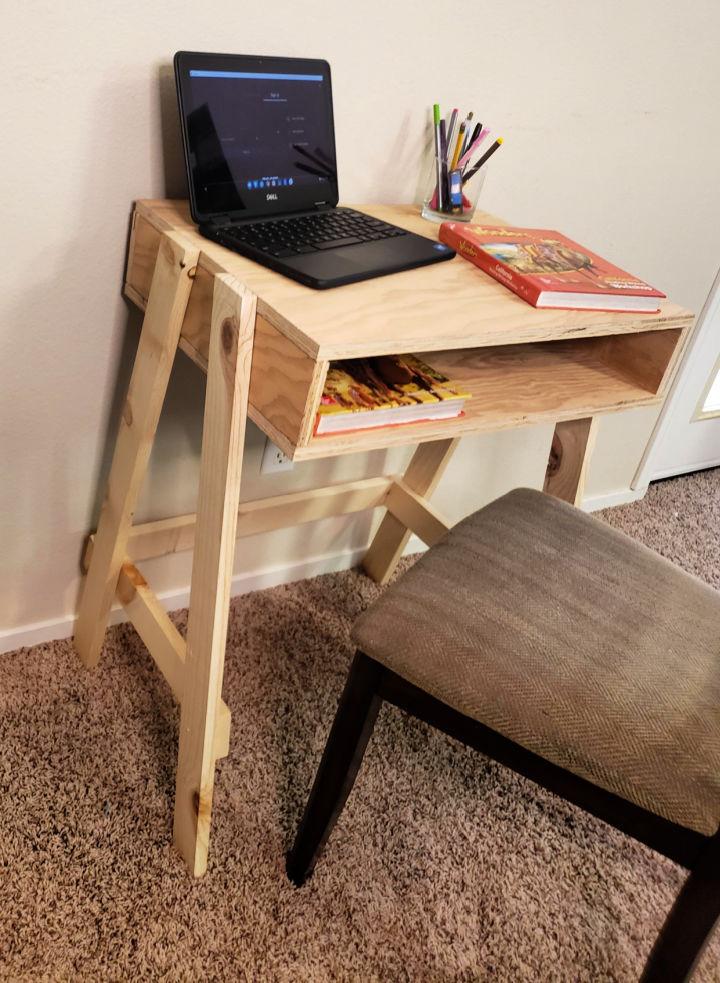 Feel free to duplicate this fantastic and beautiful wooden desk, which makes a sweet handmade present to a favorite kid. This is here the A-frame wooden desk with a box-like top in which you can store a bunch of books and other items of interest. The completed desk is 24″ wide and 18″ deep, and you can also paint it to match your interior room decor. One can easily build it with the sanded plywood, and it will not take that too long to be in the targeted kids' room. Use the 1x3s pine wood slats to build the lasting longer and durable legs of this wooden desk. imgur
23. DIY Floating Desk for Girls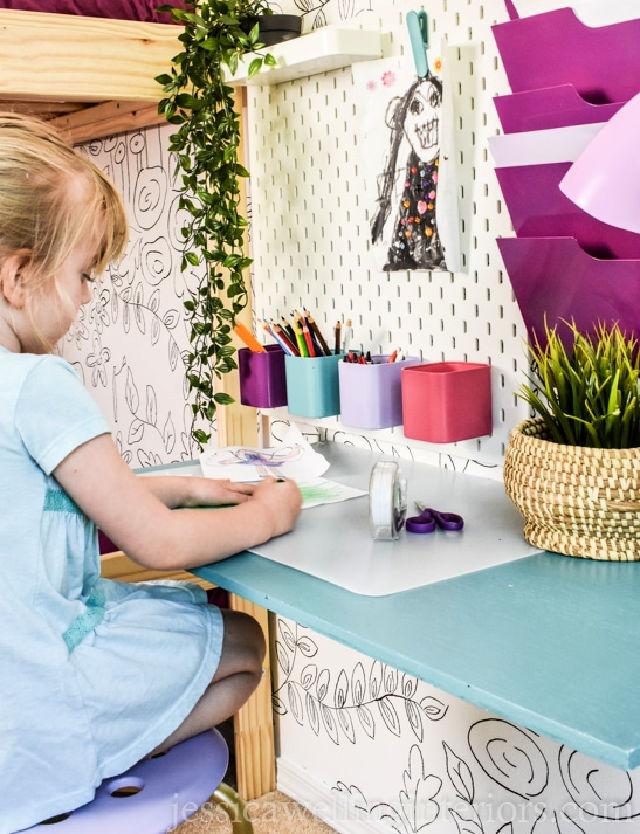 Intending to build a space-savvy desk design for a small kids' room? Then opt for this floating desk design that provides a comfortable surface for doing art and craft projects and homework. Custom organizers, stationery holders and file cabinets have been added to the back wall to organize all the clutter for sure. You need plywood, 2 metal brackets, spray paint, BIN primer, screws and paintbrushes to complete this phenomenal wall-mounted desk design. One of the easiest and quickest DIY projects that everyone can do with ease. jessicawelling
24. Build a Kids Desk with Storage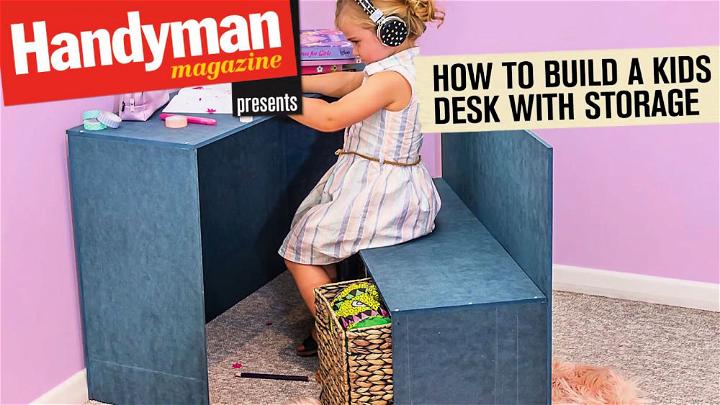 Follow here complete video guides and instructions to build a lasting longer wooden desk with storage. Cut the MDF board pieces to build a simple desk design easily, and then use the leftover MDF sheet to build the bench with custom built-in storage compartments, as you can see. Paint and decorate the finally completed desk and bench in the way you like. This is the easiest DIY desk project that even a beginner can do. The construction is all about giving straight cuts to MDF and then gluing them together for building an adorable desk and bench.
25. Homemade Height Adjustable Children's Desk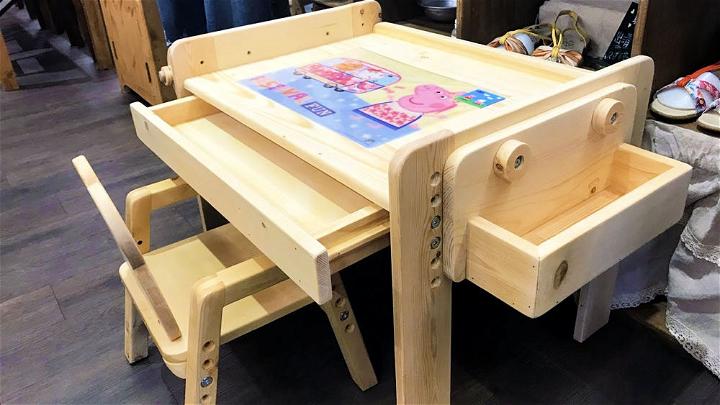 This project provides step-by-step visual instructions to build a lasting longer kids desk that comes with an adjustable height mechanism. This miniature desk comes with built-in drawers, a side pocket, and an evenly flat wooden top that is just perfect for the art & craft project with ease. The whole project is more than easier to do and will make a sweet handmade birthday gift also. Paint the desk or leave it blank in the natural wood tone. The choices are all yours. What makes the whole desk a lot more interesting is the roundness of edging. The project is more than easier to do and will never quit the style trends.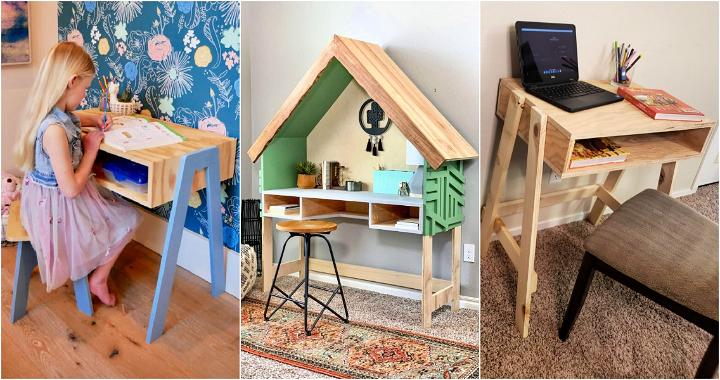 Conclusion:
These diy kids desk ideas are a big need of all toddlers and school-going kids. They help them do the art and craft projects and also the routine homework in a comfortable way. Just in case you lack a beautiful kids desk, build one suiting your needs and style with the help of these diy kids desk plans.
These diy kids desk ideas will share a wide range of desk designs that you can easily build at home. Furthermore, you will get free plans, detailed diagrams, complete step-by-step instructions and tutorials to clone the model you have chosen from the list easily. This does not end here; these diy kids desk plans will provide complete material lists, cut lists, tool lists and hardware lists also for building any particular design shared in the list.