A well-organized and decorated desk area makes you more productive. Having everything organized with ease of pick as well helps increase the workspace efficiency. So, explore these 25 easy and unique desk decor ideas that will help you to decorate and organize your home office or work desk, and they will go beyond your imagination for sure. From adding custom DIY desk organizers to decorative centerpieces to outstanding wall decor, you will get here DIY desk instructions for all.
Moreover, these 25 simple desk decor ideas will guide you on how to create custom decorative themes in a home office like nautical, modern minimalist, black & white, modern chic white, cottage style and pottery barn. So, there are desk decor ideas here to suit all the tastes, and they will be loved dearly by all who love to work from home.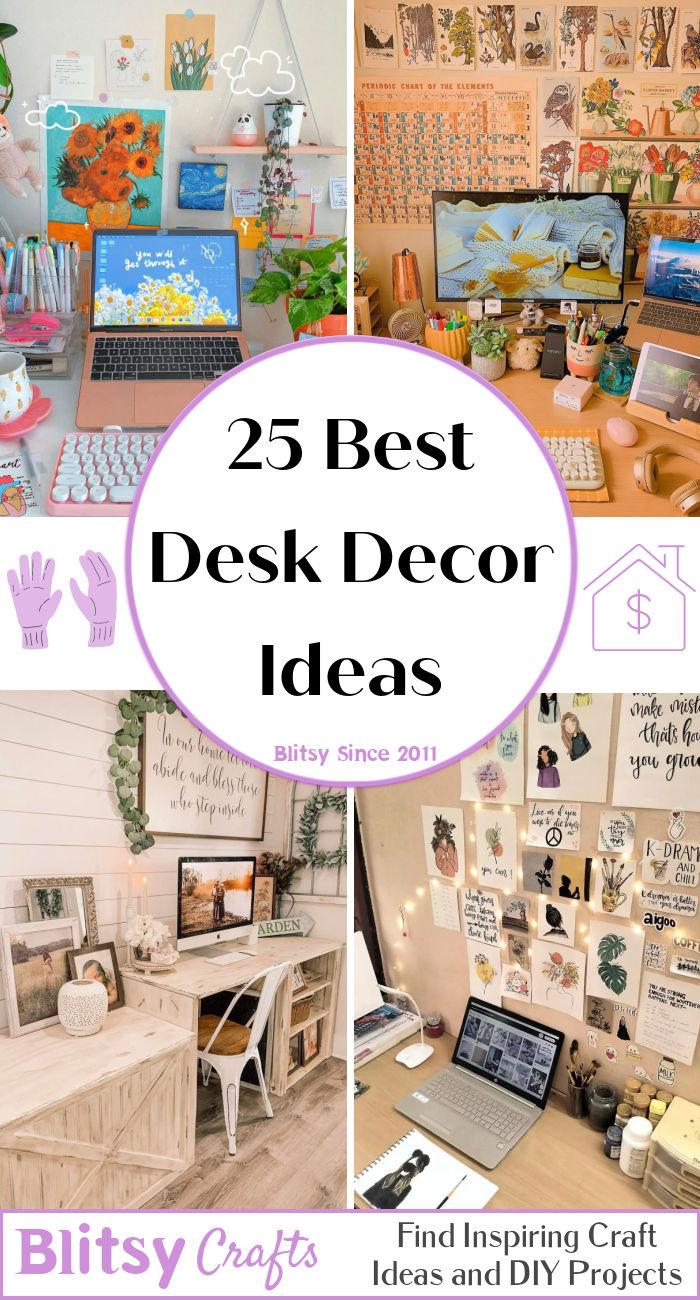 Not merely the desktop decor, you find interesting DIY desk decor ideas to build at home with minimal carpentry skills. From industrial-style desks to modern chic desks to rustic desks, you will get all sorts of stylish desks here.
However, in work desk decor ideas, the list will share with you lovely folding out desk designs, L-shape desk designs and custom-built desk design designs too. So, you can take a quick tour of these easy to do desk decor ideas that will provide you with complete instructions on how to decorate your desk for a home office or workspace.
1. Custom Work Desk Decor Ideas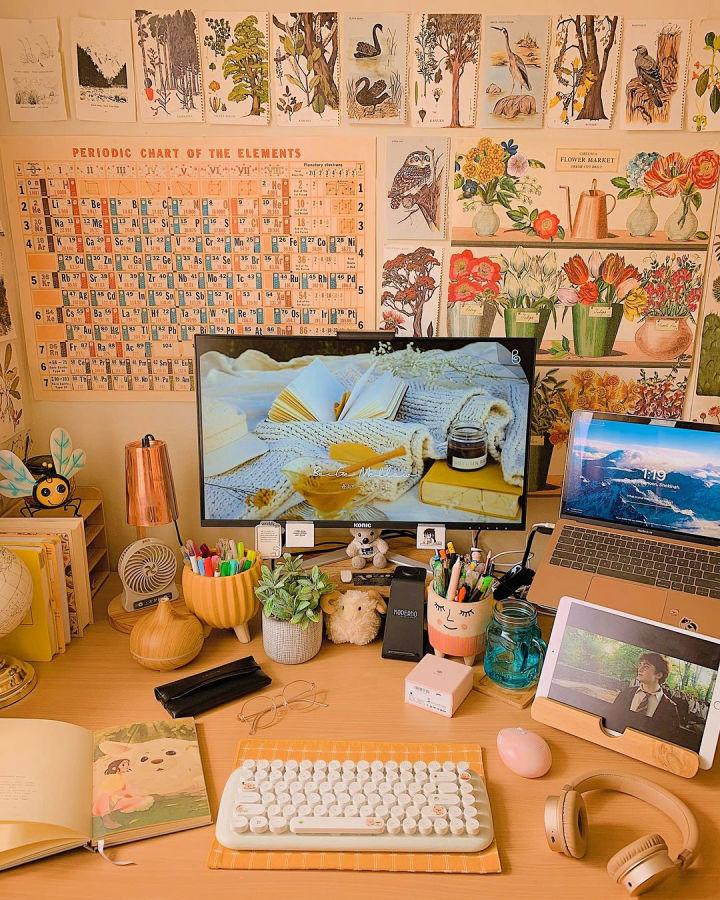 Do you intend to organize your workspace? Sorting out some best decor themes and plans will make you feel more comfortable in the home office? Then get here a great inspiration. Here the old cards, painted art and calendars are used to fancy up the home office walls. The succulent planters on the desktop, custom mobile and stationery holders just add some extra beauty to the entire space. The project is great for both who are willing to organize and personalize their home workspace.
2. Cute And Fancy Desk Decor Ideas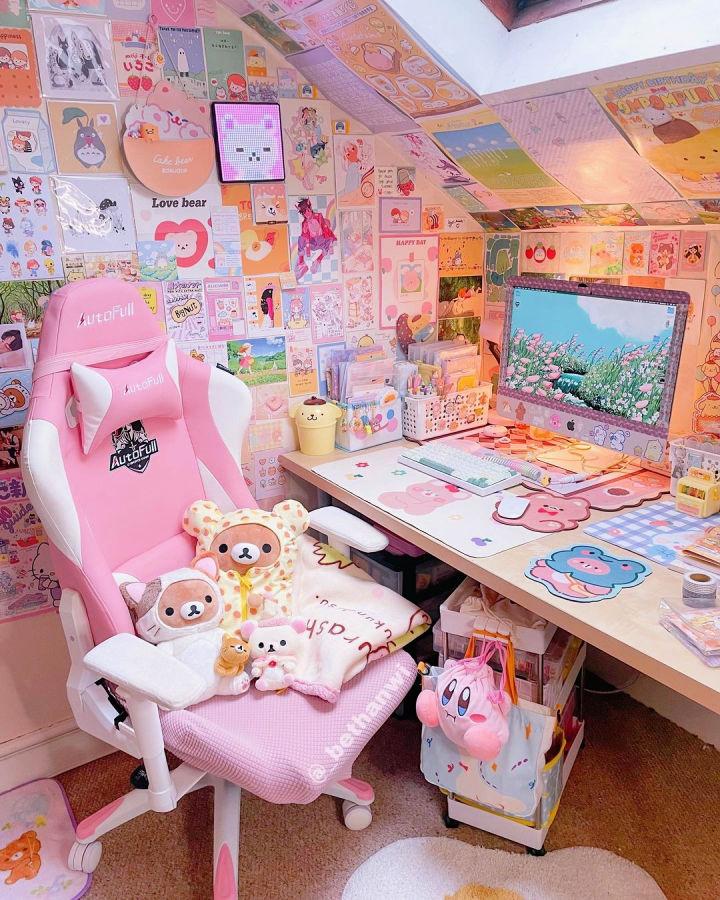 Here is how to create that fancy girlish look of the entire home office. The space is decorated with old cards, and you can use both the Valentine's Day and birthday cards to fancy up the home office walls. However, adding custom hanging frames and holders will bring extra grace to the entire space. Here the desk chair is also selected in bright pink color and not merely for home office decoration. You can fetch some great information to organize the office files, stationery and much more. The best inspiration to organize that home office space for a hot pink girlish appeal.
3. Chill Vibes Desk Setup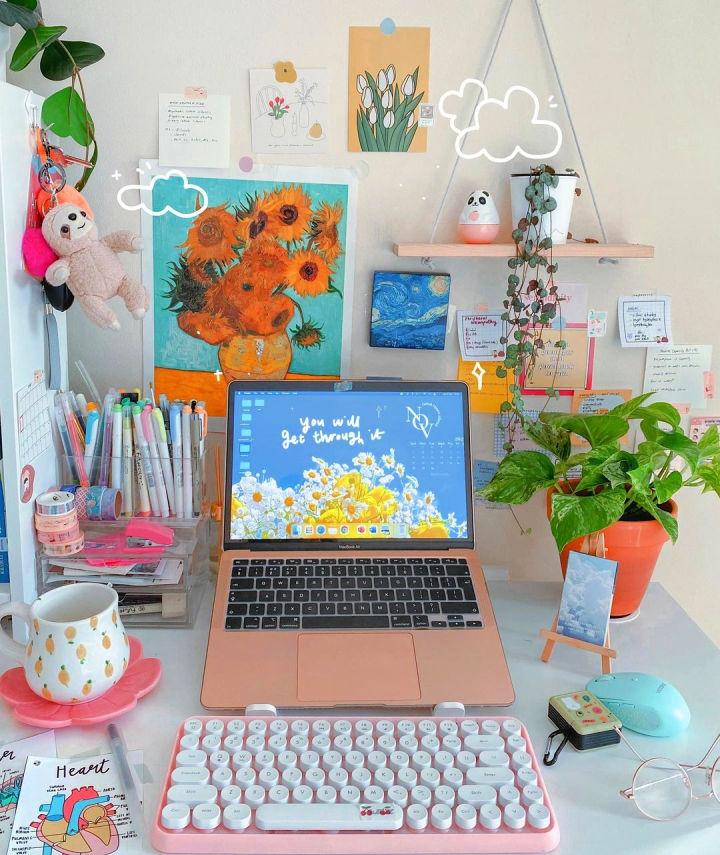 Bring those amazing relaxing and chill vibes to your home office with this cool setup of home workspace. The project provides amazing information for everyone, from organizing your home office to the entire desk and decorating the whole workspace. For walls, use the hanging decorative shelves and old decorative cards and even the canvas frames. For desktop decor, opt for custom greeny pots and some decorative organizers. The entire workspace setting is sure to boost productivity and output for sure. However, the entire project will also go super easy on your wallet.
4. Cheap But Expensive Looking Desk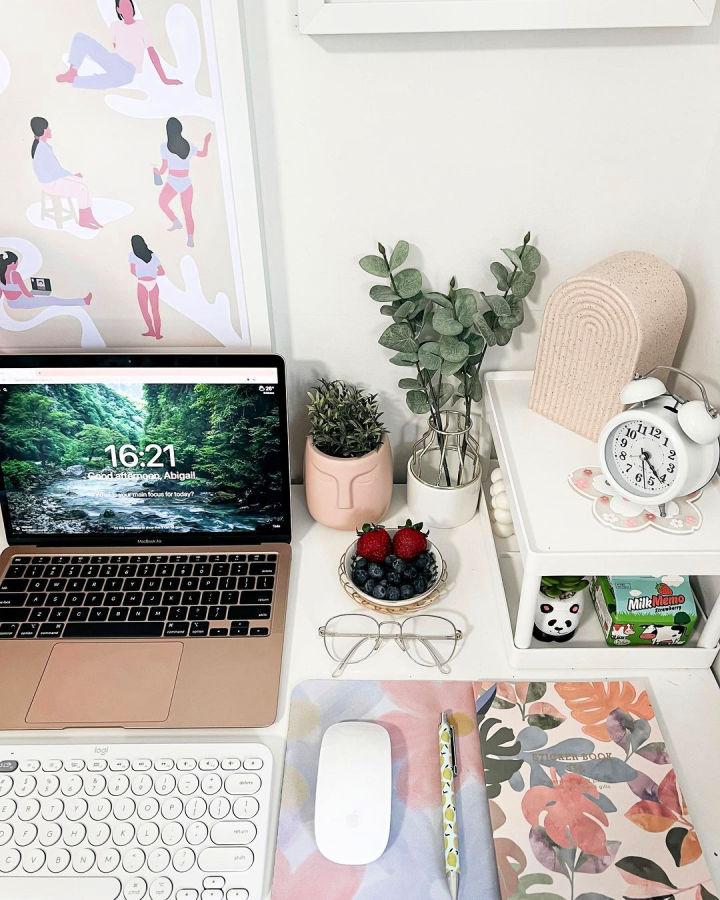 Intending to organize and jazz up your home office desk? So get complete guides about how to go for an expensive desk space while using cheap items. Use some decorative green pots and custom 2 tier organizers to do the trick. However, you can use some IKEA desk hacks to bring that moder elegance and charm to your desk. It will be better to use a custom mouse pad and notebook for the entire desk's extra impressive and lavish look. The best modern and minimalist home office decor idea.
5. Desk Decor for Girls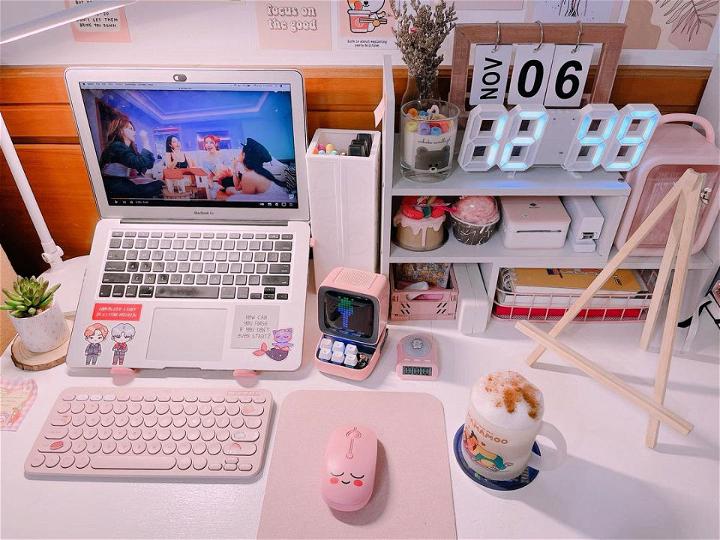 However, decorating a desk space for the girls can be a different thing. You should do it with a lot of care. Try adding desktop organizers, custom gadget holders, other desktop racks in the pastel pink colors. However, you can select the miniature desk items like a mouse, decorative pots and mouse pad etc, in the same light pink appeal to bring those girlish vibes to the entire work area. Here the addition of a digital, lighted clock, calendar and easel stand makes the entire desktop look out of the ordinary. For a glam natural touch of garden decor, use a succulent pot on a rustic wood slice coaster.
6. Super Useful Office Desk Decor Ideas To Follow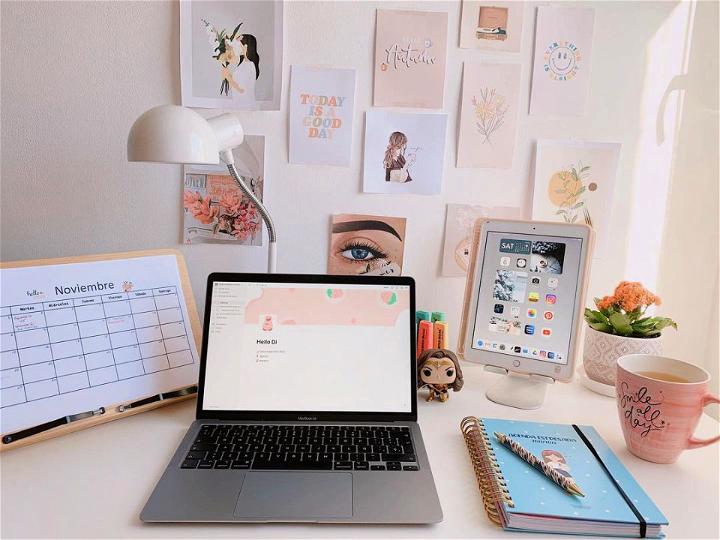 Create that super impressive modern minimalist appeal of your home desk with these genius shared settings. You will get instructions about setting up a lovely calendar and a notepad on the stand here. Moreover, you will also get guides about how to add a brilliant pencil holder and a decorative pot on the desktop that will take office beauty to the next level. Add custom cards on the wall and place a notebook just inside your laptop to note down the important things.
7. Chic and Stylish Desk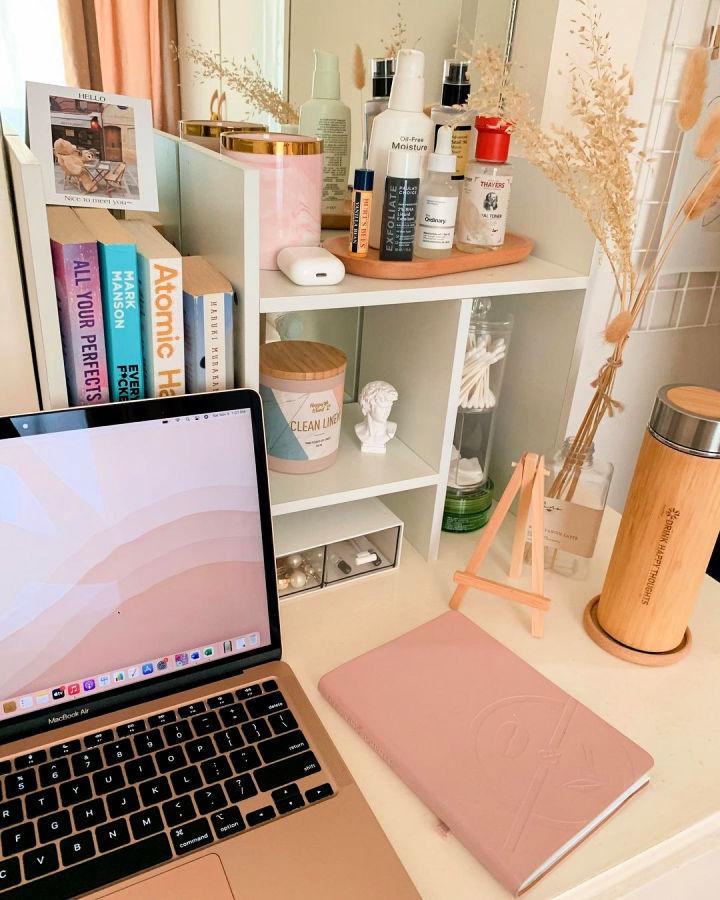 For those who love to keep the entire desktop clean and well organized, this desk setting will rock. It involves building a custom rack or organizer that holds all the desk top paraphernalia. The rest of the desktop only comes with a notebook, an ease stand, a pot and a laptop. From organizing the books to custom decorations to various other gadgets, the white wooden rack does a great job for the organized look of the entire desktop. One of the best and quick-to-do DIY desk organization ideas ever.
8. Kids Study Desk Decor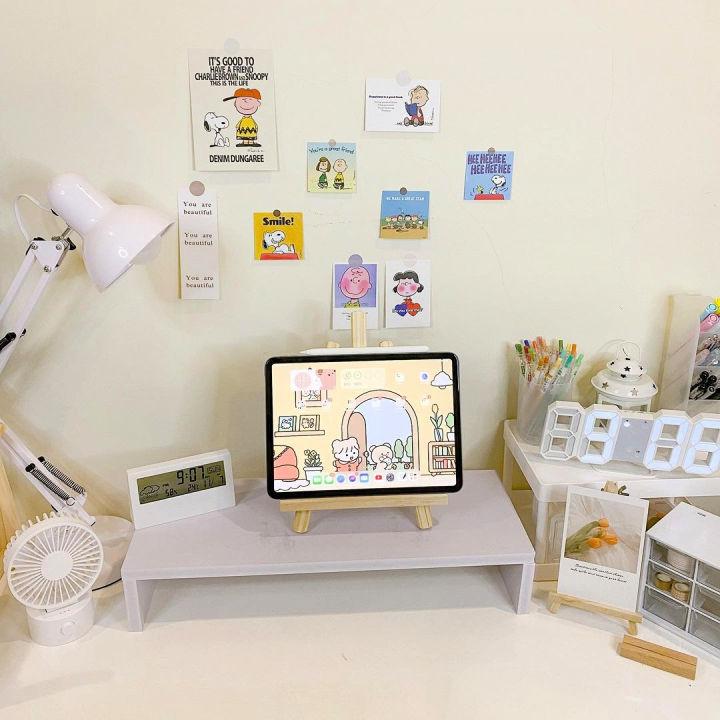 Get here DIY kids desk plans for organizing the desk for the little kids. The desk comes with an elevating laptop stand that beautifully holds the screen playing the animations and cartoons for the kids. However, you can easily build the desk top laptop stand and the easel with the leftover woods. Add a small fan, cute stationery holders, and custom file organizers to create the more sweet look of the entire space. However, this setting comes with a modern desktop lamp and cute card art on the wall for added cuteness and style. However, you can easily transform it from a modern chick to any colorful setting you like.
9. Minimalist Study Desk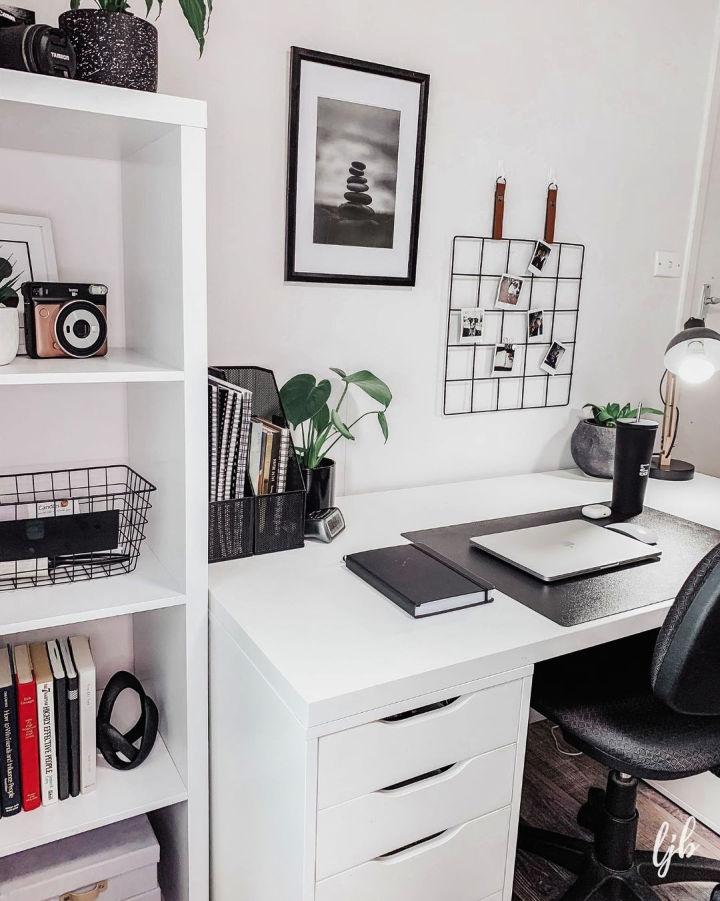 Looking for a modern home workspace idea? Then look at this modern minimalist home office desk that is much looking visually captivating. The space is organized and decorated on a black and white theme, and the addition of little green in the form of planters fancies it up. The addition of a metal grid memo board, modern planters, lamp, and book organizer is wholly responsible for this entire desk's beautiful and minimalist appeal. However, you can easily build the entire chic white and minimalist office desk too at home.
10. Modern Desk For Ergonomic Workspace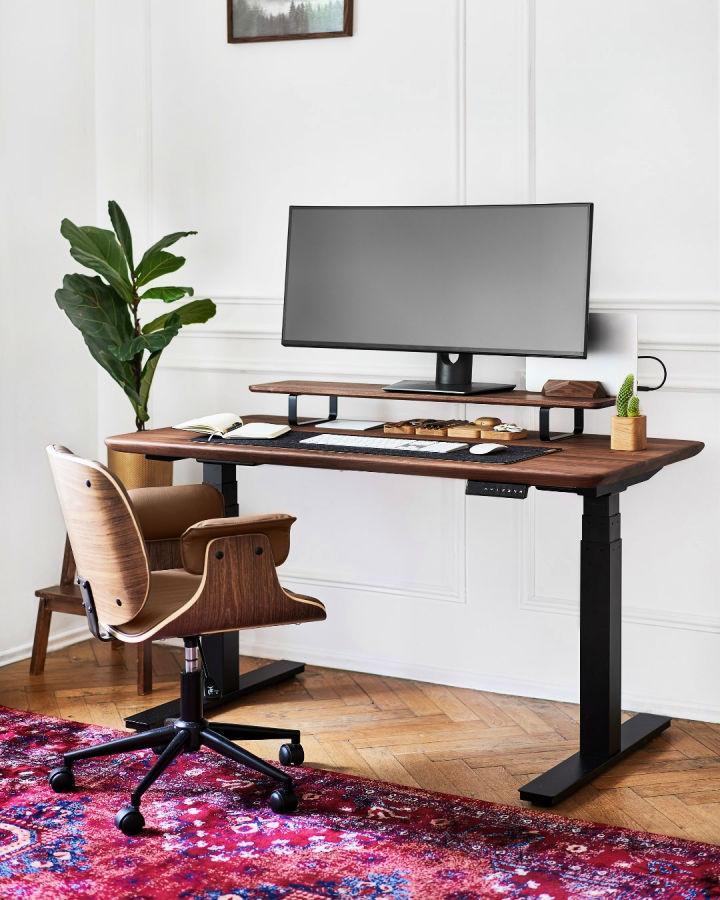 Want to create that impressive modern home office or workspace? Then you must get this glamorous wooden desk with the matching chair. The desk also comes with an added stand for smart screen elevation and gains attention with the brilliantly beautiful flat legs. Just add the desk with custom decorative pots and some stationery organizers, and that's it. The best minimalist setting of a home office for all who love the wooden furniture and those cleaned large desktops. Here you can easily build this desk at home also. One of the best desk decor ideas ever.
11. Cool Desk To Inspire And Motivate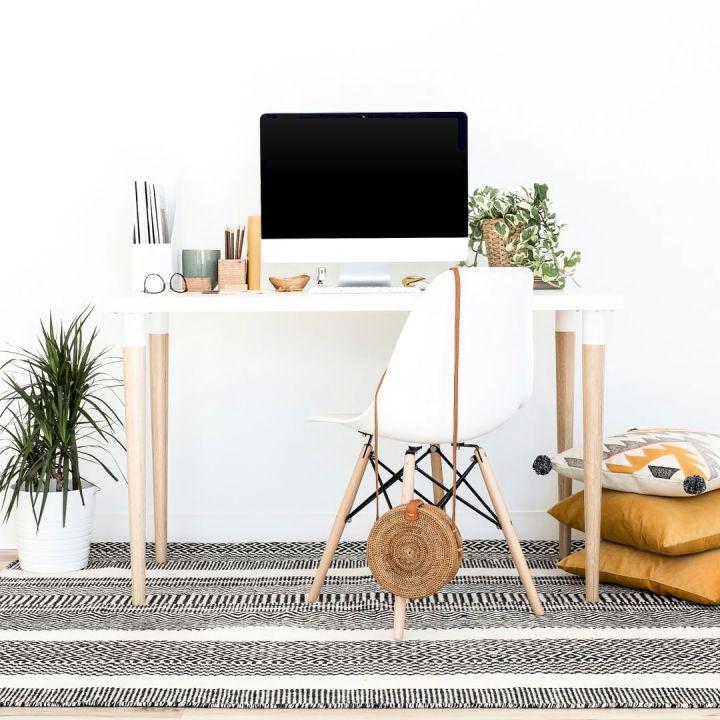 Do you love modern chic furniture and want the same for your home office? Then get inspired by this modern minimalist chic white desk that will impress the gorgeous desktop settings. With many pots and stationery organizers added to both sides of the screen, the entire setting becomes impressive and much visually captivating. Both the chair and desk are highly cute and impressive and will help build an amazing workspace for sure. The desk will rock as a study table and a DIY computer desk, and you can add custom decor also to fancy it up more.
12. Unique Back To School Desk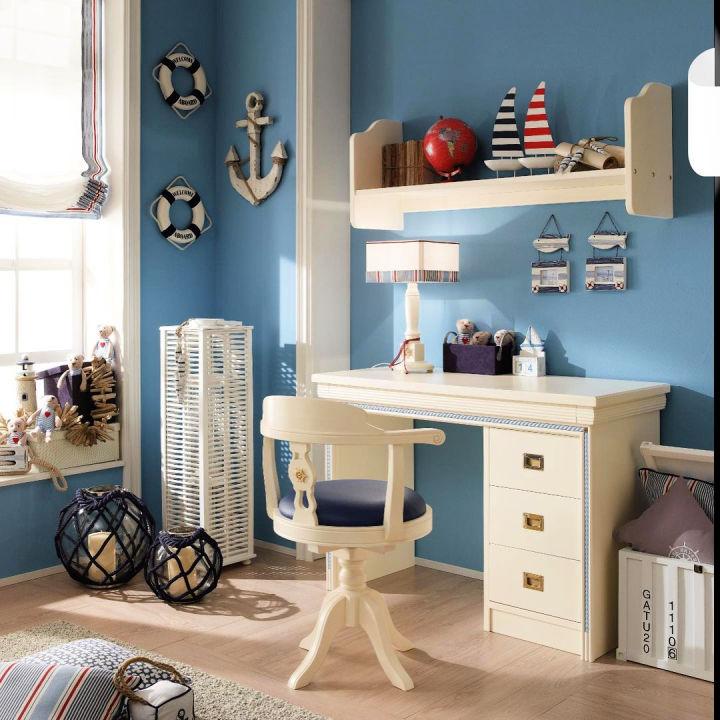 There are many smart settings for the home office to choose from, and here is another to impress you. The entire setting will rock for all who love the minimalism and that chic white decor style. The setting comes with a lovely desk with drawers on one side, and You will love the matching chair that comes with the tufted seat. The desk also comes with a matching lamp and gains attention with the top matching shelves and organizers. One of the best home offices decorated on a nautical theme. It smartly features blues and white.
13. Cottage Style Computer Desk For Home

When it comes to decorating your workspace? You can simply go with lots of amazing options. So, check out a lovely workspace that is decorated on a cottage theme and looks pretty rustic but much visually captivating. The entire desk space makeover involves adding a rustic quoted wall art sign, green wreath, custom desktop centerpieces, and that's it. One side of the desk is added with many storage cubbies that beautifully hold the items of need. If you are a rustic lover, you will surely fall in love with this fabulous home office decor theme.
14. Best White Office Desk Decor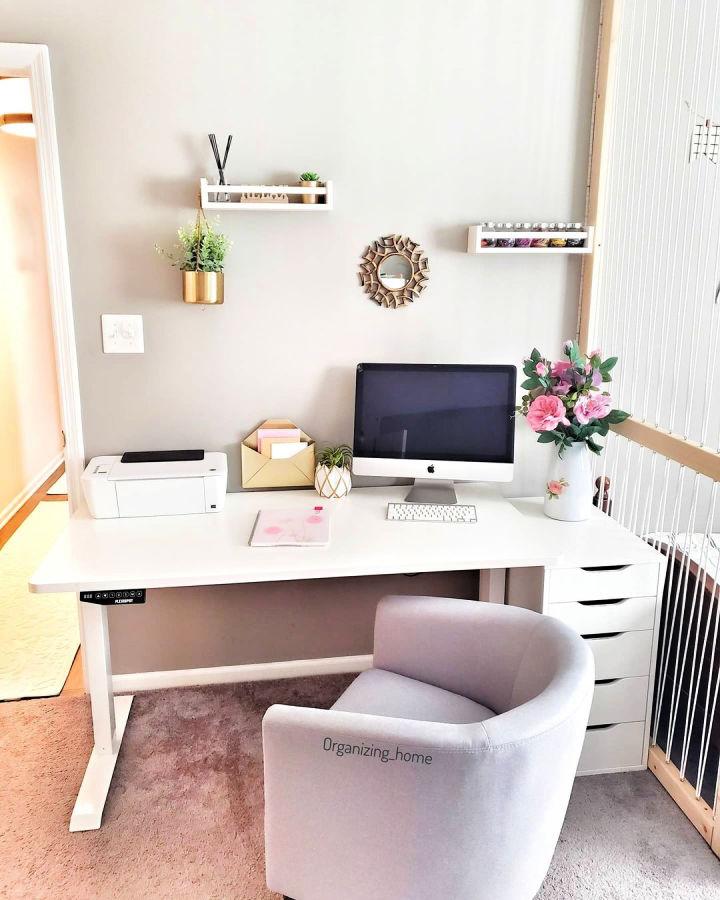 Are you a big love of a modern chic white decor style? So, you will surely be willing to apply it to your workspace. Peek into details of these given cute desk decor ideas and find this chic white office space that looks amazingly cute and graceful and will be loved dearly by all. It comes with a chic white desk having a vertical line of drawers to one side. However, the desktop is decorated with a flower and succulent pot, and you can add other accessory organizers in white color to stay in the lovely chick white theme of the desk. One of the best desk decor ideas for all who work from home.
15. Aesthetic Desk Decor For Your Workspace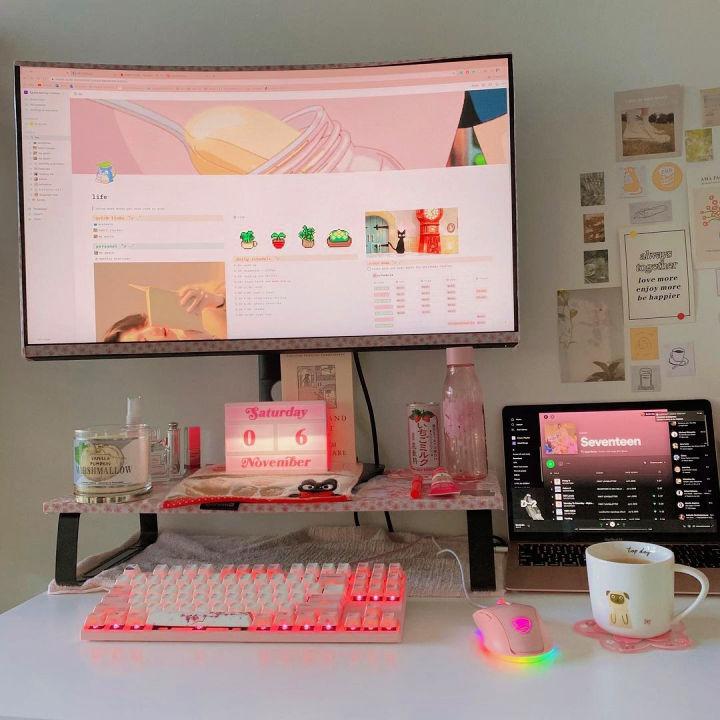 Do you love the lighted decorations? Then do pick some lovely ones for your desktop also. Follow here another brilliant desktop decor theme that uses the lighted calendar, keyboard, and other colorful desktop decorations. This desk decor idea will surely impress all the kids, and it comes with a screen stand for a quick elevation. The project is easier, and you can also pick your favorite decor for this desktop makeover. Due to being rich in the pink color, this decor idea will rock for the girls.
16. Black Study Desk For Students

Impress all the students who love the modern interiors and decor themes. Pick this solid black desk for them that looks double cute with the matching black chair. However, it comes with a white lamp, a white mouse pad, and black stationery organizers. It looks amazingly beautiful and lovely. The easy yet amazing setting of the home office desk to choose for the newly built study rooms of the kids. However, you can add some custom planters or pots also for some natural green vibes.
17. Organize Your Teacher Desk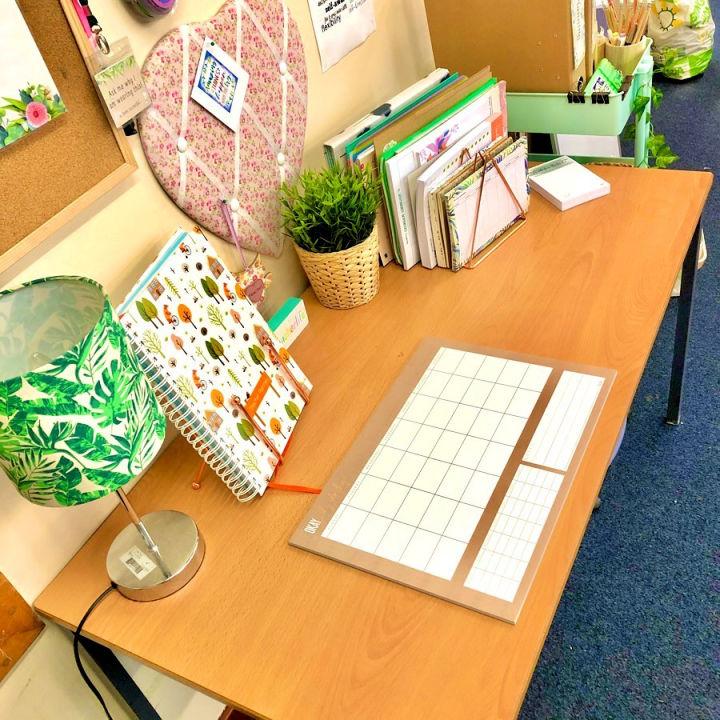 Check out here a brilliant setting about how to organize the teacher's desk in a super quick way. Just add a file organized to the desk to hold all those necessary files, and then you can add a green planter along with a decorative lamp to complete the entire desk organization. It will not take office cubicle decor ideas too long to organize the teacher's desk, and the results will just be amazing and impressive. However, adding some noticeboards and heart shape memo boards will help organize all the work of a teacher. One of the best and quick-to-do office desk makeovers.
18. White Desk Decor To Brighten Your Workspace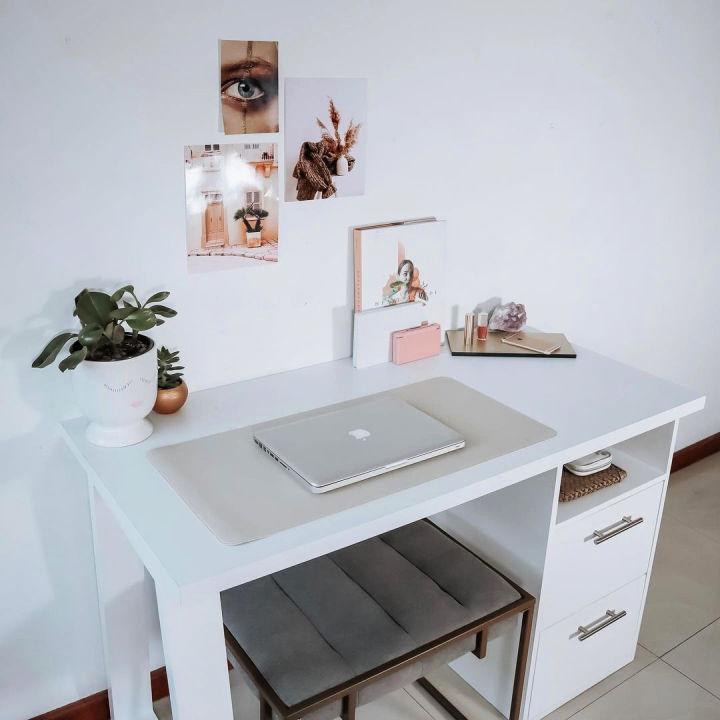 Take your home office decor to the next level with this brilliant white office desk that looks amazingly cute and graceful. The desk comes with two built-in drawers and a storage cubby and looks double cute with the top green pots selected in chic white and copper color. In desktop organization, the custom file and stationery holders will work great. However, adding some attractive art signs on the wall will also add to the entire workspace's decor also. One of the best and quick-to-do DIY office space makeovers. The whole project will complete in no time, and you can also build the entire desk at home.
19. Small Desk For Your Cubicle Or Home Office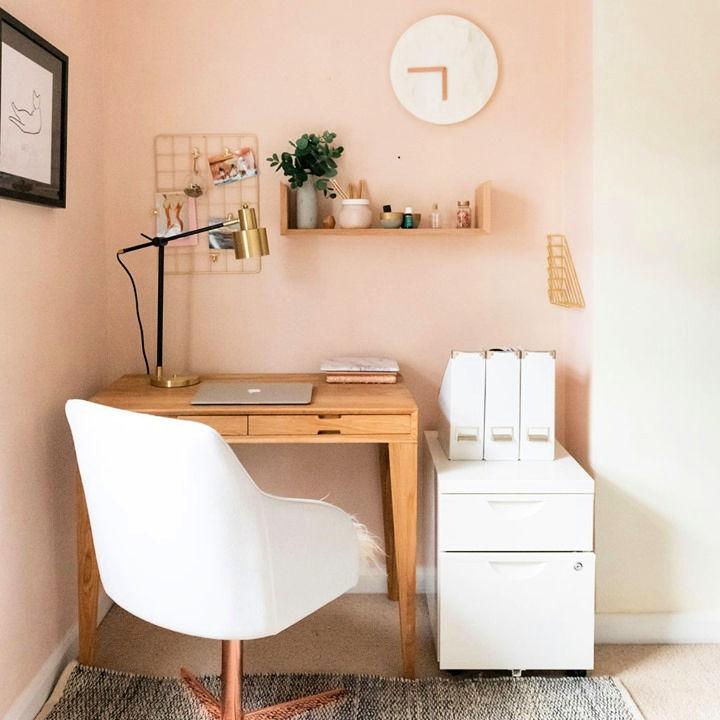 Win the heart of a student at home with this impressive desk that is great for laptop operating also. The desk comes with 2 built-in slim drawers and stands on the tapered legs for an enhanced visual and view, and looks extra beautiful in the natural tone of the wood. A cabinet is added to the sides of the desk to organize those files, books and other paraphernalia, and it also appears in the chic white appeal. Don't forget to add the metal grid-style memo board and hanging shelf that holds some decorative pots also.
20. Wall Mount Computer Desk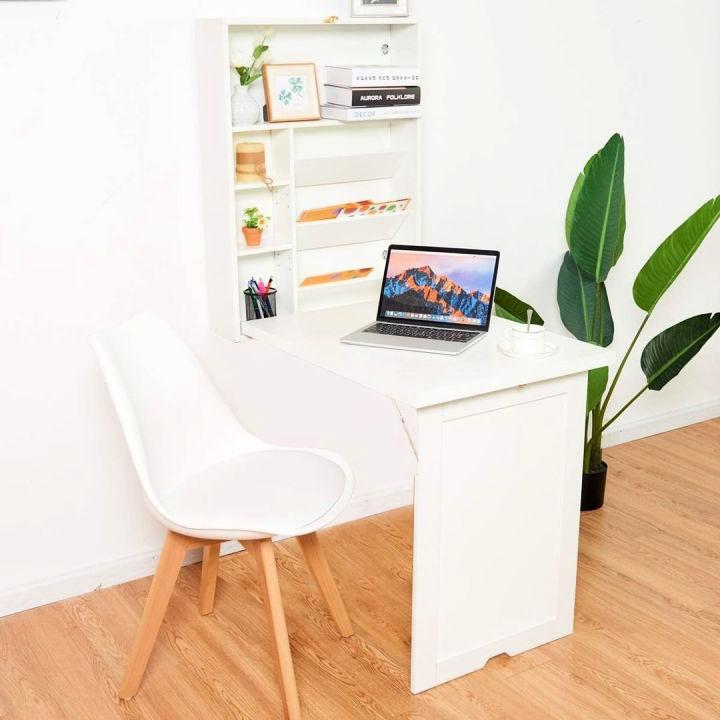 Just like the Murphy beds, you can build the Murphy desks for laptop operating and ready and write purposes. Get inspired by this wall-mounted desk that is can easily fold out to provide a stable desk surface. The rest of the cabinet stays on the wall and holds all from books to pots to art frames. The desk easily folds back in the wall to save a lot of space. One of the best and super space-savvy desk ideas that everyone will love to duplicate also.
21. L-shaped Corner Desk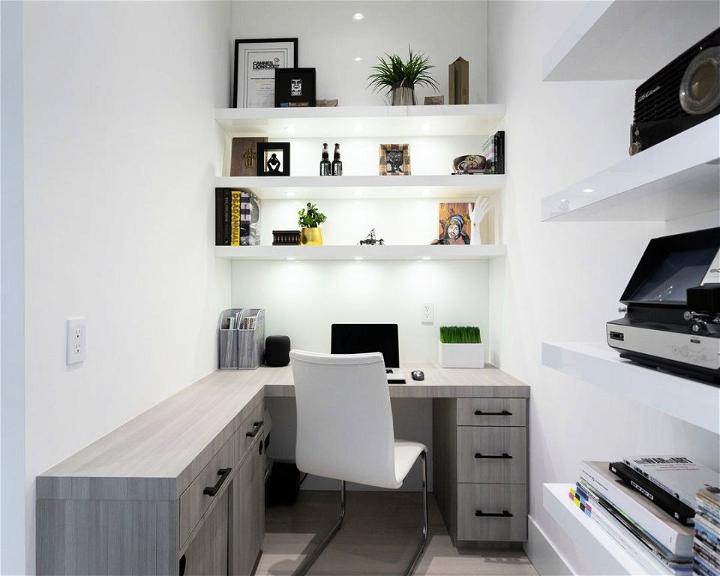 There are diverse types of office desk designs and settings to choose from for the custom and even for the corner spaces you have. So, check out here a brilliant corner desk design and desk decor idea that will impress at a very first glance, and you will fall in love with it. With a lighted shelf and white appeal, it makes things a lot more visible and then there comes a robust wooden module of the corner desk that looks extra beautiful with lots of drawers and rich wooden texture. One of the best DIY desk settings and decor ideas.
22. Desk Under Stairs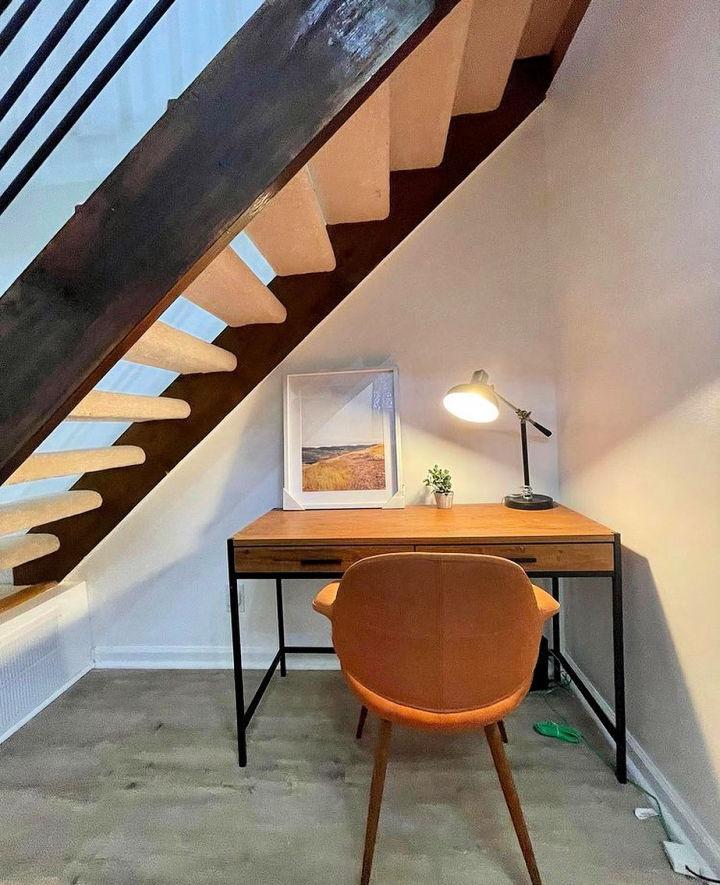 Intending to build an office right under the stairs of your home? Then here is the perfect design inspiration to choose. Look at this given industrial desk built for under the upstairs home office, and it looks amazingly cute and gorgeous with the rich wooden appeal and 2 built-in drawers. The addition of a lamp, a mural picture frame and a succulent planter just makes it look extra beautiful. The whole setting of this computer desk is just perfect for students and those computer operators. You can build the desk at home also.
23. Minimal And Glam Desk Set Up

Looking for some super cool and posh-looking desk designs to choose from for the home office? Then look at this chic white and golden minimalist desk that impresses with the minimalist decor settings also. It digests all the clutter and carefully stores the items of need with two built-in drawers, and you can decorate its top with some books, picture frames and succulent planters. One of the best and quick-to-build modern desks that will dazzle all the onlookers for sure. The gold base and drawer handle bring tons of visual stimulation to the entire desk. Don't forget to add a furry stool chair that also comes with an enchanting golden base.
24. Charming Builtin Writing Desk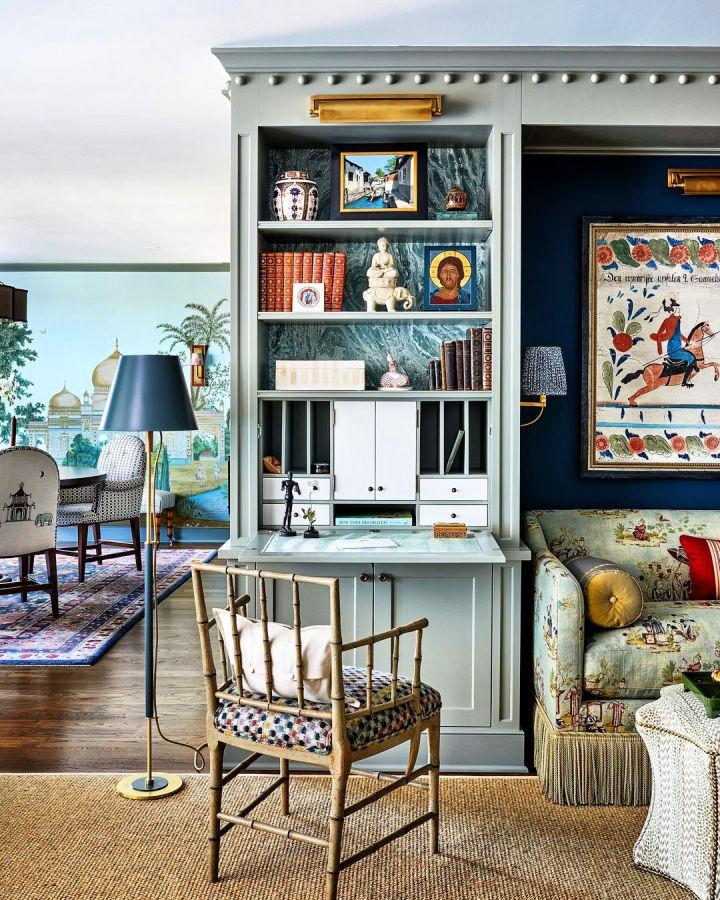 You will love this another impressive set of built-in storage desks that is much visually captivating and storage-friendly at the same time. The desk is built on one side of a cabinet, and it beautifully holds books, decorative frames and another centerpiece on the shelves and provides a work surface to easily hold the laptop or computer. You can easily get access to a built-in home office with a custom chair. One of the best and space savy desk ideas that will impress all for sure.
25. Creative Home Office Setup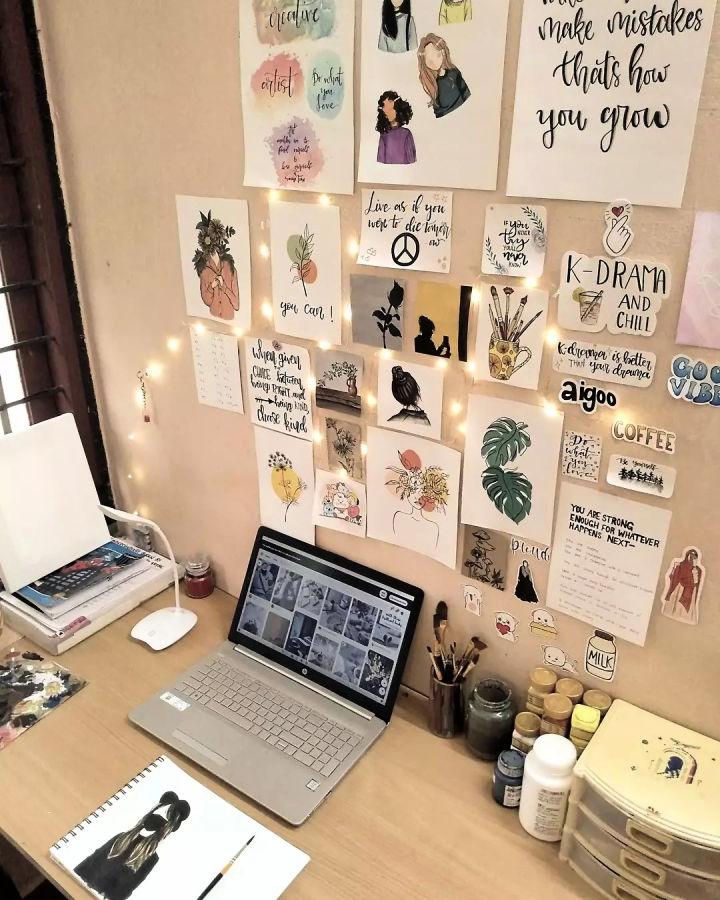 You will fall in love with this another creative home office setup that will be loved dearly by all. The setting involves lots of interesting art and cards on the wall and some light and then lots of organizers and decorative items to the desktop. The entire project is more than easier to do and will be loved dearly by all for sure. This entire home office gains attention with the decorative back wall that works great as the memo board. One of the best and quick-to-do desk decor projects that will be a total breeze to do also.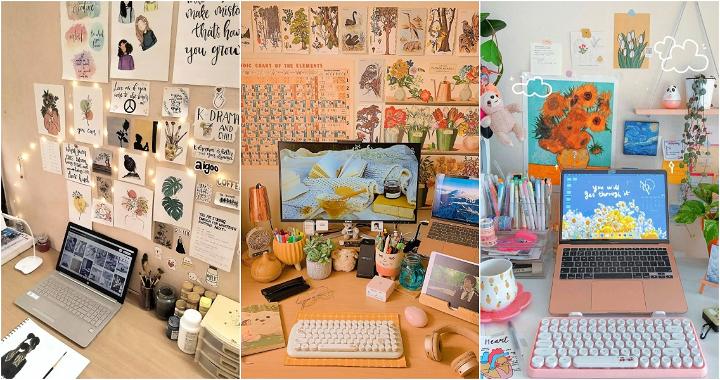 Conclusion:
The purpose of these shared work desk decor ideas is to give you a better idea of organizing and decorating a workspace by adding lots of interesting decor and organizers. So, choosing some specific office desk decor and paint colors, you can go for lots of amazing decor themes like girlish, nautical, cottage, modern chic modern minimalist etc.
So, these work office desk decoration ideas will share lots of practical demonstrations in this case that will surely help boost your creativity also. After looking through these desk decor ideas, you will have a better idea about how to set up, organize and decorate a home office like a pro.