Painting and drawing are considered the best activities for preschoolers, toddlers, and kindergartens when you are improving their creativity, communication, and fine motor skills. So, Learn how to draw a cowboy hat by choosing these easy cowboy hat drawing ideas to give as the next drawing project to your kids at home. Brainstorming to draw different parts of the hat will help boos the planning and problem-solving skills of the kids also. However, you can draw a cowboy hat with so many different variations.
See all the popular ones in this collection of 15 simple cowboy hat drawing deas that cover drawing the hat from so many different angles and lots of amazing details. These projects will share so many different hacks that will involve drawing custom guidelines and shapes to easily draw a beautiful cowboy hat like a pro.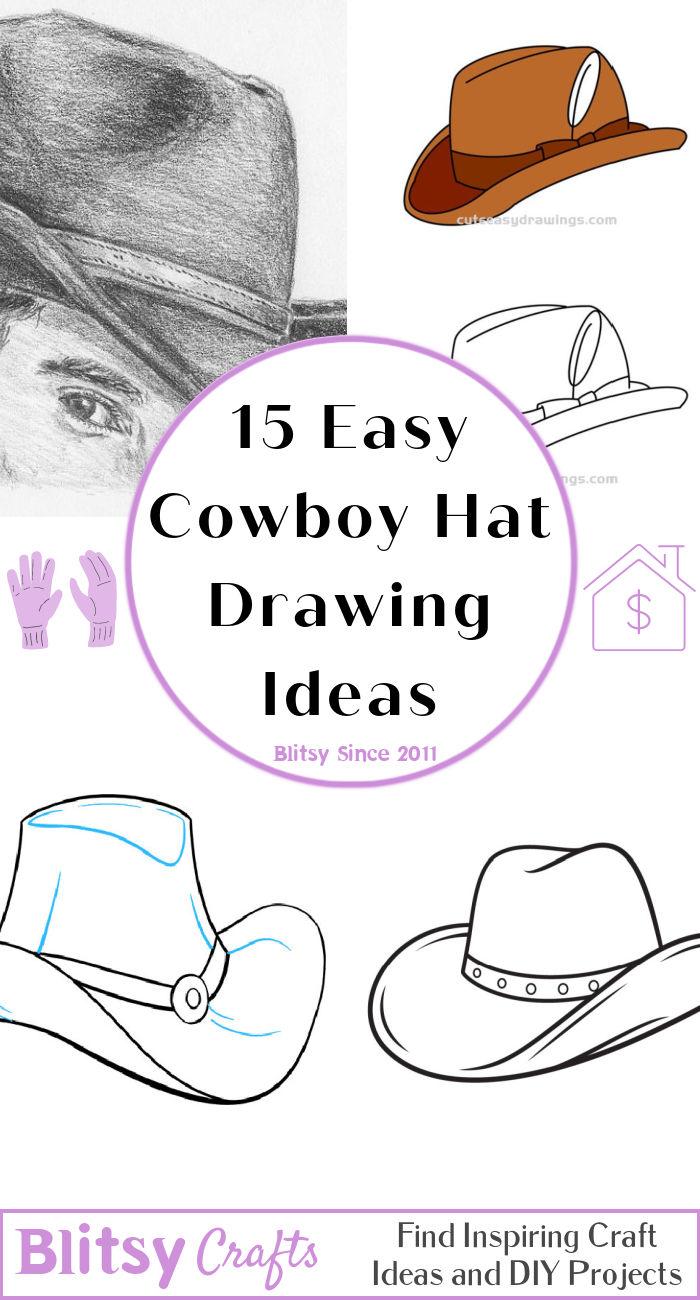 From cartoon cowboy hats to realistic-looking cowboy hats to featured cowboy hats, you will learn here to draw all. Some project involves outlining the whole hat first, and some involve drawing the crown of the hat. However, you can start drawing the hat by drawing first the folded brim also.
These cowboy hat drawings are beginner-friendly and can be given to younger artists at home as the initial drawing projects. Everyone can try out these cowboy hat drawings to hone his drawing, illustration, and sketching skills that come with step by step detail instructions, free prinables and coloring pages to download.
1. How to Draw a Cowboy Hat

The drawing projects help evoke the hidden positive emotions, and they can be the best choice also when you need to improve the creativity of the kids. So, let your kids get busy in this cowboy hat drawing that is cool and lovely and will be loved dearly by all. The hat is many favorites to fashion lovers due to its high crown and a wide folded brim. You will learn here to draw this hat in just 10 easy steps. Kids will love to fill colors in the completed hat. iheartcraftythings
2. Draw A Cartoon Cowboy Hat Using Curved Lines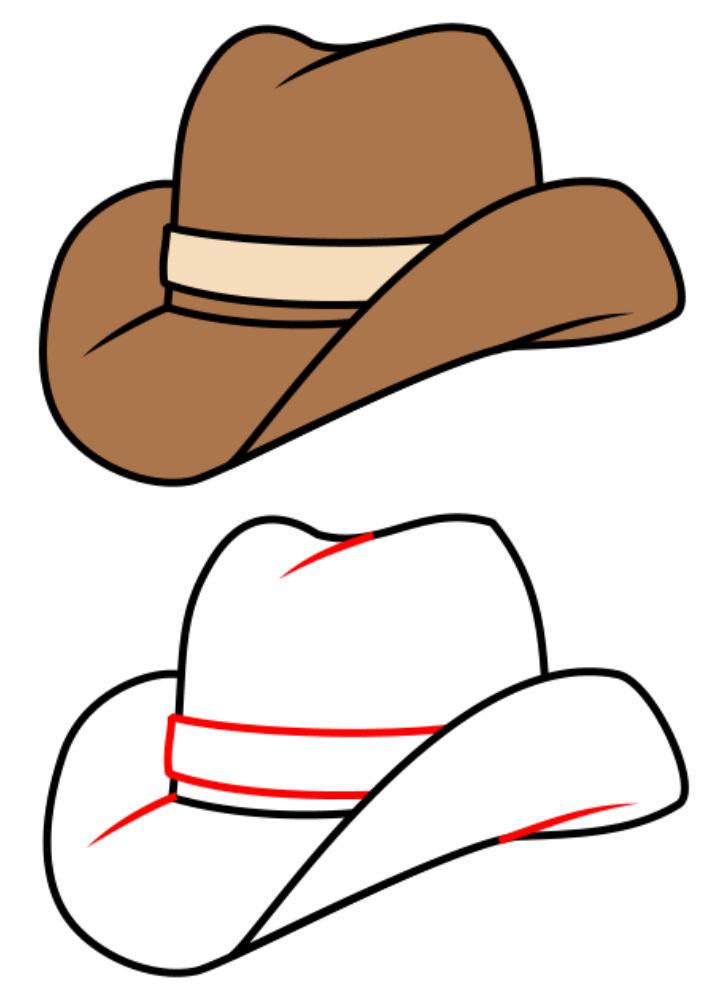 Sometimes the things get cuter when they appear in the cartoon avatar. So, all cartoon lovers will fall in love with this cartoon cowboy hat drawing that all ranch workers and horse riders will love this hat for sure. You will get a complete video tutorial about how to draw this ultimate cowboy hat. The project involves drawing a rectangle and a triangle to illustrate the crown and rolled brim. Next, you can easily draw the other details and modify both shapes to gain the final cowboy hat design. It will also be super fun to fill the respective colors in the final hat design. how to draw
3. How to Draw Cowboy Hat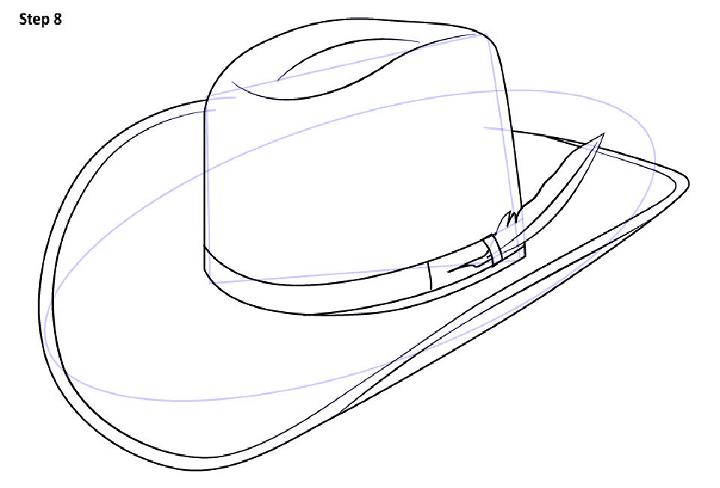 Doing drawing projects help improve memory and fine motor skills. So, let the younger artists in home try drawing this cowboy hat that comes with a feathered brim and is something adorable to look at. Again the project involves drawing the guidelines first to easily draw the whole hat. Draw an egg-like shape and then a rectangle over it to easily sketch the brim and crown of the hat. Add other details, and that's it. Let your kids color the completed hat drawing. drawingtutorial
4. Draw a Cowboy Hat on a Cowboy

Get the professional instructions to easily draw a cowboy hat that will look much more realistic. Use a reference photo of the cowboy hat to easily draw it. You can work with your amazing sketching skills to outline the hat and shade it as well. Once you complete the crown, it will be easier for you to draw the folded brim. However, this project will allow you to easily make a drawing of a beloved person wearing a cowboy hat. The project requires some skills, and you will love doing it for sure. letsdrawtoday
5. Draw a Cowboy Hat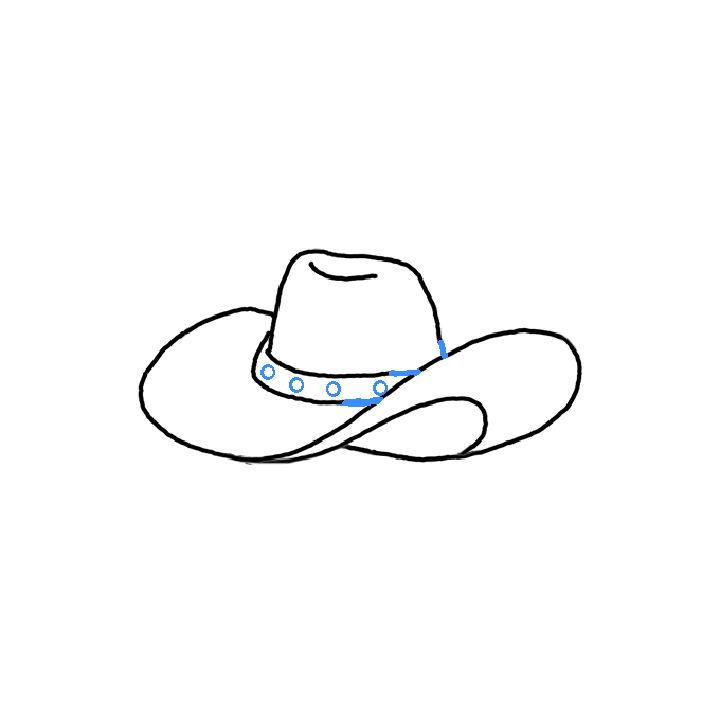 Duplicate this another gorgeous cartoon cowboy hat that looks brightly colorful and is an easy and beginner-friendly drawing project. You need a pencil or sharpie, markers or crayons, marker paper or printer paper or a sketchbook to complete this easy peasy drawing project. The whole project will complete in just 18 minutes or less. First, just draw the crown of the hat and then it will be easier to add the brim that looks like the "S" shape. Also, draw the brim belt to the hat and fill the respective colors in the drawing. One of the best cowboy hat drawing ideas ever. drawinghowtos
6. Easy Way to Draw Cowboy Hat

There are so many different versions of the cowboy hat that may come with different crown belts and accents. Learn where to draw a cowboy hat that is just looking great with the outstanding brim belt and also with the custom cartoon appeal. The project allows you to easily duplicate the complete PDF tutorial for the whole drawing project. Draw two little curved lines and then combine them with a little curved top cross line to gain the hat crown outline. You will get complete diagrams with step-by-step instructions to easily draw this hat. easydrawingguides
7. Easy Cowboy Hat Step by Step Instructions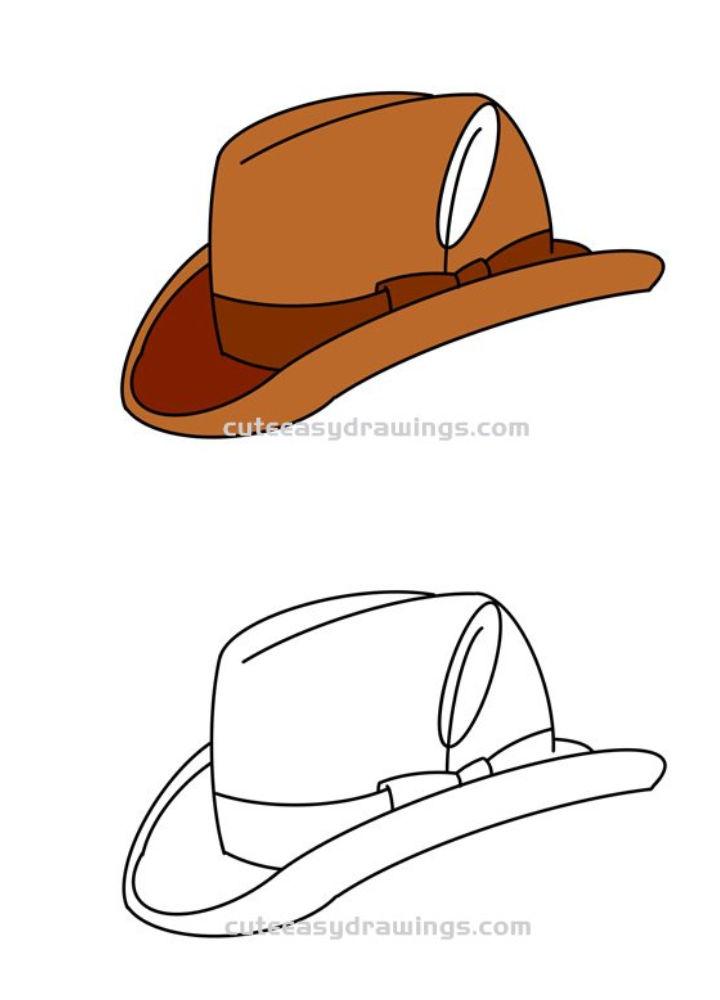 Sorting out some unique but little advanced drawing projects for the kids that will keep them busy productively this holiday season? Then learn to draw a brilliant cowboy hat like a pro, sure to be a big love of all the cowboy fans. Look at this lovely cowboy hat that looks visually captivating and comes adorned with a feather accent. Try to draw first the brim of the hat, and if you manage to do it easily, the rest of the drawing is just a piece of cake for you. Don't' forget to draw the cowboy hat belt and feather accent. cuteeasydrawings
8. Simple Cowboy Hat Drawing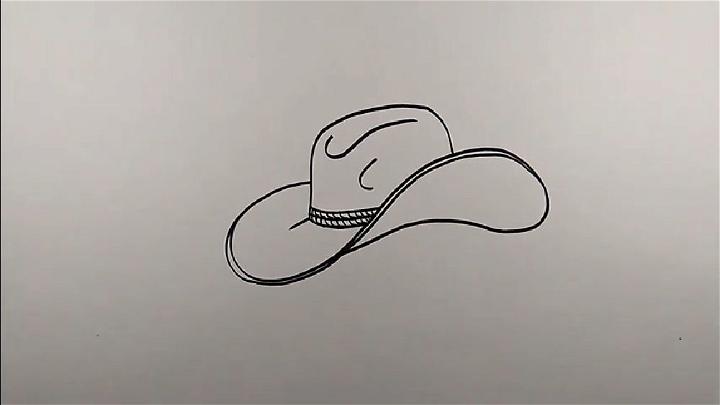 Learn to draw the cowboy hat easily and quickly by drawing some quick curves. Here this project involves drawing first the "S" shape brim of the hat, and then you can add the hat crown to easily complete the hat drawing. From outlining the whole hat to adding custom details, you will get guides for all the steps. The hat also appears with a lovely decorative belt that makes it appear extra beautiful and lovely.
9. Easy Way to Draw a Cowboy Hat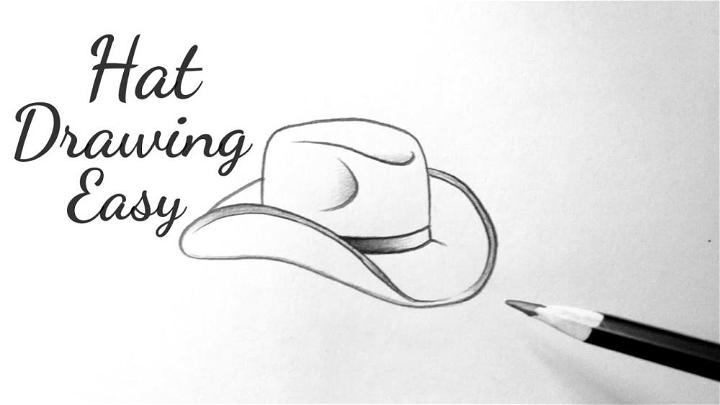 Sorting out the lovely and cute cowboy hat drawing projects? Then you will surely fall for this graceful cowboy hat that enchants with the realistic appeal. From the folded brim to crown, the hat is just adorable. The completed drawing makes a great coloring page for the little kids and toddlers, and everyone will just love to draw this cowboy hat. This project involves drawing the whole beautiful outline of the hat first, and next, you can easily fill in the necessary details. Drawing this hat will surely hone your drawing skills, and it will be a great drawing project for beginners.
10. Drawing of Cowboy Hat for Kids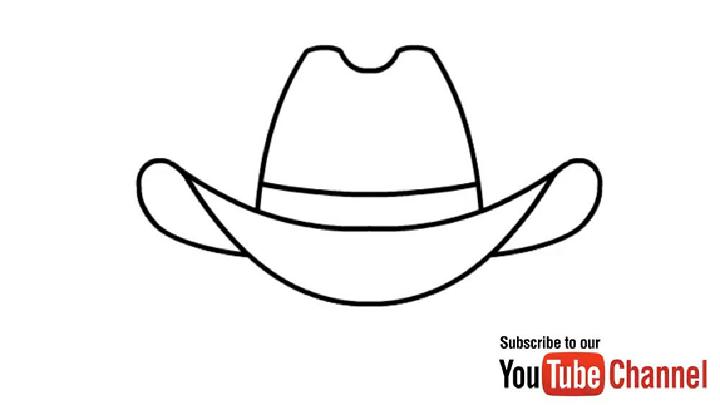 Get here ultimate visual instructions and guides about drawing a flawless cowboy hat like an expert. You will get complete video guides to easily draw this cowboy hat that is visually captivating and appears beautiful with a straight front angle. The project starts by drawing a curved line with a loop at both ends, and finally, the crown is added to the folded hat brim. The whole hat is just looking super beautiful and enchanting, and you can fill in the custom details to make it look extra beautiful. One of the best and quick-to-draw cowboy hat drawing that all kids will love to try out.
11. Cowboy Hat Drawing for Beginners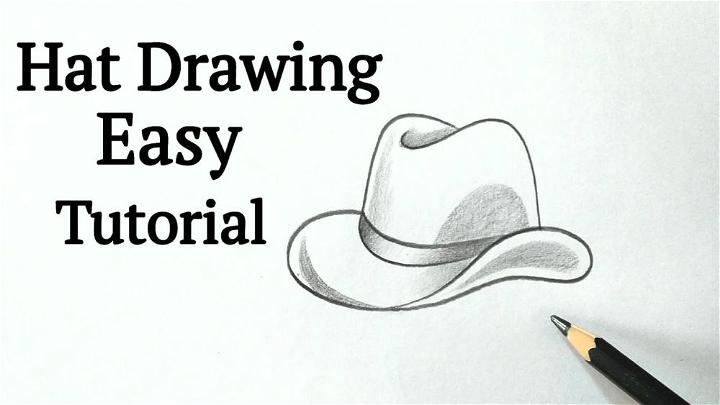 The style lovers love to wear the cowboy hat even when not riding a horse. The hat rocks for a cool fashion statement. Want to tell something special to your kids about this special hat type? Then nothing will work great in this case, but draw this hat comprehensively. Don't know where to start? Get here complete video instructions to easily draw this cowboy hat. While drawing this hat, the kids will understand the different parts and features. The project provides comprehensive guides to easily sketch out the whole hat.
12. Easy to Draw Cowboy Hat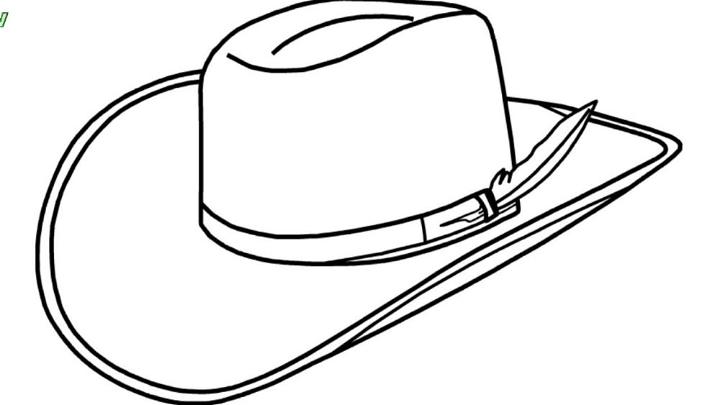 There are so many different methods out there to draw a cowboy hat. Some involve drawing first the brim and others the crown. However, some projects involve outlining the whole hat first. Grab here complete video instructions to easily draw a cowboy hat that looks gorgeous with the feather accent. Here this hat drawing covers a unique angle of the folded brim and is comparatively easier to sketch out. The whole hat drawing is much doable for all beginner and younger artists and will be a total pleasure to sketch out. Filling colors in the hat drawing will create extra fun for sure.
13. Cowboy Hat Drawing Front and Side View Drawing

Look into this easy project that involves drawing a cowboy hat differently. However, the project also involves drawing first the crown of the hat. The project is easy and quick to do and involves drawing simple and curved lines to easily complete the whole hat. The project will rock when you make a quick cowboy hat coloring page for the kids. The best cowboy hat drawing idea for beginners will not take that too long to complete this cowboy hat.
14. How to Draw Realistic Cowboy Hat

Sorting out some advanced cowboy hat projects that will help draw the realistic-looking cowboy hats? Then get the comprehensive guides and instructions from here. You will get complete videos about how to draw a realistic-looking cowboy hat from the top angle. It will grab one's attention with finally added details. Fill colors in it for extra graceful appeal, and the entire project will rock for intermediate to advanced artists. All who love the cowboy hat fashion will praise this cowboy hat drawing, which will complete in just a few minutes or less.
15. Draw a Cartoon Cowboy Hat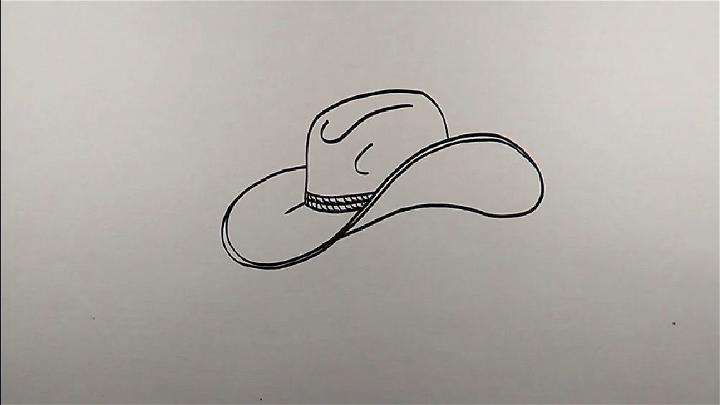 Intending to do some quick drawing projects that will complete after drawing a few lines or curves? Then nothing will work great but this beautiful cowboy hat drawing. You have to draw only a few curves to complete this cowboy hat drawing. It comes with fewer details and will be the best project that all preschoolers and kids will love. At the same time, the drawing will be a lovely way to learn all about cowboy hat fashion. This simple drawing will allow you to learn some advanced drawing skills for sure. You can shade it well or fill it up with the respective colors for a realistic appeal.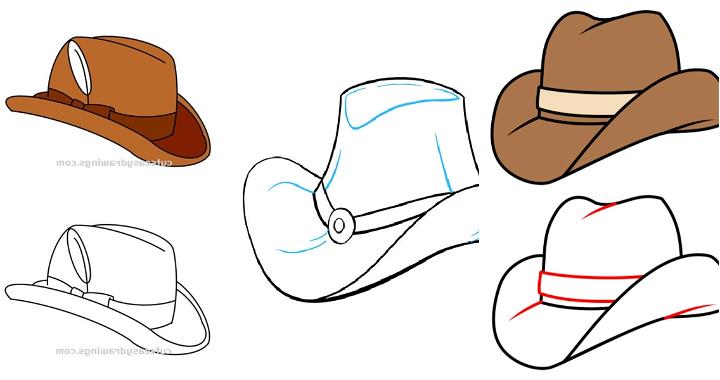 Conclusion:
These easy cowboy hat drawings aim to make all the kids experts in drawing a cowboy hat, one of the most popular fashion hats. So, these Cowboy Hat Ideas will share complete tutorials to easily learn to draw these hats with lots of smart angles.
The simple cowboy hat drawing tutorials will provide step-by-step written instructions, detailed diagrams, and even video guides to easily master drawing the cowboy hat. These projects will rock for the kids who are working on curves. The completed drawings will make sweet bookmarks, wall paintings, and cute gift wraps.